Costa Rica is a very blessed country. Its tropical position gives her a very gentle and comfortable weather, the possibility to enjoy different landscapes in just one day, and the opportunity to enjoy a great amount of sunny exquisite beaches… Yes, a lot of beaches!
If you look in a global map and pay attention to where is Costa Rica located, you probably will be surprised by how small the country looks, but also you will note that this small piece of land is located just in the middle of the continent, separating North America from South America. Along with 6 more countries, Costa Rica forms the Central American region.
Precisely, is this amazing location the one that allows the presence of a lot of magical and paradisiac beaches in Costa Rica. The country has direct access to the Pacific Ocean and the Caribbean Sea.
This particularity is the one that allows the enjoyment of a multiplicity of colorful and unforgettable beaches.
Now, if you already had some Costa Rica Vacation you will agree with me when I say that we have very privileged beach locations. And if you have not yet had the pleasure of visiting the best beaches of Costa Rica, then it is time to start planning your lifetime vacations to this exotic piece of land.
For both of you, I'm pretty sure this article will be very useful to know more about these tropical beaches and, why not, to find the next beach destination for your "travel bucket list".
Here you have our top Costa Rica beaches and a brief explanation of each one, just to help you learn more about each destination: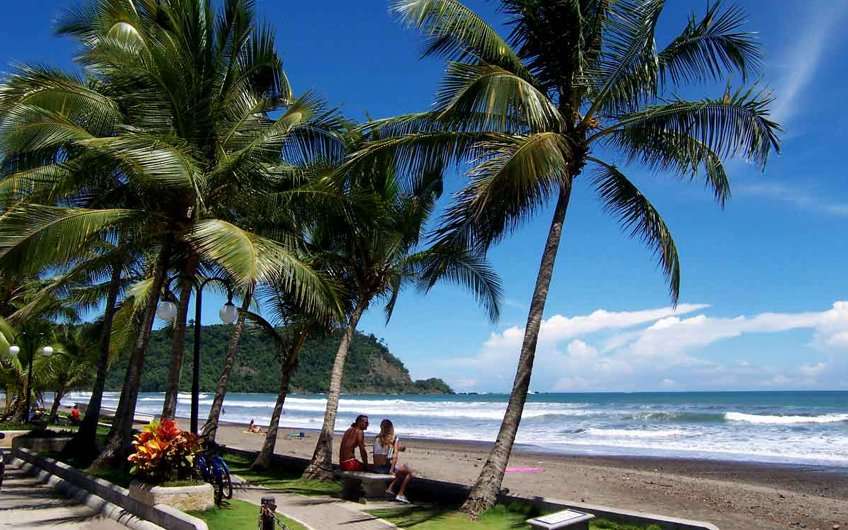 Jacó Beach
Jacó Beach is the closest beach to the Central Valley and is one of the most visited Costa Rica Pacific coast destinationsfor both tourists and residents.
The beach consists in a 2-5-mile (4 km) strip which hosts world renowned surfing and an active nightlife. Similar to Costa Rica's metropolitan areas, this beach offers a lot services, such as a post office, health center, banks, stores, and some business centers.
Additionally, there are a great variety of surf shops, local and international restaurants, and hotels, either for those looking for more affordable Costa Rica vacation packages as well as for those wishing to spend more luxurious vacation.
You can get here before driving for approximately less than two hours, departing from San Jose. You or your driver will surely drive taking one of these routes: the old Aguacate road, or the main highway in Escazú / Santa Ana.
It doesn't make sense to take a charter or domestic flight, because due to the proximity to San José the nearest airstrip will be the one located in Quepos… and you will have to drive for 2 hours; almost the same time departing from San José. That's why I can suggest you to take a private or regular transfer to Jacó Beach by land. This is the best option to get there!
Among the Costa Rica Tours that can be done here there are surfing, swimming, deep sea fishing, ATV tours, bicycle rentals, horseback excursions, crocodile safari, national parks and reserves, boat and kayak excursions, white-water rafting, canopy tours and popular places for night life. I assure you that you won't be bored while spending your time in Jacó.
In the surrounding areas, you will find other of the beaches located near San Jose, Playa Herradura, at just 4.4 miles (7 km) north. This beach provides a more tranquil and relaxed environment than Jacó.
And it is another great to enjoy with your family and friends.
If you are looking for some nature experiences while staying near Jacó, you must know that the Carara Biological Reserve is located just 9.3 miles (15 km) north of Jacó.
Featuring several miles of trails open to visitors (some only with a tour group), it is a great place to view much of Costa Rica's wildlife amidst a tropical location. Early in the morning or around the sunset is often the best time to see the wealth of scarlet macaws that rest among the mangroves.
Here it is also possible to see white-faced monkeys, caiman, coatimundis, peccaries, and a wide variety of birds and insects. The reserve opens at 7 am and closes at 5 pm.
Additionally, you will have the opportunity of being close to the Tárcoles River, the one which borders the park and flows into the Pacific Ocean. The river is an incredible place to witness the American crocodile close up. Boat tours are available to see the crocodiles… some of them grow to be several meters in length!
Punta Leona Wildlife Refuge is another natural spot where visitors have a good chance of being delighted by the surrounding wildlife. You can find it located along the drive north from Jacó towards the town of Tárcoles.
No matter where you will be staying at Jacó, its main road is plenty of varied restaurants and bars that can be a great option to your lunches or dinners, or even if after a long day relaxing or surfing at the beach. Here you can find also gelaterias, coffees, pharmacies, supermarkets, souvenir stores, and some clothing stores too.
It is not necessary to use vehicle to explore this street; all the businesses are walking distance from each other and you will have a lot of entertainment watching the whole offer Jacó has for your vacation.
If you are looking to visit Jacó, here you have a recommendation of Costa Rica hotels you can consider for your stay:
This is just a small list of recommendations, if you want to learn more about the hotels of the area you can click here.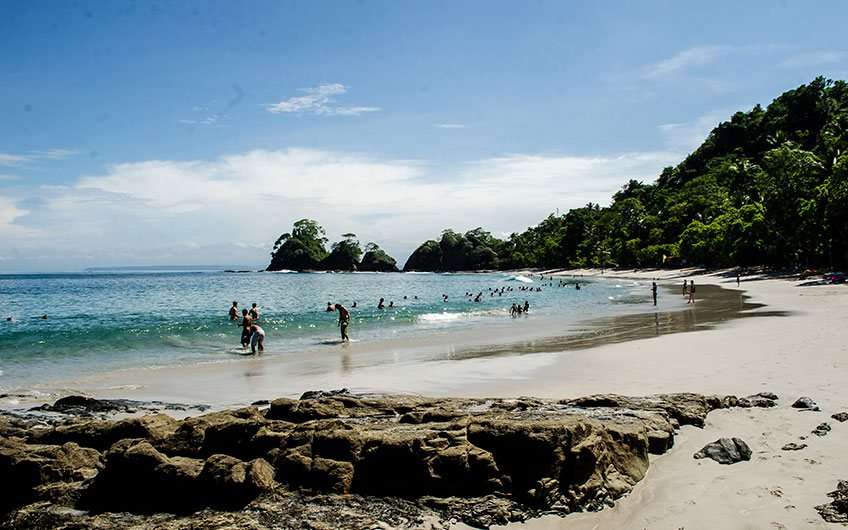 Herradura Beach
This is a small Costa Rica beach that can be found in the Central Pacific area, very close to the beach of the Jacó. You can get there by driving a car or a bike as part of your adventure as it is located about 3.5 miles from this town.

This beach has a particular form which gives her the name of Herradura (in Spanish this makes allusion to a horseshoe) and thanks to this form you can expect soft waves and great climate. Here you can find relax amidst different kinds of accommodations from simple cabins to great hotels, also you can find a lot of food offers to enjoy while staying here.
As an example of this, here you can find Los Sueños Marriott hotel and its marina and prestigious golf course. Thanks to all the demand of foreigners visiting the area and moving to live there, the region has experienced a lot of changes and tourist development.
At the main entrance of Herradura you can find the Plaza Herradura shopping center featuring a big supermarket "Automercado" (this place is used also as a reference point for travelers), a Subway, clothing stores, ice cream shop, coffee shop, the BAC San Jose bank, and a variety of international restaurants.
In this beach you can practice a lot of different activities while vacationing in Costa Rica, from relaxing in the beach with your family to practicing adventure sports in the nearby locations and practicing sportfishing, the area has it all to give you the best moments during vacation!
(Beach) Playa Hermosa – Jacó
Before start talking about this Costa Rican beach it is important to mention that the country has two beaches named Hermosa.
One located in the Guanacaste province, and this one located in Puntarenas Costa Rica at just 6-mile (10 Km) south from Jacó. This destination is a quieter section of black sand beach.
The place is very appreciated by beach goers and surfers alike. The beach offers one of the best and most consistent surf breaks in the world, but I must warn you: the currents here are very strong and it is not recommended for swimming, even if you know how to swim. That's why it is considered one of the best surfing beaches in Costa Rica.
The waves in Hermosa are only recommended for expert surfers, because they can reach as high as 13 feet. On the contrary, in Jacó Beach both, beginners and experienced surfers, can have some fun practicing surfing.
Here in Hermosa Beach you will find several economical surf board rental shops, so you don't have to be worried if you haven't your own surfing equipment.
This location is where take place the ISA World Surfing Games, thanks to the ideal conditions of the beach, related to proximity, weather, and great waves.
The contest literally brings hundreds of experienced surfers from all over the globe, a very important input for the region. When you come here you will definitely fall in love with this beach, this is one of the nicest beaches in Costa Rica!
And, if you are wondering which is the best time to practice Surf in Hermosa we have to say you that it is from April to November, when the tide is rising and is normally high. As a reference, one of its most well-known breaks is located in front of a large tree known as "El Almendro" or the Almond tree.
Here is also located the Playa Hermosa Wildlife Refuge, the place chosen by Olive Ridley sea turtles, here is where they come ashore to nest every year.
If a hotel with an undisturbed location is what you are looking for your Costa Rica family vacations, this place is going to be highly recommended.
And, if you get tired of surfing, Hermosa Beach is the perfect getaway for spending a day under the sun in some hammocks or under an umbrella, with a good book, great company, and family or friends in a very tranquil environment.
A plus for Hermosa and Jacó beaches is the fact of being two of the most recognized beaches near San José Costa Rica. Here you can easily find restaurants and bars just in front of the beach, if you want to enjoy a delicious meal with a breathtaking view.
Also, you can find some bathroom and shower rentals for a low rate, ideal to remove the sand before departing to your next adventure.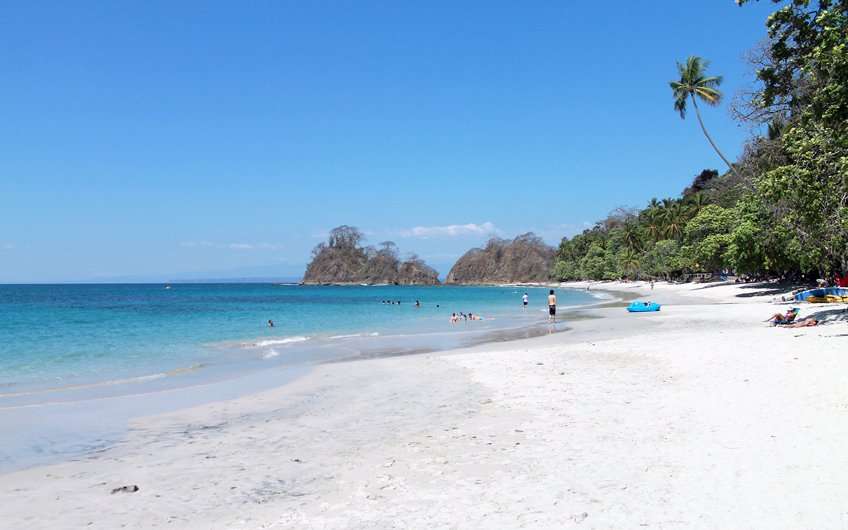 Playa Blanca – Punta Leona
This Costa Rica beach is located in the province of Puntarenas and it is part of the Punta Leona complex. Playa Blanca is well-known for its great beauty and for being one of the white sand beaches in Costa Rica. In fact, due to its beautiful landscapes this beach has been used many times to film national and international television commercials.
This beach in Costa Rica is small, measuring about 500 meters, and is easy to walk it from end to end. Along the whole beach there is vegetation that offers enough shade. This Costa Rican beach is an excellent place to spend a day. Although small, it is common to see people walking or jogging along it. There are also several places where it is very safe to bathe in the sea (mainly at the southern end of the beach).
The water is usually warm and crystal clear. In the center of the beach there is a reef that is a good point to practice snorkeling and this same reef allows the practice of surfing. The reef causes a wave at low tide that many beginner and intermediate surfers take advantage of. Its transparent waters are ideal for scuba diving near the rocks in the southeast.
There is a rocky zone that divides it from Punta Leona. Access to Playa Blanca is very limited. There is only one public street that ends at the contiguous beach called Playa Mantas. From there, it is necessary to walk along the beach and cross the tip at the southern end, which is a little bit complicated at high tide. So, if you are driving your own rented car, you need to take into consideration that you will need to left parked your car and walk a little bit to get there.
However, there is another much simpler way to get to this beach, but it is not free. In the place, there is a tourist development called Club Punta Leona. If you are a member of this club or if you stay at the resort, then you can use a road in very good condition that reaches Playa Blanca, and you will even have access to other services such as on-site parking and restrooms.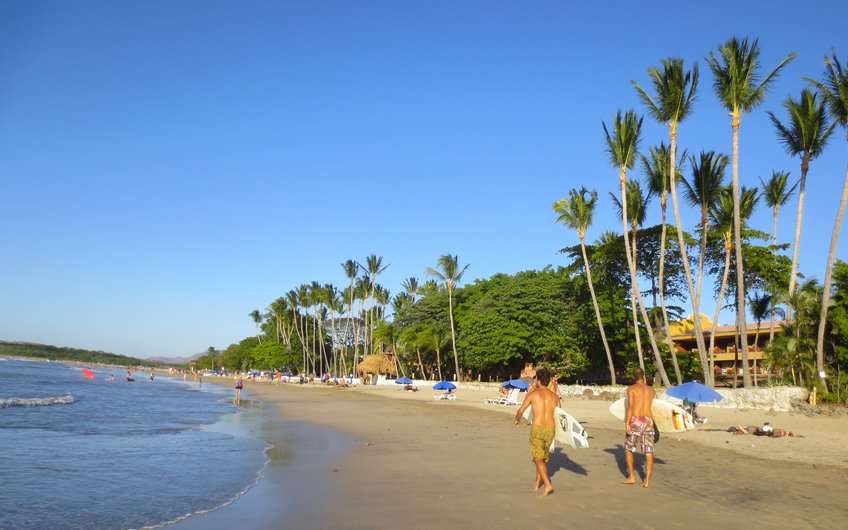 Tamarindo Beach
This beach was once a very quiet fishing hamlet and surfing spot but, during the last years, Tamarindo has evolved to be the most developed, attractive, and accessible tourist town of the region turning it into one of the top beaches in Costa Rica.
Tamarindo is located on the central west coast of the Nicoya Peninsula, which allows visitors to enjoy beautiful views and provides a laidback vibe –very characteristic of the region-, despite the ongoing and recent development of the area.
Tamarindo, as a regional hub, offers a lot of lodging possibilities for visitors of every budget. Additionally, the area has a wide range of extensive services to be enjoyed; some of them are the sport fishing, snorkeling, swimming, scuba diving, and horseback riding alongside the beach.
If you are wondering how to get there, then the Tamarindo airstrip will ease the way you get there from different parts of the country. The Daniel Oduber Airport in Liberia, is also very close to Tamarindo at approximately 31 miles or 50 kilometers, which turns into a great option for visitors coming directly from international flights.
Only separated from Tamarindo by the Matapalo river can be found the Playa Grande beach, a place where surfing is ideal, regardless of skill level. This region hosts several international surf competitions, and visitors seeking for luxurious accommodations can find various options for their lodging.
The Tamarindo National Wildlife Refuge comprises 1000 acres (400 ha) of amazing protected forest, including many estuaries and mangroves. Some tours arranged in the area can show the visitors the dazzling flora and fauna of Tamarindo.
At the North side of the town you can found the Marino Las Baulas National Park, a place where visitors will have the opportunity to spot the leatherback turtle come ashore to lay the eggs. A very exciting phenomenon that you and your family will remember for a lifetime. A very exciting phenomenon that you and your family will remember for a lifetime.
Very close are located the Ostional National Wildlife Refuge and the Barra Honda National Park, both great opportunities to explore the Costa Rican wildlife.
The extensive development of the region has influenced the apparition of elements of foreign culture, from modern cafés to cozy restaurants, always maintaining the traditional Costa Rican culture.
A great combination of two worlds! Tourists enjoy the variety of elements of their own cultures perfectly mixed with the local traditions.
Travelers can find different options for dining; Tamarindo's great cuisine vary from local Costa Rica food to international dishes with the best quality and adjustable to all kind of budgets.
There are small shops there, so you can find products and local ingredients if you are staying at a place that requires your own preparation of the food. A great chance to experience a Costa Rican meal homemade!
Tamarindo Costa Rica offers various bars and discos where you can go for a drink and have lots of fun dancing with your friends. Just to mention some of them, you can taste a great pizza at La Baula Pizzeria or La Esquina, sushi at Bamboo Sushi Club, great cuts of meat at Flying Bull or Long Boards BBQ; you can also find burgers, wings, Mexican food, Italian cuisine, shrimps, and local cuisine.
You can walk along the main road and surely you will see the variety option, the hardest part will be choosing what to eat!
Some hotels in Tamarindo you can book in Tamarindo and the surroundings are the ones as follow:
Avellana Beach
This secluded beach of white sands and great landscapes is a wonderful destination for those who are looking for a great ambiance and relaxation too. The beach is internationally well-known as it is a perfect destination for experienced surfers due to its waves.
The beach is located very close to the famous town of Tamarindo, so if you are visiting one of them you can perfectly complete your ride by getting to the other one in just few minutes driving. Here you can find great cuisine too, and a lot of activities to enjoy and include into your Costa Rica travel itinerary.
Here, locals and tourists can find amazing spots to take pictures; in fact, the beach features a cozy trail near the mangroves where people wait (in high season mostly, in low season you won't find trouble at all) to take their creative and original pictures in it, to remember for a lifetime. And this is one of the reasons this beach is well-known and appreciated.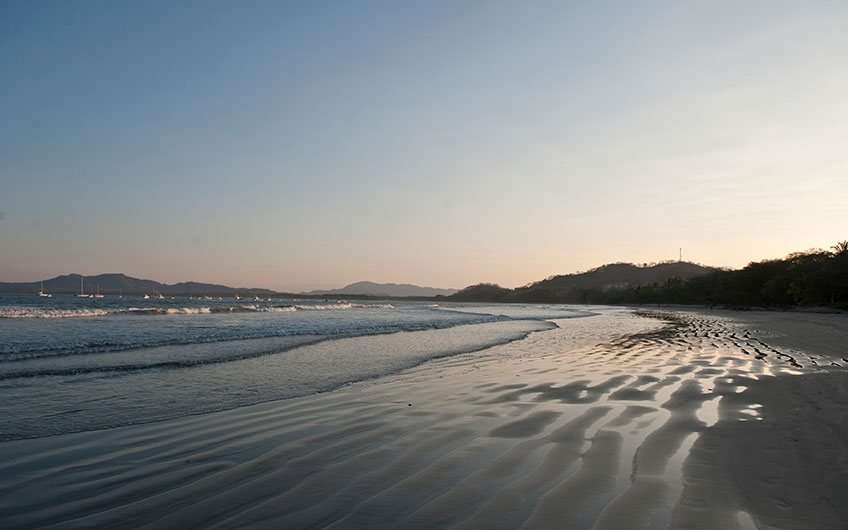 Hermosa Beach
This time is the turn of talking about the Hermosa Beach which is located in Guanacaste, in the Northern Pacific region of the country. This one is located between Panama and Coco beaches and it is a great spot if you are looking for some quality time of relax and swimming.
This beach is considered as one of the most preferred ones for locals and tourists alike. Here you can find everything you need to enjoy the best family vacation in Costa Rica. Great food, bars, tours, shopping and interaction with the friendly locals. Your vacations can be completed by spending a few nights here! (… or a lot of nights! You won't regret it!).
It is common to see a lot of tourists enjoying their family life in Costa Rica in close contact with nature and the region's wildlife. For example, a tour that families enjoy a lot is the horseback riding in the sand, alongside the beach.
If you are looking for higher quality services and accommodations for some luxury Costa Rica vacations then you must know that maybe this can be your place. The hotels usually vary from mid-range budget to luxury secluded guestrooms. But, good news is that if you are looking for something cheaper you can ask one of our specialists and we can find the perfect place for you in this beautiful beach.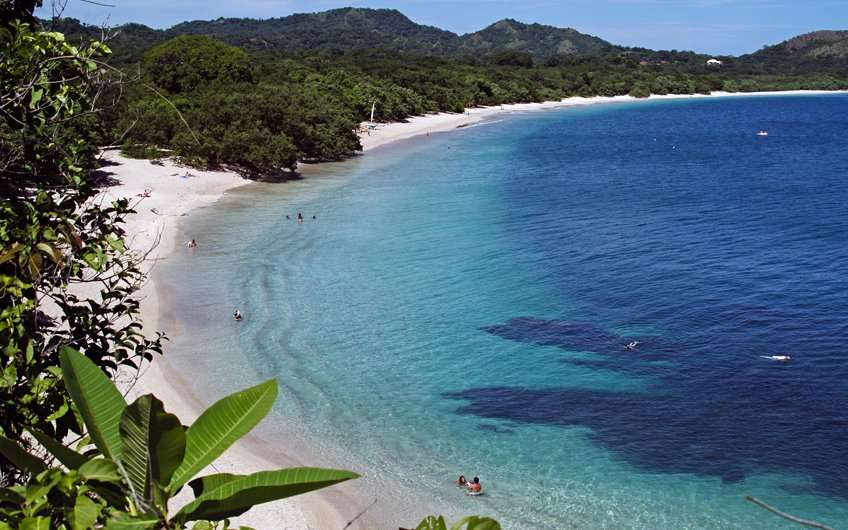 Conchal Beach
Playa Conchal receives its name due to the composition of the sand. It is composed of millions of tiny shells that rustle beneath your feet. The imposing beach is surrounded by its turquoise waters and it is located next to Playa Brasilito.
This is a great place for snorkeling with an array of tropical fish, or swimming in the clear and peaceful waters.
Playa Conchal is located in Guanacaste, one of the most beautiful beaches in Costa Rica. Guanacaste is a full of stunning beaches and luxury, and also has incredible bird watching opportunities. There are a lot of wonderful all-inclusive resorts in those beaches perfectly settled to the delight of their visitors and to be included in most of the best Costa Rica vacation packages.
Conchal is blessed with radiantly sunny days of the Costa Rica weather, perfect for those looking for great sunbathing and for some relaxed time in the sand. While staying here you will surely enjoy unforgettable sunsets, a perfect way to end a day plenty of fun.
Among the Guanacaste beaches, Playa Conchal is a gem. This beach is one of the only few Pacific Coast beaches that features crystal clear water, very similar to the beaches alongside the Caribbean.
Here, in the Playa Conchal area, it is easy to create an unforgettable Costa Rica beach vacation. Besides the swimming and snorkeling, visitors in Playa Conchal can enjoy watersports, deep sea fishing excursions, golf courts, hiking trips to the nearby nature reserves or national parks.
The neighboring town of Brasilito is within walking distance from the beaches of Conchal and Brasilito, and here visitors will find an array of affordable hotels, typical and international restaurants, and great bars.
Additionally, very close to Playa Conchal the community of Playa Flamingo can be found, with its palm-lined and white sand beaches, this town provides a small assortment of hotels and classy food establishments.
Some of the highly recommended places to eat while staying by the area are Papaya Restaurant and La Casita del Pescado both offering seafood specialties.
Also you can find great food options in Tiki's Seaside Grill, Agua y Sal, Soda El Coco, El Forno, and Ander's Restaurant. Variety of options ideal for all tastes and all kind of budgets.
If you decide to spend your vacation in this gorgeous area we highly recommend you these hotels Reserva Conchal and Westin Playa Conchal. Bahía del Sol hotel is located at approximately 7 kilometers from Conchal, and is a great option too. You can find here the greatest Costa Rica resorts, just ask us for one of them and we will look for the perfect option for you.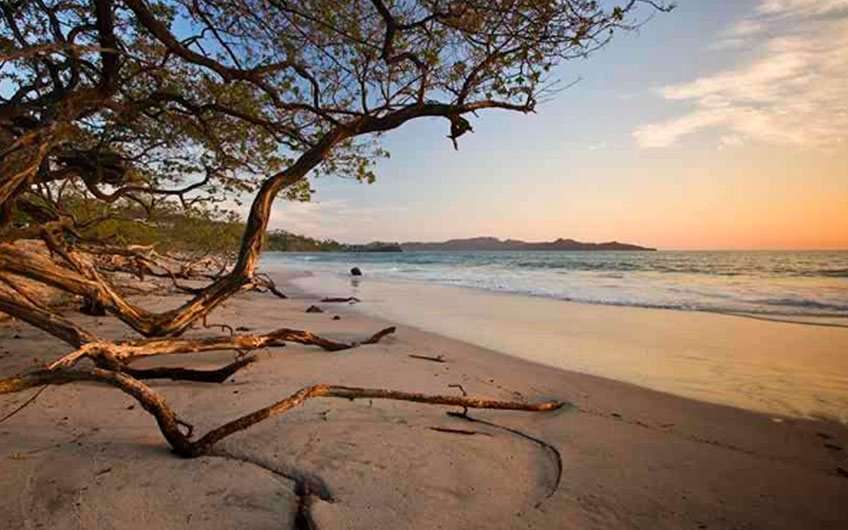 Potrero Beach
Potrero Beach is located in Guanacaste in an area plenty of lush vegetation and exotic wildlife. A drive of 4-5 hours from the capital city of San Jose will get you there, or you can opt for take a domestic flight which will safe you a lot of the precious time of your vacation for a little bit more money.
The beach is a really tranquil place, not to crowded, in which visitors can spend a wonderful time while relaxing and immersing themselves in the wonders of the sea and the sun together. The village with the same name is quiet too, a small fishing town full of friendly people and true local culture to experience. Very close to this beach you can find Flamingo Beach, which is a little bit more vibrant.
What can you do while spending some days here then? Well, even when it is a very tranquil and relaxed place, you can enjoy a wide variety of sea sports such as stand up paddle, boat excursions, kayaks, and snorkeling and scuba diving as an excellent way to appreciate and indulge yourself in the marvelous marine wildlife of Costa Rica. You can also practice sportfishing here, departing from the marina of Flamingo beach.
You can find great accommodations here, as there are family friendly hotels, cabins, and hostels to stay in. Your family will surely have a blast visiting this beautiful community. We can recommend you to stay at Bahía del Sol hotel, a beachfront property featuring a great pool and great cuisine. Just let us know if you want us to book your vacations here.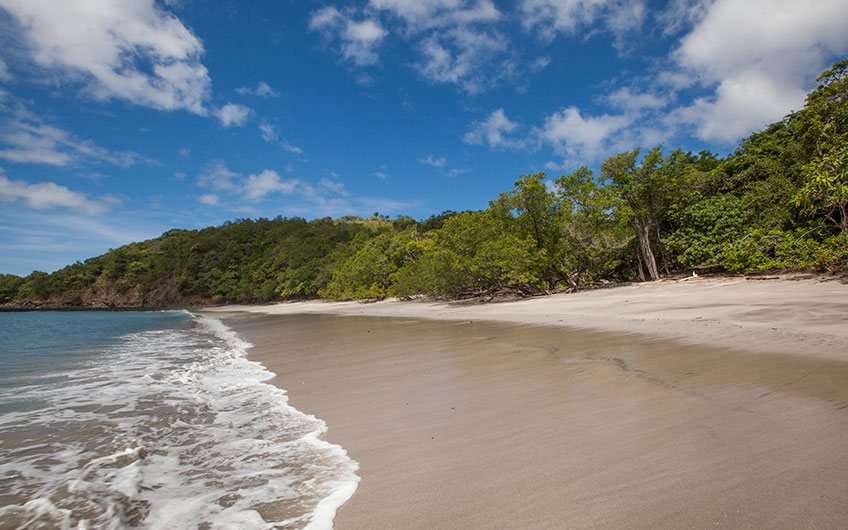 Coco Beach (Playas del Coco)
This beach is well-known as Playas del Coco and is located in Guanacaste province and is very famous as it is one of the most visited beach locations in Costa Rica. The beach is very liked for both locals and tourists due to its nightlife which has grown considerably in terms of tourist infrastructure and development.
Those who are looking for party nights and great bars and cuisine must visit this town. You just have into consideration that if what you are looking is a less crowded place to relax this in definitely not your destination for the holidays. You can enjoy here a great sample of bars and restaurants for every taste, and also you can find different shopping stores, groceries, pharmacies, and different services to ease your stay there.
But not everything is about nightlife, here you can take different fun tours and practice different sports as well. Coco Beach is famous for its wide offer of aquatic activities for the most adventurous ones. Finding things to do here won't be a problem at all!
Here you can find a great mix between luxury accommodations and budget options, the ideal balance for those attracted by its vibrant feeling.
The area has a great international reputation and as a proof of that, last year it hosts the first Costa Rica Ironman event. The license will be there for three years so it is expected to continue receiving high-class athletes and visitors from all around the world for, at least, two more years.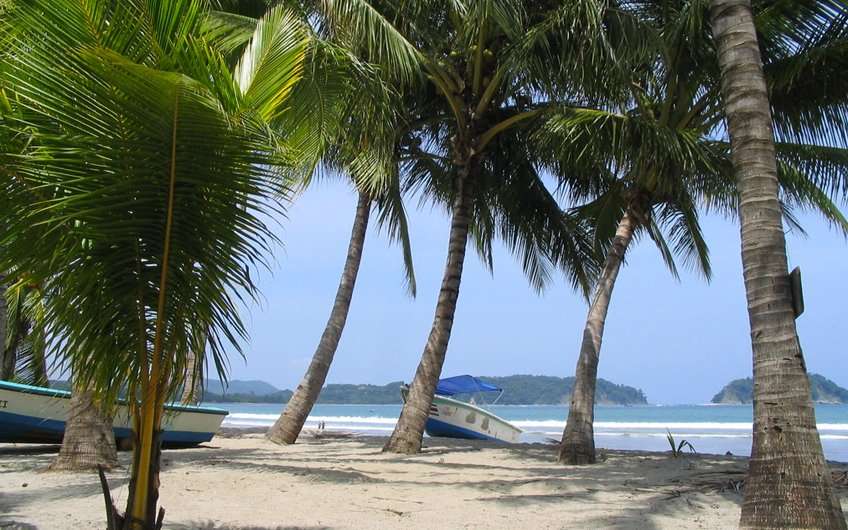 Samara Beach
The breathtaking coastal village of Samara is considered a real paradise on the Western shore of the Nicoya Peninsula. Samara is also known as one of the prettiest and safest beaches of Costa Rica.
That's why this is considered as one of the most preferred beaches among locals and also foreigners. The beach is composed by wonderful white sand contrasting the aquamarine waters of the Ocean. Here, you can find a lot of tropical plant life as well as living coral, encompassing Samara's 3-mile (5 km) coastline.
Samara is an ideal place for those looking for rest and relaxation; even when it is almost a universal characteristic of the Nicoya Peninsula, the beach keeps the vibe which allows a quiet and tranquil scenery for some relaxed vacations.
The village offers several services such as stores, restaurants and bars featuring a wide menu ideal to satisfy all the needs and likes of its visitors -here can be found a lot of great healthy, holistic and organic options to eat, hotels, and some discos just for the great town's nightlife. Even Mel Gibson have his own property close to Samara.
One of the most popular activities off the coast is sport fishing, as it is snorkeling and scuba diving around the coral environments too. A short one-mile (2 km) walk down the beach will bring visitors to Matapalo hamlet, a good place to do some snorkeling. If you are a "nature lover" you must know that for birdwatchers, Chora Island -located just off the coast-, is home to swaths of avian fauna that can easily be watched from a kayak or a little boat.
Additionally, the swimming conditions in the calm waters of Samara are at an ideal warm temperature, allowing tourists to have fun while spending a great time in the Sea. The perfect combination for your Costa Rica beach vacations.
The transportation to the region is much better now, due to the construction of the paved Road 150, the one which runs south from Nicoya.
Travelling by air is also an option available from a small airstrip just outside of the town. From San Jose or Liberia Costa Rica, planes will fly to Nosara and then to Samara. Daily buses also run from Nicoya, Liberia, and San Jose. You can ask also for private transfers to get there.
Other things to do in the area are yoga sessions and horseback riding alongside the gorgeous beach. The white sand beach is the perfect place to relax with a book or run wild with the kids, offering a fabulous setting for any beachside activity you could dream of. Offshore, some coral reef rewards snorkelers with active, beautiful marine life.
Giada Hotel can be found here and becomes a great choice for your stay in the area when traveling to Costa Rica.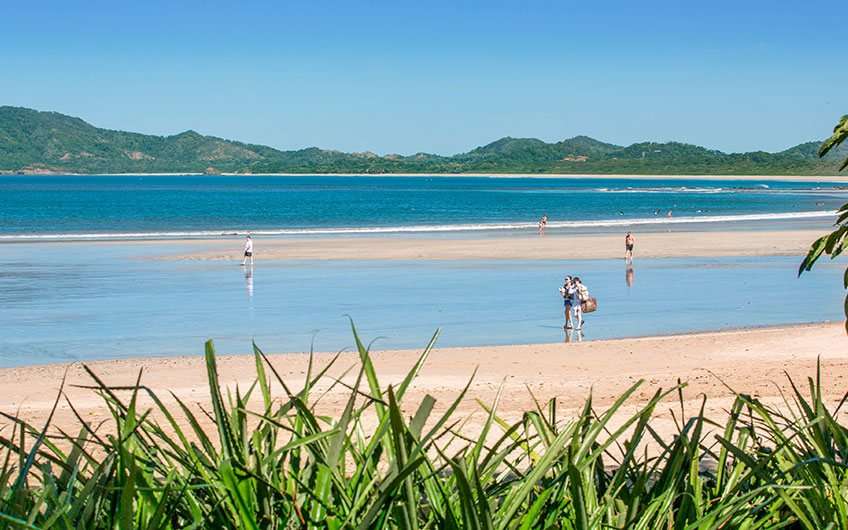 Carrillo Beach
This beach is located at just 3 kilometers south of Samara beach. Carrillo is a very relaxed and quiet town, but it is smaller than Samara which makes it a little bit cozier and calm. Here, visitors can relax and enjoy the large strip of beach while sunbathing and playing with their families and friends.
Differently to other Costa Rica beaches, this place is amazingly calm and less developed than the other ones. You won't see big buildings or hotels, just the palm trees and the hypnotizing waves. That's why it is considered as one of the most beautiful beaches to enjoy in the country.
The place is highly appreciated among locals and tourists but it is less crowded than other beaches, and as it is less developed too in terms of hotels and restaurants, there are not too many options to enjoy nightlife there. You will probably find some more in the neighboring area of Samara.
Tours can be enjoyed here and with more chances in Samara, but you can enjoy excellent snorkeling, diving and sportfishing. Other water sports can be enjoyed too: sea kayaking, stand up paddle, and swimming. Turtle nesting tours can be enjoyed while staying in Carrillo, but your tour operator will take you to the beach where the turtles came to lay their eggs.
Its easy to get there as you can be taken by one of our guides while you just enjoy the trip, or you can rent your own car to travel at your convenience. Flights are an option too, if you want to get there faster. Or, if you prefer budget transportation, then buses depart daily from San Jose and Nicoya in Guanacaste.
There are not many hotels in the region, but you will find a place to stay if you look with anticipation. Or you can stay in Samara and then spend the day in Carrillo under an umbrella and just relaxing with the sea sound. We strongly recommend you Nammbú hotel, as it is a very familiar place, with such a great pool, great dinning and at just 3 minutes walking from the beach.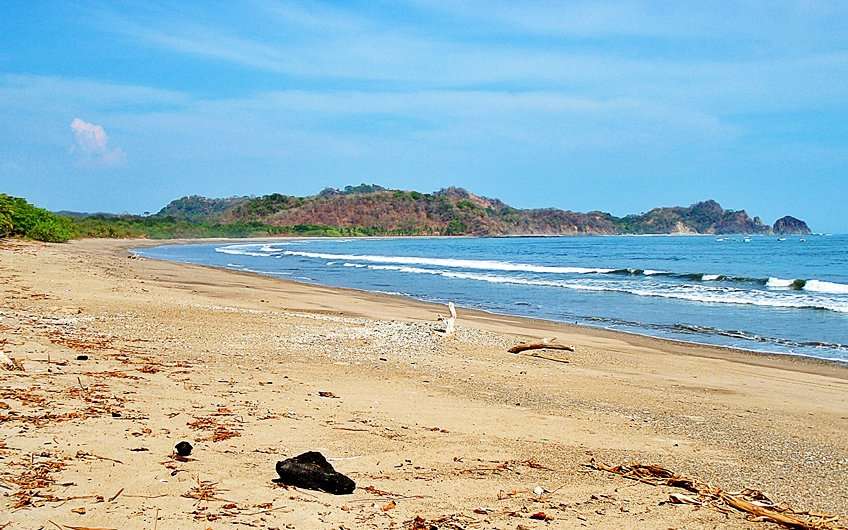 Playa Garza
Playa Garza can be found just off Route 160 in Guanacaste. Garza is a very charming and tranquil beachside town. The region is home to many exclusive hotels and high-end resorts, while Garza is an ideal central stop for visitors looking forward to catch and enjoy some waves.
To get here you can drive using the highway and the collateral roads or if you prefer to save some time, then you can access the place by plane, landing in the Nosara Airstrip. It is a ride that can take you 40 to 45 minutes.
The northern beach of Playa Garza is one of the most remote places of the Guanacaste Costa Rica coast. The reason of why most surfers look for more consistent beaches such as Guiones beach, to the northeast of the province, is because the waves in Garza are considered to be a little bit unreliable.
Nevertheless, during the high tide, if you want to surf here, there is one spot where those waves can be higher, and during strong swells the north and south ends of the bay work well for that.
But if you want to try something different and less risky, then doing some stand up paddle out during low or mid tide can be a great option for your vacation.
Even if you're just passing through, Garza has some luxurious places to stay. A popular place to stay near the region is the L'acqua Viva Resort and Spa. This high-end resort features traditional cabana-style rooms and is surrounded by palm trees and green lush nature, allowing the guests the feeling of a quieter vacation spot.
Besides these activities, the Ostional Wildlife Refuge is located at a short distance from Garza, and it is a true sanctuary for the observation of the nesting and born of the sea turtles.
If you want to know a little bit more about this nature's miracle, then you need to know that this sanctuary extends three miles out to sea, being home to hundreds of marine fauna and diverse species of birds.
Nosara & Guiones Beach
The beach of Nosara near the town of Guiones is an exquisite region with crescent properties and a crazy vibrant biodiversity. Its flora and fauna, along with its unbelievable white sand beach make this region a place you should visit if you love impressive landscapes. This is considered by both, locals and visitors, as one of the most beautiful beaches in Costa Rica.
The towns of Guiones and Nosara are very popular among retired people and ex-pats who came to Costa Rica looking for the tranquillity of its beaches to spend the rest of their lives. Even though, in the place can be found several accommodations of all kinds. Many of the ones that can be found here are private, very luxurious, and immersed into the natural beauty of the zone.
Lacking a unified town, one characteristic is that the village of Nosara presents a calm and relaxed vibe, ideal for those who want to chill and have incredible but not noisy vacations in Costa Rica.>
Travelers arriving to Nosara beach in Guanacaste will find themselves surrounded by a tranquil community that enjoys the visit of foreigners and live the life more calmly than in other beach towns.
Likewise, one of the top beaches in Guanacaste to surf is Guiones; that is why its name is well-known in the worldwide surfing ambiance. The beach is perfect for experienced people that practice surf and for beginners too.
But, if you are not into surf you must know that the place not only receive "surfing travelers", this tropical beach is also a great option to enjoy some hours of sunbathing in the shore, aquatic fun and some swimming.
This sounds great specially if you are traveling in couple. The relaxed ambiance, the beautiful sunset views, and the delicious food that you can find here make this place a special spot for those enjoying their Costa Rica travel during their unique and special occasion of its honeymoon.
Weddings are also made here as the location is one of the preferred by the newlyweds thanks to the wonderful settings and the quality of the Costa Rica beaches here. We can also customize your event at your own desire, just ask for what you want and we will be more than happy to arrange every single detail.
If you want to travel to any of these beaches you must know that the road from Nicoya, which consists in approximately 22-miles (35 km), has to be driven by a 4×4 vehicle. This road normally needs to be traversed with a car of that power, but when the rainy season arrives it is absolutely essential.
If you are going to rent a car and drive by your own, please be aware that the road does not have the adequate signage so it could be a little difficult to get there, but Waze and Google Maps function well here. If you don't want to drive, a private transfer is also a great option for your transportation.
As an alternative, if you are traveling on a budget, you will love to know that there is a daily bus service departing from Nicoya to Nosara and vice versa, with a trip duration of approximately 2.5 hours. Besides, if you are in the capital city of San Jose Costa Rica, then you can also travel by public bus as there are also daily departures, but it will take longer than the other transportation alternatives.
In Guiones, the part concerning to the business of the real estate has evolved a lot during the last decades, making it a little bit hard to find budget hotels in the area –but they can be found, it is not impossible! -. However, in these towns exists several options, as the kind of accommodations in the area generally thought for people looking for comfort but luxe at the same time.
The town of Nosara, and its local airstrip, is located few miles away from Guiones beach and from the shoreline. Being there allows travelers to visit more than one beach in a day: this is a very attractive point for those who are wanderers and adventurous!
This quiet and tropical place deep in the North Pacific jungles of Costa Rica offers different options for dining out. If you are looking for a traditional experience with the local cuisine at great price you can ask for Rosi's Soda Tica, and go there to enjoy delicious casados and meals.
You can also visit the Marlin Bill's Restaurant. If you are looking for some fast food, maybe your ideal place will be Burgers and Beers, this is a must stop in the town!
Looking for something more specialized? Then visit Tibidabo and let your palate be delighted by the great tastes of the Mediterranean cuisine. Fusion 506 is a well-known option if you are looking for fusion cuisine combining both local and international ingredients in one delicious dish.
Other great options there are: La Luna Restaurant, Beach Dog Café, El Manglar Restaurant (at the Olas Verdes hotel), and Robin's Café, Restaurant & Ice Cream.
Here you can stay in the Harmony hotel, a real great option for your vacation in Costa Rica. The hotel's restaurant is also a great option for dining. Another great hotel here where you can stay is Lagarta Lodge. This cozy place offers unparalleled views, exquisite cuisine and a space for enjoy some quiet and comfortable family vacations in Costa Rica.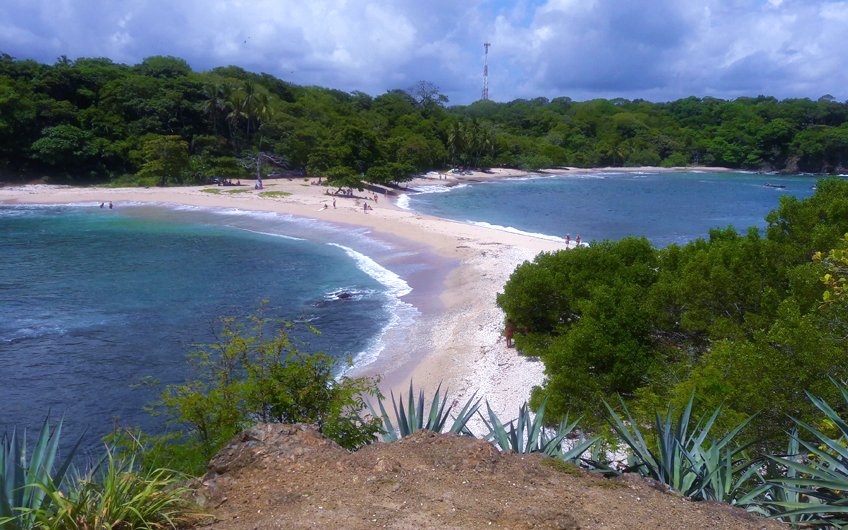 San Juanillo Beach
For those travelers coming to Costa Rica looking for a truly unique experience, the town of San Juanillo is one that has been providing just that, and much more, to its visitors. The city itself is relatively small, which makes it an authentic cultural experience of the traditional "everyday life" of the ticos.
San Juanillo is located in the far west of Costa Rica along the Pacific Ocean, and close to other important cities such as Marbella to the north, as well as Ostional, Nosara and Garza to the south.
You can drive there, the road is in good condition and you will have to travers some rivers, just to add a little bit of fun to your adventure. But, if driving is not your choice, and you are wanting to reach this picturesque city as soon as possible, then landing in the regional airport located in Nosara will be the perfect option.
It is impossible to get bored here, and it is impossible too to spend time sitting around doing nothing. San Juanillo is the perfect place to get away from the hustle and bustle of our busy life. In this Costa Rican beach, you can forget the bustle of society and simply relax and immerse yourself in a place where time seems to move slowly.
Now, if wildlife is what you find the more exciting and attractive part of your trip, you must know that you can spend months in San Juanillo and never see the same thing twice. A plus for your visit here: you will never stop of being amazed by this region!
If you are looking for a little bit more adventurous trip, then you must know that we can arrange some Costa Rica tours for you; these tours are available locally and can take the visitors to the wonderful Ostional Refuge with the turtles' nesting fame, since it is located at a short distance south.
Here, guests can also find great surf just up and down the coast of San Juanillo as well as some of the most breathtaking landmarks, like snorkeling.
You do not have to decide on what kind of food you would like to enjoy in San Juanillo, because the choices are many and numberless. For example, if it is a juicy steak, you prefer it with a bit of Argentine style, Donde Carlos is known for its high quality of food and reasonable prices, which is a theme that will soon come to discover when you visit this enchanted city.
Of course, if the city and the relaxed life of Costa Rica is everything you want to take advantage of, you will be able to spend the days, in a hammock, sipping cocktails and on the beaches, that dot the landscape of San Juanillo. It is as simple as choosing one of the high-end resorts where you stay and then decide about your daily routine…
All you need to do is choose your dates and formulate an idea of ​​what you want to do. From there, San Juanillo will be ready to show off the moment of your life in an exotic place you are sure to never forget… and we will be more than pleased to assist you for this Costa Rica vacations.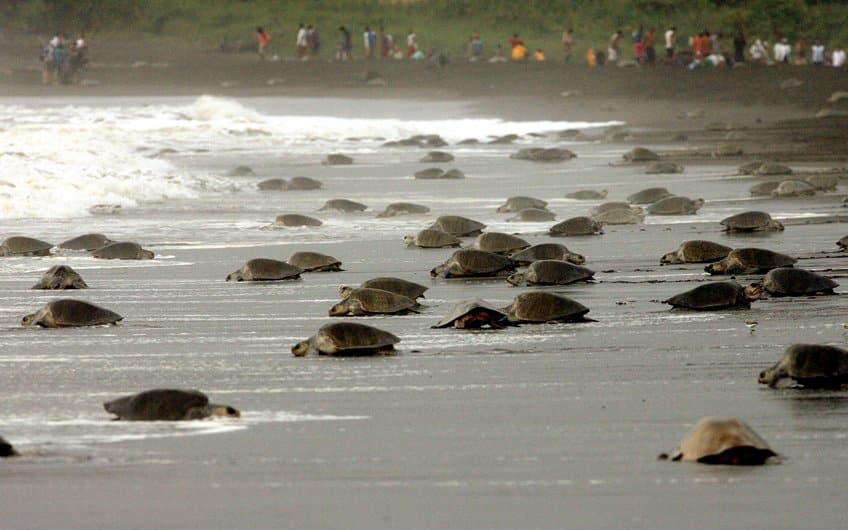 Ostional Beach
The Ostional National Wildlife Refuge is the second most important nesting site for turtles in Costa Rica and is located in the Nicoya Peninsula in Guanacaste.
The Ostional Wildlife Refuge, as it is known, consists in a strip of 200 meters of beach bordered on the north by Punta India, and on the south by the Guiones and Nosara beaches.
To get here you have two great options: driving in a car or requesting for a private transfer, or taking a flight to the Nosara airstrip. The road is in good condition, however, taking a flight is a great option if you are far away from Ostional or if you want to reduce your traveling time. There are no flights to Costa Rica landing directly in this airstrip, but you can arrive to the international airport and then take a local flight to this destination.
The refuge extends three miles to the sea including the small town of Ostional and protects the millions of turtles that come to nest during the year. At the same time, the beach is dedicated to the protection of wild marine life and the birds of the area.
The Ostional Wildlife Refuge is bordered by the Nosara Beach and the Guiones Beach and strongly protects the Olive Ridley Sea Turtles as well as the Leatherback turtles and the Pacific Green Turtles that come to the beach in large quantities each year to mate and lay their eggs during the months of July and December.
This nesting phenomenon occurs for about 4 to 10 times during this period and lasts 3 to 10 days each, giving great chances to spot this marvelous miracle. The Ostional Refuge was officially established in 1984, with the finality of protecting and avoiding the extinction of the turtles and other marine species, while at the same time helping the development of the Ostional community.
This beach has become a good option for a walk with the family, since it is an experience that both children and adults will enjoy and remember forever. The only thing that is important to take into consideration is that there are no lodging facilities in the area, so visitors should stay in the nearby locations of Samara, Nosara or San Juanillo.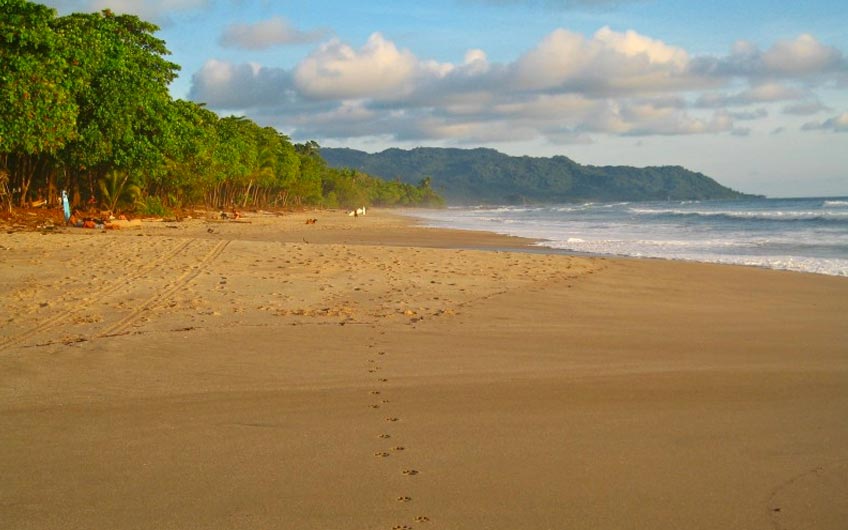 Santa Teresa Beach
This beach is considered as a tropical paradise for surf enthusiasts from all over the globe. Indeed, the surf here is truly exceptional. Santa Teresa features incredible waves all year round that are the reason why visitors arrive to the town. That's why the beach is known as one of the best Costa Rica surfing beaches: It is a must-visit destination!
The town next to Santa Teresa is Malpais, which is a very quiet beach town located at approximately 6.5 kilometers or 4 miles north from Cabo Blanco, another national park in Guanacaste.
If you need another reference to get there, then you must know that the calm Malpais beach town can be found facing Montezuma, at the south western part of the Nicoya Peninsula.
The blooming Santa Teresa beach town is a village full of surf and different Costa Rica things to do, and please its visitors with a lot of great options to enjoy such as great international cuisine, relaxed swimming in its sea waters, sunbathing alongside its precious sands, surf classes and great waves during all the year, yoga classes each day, and cool nightlife.
This is a truly paradise if you really enjoy this tranquil vibe!
This place is an excellent spot to enjoy and discover the amazing natural surroundings amid peace and relaxation. It is the perfect getaway for your Costa Rica vacation time.
As part of the relaxed vibe of the area, the beach towns of Malpais together with Santa Teresa offer relatively few tour and lodging services. This is a place to be relaxed, not so much to seek for adventure. However, there are some canopy tours available, and visitors can enjoy horseback riding tours through the sand of the beach and the seashore.
And, if you are wondering how Santa Teresa is, then you must know that the place is characterized by its soft and sandy beaches, as well as for its consistent surf breakings. On the other hand, Malpais features long spaces of warm sand mixed with rocks of considerable size, all of it bordered by the characteristic lush jungles of Costa Rica at the shore. Both of them are considered as one of the prettiest beaches in Costa Rica.
The beach is very appreciated by locals and also by foreigners and famous people. Just to mention an example of it, Gisele Bündchen and Tom Brady spent their family vacation in Costa Rica, where they practiced some surfing and have their own vacation house in Santa Teresa.
The couple has visited Costa Rica several times for practice this sport, they said they love country's waves and the warm beach. During this time in the area, the family also did some horseback riding; and apparently, they had a blast… as their Instagram and Snapchat accounts showed to all of us.
Options for dining here are varied and you will surely be delighted by the offer of Santa Teresa's best restaurants and sodas. Here you have some ideas of places to visit during your vacation. If you are looking for Japanese food, then a great option will be Koji's, located very close to the Flor Blanca hotel, a must visiting hotel we highly recommend. Reservations are preferable at Koji's.
For a relaxed noon with your family or friends, you can visit these cafés: Mary's Restaurant at the far end of Malpaís village; Zwart Café with a variety of dishes in its menu and a bookstore there too. For pizzas or burgers visit Burger Rancho or Pizzeria Playa Carmen, located at the beach with the same name.
To enjoy more traditional and Central American food you can visit Caracolas at the front of the beach in Malpais, it is the lone soda on the end of the coast. For seafood visit Brisas del Mar, and if looking for a great option for international cuisine then you can try the Papaya Lounge in Moana Lodge.
Santa Teresa beach town and Malpais are accessible by road driving through Highway 160 and also you will find the option of board the ferry from the province of Puntarenas to the town of Paquera or to the beach called Naranjo if you prefer it, and then taking a private -or shared- bus ride or driving to rented car for the way left.
If you don't want to spend so many time traveling, then you must know that there are some domestic flights available between San Jose province and the closest town: Tambor. Visitors also can fly from Liberia Costa Rica in a flight that lasts very few minutes.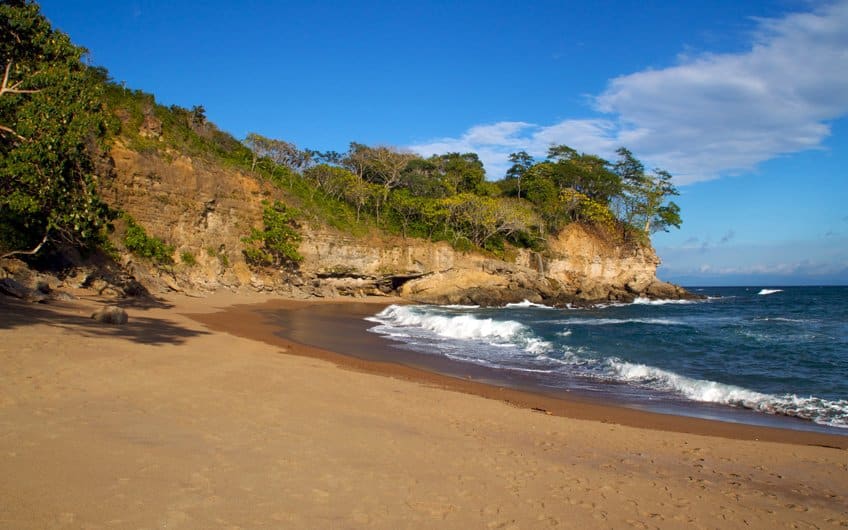 Montezuma Beach
Montezuma is located on the southeastern cusp of the Nicoya Peninsula, and beach's huge natural beauty ranges from mangroves and estuaries to dense tropical forest. This is a favorite place for youths and surfers mainly, due to its laidback bohemian vibe. An ideal place to spend some days away from the noise and stress of the city.
Nestled amidst a varied landscape, Montezuma has a unique culture. The area is a favorite spot for jovial visitors looking to have some relaxed party when the sun goes down. At night, the town turns into a more vibrant place, locals and visitors take advantage of this time to rejuvenate from a full day of activities under the sun.
Despite it is such a small town, the nightlife here is exceptional, featuring several small bars and clubs to dance and spend a great time with friends. Additionally, Montezuma has a remarkable variety of restaurants with exquisite cuisine.
Here, diners can find a lot of different options, great for all tastes! Vegetarian and gluten free visitors will find a wide variety of options; we strongly recommend you to ask for the Mediterranean options available, they are a truly delight for the senses. There is also possible to taste the typical Costa Rican food.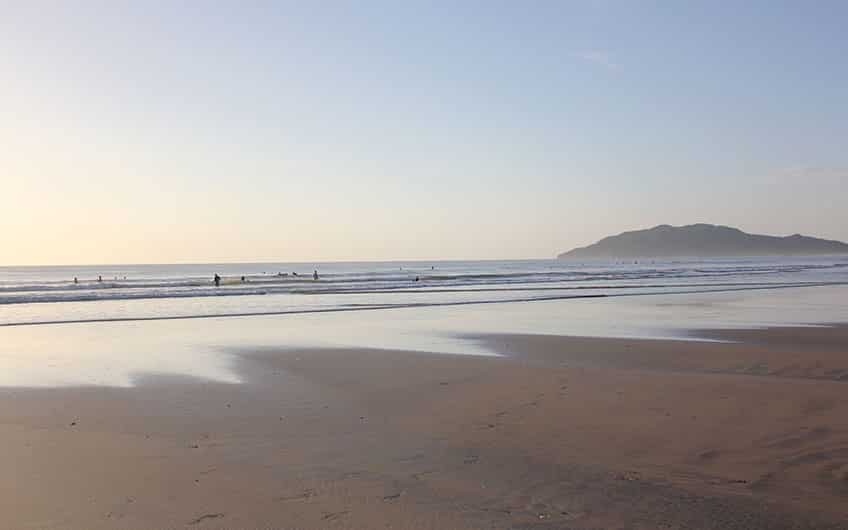 Playa Grande (or Grande Beach)
Is considered as the doorstep of Montezuma and is where many visitors go to relax and enjoy the beautiful surroundings. Surfing here is generally good, a good option if you want to practice this sport and be surrounded by beautiful scenery.
Nevertheless, the rip tide currents in Playa Grande can be quite strong, so you must be cautious. Alongside the coast, it is possible to found some tide pools formed around rocky locations. Just outside the town you will find a gorgeous 80-foot waterfall with excellent swimming holes. Yes, that is the magic of the Guanacaste beaches. And as if that were not enough, visitors can find several nearby places with warm natural springs.
Enjoying the amazing views and the delicious waters of Montezuma? Then try the local restaurants… you will feel in heaven! Here you have some dining options to visit and enjoy. You can try the Clandestina Restaurant, the Vaca Loca one of the place's most popular dining venues.
For healthy food you may visit Café Orgánico or El Sano Banano, the last one featuring a great vegetarian and delicious menu.
Soda Montesol will offer you the best "casado" of the region at a convenient price, the ideal place to go after swimming in the clear waters or exploring the rainforests and the area. Soda La Naranja will serve you traditional Costa Rican food at a very affordable price according to the Costa Rica currency, alongside with seafood options and vegetarian dishes too.
Wanting a romantic getaway? Cocolores Restaurant is a good option due to the closeness to the beach (it is a beachfront restaurant). The place offers delicious food with music in the background and great sunset views. Ideal for those looking for romance in intimate candle-lit dinners.
All kind of visitors would like and enjoy Montezuma's magic vibe!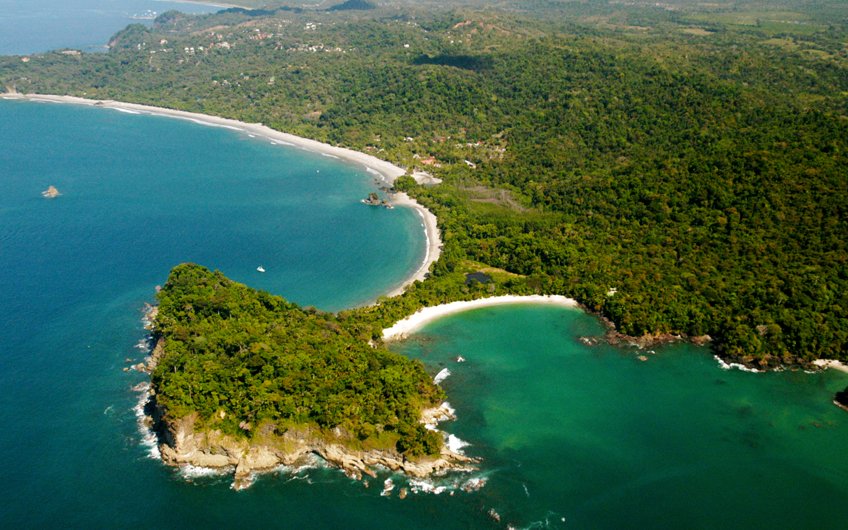 Manuel Antonio Beach & National Park
This outstanding beach is set high above the charming Manuel Antonio National Park. The area boasts world-class views and beaches.
You will definitely love this place! There are plenty accommodation options, and that's why you can find here some of the country's most inspired lodging options for your stay.
To get there you have different options to choose from. The access to the area is possible along the Coastal Highway 34 from either the North or South. If you choose to arrive by land, then you will have the chance to see how the pronounced steep cliffs along the way crash into the deep blue waters of the Pacific Ocean.
If you don't want to drive or to use the land transportation, then there is also a domestic airstrip in Quepos, just 7km away from the heart of Manuel Antonio.
White sandy beaches, sparkling blue water, and the smell of the fresh ocean breeze are just three things that will leave you breathless; and what about imagine it all from the rocking chair on your patio or right next to the sea. We guarantee that all your worries and stress will disappear since the very beginning of your stay.
Here, in the several beaches located between the town and the national park, visitors can enjoy the wide variety of activities such as swimming, visiting the Manuel Antonio National Park to do some hiking there, surfing, jet skiing, or simply get some relaxation while watching a vibrant sunset.
Manuel Antonio is one of only two places in Costa Rica where you can see all four types of monkey; spider, howler, white faced and the actually endangered squirrel monkey. Some of them can be spotted from the window of your hotel. The area is also a prime destination for those who want to watch sloths in their natural environment. They can be found both in and outside of the national park.
With the passing of the years, Manuel Antonio has become the most popular Costa Rican beach destination. A great variety of lodging options, as well as excellent cuisine available, and vibrant nightlife make this place the ideal destination for your next unforgettable vacation in Costa Rica.
We recommend you to always keep an eye on your valuables while standing at the beach or the surroundings. Regarding this, please do not feed the animals you see on your way. They are used to interact with humans, but giving them "human food" is a way to hurt them.
Here you have a brief list with some selected hotels for your Costa Rica vacations:
Dining out in Manuel Antonio will not be a difficult task due to the great variety of places to enjoy in Manuel Antonio or in the neighbor town, Quepos. The crowd of international visitors has brought a considerable amount of international cuisines ranging from Italian to Japanese, along with the traditional Costa Rican dishes.
You won't be lost, the majority of places are located very close from the other, and locals can bring you directions too. Here you have a selection of restaurants and cafés, if you want to eat out of your hotel.
You can try Falafel Bar as a great option for healthy meals or vegetarians. El Patio de Café Milagro has great food but you have to take into consideration that they have a limited menu, so you may want to watch it first. Emilio's Café will delight your senses with a great selection of desserts and great coffee and teas.
Claro Que Si –the restaurant of the Si Como No hotel- is a good option for dining with good views and amazing food options. Just in front the beach you will find a good selection of traditional and local restaurants, the perfect option after some swimming and sunbathing.
The beach features a great number of pizzerias at different budgets, bars and discos perfect for nightlife, and restaurants or local sodas just to try the best of the Pacific.
The closest town, Quepos, will offer more small restaurants and cafeterias and bars, being a great option if you want to go farther. Just, take into consideration that if you are staying at Manuel Antonio you may need a vehicle or ask for the hotel's transportation to get there.
Quepos offer any shop imaginable: pharmacies, stores, supermarkets, ice cream shops, souvenir shops, and other useful places to make more comfortable your stay.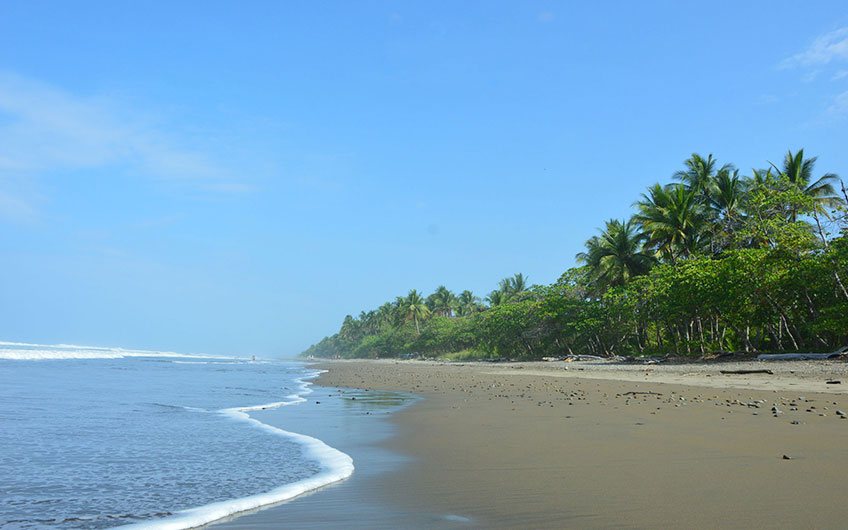 Dominical Beach
The beach town of Dominical is located near Quepos, at about 27 miles. While driving there you will find a lot of lush landscapes and great views that will refuel your spirit during your travel. Dominical is a laidback place surrounded by some of the most appreciated natural treasures of our country: flora and wildlife everywhere.
Mangroves, estuaries, sand, and animals will be part of your journey and will be completing your Costa Rica vacations mode. Thanks to its waves Dominical is considered as a paradise among surfers. Experienced surfers, as swimming here can be a little bit dangerous.
Even though the town and the beach itself are small, you can easily reach other surrounding beaches in just one day, experiencing more options and enjoying your time more too. Here, activities are varied, and it is not everything about the beach: horseback riding, canopy tours, ATVs, and waterfall hikes can be done; as well as the water sports which are widely appreciated too.
From here, many whales watching tours depart and during whale season there is very possible to enjoy these tours and observe these impressing mammals in their habitat. Another great reason to visit the town!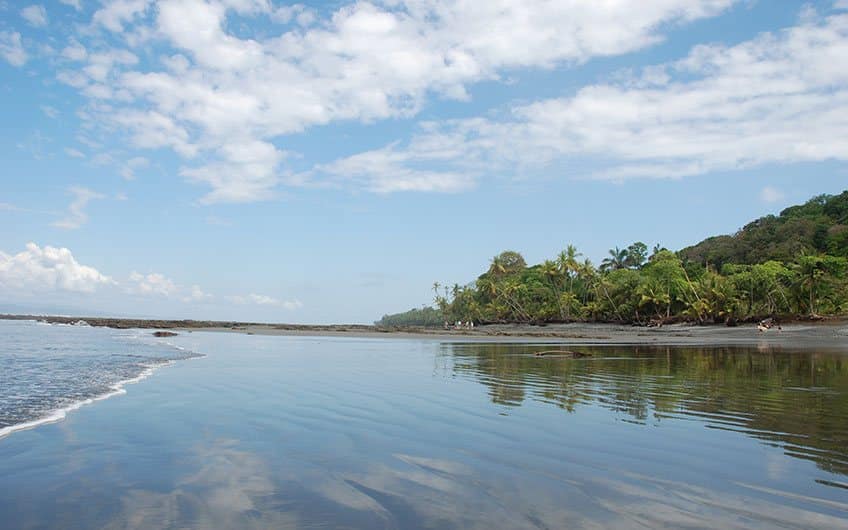 Puerto Jimenez Beaches
The town of Puerto Jimenez is located in the Osa Peninsula, in the Dulce Gulf (or Golfo Dulce in Spanish). This is a small town which is the best gate to access the prestigious Corcovado National Park, so visitors looking for the excitement of this park may visit Puerto Jimenez first.
This place offers different services and it is a very local town, so you can experience the real meaning of the Pura Vida lifestyle while staying here. The area offers different kind of accommodations so, budget travelers will easy find hotels and cabins for them; and travelers looking for a more luxurious comfort will find options too.
Costa Rica hotels in this place are usually located amidst a lush rainforest and visitors can be delighted by the close contact with nature and, in some hotels, with the calm views to the ocean. Also, if you are an adventurer and the property have access to the beach, you will find yourself in some of the most pristine beaches you have ever seen. Consider that some of the properties here will offer full board attentions as they have their own restaurant and the hotel itself is located a little bit far from the town.
You can take different tours while visiting Puerto Jimenez, sportfishing is famous here, as well as other water adventures. As mentioned before, you can explore the Corcovado National Park departing from here, as the closest entrance point is La Leona, a place located in the south of the area.
The Corcovado National Park is recognized for being one of the most biodiverse regions of the Planet, and its visit consists in a hike just for courageous and adventurous visitors and nature lovers. You will be amazed both by this park and al the wildlife, and by the sandy and quiet beaches. If you love macaws, this is your place!
Getting there is easy as it has its own airstrip (you can also fly to Golfito's airstrip and then drive a little) but definitely the easiest way is to get there flying. Driving is not too recommended because of the distance and large hours in traffic, but you can consider that in case you won't want to pay the flight cost.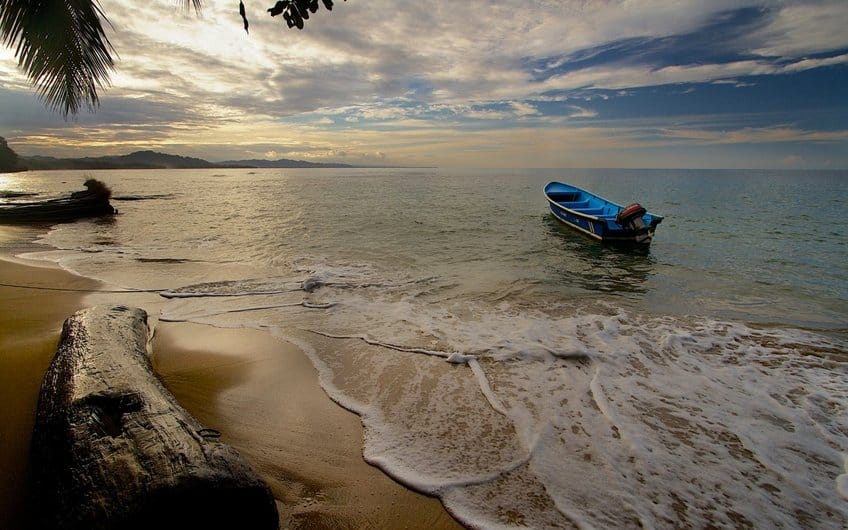 Cahuita Beach
This village is a laidback and vibrant little spot that shows the unique Costa Rica's Creole culture, thanks to its Afro-Caribbean heritage. Cahuita is located at just 27 miles (43 km) south of Puerto Limon, you can get there by driving down the Highway 36 along the Caribbean coast. If you are already visiting the Limon province, then this is a "must see" place for you. You won't regret your visit here, because it is one of the most beautiful beaches in Costa Rica.
This Costa Rica beach destination is home to approximately 4,000 or so residents, mainly of them are Jamaican descents. In the very beginning, the region started to be composed thanks to the massive importation of cheap labor at the turn of the century; most of them were exploited to work for the banana plantations.
Nowadays, Cahuita is a reflection of years of interesting history. Here, the vast majority of residents speak an Africanized-Creole English, but you can communicate without problem, as they speak good English and, of course, Spanish.
Just to help you understand the absolutely positive vibe of this village, Cahuita is a mix amongst the young and free-spirited inhabitants and those who are simply looking for an easy and relaxed life. If you are looking something like this, then this beach in Costa Rica is your perfect option.
Cahuita began to emerge from its seclusion helped by the construction of the highway to Puerto Limon from San Jose and Highway 36. Few years later, this event has opened up the region to the tourism industry, something that the town has largely accepted.
Negra Beach (Playa Negra) beach is located in the surroundings, named this way due to its black-sand, the beach offers a pleasant atmosphere and good options for swimming. Another beach can be enjoyed at the East of the town, a white-sand one, located within Cahuita National Park.
Both beaches are host to offshore activity including scuba diving and snorkeling tours. The coral reef between the two beaches is home to abundant marine wildlife, and it is considered one of Costa Rica's finest places to appreciate the Sea fauna.
Cahuita Costa Rica is a beach that serves as a gateway to the Cahuita National Park to its South, and here is where tourism services are considerably wide-ranging. You can ask for our tours; there are some offered to the national park, and the equipment, guides, and boats are available for adventurous visitors seeking for open water activities.
Cahuita's delicious cuisine is renowned as some of the best in the country. Food here has the typical Caribbean flavor and it is quite different from the other traditional food in Costa Rica. In comparison, Afro-Caribbean food is a fusion of different European cuisine and is characterized by dishes such as jerk—seasoned meats—and curried chicken, dishes prepared with coconut milk and species. Seafood dishes can be found in every corner. You must ask for them!
As a recommendation, you can take into consideration these places: Sobre Las Olas offering great seafood, El Girasol featuring Italian cuisine, Pizzeria Cahuita with good pasta and authentic pizzas. Caribbean Coconut, El Cangrejo Loco de Cahuita, Café Cahuita, Kawe –ideal for lunch-, Restaurant Tipico Cahuita serving authentic Caribbean and Cahuita food and beers.
Reggae is a local bar with great beach vibe and an ideal place to eat or drink a beer or a cocktail. Coco's Bar & Restaurante is a good place for delicious food at a reasonable price. Coral Reef, La Fe Bumbata, Caribbean Breeze, and Beach Bar are other spicy and delicious options to enjoy while staying at this paradisiac Caribbean place.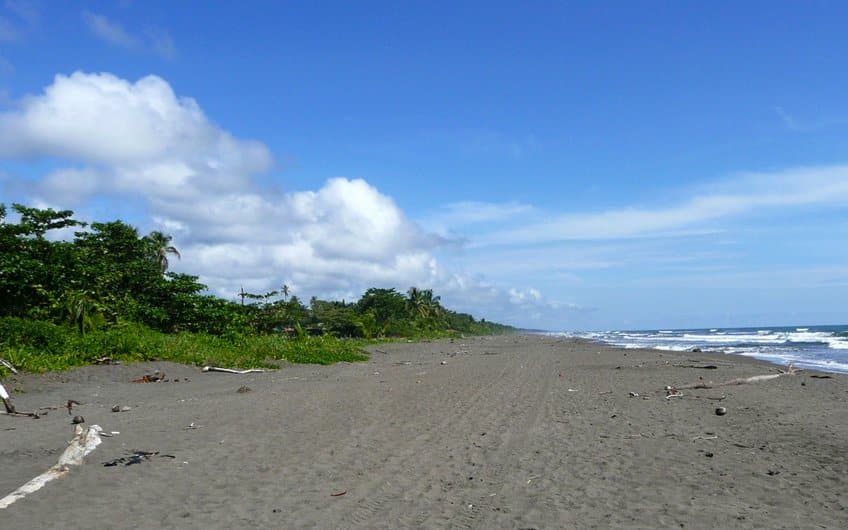 Tortuguero National Park, Beach & Canals
The Caribbean coast of the country is also home of the precious town of Tortuguero and the national park named as the same way. To get there, you must know that there are no roads leading to Tortuguero; it is most commonly accessed by the river in a boat trip on one of the canals of Tortuguero.
Another option to reach the village is by taking a short plane ride departing from San Jose. The village itself is small strip of land with a collection of colorful houses, gift shops, mini supermarkets, other public services, and lots of wildlife to be observed and enjoyed.
Even when Tortuguero is a relatively small town at the sea's shore, the place offers a variety of activities to choose from. Spending some days here will totally amaze you. One of the most awesome experiences you can live in Costa Rica is the visit to the nesting beaches at night with a guide, just to watch the turtles laying eggs in the sand or the eggs hatching.
Almost every hotel in the area includes a guided visit to the town of Tortuguero and other visits to the canals. Going around in small boats with great visibility will allow visitors to take memorable photographs of the wildlife and the landscape. You can also rent a canoe or Kayak and go exploring by yourself on one of the canals.
Likewise, taking this tour you will be able to spot creatures such as lizards, caimans, different kind of birds, crocodiles, monkeys and, if you are lucky, other mammals.
The park also offers some trails great for bird watching and for having a relaxing and entertaining hike. There is also a canopy tour, you can enjoy a different view of the tropical rainforest. Swimming in the ocean is not recommended due to the dangerous currents.
The Tortuguero National Park is one of the most varied and complete parks because visitors can experience the lush rainforests as well as long stretches of beach, mangroves, and wide-open canals. Besides, the park is one of the most important breeding grounds for the Green Sea Turtle. The wildlife here diverse and rich with great populations of monkeys, birds and fish.
Here you have a list of selected accommodations, to help you choose the lodge that fits more into your budget and vacation plans:
Dining out here maybe be a little difficult, that's why the most common way of packages include the full board meals in their rates.
But, if you want a more traditional experience, during the visit to the Tortuguero town you can find local supermarkets as well as local sodas to try one of the typical dishes, and other shops.
You need the boat ride to get there, this is very important to take into consideration.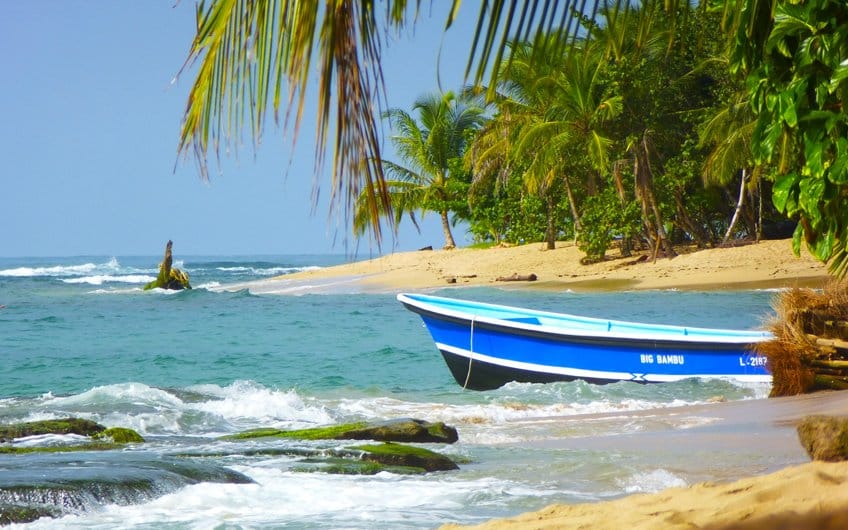 Puerto Viejo Beach
Puerto Viejo in the Caribbean of Costa Ricais well known for its laidback vibe and is also famous for its surfing waves. The village is conformed for a variety of cultural influences; it is composed of a mix of Afro-Caribbean, Bribri, and Costa Rican cultures.
A mere 11 miles (18 km) from Cahuita, this Costa Rica beach is accessible by land following the Highway 36 or by simply walking south, along the beach.
Recently, the town has become a much-visited place, loved by tourists due to its cultural richness, its stunning white-sand beaches, the tropical vegetation and its closeness to national parks, making it one of the best Costa Rica beaches to stay.
This enhance visitor's possibilities to enjoy wildlife and relaxation surrounded by stunning views and nature.
Here it is possible to do a lot of varied activities and tours. Caribbean food in Costa Rica is also well served in this beach town, a lot of seafood, vegetarian options, and traditional meals can be found at accessible prices and in a variety of places, just to satisfy all kinds of expectations.
From restaurants to small local sodas there is a wide range of options to select.
Just to mention some places to enjoy dining, here you have a small selection: Lizard King Café features a great menu with a variety of delicious food in it, Café Rico at the center of Puerto Viejo a nice place surrounded by lush vegetation and with the possibility to spot animals that came as visitors.
Bread and Chocolate has become a landmark café in the town, locals and visitors enjoy there the breakfasts and lunches, as well as the incredible good desserts. It is important to take into account that it is cash only. Café Viejo, Amimodo, Veronica's Place, and Soda Lidia are good options too.
You and your stomach won't regret your visit to this magical land.
Puerto Viejo is a very great option for some relaxed family vacations in the Caribbean. Take a look of our selected hotels in this region: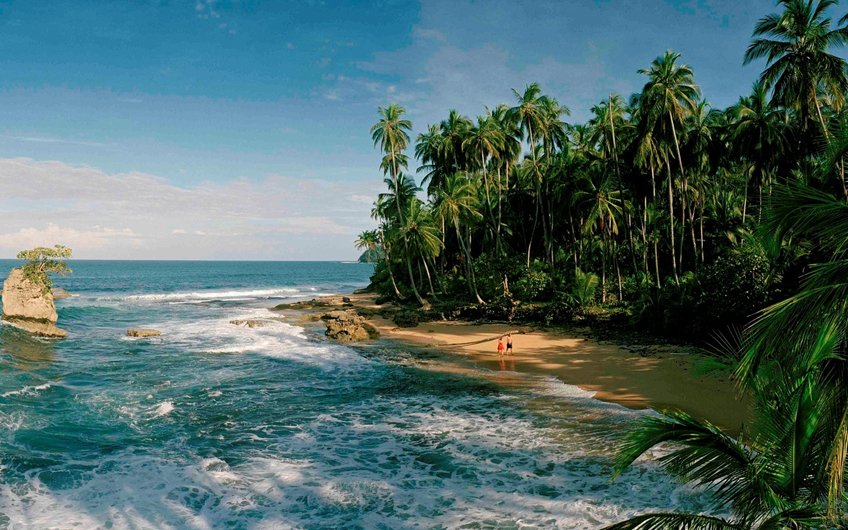 Manzanillo Beach
This is a flourishing comer of tourism, due to the fact that is coming into its own not long ago and its small size.
This tiny village overlooks a stunning white-sand beach that makes its way to the blue green waters of the Atlantic Ocean. It is considered one of the prettiest beaches in Costa Rica.
Snorkeling is an excellent option of something to do here, although the ocean is a bit rocky. It is particularly great in the nearby lagoon, which is protected by a rocky reef with abundant exotic marine fauna.
Due to these rocky conditions it is not highly recommended to swim here.
If you want to experience something truly inspiring, then exploring the unspoiled beaches of the north of Manzanillo is one of the main attractions here.
The isolated beaches of the area don't have road access nor a single house or building, what makes the walk in a very relaxed and introspective one, just to enjoy quietly the views, the breeze, and the sounds of the waves.
Visitors with four-wheel drive vehicles may drive to the secluded beach, however, the drive to get there turns in something almost impossible during the rainy season; particularly from September to November, when rains are at their heaviest.
A small number of accommodations are available to tourists, and bars and restaurants can be counted on one hand. But, it is also part of the adventure. Once here, you will know that your trip was worth it!
Manzanillo is accessible by land at barely 4 hours driving from San Jose. The place is located at the South point of the famous Cahuita National Park, and is the last town at the south of the paradisiac Puerto Viejo.
As Manzanillo is at the end of the coastal road, after the village there are only a few dirt trails that lead straight to the rainforests found in the region.
Just as recommendations you can taste Maxi's Restaurant to enjoy a fully Caribbean food and great seafood and Cool & Calm Cafélocated directly across from Manzanillo's western beachfront.
We suggest Almonds & Corals hotel if you are visiting this beach. You won't be disappointed.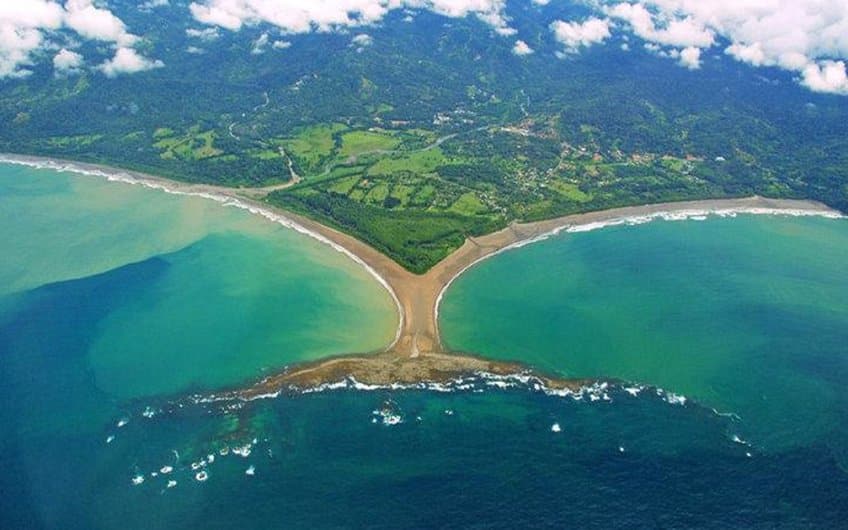 Uvita Beach
Wanting a less crowded beach vacation in Costa Rica?Then, Uvita may be the ideal location. Located at 11 miles (17 km) south of Dominical alongside the coastal Highway 34 (or Costanera Sur as is known by the locals). This tropical village has a cozy charm in an unspoiled and serene atmosphere.
Going for a long walk along the beach's coast is a beloved activity for all the visitors here. The calm waters of Uvita are excellent for swimming, snorkeling, and scuba diving and diving offshore.
When the tide goes down make sure to visit Punta Uvita to the south of the town.
During the months of May to October it may be possible to witness the Olive Ridley and Hawksbill sea turtles coming ashore to nest.
The protected area of Marino Ballena National Park, located at the south, is a very great place to watch this occur. Here it is even possible to watch the majestic Humpback whales in their migration through the waters just offshore.
This magical event normally occurs between the months of December and April.
Playa Uvita is a great white sand beach, another perfect spot for those who like swimming and surfing. If you are staying here, then you can take optional tours as the Kayaks through the mangroves and estuaries near the town of Uvita.
There are many gorgeous waterfalls in the surroundings, some of which have been described by visitors as being the best ones in the whole country. You must come and check them to have your own opinion! Other fun options to do are horseback riding, scuba diving, snorkeling and hiking.
Here it is a brief summary of the most visited Costa Rica beaches, just to help you during your process of deciding which of them fits better into your vacation plans.
We can provide several vacation packages to Costa Rica that are already set, but if you prefer, we can accommodate your options to make a more customized itinerary for your family vacation or your adventurous or romantic getaway.
Visit RoadShack to enjoy really good vegetarian and vegan options, their specialty are the gourmet sandwiches and salads. Ballena Bistro offers rustic and contemporary fusion cuisine using local and fresh ingredients. The restaurant is located in a pretty barn-like building called Goathouse 169 on the kilometer 169 on the coastal highway between Uvita and Ojochal.
Sibu Cafeteria & Chocolate is a must stop place due to its delicious coffee and desserts. There are many pizzerias too, at very affordable prices, just to adjust to each one of the visitor's budgets. Typical food can be found here too, in places such as Soda Ranchito Dona Maria or at Restaurante Las Esferas. Jungle Blue Restaurant, Carlito's Restsaurant, Los Laureles Bar, and Restaurante La Casona are other fantastic options for dining out while exploring the lush landscapes of Uvita.
Costa Rica Beaches Map