---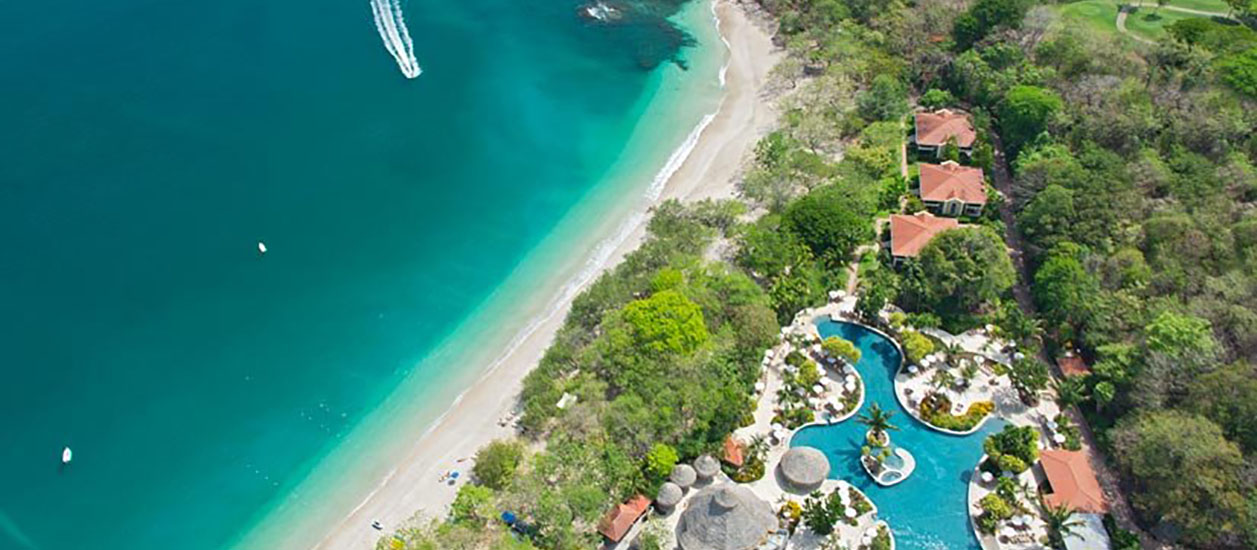 This time, we would like to recommend one of the prettiest beaches we have in the North Pacific coast. This is Conchal Beach, which is located in Guanacaste Costa Rica, ten minutes south from Flamingo and Tamarindo (one of the most popular surfing beach) and 1.5 hours from Liberia International Airport or 4.5 hours driving from San Jose.
About the location
This province is characterized for having the driest weather in the country. It is possible to travel all year round and the temperatures keep very constant – mostly warm. Guanacaste is where you will find most of the all-inclusive family resorts, very popular for those travelling with kids. Additionally, it is full of culture, traditions, folklore and is a great option to taste delicious typical food in Costa Rica.
You do not have to forget that Guanacaste has important attractions that allow to be in contact to flora and fauna. Additionally, on your family holiday, you can stay in Conchal or nearby and discover some other beaches because these are really close to each other.
To get there, you can rent a car if you do not mind driving and want to maximize your time, or having shared or private transportation if you want to rest all the time and be more comfortable, but it is also possible to take a domestic flight from different areas to Liberia and save more time during your adventure vacation package.
Do you know why it is called Conchal?
Conchal means shells in Spanish and its name comes from the beach composition, mostly shells and tiny rocks pulverized so it is really scenic and nice, very unique by the way because beaches in the area are usually composed by sand. It has an incredible clear color, something very similar to white sand. On your vacation package you must discover this beautiful beach and its surrounding attractions.
This place is quite isolated, especially because it does not belong to a downtown but it is certainly close to other beach destinations such as Potrero, Brasilito, Pirates Bay, Grande, Langosta, among others, so if you are on a family trip you have a lot of options or destinations to visit.
The highlight at Conchal Beach are not only the shells; it offers a unique landscape with lots of colours that are perfectly blended to create a memorable experience on your vacation package. You can enjoy the green mountains, the turquoise water, the blue sky and the white shells, all in just one place.
What to do in Conchal and surroundings?
There are some national parks or protected areas in the surroundings, Palo Verde
National Park is almost at 2 hours from the beach but it is a must for birding enthusiasts, there you will find the right ecosystems to spot different species of birds. Santa Rosa is also another spot which encloses a great richness not only of nature and wildlife but a culture heritage too. For an adventure package you can visit Rincon de la Vieja National Park, one of the active volcanoes and part of the dry forest, there you can walk and admire beautiful waterfalls as well as the magical volcanic fumaroles.
Additionally, if you want some more challenging tours, maybe you could try the zip line on your vacation package, horseback riding, ATV, stand up paddle, white water rafting, surfing classes and snorkelling if you enjoy water activities.
Accommodation
Lodging options are not really varied, however you can stay in Tamarindo, Flamingo or other nearby beach. There are some small properties close to the beach, more simple but comfortable and there are some others more exclusive and perfect for a honeymoon, and one big resort offering all-inclusive system - one of the best we have in the North Pacific.
Remember that you can visit Conchal Beach if you are arriving or departing from Liberia but it is also recommendable to connect it with some of the amazing attractions such as Arenal Volcano National Park, Monteverde Biological Reserve, Manuel Antonio National Park, among others. There are a lot of places where to stay with family.
We can help you planning the trip of your lifetime, do not hesitate to contact us and ask about special deals, promotions, or the best itineraries that we could adjust to your next vacation plan.
---
---
Leave a Comment