---
August 6, 2011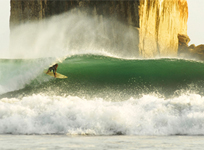 Surfing has become one of the most amazing and followed sports in the Costa Rica adventure traveldepartment. If you are into heavy- exciting sporting events, surf is your way to go, especially because there are plenty of teachers in the zone that will love to help you out.
Costa Rica is ranked 11 in the World Surfing association and is the best Central America spot to surf with amazing surfers all across the nation. Actually for the tourists, surfing becomes as one great opportunity to meet these great athletes basically because most of them have their own Surf Schools to teach foreigners.
If you are planning on having your Costa Rica travel vacations to learn how to surf the Pacific might be your best option. The Pacific beaches have smaller waves and it's easier to learn because is not dangerous to get hit by a strong wave or by the surf board as well.
You can go surf at Boca Barranca, Playa Escondida, or at Playa Dominical but if you want another market perhaps and you want a beach that combines every luxury that you might think with great waves, Playa Jacó and Hermosa are you best choices.
However if you are an experience surfer and despite I can assure you will enjoy the Pacific beaches, your place might be better at the Caribbean as the waves are stronger and more dangerous; the swell hits the Caribbean more on a regular daily basis helping it to have better and tremendous waves to surf.
I'm pretty sure that if you don't speak Spanish your Costa Rica group travel will help you find some nice surf lessons for you to start riding the board and having the time of your life while you enjoy the Costa Rican beaches; plus the rest of the amazing landscapes and the great sympathy the locals have.
Leave a Comment