Table of contents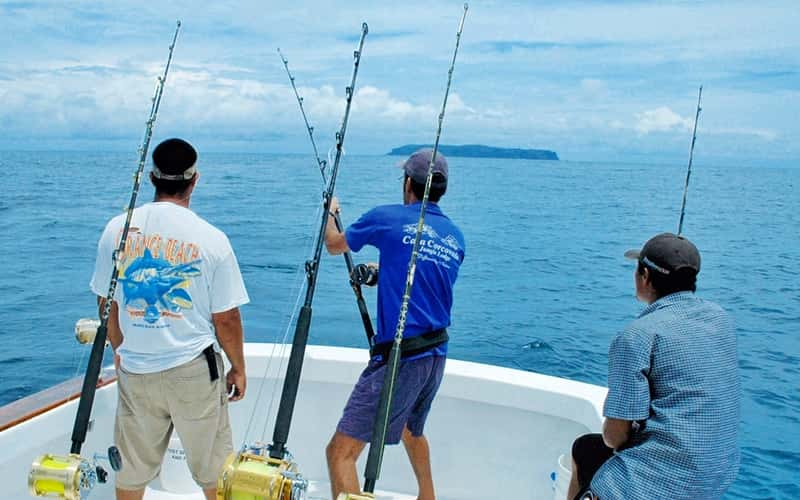 Costa Rica is an amazing spot for fishermen. Why? Well, first of all for its idyllic weather that allows fishing all year long; and also, because all of its multiple water attractions: two oceans, beautiful lakes and hundreds of rivers where visitors can practice multiple tours full of adventure.
Besides, another great thing about having Costa Rica fishing vacations is that, as it is a small country, you can do fresh and salt water fishing in the same visit because of the short driving distances between one fishing destination and the other.
In fact, fishermen can be in only 40 minutes flying from the Juan Santamaria International Airport in some of the best fishing spots of the Pacific and the Caribbean coasts. This is a good reason to start planning your next cheap Costa Rica adventure packages if you love this activity.
With fishing tours available in almost all of the regions of the country and with even some boutique hotels specially designed for fishers and their families, Costa Rica is without a doubt one of the best places to visit for beginners and professional fishermen.
Here you have a brief description about each one of the fishing zones of Costa Rica: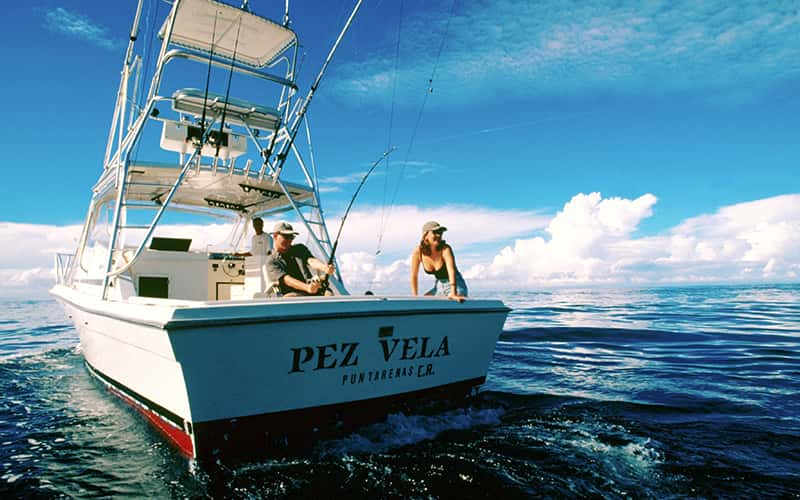 Northern Pacific Coast Fishing
With two full-service marinas in Papagayo Gulf and Flamingo in Guanacaste, this part of the country is one of the most popular tourist destinations for all its world-recognized beautiful beaches and the top all-inclusive resorts that can be found here.
For fishing in this province, the best months are May and September.
What fish species can you find here and when?
There are different species that can be found in this region, turning the sport fishing a regulated practice which also supports the local economy, impacting of course the country's wellbeing.
Marlin: Caught every month of the year, especially from mid-November to early March, then slowing a bit from April into early June when it picks up again, peaking in August and September.
Sailfish: Caught throughout the year, with May through August normally the top season. They may begin to thin out in September, with the slowest months running through November.
Tuna: Peak months are usually from August through October, but there is almost always tuna anytime of the year. Yellow fin and big eye tuna over 350 pounds are sometimes found in Catalina Islands, 30 minutes or less from the beach.
Dorado: More properly known as dolphin, these colorful gamesters are most abundant from late May through October when the seasonal rains flood the rivers that carry out debris, forming trash lines close inshore they like to lie under.
Wahoo: Caught in limited numbers throughout the year, the best showing begins about the time the rains start in May, peaking in July and August. Most are caught around rocky points and islands, but you may pick one up occasionally fishing offshore as well.
Roosterfish: Caught all year but more easily from October through March, in the Papagayo Bay area and around the islands.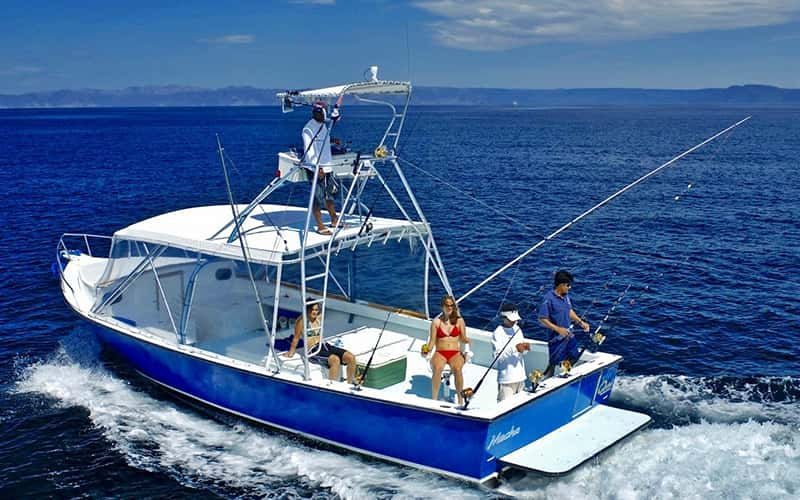 Central Pacific Coast Fishing
Quepos, a town located very close to the famous Manuel Antonio National Park, is the fishing center on the Central Pacific coast, with a full-service marina and more than 50 professionally equipped boats in the 27-feet range and up, and smaller boats well suited for the excellent inshore angling in the area.
There are also available multi-day trips to the Drake Bay and Caño Island area (also top scuba diving areas) from Quepos, with overnights at one of the several lodges located on Drake Bay.
This region is best known for its wahoo, big cubera and roosterfish and the best months are from November to March.
What can you find here and when?
The climate in Costa Rica will mark the months of the year when a certain population of fish comes to its waters or not.
Marlin: October is normally the top month for marlin in this area, but September and November are also good months.
Sailfish: From mid-December to the end of April is rated as the best season, but the big schools often move in October.
Tuna: Found throughout the year as they are all along the Pacific coast, but most abundant from June through September. Most are from 8 to 12 pounders, but a dozen or more over 200 pounds and maybe another two dozen in the 100- to 200-pound range are taken every year.
Wahoo: Pretty rare in the area around Quepos, but more abundant in the late summer farther south, especially the Drake Bay and Caño Island area from late June to early August.
Dorado: Best action begins with the rains that start in late May and wash woods and coconuts from the river mouths, creating a natural shoreline the dolphin likes to lie under.
Roosterfish: Exceptional at the mouth of the Parrita River, Palo Seco between Parrita and Damas and just outside Damas. Off the mouth of the Naranjo River, and around the points at Dominical Beach and throughout the Drake Bay area. Best fishing is during the summer months, from June through early September.
Snook: Best spots are just off the many river mouths along the coast, up in the Sierpe River and in the big Sierpe lagoon. The Pacific world-record black snook was taken in 2012, in the mouth of the Río Naranjo on a charter with Captain Jim Geary. Although it is a new fishery, the best months are from July through November, during the heavy rainy season.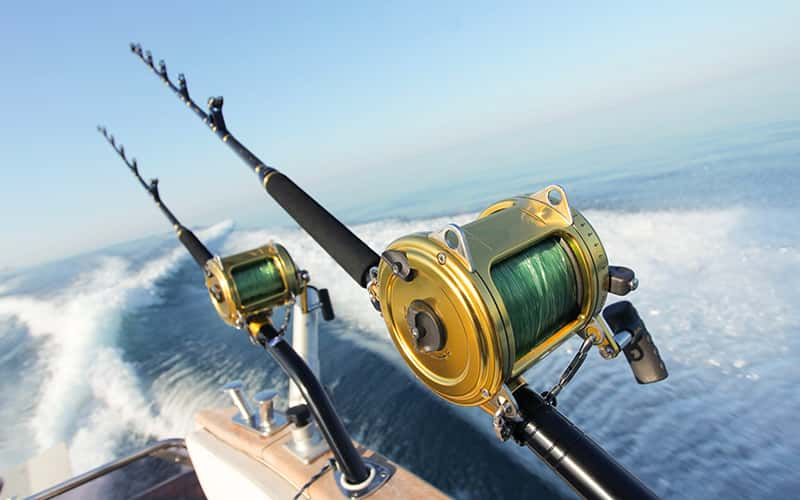 Southern Pacific Coast Fishing
Golfito is the fishing center of Southern Pacific coast. In fact, it's here where most "fishing lodges" are located. Across the bay there are some lodges located on Playa Zancudo, a narrow peninsula with miles of beach on the ocean side and the confluence of three rivers on the other side. You can book day charters or even, packages with all meals, lodging and open bar options.
Here, in the Southern region of the country can also be found the incredible and biodiverse Corcovado National Park, even though this place is highly protected and, for its conditions, it is not a place where you can practice sport fishing.
What can you find here and when?
Marlin: August through December is peak season, but an occasional blue or black may be taken any month, if the water temperature is up.
Sailfish: Exceptional fishing from December through March. Often slows from April into early June, then picks up again and begins to peak in August or September.
Tuna: Best fishing for the bigger ones corresponds with marlin and sailfish season, but the schools can nearly always be found outside.
Dorado: Best runs are traditionally from late May through October.
Wahoo: Not abundant in the area, but an occasional wahoo may be taken most any time of the year.
Roosterfish: This region is famous for its big roosters and they can be caught almost any month of the year, some are nearly 100 pounds of weight.
Snook: Caught all year, but best from middle or late May through July and January and February.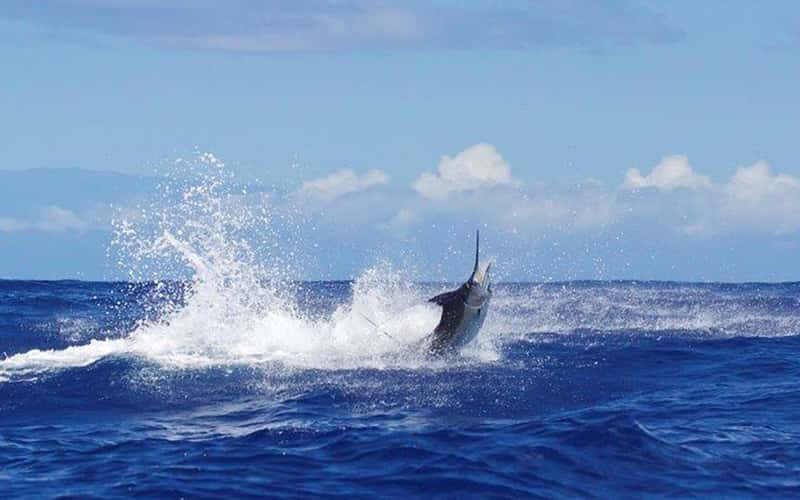 Caribbean Coast Fishing
Fishing along Costa Rica's Caribbean coast can vary more from one day to another than from month to month and the best places are restricted to Tortuguero and Barra del Colorado.
Historically, tarpon fishing is promoted by lodges on Costa Rica's east coast from December through mid-May while snook peak from September through November.
But the fish are there year-round, and it's mostly a matter of the weather, which can change overnight. Rainy season starts about mid-May, and action slows for a while as the dirty water sweeps out of the rivers.
Lodges offer all-inclusive services, including road transportation from San Jose, the capital city of the country, comfortable accommodations, delicious typical food, boats and guides. As there are no roads to this area, the access is via the in-country airlines or charter flights, or by boat through the Tortuguero Canal system, where the Tortuguero National Park can be reached.
Important recommendations to take into account:
Note that both local and foreign, require a license to fish either inshore or offshore. In fact, many tourists ask for the license when booking their Costa Rica vacation package.
Costa Rica Sport Fishing Map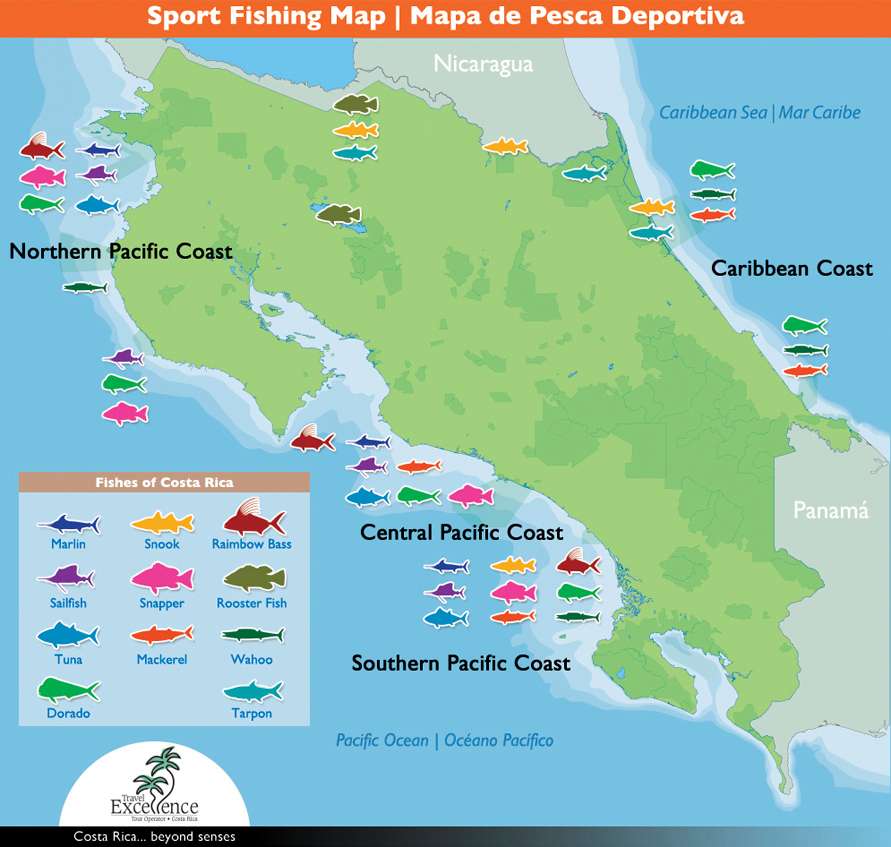 Costa Rica Fishing Video