Table of contents
Would your ideal vacation include spotting a breathtaking variety of beautiful tropical birds, hiking through mountains and rainforests, seeing active volcanoes, or relaxing on picturesque beaches and snorkeling on coral reefs? If any or all of these sounds good, then Costa Rica may be the destination for you.
A hotspot of tropical biodiversity, Costa Rica is only the size of West Virginia but contains 5% of Earth's species. This small Central American country, located between Nicaragua and Panama, has a land area of 51,100 km2 in addition to 589,000 km2 of territorial waters and 801 miles of coastline.
The central mountain range – including seven active volcanoes – tapers to both Pacific and Atlantic coasts, providing an incredible variety of habitats and ecosystems. In the highlands, you can hike through the cloud forest and paramo (montane tundra); along the coast, you can explore the "manglares" (mangrove ecosystems) and the beautiful coral reefs; and in the lowlands, you'll find wet forests, seasonally dry forests, and vast wetlands, including 12 RAMSAR wetlands of international importance.
Costa Ricans, also known as "ticos", are proud of their country's ecological riches, of their peaceful society (Costa Rica's army was abolished in 1948), and of the fact that 99% of the country's energy comes from renewable sources, principally hydroelectric power.
For the past several decades, Costa Rica has taken steps to preserve its trove of biodiversity. Eleven key conservation areas have been established by the government, and 25% of the country's land area receives some level of protection thanks to conservation-minded landowners and the establishment of private reserves. Costa Rica has also signed international agreements including the Convention on Biological Diversity and the Wetlands or RAMSAR Convention.
With approximately 915 species of birds in 84 families, Costa Rica has long been a mecca for birders from all around the world. One of the world's most famous ornithologists, Alexander Skutch, fell in love with this country, set up a homestead (now known as the wildlife refuge and birding hotspot Los Cusingos), and conducted an extensive research on avian behavior and habitats, writing over 40 books and 200 papers about his findings.
The country is decided to promote the bird observation strongly during the coming years, as it is an activity that moves around nine million tourists per year. By enjoy birdwatching in Costa Rica you can observe up to 100 species in just one day. That is an advantage considering that in other countries the possibilities of observing birds are limited to a few hours in the morning and at the very end of the afternoon.
Here there are a lot of options and opportunities of enjoying a great Costa Rica tours of birdwatching throughout the day and in different and varied locations along the country according to the preferences of the tourists. Besides, the short driving distances between two different spots in Costa Rica ease the mobilization in order to watch different species, in different places, but all in the same day.
In 1972, Skutch and F. Gary Stiles undertook the project of creating a guide to the birds of Costa Rica. Published 17 years later, this book – still considered the bible of Costa Rican birders – has encouraged our commitment to preserve our natural heritage.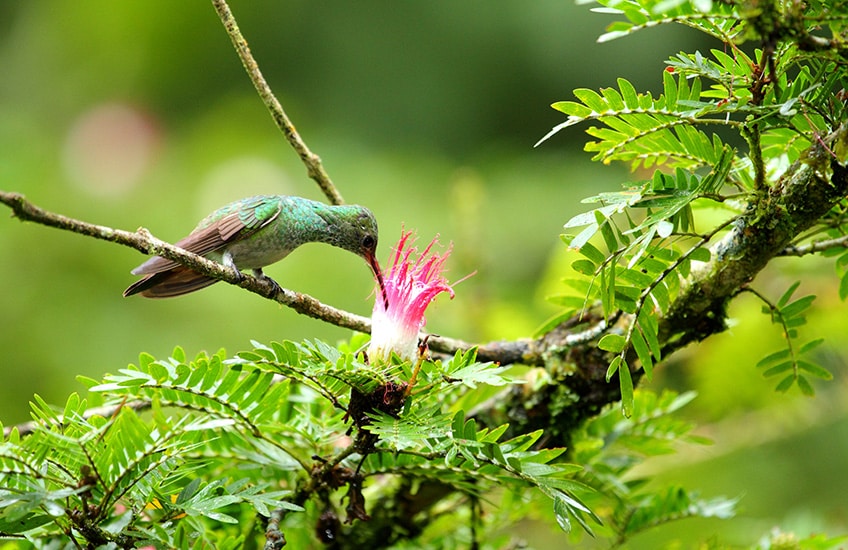 What you can expect from birding and traveling in Costa Rica?
While you are doing what you love to do, you will be surrounded by the natural splendor of the rain forest, dry forest, cloud forest, mountains, volcanoes, rivers, lakes, waterfalls, and breathtaking scenery. And the enormous variety of habitats – often in close proximity to each other – will give you the chance to find many species within a single day's travel.
When to Visit?
The tropical climate of Costa Rica guarantees amazing birding year-round. You can enjoy around 600 resident species; the remaining 300+ migratory species mostly come from North America. In mid-August the first migratory species, mostly waterfowl, begin to arrive to avoid the harsh winter of the North. Between September and November other species begin to sail our skies in search of food. Therefore, the greatest species diversity can be observed from November until the middle of April, when migrants depart for North America.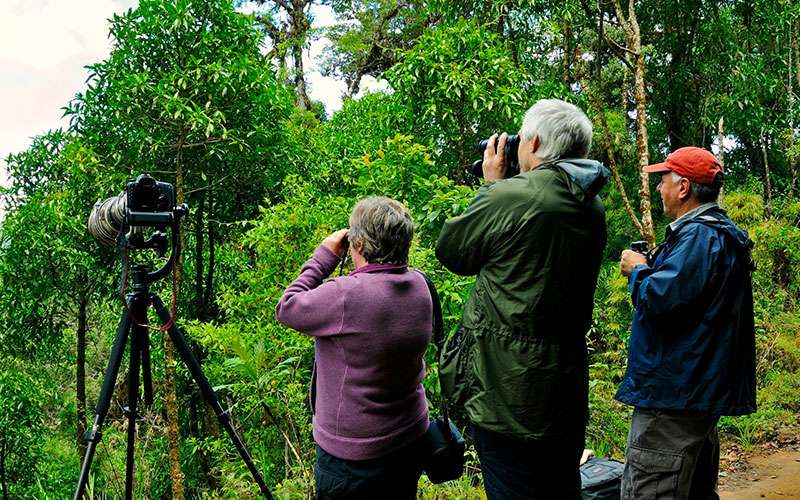 Where to go Birding?
Emblematic species are found in each of the different regions of Costa Rica.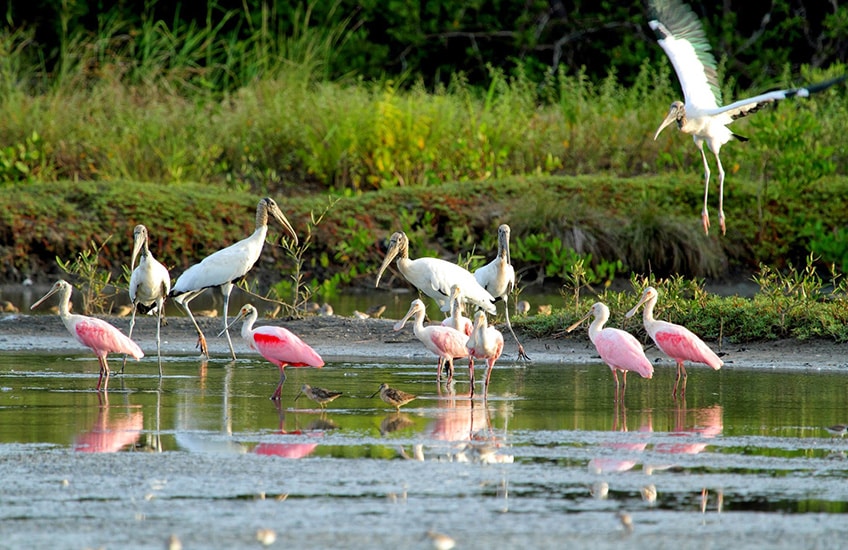 Emblematic species are found in each of the different regions of Costa Rica. Here you have a brief explanation of those areas:
North Pacific
Land of countless recreation options, Guanacaste is the cradle of Costa Rican culture and home to six life zones. With Liberia Costa Rica as its capital city, it has large and extensive plains and many wetlands rich in birdlife such as the Palo Verde National Park, La Ensenada, La Hacienda Solimar, and some areas of mangroves.
This region also includes Rincon de la Vieja National Park, which has an active volcano, bubbling mud pots, waterfalls, and trails where you will see an abundance of flora and fauna. The Santa Rosa National Park, part of the Guanacaste Conservation Area, is connected to the high elevation cloud forests of Orosi and Cacao volcanoes, creating a biological corridor for birds and other wildlife and protecting wide-ranging species such as jaguars and pumas.
Warm water and beautiful beaches are also options for this part of your trip. The Guanacaste area has a very warm and dry climate and is known for species such as the Jabiru (stork), Lesser Ground-cuckoo, Long-tailed Manakin, Pacific Screech-Owl, Spot-breasted Oriole, and Mangrove Hummingbird.
The North Pacific region is easily accessible from North America and other several parts of the world: there are direct flights to the Costa Rica airport in Liberia from Toronto, Miami, Phoenix, Chicago, Orlando, Denver, New York, among others.
Liberia, a beautiful city with colonial architecture, offers plentiful accommodations, including the Hilton Garden Inn hotel, located right in front of the Daniel Oduber International Airport and having free shuttles to and from the airfield.
Average annual temperature: 31°C/89°F.
Dry season: December through April.
Rainy season: May through November.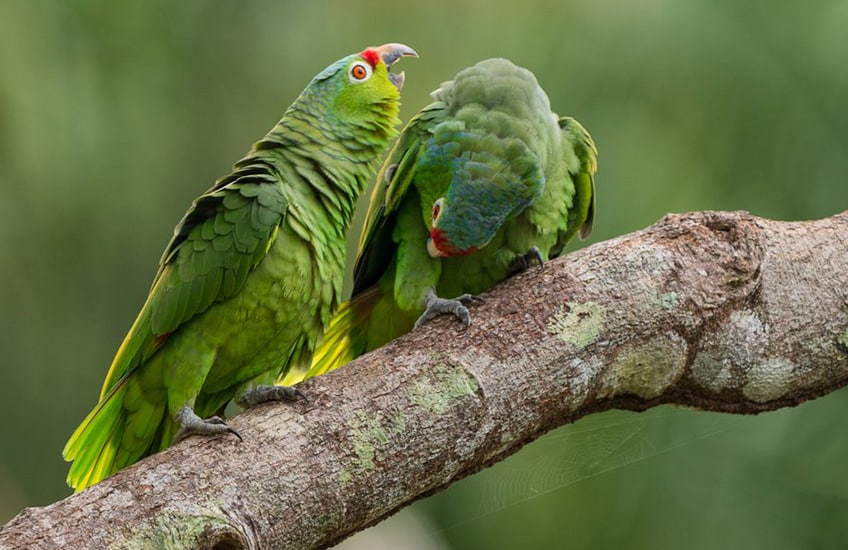 Central Pacific
This region offers a great combination of mountainous coastline, incredible landscapes, beaches, national parks, natural reserves, and easy access – definitely consider the Central Pacific in your Costa Rica vacation packages! The warm water of the Pacific Ocean is home to migrating whales and pods of dolphins, and the climate is similar to that of the North Pacific but is a little bit more humid.
For birders, Carara National Park is a must-see: this 5.24-hectare handicapped-accessible park protects a transitional forest between the North Pacific region and the more humid forests of the southern part of the country and includes swamps, gallery forest, secondary forest and primary forest.
The Tarcoles River, mangroves at Punta Morales, Costa de Pajaros and Chomes are other notable birding spots. The Central Pacific region is the home of species such as the ever-admired Scarlet Macaw, Orange-collared Manakin, Streak-chested Antpitta, American Pygmy Kingfisher, and Marbled Wood-Quail.
Here you can find also the Manuel Antonio National Park, a great option for hikers looking for some lush vegetation and wildlife. Average annual temperature: 27°C. Dry season: March and April. Rainy season: May through November.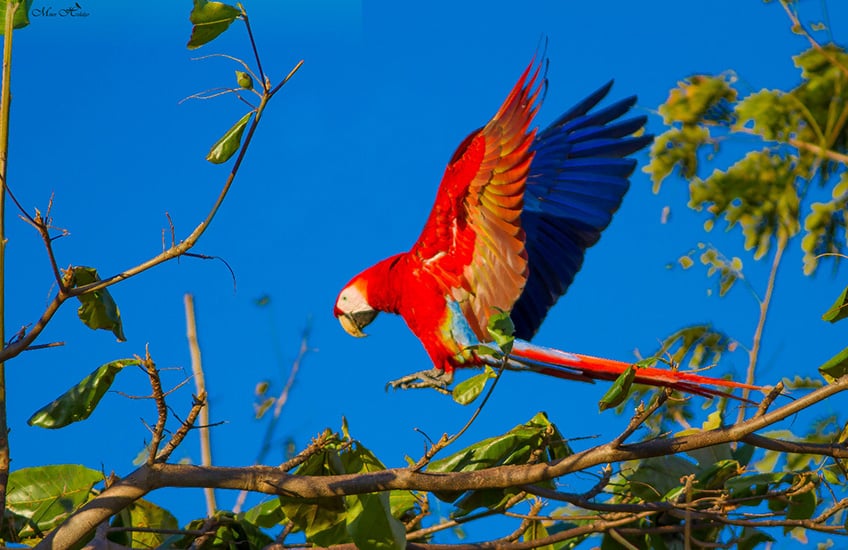 South Pacific
The South Pacific is one of the wildest regions of the country. Covered in rainforest that extends along some of Costa Rica's most beautiful and stunning beaches, this is also an excellent area for exploring mangroves and estuaries along the coastline.
Coco Island is a remote island located 300 miles offshore with a total of 85 bird species, including four endemic species. Corcovado National Park contains one of the wildest forests in Central America, as well as about 400 species of birds, and offers fantastic opportunities for trekking and/or boating along remote areas of the coast.
Isla del Caño National Park encompasses turquoise blue water with gorgeous coral reefs, and Marino Ballena National Park is also of great biological value with an amazing variety of bird life. While staying in these places you will observe some of the endemic species of Costa Rica, such as the Black-cheeked Ant-tanager, Red-rumped Woodpecker, Crested Oropendola, Rusty-margined
Flycatcher, Sapphire-throated Hummingbird, and Savanna Hawk, just to name a few.
Average annual temperature: 29°C/84°F.
Dry season: December to April.
Rainy season: May to November.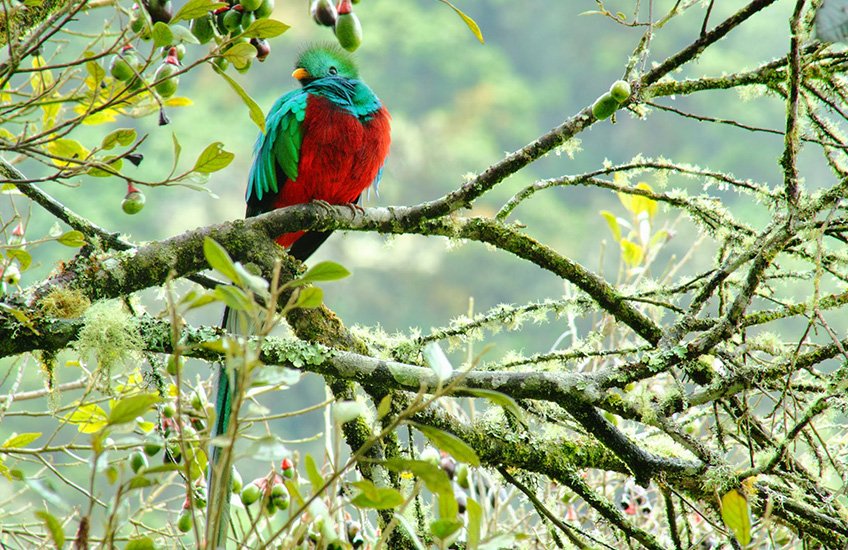 Highlands
Extending down the Central Mountain Range, Costa Rica's highlands are home to national parks and protected reserves and offer breathtaking vistas of forest-clad mountains. Endowed with beautiful old-growth oak forest and well-visited towns such as Monteverde, this region includes multiple avifauna sanctuaries with around 400 species of birds.
The Resplendent Quetzal, one of the most sought-after targets for many birders, can be found in areas like the Monteverde Cloud Forest Reserve, one of the most-visited places in this region due to its unique biodiversity. Several hotels in Monteverde offer excellent accommodations for a wide range of travel budgets.
San Gerardo de Dota is a paradise according to many bird lovers and nature enthusiasts who are enjoying their Costa Rica vacations. At an elevation of 2,200m (7000 feet), the spectacular montane oak forest and open paramo ecosystems will give you the chance to view some of the 200-colorful species of birds, including the Resplendent Quetzals, who mate during the first months of the year.
Even non-birders will be amazed at the majesty of a male Quetzal flying past and displaying his stunning colors. The highlands also offer an incredible diversity of hummingbird species whose iridescent rainbow of colors will leave you in awe.
Traveling in Costa Rica to the highlands will also offer you the opportunity to visit some of our volcanoes, including Poas Volcano National Park, which has one of the largest craters in the world with a diameter of 1.32 km. Irazu Volcano, the highest volcano in Costa Rica at 3,432 meters / 11259.84 feet is also called El Coloso ("The Colossus"); its greatest eruption, in 1964, spread volcanic ash over Costa Rica's Central Valley and the capital city of San José.
At highland sites, you will see species such as the Fiery-throated Hummingbird, Long-tailed Silky-flycatcher, Costa Rican Pygmy Owl, and the beautiful Golden-browed Chlorophonia.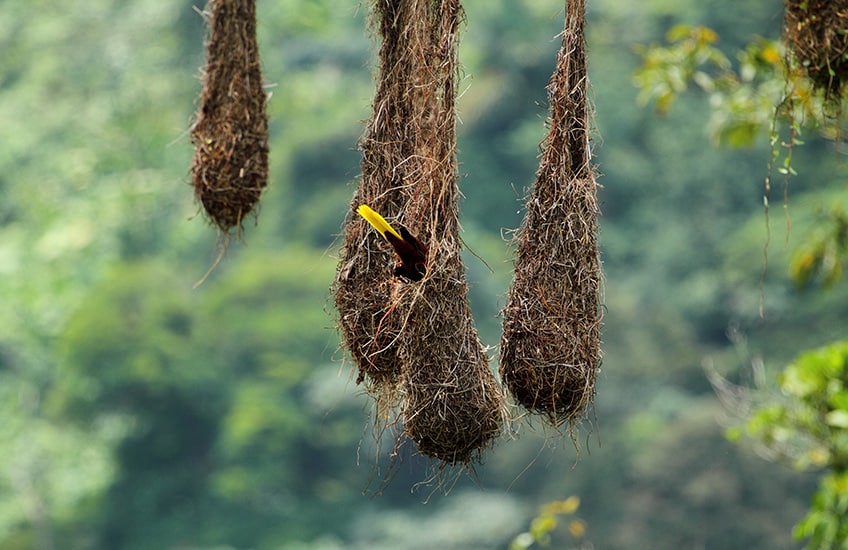 Atlantic Area
The Atlantic area is home to the greatest avian biodiversity in Costa Rica and is characterized by a very humid climate and an evergreen rainforest. Tortuguero Wildlife Refuge on the northeastern coast was declared a National Park in 1970 due to the exceptional biodiversity of its Costa Rica beaches, estuaries, canals, wetlands and the mysterious forest where there have been reported sightings of Harpy Eagles, one of the most sought-after species for many birders.
Another main attraction of Tortuguero is the mass nesting of sea turtles: the green, the leatherback and the hawksbill. In the spring, female turtles emerge onto the beaches at night, lay their eggs, and bury the eggs in the sand. The eggs hatch approximately two months later, and the tiny hatchlings crawl across the beach to the ocean.
Caño Negro Wildlife Refuge, located near the Nicaragua border, is a wetland refuge and home to many migratory waterfowl such as Glossy Ibis, American White Pelican, many duck species, and the Jabiru, the largest bird in Central America. This is also one of the best places in Costa Rica to see Nicaraguan Grackles.
Another birding hotspot is La Selva Biological Station, an active research station and protected area of around 1,600 ha of lowland wet forest. With a combination of primary forest, secondary forest, open areas and a great variety of host plants, La Selva is home to almost half of the species in Costa Rica.
Those species include the endangered Great Green Macaw, the famous King Vulture, the Spectacled Owl (our largest owl species), the endemic Coppery-headed Emerald, the beautiful Sunbittern, the always sought-after Bare-necked Umbrella Bird, and the mysterious Ornate Hawk-eagle.
Average annual temperature: 24°C/75°F.
Dry season: February to March.
Rainy season: April through January, with a shorter dry season in October.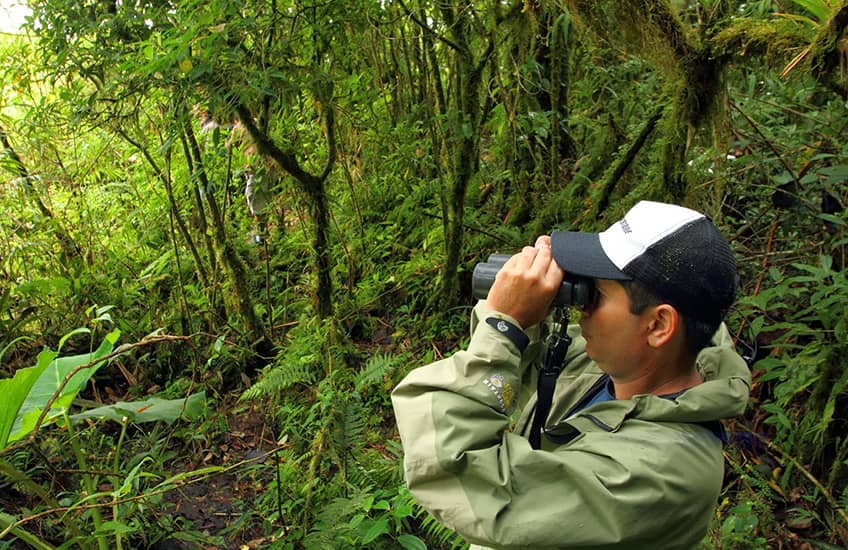 What should I bring for Costa Rican birding?
Birdwatching is a passion that can be enjoyed anywhere we go, but it's much more fun with the appropriate equipment. The following gear is key to making your trip to Costa Rica successful.
Waterproof binoculars. Costa Rica is a tropical country and there is always a chance of rain, and many parts of the country have extremely high humidity. The most useful binoculars range from 8×42 to 10×42.
Scope and tripod. You will often spot birds at considerable distances (raptors on treetops, etc.), and a scope will be extremely helpful for identification. And if you are a photographer, the tripod will give you the stability needed for great shots.
A guide to the Birds of Costa Rica, by F. Gary Stiles and Alexander F. Skutch. This book is highly readable for any level of birder and includes colored plates and species descriptions as well as an encyclopedic wealth of information on Costa Rican birds' behavior, diets, and habitat preferences.
The Birds of Costa Rica Field Guide, by Richard Garrigues and Robert Dean. More compact and easy to use in the field than Stiles & Skutch's book, this useful field guide includes 903 descriptions and illustrations of the better-known species in full color (including many species in flight), as well as species descriptions, range maps, and an alphabetical quick-find index of groups on the inside back cover.
Notebook, depending on your preference. Some people keep daily records of each new species spotted, and when you are in the field you run into other birders who can give you good advice on places to go during your Costa Rica vacations.
Birds of Costa Rica checklist. This is the easiest way to keep track of the species that you have seen so far and the ones that you plan to see as your trip progresses.
Comfortable hiking shoes or boots. Birding often involves walking on uneven surfaces, rocky areas, sandy areas, and steep slopes. Also keep in mind that many trails and habitats involve exposure to water due to muddy conditions, stream crossings, etc.
A hat and sunscreen. Sun protection is key, especially for those who have sensitive skin (or who are coming directly from winter in the temperate zone!). Remember that you may spend several hours a day in the field, sometimes on open water, beaches, or grasslands where there is little shade. A hat will also minimize the sun's glare, making proper identification of birds much easier. Finally, on cooler days, a hat also preserves warmth and will make your day more comfortable.
Field clothes. Neutral colors are the rule of thumb while you are birding in the field: look for colors like brown, green, gray or camouflage. When selecting clothes, consider both comfort and function. Lightweight clothing will keep you cool in hot areas, and long sleeves and pants provide protection against biting insects, sunburn, and scratches from vegetation. Cargo pants are an ideal hands-free way to keep notebooks and field guides easily accessible; alternatively, some people use a field vest or waist pack.
Rain and cold-weather gear. Showers are frequent across much of the country, so don't forget a good umbrella and/or raincoat! Also bring a sweater or sweatshirt and – depending on your destination – a winter hat and gloves. While snow doesn't occur in Costa Rica, mountain weather is chilly even in the tropics (and high-elevation birds are a must-see for anyone's list!).
Bug repellent. It's not always necessary but can be very useful in some areas where mosquitos, biting flies, and ticks become annoying.
A bottle of water. Staying well hydrated is key to successful field days.
Energy bars. Time flies when you're in the field finding new birds, and it's important to have snacks on hand when you decide to stay out "just a little bit longer."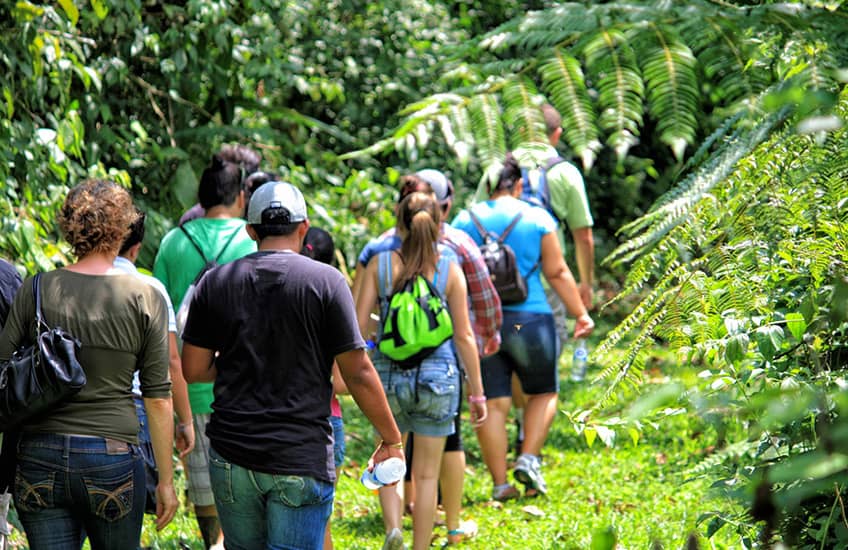 Miscellaneous Travel Recommendations
Planning a vacation is always exciting, but exploring a new country raises many questions about how to prepare for your adventure in the Pura Vida Country.
Just few travel tips:
Photocopy your passport; leave one copy at home, and keep the other with you. Tap water is potable throughout much of the country. Costa Rica food is not spicy but is very tasty. Most of our Costa Rica hotels, restaurants and tourist activities will accept dollars, but don`t carry a large amount of cash when you go out. Credit cards are wide accepted in many places. For your information, the Costa Rica currency is the "colon".
So, you can also have some colones with you to buy your personal stuff. If you go to a Costa Rican car rental agency you can ask for the GPS option. But Waze and Google Maps work fine here. Also, if you want to know a little bit more about the geography of the country you can check our Costa Rica maps too. The sun rises around 5:30 AM and sets around 5:30 PM. If you have an emergency while traveling in Costa Rica you can dial 911.
Costa Rica is biologically rich in forests, rivers, mountains, beaches, flora and fauna and is a true paradise for birders of any level. A birding trip to Costa Rica gives you the chance to see amazing birds in majestic landscapes with local expert guides and is a wonderful and unforgettable adventure.
Contact us and let us help you coordinate an affordable Costa Rica vacation package and plan your bird watching tour in Costa Rica.