Table of contents
Flights to Costa Rica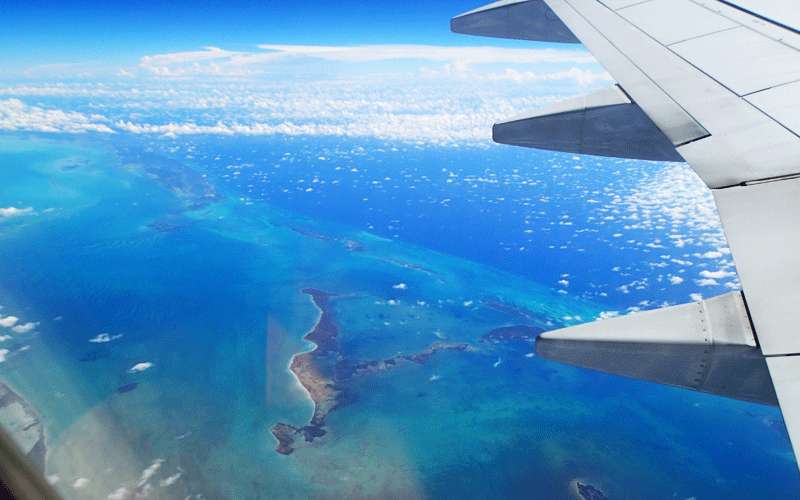 If you are planning some incredible Costa Rica vacations, we are sure you will be wondering a lot of things regarding the airline tickets you need and the Costa Rica airports that you will have to use.
As your best travel partner, Travel Excellence has prepared this useful information about airports in Costa Rica.
Besides the two international airports that receive flights to Costa Rica from all over the world, there are different airstrips along the country where local airlines operate daily domestic flights to and from the most popular destinations, including areas near Costa Rica all inclusive resorts.
Domestic flights reduce the travel time to some tourist destinations and gives you the opportunity of spending more time enjoying the attractions of the country.
From San José Costa Rica, driving to Quepos to experience the wildlife of Manuel Antonio National Park will take 3 hours approximately, while flying takes 25 minutes; driving to Fortuna Costa Rica to relax in the Arenal Volcano hot springs will take 4 hours approximately, while flying will take 30 minutes; and driving to Tamarindo to spend a sunny weekend at the beach will take 5 hours approximately, while flying takes 45 minutes.
As you can see, internal flights are very helpful if you have a short stay while vacationing in Costa Rica and you want to optimize timings or if you don't like road trips. All airstrips along the country have basic services like bathrooms and some of them have offices of the local airlines with air conditioned and mini shops. Also, in some airstrips you will have to pay a fee arriving or departing the destination of not more than $7 per person.
Top destination airstrips in Costa Rica
Here you can find a list of the Top Costa Rica destinations and the details of their respective airstrips:
| Destination | Airstrip Code | Driving Time | Flying Time | Airstrip Fee |
| --- | --- | --- | --- | --- |
| San José – Quepos | XQP | 3 hrs | 25 minutes | $3 per person |
| San José – Tamarindo | TNO | 3 hrs | 45 minutes | $2 per person |
| San José – Drake Bay | DRK | 8 hrs | 45 minutes | |
| San José – Arenal | FON | 3:30 hrs | 25 minutes | $7 per person |
| San José – Puerto Jiménez | PJM | 8 hrs | 50 minutes | |
| San José – Golfito | GLF | 7 hrs | 50 minutes | |
| San José – Punta Islita | PBP | 6 hrs | 35 minutes | |
| San José – Nosara | NOB | 5 hrs | 35 minutes | |
| San José – Palmar Sur | PMZ | 5 hrs | 40 minutes | |
| San José – Tortuguero | TTQ | 5 hrs | 25 minutes | |
| San José – Tambor | TMU | 5 hrs | 25 minutes | $2 per person |
International Airport in Costa Rica
The two major airports in Costa Rica are Juan Santamaría airport and Guanacaste Aeropuerto. Both receive international flights from most airlines, besides the local flights that also operate to and from both of them.
Most of the Costa Rica vacation packages begins and ends in San José because, usually, the people buy airline tickets to and from the Juan Santamaría airport, but it is also possible to prepare beautiful packages from Liberia Costa Rica too. If you can find cheapest flights in Costa Rica or flights that fit better with your travel dates arriving or departing from Guancaste Aeropuerto, then you can start or finish your Costa Rica travel there. This is a great option if you want to save time of your Costa Rica family vacation and spend it better with your loved ones without the stress of not having enough time in each one of your holiday destinations.
Costa Rica travel tip: A departure tax of USD$29 per person must be paid in both international airports when you are leaving the country. If you are doing just a connection here and you don't pass the international arrival area you don't have to pay this fee.
Juan Santamaría International Airport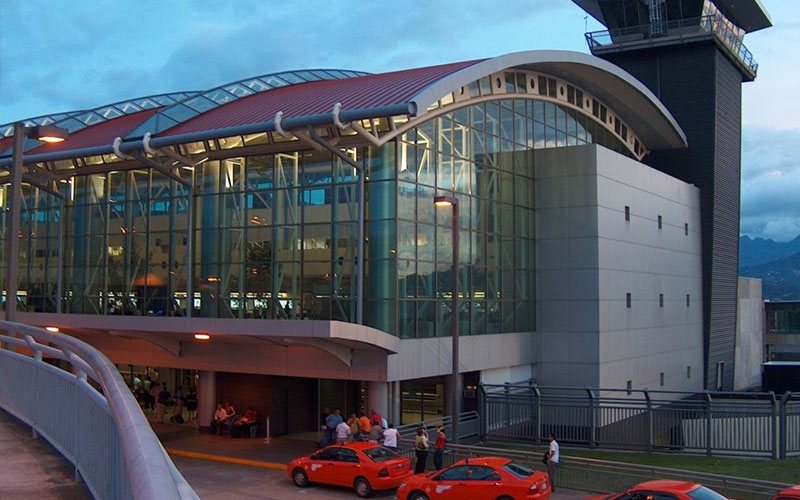 Airport code: SJO
Located in the city of Alajuela, in the Central Valley region, this is the oldest and largest Costa Rica Airport. Although its code is SJO, it is not specifically located in San José downtown, but it is between 30-45 minutes from the main San José Costa Rica hotels.
According to the Costa Rica Tourism Board, in 2017 Juan Santamaría airport had 4.364.000 international arrivals, being the main port of arrivals of foreigners in the country.
As it is also de busiest airport, it offers some services like restaurants, ATMs, mini shops to buy Costa Rican coffee and handicrafts, a duty-free shop and a VIP lounge with Wi-Fi and some other business facilities.
Guanacaste Aeropuerto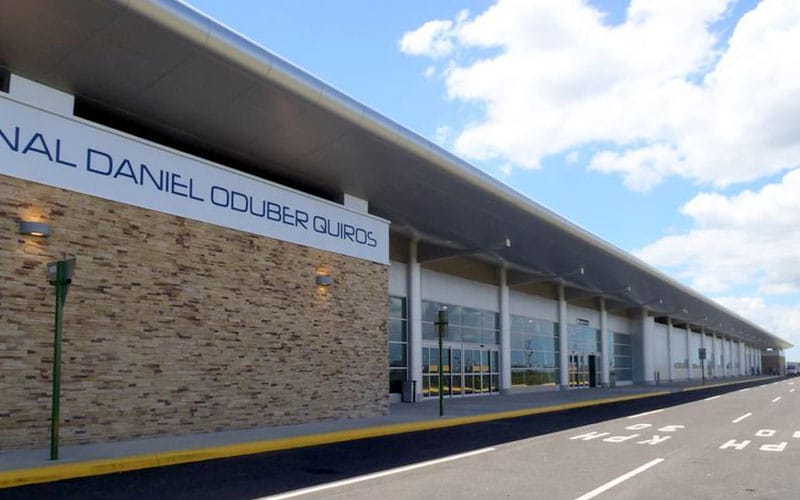 Airport code: LIR
Located in Liberia, in the Northern Pacific region of country, this is the newest international Costa Rica Airport.
The airport is just 30 minutes away from Papagayo Gulf where there are located some of the most important Guanacaste hotels, and Costa Rica resorts in general terms, like the Four Seasons Resort and El Mangroove. It is also located at 45 minutes approximately from other all-inclusive Costa Rica resorts like the Westin Playa Cochal and RIU Guanacaste.
The list of airlines with flights to Guanacaste Aeropuerto is increasing and according to the Costa Rica Tourism Board, as everyday more and more people are using this airport in Costa Rica
You can contact us if you want more information regarding our Costa Rica international airports or if you need any assistance.