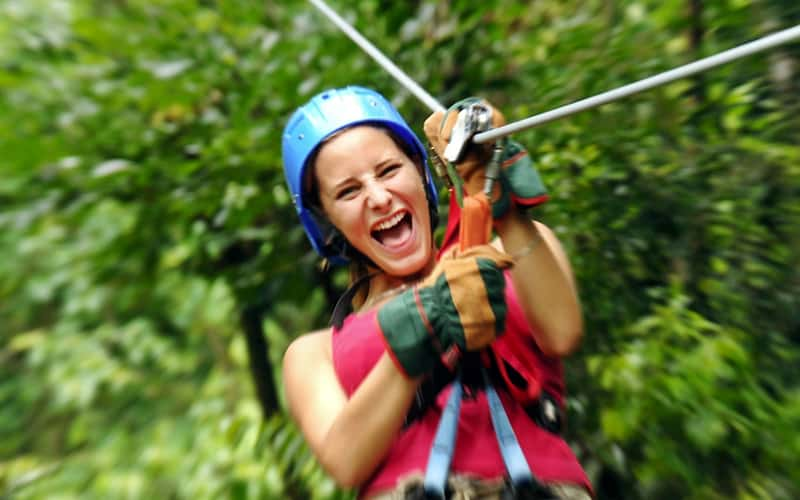 ---
Costa Rica is world recognized for its nature, the sustainable development of the tourism industry and the adventure activities you can experience while you visit the country. Different Costa Rica tours such as hiking amidst the lush forests, sport fishing tours, the adrenaline-full adventures in the rivers while experiencing the whitewater rafting, different bird watching sessions surrounded by nature, surfing in the amazing Costa Rica beaches, scuba diving in the reefs, and some other fun activities are the top tourist attractions of the country.
But if you are planning your next Costa Rica vacations, you can't forget to include at least one zip line canopy tour. This will boost your adrenaline and the enjoyment of your travel to Costa Rica.
Composed of steel cables and platforms strung at various heights between trees, they will offer you a unique means of accessing gorgeous natural areas otherwise difficult or impossible to access. And while they undoubtedly boost your fun and adrenaline, zip lines will also educate you.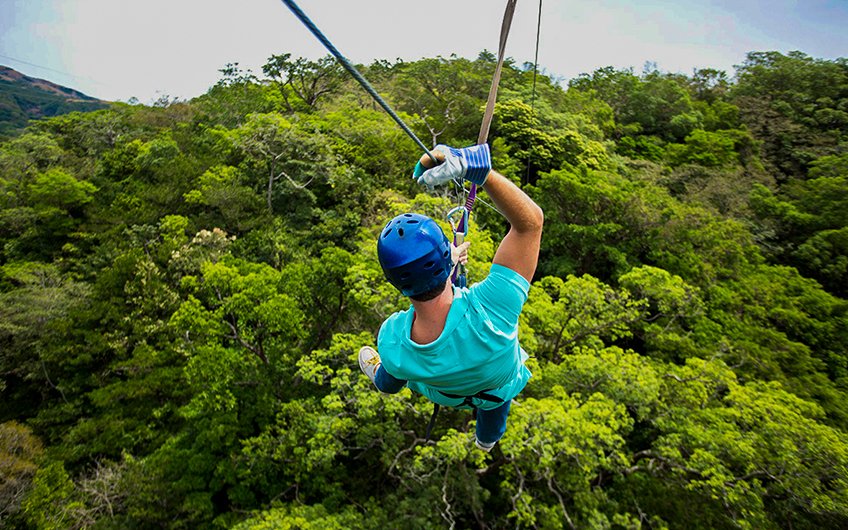 Why is Costa Rica perfect for a Canopy Tour?
Of course there are a lot of canopy tours all around the world, but the special thing with Costa Rica is that the tours here will give you the opportunity to explore the richness of its wildlife and its green landscapes like if you were a bird. These amazing tours offer a great view of the forest canopy, where thick branches serve as platforms, and an incredible variety of plants, and such animals as frogs, snakes, the famous and adorable sloths, and hundreds of bird species can be seen.
The idyllic Costa Rica weather is also one of the main reasons why canopy tours are so popular among visitors and locals alike. It is possible to book one of these tours all year round; depending, obviously, on the regions of the country you will be visiting.
Travel Excellence offer different canopy tour options in almost all tourist destinations of the country. You can choose zip line tours with volcano views, ocean views, rainforest views…whatever you want!
Back to Top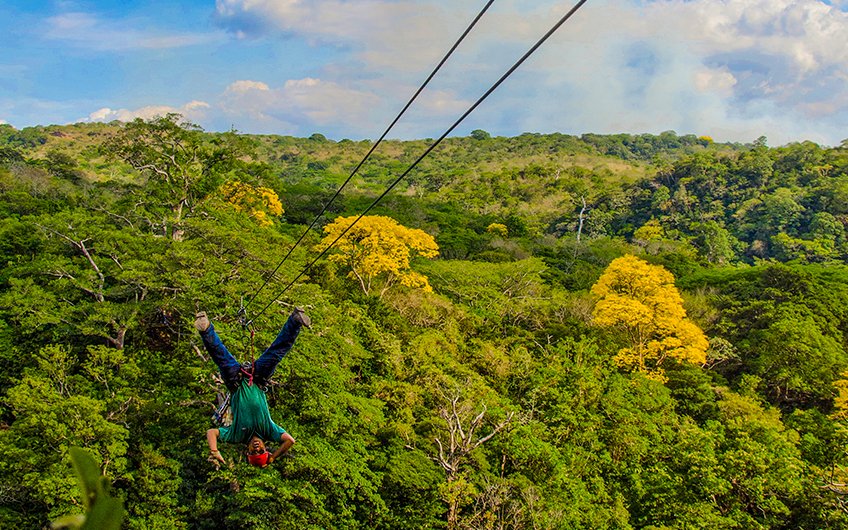 Recommendations for zip lining
Maybe you have done canopy tours before, but if your Costa Rica zip line tour will be your first there are some important facts that you need to know:
Safety practices: Canopy tours in Costa Rica are very common on family vacations. This means that there are safety and maintenance practices all zip line tour companies must met. Also, various companies have implemented unique and innovative systems so you do not have to use your hands to stop, providing improved safety. Perfect for families with little children!
Age conditions: People of all ages can do canopy, as there is no minimum or maximum age for zip lining in Costa Rica. The thing is that there are weight and height conditions that you must meet in order to enjoy this thrilling activity.
Zip line weight limits: In general, there is not a maximum weight limit since the cables can support up to 5,000 lbs. of weight. However, there is a waist and thigh size limit, as the harness must be able to fit around your body and be safely secured. To be able to safely zip line, your waist cannot exceed more than 45 inches and your thighs cannot be more than 31 inches in circumference. Most canopy tours advertise that anyone weighing above 275 lbs. is not allowed.
Back to Top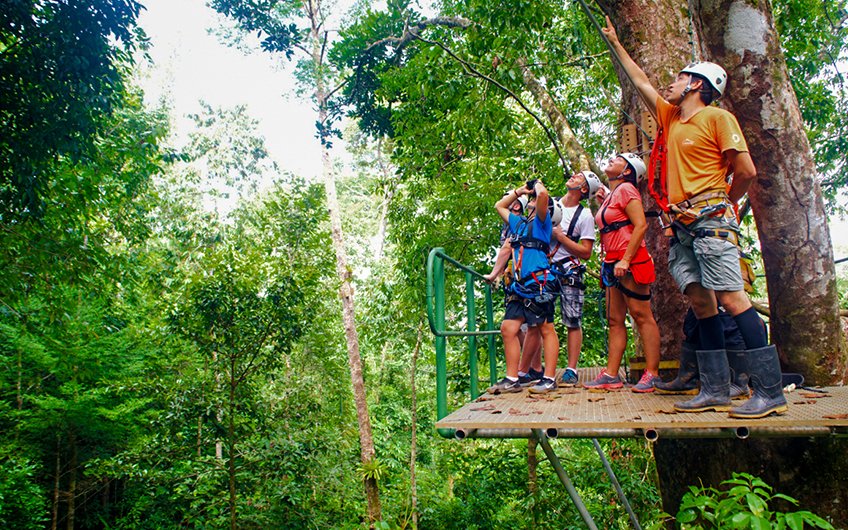 What to Bring?
There are some important things you need to bring with you no matter which canopy tour you are going to do:
Comfortable clothes and shoes: Long pants to protect your legs and closed-toe shoes to protect your feet are recommended for all canopy tours.
Insect repellent: Even if you are allergic or not, it is better if you bring repellent in order to avoid annoying mosquito bites. If it's natural, better!
Camera: Because you don't want to miss the amazing views and the funny faces you and your family are going to make!
Sunglass straps: To avoid missing your glasses in the forest, it will be great if you bring straps for your sunglasses or your eyeglasses.
Hat: A hat will be helpful to protect your face of the sun, the rain and the wind. If you are travelling with children, a hat for them will be a good idea too.
Sun block: Because you don't want to spend the rest of your Costa Rica vacations with sunburns.
Binoculars: Hopefully you will see a lot of animals and interesting flora, so take a pair of binoculars to zoom it.
It is also important to bring a poncho and a sweater if you are visiting Costa Rica in rainy season.
Back to Top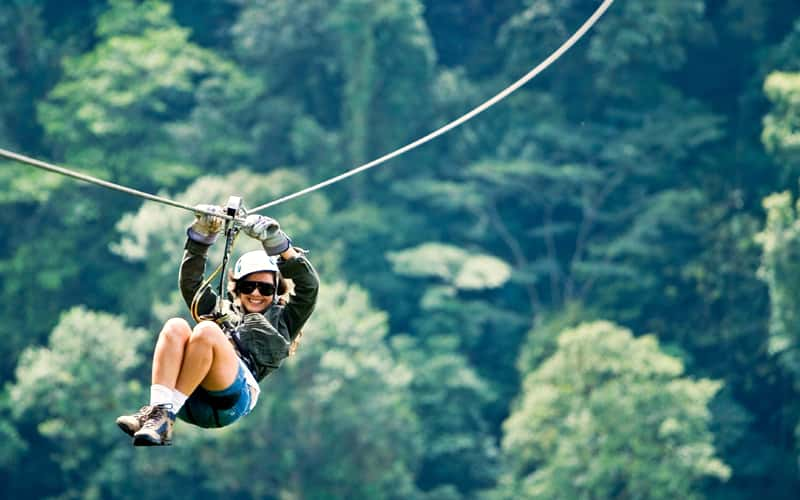 ---
Best places for Canopy Tours in Costa Rica
All Costa Rica vacation packages can include at least one canopy tour. The most popular zip lines you can visit are:
Central Valley
While there are no canopy tours within the capital city, the mountainous Central Valley surrounding San Jose Costa Rica boasts some tropical landscapes perfect for zip lining. In fact, many canopy tour companies have created zip lines in this area and most of them are just a short trip away from the different San Jose hotels and the Juan Santamaria International Airport.
Caribbean
Arenal
The amazing Arenal Volcano is one of the most remarkable highlights of the country. La Fortuna Costa Rica, the area surrounding Arenal Volcano is a center of activity and the home of beautiful boutique Costa Rica hotels. Arenal Volcano and La Fortuna also have some truly amazing zip lining canopy tours, and they offer incredible views of Costa Rica's wildlife with Arenal Volcano looming over it all.
Monteverde
Monteverde is home of the famous Cloud Forest Reserve, and that's why it is considered as an amazing place to visit on your Costa Rica vacations. It is also one of the premier places for zip lining tours as its cloud forest have a truly exceptional climate and an amazing variety of exotic flora and fauna.
Some of the Monteverde Cloud Forest zip lining tours offers hanging bridges as well, giving you a bird's eye view of the forest. Different bird species can be observed from here.
Northern Pacific
Central Pacific
Squirrel and howler monkeys, scarlet macaws, toucans, iguanas and sloths are some of the species inhabiting the Central Pacific area. These animals populate the canopy of the forest, making the Central Pacific one of the most exciting places in Costa Rica to experience a canopy tour.
Many of the canopy companies here include tarzan swings, waterfall rappels and ATV tours, which will make the adventure even more exciting. No matter what canopy tour you choose, you're sure to see some incredible wildlife and landscapes.
Back to Top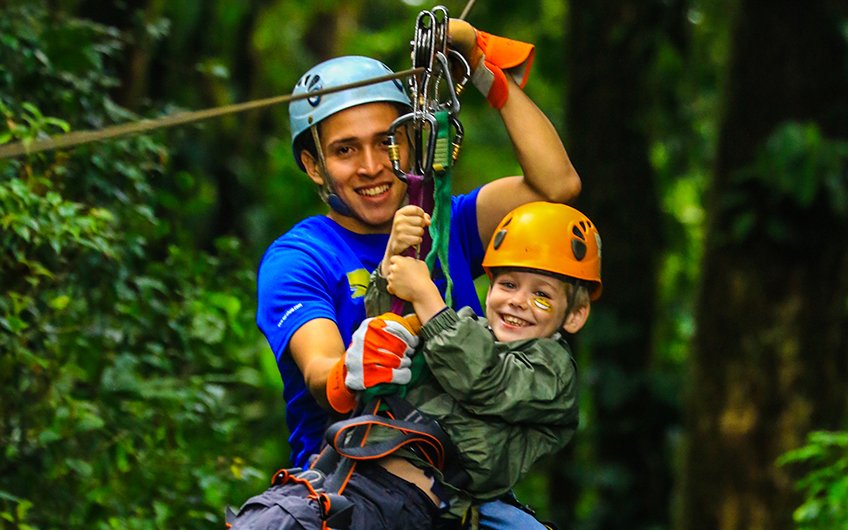 Our recommended Vacation Packages for Canopy:
Please contact us if you want to know more about zip lining tours in Costa Rica. We will be more than glad to assist you in everything you might need for your upcoming Costa Rica holidays.