---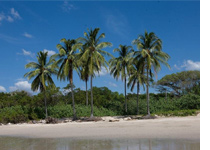 Costa Rica has a lot of impressive destinations to visit, especially on the Caribbean side, and the Pacific Coast. Precisely, Nosara is a beautiful beach in Guanacaste province, which is one of the best Costa Rica attractions for tourist from all over the world to enjoy travel vacations. So, this fascinating place appeared in the 41th place on the article "The 45 Places to Go in 2012", published on last January 6, by the New York Times.
Based on the "sandy beaches, warm, jade-green waters, and rolling waves that rarely get too big", the "Times" recommends the "remote jungle community of Nosara on the Pacific Coast of Costa Rica" as the "ideal spot to learn to surf". This special beach is one of the most fantastic, hidden paradises of the country. Nosara´s town offers comfortable options for lodging, cabins, restaurants, 4x4 rentals, and a lot of interesting vacation ideas, such as surfing and fishing tours, among others.
Nosara is located 55 kilometers from Nicoya, and 266 kilometers from San José. The beaches of Guiones, Pelada, Ostonial, and Nosara make up the Ostonial Wildlife Refuge, where thousands of Olive Ridley sea turtles come every year to lay their eggs. That is another reason to be one of the unforgettable Costa Rica tourist attractions on the Pacific Coast.
The article from the New York Times confirms why thousands of visitors prefer Nosara as their favorite destination for their family travels and tours. Nosara also has a small airport near the beaches. Tourists can find taxis available for incoming flights. Besides, the town offers common services such as bank offices, internet, cheap hotels, and rental homes for those who prefer some privacy. Ask your travel planning agency to get more information about it.
The "Times" emphasizes some natural wonders else about the Guiones beach, which is "a good jumping-off point to go hiking or visit the nearby turtle refuge". The article adds, "but in a place that sees sunny, rainless weather from December to May," surfing tours is the thing. In fact, guided tours for surf learning are available.
Some Nosara adventures packages including surfing, horseback riding, fishing trips, zip lining canopy, and river kayaking, among many other interesting options for family vacation packages. As the New York Times article says, just "take a look and get your stoke on".
---
---
Leave a Comment