---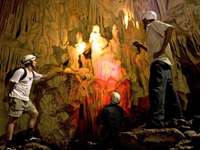 One of the places that you must visit when you come on your travel in Guanacaste is the Barra Honda National Park, in the Nicoya Peninsula. Guanacaste is a province located at the north of San José, and you can easily get there by car, which is a four hour drive from San Jose to Nicoya. Another why is to take a flight to the Liberia International Airport, and drive from there to Nicoya, or one of the domestic airstrips in Samara or Nosara.
On my vacations, I've been to many places in Guanacaste, and some of the most amazing beaches in Guanacaste are in the Peninsula. They are very natural and not as crowded as the northern beaches, like Tamarindo and El Coco. On my way to the southern Peninsula, I had the chance to visit the Barra Honda National Park.
This National Park is right in front of the Gulf of Nicoya, at the mouth of the Tempisque River. The main attractions at Barra Honda are the caves, sculpted by the water in the mountains. This place is a great destination for Costa Rica tours, with over 40 limestone caves with different difficulty levels, and some of them not being apt for expedition. One of the caves goes over 700 feet below ground level, and in order to enter the caves, you will need permission from the Rangers Service, special equipment and a trained guide. Inside the caves, you will see bat colonies, which are the creatures that dwell in the dark and small caves. You will see impressive stalactites and stalagmites inside the caves.
If you want to explore the tropical dry forest of Guanacaste, there are several trails across the park, providing the chance of sightseeing in Costa Rica of wildlife and birds. The landscape of the Tempisque River valley is simply amazing.
There's a camping site near the Rangers Station, you must bring the necessary equipment. I recommend visiting the caves during the dry season months, from December to April, since the rainy season usually floods the caves, making them inaccessible.
---
---
Leave a Comment