---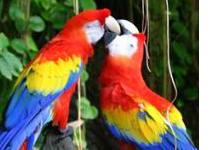 The Carara National Park is located in Puntarenas, two hours from San José on the way between Puntarenas and Jaco Beach, on the Pacific Coast, 12 miles south from Orotina. If you are in a Costa Rica travel, consider Carara, since It is a zone of ecological transition, with a mesoamerican ecosystem and the amazonian converging to form a particular biological reserve, with the dry climate of the North Pacific joins the humid South Pacific climate.
The Carara Park has an area of over 5,000 hectare, with a huge variety of amazonian flora and fauna, making it a desired destination for Costa Rica tours. The Huetar word Carara means crocodile, and the park is the natural habitat of swamps, lagoons and forests, with a dense wildlife where you will find Monkeys, peccaries, crocodiles, margay cats, waterfowls, armadillos, opossums, boas, sloths, kinkajou, aouti, tayra, jaguars, white tail deer and ocelots, along with many species of birds, reptiles and amphibians. At Carara, you will see the Macaco Scarlet, Jacamars, and Trogons, making the place great for Costa Rica family tours.
Carara also has one of the highest diversity of trees in the world. Small animals and birds can be seen easily. One of the best spots is the bridge over the Tarcoles River, where tourists stop to watch crocodiles and scarlet macaws. There exist many places of pre columbian archeology dating back to about 2,000 years.
You can take a guided tour from a Costa Rica tour operator to the Park in San José or Puntarenas, and the best months to visit are March and April, during the dry season. Use repellent and long pants to avoid being bitten by mosquitoes. There is a tourist center, an exhibition hall and an auditorium, and camping is not allowed in the park. The weather in Carara National Park is dry during the dry season months, with constant rains from May to November. There are Costa Rica hotels ranging from cheap to luxury resorts in the area between Puntarenas and Jaco.
---
---
Leave a Comment