---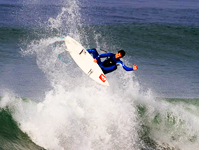 Santa Teresa beach was the scenario of the Quiksilver Costa Rica Open, a tremendous surfing tournament where many surfers got together to have fun and show their surfing level, plus they got to win many prizes.
Your Costa Rica travel agents should take you to these tournaments, especially if you are a visitor wanting to learn about the ticos living style and the ways they have to meet and treat people.
The tournament had 64 surfers between Costa Rican, Americans, Colombians and Venezuelans but at the end the big winner was the American Dereck Peters who earned $6000 after beating the Colombian Jefferson Tascon in the main final.
The Costa Rica beaches are amount the best ones to have a surfing tournament because of the waves and the amount of people that love this sport, but also because the sponsors have found a golden mine here, they spent big bucks trying to reach to the customers.
Costa Rica ended in the 11 position in the ISA World Surfing games just a month ago and has become one of the most influential countries in terms of surfing and the called "beach culture".
In the Quiksilver Costa Rica open the best Costa Rican surfer was Luis Vindas who earned $1500 and ended in the third place; the Italian-Costa Rica Federico Pilurzu ended fourth.
The next time you negotiate your Costa Rica travel deals be sure to tell the company that you want to check out a surfing tournament while you enjoy your staying in Costa Rica, after all, it will relax you and help you see more if this beautiful country.
If you don't know how to surf the best thing you can do is to go by one of the surf schools and learn how to do it, believe me, is one of the most fun and relaxing experiences ever; plus you will learn from the best because most of the teachers are the Costa Rican professional surfers.
---
---
Leave a Comment