---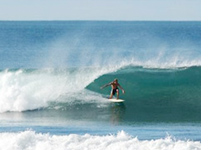 If you are wondering what to do in Costa Rica, I invite you to read my journal of my Costa Rica travel. I'm visiting many places all over the country, from volcanoes and rain forests to the Caribbean coast to the Pacific coast. It's relatively easy to travel in Costa Rica, since distances are short, and will only take a few hours -or minutes- to be in one point or another. These days I am at Potrero beach, in Guanacaste. Potrero is a quiet town with beautiful beaches, perfect for relaxing. From here, you can go to other places, such as Grande beach, the last place that I visited.
My friends recommended Playa Grande (or Big Beach) for surfing. The main beach is excellent for a Costa Rica surfing trip, and some friends say that it is one of the best in the country, because of the waves and swells, also because it is a quiet place, not as crowded as Tamarindo. Some spots in the north end of the beach are more suited for swimming.
One of the reasons because it is a quiet place, is the lack of Costa Rica hotels and businesses, and that's because Playa Grande is part of the Las Baulas Marine National Park, which is one of the most important nesting places for the endangered leatherback sea turtle. Being a protected zone, there are no hotels facing the beach, since the light and noise scare the turtles during the egg layoff season. You can find some economical hotels away from the beach, and some of them rent equipment for kayaking, surfing, snorkeling and horse back riding.
During the egg layoff season, known as "arribadas", entrance to the park is allowed only during the day, to protect the turtles and their eggs from poachers that look to sell them in the black market.
Playa Grande is a remote place, not easy to get to. There's no direct road, and the closest beach is Tamarindo, two kilometers at north, from where you have to cross the estuary. Dare to visit Playa Grande, you will like this beautiful paradise on earth.
---
---
Leave a Comment