---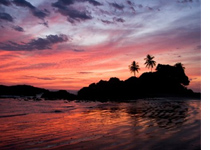 One of the richest spots in Costa Rica is the Central Pacific Coast, a narrow gap crossed by the "Costanera" highway, going all the way from Puntarenas to the South Pacific in Golfito. It is a two-lane road in good conditions, with breathtaking views for more than 200 kilometers. If you are still wondering what to do in Costa Rica, the Central Pacific Coast is an excellent option for a total Costa Rica getaway.
After passing the ever-popular Jacó Beach, Herradura Beach, Hermosa Beach, Quepos, where Manuel Antonio National Park is located, you will drive 50 kilometers south toDominical Beach. Located between Barú River and Ballena Marine Park, Dominical offers spectacular landscapes and beautiful sunsets, coupled with perfect weather.
Dominical has been traditionally a fishers' town, known by adventure travelers around the world because of its beauty and great waves for surfing. The ideal place for hardcore surface, the perfect opportunity for enjoying a Costa Rica's surf tours.
Dominical offers a "organic" experience: more than a mile of pure, open beach, with no traffic jams, high buildings or business overcrowd. It's a great Costa Rica ecology tour: nature, lots of activities, and happy tourists and locals. Nonetheless, if you look for lodging, food and fun, you will find some of the best Costa Rica eco hotels in Dominical. Practice snorkeling, diving, bird watching, kayaking, canopy, rent a boat or an ATV, visit one of the neighbor beaches and even take a Spanish lesson! Prepare to be amazed by more natural beauty and even watch dolphins and whales.
If you still want to experience the night life in Dominical, there are some small clubs and restaurants where you can relax and have a good time with fellow tourists and adventurers.
Visit Dominical Beach, enjoy, you definitely won't regret this great Costa Rica travel adventure! Contact us to get more info.
---
---
Leave a Comment