---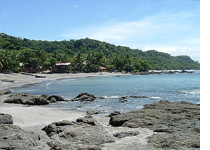 Cobano is a vibrant town in the southern Nicoya Peninsula that you have to visit if you are going to Santa Teresa, Montezuma or the Cabo Blanco Reserve as part of your Costa Rica travel. It's like a small hub in this area, from where you can go to any of the beautiful surrounding places in a matter of minutes.
If you come from Tambor or Santa Teresa, you are on the road to any of the neighbor beaches, and need a place with many available services, go to Cobano. It has become an important town in this area, having services such as banks, Costa Rica hotels, drug stores, medical services, supermarkets, a small hospital and a gas station just outside of town.
Many ticos and tourists hang out in Cobano, especially during the dry season months from December to April. Although there are not many places for partying and night life, you will find a few restaurants and bars, where the people goes at night to eat a "boca", the traditional bar snack, and have a drink with friends.
If you stop by Cobano between February and March, you could catch the annual rodeo, and local festivities that kick off with a horse parade and extend for three days. It's one of the funniest things to do in Guanacaste. Besides the rodeo, there is bull riding, a staple of this area, traditional food sale, and partying day and night.
These festivities are the traditional Pacific Coast town parties. The bull riding events are particularly exciting, and have many fans in Cobano and Guanacaste overall.
Even though it is located at the Nicoya Peninsula, Cobano belongs to Puntarenas, and that's the easiest way to get there. Take the Paquera Ferry at Puntarenas, drive past Tambor, around 35 miles to Cobano. You can also take a plane in Liberia or San José and get to the Tambor domestic small airport and drive from there or take a cab to Cobano.
From here, there are a lot of possibilities to some of the best Costa Rica tourist attractions. Call your Costa Rica travel agency and book a travel through Cobano.
---
---
Leave a Comment