---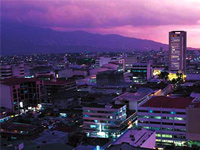 As a wonderful, vibrant and diverse city San Jose aims to keep its attractions and to be one safe and good city. San Jose streets are full of shops and friendly faces, where historical museums and theater can be found in the heart of the city. If you are planning to come to this unique city here is a list of cozy and high-class hotels that you can not miss.
Costa Rica Marriott Hotel: Set on a splendid 30-acre coffee plantation, this luxurious property is only ten minutes away from the Juan Santamaria International Airport and 20 minutes from the center of San Jose. The hotel features 244 guestrooms including six master suites. All rooms are elegantly decorated and equipped. This fancy hotel has two swimming pools, jacuzzi, fitness center, sauna, spa, three tennis courts, a golf training course, beauty parlor, souvenir boutique, jewelry shop, executive floor, business center and parking lot.
Grano de Oro Hotel: This boutique hotel is situated on a shady street just of Paseo Colon, only 20 minutes from JuanSantamaria International Airport. Converted from a tropical Victorian mansion, maintains the warmth and comfort of a private home. Grano de Oro's restaurant serves exquisite dishes that combine Costa Rican tropical flavors with European cuisine. In addition, the hotel offers a bar, a rooftop garden terrace with jacuzzi, gift shop, room and laundry service, meeting room, internet access and a parking lot.
Colaye Hotel: Is conveniently located next to La Sabana Park and only five minutes from San Jose downtown, in the west part of the capital. Colaye offers its guests the following amenities and facilities: restaurant, swimming pool, free wireless internet access, laundry service and private parking lot.
Real Intercontinental Hotel: It is ideally located in the exclusive area of Escazu, across from Multi Plaza Shopping and Entertainment Center. It is only 20 minutes (8 miles) fromJuan Santamaría International Airport and 15 minutes from downtown. All its rooms are Deluxe have individual controlled air conditioning, LCD TV screen with cable offering Dolby Digital Sounds and Video On Demand, wireless telephone with voice mail, wireless internet access, mini bar, electronic safe deposit box, among others enjoying amenities.
Leave a Comment