---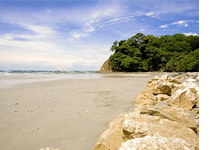 Samara is a town to relax, to enjoy every calm morning that invites to rest and observe the sand mixed with the movement of the sea, along with a perfect stay in one of the most unique Costa Rica eco hotels in the country.
The different options for lodging, food, nightlife, adventure, recreation and nature meet a direct invitation to enjoy it in all senses.
Available activities range from snorkeling, fishing and crafts, horseback trips, visit to the Falls of St. Dominic, yacht charters, canopy, visit the shelter, nesting turtles, gyrocopter and tours to see the work of local artists. The hotel range options from $ 30 to $ 150 per night.
Hands towards the sea, just to get the cool breeze that inherits guanacasteca stamp.
What other way to get the day a soft, soothing music that whispers the sun salutation?
That morning the yogis not only have next to water ... but coconut water. Kelly Jones, yoga instructor, provides directions to pause to take advantage of the class that is repeated every Monday and Wednesday for residents and visitors.
Perhaps your idea of a visit to the beach, hiking is not in your mind, however, this option should not go unnoticed. This is an invitation to travel the paths of the Biological Reserve Werner Sauter, farm of 168 acres with 70% dedicated to the protection of tropical dry forest.
For the morning walk is a good to take a great dose of Costa Rica travel adventure, water, repellent (possibly natural) and comfortable clothing. The walk lasts approximately 2 hours for observation of birds, trees, animals and breaks into two viewpoints.
If you want to add more adrenaline, the appointment is in Chora Island, which is located 1 km from Samara beach for one of the most exciting adventure tours in costa rica. You can come in various ways, and one of them is by kayak.
At 1:30 pm, a vehicle will transport you to that meeting between you and the sea. Once on the seashore, the adventure begins with the oars, the wind and water.
---
---
Leave a Comment