---
If you want to visit some of the best beaches in Costa Rica, you must go to Ostional. It is not about a heavenly gold sand beach with turquoise water, is not the place to rest and take sun, neither for water sports or for chilling out with family of friends; It can sound weird, maybe you can say that it is not attractive at all; but we will tell you why it can be one of the best places to go on vacation during your vacations.
Ostional Beach is located in the famous Guanacaste province in the North Pacific Region, where you can find most of the prettiest beaches of the country. You may know that it is the driest province of this tropical place. This beach is located at 4.5 hours driving from the Juan Santamaria Costa Rica International Airport and just at 2.5 hours from Liberia Airport.
There are different ways to get there. One of the most preferred ones is by renting a car, if you do not mind driving during your family holidays, this is maybe the best way to maximize your time and explore more, but on the other hand, if you prefer to relax and be more comfortable, you can take a private transportation or a domestic flight from the capital city in San Jose Costa Rica, taking 35 minutes to get to the small Nosara airstrip. There you can take a taxi to the town, it takes 15 minutes approximately.
Ostional is a wildlife refuge, well known to being a perfect and protected place for turtle nesting in Costa Rica. In fact, this is the second important spot that protects these creatures. This small and isolated place is surrounded by the amazing beaches Nosara and Guiones, well known as some of the best surfing spots in Costa Rica. There is also possible to visit the beautiful San Juanillo beach, mostly populated by fishers.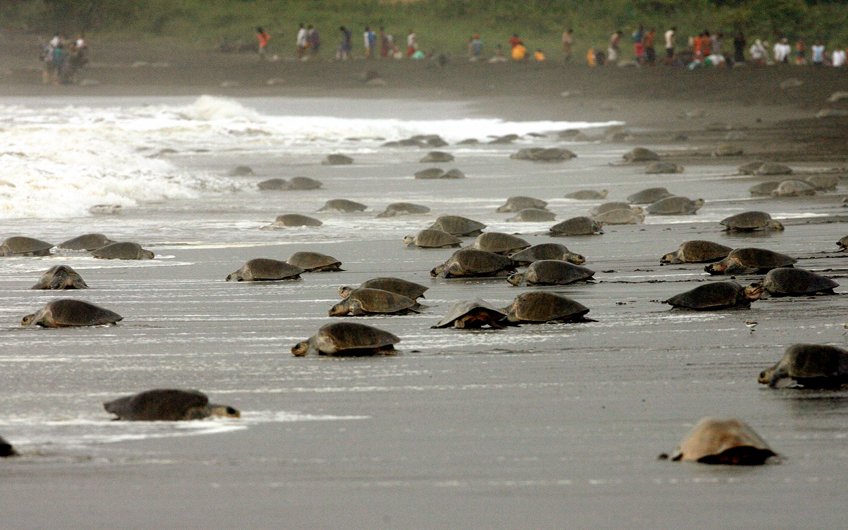 Another awesome neighbouring beach is Azul, a beach located north from Ostional. With so many beautiful places so close, maybe the best option for you is to stay in Nosara and go to Ostional Wildlife Refuge to admire the incredible turtle nesting, the estimated season is from June to December, it may be the trip of your lifetime and that is the reason why you must go there during your Costa Rica family vacations.
It protects Olive Ridley, Green and Leatherback turtles, among other species of flora and fauna. The refuge is protected by the country's Government and it has an extension of 320 land and 8000 marine hectares.
Maybe it is not the most attractive and scenic place of the region, but here you can enjoy an unparalleled natural spectacle, you can learn and help them protect the endangered species during your vacations.
Several species of turtles come every year to Ostional to mate and lay eggs. These phenomena are known as "arribadas", and the rangers says, in 1995 there was a record for the "arribada", with over 500,000 turtles nesting at the beach on November of that year, for a period of 5 days.
They happen from four to ten times during those months, and observation tours are offered if you want to watch the event; this is a place where turtle nesting is very commonly and regularly happening, so do not lose the chance to include this activity in your vacation itinerary.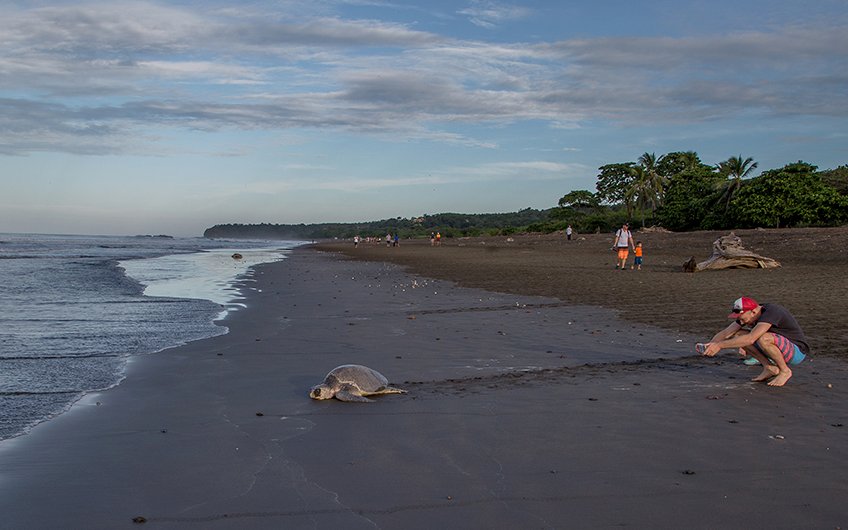 Unfortunately, there are not hotels in Ostional, so you will have to stay at Nosara or a close town. Nosara is not a touristy area, so there are no chain hotels neither all-inclusive Costa Rica beach resorts, but there are few small cozy and charming hotels.
However, it is a perfect stop for your family trip to the country; the entry fee is cheap and the kids seemed to be amused by the turtles and all the animals living there.
If you consider weather for your next Costa Rica family holiday, we have to say that the best season to go to Nosara Beach is during the dry season between January and March, and although you will not see hundreds of thousands of turtles dragging their heavy bodies through the sand as during the rainy season, it will be easier to get there, and you can still see dozens of turtles laying eggs.
Remember if you like wildlife and want to see this incredible natural phenomena, you must visit Ostional Wildlife Refuge during your Costa Rica vacation package. Do not hesitate in contact us in case you have any doubt; our expert travel designers are waiting to hear from you.
Please leave us a comment about this article!
---
---
Leave a Comment