---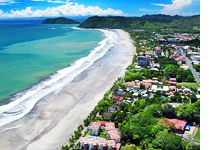 I'm heading to the Pacific for spending few weeks with some friends who just arrived in Costa Rica. I spent two days in San José. I had so much fun in different places like the National Theater, Central Market, INBioparque and some night clubs and restaurants, but it is time to go back to my Costa Rica travel, and there's no better way that surfing in Jaco and Hermosa Beach, in the Central Pacific Area.
Using the new highway 27, we got to Jaco in one hour, awesome! As soon as you get to Herradura, the beach right before Jaco, you can breathe the smell of the sea and life at the beach. Who doesn't love that? After some grocery shopping in Herradura, we completed the final 4 miles, crossed the Jaco Boulevard and got to the apartment that we rented for a few days. Real estate has boomed here in the last years, with high rise buildings, hotels and residential developments that make easier to find where to stay. There are also privately owned small villas cabins, and Costa Rica cheap hotels. Your Costa Rica travel agency has a ton of options of places in Jaco for sure.
There is also a lot of commercial activity, with restaurants, super markets, equipment rentals, cabs and discos and other nightlife places. We hit the beach as soon as we arrived to kick off our Costa Rica surfing tour, and enjoyed sweet waves for a few hours. Currents can be strong so be careful, especially if you are taking kids with you, but also be attentive of the signs and what the lifesavers tell to the tourists.
So many hours of sand and sea left us starving, and we went to one of the restaurants just a few feet from the sea. We had some delicious seafood and Imperial beer and watched the sunset from there. What a perfect way to start this part of our adventure trip in Costa Rica!
Leave a Comment