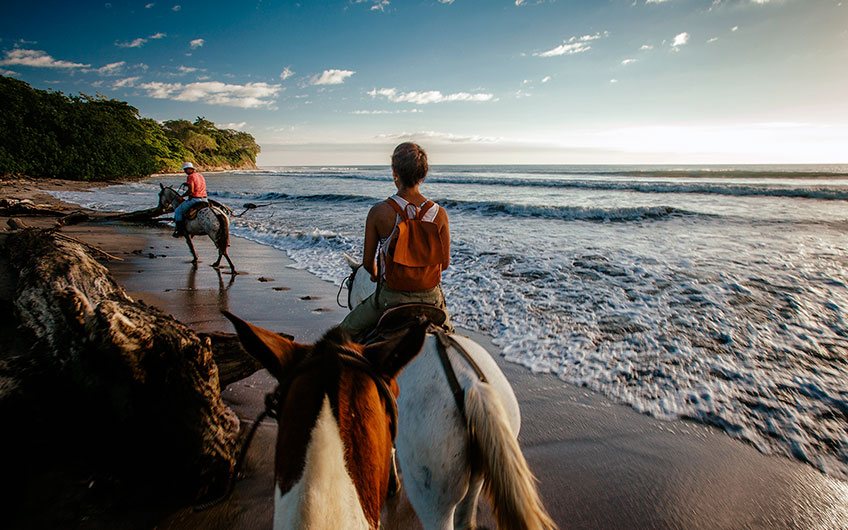 Have you ever heard that Costa Rica is a perfect surfing spot? Do you know that there are top beaches in Costa Rica? If you are planning your next trip, take a look to this travel guide, as we want to show you the unparalleled Nicoya Peninsula, a secluded, beautiful, authentic and unique spot to discover; no matter if you are travelling with family, friends, couple or as a solo traveler, we promise that it will adjust to your trip!
Location
Nicoya Peninsula is in the Puntarenas province, northwest part of Costa Rica. There are some of the virgin forests, isolated beaches and it is off the beaten track paths.
Tambor, Montezuma, Malpaís and Santa Teresa are geographically located on the same area, each one next to the other, over the coast and that is why it is called "Peninsula".
In fact, we have to mention, that is also close to Guanacaste Costa Rica area, specifically, South of Guanacaste province; it is an added value because you can easily connect to Liberia Costa Rica and its international airport, some of the best beaches in Costa Rica and stay in the beautiful all-inclusive hotels in the province.
How to get there
From San José Costa Rica to Tambor, Montezuma, Malpaís or Santa Teresa there is a driving distance of 3.5 – 5 hours approximately, depending on the place that you will visit.
One of the main attractions on the way to Nicoya Peninsula is the ferry trip, because it is very scenic. You can take route number 27 from the capital city, drive during 2 hours approximately in the José María Castro Madriz highway, this is the easiest way to get to the Pacific side.
Then arrive to the ferry terminal in Puntarenas downtown, take the ferry during 1.5 hours approximately and get to Tambor Costa Rica, this will be your first stop.
Driving during 20 minutes from Tambor, you will find Montezuma, continue to Playa Carmen during 30 – 40 minutes approximately (Playa Carmen is in the middle of Malpaís and Santa Teresa), and finally at 10 minutes at the right side is Santa Teresa, and at 20 minutes from Playa Carmen but to the left side, is Malpaís located.
There are different ways to arrive, we highly recommend 4WD car, because the road from Montezuma is not paved and can be bumpy. Renting a car will help you to maximize your time and visit different spots and beaches during your stay in Nicoya Peninsula.
On your family adventure package, you can also take a shuttle transportation, if you do not mind sharing with more tourists, or if you prefer privacy and comfort, the best option will be a private transportation, so you can choose your pick up or drop off time and it will be more flexible, in case you want to make a stop. Additionally, our guides are able to clarify every doubt that you can have during the way, so it is a kind of tour – transfer.
Also if you do not want to spend too much time on road, you can flight to Tambor airstrip, from Juan Santamaría International Airport and it will take around 30 minutes, plus the time depending on where you are going to stay. Just remember that we at Travel Excellence, can help you with all the arrangements you need for your trip.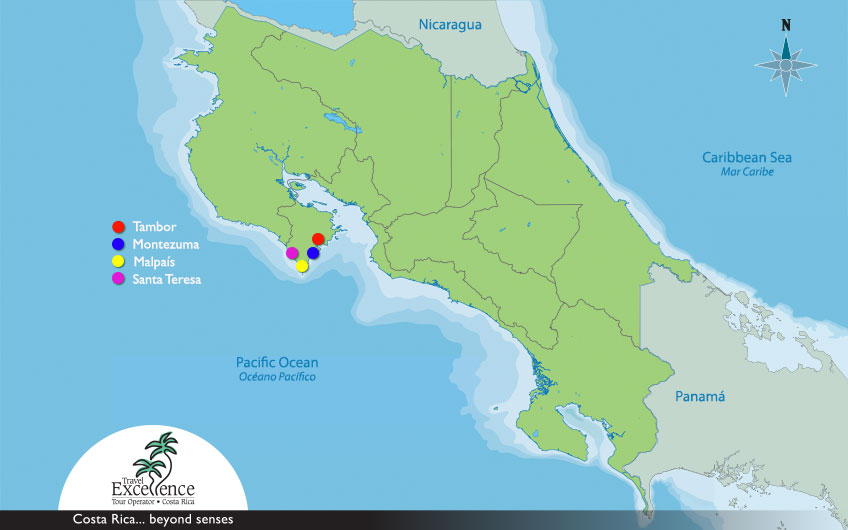 Costa Rica Tambor, Montezuma, Malpaís & Santa Teresa map
We invite you to take a look to our Costa Rica map, so you can have a better idea of where Nicoya Peninsula is located, and how you can get to Tambor Costa Rica, Montezuma, Malpaís or Santa Teresa, there is also important information about these great spots for surfing.
Additionally, do not forget to check our Costa Rica beaches map, there are prettiest beaches in Costa Rica that you should visit.
Tambor, Montezuma, Malpaís & Santa Teresa Costa Rica weather
Tambor Costa Rica weather is the same than Montezuma, Malpaís and Santa Teresa, and the best season to visit the Nicoya Peninsula is from December to April, during the dry season or summer.
Rainy season will be from May to November; weather is very similar than in Guanacaste Costa Rica due to the closeness, but the difference is that during rainy season and especially on September and October, it can rain during all the day, and will be complicated to get to Montezuma, Malpaís and Santa Teresa as the terrain will be muddy.
History and culture
Nicoya Peninsula emerged from the sea. The first land is where Cabo Velas is now located, it says that is one of the oldest Costa Rican territories, because it was around 80 years ago. In fact, the city of Nicoya that is located in Guanacaste, is known as colonial city.
The history said that the first habitants of Costa Rica entered from Nicoya Peninsula, there the Chorotegas were living.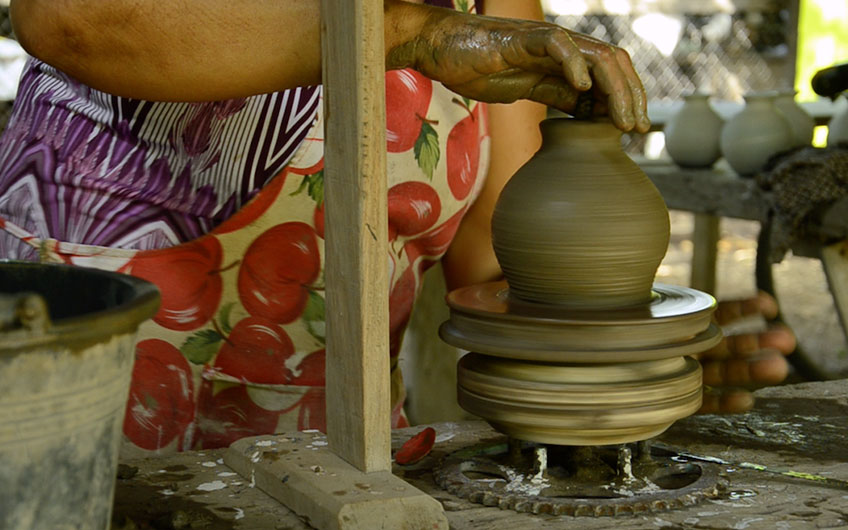 Who the Chorotegas were?
Chorotegas were the most advanced Pre-Columbian society, they were at the Guanacaste Costa Rica province and lived there during the conquer; the Nicoya Peninsula was dominated by the Spanish conquerors around 1520.
Nicoya is the name of the monarch who reigned when Spanish arrived to the Peninsula. Tambor, Montezuma, Malpaís and Santa Teresa are part of the district of Cóbano, in Puntarenas.
The district was created in 1971, during the administration of José Figueres Ferrer. Due to the location, Montezuma Costa Rica and Malpaís were important communication channels, especially for commercial activity; these areas were dedicated to agriculture, artisanal fishing and cattle raising.
About the culture in Nicoya Peninsula
While you are on your Costa Rica vacation package, visiting these beautiful beaches, you will feel the relax atmosphere in Nicoya Peninsula, it is a very authentic and natural place, not too touristy neither crowded, a small place where you can learn a little bit about the "Ticos" (Costa Rican people) and the "Pura Vida" ideology (like a relax living style).
There are also a lot of hand crafts that you can find, indigenous heritage, also there you can find simple and humble people, friendly and very welcoming, they have a very healthy life style, far from the hurry world, and they usually eat very fresh meals.
They celebrate art, enjoy music, preserve the folklore, traditions, they do artisanal fishing too, cultivate its products, are active and happy people, love the sea and its activities, and they protect all the natural resources as their main treasure.
Why is it known?
Nicoya Peninsula is known as one of the blue zones of the world; a group of scientists and demographers made a study of the places where people is more long – lived, they considered the culture, the way of living and look for coincidences between different cultures around the world. Actually, Nicoya is part of the blue zones because they are very healthy people.
For your family holidays, you will see all the beautiful but small towns in the area, very picturesque and interesting, also one of the principal characteristic of Nicoya Peninsula is its beaches, some of the most beautiful beaches in Costa Rica.
Additionally, it is known due to the relaxed atmosphere, the hostels that are very common in the area, very cozy and nice and there is a good vibe too. Is a place to relax and breathe fresh air, while you are enjoying the amazing landscapes, is like being discovering a new world.
It is also a perfect spot for your family surf vacations, it has incredible sceneries to practice surf, learn a little bit or why not, just enjoy seeing experienced surfers riding over the impressive waves. We do not have to forget the virgin and exuberant vegetation, home of many species of animals.
Tourist attractions
One of the most important attractions in Nicoya Peninsula are the best surfing beaches in Costa Rica, but there are also protected natural areas, where you can easily enjoy the wildlife, walk and create memories for the trip of the lifetime.
During your family adventure holidays, you will have a good quantity of diverse activities, for those who enjoy adventure, the sea, sun, nature and share with locals.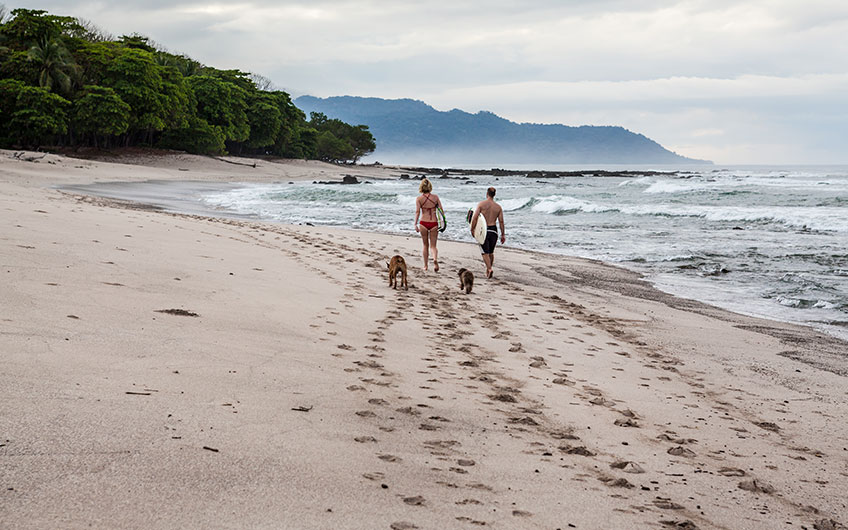 Nicoya Peninsula activities
It does not matter if you like soft activities or adventure full of adrenaline. Something more relax like just spending the time on the beach, feeling the warm sand and the clear blue water and taking sun.
In Nicoya Peninsula you will find canopy tours, ATV, horseback riding, boat tours, sport fishing, cultural activities, walking, snorkeling and much more.
There are a lot to do in Costa Rica for families, solo travelers, honeymooners or for your vacation with friends.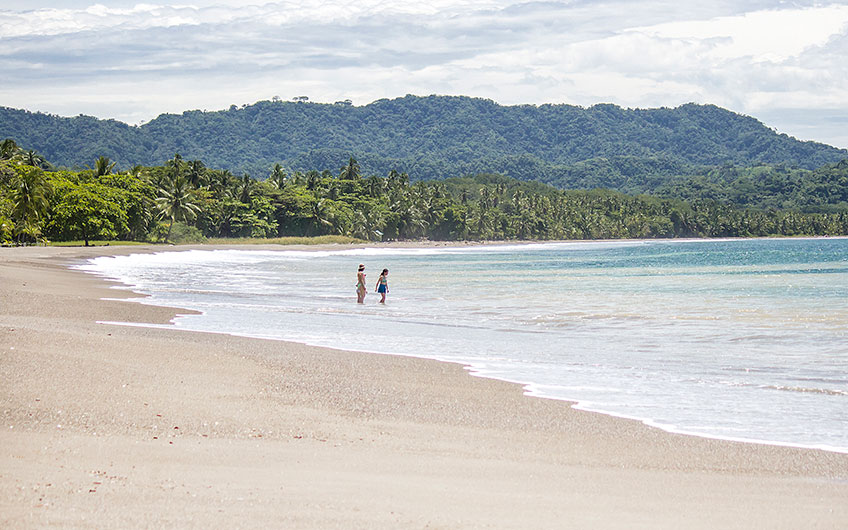 Things to do near Tambor Costa Rica
Horseback Riding: it is a very nice activity, does not require experience and it is perfect for your family holiday, just imagine riding over the mountains, with a sea view or visit amazing waterfalls.
Golf: for those who practice it, can stay in the area and practice it the amazing Tambor Costa Rica area; Tango Mar Hotel has a good and nice golf course.
Fishing: sport fishing is a perfect activity for your Costa Rica vacation packages, because you will enjoy the amazing beach, do an active activity and rest a little bit at the same time.
Snorkeling: for those who like water sports, there are opportunity to do snorkeling and admire the marine biodiversity in one of the top beaches in Costa Rica.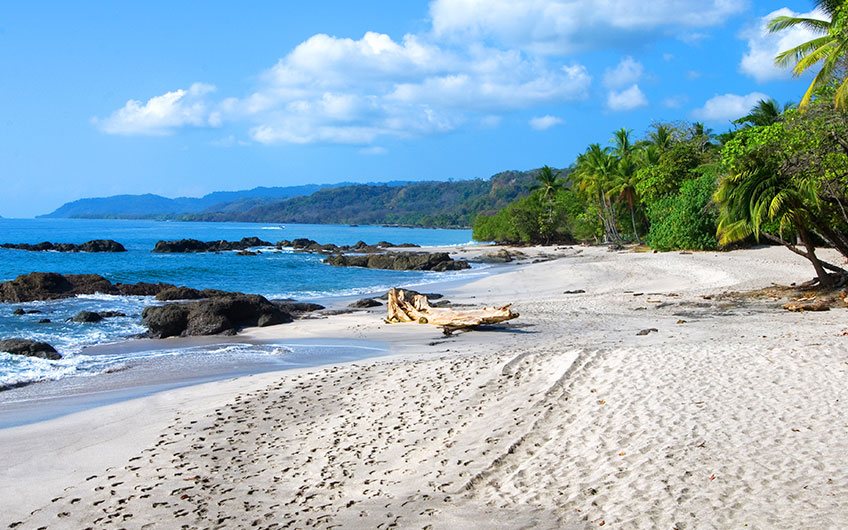 Things to do near Montezuma Costa Rica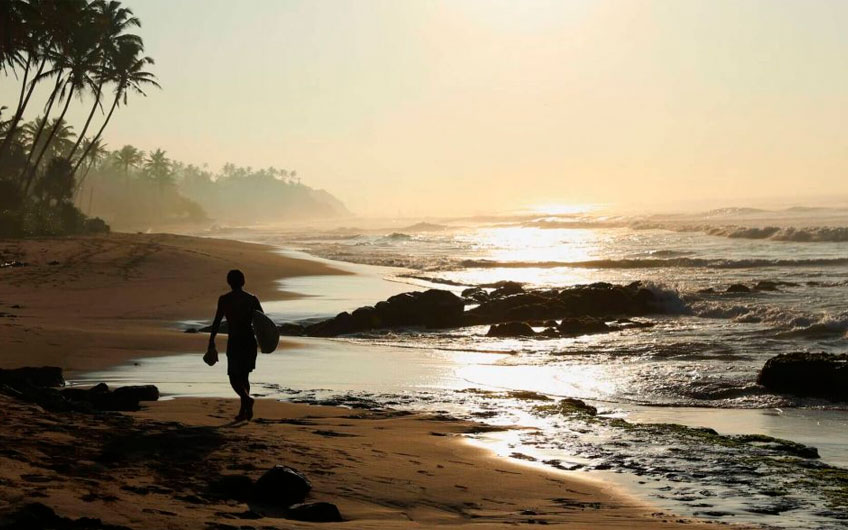 Things to do near Malpaís and Santa Teresa Costa Rica
Surf: this is the main attraction, the most common activity in the area. The atmosphere in those places is perfect for your Costa Rica surf vacation. These are some of the top beaches, with strong and tall waves, clear water, and nature in the surroundings.
Cabo Blanco: visit this is a tour very popular in the area, for those looking for birds, wildlife and be in contact to nature.
ATV: there are a lot of rural paths, not paved roads and secluded mountain trails where you will enjoy the natural beauty.
Nicoya Peninsula Hotels
The kind of lodging that you will find in the area is very different than in Guanacaste, Tamarindo or similar. There are no big resorts, especially in Montezuma, Malpaís and Santa Teresa; the options are small hotels and hostels, rustic, more basic in most of the cases but beautiful, with a relax atmosphere, charming and cozy, very authentic and represent very well Nicoya Peninsula, its scenic beauty and simplicity.
Tambor Costa Rica hotels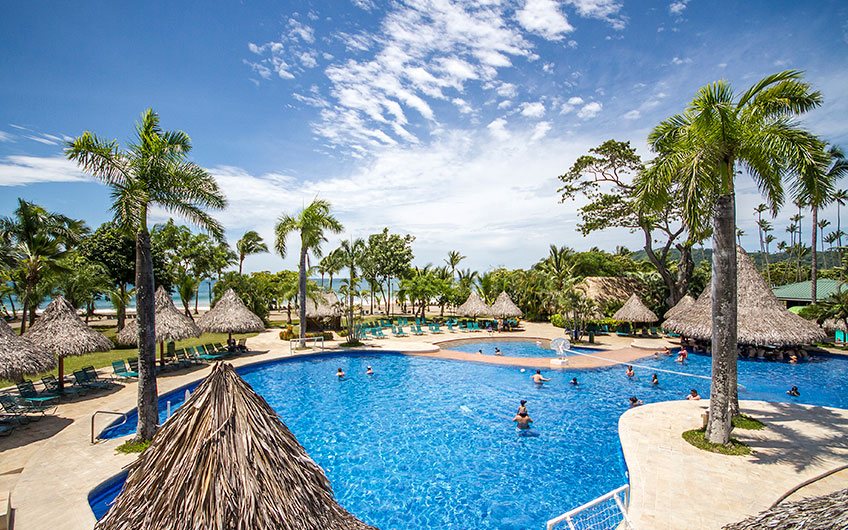 Barcelo Playa Tambor Hotel, it is maybe the only Costa Rica all inclusive family resort in the area, it is also in front of the beach and it can be your best option, if you are travelling with children, because you do not have to go out to look for meals, activities or nightlife.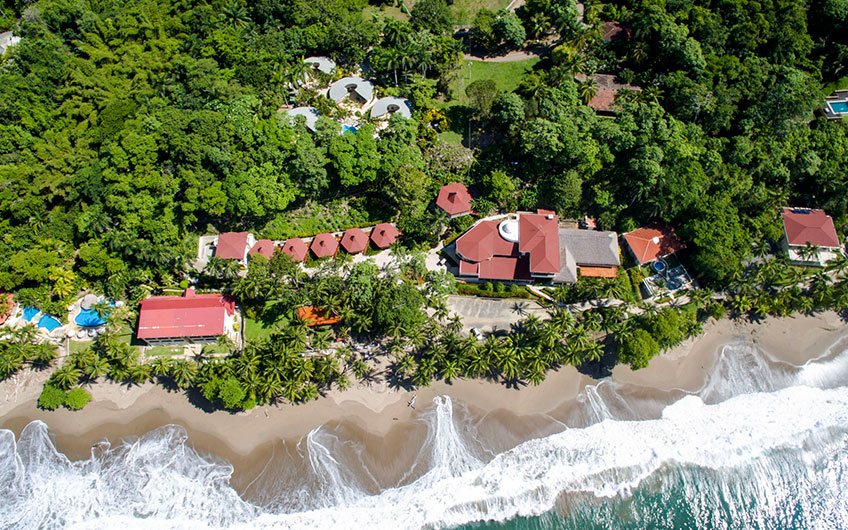 Tango Mar Beachfront Hotel, it is located in Quisales Beach, is a very secluded hotel, the best in the area and it has the option of bigger rooms or small, cozy and charming rooms for your Costa Rica honeymoon.
Montezuma Costa Rica hotels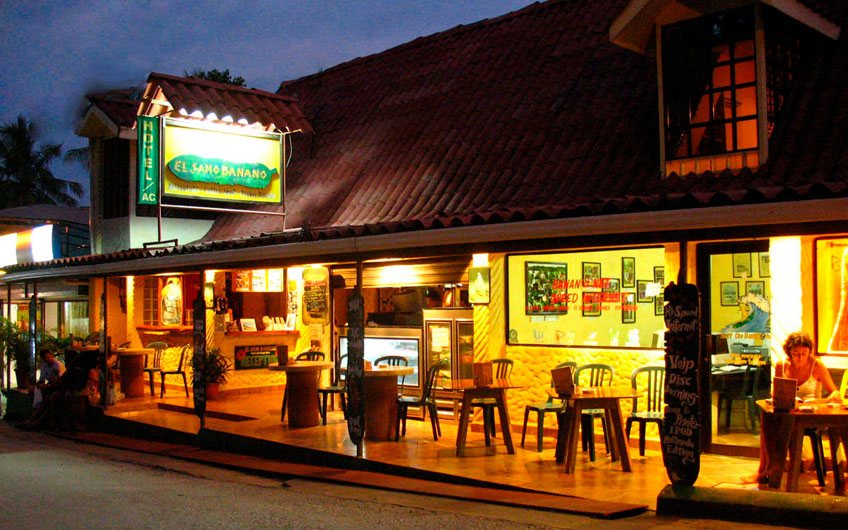 El Sano Banano Hotel, this is a budget hotel, close to the beach and perfect for your vacations. It is simple but authentic, where you can taste local flavors and a relaxed ambience.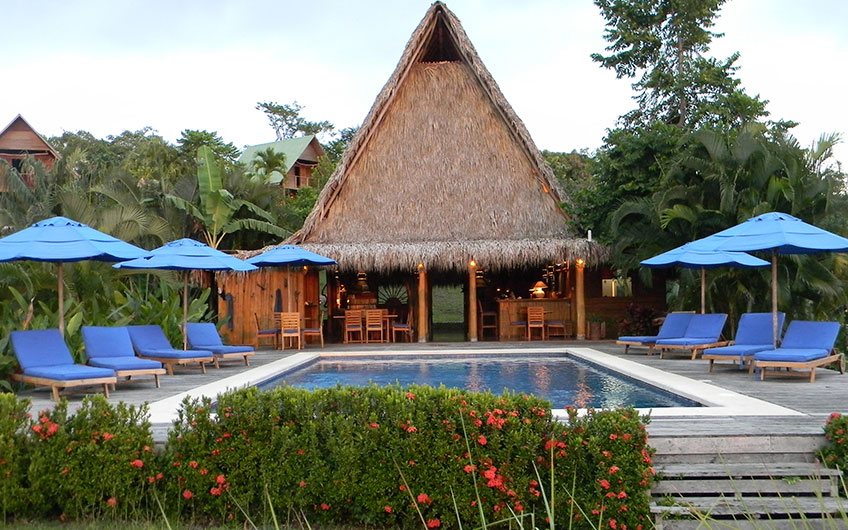 Ylang Ylang Beach Resort, it is a resort on the beach side that offers tree rooms, beach front and garden rooms, it is another rustic but cozy and nice option.
Malpaís Costa Rica hotels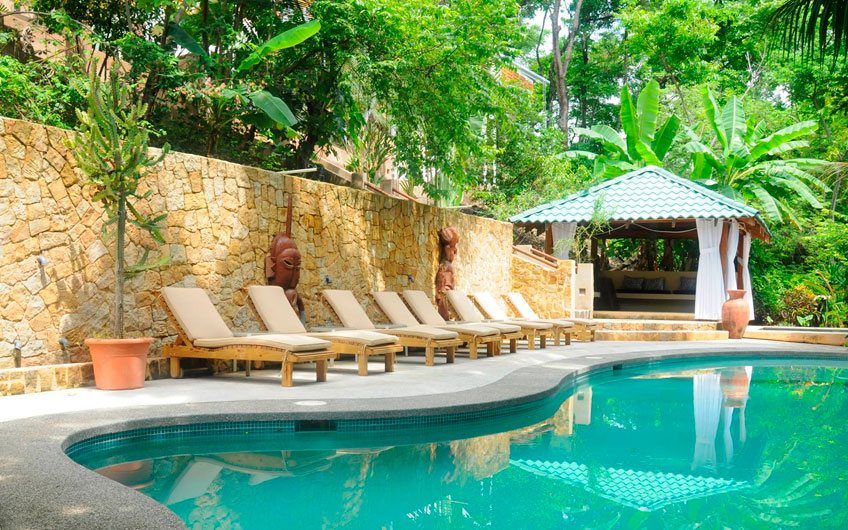 Moana Hotel, it is a boutique hotel, private, nice, with a beach view, amazing landscapes, it offers small rooms for couples but has a house up to 12 people too, an option to consider for your Costa Rica vacation package.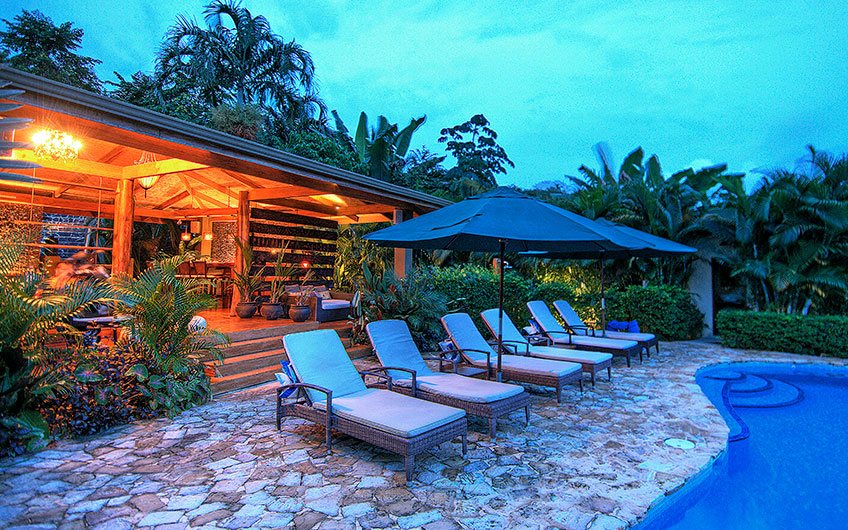 Casa Chameleon Hotel, it can be your best option for your Costa Rica honeymoon; the hotel offers separate small villas with plunge pool, nice decorated and it is an adult only hotel, not beach front but one of the best in Malpaís Costa Rica area.
Santa Teresa Costa Rica hotels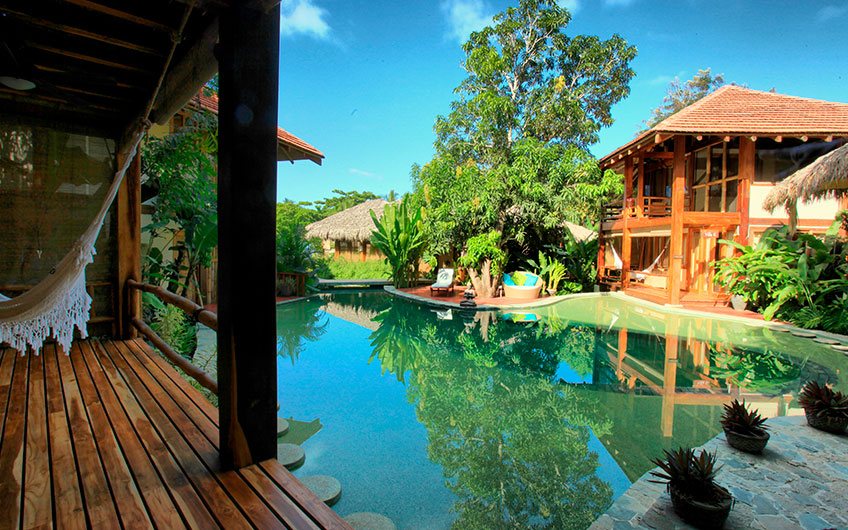 Pranamar Villas & Yoga Retreat, this is an oasis of peace, surrounded by wildlife, beach front villas and a yoga retreat. Highly recommended for couples or small families that want enjoy and being connected with nature during their vacation in Costa Rica.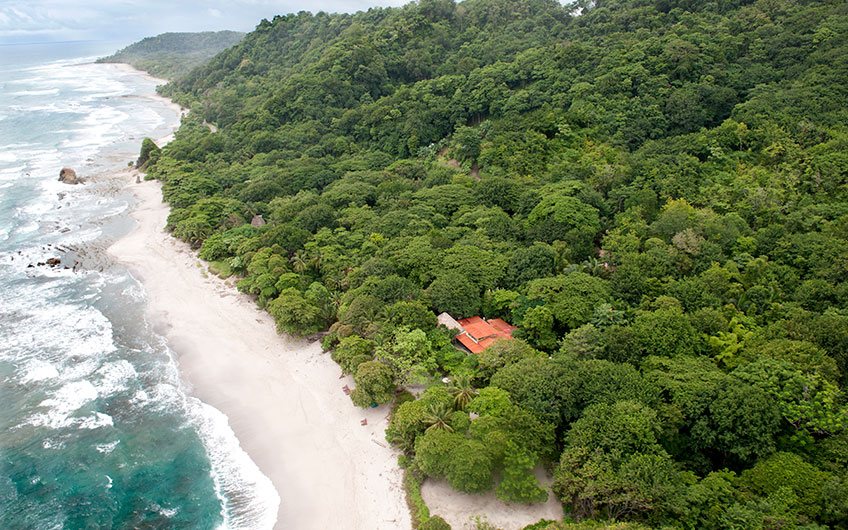 Flor Blanca Resort, it is a luxury yoga retreat, the best option if you want comfort, be off the beaten tracks; it is immerse in the forest, close to the beach and offers a nice and interesting spa made of bamboo, they also offer yoga classes during your Costa Rica vacation packages.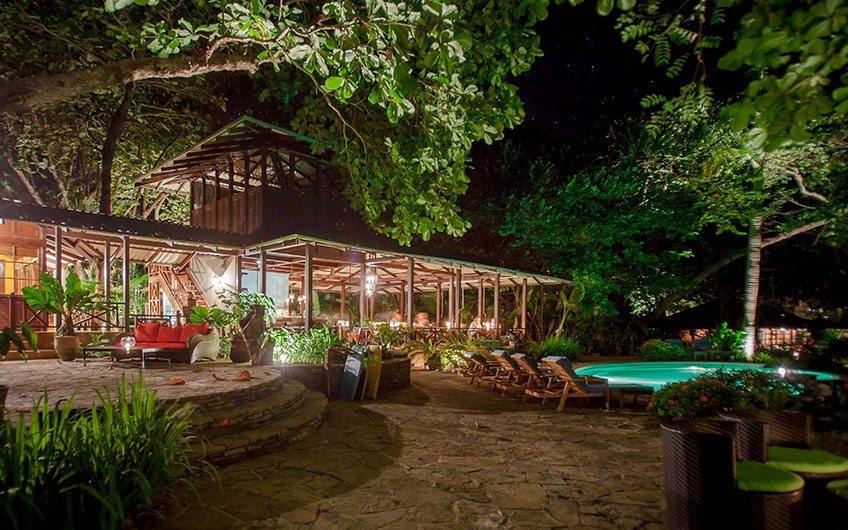 Latitude 10 Hotel, another beach front hotel, very small and exclusive, it is more recommended for your Costa Rica honeymoon as it is a quiet, beautiful and private lodge, surrounded by nature with cozy wood "casitas".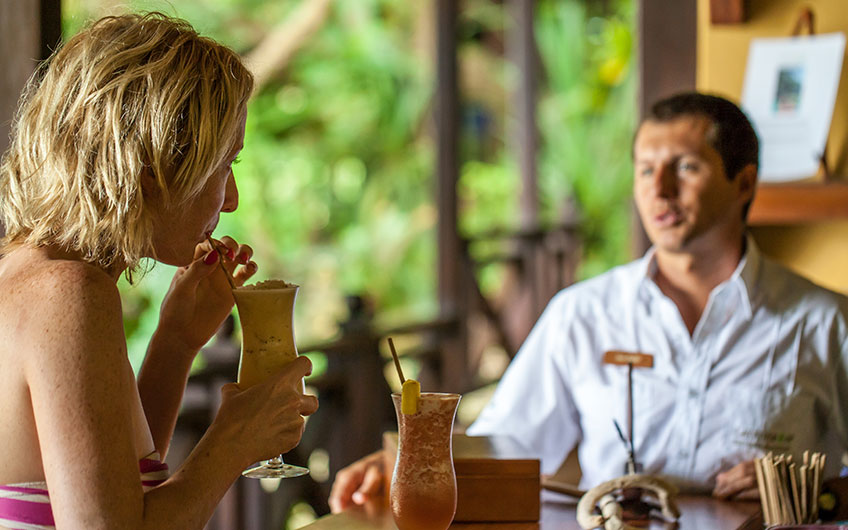 Nicoya Peninsula Costa Rica food and restaurants
When you are on your vacation package, staying in Nicoya Peninsula, you will taste tropical flavors, fresh and healthy food and a lot of seafood, as it is located right on the coast.
In Tambor, you can find Vista Hermosa B&B Restaurant, that offers American food (Central and South American), some international and typical food, up to vegetarians. Nice open restaurant, it opens from 07:00 to 21:00.
Mar y Sol Restaurant: this is an Italian pizzeria and seafood restaurant, up to vegan and vegetarians located in Tambor. It is open from 07:00 to 21:00.
Soda Típica Las Palmeras: open restaurant located in Montezuma that offers options for vegans and vegetarians, it also offers Latin and typical food and opens from 08:00 to 20:00.
Ylang Ylang Restaurant: it is located in Montezuma Costa Rica area, offers vegan, vegetarian and celiac food. It has a combination of typical and international food, seafood and sushi; the restaurant is open from 07:00 to 22:00.
Las Caracolas Restaurant: located in Malpaís, is a typical open restaurant, up to celiac, vegetarians and vegans. Offers seafood, Latin and Central American food, it opens from 11:30 to 20:30.
In Malpaís, we can also recommend The Bakery, another restaurant up to vegans, celiac and vegetarians. It offers French, North American (USA) and European food, it is a coffee style and is open from 07:00 to 22:00
Banana Beach restaurant: located in Santa Teresa. Barbecue style, bar, open restaurant with option of seafood, local and international food, up to vegans, vegetarians and celiac people. Opens from 09:00 to 23:45.
In Santa Teresa, we can also offer you Habaneros Restaurant that is a restaurant with option of Latin, Mexican and Central American food, seafood, up to vegetarians, vegans and celiac. It is open from 12:00 to 21:00.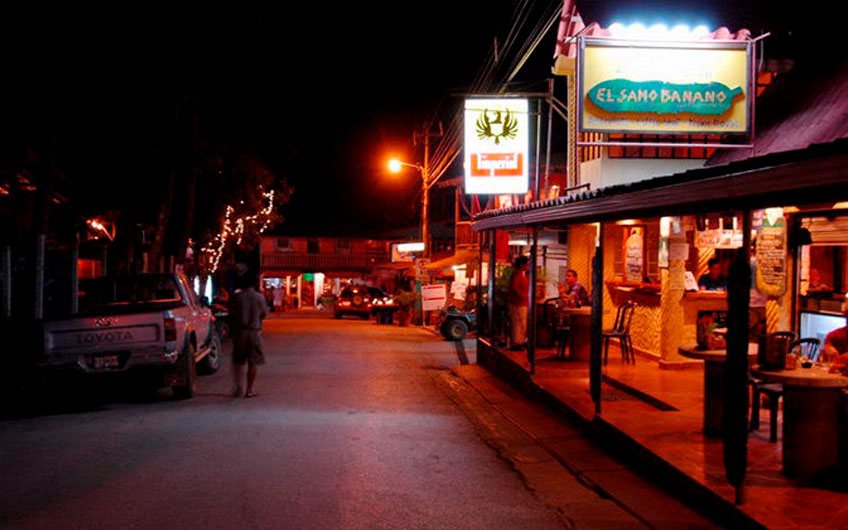 Tambor, Montezuma, Malpaís & Santa Teresa Nightlife
There is no doubt that if you are looking to be disconnected from the world during your vacation package, and enjoy a relax, friendly atmosphere, into amazing places, you should also discover Nicoya Peninsula at night. You can find open air bars, lounge style, basic and simple but cozy bar – restaurants to dance, drink a beer, or share with local and foreign people, perfect to enjoy on your family trip to Costa Rica.
Another option for your Costa Rica family holiday is walking in the surroundings, look the beautiful dark sea, as well as the sky full of stars, you will feel like there are nothing more to do, you will not want to leave the area, there is the best spot to unload stress, while you are enjoying with family, friends, couple or alone too.
Video of Santa Teresa Beach in Costa Rica
Vacation Packages
Please take a look to our Honeymoon Potpourri package, a nice option that includes Tambor area, and that is combined with other amazing places to have an incredible honeymoon, but if you do not like this sample program or if you are on your family trip to Costa Rica, we are able to prepare for you a tailor made package including Tambor, Montezuma, Malpaís or Santa Teresa:
Honeymoon Potpourr.
If you need us to prepare your vacation packages, or if you need more details about Nicoya Peninsula and the most beautiful beaches in Costa Rica, we are at your service. Please do not hesitate in contact one of our expert travel designers.