---
November 19, 2012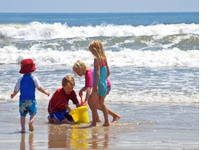 Travel to Costa Rica with children requires some special arrangements to make a good balance between recreation and the right activities in order to produce a great impact and make these trips unforgettable for them. The tourism on children is very important because it helps them to encourage their knowledge, tolerance of cultural differences, sensitivity to new experiences and independence.
Costa Rica is a great country to visit with family, here you and your kids will find a wonderful way to learn about ecology and environmental awareness. There is a huge diversity of areas in our beautiful country to travel with children; some of those areas are Manuel Antonio National Park, Tortuguero, Arenal, Monteverde or Tamarindo, with hotels offering good services and facilities for children.
There are a lot of fun tours and nice activities around the country to make sure you will have a great time. Some of those activities we suggest are: canopy tour (zip line), horseback riding, boat expeditions to see crocodiles, butterfly gardens, hanging bridges and walking tours to see monkeys, birds and sloths. We can't forget an activity which is a must for children while staying in San Jose: the InBio Park is a theme park that educates and stimulates through direct contact with nature. Its aim is the conservation and sustainable use of biodiversity in Costa Rica.
The reservations executives of Travel Excellence are specialists creating trips for families and we can provide complete itineraries full of nature, activities and unforgettable memories. Contact us NOW!
Leave a Comment