Have you ever heard about Guanacaste Costa Rica and its amazing beaches? Let's talk a little bit about two of the breathtaking places that you can find during your visit to this natural paradise called Costa Rica: Nosara and Samara.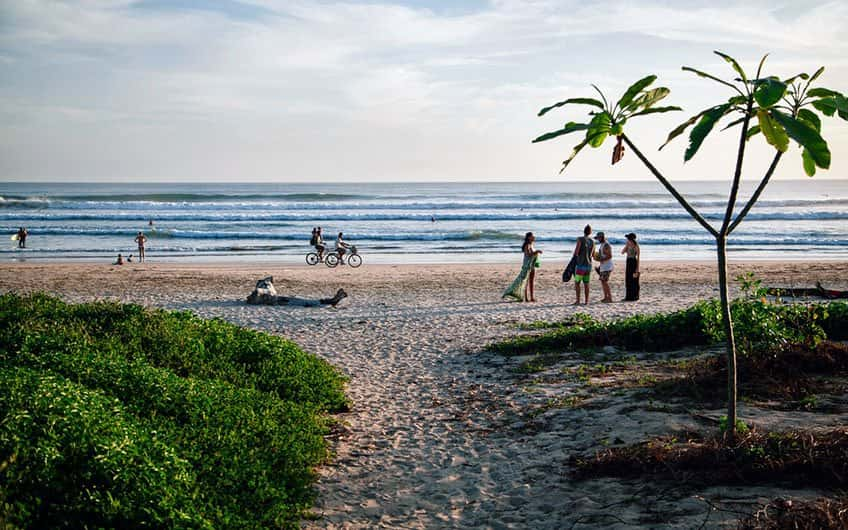 Nosara and Samara are known as some of the best surfing beaches in Costa Rica, however it is not only about surf; these are natural and beautiful areas off the beaten track, where you can discover wildlife, relax, rest, take sun, enjoy the warm water and meet very friendly people, it will be the trip of a lifetime, do you want to know why? Just continue reading this!
Location
Samara Costa Rica is a coastal village located in Guanacaste province, at the West side from the capital city San Jose Costa Rica. Nosara is also located in the North Pacific, North West from Samara Beach.
There are rural and some non-paved paths to get to Nosarathat is one of the reasons why, this second town is less touristy than Samara or another parts of Guanacaste like Tamarindo or Papagayo Gulf. Please do not forget to check our Costa Rica map of beaches so you can have a better idea of where are these two places located.
How to get there
From San José Costa Rica to Samara, there are 239 kilometers approximately, it can take 4.5 hours, and from Samara to Nosara it can take 1 hour approximately. It is close to Liberia International Airport, so you can land into San Jose International Airport or Liberia, depending on your itinerary.
If you are an adventurous traveler, you should consider hiring a car and we at Travel Excellence can help you with the arrangements, renting a car you will avoid schedules and limitations, so you will maximize your time and enjoy on your own pace. Also if you do not want to drive and prefer comfort and relaxation during the way, you can take a transfer with a bilingual guide – driver so you can have more information about Costa Rica, while you admiring the astonishing landscape, just ask us about this service.
Lastly, but not less important, if you want to reduce the time between places, you can take a domestic flight to / from Nosara Airstrip; this is another good option to see Costa Rica from another perspective, from the air, you cannot imagine how incredible is to see our country from the air, look up for the green mountains or the blue sea, something that you must experience on your family trip to Costa Rica.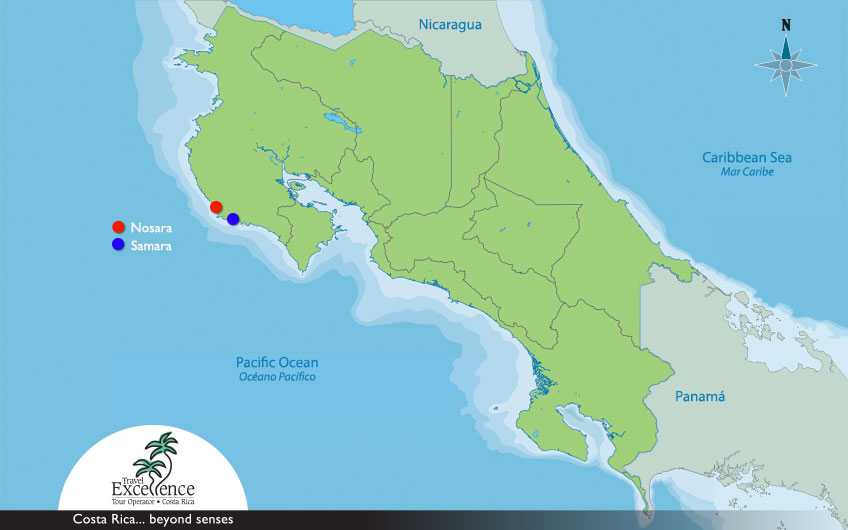 Nosara & Samara Costa Rica map
We invite you to take a look to our Costa Rica beaches map, an interactive map where you can find Samara and Nosara, there are also important information about these great spots for surfing.
Additionally, do not forget to check our Costa Rica beaches map, and check the options that are close by, it is important to consider that in Guanacaste there are some of the top beaches in Costa Rica.
Nosara & Samara Costa Rica weather
One of the main reasons why tourists want to visit Samara and Nosara is because the warm weather. Guanacaste is the driest province of Costa Rica, the best time to visit the area is from December to May, during the dry season, but almost during all the year the place is hot and dry.
History and Culture
Nosara is an area where Chorotegas lived, the indigenous objects that were found in the past were sacked too and now there are no too much things to preserve of the antecessors. The history of both places is quite vague, it says that Nosara was the name of a young princess that died in the area, it was due to a fight of two men for the love of Nosara but she died too in that moment.
Since 1988 Nosara is recognized as a "district" of Nicoya from Guanacaste, the development of the area is very recent but as it is a secluded rural area, there are no too much buildings or facilities.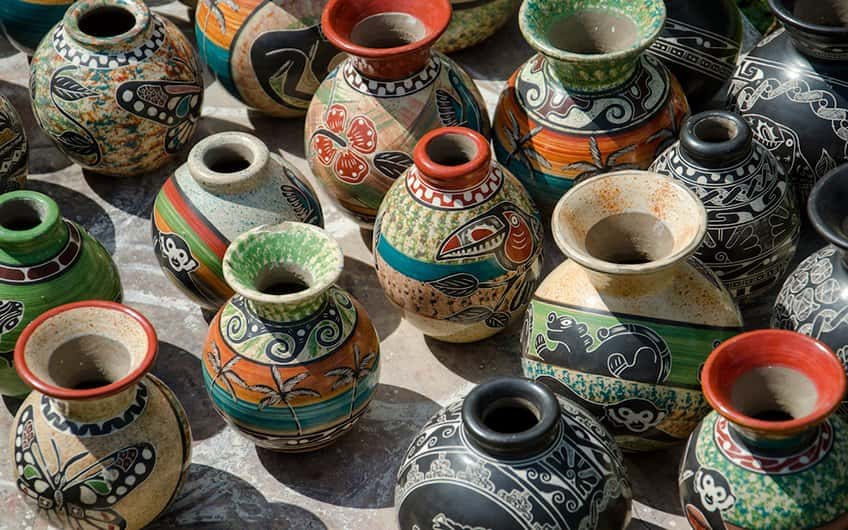 Who were the Chorotegas?
Chorotegas were Pre Columbian indigenous groups that lived in the North West part of Costa Rica, the history said that Chorotegas were the biggest indigenous group in Central America, they worked the ceramic, ate cocoa, corn, fruits and came from Mexico.
About their culture
An important part of their culture is the protection of their natural resources, it has helped in the little development that the area has. They have almost the same cultural activities than in Guanacaste, for example enjoy music, handcrafts, food made of corn, typical dances; they preserve the folklore, traditions, are very welcoming people, humble, healthy and value the small details.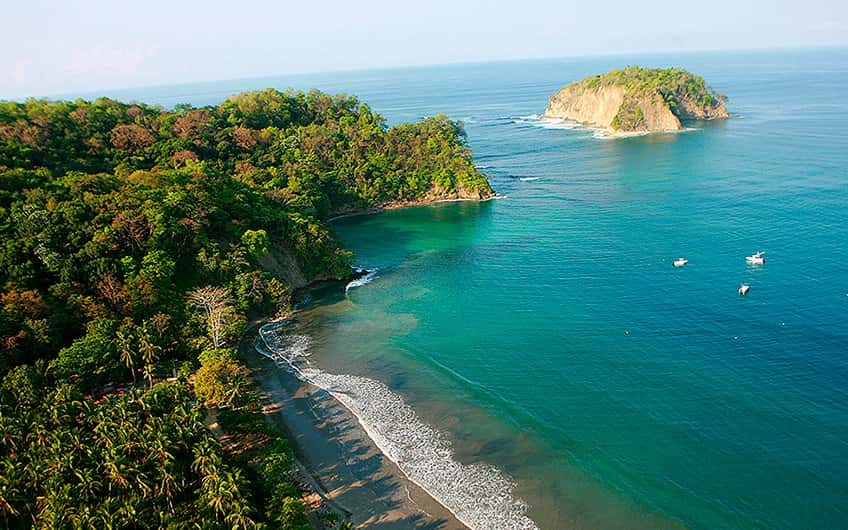 Why is it known?
Nosara Costa Rica beach is well known for the surf that is possible to practice in the surrounding beaches, it is also a small place where people will be in contact to wildlife, an exuberant, rich vegetation, home of many species of beautiful animals.
During your Costa Rica vacation packages, you can experience a relaxing atmosphere and a very good vibe, the people is very friendly, and part of that atmosphere is reflected in the lodging that we can find in Samara Costa Rica beach or Nosara, there are small hotels and hostels, very simple, basic but charming and cozy too. It is almost like an escape from the live full of stress, in the area you will easily breathe fresh air too, this is an important reason why people go to Nosara or Samara.
Additionally, it is a must for those who want to be in somewhere off the beaten track, especially in Nosara Costa Rica beach where there are rural trails, non-paved roads, with a lot of nature too see, so this is an adventure, no doubt about that.
As it is a quieter place, remote and not too touristy, it is an option for artists or famous people, actually recently the actors Norman Reedus, Steven Yeun and Andrew Lincoln from the Walking Dead visited Nosara; the actor that played Batman, Christian Bale; the actress Susan Sarandon, and the singer Lady Gaga have stayed in the area too. So you should consider exploring this area on your family trip to Costa Rica and you won't regret it.
Tourist Attractions
Samara: Samara has an important and beautiful coral reef, there are an abundant marine life, Isla Chora is located in the area and offers different activities, you can also observe some marine birds if you enjoy bird watching.
During the enjoyment of your Costa Rica vacation packages, you can also find Tobbaco Waterfalls, we do not have to forget the beautiful town and the astonishing beaches in the surroundings.
Nosara: some of the principal attractions in the area are Pelada, Nosara, and Guiones beaches, some of the prettiest beaches in Costa Rica. Mala Noche Waterfall is a good option to explore in this unique spot, Nosara River is well known for its natural beauty, for the mangrove and the activities that can be done there and you should visit Nosara Biological Reserve or the mangrove at Montaña River.
Things to do near Nosara and Samara Costa Rica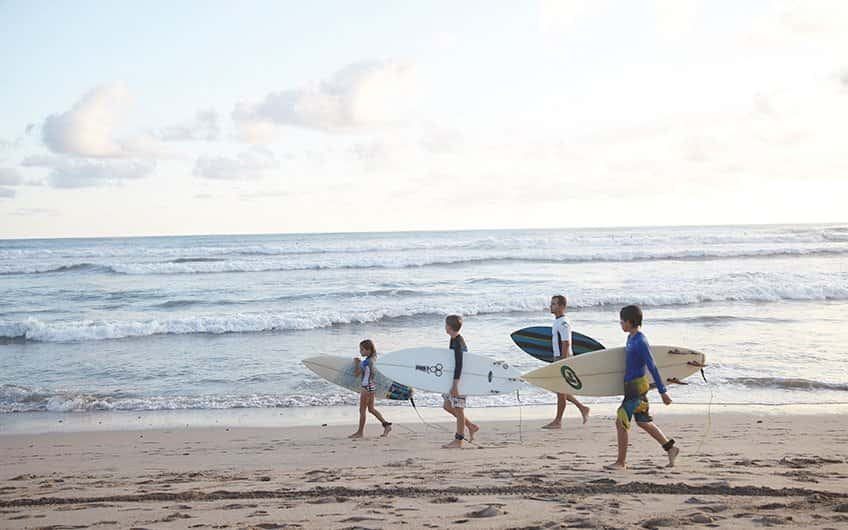 Samara Costa Rica tours
Activities at Isla Chora: Isla Chora is a natural refuge, located around 1 kilometer from the Samara, there you can do birdwatching, stand up paddle, kayaking and snorkeling during the dry season. It is a perfect place to admire some of the treasures that Costa Rica has to offer, also you can enjoy swimming in the warm water and sunbathing.
Surf Classes: Samara Costa Rica surfing schools are very common, as well as the family surf camps Costa Rica, because in the surroundings are amazing beaches to practice this activity, so if you like to ride over the incredible waves, and taste the power of our clear waters, consider this place to your next family trip to Costa Rica.
Mountain Bike: the area offers the option of explore and discover using a bike, you will enjoy an amazing and beautiful landscape, it is a good option for your family holiday, because it is not an extreme activity, so perfect for everyone.
Horseback Riding: it is another option to do on your family adventure, there are unparalleled spots in the area and you can also visit the beautiful Tobbaco Waterfalls, to relax, breathe fresh air and feel the refreshing water.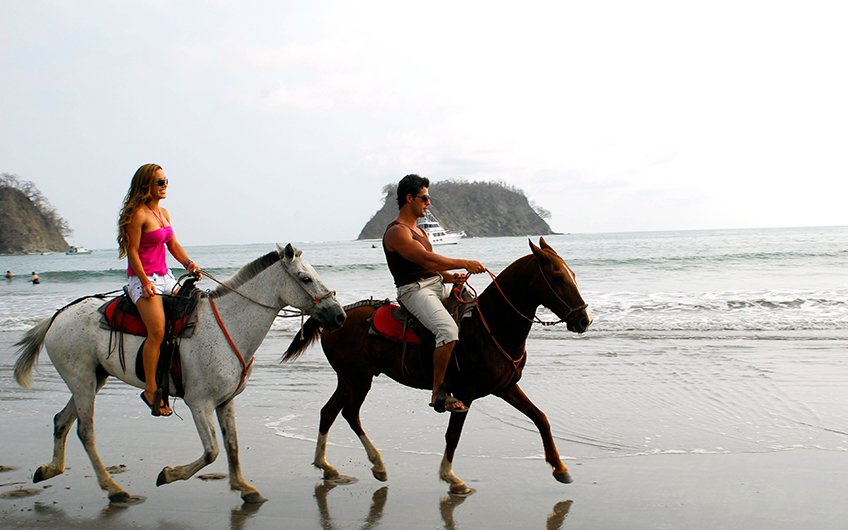 Nosara Costa Rica tours
Surfing: Guiones Beach is world known as one the best surfing beaches, it is a white sand large beach, where you must go if you like this activity. Nosara surf is perfect for experienced people, the waves and the relaxed ambiance make it a preferred spot for surfers.
Canopy Tour: if you like adrenaline and the speed and want to slide over the trees during your Costa Rica vacation package, this is something that you should consider.
Kayak and stand up paddle: The kayak in the mangrove at Montaña or Nosara Rivers is perfect for eco-tourists, people who love the wildlife, there you can admire the different marine birds while you are paddling slowly, feeling the breeze in your body and listening nature. Is this something that you would like to have on your family trip to Costa Rica?
ATV: if you like adventure and want to experience the adrenaline on your family holiday this is a tour that you can consider, just imagine driving through the mountains, isolated paths and be into the nature, you can also visit Mala Noche Waterfall using your ATV.
Horseback Riding: this is a quieter activity, to admire and know the vegetation, this tour does not require previous experience and you will collect memories while you are enjoying the beautiful area on your family trip.
Fishing: this is something that you could do during your Costa Rica holidays; it does not matter if you are experienced or not, something relaxing to enjoy with family or friends, discovering the treasures that Nosara has to offer.
Nosara & Samara Hotels
We just have to say that both places are a must for your vacation packages, there will meet local friendly people, will forget the stress and will experience what is to stay on an authentic Costa Rican place, as well as taste the typical flavors, our delicious tropical meals.
Nosara Costa Rica hotels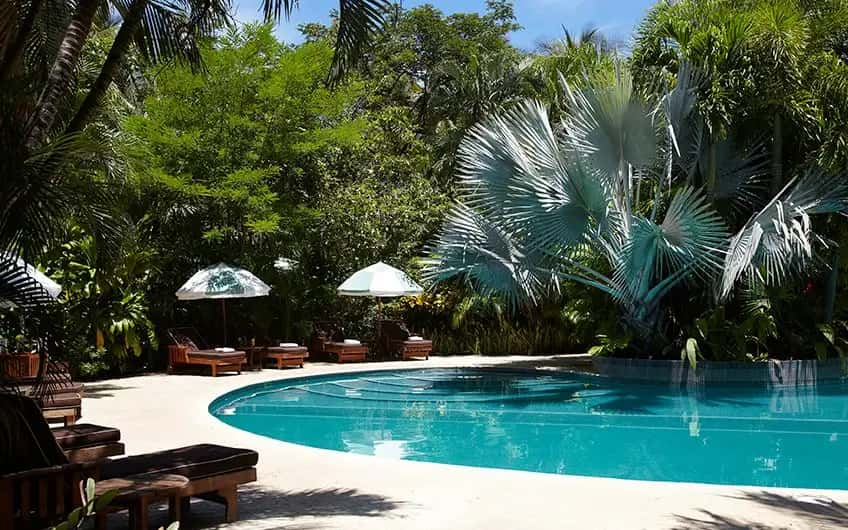 Harmony Hotel: it is an eco-hotel, boutique very close to Guiones Beach, they offer simple bungalows but very nice and cozy, what is perfect about this place is the closeness to everything as it is in the main town, it is recommended for your Costa Rica honeymoon, small families, travelling with friends or why not if you are a solo traveler?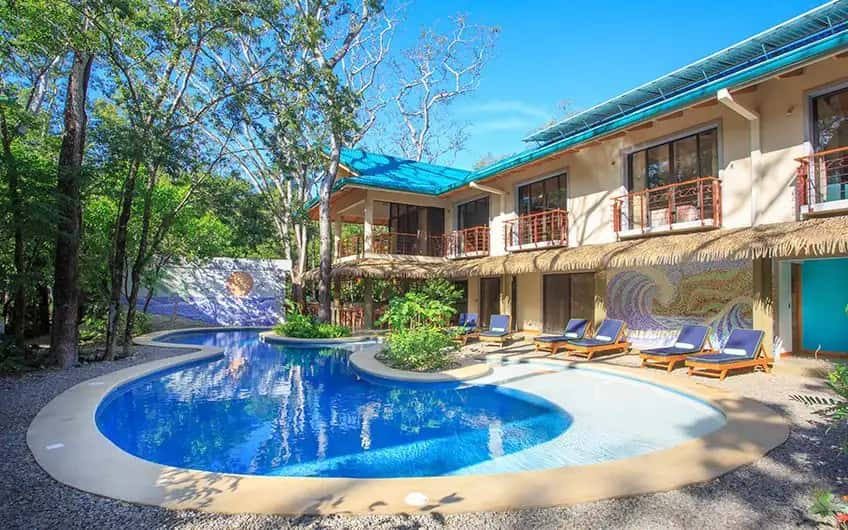 Olas Verdes: this is a suite – boutique hotel, close to the main town of Nosara Costa Rica, nice, private and with a relaxed ambiance, perfect for those who want to be surrounded by nature, close to the beach and on an exclusive hotel.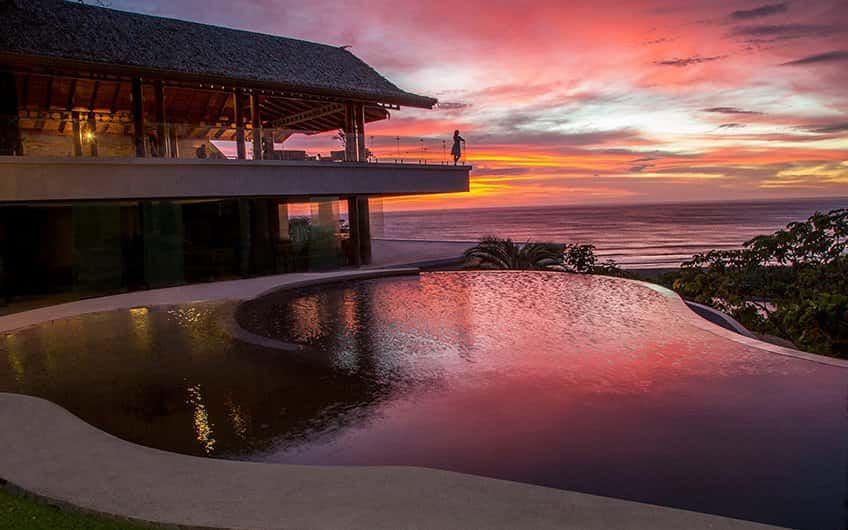 Lagarta Lodge: this is the newest hotel in the area, very nice secluded boutique hotel, with a privileged view of the beautiful nature in the surroundings, small private property and a perfect option for families or for your honeymoon.
Nosara Costa Rica real estate: this is a perfect area for surfers, people who want to live and stay on their own, so there are a lot of condo – apartment style properties, for those who want to cook, have their private space, avoid meal schedules and explore more, this is something that you can consider when visiting the area.
Samara Costa Rica hotels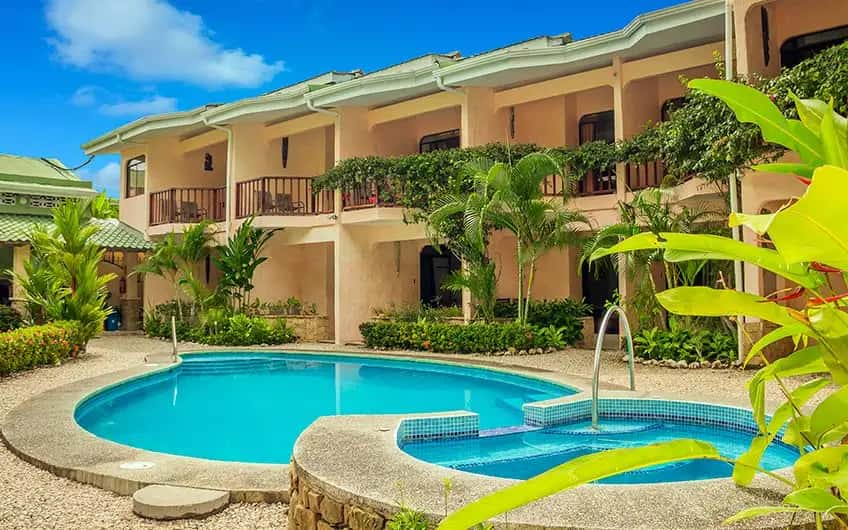 Giada Hotel: it is a good option for budget trips, is a standard hotel, located in the main town, close to Samara Beach, small and nice property, with an easy access to the principal facilities.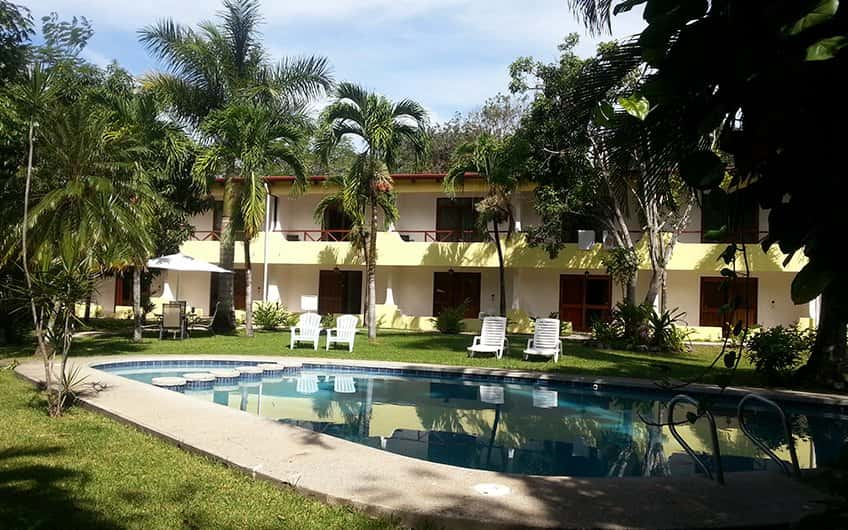 Samara Beach Hotel: this is another standard hotel that you can consider on your family trip to Costa Rica, located in Samara Beach, small, cozy and good option, but it is not as close as the beach like Giada Hotel is, but there are some other beautiful beaches to choose in the surroundings.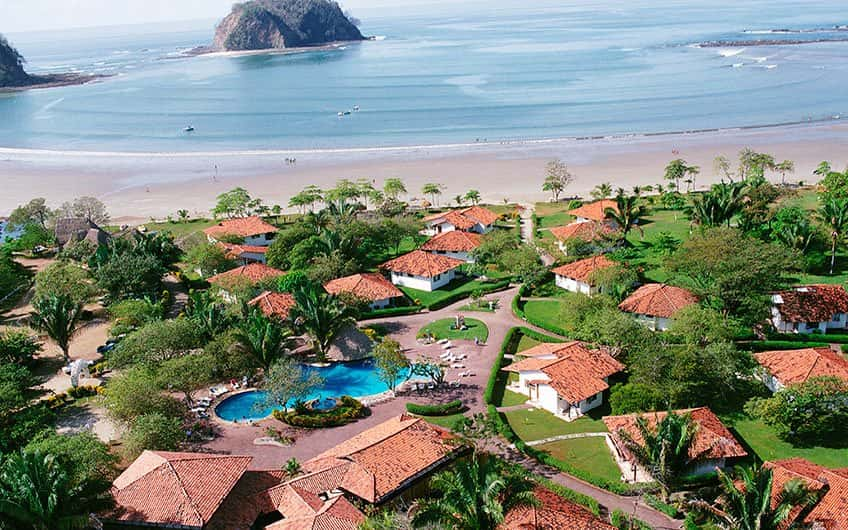 Villas Playa Samara: this is the only all inclusive family resort located in the area, offers small rooms for couples or bigger family rooms too, so this is the added value that offers, also this is the perfect option for those who do not want to worry about moving to look for meals, everything is in the hotel.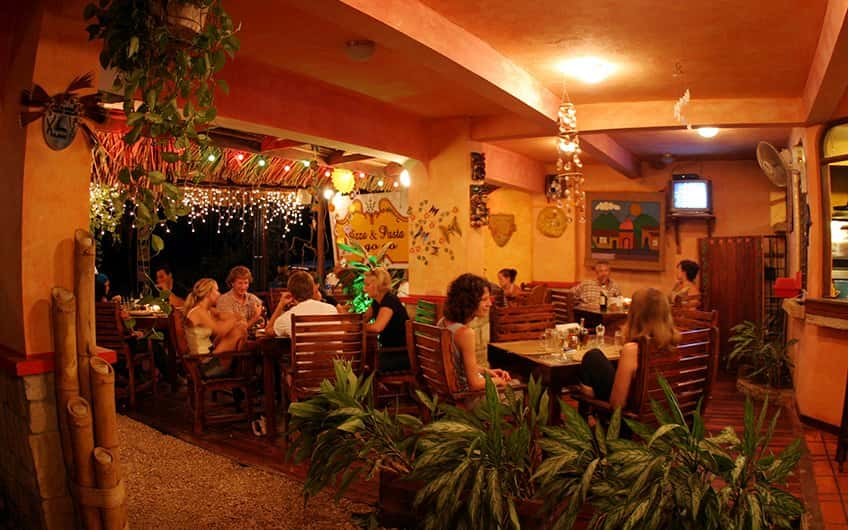 Nosara & Samara Costa Rica food and restaurants
The restaurants that you can find in both places, during your holidays, are very relaxed and casual; a nice place where you can taste Costa Rica food and international cuisine, delicious tropical meals, seafood, perfect to share with locals and other tourists that are visiting these beautiful beaches.
Samara Costa Rica Restaurants
Ma Ma Gui: this is an Italian restaurant located in Samara, apt to vegetarians, vegans and celiac people. It could be an option for families, couples or group of friends. The place opens daily from 18:00 to 23:00.
Samara Pacific Lodge Restaurant: It is an European style restaurant, they offer French, International and Costa Rican food, it is a restaurant for dinner, we recommended it for your Costa Rica Honeymoon as it is a romantic place, but it is perfect for every occasion. Opens from 18:00 to 22:00, from Monday to Saturday.
El Lagarto Restaurant: located in Samara, this is an open air nice restaurant, Central American and Costa Rican food is offered there, specialized in grill and seafood, with options for celiac and perfect for your family trip. It opens daily from 15:00 to 23:00.
Luv Burger: it is a North American restaurant located in Samara Costa Rica beach, healthy restaurant apt to celiac, vegans and vegetarians, perfect for families. An open-air place that opens daily from 08:00 to 22:00
Lo Que Hay Restaurant: Mexican, Latin, European, Central American and Costa Rican food is offered in this nice open-air restaurant located in Samara, is a lively place, an option for your family holiday. Apt to vegan, vegetarian and celiac people and it opens daily from 07:00 to 00:00.
Nosara Costa Rica Restaurants
La Luna Restaurant: this is a very nice lounge bar – restaurant, located in Nosara, in front of the beach so it has a very good view, Mediterranean, Italian food, as well as seafood is offered there. It opens daily from 07:00 to 22:00.
10 Pies Restaurant: this is an open air, familiar restaurant, located in Nosara, they offer Central American, Costa Rican food, as well as pizza, seafood, apt to celiac, vegans and vegetarians. It is open daily from 12:00 to 21:00. It is a good option to consider during your family trip to Costa Rica.
Kaya Sol Restaurant: this is a place located in Guiones, close to Nosara Costa Rica beach, a Costa Rican bar – restaurant, apt to celiac, vegetarian and vegan people. It is another option recommended for your family holiday and it opens daily from 07:00 to 22:00.
Harmony Hotel Restaurant: this is one of the best recommendations for people who want to enjoy a delicious fresh sushi on their Costa Rica vacation packages. Located in Guiones, this restaurant offers Japanese and Costa Rican food, seafood and sushi apt to vegans, celiac and vegetarians and it opens from 07:00 to 22:00.
El Manglar Restaurant: open air nice restaurant located in Nosara Costa Rica beach, they offer seafood, international cuisine, North, Central and South American, Spanish and Costa Rican food, apt to vegans and vegetarians. Opens daily from 07:00 to 21:00.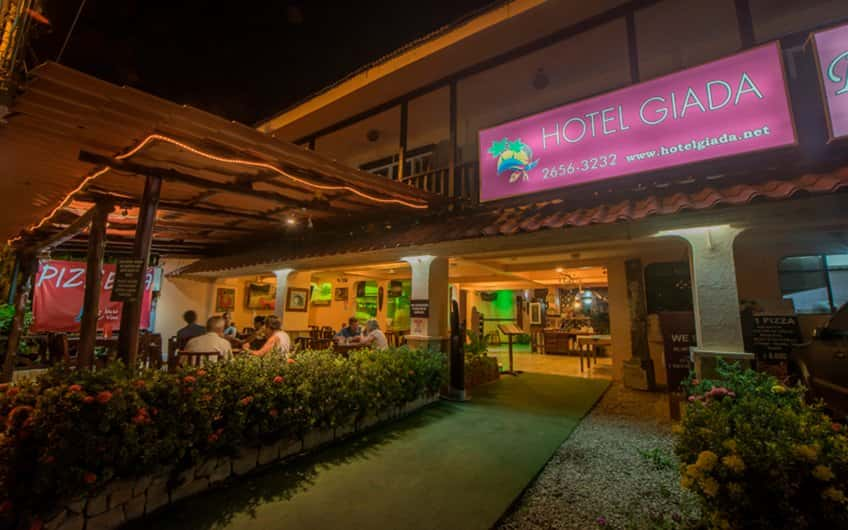 Nosara & Samara Nightlife
During your Costa Rica holidays, it is very common to find in Samara Costa Rica beach or in Nosara nice restaurants, where you can eat something delicious and drink a beer, cocktail or wine in a relaxed atmosphere. Also, there are some bars where people can go dancing or to drink with family, friends or alone and share with local people, but you should consider that bars there are very casual, some are open-air places, and nothing like discotheques, clubs or similar, however there is no doubt that the ambience is perfect to enjoy and relaxing, be disconnected from the busy world and create nice memories of your family trip to Costa Rica.
Video of Nosara Beach in Costa Rica
---

---
Vacation Packages
Take a look to our sample programs, that are packages created for different tastes and needs but do not forget that we are able to provide you tailor made itineraries accordingly to your desires. We can put a package together for your Costa Rica family holiday including Nosara or Samara Costa Rica.
Our expert travel designers are waiting to hear from you, so please do not hesitate in contact us at any time to ask for itineraries or more information about the unparalleled Costa Rica.
Please continue reading our travel guides and leave us a comment about this article!