---
---
During the last years, Arenal Volcano has stood out in different touristic web sites or publishing, and it is because few Costa Rica attractions inspire more respect and admiration than the Arenal Volcano.
In 2014, the famous newspaper, The Huffington Post, published an article about the 35 Most Amazing National Parks on Earth and the Arenal Volcano National Park was named in first place, above important National Parks of the world like the Iguazu National Park (Argentina-Brazil), Yosemite National Park (US), Etosha National Park (Namibia-Africa) and the Banff National Park (Canada).
The article remarks that the Arenal Volcano National Park, located in the middle of the lush tropical rainforest of Costa Rica, and very close to one of the most famous places in the country: the Guanacaste province, "is a rumbling volcano surrounded by hot springs, fauna-filled forests, and plenty of hidden waterfalls."
"Ask anyone that has been to the Arenal and they will tell you: It is paradise!" concludes the article.
In 2015, the newspaper, The Guardian, named this amazing volcano in their "Top 10 active volcanoes to see up close". They commented that "this is an explosive cone admired, like Japan's Mount Fuji, for its aesthetic qualities. But its beauty can be brutal: in 1968 it erupted unexpectedly, having been dormant for centuries, destroying the small town of Tabacon".
Additionally, EscapeHere.com highlighted it into "The 15 Best Volcanoes Hikes in the World" and as number 14 on their list, they remarked "Arenal was one of the most active volcanoes from about 1968 to 2010 and since then has slowed down but this volcano still is known to spit out ash and sometimes even lava. It is classic in shape, being tall and symmetrical and there is no worry about being cold up here."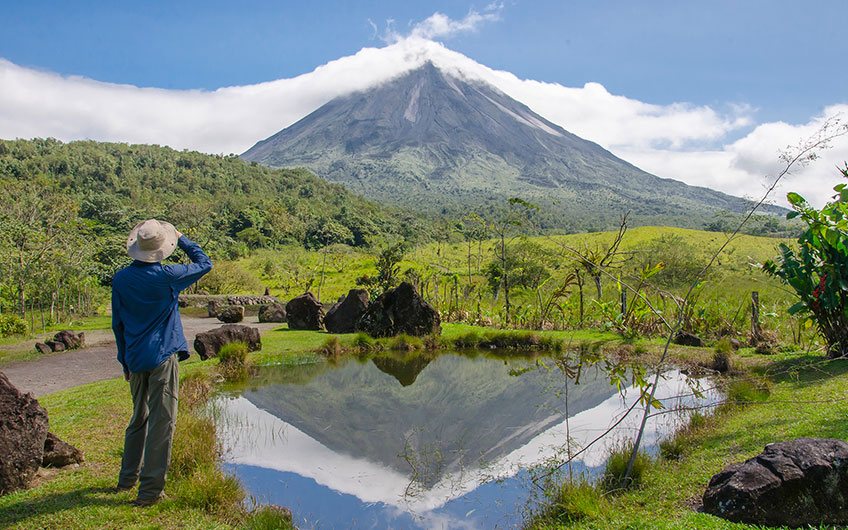 ---
About Arenal Volcano National Park
Located in the northern region, this impressive volcano is a natural phenomenon that attracts many tourists. It belongs to Guanacaste Volcanic Mountain Range due to its location, and it is the only conical shaped volcano in Costa Rica.
At 3 hours approximately from San José International Airport, you can get to this magical place, by driving your own rented car as a possible way to explore by yourself and according to your own schedule. Taking a small plane from one of our domestic airstripsis an option too, or if you prefer, on a private escorted transfer for more comfort, you do not have to lose the chance of being there.
Besides, the northern region offers a landscape of exceptional beauty with its forests, lagoons, fields of crops and rivers with hot springs; in other words, sanctuaries where you can breathe peace, purity and the majestic power of nature.
But this Costa Rica tourist destination is also perfect for those looking for adventure days. You can explore Arenal taking one-day tours full of adrenaline like zip-line excursions, whitewater rafting expeditions, horseback rides and challenging hikes.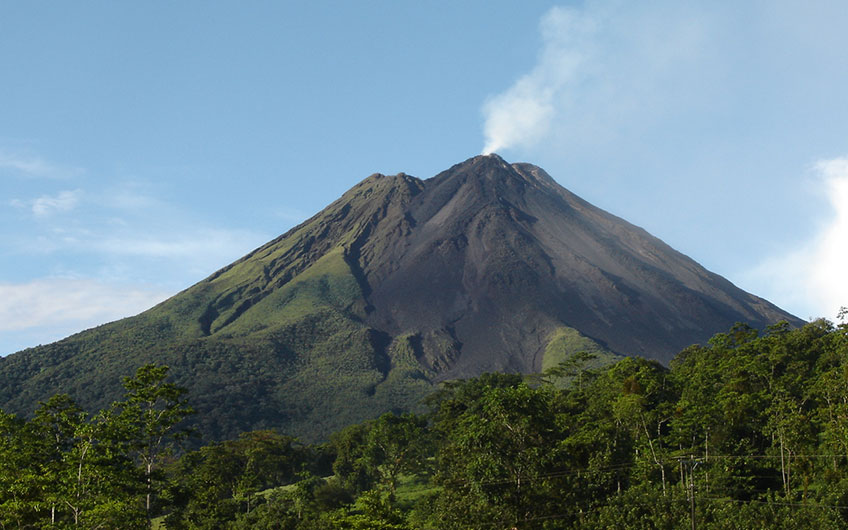 ---
Historical Eruptions of the volcano
Here you have a list made by year with some historical facts for you to know a little bit more about this volcano:
1968, a wild eruption caused a devastation of 12 square kilometers approximately, in the surrounding villages like Pueblo Nuevo or Tabacon died more than 80 people, the ash came to some villages of the Guanacaste province. Some days after this happened, a pyroclastic flow killed some people that were driving on their cars. In September of that year, the first lava flow descended.
1975, incandescent materials descended over Tabacon river. Then during 1987 & 1988 went down some pyroclastic flows.
In 1993, a wall of one of the craters collapsed and produced a spate and then, in 1998 pyroclastic flows moved down again, on the same crater.
From 2000, the volcano started erupting gas plus ash. Later the same year, Arenal Volcano erupted ash and lava.
In 2001, lava flows descended and destroyed many vegetation hectares.
---
Lodging in Arenal
Even though it is a small village, you cannot imagine the big list of extraordinary properties near the Arenal Volcano in La Fortuna Costa Rica that can be found. The principal attraction there are the hot springs, and some of the hotels have it, but if you are staying in a hotel without pools or hot springs, you can easily have access to hot springs resorts that offer one day tours.
World known as one of the best properties for honeymooners, Nayara Hotel is a paradise, with separate bungalows which are very private and are immerse into tropical gardens.
Tabacon, The Springs and Arenal Kioro are some of the best family resorts in Costa Rica. These offer large families rooms that adjust to friend groups too. The last three properties that we have mentioned before, are some of the luxuries as well as Royal Corin.
However, we have middle range hotels, very accessible and amazing ones, or standard properties for budget trips. Arenal Springs Resort and Arenal Manoa, are more accessible hotels, talking about price and quality, as well as Arenal Paraiso and Volcano Lodge.
Arenal is recommended as one of the family adventure places, there are a lot of activities to do, has important attractions as the Arenal lake, La Fortuna Waterfall, the hanging bridges, the Sky Adventure Park, La Fortuna Costa Rica downtown, Balsa River and much more, you will find there something accordingly to your desires, there is no doubt about it.
Please leave us a comment if you liked this article and if you are looking for Costa Rica Vacation packages, our expert designers will be waiting for you to create an amazing trip including Arenal Volcano.
---
---
---
Leave a Comment