Jaco, in the province of Puntarenas in Costa Rica, can best be described as a town of contrasts. Through the years, it has developed into a favorite for foreign and local tourists, from surfers lured by its waves, to partygoers attracted to its bars and nightclubs, to families looking for a convenient getaway.
As you walk down the main street in the seaside town, parallel to the ocean, the contrasts continue. Cuisine ranges from fine dining options to fish taco stands. Visitors could be affluent golf enthusiasts or surfers seeking out budget friendly options.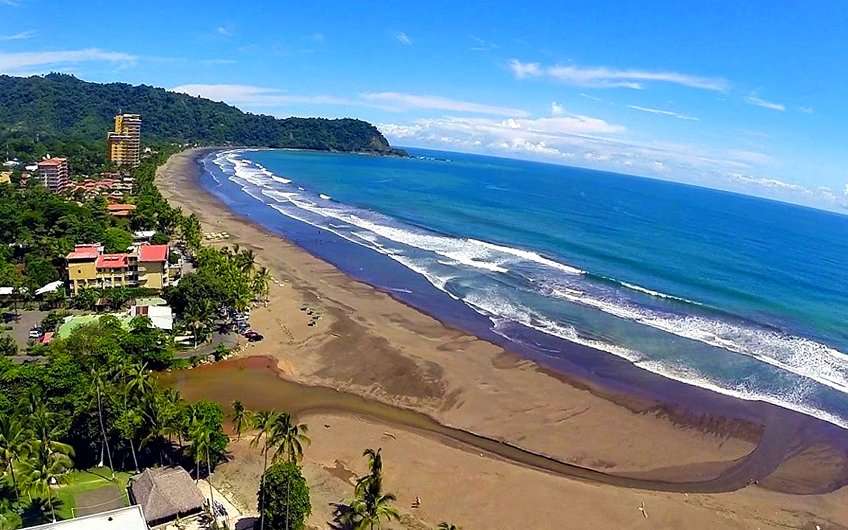 The mix of locals and tourists make for a lively, bustling town, and the different options to choose from mean you can make it your own.
Maximize your stay in Jaco, whether it´s a stop on your itinerary, or your final destination!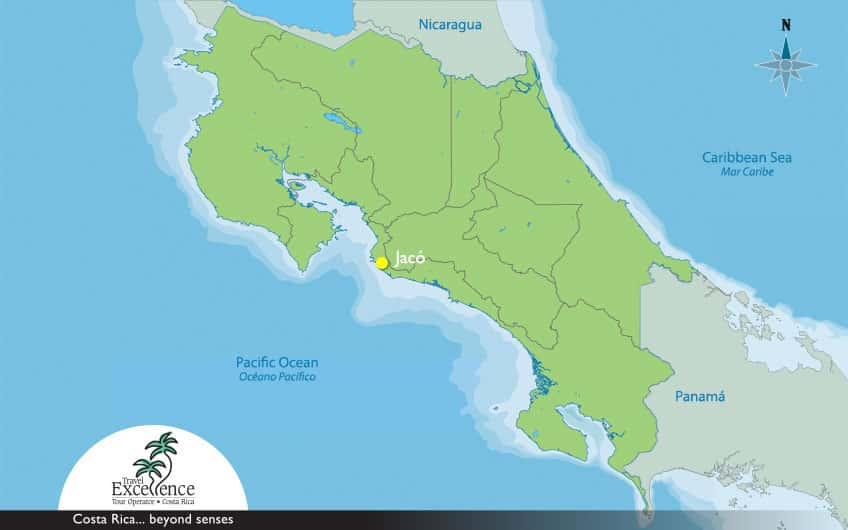 Location
Jaco is located on the Central Pacific Coast, 61 miles (98 kilometers) south-west of the airport in capital city of San Jose, the Juan Santamaria Airport (SJO). It is also possible to arrive there from the international airport of Liberia (LIR) in the northern province of Guanacaste Costa Rica.
This airport actually receives a great amount of the flights to the country. From here the driving distance is approximately of 115 miles (185 kilometers) south-east. You can also check a Costa Rica map just to have a better idea of what we are saying.
How to get there
Jaco is easily accessible using the public transport as a local or by renting a car to be more comfortable. Transportation method you choose might be dictated by the time your flight comes in to the airport, whether you´re exploring different destinations during your visit, or if you´re traveling alone or as part of a group.
Public transportation bus
Taking the bus is an affordable way to get around and convenient if you're not pressed for time. There are several transportation companies operating out of downtown San Jose, check their website for schedules and make sure you choose the direct service versus the one that makes several stops on the way.
** Public bus company 1.

** Public bus company 2.
But, if you want to be safer and experience a five star service during your ride, then we strongly recommend you to book a private transfer, or a shuttle if you look for a lower budget in terms of transportation.
These are only suggestions found on Google, Travel Excellence does not have any business linked to these companies.
Renting a car
If you're driving by your own, the best way to get there is by taking Route 27. You can find this highway by taking the road to Escazu/Santa Ana close to La Sabana Metropolitan Park, on the west side of the city.
You will be on this highway for about 30 miles depending on where you got on it, heading towards Jaco/Orotina. Right after the toll in Orotina, exit to the right when seeing the sign pointing towards Jaco, route 34. Route 34, known by locals as the "Costanera" (or road by the coast) will take you all the way to Jaco, about 20 more miles.
There are several tolls on the way so make sure you've exchanged a few colones, the Costa Rica currency, or have US Dollars in singles or small bills handy. The drive is quite pleasurable along a well-maintained road. If you'd like a couple of stops on the way you could buy fresh fruit and local goodies in the stalls along the road when passing the outskirts of the town of Orotina.
Another popular stop is the bridge over the Tarcoles River where you can observe crocodiles. The large bridge is difficult to miss, as there are always tourists and locals loo, looking over the edge and signs. Park your vehicle in a safe spot, ideally at restaurant parking area before crossing the bridge. Bring your camera, and remember, no feeding the wildlife.
History
The Central Pacific Coast of what is now this country was inhabited by the Huetar people is one of the best places to visit in Costa Rica. At the start of the Colonial era, their main chief was called Garabito, giving name to the district Jaco belongs to in modern times. The first European explorer to arrive in the area was the Spaniard Gil Gonzalez Davila, in the year 1522.
The town itself owes its name to Charles Elwood Jaco, an oil magnate who owned a company in Texas. He inherited the land and dreamt of developing it into a resort destination for his family and others to enjoy.
In the last few decades, Jaco has experienced one of the most accelerated demographic growths in recent Costa Rican history. International investments in Herradura beach, next to Jaco, at the end of the last century, such as the Los Sueños Marriott Hotel and its surrounding luxury condominiums and marina, required manpower in all fields.
People flocked to the area looking for job opportunities which generated growth in lodging and services for new residents. The population is now estimated at 10,000 people. The town is a mix of locals, tourists and foreign retirees of all walks of life, enjoying the "Pura Vida" lifestyle.
Why is Jaco so well known?
Its location near to the capital and main cities of the country, varied range of lodging and dining options, nightlife and activities in the area such as surfing and great sport fishing, have put Jaco on the map.
It is the closest beach town from the capital city of San Jose Costa Rica, and the modern Route 27 highway, inaugurated in 2010, made it an even more accessible road trip. This means that travelling there won't take you a lot of time.
Hotels and Resorts
Lodging options in Jaco Costa Rica and its neighbors Herradura and Playa Hermosa are varied and can suit all budgets and traveler types. From sharing a room at a hostel, to staying in a million-dollar Condo overlooking the Ocean, there is a property that is right for your holidays.
We will leave you here our hotel's selection for you to have an idea of what to expect while in the area.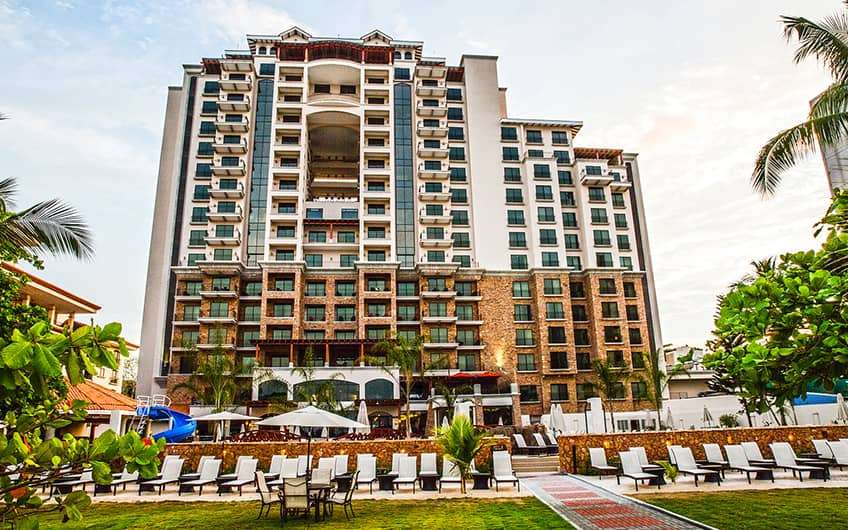 Crocs Casino Resort
Croc´s Casino Resort is one of the newest properties in Jaco, opening its doors in 2015. It's a proper skyscraper for Costa Rica standards, and looms over the area with its 17 floors. The beachfront property boasts modern and comfortable amenities and guestrooms. Its differentiator and draw is its own Casino, featuring Las Vegas style gaming facilities, such as slot machines and blackjack tables.
Families here have a great time as kids will love its three connecting pools and waterslide, and adults will experience its diverse dining options and bars, as well as its relaxing menu of services at the spa. Something for everyone steps away from Jaco's lively main strip, and a good base from which to live your Jaco experience while vacationing in Costa Rica.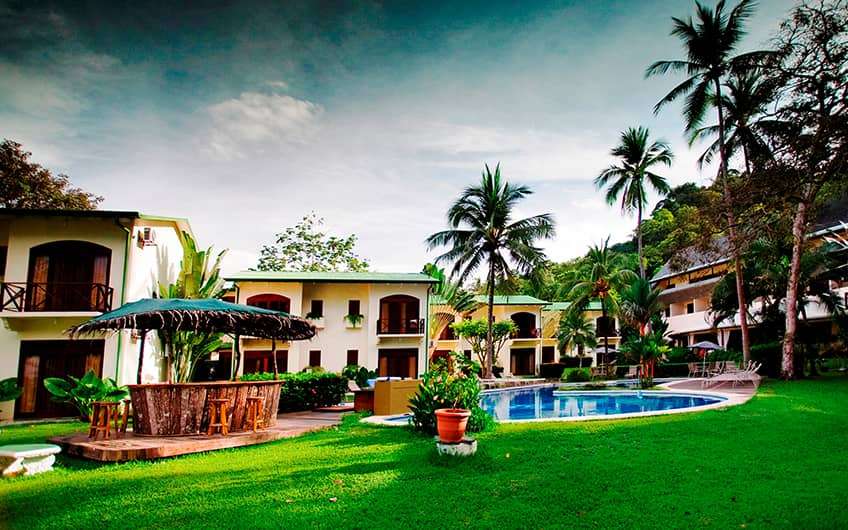 Club del Mar
Club del Mar is an excellent option for those who want to stay in Jaco in a more private setting a little further away from the action. This beachfront hotel offers different lodging options, from comfortable guestrooms to fully equipped condos. Its two-story buildings are connected by lush gardens and a pool, all walking distance from the ocean. Its restaurant and wrap around bar offers international meals and freshly whipped cocktails as well as an ample wine list.
This is a great option if you enjoy relax within few steps from the sand and sea.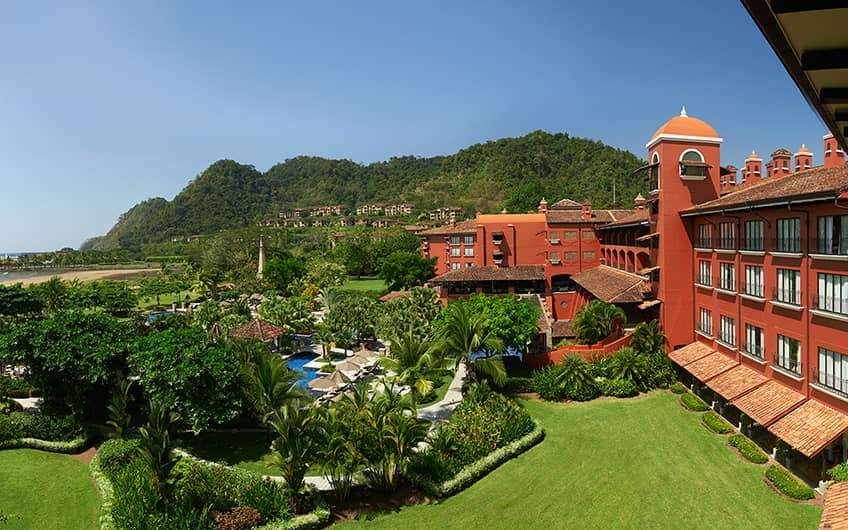 Los Sueños Marriott Ocean & Golf Resort
Located in Herradura beach, only 10 minutes away from Jaco, Los Sueños Marriott is a beachfront oasis with all the luxuries and amenities of its global brand. Its jewel is the Golf Course, its manicured lawns flocked to by lovers of the sport or beginners alike.
Apart from the in house fine dining options and activities, property is walking distance from the Los Sueños Marina. The Marina has several restaurants, pastries and gelatos, shops, a spa and even a gourmet mart. It´s a lovely spot for a sunset drink, and to take off to a sports fishing adventure or sunset cruise.
The Costa Rica Marriott Brand is always an excellent option to stay, as travelers will be pampered with the best amenities and will feel like home.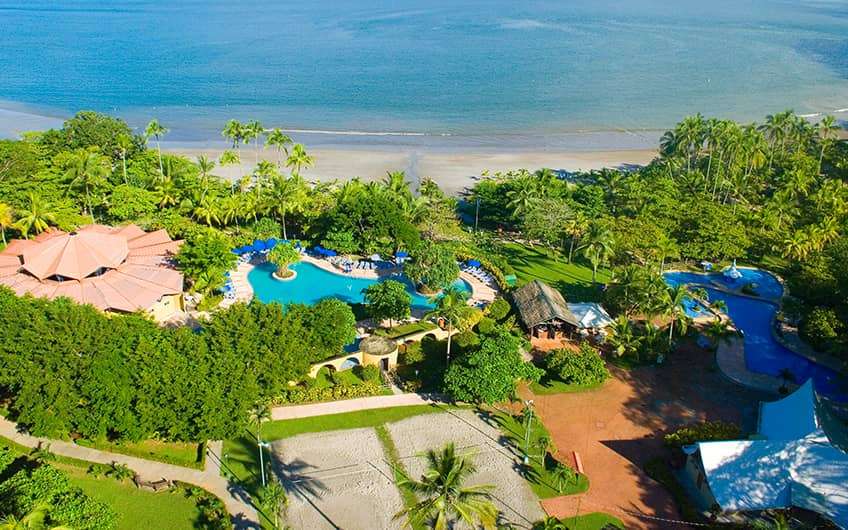 Hotel Punta Leona
Punta Leona is located in Tarcoles, a district of Garabito. If driving from San Jose towards the Central Pacific, it's located a little over an hour from the city. More than other one of the Costa Rica hotels, Punta Leona is a complex of lodging options, condos, private residences and two beaches.
This place is a wonderful option if you are traveling with your family. Once here, travelers will find that the list of activities inside their grounds include varied options such as walks on their trails, mini golf and tennis courts, soccer, water sports and more. You can plan your vacations in Costa Rica with your family and without worrying too much about it.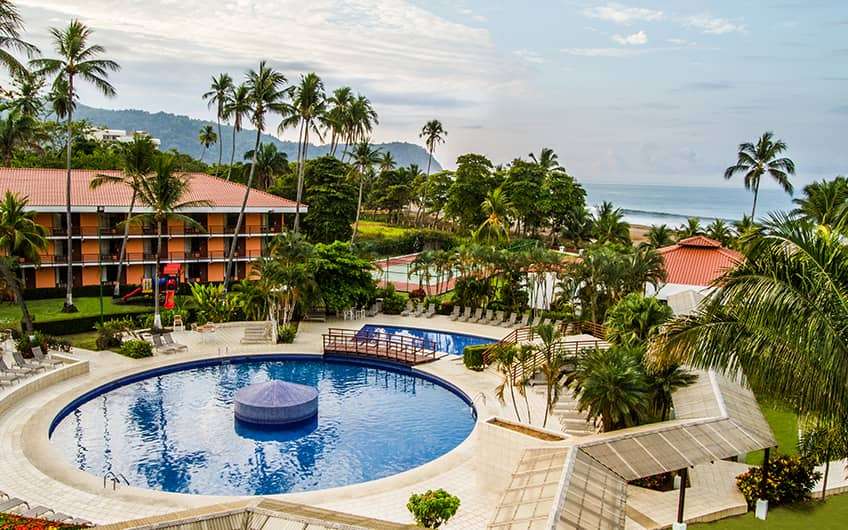 Best Western Jaco Beach All-Inclusive Resort
The Best Western Jaco Beach is one of the best-known properties in Jaco, and has been a favorite of tourists and locals for years. Its differentiator is its all-inclusive hotel meal program that goes from 6:30 a.m. to 9:30 p.m. at its three venues; from El Puerto Restaurant to its beachfront El Muelle Bar, as well as a varied list of beverages. They feature tennis and volleyball courts, pools for adults and children as well as varied entertainment options to enjoy during the Costa Rica family holidays.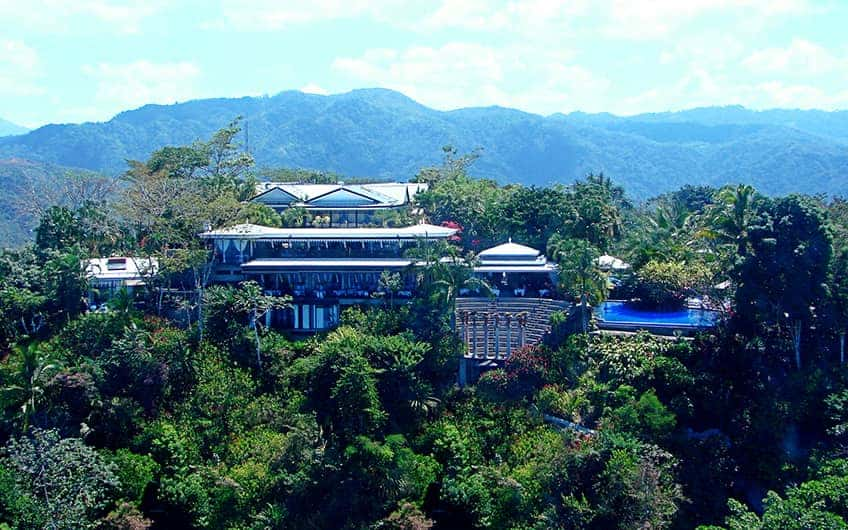 Villa Caletas Hotel
The Villa Caletas Hotel is located on a ridge on the road towards Jaco, about 15 minutes north. This privileged location allows almost 360°-degree views from its lookout points at select spots on the property, and a trail that leads down to a private beach.
Villa Caletas is ideal for honeymooners as this boutique property boasts luxurious guestrooms, some including private balconies and Jacuzzis. The exquisite décor is different in every single room, and just walking through the hotel, restaurant and bar area is like visiting an art gallery.
Their open-air amphitheater is famous for its acoustics and spectacular sunset views. If you want an intimate, luxurious, secluded retreat with fine dining and romantic ambiance during the enjoyment of your Costa Rica vacation package, this is the ideal place for you.
But the property is not only ideal for your honeymoon, your Costa Rica wedding can be also celebrated here. We assure you that the romantic scenery will leave you speechless!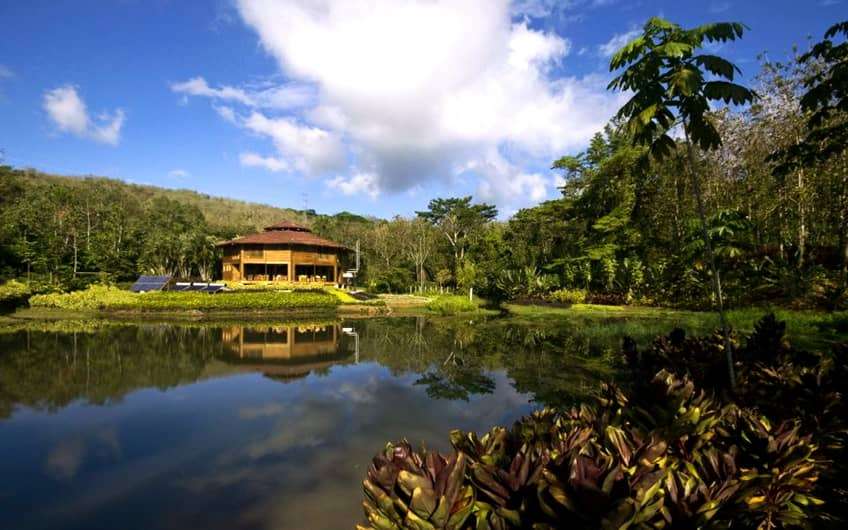 The Macaw Lodge
Macaw Lodge offers a distinct eco-friendly lodging option, deep in the forest in the hills of Turrubares, about an hour from the town of Jaco. The property was built on grounds purchased decades ago in order to preserve the eco-system of the Scarlet Macaw and other species.
Walk amongst their botanical garden, cleanse your lungs and admire the colorful plants and flowers as well as birds, butterflies and other species that make the area their home. Their "farm to table" sustainable kitchen uses organic ingredients from their own crops to prepare delicious meals with food for their guests.
Their expansive yoga deck flanked by bamboo trees is also a guest favorite. If a lush rainforest oasis in close contact with the nature and away from the bustle of town is what you are searching for, Macaw Lodge is the place for you.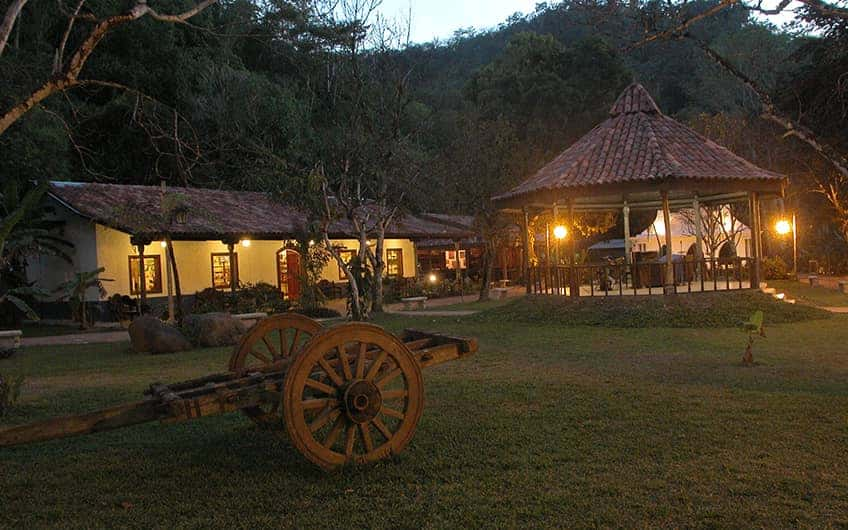 Villa Lapas Rainforest Eco-Resort
Villa Lapas is a reserve which borders the Carara National Park (more information below under National Parks). Immersed in a rainforest, the property is ideal for birdwatchers and nature lovers. A unique feature is the Sky Walk on its property, a network of five suspended bridges that allow you to walk through the forest canopies at an altitude up to 180 feet above the ground.
They also feature "Santa Lucia Town", replicating a quaint Costa Rican village, complete with its own chapel, cantina and restaurant, conceptualized for weddings and other special events.
Jaco Costa Rica Weather
Jaco is located on the Central Pacific Coast of Costa Rica, at sea level. Its lush hills can be seen from the beach, and as you travel inwards the vegetation changes. It starts out as dry tropical forest and turns into a rainforest. The temperature here oscillates from a maximum of 34°C (93°F) to a minimum of 20°C (68°F).
Rainy season goes from May through December, and the hills and vegetation are even more verdant and lush. Due to Costa Rica's proximity to the equator, hours of sunlight are 12 hours a day every day, with just a few minutes' variance, no need for daylight savings here.
Things to do in Jaco
Jaco and its surrounding areas allows for exciting adrenaline filled activities like white water rafting, rappelling down a canyon or hiking up a waterfall. You can also play a round or two of golf and go sport fishing.
If nature is what you crave, there are many opportunities to observe the diverse flora and fauna. For a chill day, visitors can hit the spa, go shopping and end the day at the theater. There is something for everyone at this lively fun destination.
Read on for details: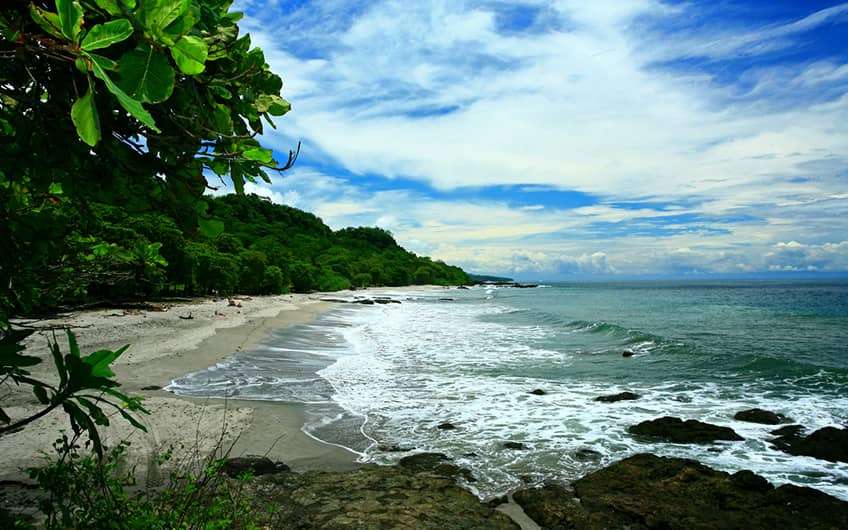 The beaches in Jaco
The Costa Rica beaches in Jaco, have coarse dark volcanic sand, and are ideal long walks and maybe a game of volleyball or beach soccer. Swimming and surfing are ideal as well. Before you get in the water, be sure there is a lifeguard on duty and take precautions, as the tides are very strong and can easily carry you out to sea.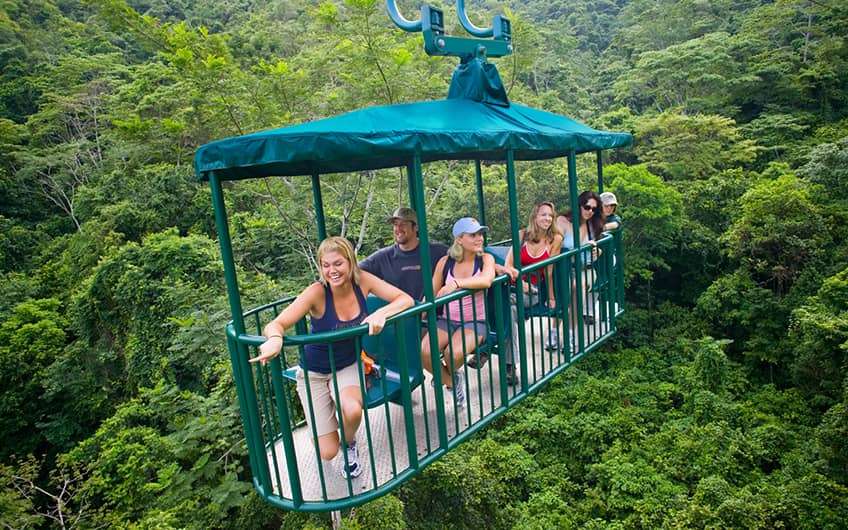 Gondola overlooking the forest
Close to Jaco you can find the country´s largest aerial tram which takes you over the forest. Tour combines the tram with guided walks through a private reserve.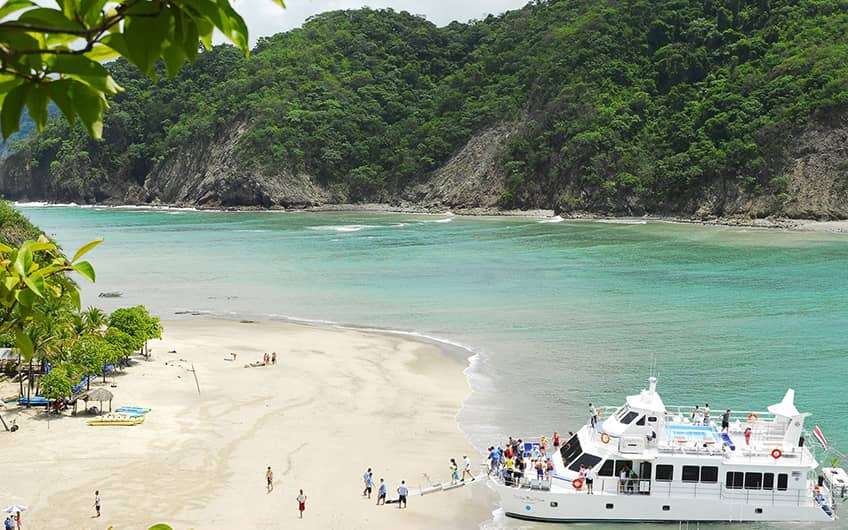 Cruises
There are day trip or sunset cruises and catamaransthat take off from the port of Puntarenas, the Marina in Quepos, or the Los Sueños Marina, only 15 minutes away from Jaco.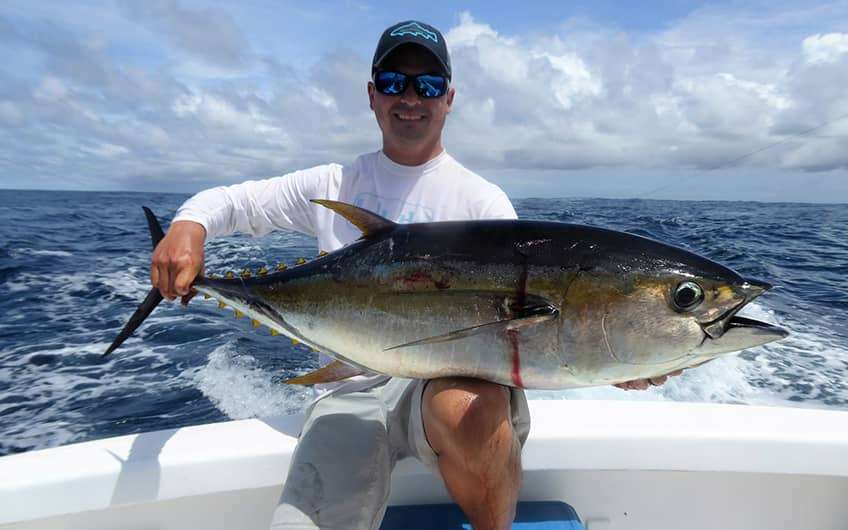 Sport fishing
Herradura has hosted several world class sport fishing tournaments over the years. The travel time is short from the Marina in Los Sueños to thefishing grounds and it has become a favorite for offshore fishermen trolling for Marlin or Sailfish.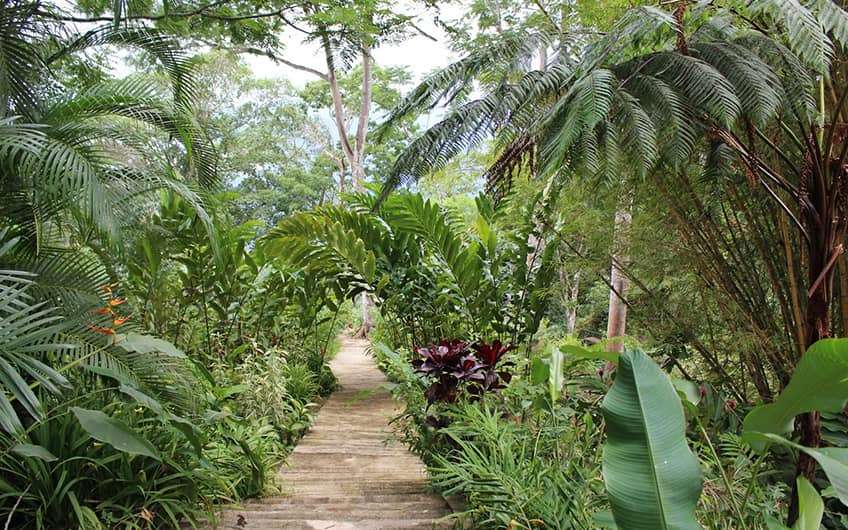 Pura Vida Gardens
About a 30-minute drive from Jaco, walk amongst beautiful private gardens, observing verdant plants and flowers. Viewpoints from which to observe powerful cascades, including the tallest in Costa Rica, Bijagual waterfall. The more adventurous can hike towards the waterfalls. You can also stay in the gardens cleaning out your lungs and enjoying the flora and fauna, including great birdwatching opportunities.
Canopy Tours
Imagine yourself flying above the forest, with a canopy tour you can see views of the Pacific Ocean on the horizon. There are many different zip-lines in Costa Rica, and one in Herradura, next to Jaco that provides this 2-hour adrenaline filled tour.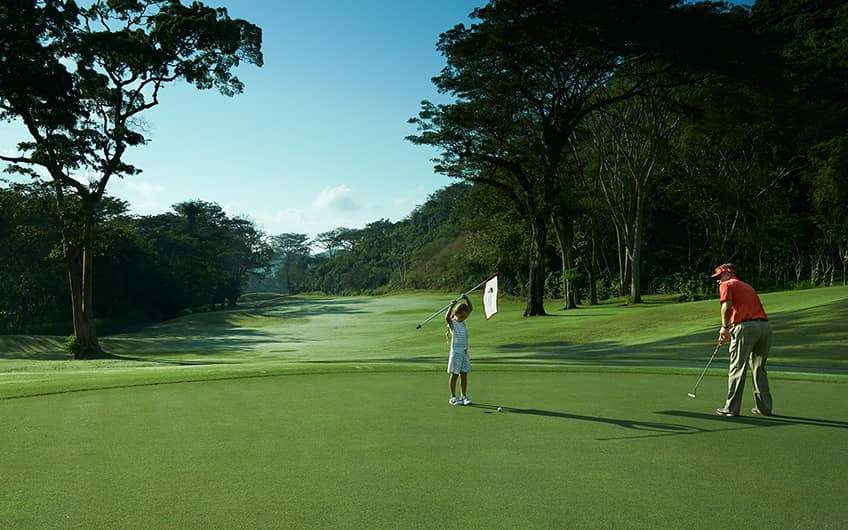 Golf
Los Sueños Marriott and Golf Resort, only minutes away from Jaco, features La Iguana Golf Club, boasting an 18-hole course. You don't need to be a guest at the resort to use their facilities, and there are golf lessons available for beginners.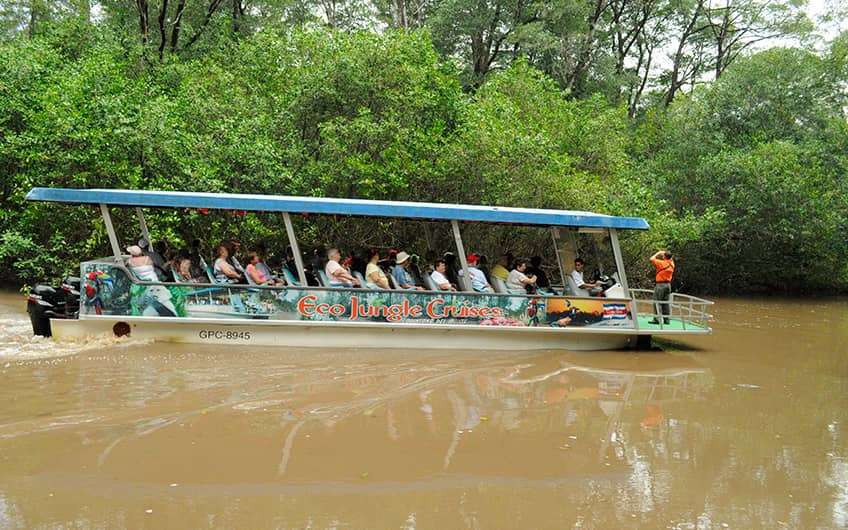 The Guacalillo Estuary
A wonderful opportunity to observe crocodiles and other wildlife is just minutes away fromJaco, at the Guacalillo mangroves, part of the Tarcoles River. Birdwatchers, prepare your cameras, because this ecosystem is a nesting place for macaws and other species.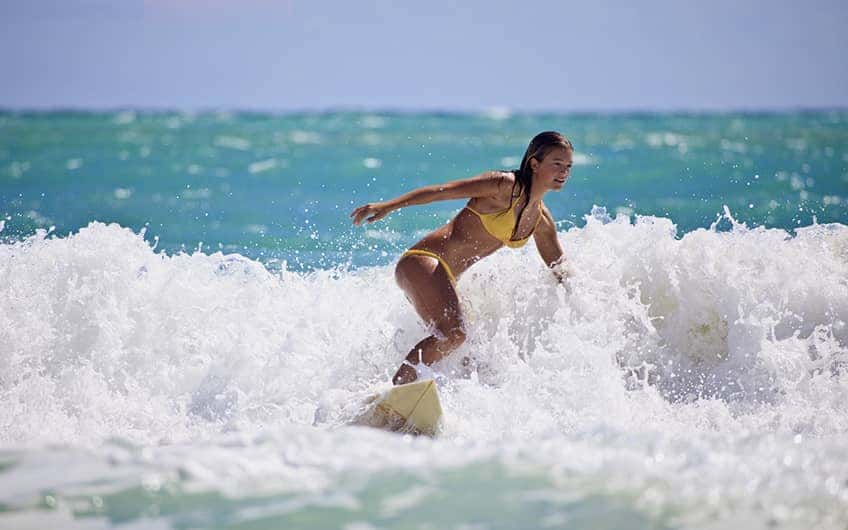 Surfing
Jaco Beach and nearby Hermosa Beach have long been popular with surfers, and has waves and breaks good enough to have hosted the Surfing World Championship not once but twice. Surf lessons and camps are also popular in the area, catering to all experience levels. Roca Loca, at the southern end of the bay, is a famous break experienced surfers flock to for a challenge.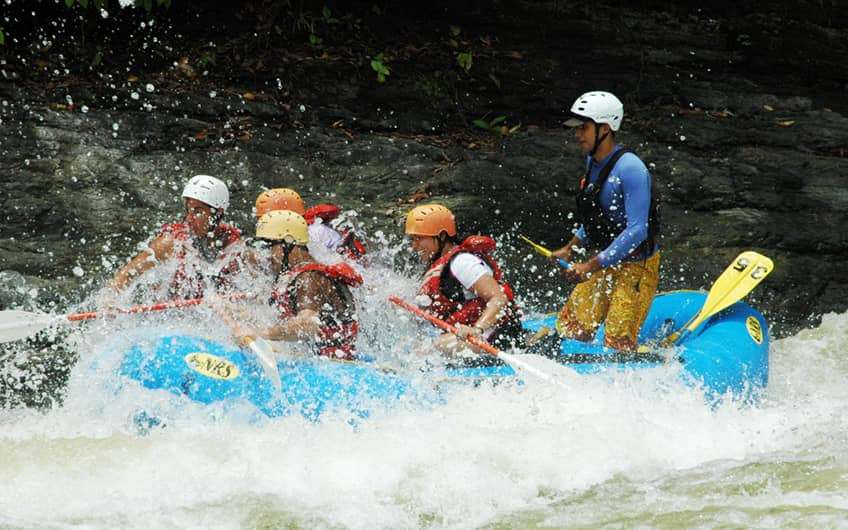 White Water Rafting
No need to limit yourself to beach water sports, explore the rivers as well with white water rafting. The Naranjo River offers class III/IV rapids about an hour south from Jaco. You just have to ask us about this Costa Rica trip and we are sure that you will love the adrenaline rush given by this river experience. Don't miss it!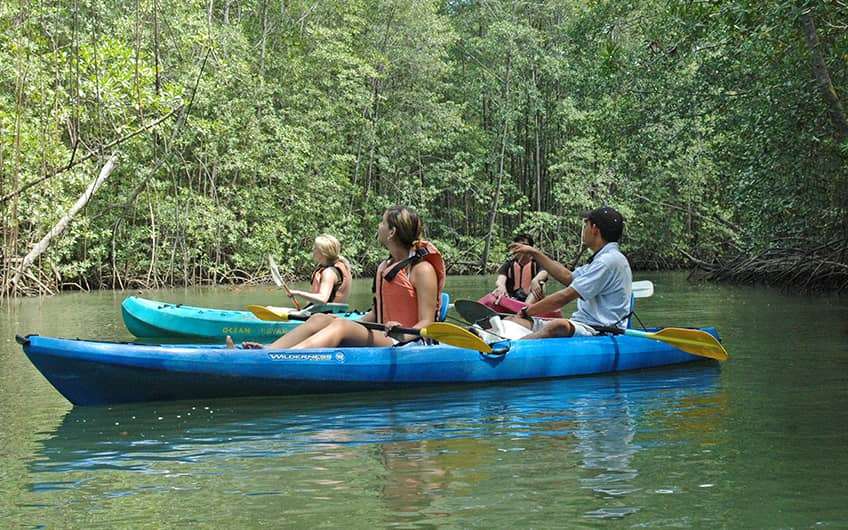 Kayak through the mangroves
An opportunity to see the growth strategies of mangrove trees up close and another favorite activity for birdwatchers. This tour can be added to your vacations plan to add a tranquil and educational experience too.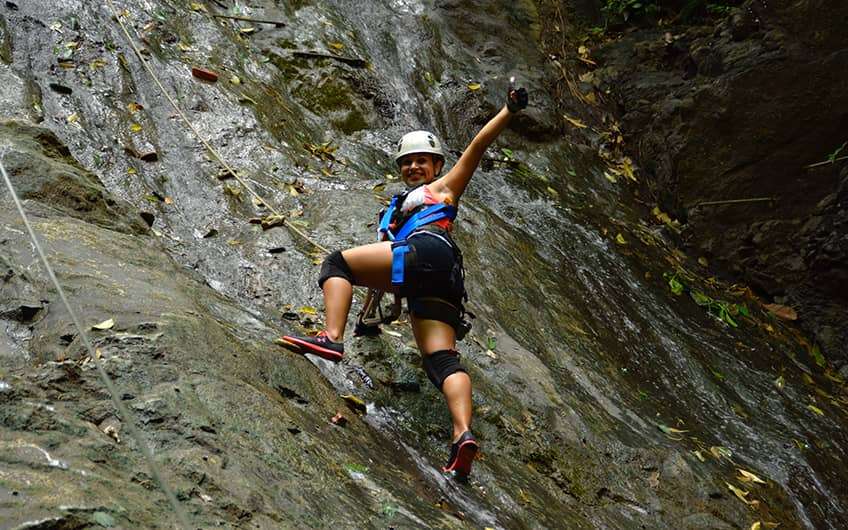 Canyoning
Jaco Canyoning has designed a way to come down a canyon by rappelling, zip-lining, hiking, and crossing the rivers. If you like adventure and heights, then this kind of adventure tour is the best option for you. You will challenge yourself while going down the canyon and being surrounded by different landscapes and a lush vegetation.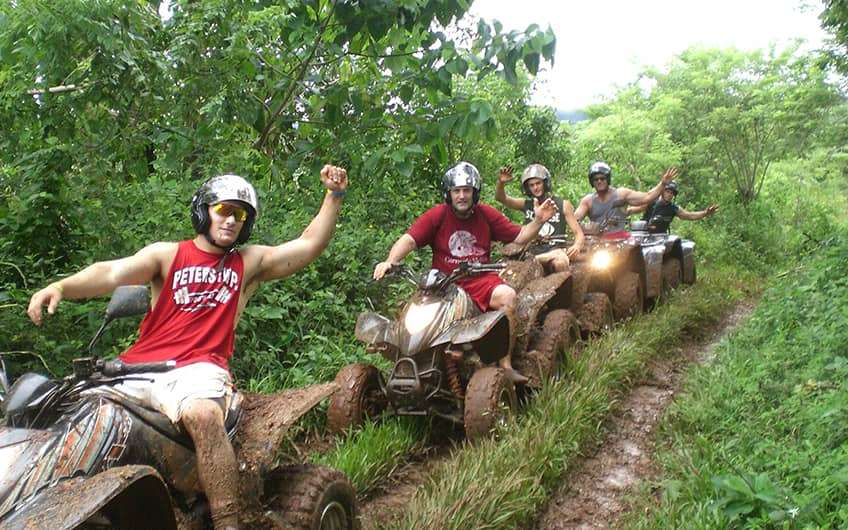 ATV Tours
Off-roading through the beaches in Costa Rica, rivers and back roads heading to the mountains are a favorite activity near Jaco, and there are many different tour companies offering 4×4 vehicles to explore the area.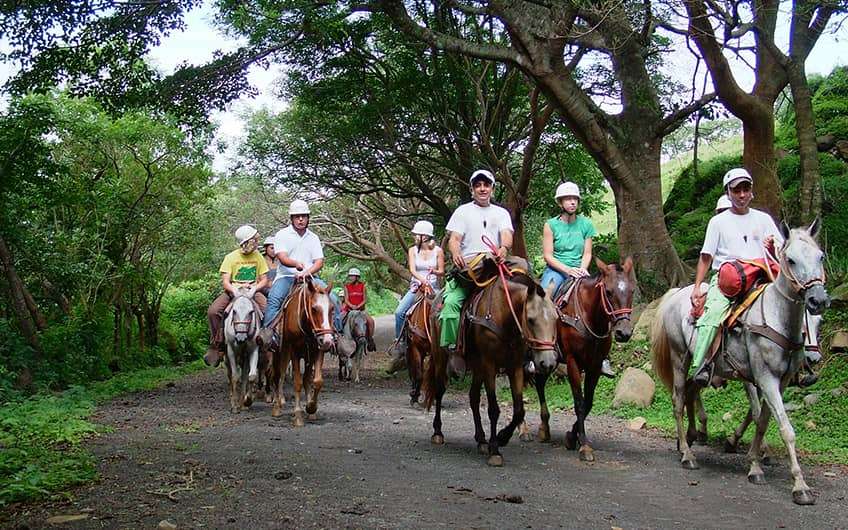 Horseback Riding
Horseback riding is a favorite activity for beachgoers worldwide. InJaco, the most popular tours happen deep into the rivers and forests. The family friendly activity caters to riders of all experience levels, and most offer lessons as well.
Shopping
The main street or strip in Jaco offers shopping experiences for everyone. Just walking past the shops is an entertaining experience, from gaudy and kitschy trinkets, to galleries and jewelry shops offering beautiful artwork for sale. A few standouts right on the main strip:
Jaco Walk Open Air Shopping Center
Zukia Art Gallery
Bambu Souvenirs
Mango Surf Shop
Theatre or Movies
What to do on a rainy night in Jaco? Check out what's playing at the Jaco Theater or catch a movie with the kids at the Plaza Coral shopping center.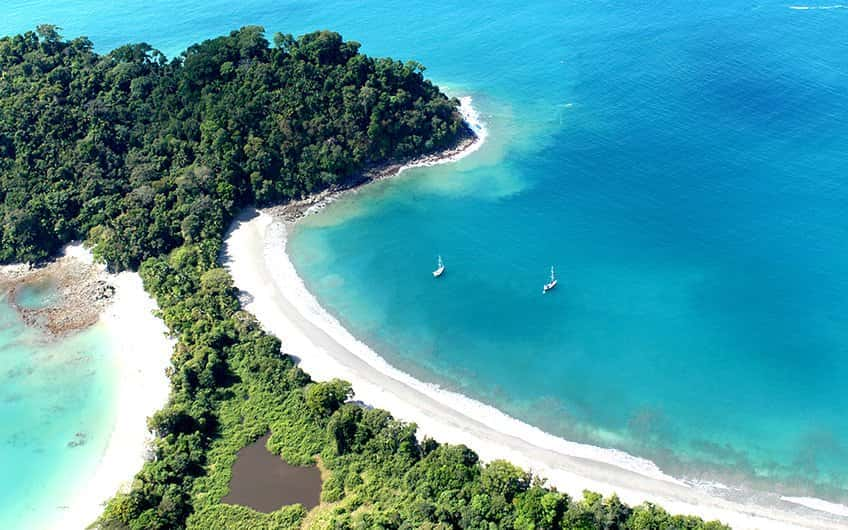 National Parks
Nearly a fourth of Costa Rica's territory are protected areas, including national parks, reserves and privately-owned land.
Carara National Park is located 15 miles north ofJaco, and a hike inside its trails can make for a day´s escapade into the forest. The park is popular among birdwatchers, as you can observe scarlet macaws, motmots, parrots, hummingbirds and more.
The park's Northern boundary is the Tarcoles's river's edge (where you might stop to observe crocodiles off the bridge on the road). Apart from crocodiles, lizard and some snake species may be observed.
The park may be self-guided, or you can request a guide at the park´s entrance. Their trained eyes and ears will be able to find local flora and fauna more easily and provide information throughout.
Manuel Antonio National Park is most likely the most popular protected area in all of Costa Rica, having been featured several times as having one of the most beautiful beaches in the world. Its walking trails and beaches allow the observation of flora and fauna or the simple relaxation in the sun. It is located a little over an hour south of Jaco and definitely worth doing a day trip to experience it.
Manuel Antonio National Park is most likely the most popular protected area in all of country, having been featured several times as having one of the most beautiful beaches in the world. Its walking trails and beaches allow the observation of flora and fauna or the simple relaxation in the sun. It is located a little over an hour south of Jaco and definitely worth doing a day trip to experience it.
Nightlife
Jaco is a town where you can be naughty or nice. Get your friends together for a bachelor party and wild it out, or do drinks and dancing as a date night. Fine dining options abound, as do bars and even a Vegas style casino. Some highlights of the city are:
The Beatle Bar can be characterized as the local dive bar. Sexy bartenders, flowing drinks and classic rock and roll, it's a favorite hangout for expats.
Jaco Blu Beach Club offers pool parties every weekend, and you can stop by any time for lunch or drinks.
Clarita's is the place to go if you want to hang with the locals and dance to salsa music.
Orange Pub is a nightclub for the younger crowd where you can have a few drinks and dance the night away.
The Casino at Croc´s Resort is the spot if you'd like to try your hand at gambling.
Restaurants
The variety of cuisines available in Jaco Beach and next door Herradura and Hermosa beaches is very broad. There are over 100 restaurants to experience, from pricey gourmet restaurants at the Marina in Los Sueños, to economically priced "sodas", which are local small restaurants normally serving the typical food which consists in rice and beans for breakfast and "casados" for lunch. "Casados" are a carb fest of rice, beans, plantain, pasta salad and some protein to choose from, mainly chicken, meat or fish.
Some recommendations follow, and feel free to explore for yourself and let your senses entice your palate:
Italian
Amancio's, located right on the main strip in Jaco (Pastor Díaz Avenue), offers traditional Italian pasta dishes as well as international options.
Opening Hours: 10:00 a.m. – 10:00 p.m. every day except Wednesdays.
Sushi
Tsunami Sushi is a favorite offering California style rolls, look for them in Jaco Walk Plaza.
Opening Hours: 12:00 p.m. – 10:00 p.m. every day.
Cafés
Looking for a breakfast place or craving a pastry and a coffee? Check out these delicious options:
The Coffee Shop, on Jaco's main strip offers American style breakfasts.
Opening Hours: 7:00 a.m. – 2:00 p.m. every day.
Café Bohío, also on the main road, features an expert barista working on coffee creations before your eyes.
Opening Hours: 7:00 a.m. – 8:30 p.m. wed-sun, and 09:00 a.m. – 6:30 p.m. mon-tue.
Dolce Vita, in the Los Sueños Marina in Herradura, might have the best macaroons in Costa Rica. They also offer a full menu for all meals, as well as gelatos.
Opening Hours: 6:00 a.m. – 10:00 p.m. every day.
Typical food
Would you like to eat like the locals do? Try these options:
Jaco Rustico offers typical food buffet style just steps from the beach. Try their rice, beans and plantain and add fish or chicken for what we call a "casado".
Opening Hours: 7:00 a.m. – 7:30 p.m. every day.
Seafood
Seafood options are extensive being right next to the Pacific Ocean.
Hicaco's is on the high end of the spectrum pricewise. The food and service are excellent and it is right on the beach, which makes it a good option for date night or a special occasion.
Opening Hours: 11:00 a.m. – 12:00 a.m. daily.
Tacobar is a more casual and moderately priced option, and diners like to build their own tacos and burritos from freshly made ingredients.
Opening Hours: 7:00 a.m. – 10:00 p.m. daily.
A little bit of everything
The Green Room offers a relaxed atmosphere, and features live music several times a week. The best eggs Benedict in town!
Opening Hours: 9:00 a.m. – 1:00 a.m. daily.
Los Amigos is a favorite place for locals and visitors and offers international fare along with typical options. If you fancy a drink try their "chiliguaro", a mix of tomato juice and "guaro", a kind of moonshine made from sugar cane.
Opening Hours: 11:30 a.m. – 11:00 p.m. daily.
Safety in Jaco
When traveling, it is always a good idea to be mindful of your belongings and your surroundings. Sadly, petty theft is common in Costa Rica, and happens mainly due to a moment carelessness. Don´t leave valuables in your car, always have your belongings within view, and avoid flashing jewelry, money or expensive equipment around.
Tips
If you are prepared for your trip you will maximize your experience and enjoyment, so these are must pack items:
Carry some money in the local Costa Rica currency.
Comfortable waterproof sandals.
Light raincoat.
Swimsuit.
Insect repellent.
Sunglasses.
Sunscreen.
Best tip of all is to bring an open mind that will allow you to experience and enjoy your holidays to the fullest, to capture those memories not only on your camera but also on your mind and heart, so you can relive them and share them for years to come.
If you want to know more, leave a comment below, or contact us if you need some help planning your next vacation!
aza Coral shopping center.