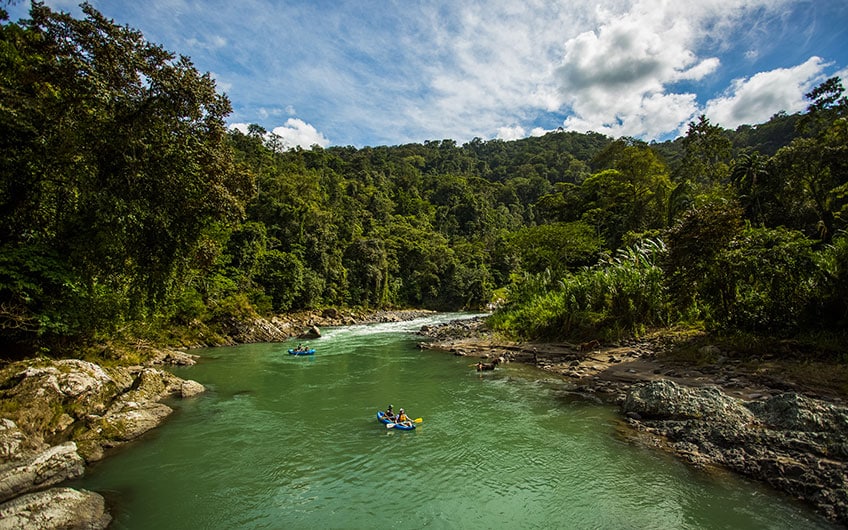 Turrialba is a small beautiful valley, an authentic and nice place to be off the beaten track during your holidays. This is a perfect run off for adventurous tourists, a village surrounded by rivers and mountains, rural, isolated but absolutely recommended if you are looking for an interesting spot, and for being in close contact with nature.
Our travel blogwill show you why travel to Costa Ricaand the reason why you should visit Turrialba as well as other pearls that we can offer you.
Location
Located in the Central Valley, specifically to the east of Cartago province, which was the previous capital of Costa Rica.
Turrialba is located at a driving distance of 70 km and you will spend approximately 2.5 hours from the Juan Santamaria International Airport, which is located in the province of San Jose Costa Rica, It is also close to the Caribbean side of our country, it is approximately a 2-hour drive from Turrialba to Limon.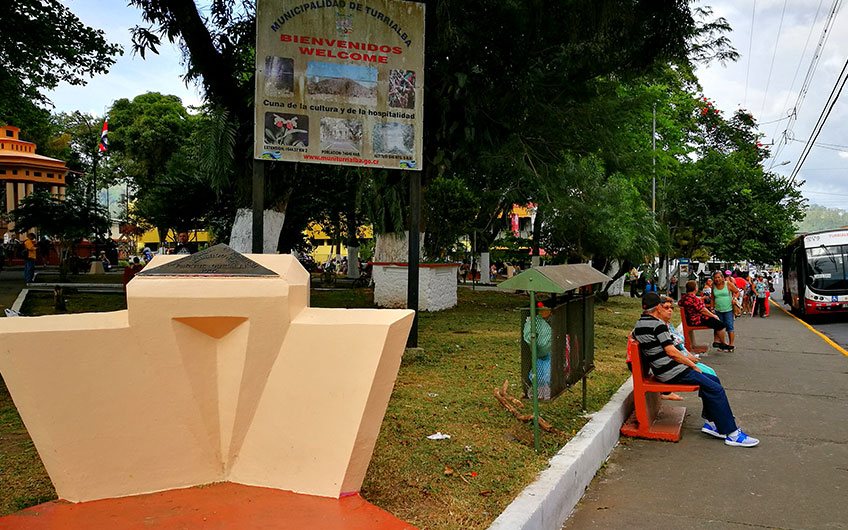 How to get there
From San Joseto the beautiful region of Turrialba you will have to go to the South East of Cartago, through the Florencio Del Castillo Highway, which is also called route 2. Once you are in Cartago, continue to the east passing the villages of Paraiso, Cervantes and Juan Viñas.
From San Jose you can take a public bus if you are looking for the cheapest way of transportation, but please be aware that the service has specific schedules and it takes a little bit longer.
You could hire a car if you do not mind driving during your vacations, as it is a good option to forget the pre-determined schedules and drive on your own rhythm, this way you can explore better the Turrialba area and its surroundings.
The easiest way to get to the area is by hiring a transportation service that surely can be provided by Travel Excellence.
Our private transfers will allow you to choose your pick up / drop off times, and also, we can assure you that you will be more comfortable because you will not have to wait nor share with other people.
Also, our guides will help you with your questions, as they have a very good knowledge of the country and they will give you more details about Costa Rica.
Turrialba Costa Rica map
We invite you to take a look of our map so you can have a better idea of where is Cartago located and how you can get to Turrialba, also there you can find important information about other villages close by.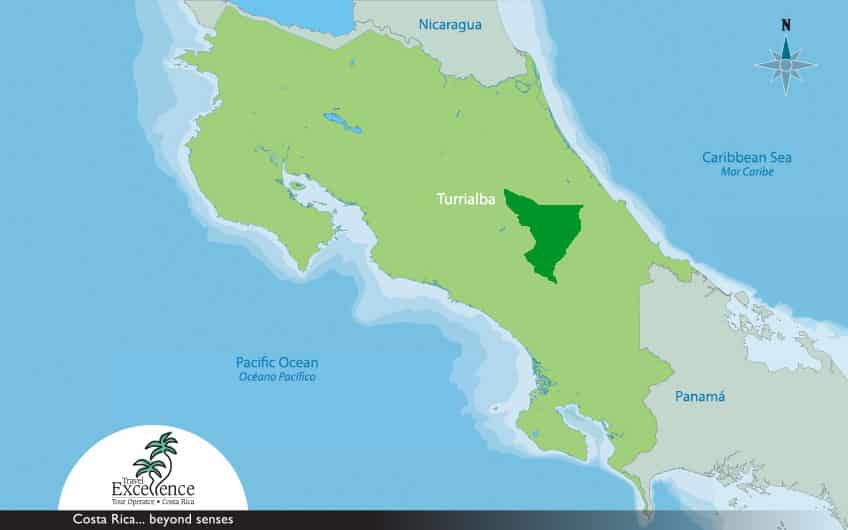 Turrialba Costa Rica weather
Turrialba has a very similar weather to the Central Valley, so it is characterized by fresh temperature. Turrialba is hotter than Cartago and little humid due to its proximity to the Caribbean side of the country.
From May to mid-November is the rainy season, so we recommend you to visit Turrialba from the end of November to April, during the dry season, as you can take more advantage of exploring the area without thinking about umbrellas, boats and raincoats.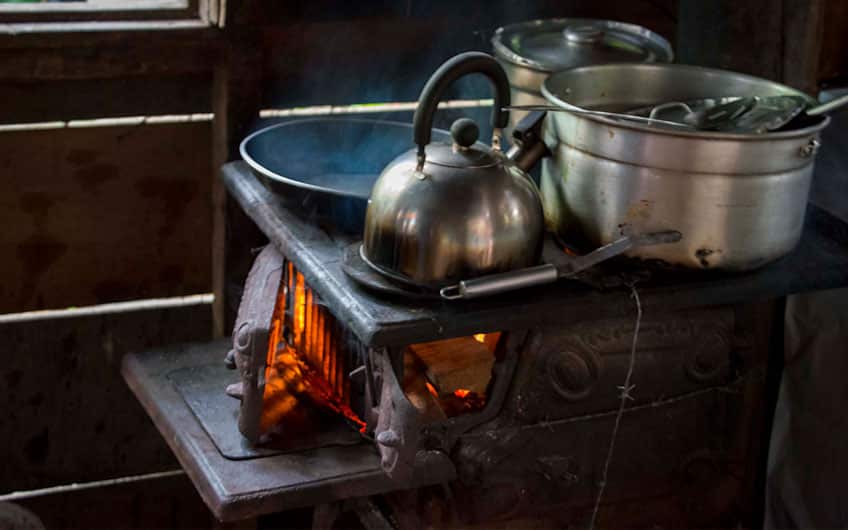 History and culture
During the Pre-Columbian period, the area where Turrialba is located today was inhabited by millennial indigenous communities. In the area, archeologists have discovered many archaeological sites and there is one that was declared as national monument to be preserved, the National Monument of Guayabo.
The history said that hunters used the nearby rivers to hunt when the animals were drinking water so it started to be an important place of indigenous settlement.
Then during the Colonial Period, a group of Spanish conquerors, that came from Nicaragua, arrived by crossing the central part of the country looking for gold. It is said that around 1,570 A.D. the indigenous population started to decrease due to the diseases that Spanish brought.
In 1,886 the economic activity was based on agriculture and land purchased, then started the railroad construction to connect the Pacific and Caribbean sides. Turrialba was declared a city around 1,920 A.D.
About the culture, Turrialba is recognized due to the preservation of ancestral traditions; they celebrate arts and culture and usually organize some fairs to promote or show their handcrafts. An important fair here is the Cheese Fair which is known because each year they offer a lot of products made out of cheese.
During these days Turrialba receive people from many different places and provinces of Costa Rica that want to taste and buy their high-quality cheeses.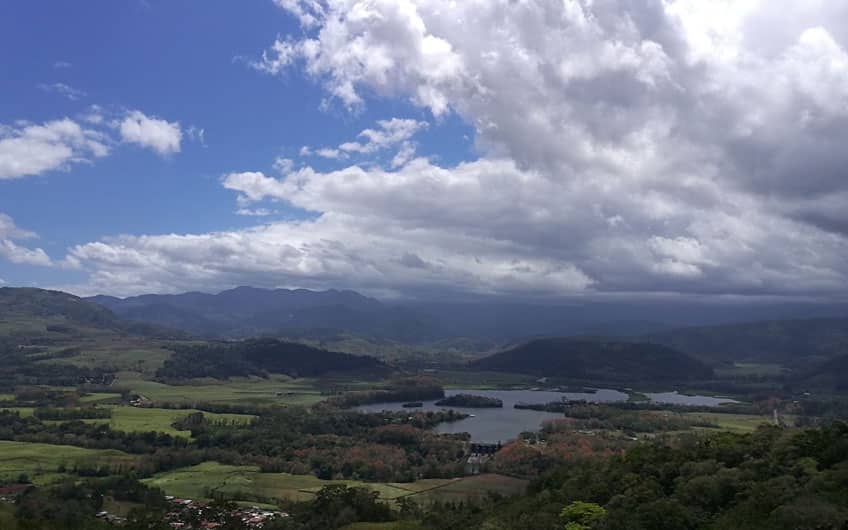 Turrialba Geography
This territory is characterized for being one of the most mountainous terrains in the country. It has one of the highest points of Costa Rica, the Turrialba Volcano.
The valleys were formed by rivers and most of the Turrialba land is part of government protected areas like national parks, archeological monuments, indigenous territories, and biological reserves.
Demographically, it is a very small village, but it is one of the most multiethnic areas of the country. The population is 150,000 people approximately.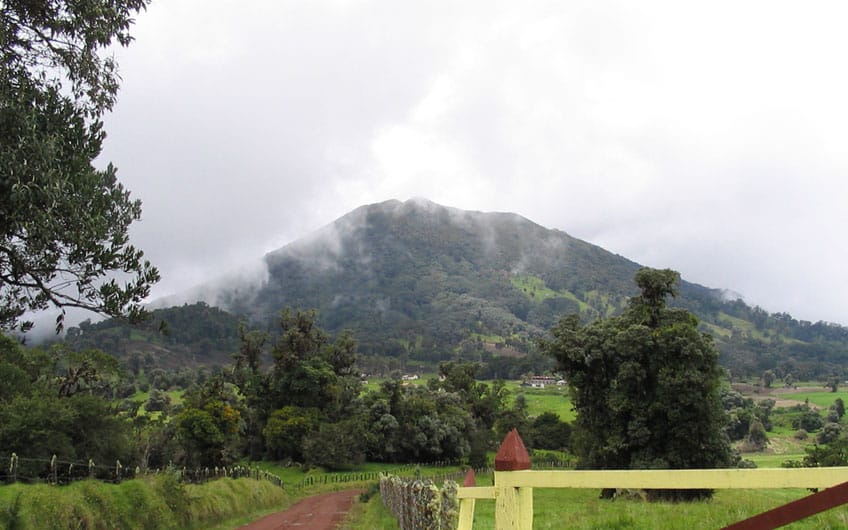 Turrialba Volcano
It is a relatively young active volcano that has less than 600 years, its activity is characterized by gas and ash emission. In 2006, started the gas activity.
Then, in 2010, after 144 years, there was another a gas and ash eruption. In 2014, the volcano released incandescent rocks close to the crater. After this, in 2015, the Turrialba volcano did eruption that caused a big cloud of ash. Finally, during 2016 and 2017 it has been active and it is not possible to visit the crater or stay nearby due to the continuous activity.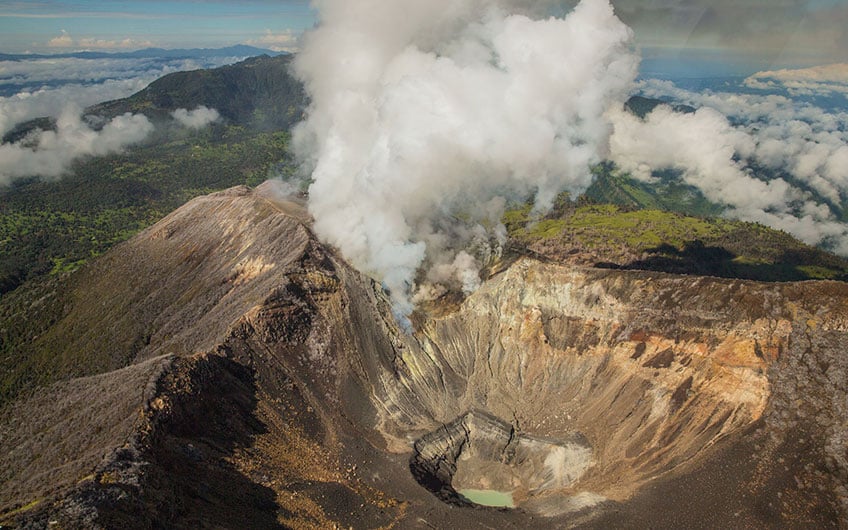 Why is it known?
Turrialba is known for some important reasons. The first one is that the Turrialba Volcano is located here, in this very scenic valley surrounded by mountains. Also, it has a very important botanical garden where a lot of scientists do important educational projects and investigations, and also an important college runs locally.
Another reason why it is known is due to its archeological monument, its traditions and preservation of indigenous legacy.
Finally, in Santa Cruz of Turrialba, locals make one of the highest quality cheeses that we have in Costa Rica, actually the "Queso Turrialba" or Turrialba cheese is a national brand.
Tourist attractions
The most important thing that you must know about Turrialba is that there you will experience an authentic place, a perfect escape for people looking for family vacation packages, a honeymoon trip or friends leisure vacation.
There are also some interesting places for experience the real eco-tourism, adventure in the top of the trees or feeling free in the flow of a river and, of course, wildlife.
In Turrialba, you can do rafting, biking, canopy, horseback riding and different walks in the surroundings.
There are interesting places to explore and some ways to learn more about Costa Rica.
Things to do in Turrialba Costa Rica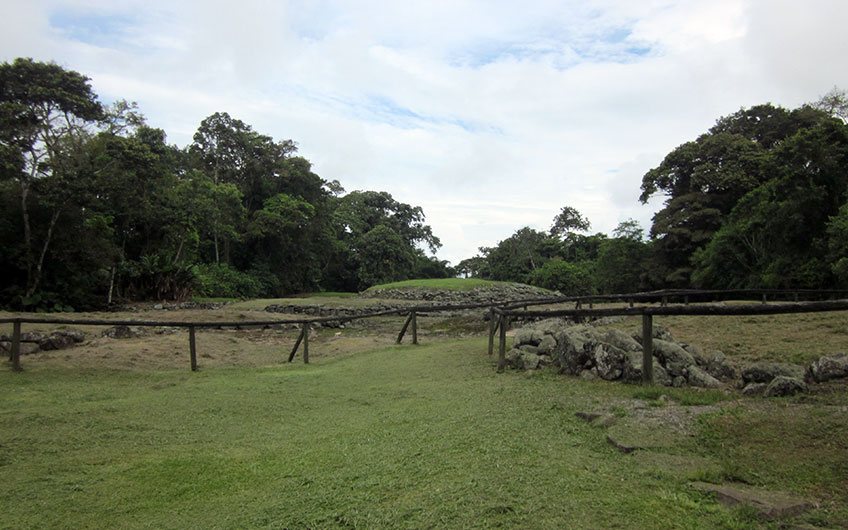 Visit Guayabo National Monument:
As mentioned before, it is a 20-hectare archaeological park, where you can see some ruins and indigenous constructions, a mystic place with Pre-Columbian stone objects, but there is also the opportunity to walk looking for vegetation and animals, it has an evergreen forest where you can find nice birds, small mammals, snakes, butterflies, and other species.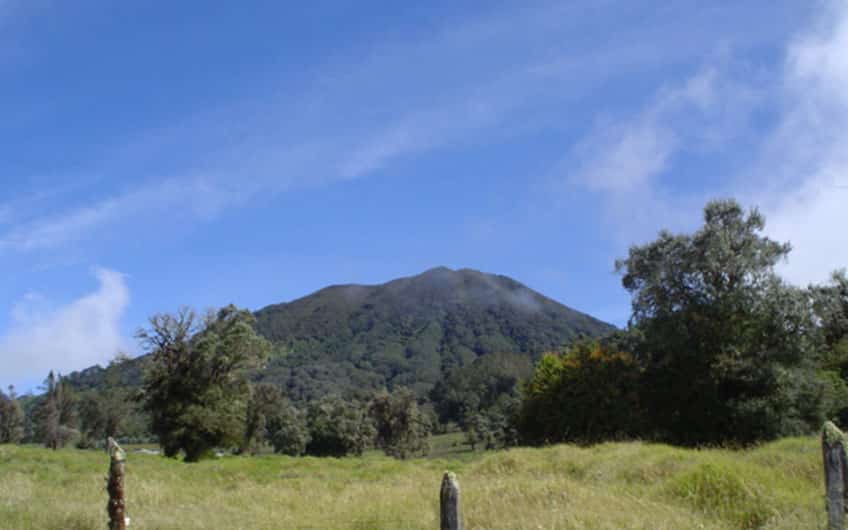 Visit Turrialba Volcano National Park:
it is the second highest volcano in Costa Rica, the first one is Irazu which is located at north east of Cartago province. It is not as touristy as other ones like Arenal Volcano. Turrialba Volcano has been closed during a long time due to its activity.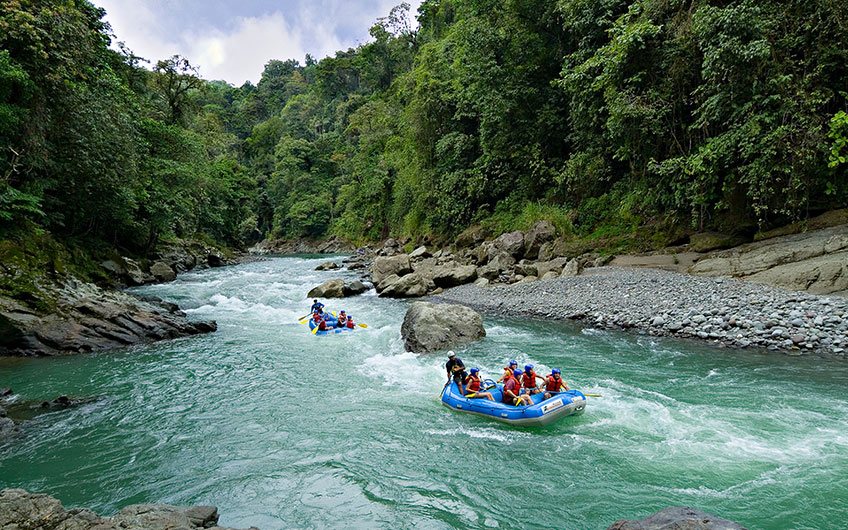 Rivers for rafting:
One of the well-known rivers in Costa Rica to do rafting is Pacuare River, located in Turrialba area. The river is very scenic and good for rapids class II-III and IV.
It is a great activity for adventurous people, but it also requires to be in good shape as physical effort is needed and it is not allowed for children under 12 years old.
Another river that is suitable for families is Pejibaye as it has rapids class II and III so it turns into a perfect tour for beginners or younger people. The river is also very nice and surrounded by exuberant vegetation.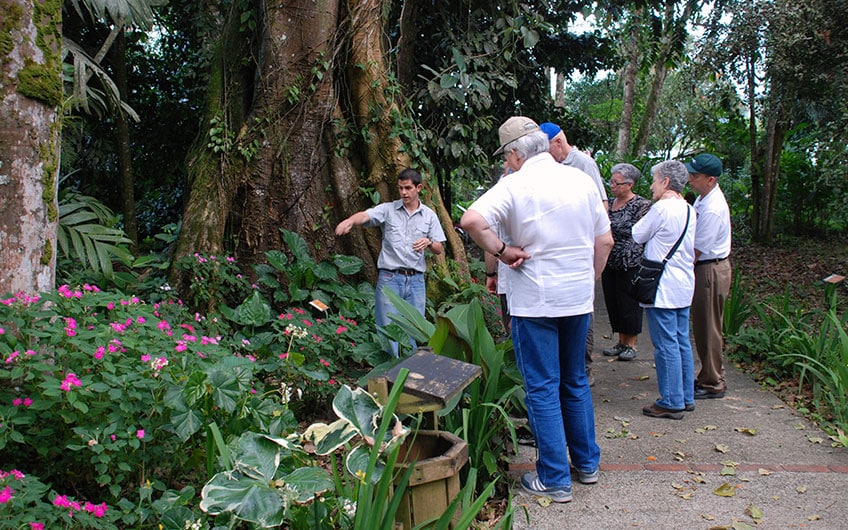 Visit Center for Tropical Agricultural Research and Education (CATIE):
It is an institute that works as an agricultural research college. They offer a botanical garden, a very good option for people looking to be in contact with eco-tourism; there you will learn and know about different tree and plant species as well as birds.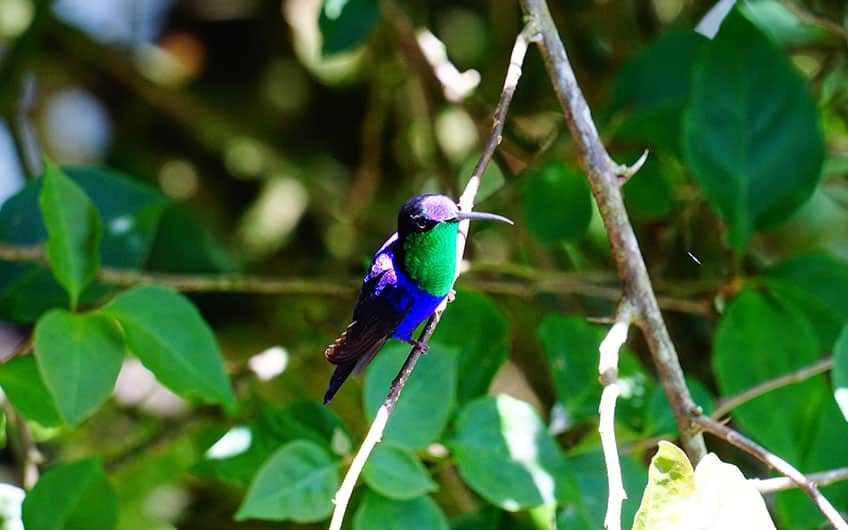 Costa Rica bird watching:
Concerning this natural and well-known tour Turrialba is an excellent spot to observe very different and varied bird species.
While visiting the area you can easily be fascinated by the possibility of going on an easy walk and watching a great amount of those animals. It is important to mention that the climate of the area and its varied vegetation make it a wonderful getaway for birders and for all those who love photography and close contact with nature.
Here in Turrialba you will find different spots where you can stay and bird watch the local fauna. The area allows the observation of several species of hummingbirds, as well as other different and interesting birds and mammals.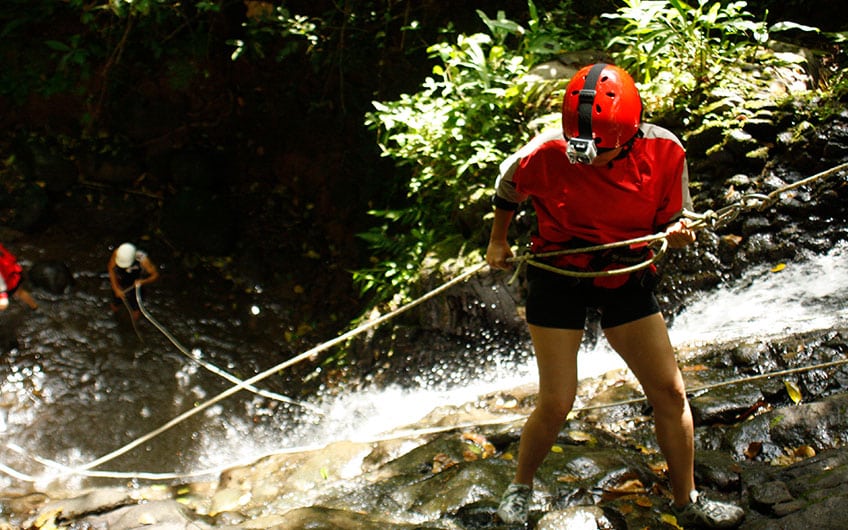 Adventure activities:
Turrialba has a lot of activities to offer, there you can do a climbing wall, also do canyoning, canopy, walk in the downtown city, walking in the mountain or take a good relaxing tour by horse. Our expert designers can recommend you the right activity depending on your desires and interests.
Turrialba Costa Rica hotels
There are nice small and interesting properties, some of these hotels are located close to the main city but some others are located in remote places, but it is actually more interesting and it makes these hotels more exclusive.
Please consider that in Turrialba you will not find all-inclusive properties, because most of these resort are located right on the beaches.
The regions near Liberiain the Guanacaste province, for example, host different all-inclusive hotels that you can combine and add into your vacation itinerary.
Tamarindo, Conchal, Papagayo, among others, are great regions to enjoy a little bit of sun after staying in Turrialba. The nearly beach of Jacó also has these kind of properties for your enjoyment.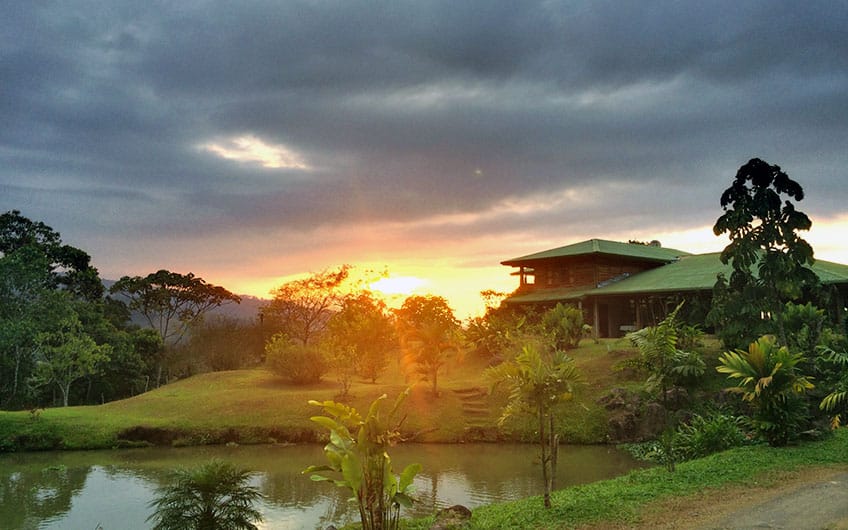 Rancho Naturalista Hotel:
Rancho Naturalista is a lovely hotel famous among visitors thanks to its cozy accommodations, fine gourmet dining prepared with local and traditional ingredients, and for being considered one of the best birdwatching lodges in Central America.
The hotel offers to its guests a family style property in which nature lovers will be delighted, as over 450 bird species have been recorded in their private forest reserve.
Visitors can walk in the trails by its own or, if preferred, they can book one of its excellent guides.
When considering this hotel, the ideal place for your next holidays, then you must know that it is mandatory to pack your binoculars… you won't want to miss the natural spectacle of birding!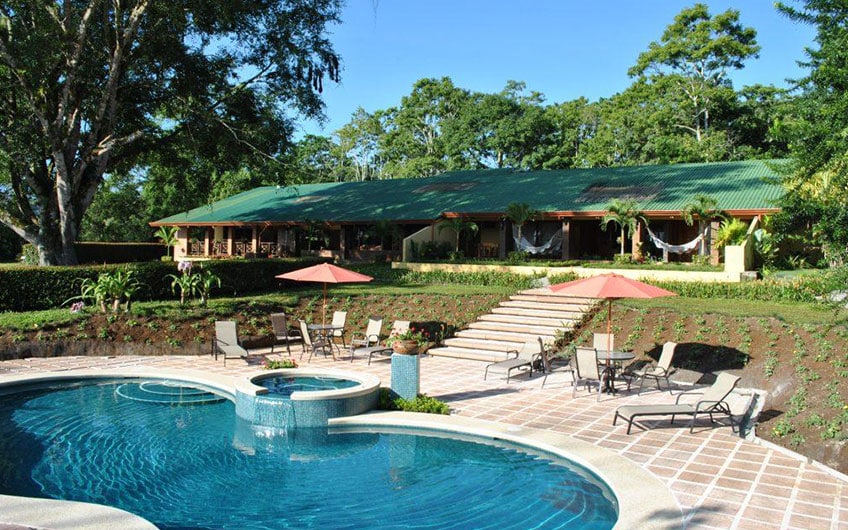 Villa Florencia Hotel:
Another small hotel for your vacations in Costa Rica. Located in "La Susanita", south of Turrialba village, it is more secluded and quieter.
From there you can find many activities to do too, and most of the tour operators offer transportation to / from the main attractions, it is a kind of old house converted into a hotel.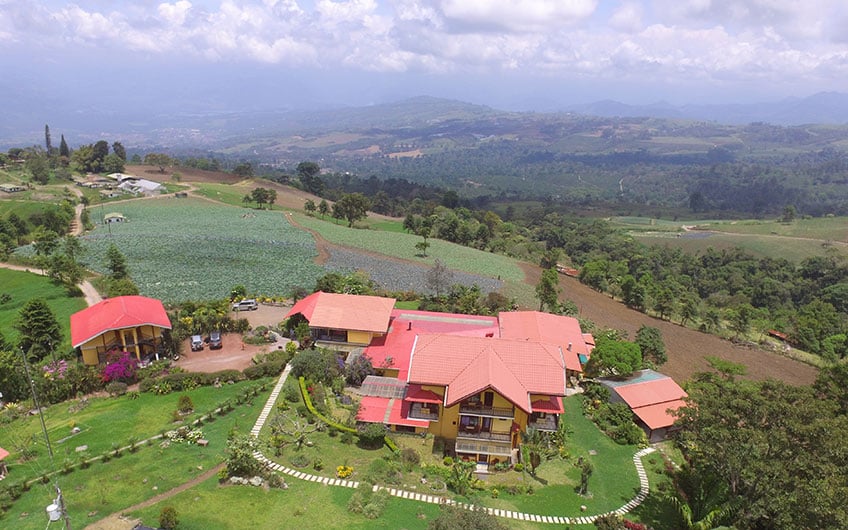 Guayabo Lodge:
Guayabo eco-lodge with a privileged location, very close to Turrialba Volcano. It is also surrounded by exuberant vegetation and they work with sustainable practices.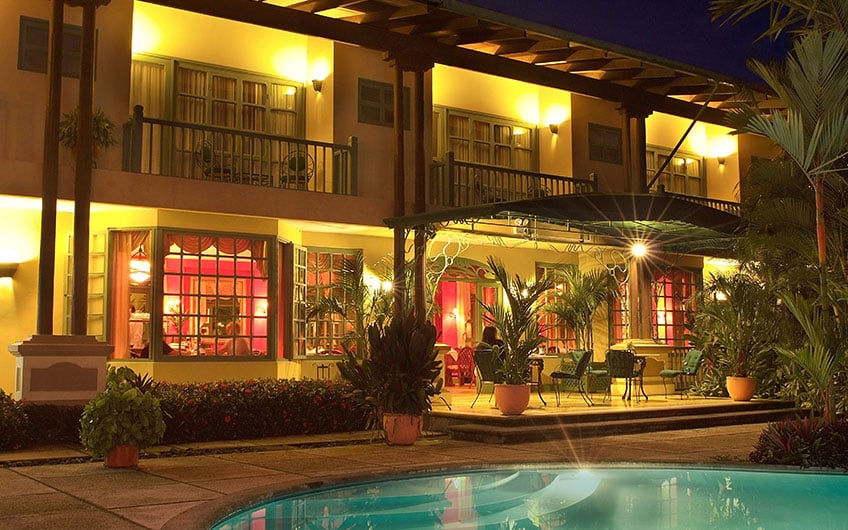 Casa Turire Hotel:
It Casa Turire is a boutique hotel located at 8.5 kilometers from Turrialba village. The hotel is a Colonial style house with beautiful green gardens and surrounded by mountains, close to a lake.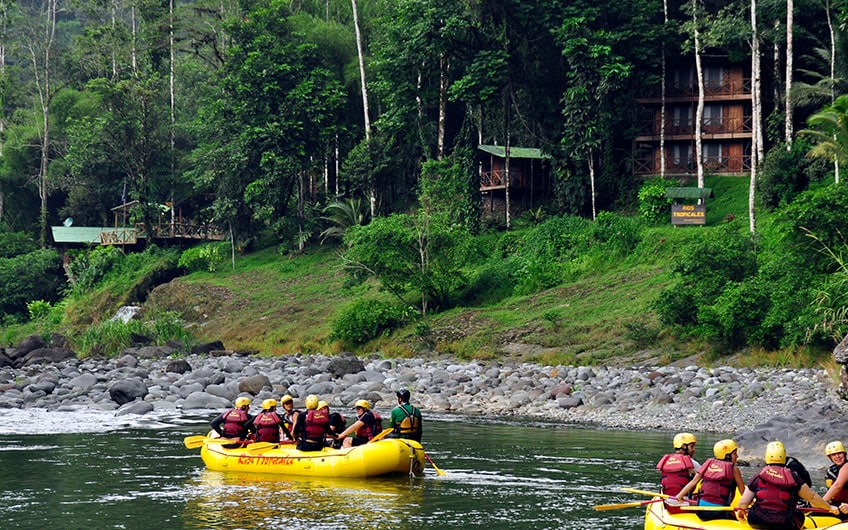 Rios Tropicales Lodge:
Rios Tropicales is an eco-lodge surrounded by primary forest, it is situated on the banks of Pacuare river so is a secluded hotel, special for people who want to be off the beaten track.
The place offers adventure and cultural activities and also offers all the meals in the property.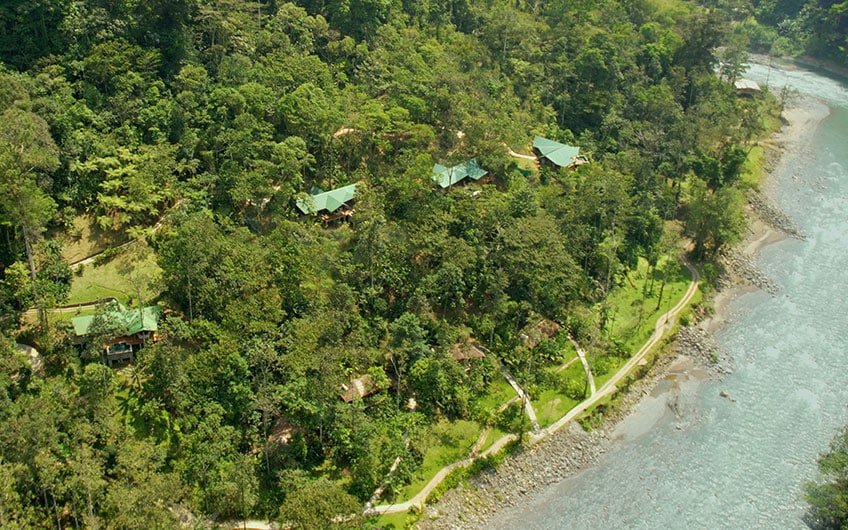 Pacuare Lodge is another small boutique hotel in Costa Rica, one of the best hotels in the country and internationally recognized.
Pacuare Lodge is located right on the banks of Pacuare River and also offers all the meals in the property and has a list of activities and a selection of spa treatments.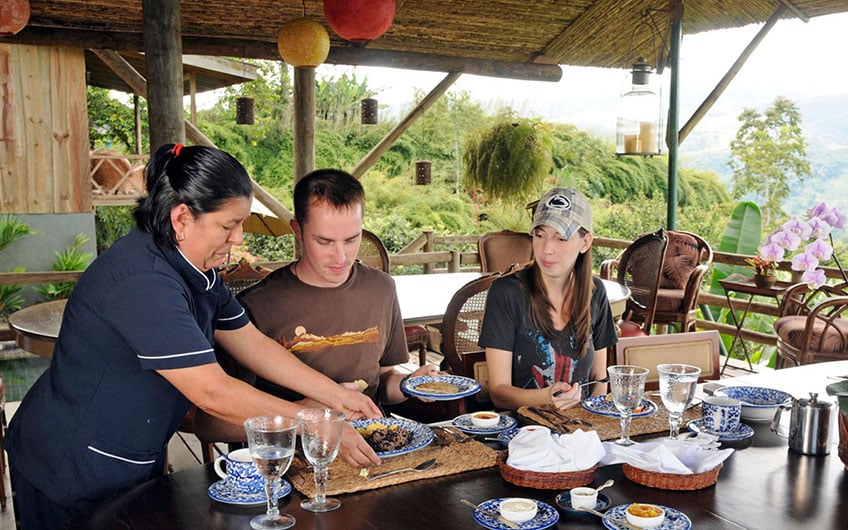 Where to eat in Turrialba Costa Rica
Verolís Restaurant:
It is Villa Florencia's restaurant, a kind of family dining room with garden view, they offer a menu that combines typical Costa Rican dishes and international food. It is located south of Turrialba valley and opens from 08:00 – 21:00.
Casa Turire Restaurant:
This restaurant is located in Turrialba, at 8.5 kilometers from the down town, is the hotel's restaurant with the same name. The restaurant is open from 08:00 – 20:00 and offers gourmet food and a selection of local and international food.
Rancho del Sapito Restaurant:
This is a typical Costa Rican restaurant, located on the way to Turrialba, it offers Latin and Central American food as well as typical meals and is open from 06:00 – 18:30.
Betico Mata Restaurant:
It is closer to Turrialba down town, it offers Latin, Costa Rican and Central American food, a grill and steakhouse and it is open from 11:00 – 23:00.
Adriano`s Restaurant:
Located at south east of the main town, it offers Central and South American food and typical meals, it opens from 11:30 – 23:00.
Wok & Roll Restaurant:
It is an Asian restaurant, located in Turrialba down town, it is a small place but a good option for people that enjoy Chinese or Japanese meals. Opens from 11:00 – 22:00.
Turrialba Nightlife
In Turrialba downtown there are a lot of bars, restaurants, discotheques and ballrooms; but the touristy areas, where most of the hotels and tourist attractions are located, don't have many places for nightlife, due to the fact that those touristy areas are very calm, more secluded and are not located close to the main town where most of the locals live.
Video of Turrialba, "Puente de Vigas" Canyon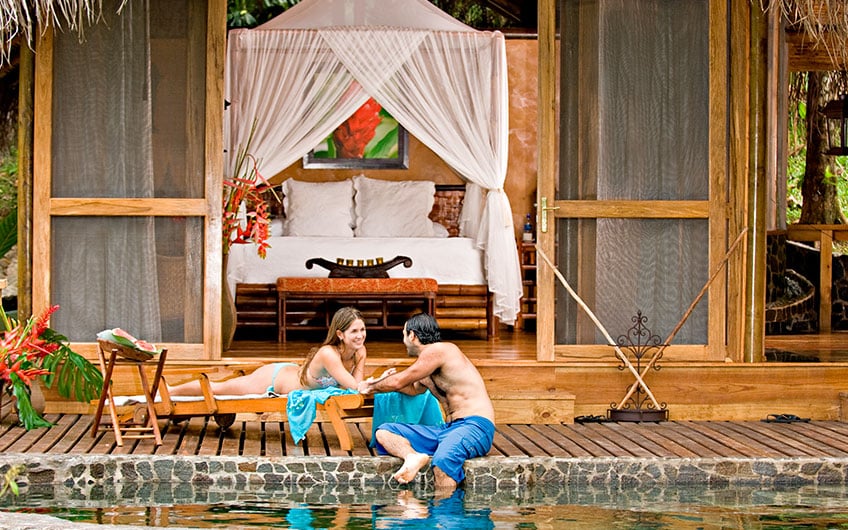 Packages
Please take a look of our Costa Rica vacation packages, you can find some nice options that include Turrialba and that are combined with other amazing places.
And, if you do not like these sample programs or they don't fit well into your needs then we can prepare for you a tailor-made package.
Here you have some examples of itineraries:
We invite you to come and visit this amazing place, Turrialba has a lot to offer. You can stay for some days and experience culture, traditions, be in contact with locals, have fun and adventure, relax and much more.
If you need us to prepare your Costa Rica travel, or if you need more details about Turrialba, we are at your service.