---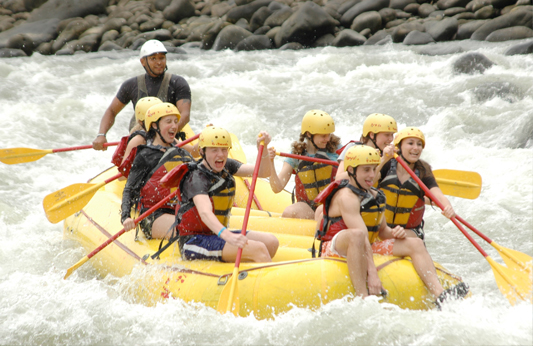 We always have the opportunity to do different things and Costa Rica this is not the exception, if you're traveling with a group of friends or you have an adventure couple this is the opportunity you've been waiting to experience the adrenaline into a different level.Here is a list of some awesome adventurous activities for everyone just take a look:
Canopy Tour: There is nothing like a recreation that will prepare you for the thrill of flying through the air some 15 meters off the forest floor.
While standing in the swaying canopy equipped with quality harnesses and safety lines, you can take a few minutes to enjoy a bird's-eye view of the forest canopy. Bromeliads and epiphytes, as well as the abundance of birds, are a treat to see, especially from the top!
White Water Rafting: You will be take into a breathtaking scenery in what is a popular tourist activity in Costa Rica. Whether you want to brave class V rapids or paddle with the family along smoothly flowing waters, the variety of options are staggering.
In essence every destination in Costa Rica offers rafting expeditions on a number of rivers. Nothing compares with braving the world-class rapids while traveling through some of the most beautiful forests in the world.
Sea Kayaking: Offered up and down the Pacific and Caribbean coasts, sea kayaking is very popular. When the waves are rolling and easy, it add a great way to travel quietly to estuaries and mangroves for up close and personal viewing of wildlife. And when the waves begin to pound, it provides exhilarating sport for those with a penchant for wet fun.
Mountain Biking: Aims to be one of the world's accelerated growing sports, mountain biking in Costa Rica is gathering ground in popularity. It is provided in a number of areas in the country but maybe better suited for the area of Tilarán. Local operators are currently extending their operations and have begun developing several biking routes for die-hard enthusiasts who want to sweat and work it when on their bikes. While there are routes that take as long as six-hours to complete, there are also more moderate paths for those less-experienced riders.
If you like to enjoy the experience of the adrenaline rush these activities above are just perfect for you to have a lot of fun!
Leave a Comment