---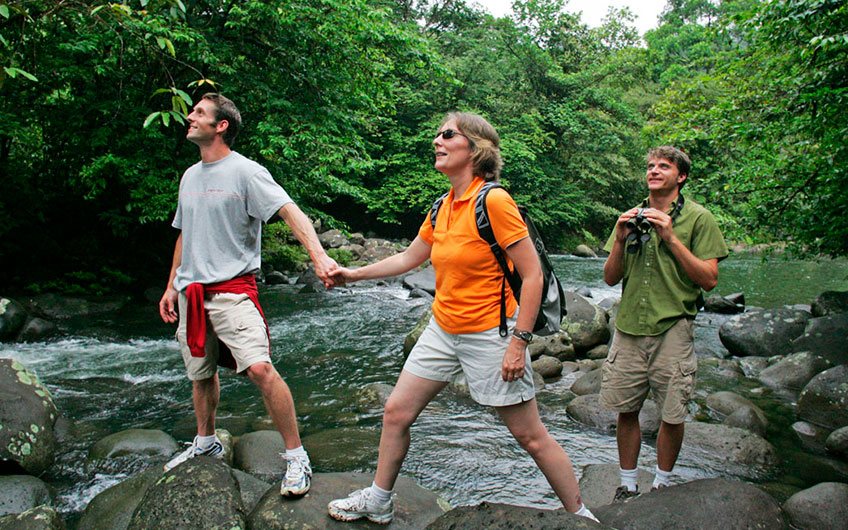 This small country allows visitors to enjoy its natural sceneries while enjoying activities for all tastes and budgets. Costa Rica is one of the most biodiverse countries in the world, and it is this diversity the main reason of why it is possible to find multiple activities to take into consideration while planning a trip to Costa Rica.
Costa Rica is a good destination for those who want to discover and explore the natural elements of the country as well as for those who are more inclined to discover the cultural elements of the places visited. Culture and nature make a perfect match to be enjoyed during your next Costa Rica vacations.
Flying above the canopy of the trees, hiking through lush forests, visiting volcanoes and its naturally heated hot springs or simply watching the exuberant wildlife in the forests, we assure you that tours will engage travelers of all types and conditions, exceeding their expectations during their vacations.
In this guide you will find out more about the different activities that you can find and enjoy while traveling to Costa Rica. Our purpose is to offer you a complete tours guide that will be useful to you when designing your next Costa Rica vacations package.   
Here you have the main activities that you can enjoy in the country, as well as some recommendations and tips, in order to give you an advice of how to improve your experience in the country and maximize your money and your time.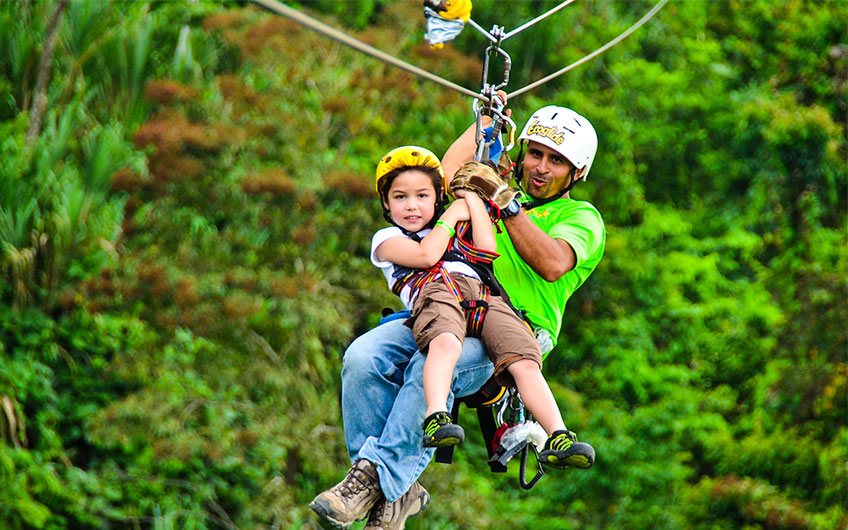 Zip line or Canopy tours
Zip-lines above the canopy of trees are in many ways one of the most recognized and popular Costa Rica tours. These adventure tours were originally introduced during the 1970s, zip-lines have developed into one of the country's most visited attractions.
The zip-lines are composed of steel cables and platforms strung at various heights between the forest' trees.  Taking a canopy tour will offer you a unique means of accessing gorgeous natural areas otherwise difficult or impossible to access and visit. And while they undoubtedly boost your fun and adrenaline, zip lines will also educate you and give you unparalleled views. Reforestation practices, ecology, botany, and wildlife are some of the topics that are shared with the participants during one of these tours.
You can easily find zip-lines all over the country, but if you want to experience some of the best then you should visit the regions of Manuel Antonio, Monteverde, and Arenal.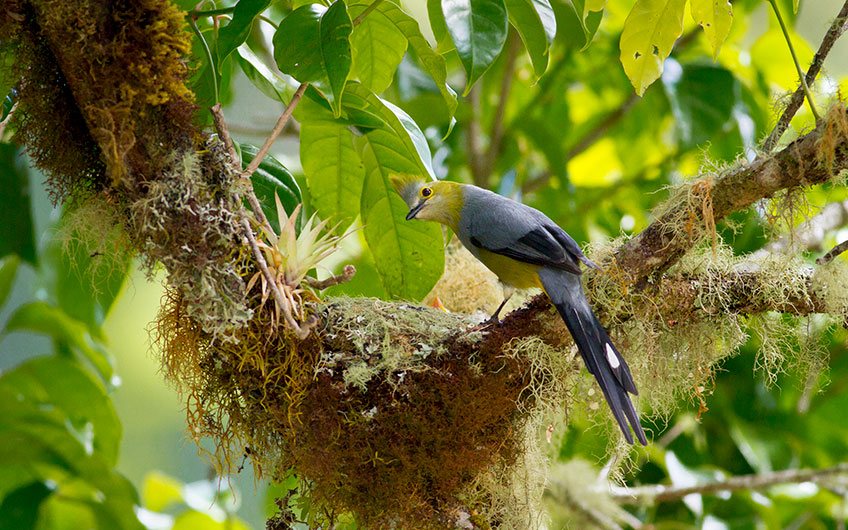 Birdwatching
This is one of the favorite activities in the country as the possibilities to spot different species of colorful and incredible birds are almost endless. The abundant wildlife of the country allows visitors to see more than one bird species when visiting Costa Rica in, practically, all the regions of the country.
With approximately 915 species of birds in 84 families, Costa Rica has been a truly mecca for birders from all around the world. The country is a paradise for both, amateur birdwatchers and experienced researchers that came in order to photograph and study these amazing creatures. As we mentioned before, it is really simple to spot diverse species in just one day and just one place. That is what makes Costa Rica so attractive for birdwatchers!
Costa Rica's climate and environment facilitates the conditions that benefit the life of multiple bird species, as here can be found lots of flowers and fruits. These tours can be enjoyed in a better way with the guidance of experienced naturalist guides, and also with your binoculars and birding booklet in hand. Normally, these tours take place through forest trails and up rivers, and the country's finest places for birding are  Monteverde, Guapiles in Sarapiquí, San Gerardo de Dota, and the Caño Negro Wildlife Reserve.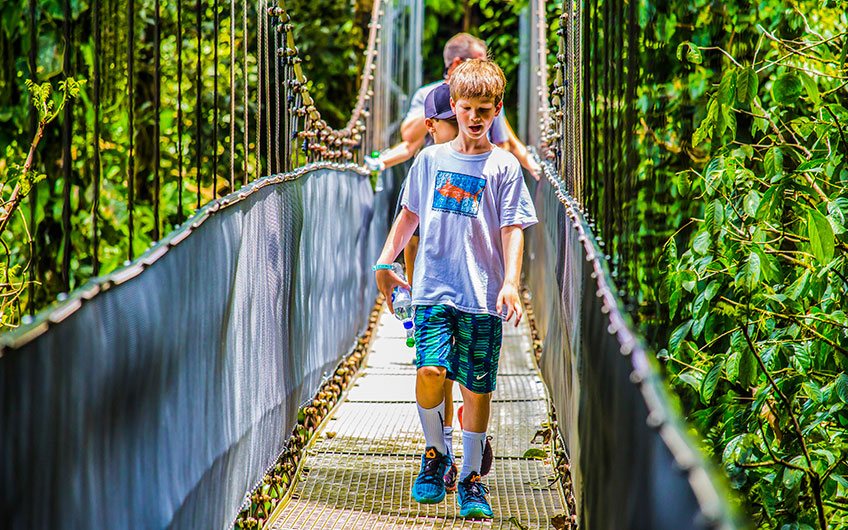 Hanging bridges
The hanging bridges, also known as suspension bridges, are a good way of pass through the forest canopy without being exposed at high adrenaline levels. The bridges reveal the secrets of the forest and its complex ecosystems emerging at the tops of trees and in the valleys below.
Some of the country's best suspension bridges are located in Monteverde, Arenal and the Caribbean region of the country. Here in Costa Rica it is possible to find bridges of all sizes – with measures ranging from 100 to 1000 feet – and which are safely and smartly constructed in order to provide visitors all the time they need to stay in to appreciate the rainforest' wonders.
You can book your tours in order to take the tour by your own, but we strongly recommend the guided tours, as the companion of a specialist add valuable information to the bridge tours, as naturalist guides often point out plants and animals and give you explanations about what you are seeing.
The hanging bridges in Costa Rica are a great option for those who are travelling with their families and with little children as it does not involve higher risk and will surely enjoy the experience of being walking amidst the trees and all the exuberant vegetation.
You must be prepared for climate variations as the Costa Rica weather usually changes a lot through the day, so a raincoat, comfortable shoes, water bottle, and hats or caps are highly suggested.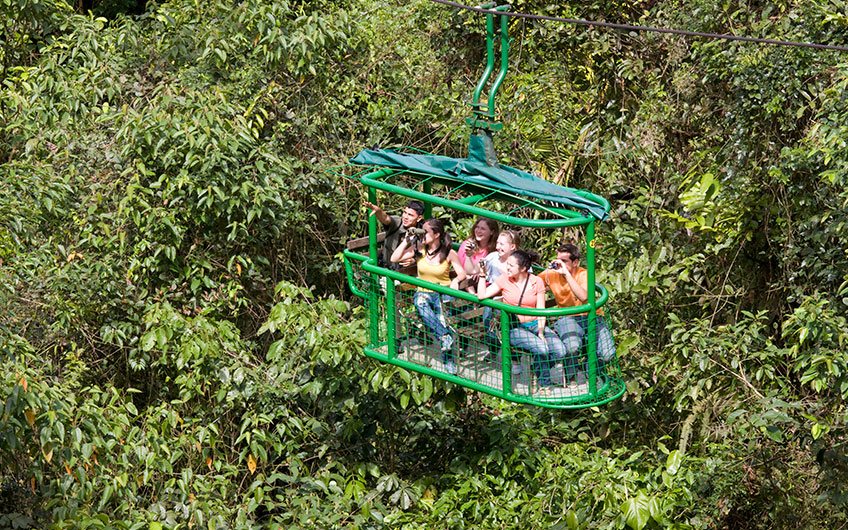 Tram & Trek tours
As it occurs with the canopy and the hanging bridges tours, the tram & trek rides give to its visitors some of the most unique and unobstructed views of the forest canopy in Costa Rica. Those consist in open-air gondolas which generally hold between four and six people and that ascend smoothly above the treetops, allowing passengers to peer down into the forest below.
This tour is perfect for learn and enjoy amazing views of the natural wonders of Costa Rica, and you do not have to worry about anything as certified naturalist guides are often onboard helping visitors to understand what they're seeing and giving them more relevant information.
The tram tours are frequently offered alongside with other interesting tours such as hanging bridges and zip-line tours, to enjoy the whole Costa Rica vacation package adventure, and can be found in places like Arenal, Monteverde, Jacó, Sarapiquí and the Caribbean.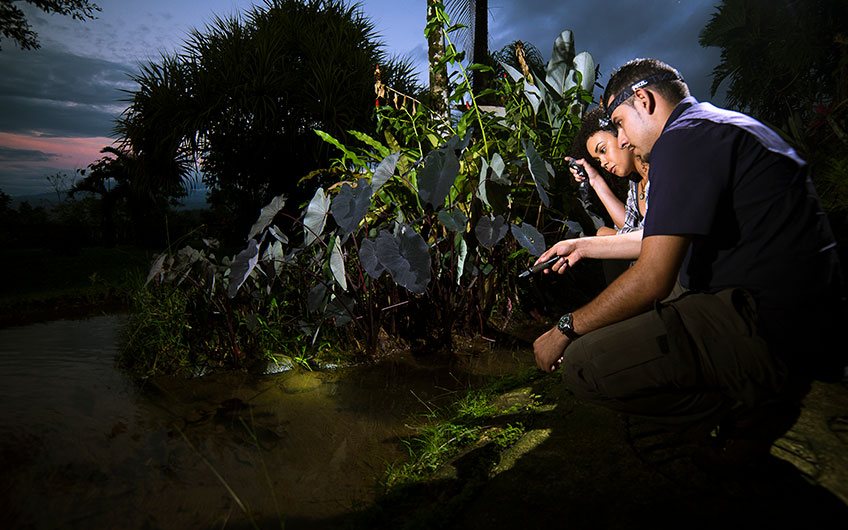 Night tours
Night tours are a great option for those who want to live the experience of being in the middle of the forest when the sun sets. In the country, more than 60% of its tropical rainforest's wildlife is nocturnal. The different night tours teach their visitors on topics such as the living nocturnal creatures of the forest and the special adaptations they use to survive in the tropics.
When you take any nocturnal tour you might be aware of the safety instructions that your naturalist guide will give you, as they will tell you the importance of the dark clothes, the type of shoes you should wear, when to turn off/on your flashlight, and more. If you are walking through the forest trails you will be searching insects, reptiles, amphibians, mammals and more species.
Other nocturnal tours in places like Tortuguero or Ostional, will give you the opportunity of combing the beach at night for nesting sea turtles just under the light of the moon. In Arenal and Monteverde you will search for nocturnal species accompanied by the profound sounds of the mystic forests.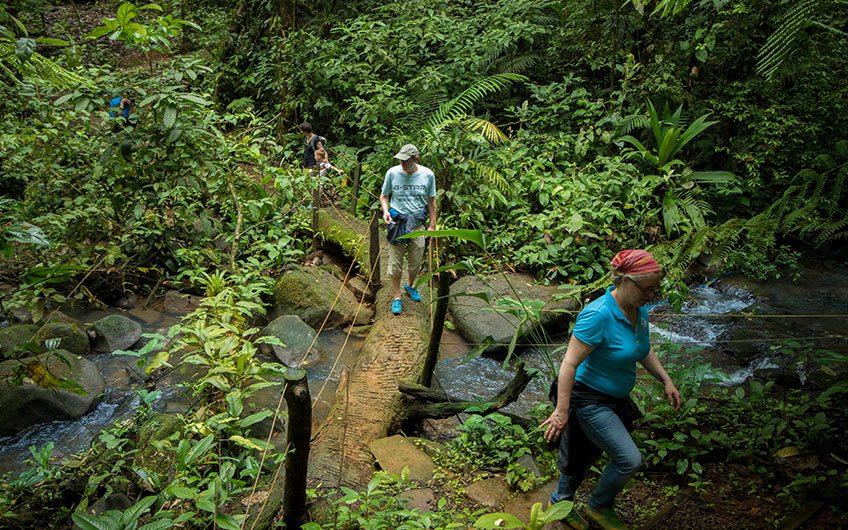 Hiking tours in the forest
The diverse and rich landscape of Costa Rica is the perfect scenario for exciting hiking adventures to be enjoyed during your trip to Costa Rica. The hiking here is excellent and for many travelers is a primary reason to visit the country, as they come specifically to enjoy long hikes through the most trilling paths.
Here you can find paths for every taste and according to everyone's experience: there are easy hikes along flat and well-maintained trails, as well as other treks that are more challenging. For example, the Cerro Chirripó is Costa Rica's highest peak and is a very appreciated and respected destination for hiking.
You just have to bring your hiking shoes, camera, comfortable clothing, and enjoy the ride. Your travel guides will provide an exciting, safe, fun and educational outdoor experience.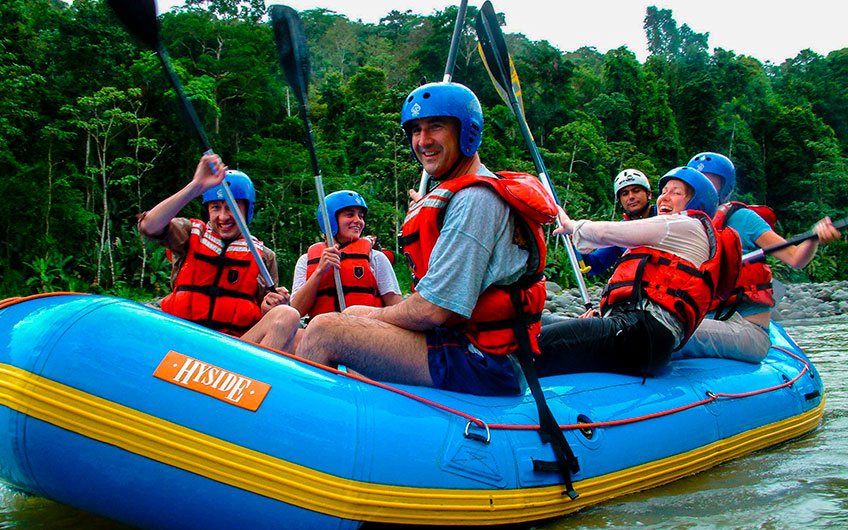 White water rafting tours
This is probably one of the most exciting tours you can enjoy during your holidays. The natural resources of the country allow the great affluence of torrential waters through beautiful scenarios. White water rafting is an extreme and thrilling outdoor activity in which, people navigate a river and its exciting rapids using an inflatable raft.
When you hear the word "rapids" you should know that those are the sections of a river where the riverbed has a relatively steep gradient, causing an increase in water velocity and turbulence.
The country's weather and its heavy rains have shaped Costa Rica's valleys and canyons for hundreds of years, creating a landscape perfect for rafting tours as the twists, bumps and profound dips are varied and can be well enjoyed in just one rafting experience.
The American White-Water Rafting Affiliation (AWA) made an international classification of the difficulty of the rapids which is used to date and worldwide. This classification specifies six grades or classes of river rapids, and each grade reflects the level of difficulty and the necessary technical skills associated with the section of the river. This way, before you book a Costa Rica rafting tour you may be aware of which level is the most appropriate for your experience and body condition.
The country has a lot of great rivers but some of the country's most well-known ones are the Reventazon, the Pacuare and the Corobici. All of them carve through dense forests with lush vegetation and meander along inspiring landscapes with waterfalls. This surely will add a plus to your Costa Rica adventure and will let you have fun in some of the best places to visit in the country.
As mentioned before, rafting options exist for all ages, body conditions and abilities, and can range from maneuvering through technical rapids to gliding along smooth stretches and easy rapids that result a good option for nature watching. Your rafting adventure will be in the hands of professional tour guides that will give you safety instructions and will accompany you during the whole experience in order to make it safe, memorable and filled with lots of fun.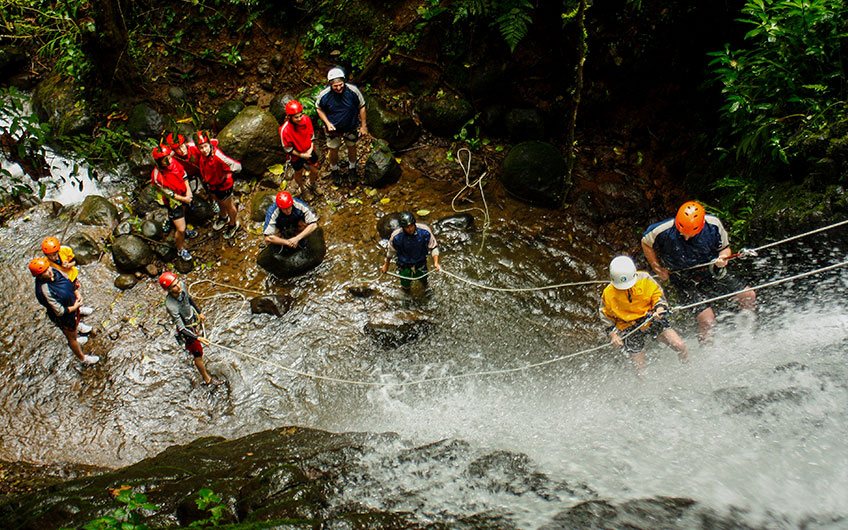 Rappelling tours
Costa Rica is a country full of incredible landscapes that will blow your mind since the very first time, and rappelling tours are a fun, safe and exciting way to experience some of the best ones. This activity, also known as canyoning, consists in a controlled descent down a rock face using a secured rope and the adequate safety equipment.
Depending on the rappel tour you chose, the descent can be done within boundaries of a waterfall, which will surely turn the experience into a more memorable one. The most common way to enjoy the Costa Rica canyoning tours are often held in conjunction with other adventure tours such as zip lining, white-water rafting, horseback riding, and more.
One of the best places to enjoy these scenic tours is Guanacaste. The province offers different landscapes that will let you be amazed while enjoying some hours of fun through the rocky environment. You do not need previous experience as the professional guides will explain you everything you need to know and will be by your side during the activity.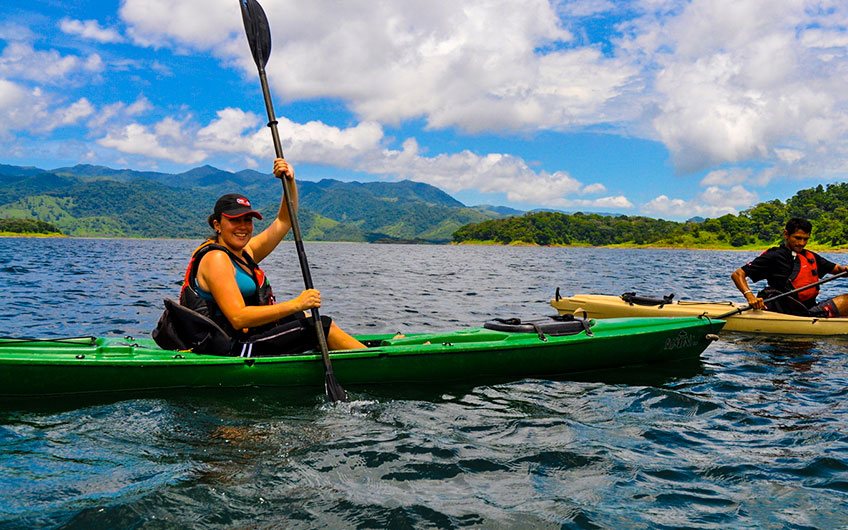 Kayaking
Costa Rica is a blessed place featuring over 802 miles of coastline and countless lakes, rivers, mangroves, and estuaries which makes the country a perfect place for kayaking opportunities for those visitors who like a tranquil tour surrounded by great flora and wildlife.
Kayak tours are perfect for a deeper and more private exploration in the natural wonders of Costa Rica than the provided in the mainland excursions, simply because there are less people on the water and it is possible to access different corners of almost unexplored natural richness.
The tours, which are open to both experienced and inexperienced kayakers, are a wonderful way to spot wildlife both above and below the water. It is common to find kayak tours involving a combination with other activities, such as snorkeling (if you take sea kayak tours) or mountain biking and horseback riding (for those tours that take place in the lakes and mangroves).
To enjoy this relaxing experience you must visit places such as the impressive Lake Arenal in the Northern region of Costa Rica, Manuel Antonio's estuaries and the well-known Jaco's coastline, among others.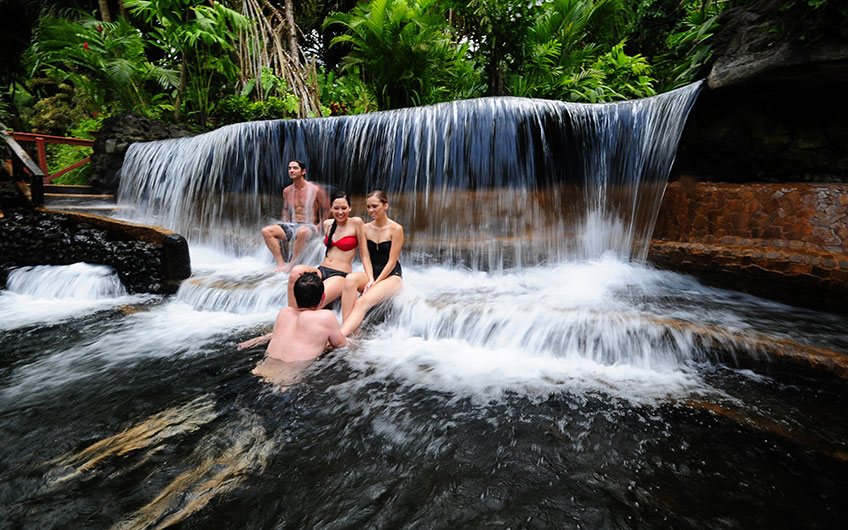 Hot Springs
As Costa Rica own a large number of volcanoes the country is rich in thermal hot springs that come in every size, shape, and temperature imaginable set in some incredible landscapes.
There are thermal pools to satisfy every needs and tastes as some places offer hot springs which are more luxurious and offer more added values to their visitors, while others are a bit more playful and ideal for family vacations in Costa Rica, as they offer to its guests a lot of fun water slides and deep pools to plunge into.
It is common to complement the hot springs tour with other tours, such as Spa sessions with relaxing massages, mud baths, horseback rides, ATV's, canopy tours, hanging bridges, volcano hikes, and more.
If you want our recommendation, some of the best hot springs in Costa Rica are located in La Fortuna in the Arenal area, as well as in Rincon de La Vieja.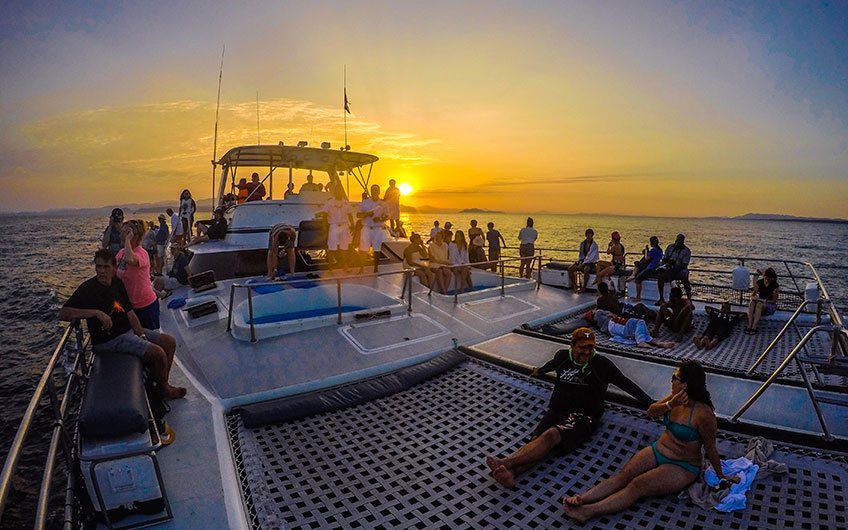 Catamaran tours
If you are an ocean lover and just want to have some fun and relaxing time while sailing across the sea, then catamaran tours are a good option for you. These tours are usually offered as half-day tours with lots of fun and leisure options to enjoy. The catamarans pass near isolated islands and different rocky coastlines offering the passengers great and unforgettable views; the calm bays and towering cliffs also are part of the landscapes that can be seen during the tour.
The catamaran tours are offered during the morning and the afternoon, so passengers will have the opportunity to select which time of the day fits better into their itinerary or Costa Rica vacation package. Passengers will have the opportunity to enjoy some snorkel above colorful and different reefs which will offer the chance of spotting abundant wildlife, the visit of secluded and scenic beaches and picturesque caves.
Also, during the catamaran tours there are snacks and drinks served to make the adventure even more pleasant.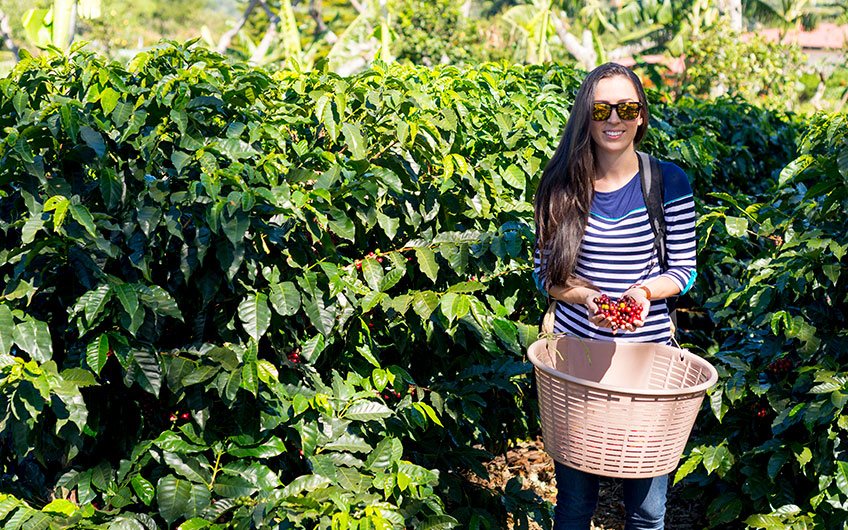 Coffee tours
Costa Rica is worldwide known for its coffee. Since the middle of the 19th century, the coffee bean has played important social, economic, and political roles for the country, with an influence that continues nowadays. Plantation tours are packed with culture and history while including visits to the coffee fields where the crops are located, the roasters, and in some cases, the cafés.
This is a great way to learn about the whole process of the coffee making, from the bean to the coffee cup, and they are family-friendly tours, which ensures that both, children and adults will enjoy this cultural experience. By taking one of the Costa Rica coffee tours you will learn the ins and outs of the coffee production, at the same time that you enjoy one of the world's freshest cups of this beverage.
In Costa Rica the coffee plantations are scattered throughout the national territory, but the highland areas surrounding the capital city of San Jose Costa Rica and the Tilaran Mountain range that extends to Monteverde, in the province of Puntarenas, features the ideal climate for coffee plantations, so there you will find the best coffee tours to include into your vacations itinerary.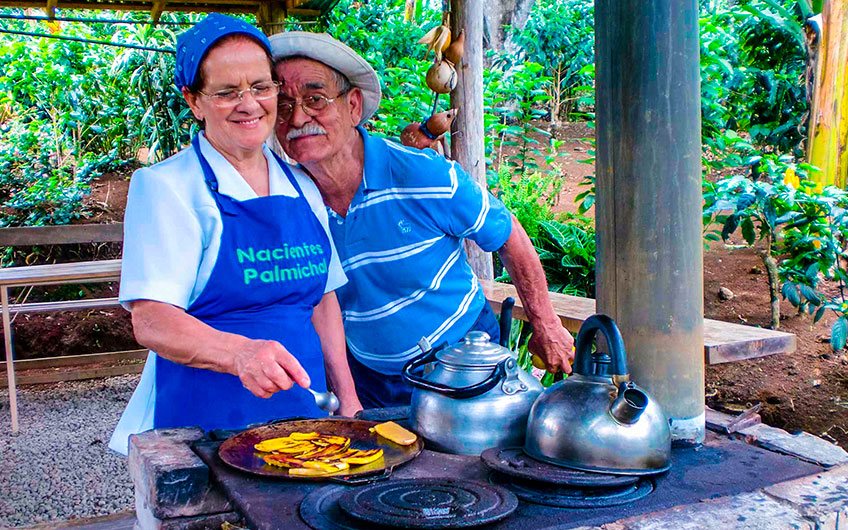 Rural tours
If culture and an authentic approach to the local communities is what you are looking for, then you must know that Costa Rica has a lot of different and interesting cultural tours that will satisfy your expectations while creating some good memories and, why not? some new good friends.
People in Costa Rica is friendly and open to share with everyone their day by day experiences, their culture, and their costumes. While enjoying some rural tours you will be not only enjoying an unforgettable experience, but also contributing to the local economy of the community and their development. Just ask us if you want to know more.
We hope that this information will be useful to you, as we expect to have you enjoying out Costa Rica tours during your next visit to our country. Please leave us a comment or contact us if you require more information, we will be more than glad to assist you in planning your next vacations.
Video of Canopy Tour in Costa Rica
Video of Rincon de la Vieja National park, Ziplining, Tubing, Canyoning in Costa Rica
Video of Arenal Volcano National Park And Hot Spring in Costa Rica
---
---
Leave a Comment