Table of contents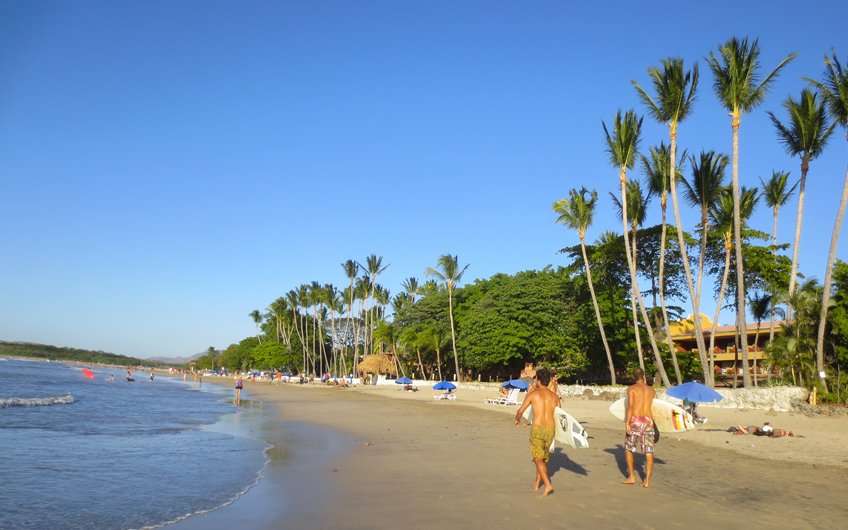 Why Tamarindo?
Tamarindo is one of the nicest Pacific West Coast beaches, located at the second largest province of the northwest area of Costa Rica, Guanacaste. Tamarindo is a popular destination for couples, groups of friends or families looking for relaxation, sun and some adventure.
With a remarkable beach, a saltwater estuary, surf spots and great fishing, Tamarindo is the essence of everything that Costa Rica vanities itself about. If you are expecting to experience Costa Rica at its typical version, Tamarindo is probably not what you are looking for, it is normally busy, with numerous tourists all year long.
If you are into surfing, shopping, and having access to a great variety of restaurants while at the beach, then Tamarindo may be the destination for you. Just one hour away from the Liberia international Airport (LIR), Tamarindo has become a developed area with great opportunities and facilities for its tourists.
Tamarindo not only offers a blend of white-sand Costa Rica beaches but also mangroves, sea birds and iguanas, making it the perfect place for those wishing to live in harmony with nature. While Tamarindo shows an ongoing development, the area still provides a laidback vibe. 
Tamarindo History
Christopher Columbus discovered Costa Rica in 1492, at his 4th trip. The Spaniards named it Costa Rica meaning "rich coast" and colonized it mostly on the west pacific coast, as opposed to the Caribbean, like they normally did.
Nonetheless, Spain did not hold the same attention in Costa Rica as it did for other of its colonies. The land-living did not offered as precious metals as others, and its jungle were thought-provoking their development style.
Tamarindo has observed changes over the past thirty-four years, lots of growth that reflect the fashions, economies, migratory patterns and politics of a larger world.
Many people from all over the globe make Tamarindo their home. Tourism is now decisively established as a business and very important part of the economy at the area.
Hotels, restaurants and bars multiply every year. There are banks and shops, doctors and attorneys, and even artists can find a way to make a living in Tamarindo.
But when those first surfers arrived here in the seventies, Tamarindo was a minor town at the end of a dirt road, without running water or electricity power.
Streets within Guanacaste were poorly preserved dirt paths. The road to Tamarindo washed out every rainy season from May to December – locals had to walk to Villarreal to take the bus to Santa Cruz, the nearest town. Back then, access to Guanacaste was very limited.
The only international airline that flew from the United States to San Jose Costa Rica, was Pan Am, and air service was occasional. In 1970, the Pan American Road in Costa Rica was still a dirt road from Nicaragua to the Panama Border.
Most of the external guests in those days arrived to Tamarindo in vans, trucks or converted buses that they drove down from the US. Their voyages lasted for months, and even years, and their cars were their homes.
Surfers who complete the journey to Tamarindo discovered a perfect surf break. It was a well-kept top-secret at the time. There were few housing choices, and most of the young voyagers from the United States chose to campsite in their vehicles in what is currently Tamarindo Circle.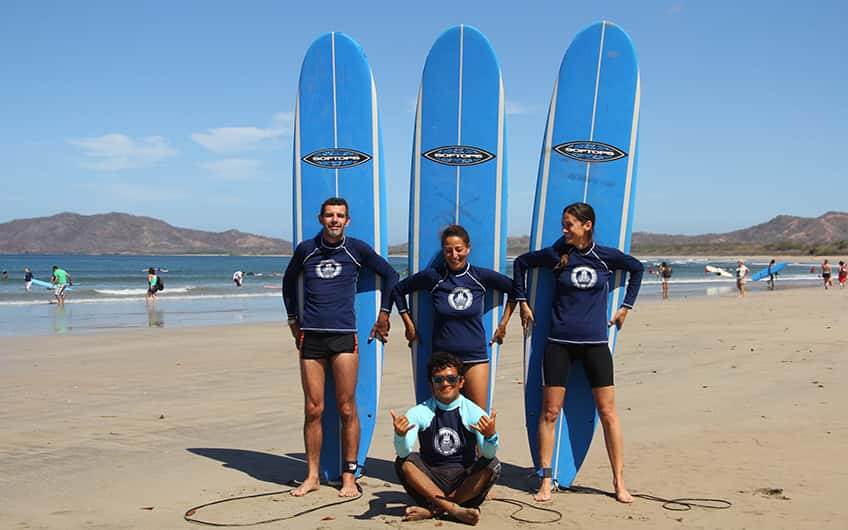 Why is Tamarindo so famous?
Tamarindo's great position as Costa Rica's top surf, sun and entertainment destination has become a mandatory stop for groups of tourists. This is the most developed beach on the peninsula with many hotels, bars and restaurants ready to give visitors their best Costa Rica vacations experience.
Tamarindo is held in high esteem by many and for good reason: it has solid surfing, nice international restaurants, unforgettable tours and a fun nightlife. Tamarindo is sunny throughout nearly the entire year, and the weather remains pleasant without much humidity.
It is part of Guanacaste's Marino Las Baulas National Park, and the beach retains an allure for kids and adults alike. Families and students will appreciate the variety of accommodation and prices available in the area.
Tamarindo's relatively central location makes it a great base for exploring the northwest part of Costa Rica, also known as the Nicoya peninsula.
Tamarindo Costa Rica Hotels
Tamarindo is a perfect destination for family vacations, groups of friends, students, couples, and anyone interested in exploring the golden coast. So, visitors can find a great variety of accommodations throughout the area.
From small boutique hotels in Costa Rica to large chain resorts. There is a hotel for any taste!
Arrangements can be made for each of our guests in this location at the following resorts in Costa Rica:
Tamarindo Diria, is centrally located right in down town and beach front. This hotel is great for young people interested in being right where the fun is and the Tamarindo nightlife.
The property has two locations one beach front and another one across the street which is ideal for couples or families looking for a more intimate ambience.
And 15 miles from the local airstrip in Tamarindo, near to Flamingo, Tamarindo and Conchal beaches Bahia del Sol Hotel offers deluxe rooms, villas and honeymoon suites.
At Hacienda Pinilla in Mancita Beach you will find the only JW Marriott Guanacaste that we have in Costa Rica. This is a beach front Resort with the largest pool in Central America offering a hacienda-style facility. Golf, horseback riding, biking, nature walks, surfing can be experienced within Hacienda Pinilla.
Cala Luna Boutique Hotel and Villas is located in the secluded Langosta Beach, just a few minutes from Tamarindo. The hotel has deluxe rooms and villas, recently remodeled this hotel offers great service and find dining. Howler monkeys and bare throated magpie jays can be found in their gardens.
The fascinating beach front hotel Capitan Suizo at the very end of Tamarindo Beach is particularly famous for its personalized service, gourmet meals and it unique style. Surrounded by dense vegetation it is one of the pioneer hotels in the area.
Overlooking the ocean from the top of the hill and just 15 minutes from Tamarindo we can find Esplendor Tamarindo. A brand-new hotel offering outdoor pool and sun terrace to its guests. Each of its rooms have ocean view.
Only a 5-minute walk away from Tamarindo Beach you will find El Jardin del Eden, an Adults-Only Hotel. Its rooms feature five different themes: African, Tunisian, Japanese, Mexican and Indonesian. All rooms face the ocean or have magnificent tropical garden views.
All Inclusive Hotels in Tamarindo Costa Rica
Set in a 2400 acres property, The Westin Golf Resort and Spa Playa Conchal offers a 5 star All Inclusive service to its guests. This is a beachfront Costa Rica resort located in one of the most famous white sand beaches of Costa Rica.
Fine dining, spa, gym, golf and other a la carte services are available at this resort. Not to mention the Adult-Only area they have for grown up looking for an exclusive and more isolated experience.
As an all-inclusive resort, visitors can find the Occidental Tamarindo Hotel in Langosta beach, just 5 minutes by car from Tamarindo. This is a large beach front resort in Costa Rica and is ideal for those looking for nature and a white sand secluded place to enjoy.
The beachfront and all-inclusive Flamingo Beach Resort is located in Flamingo Beach, well known for its warm waters and spectacular sunsets. Rooftop Sunset Lounge has a panoramic view of the Pacific Ocean and it is the perfect place to watch the sunset while enjoying a cocktail.
Tamarindo Costa Rica Weather
Average temperature in Tamarindo is 80 degrees Fahrenheit. Normally, rainy season goes from May to December. Trade winds, as opposed to temperate four seasons areas, will generate a dry season the rest of the year.
March is normally the warmest month in the area, with an average temperature in Tamarindo of 29°C (84°F) and the coldest month is September at 26°C (79°F). This is also the rainiest one with an average of 359mm (about 9 feet) of rain.
Things to do in Tamarindo Costa Rica
There are different kinds of activities and experiences being developed in Tamarindo. They are related to adventure, relaxation, culture, sports, nature, and recreation. Any of the following tours can be included as part of your vacations: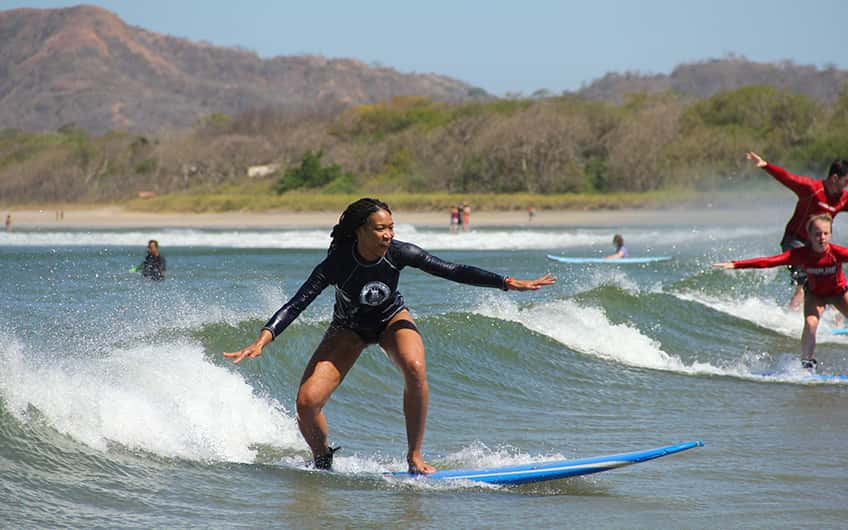 Surfing in Tamarindo
Tamarindo is one of the best surfing coastlines in Costa Rica, particularly for learners. The beach has constant waves so you can catch one every day. If you have never surfed before, do not worry, there are several surf schools and surf shops in town that teaches surfing lessons.
If you are more surf knowledgeable, there are a more intermediate to professional wave's size on Tamarindo. Given the fact that it is such a wide and large beach, there are spots for everyone who wants to surf!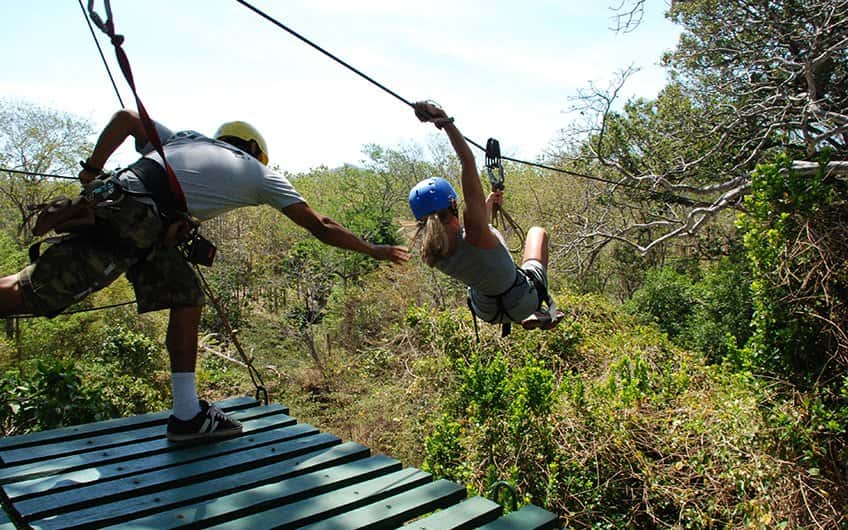 Tamarindo Zipline Canopy Tour
There are several options of canopy tours, for different level of expertise, for beginners or professionals. For adults or kids as well. Tamarindo has it all when it comes to Ziplining.
Do not miss out on soaring through the Guanacaste landscapes! For example, we have a unique destination where you can Zip line and do a lot more please visit our recommended Buena Vista Combo.
If you are only interesting on doing Canopy, we have an option that is both thrilling and safe, the Congo Trail Canopy Tour.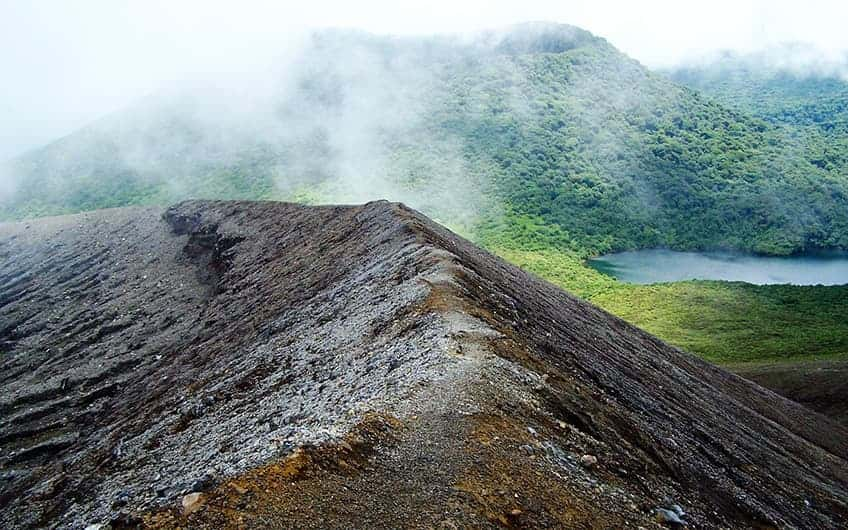 Rincon de la Vieja Volcano
Costa Rica is a land of volcanos, and Guanacaste is not the exception. We encourage you to explore the Rincon de la Vieja active Volcano's National Park to enjoy and experience its exuberant flora and fauna.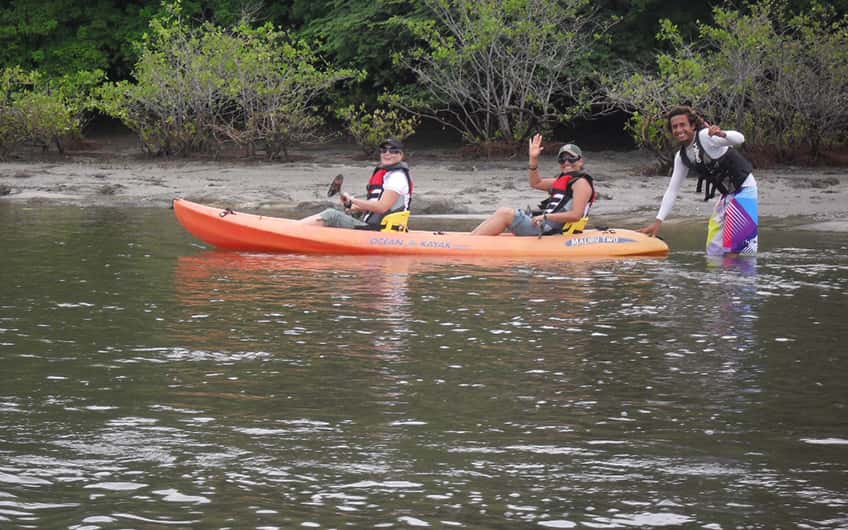 Tamarindo's Mangrove & Estuary
At Tamarindo there is a large mangrove and estuary right next to the beach. Locals set up boat tours and kayak rentals so that visitors can discover the estuary, observe crocodiles, birds, monkeys and much more wildlife. Can you imagine a type of forest that get flooded with the ocean's high tide? Tamarindo has one which is called as mangrove, land of wildlife and amazing flora.
Tamarindo Night Tours
Available from September through March, allowing visitors to view the spectacle of turtles digging their own nest and laying eggs. Night tours are also offered during high tide into the mangrove estuary, where a large diversity of mammals, birds and reptiles can be observed.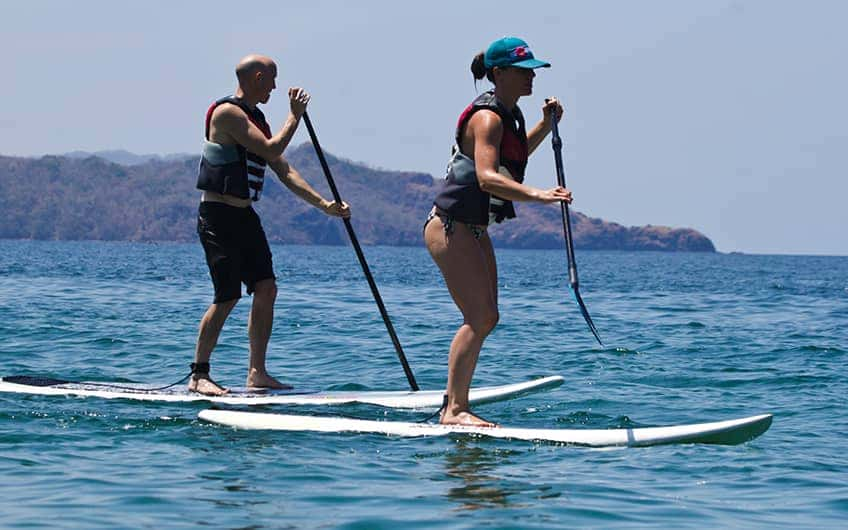 Water Sports in Tamarindo other than surfing
How about some stand up paddle lessons? This is the new famous water sport and if you are not sure if you like surfing, try stand up paddle surfing. Excellent exercise in the water!
Or to practice kayaking in the gold coast of Tamarindo including some great snorkeling as well?
National Park Day Trips
Do you know the driest tropical forest in Costa Rica gets about 6 feet of rain every year? Palo Verde Dry Forest National Park boat ride is not too far from Tamarindo, about 2 hours driving is the best example of this type of forest in Costa Rica.
At nearby National Parks you may observe either leatherback turtles nesting or you can discover the caves at Barra Honda.
One Day Tour to Nicaragua
Tamarindo is relatively close to the north neighbor country, so why not a Nicaragua One Day Tour to discover the cultural wonders that Nicaragua encircles.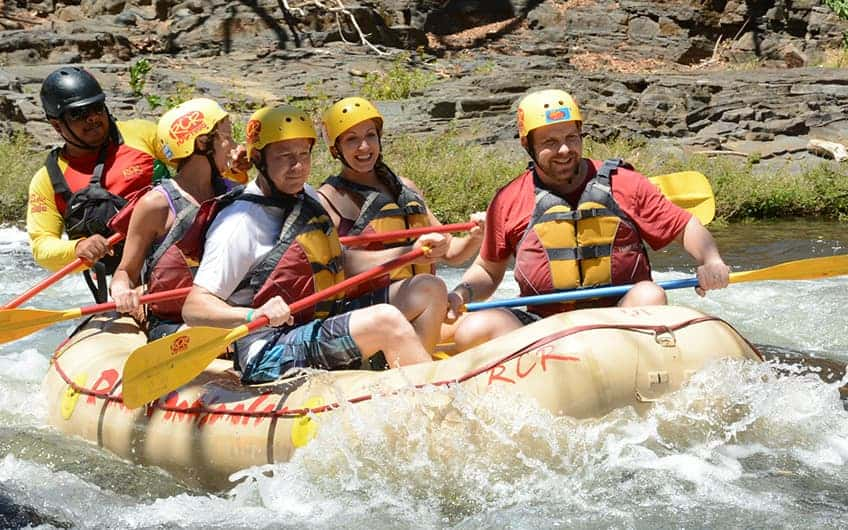 White Water rafting or Floating at Tamarindo?
We offer a one day white water rafting experience at Colorado River and, if you want to take it, let us tell you that this tour is easier than other ones, but you will surely enjoy the wildlife of a river in Guanacaste. Please join us at the Corobici River Floating tour if you want to experience it!
How about sailing in Tamarindo Costa Rica?
No worries, we have thought about it and are as excited as you are of doing this, our familiar style Lazy Lizard Catamaran will immerse you in the pristine waters of Tamarindo. There is not a better way to experience Costa Rica's Northwest coast than by going for a sailing trip to Tamarindo!
Sail on a catamaran, snorkel, visit different beaches and appreciate the open ocean. On it, you may see dolphins, turtles or even whales during the accurate time of the year.
If you are looking for the perfect combination between adventure and relaxing during your Costa Rica vacations, then Rio Perdido One Day Tour from Tamarindo may be a great alternative for you.
Fishing
Tamarindo has become a center for surfers and blue water sport fishermen and woman; with a sport fishing boats and talented and conservation oriented local captains who are pioneers in the area.
Whether you want deep Bluewater fishing, or reef or shoreline fishing, these expert captains can take you. Surf casting and handlining for snook and jack are also popular. Catching a marlin, giant tuna or a sailfish among others fish species have become mythical at Tamarindo.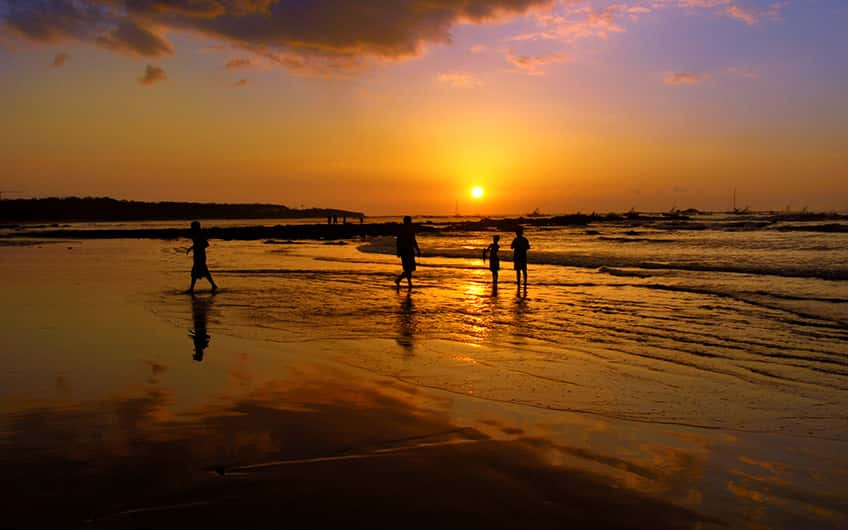 Beach Journey
Besides Tamarindo beach, you can visit many other nearby beaches. You can take a boat ride across the estuary to Playa Grande, another surfing beach, bike to adjacent Langosta Beach or take a ride to Conchal Beach for swimming or Avellanas Beach for surfing, both beautiful, very popular and white sanded.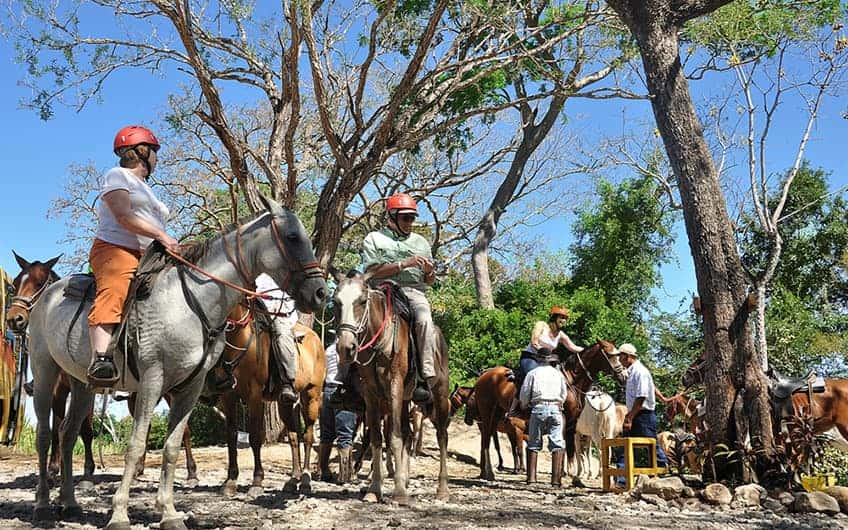 Horseback Riding
Do the classic sunset horseback ride on the beach or take a longer tour that goes up the mountains to incredible viewpoints of Tamarindo and head down to the beach. Northwest part of Costa Rica has the best horseback riding trails do to its cowboy country style and because many of the locals are either farmers or have horses.
Other Activities
Visitors also can decide to snorkel, scuba dive, go on a beach cruise, go ocean and river kayaking, surf paddling, wind surfing, sailing cruises and horseback riding. Bicycles, surfboards, boogie boards, beach gear and equipment of all kinds are available for rental from field stores.
Tamarindo Costa Rica night life
At night time, Tamarindo is a big get-together town, and not every place isn't conducive to children after sunset, due to party. Illegal drugs are a problem worldwide and at Tamarindo as well, and you could be offered with some of these after the sunset.
Ladies drink for free in most of the bars and there is a place to visit every night in a week without repeating your experience! So, here are a few great places to go at night:
La Barra is a great bar where everyone goes for some salsa dancing, watch out though, the locals are all very good at it.
At the other end, you can find a relative new place, Aqua. Nice interior compared to the other bars. A great place to be and there's even a pole on stage. Within walking distance from the Monkey Bar, Aqua delivers a more intense night club experience.
Monkey Bar (On the Main street). The Monkey Bar is great on Friday's, they have a live band and a DJ playing, so you can choose which side of the celebration you wish to be on.
Pacifico Bar. Pacifico is the place to be on Sunday and is also busy on Thursday. Expect reggae dance-hall music at this beach side bar.
El Vaquero, Route 152, Tamarindo. Part of the Witch's Rock Surf Camp and set right on the beach. This place has an unbeatable view, good local microbrews and good, if slightly overpriced, food. Live music on Saturday and Sunday nights.
There is another place called Pacifica playing mostly Top 40 music for the younger crowd at the end of the main street in Tamarindo.
Tamarindo is the town to have fun and that is certainly reflected in its vibrant nightlife. There is always something going on after the sun has come down.
Tamarindo's great dining and nightlife have developed into some of the most celebrated. With a multicultural collection of great chefs and tavern owners, fine dining and great nightlife scenes are the trademarks of what to do in the sunset after a great day in heaven.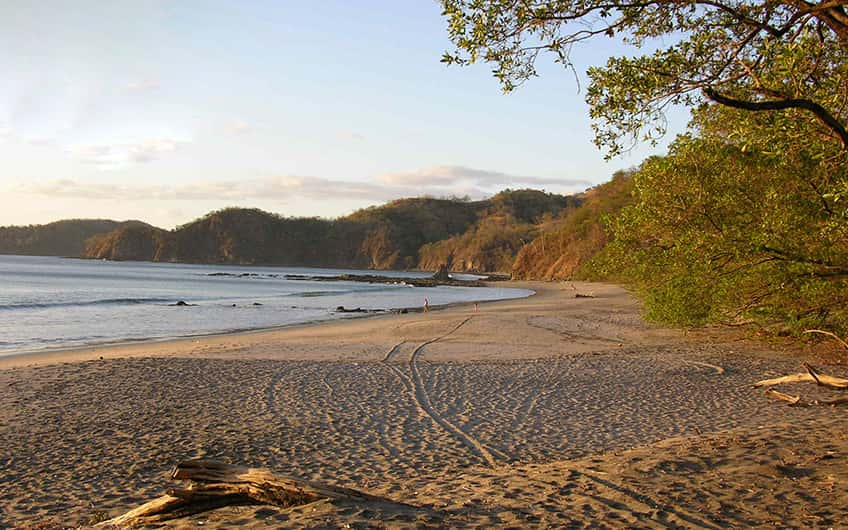 Tamarindo and its beaches
Tamarindo beach is a 3.5 kilometer or 2.17 miles stretch of white sand and blue water at about 80 degrees Fahrenheit or 26 degrees' Celsius temperature, this means it is warm. Tamarindo is enclosed within National Parks to its north and south, and mountains with breathtaking sights.
Lush (mostly in the rainy season) nature is very abundant, while the dry season, not as lush, but flower full! About 65 percent of the trees losses their leaves during the dry season (December to May), as a mechanism of defense due to water stress. This is called a deciduous forest.
Leatherback Turtles lay their eggs in the northern part of the bay. Howler Monkeys (one of the four species of monkeys in Costa Rica) are normally heard and seen swinging on branches throughout Tamarindo's trees. In the late afternoon, you can hear the parakeets screeching in the trees, preparing to settle down for the night.
In some restaurants, giant Iguanas will come up to your table expecting to be feed with leftovers, which you shouldn't do, you can get them sick and affect the food chain.
Distances from Tamarindo
257 KM / 160 Miles Tamarindo – San Jose, Costa Rica's Capital
65 KM / 41 Miles Tamarindo – Daniel Oduber's Liberia International Airport (LIR)
246 KM / 152 Miles Tamarindo – Juan Santamaria's International Airport (SJO)
102 KM / 64 Miles Tamarindo – Rincon de la Vieja Volcano National Park
Should you wish to learn more about other main destination distances and driving time you can go to our driving distances in Costa Rica.
Tamarindo Costa Rica Map
Getting to Tamarindo by Air
The closest international airport to Tamarindo is in Liberia (LIR), called Daniel Oduber, former president of Costa Rica, who among others, donated the land to build the airport. Liberia is the Capital of Guanacaste. It has connections to many cities in the United States, Panama and Canada such as Miami, Houston, Toronto, Atlanta, Panama City and New York.
The airport is located about 45 minutes driving distance. There are shuttles, taxis, or you can take a public bus from Liberia which will take about 2 hours. The public bus will take many deviations off the main road into village and it is an alternative to observe the countryside.
The alternative International airport is in the Central Valley, near San Jose, Costa Rica's Capital, it is called Juan Santamaria (SJO) honoring our young Costa Rica's 1856 war National Hero and provides many international destinations. It is located about 5 hours driving distance from Tamarindo.
Additionally, Tamarindo has a national airstrip with daily flights such as domestic flight airlines SANSA and Sky Way. The flight to or from San Jose takes around 45 minutes, plus layovers.
Getting to Tamarindo by Public Bus
A local bus leaves San Jose down town from the Coca Cola's market, former factory of the famous soda. The bus stops often and the trip takes around 7 hours but it is scenic and you will get a good taste of what Costa Rica must show of its culture and countryside.
You will need to buy the tickets at least 2 hours in advance, since normally tickets incline to vend out fast.
Getting to Tamarindo by Car
Several Car Rental companies have offices in and near the Juan Santamaria and Liberia's Daniel Oduber International airports. The drive to Tamarindo from San Jose, is about 4-5 hours. While it is scenic, and provides a window into Costa Rican life, it is a long drive, over hilly and winding roads.
Transfers to Tamarindo
At Travel Excellence, we can take you to and from Tamarindo or any ware in Costa Rica, with or without guides with our transfers. Just contact us in order to get more information and we will be more than glad to assist you!
Getting around while in Tamarindo
Tamarindo is a relatively small town, and it is not complicated to get around walking or by bike. You can also rent a scooter, or take a taxi.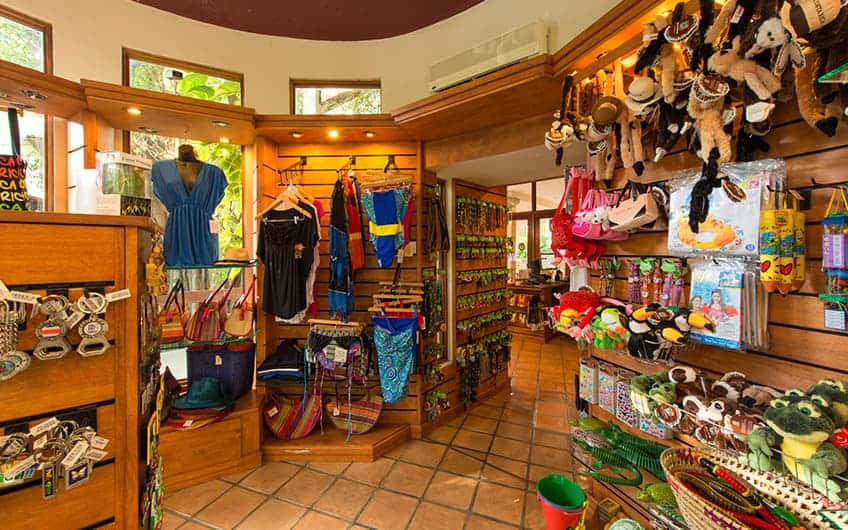 Besides fully equipped supermarkets, drugstores and beauty salons; several local souvenirs vendors offer authentic Costa Rican natural products for skin care and jewelry. For the little ones, inexpensive souvenirs are to be found ubiquitously. Look for the Saturday Farmer' s market (also known as "La Feria") where you can buy local products, as well as art, soaps, ornaments, and more.
Dinning at Tamarindo
Tamarindo offers an outstanding selection of global and typical Costa Rican restaurants. Tamarindo has a bakery from both France and Germany, as well as restaurants catering to vegetarian, celiac or vegans. There is a plentiful supply of fresh local seafood, fruits and vegetables. Most restaurants look to the beach, so while waiting for food, you can play in the sand or appreciate the lovely sundown.
Restaurants in Tamarindo Costa Rica
Black Stallion Café / Surf Saloon is rustic ranch style restaurant offering private & exclusive set ups. It has a BBQ outside in the shack under the stars where can people relax in the Cafe & Saloon, it offers local assorted meats, lomo, pork, ribs, chorizo, steak, ranch chicken & veggies in a unique rustic wood design. They start serving at 7 pm.
Open: Monday to Saturday from 12.30 a.m. to 9 p.m.
Antichi Sapori offers classic and traditional cuisine of southern Italy (Sicily) and proposes various appetizers, carpaccio meat and fish. Sandwiches with homemade bread, risotto, pasta, daily specials, pizza, vegan food, gluten free pizza and pasta accompanied by fine Italian wines and homemade pastry.
Open: Monday to Saturday from 12.30 a.m. to 9 p.m.
El Sapo Ristopizza Cocktail Bar in Langosta Beach, offers seafood appetizers and Italian cheeses, along with side dishes prepared by the Italian chefs. They serve Italian wine and fresh cocktails.
Open: Monday to Sunday from 11.30 a.m. to 10 p.m.
La Bodega is an organic cafe/store located in Tamarindo. La Bodega carries foods and specialty items 100% grown in Costa Rica. Fresh homemade sandwiches, salads, baked goods, coffee and drinks are available on daily basis. They provide organic, sustainable and local foods as much as possible in their menu.
Open: Monday to Saturday from 7 a.m. to 3 p.m and Sundays from 7 a.m. to 12 noon.
Café Tico Tamarindo is a comfortable place to sit and enjoy a rich cup of coffee on the shaded patio. Cafe Tico is also a gift shop, offering a selection of gourmet coffee from small coffee farmers, honeys, jams and hot sauce made in Costa Rica. From the homemade bread and pastries, to the milk yogurt, butter and cheese that they use are from local farmers.
Open: Monday to Friday from 7 a.m. to 5 p.m and Saturdays from 7 a.m. to 3 a.m
Waffle Monkey is the only place in Tamarindo specializing in all day homemade Belgian waffles with an array of toppings to choose from. They offer hot and cold coffees as well as ice cream and smoothies. They offer GLUTEN FREE and Vegan waffles as well as dairy free milk.
Open: Monday to Friday from 7 a.m. to 3 p.m. Saturdays and Sundays from 8:30 a.m. to 1 p.m.
NOI Bistro creates a relaxed atmosphere where you can enjoy homemade breakfast or a brunch. At Bistro, they also offer a variety of international dishes at night, and people who have visited recommend to ask for the chocolate volcano dessert.
Open: Monday to Sunday from 8 a.m. to 10 p.m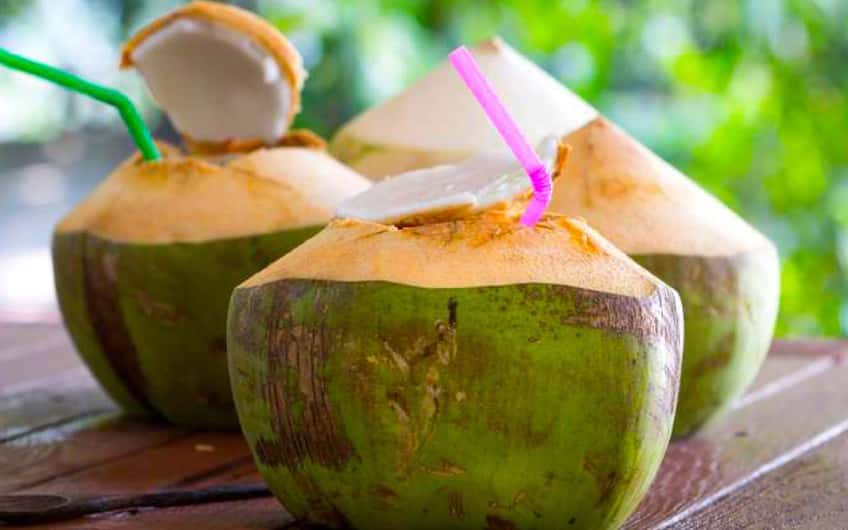 Drinks
A typical / tropical drink is recommended. Fresh mango, papaya, pineapple, and bananas are Tamarindo's forte, or a mix of all the above! While at Tamarindo, try a Tamarindo and Ginger juice. Look for the coconut water person, known as "the pipa" guy, who will be screaming "Pipa fría pipa" (stands for cold coconut water), and vending freshly cut coconuts.