This travel guide focuses on giving an exact look at what is happening in Costa Rica with the COVID-19 Coronavirus outbreak. Here, you will find restrictions, bans, and advisory on what can you expect during your visit to our beautiful country and why. We highly recommend to please read Costa Rica Travel Guide very carefully.
If you need further information or assistance, you can contact us anytime or take advice from the following links from Costa Rica's Health official site:
If you have an active booking or want to travel to Costa Rica with Travel Excellence please click here.
Last Update: August 27, 2020
Table of contents
COVID-19 has mainly impacted our country in non-touristic areas
Most of the COVID-19 cases are located in the metropolitan area, also known as the Central Valley – which encompasses the provinces of Cartago, Alajuela, Heredia and San Jose.
 
Though, it's mandatory to wear a face mask throughout the country when entering indoor places where people gather such as airports, grocery stores, banks, restaurants, coffee shops, etc., and also when travelling in public transportation.
It's highly recommended to avoid touching your face before washing your hands, so we also suggest carrying a small bottle with hand sanitizer at all times. (2)
Costa Rica Health Care System
If you are thinking of travelling to Costa Rica during the pandemic, one of the most important travel requirements you need to be aware of is that the government is asking to all foreigners to buy travel insurance before entering the country. This travel insurance must covers expenses in case of acute COVID-19 infection, and this coverage should be at least for 14 days (3).
In the references below, you will find a link in case you want to acquire the travel insurance offered by the official insurance company of Costa Rica - Instituto Nacional de Seguros INS. This insurance works 24/7 and throughout the country for tourists, exchange students and corporate travelers (11).
In case you need to use the insurance coverage, you can be treated in a public or private hospital – depending on your indication and your needs.
Why do you need to care about Costa Rica's public health care system?
The Caja Costarricense de Seguro Social was created in 1941 and is the institution in charge of the social security administration in Costa Rica.
In 1948, Costa Rica abolished its army and all the money that was supposed to be invested in the military has been used to finance in FREE education and FREE health care since then. We offer one of the BEST health care structures in North, Central and South America, with more than 70 years of experience.
Quoting a publication from 2007 titled: "Costa Rica: Achievements of a Heterodox Health Policy".(5)
"In the 1970s, Costa Rica departed from the Latin American pattern of stagnation and closed the gap with the industrialized world in terms of infant mortality. According to Rosero-Bixby, only one-fifth of the country's spectacular infant mortality reduction can be accounted for by economic growth, whereas three fourths can be attributed to improvements in public health services. Such impressive achievements in themselves make the Costa Rican health system worthy of study."
"Because its health care system was unified from the outset, Costa Rica avoided the social insurance stratification typical of other Latin American countries and achieved a high degree of integration of its health care facilities."
Also, the Journal of Public Health and Epidemiology published a study last April called: "How United States healthcare can learn from Costa Rica: A literature review" (6), in which mentions:
"Costa Rica's healthcare is one of the most overlooked and understudied considering their high levels of success in recent years. Through employer, corporation, and government funding, 94% of citizens receive free healthcare. Their system shows an emphasis on primary healthcare, and success rates were shown through massive decreases in infant mortality rate, increases in life expectancy, and larger access to sanitation and clean water within the first 2 decades of the first reform. Its success stems from a combination of systems, where businesses and governments can afford private insurance, while lower-class citizens are still provided coverage through the universal system."
Costa Rica Travel is subject to entry restrictions
Costa Rica's government started a plan to gradually reopen the aerial borders to international tourists last August 1st, 2020 (1).
Can Americans travel to Costa Rica?
Yes, they can, Costa Rica open for travel. US citizens are welcome in Costa Rica as from September 01, 2020, if they are residents of the following states:
New York
New Jersey
New Hampshire
Maine
Vermont
and Connecticut
Besides the following requirements, they'll have to bring a driver's license to demonstrate their residency.(4)
Residents of Canada, the EU, Schengen Zone, UK & US (from specific states) are allowed to enter the country at any moment (8), as long as they accomplish the following requirements (Requirements for entry are available here in Spanish) (10).
These requirements include (7):
Present a negative result of the COVID-19 test (PCR), taken within 48 hours before travelling.
Fill a digital epidemiological form (Health Pass).
Purchase a travel insurance that covers expenses in case of acute illness caused by the virus.
Quarantine is not required when you arrive in Costa Rica, which means that you are free to start your journey since your arrival while keeping the safety measures.
Please refer to your airline if you have any additional questions regarding these requirements (9).
Coronavirus Bans & Restrictions throughout the country
Our country is divided into 7 provinces, and provinces, in turn, are divided into counties and districts. Bans and restrictions vary depending on the county or district:
Counties/Districts with yellow alert have fewer restrictions since the COVID-19 infection is not affecting in a massively. You should stay within these regions since the economic activity is more open – but you are still obligated to practice social distancing and follow strict protocols like washing your hands and wearing a facemask.
Counties/Districts with orange alert
Counties/districts with orange alert have been impacted in more serious ways but this doesn't mean you cannot visit them if you practice all the social distancing and health protocols.
No matter the alert, the vehicular restriction goes from 9 pm to 5 am – this means that vehicles are not allowed to circulate during these hours but you are able to go out since it's not a curfew.
However, it's important to know that this vehicular restriction doesn't apply for rented cars or people with a confirmed hotel reservation.
The alerts are constantly changing depending on how the virus behaves.
If you are travelling with TravelExcellence.com, we suggest you contact your specialized travel agent for updated information about Yellow & Orange zones.
If you are visiting a beach - advisory
Beaches during August 2020 are open from 5 am to 2:30 pm, and social distancing is required. After this time we suggest you enjoy the facilities of your hotel.
Or a National Park
National Parks are operating with limited capacity (most of them up to 50%), so we recommend you to book prior your visit to ensure your entrance (12).
Costa Rica Food: getting groceries and visiting restaurants - advisory
Grocery stores (locally known as mini-super or pulperia) are operating with normally – and only some first-need products have restrictions to buy.
Regarding restaurants, social distancing must be ensured so their capacity may be reduced in some cases.
Be aware that you must wear a facemask inside any grocery store or restaurant, and you must wash your hands before entering.
Costa Rica COVID-19 Coronavirus safety tips
Tips for washing hands during your Costa Rica Vacations
These travel tips have been taken from a study published last April, titled: "Frequent Hand Washing for COVID-19 Prevention Can Cause Hand Dermatitis: Management Tips" (13):
Hands should be washed thoroughly (including fingernails, interdigital spaces, wrists) for at least 20 seconds, using lukewarm water and soap, particularly after being in public areas, before meals, after coughing or sneezing, after using the toilet, and whenever the hands are dirty.
Applying moisturizing skincare products after hand cleansing is an essential step for keeping the skin hydrated and preventing further abnormal skin reactions.
Thick greasy creams and ointments (e.g., petroleum jelly) provide higher protection against xerosis than lotions.
When soap and water are not available, the CDC advises that the use of alcohol-based hand sanitizers (that contain at least 60% alcohol), is an effective alternative in destroying the virus.
For people with highly sensitive skin, which easily develop disturbing forms of dermatitis, short courses of topical corticosteroids may be used to reduce the signs and symptoms of inflammation.
Tips for face mask use during your Costa Rica Vacations:
The following face mask tips are from a study: "Face masks for the public during the covid-19 crisis" (14):
Remember that you can spread the virus to others even if you don't have symptoms, that's why everyone should wear a cloth face cover when they have to go out in public.
The face mask should cover your mouth and nose, and should not be placed on children under 2 years old or on anyone who has trouble breathing, is unconscious, incapacitated, or otherwise unable to remove the mask without assistance.
The cloth face cover is not a substitute for social distancing, so continue to keep about 6 feet (2 m) between yourself and others.
References
Best Time to Travel to Costa Rica
Are you wondering when is the best time to go to Costa Rica? If so, you may know that the country has two separated seasons according to is predominant weather conditions: the dry season and the rainy one.
Between the months of December and April the dry season arrives and it is one of the best moments to visit the country as the weather conditions are ideal to visit the beaches and to explore the rainforests, take tours such as rafting or sea sports.
Consequently, this is the season with the most tourist visits -which generates that the best places to visit may be more crowded- and it is also possible that as it is the high season, higher prices are found for accommodation and excursions.
On the other hand, if you do not mind traveling in the rainy season and prefer to vacation in a less crowded time and with better prices, the green season occurs in the months that go from May to November.
The rainiest months usually are September and October but, as this is a tropical country, you must be prepared to experience rain at any time of the year... So, just grab your raincoat and umbrella and continue enjoying your vacations in Costa Rica!
Thus, everything will depend on your expectations, your budget for the trip and the activities or places you want to visit. But, if there is one thing we can assure you, it is that you will fully enjoy all the beauties that Costa Rica has, regardless of the season in which you travel.
What is the cheapest time to go to Costa Rica?
The cheapest prices for vacationing in Costa Rica can be found from May to November, during the green season.
What is the rainy season in Costa Rica?
Rainy season goes through May to November, being the rainiest months September and October.
Is it a good time to go to Costa Rica in July?
July isn't a bad month to travel, there are fewer visitors in the tourist attractions and prices are lower than the ones during the dry season, during peak or high season.
You should know that during this month vacations are generally given in schools and high schools in the country, so during the first two weeks of the month there is usually an increase in local visitors vacationing as well.
Is there a hurricane season in Costa Rica?
Fortunately, you won't need to worry about hurricanes during your visit to Costa Rica as the country is found below the hurricane belt. But you can expect heavy rains during the green season, according to which part of the country you are in. Remember Costa Rica and Puerto Rico are two different countries, it is important to know this since a lot of people tent to get confused with the two countries.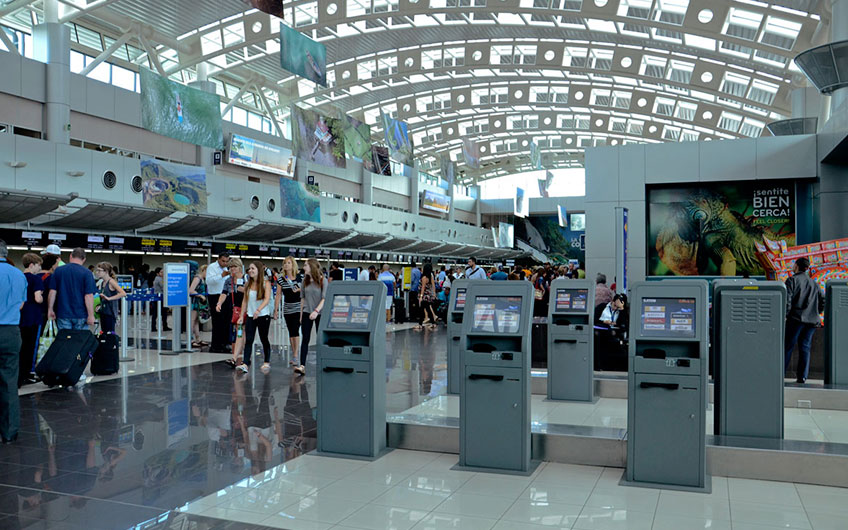 15+ travel tips for your first trip to Costa Rica
We know that advice before traveling to a new destination is always welcome. For this reason, we leave you here a list of tips to make your vacations in Costa Rica unforgettable and your planning process easier.
Here you have our best tips:
Check local weather and forecasts before arriving to the country, and even before each one of your tours.
Departure tax may be included in most of the airline tickets, if don't, you must pay $29 dollars.
Exchange money to the local currency only in banks or the authorized offices.
US dollars and credit cards are widely accepted, but we recommend you to carry a small amount of colones too, the local currency of Costa Rica.
You can find ATMs throughout the country functioning from 5:00 a.m. to 10:00 p.m.
There is a 13% sales tax on all purchases in Costa Rica, including souvenirs and hotels; and a 10% gratitude fee in restaurants is appropriate but most of the times it will be added to your bill.
If you want to tip your waiter directly, leave more money on the table or give it to him or her when you are done with your meal.
Tips for these services usually range from US$1 to US$10 a day.
Taxi drivers do not expect a tip so it is not necessary to bring them
Follow all the safety and hygiene protocols.
Buy a travel insurance.  
Buy a SIM prepaid card to have access to Internet and in case you need to contact your travel agency or for emergencies.
In case of emergency, dial 911 or contact the local police.
Bring a copy of your passport during the tours and leave the original in your room's safety box.
Outlets in Costa Rica are 110v with standard US two prong plugs.
If you rent a car, we suggest you to book a 4x4 vehicle and to use GPS or any navigation app.
Use official transportation if traveling by yourself and be aware at every time.
Avoid visiting isolated places, especially at night.
Do not leave your personal belongings unattended.
Pack light clothes, but carry also a raincoat even if you travel on dry season. You must be prepared to experience unexpected rains.
Carry good walking shoes, light clothes, bath suits, and wear sunscreen even when the day is cloudy.
Hiring a guide for your tours will enhance your experience. Consider that when booking your adventure activities.
You will find locals with good English, but try to learn some basic Spanish expressions. It may be useful!
Support sustainable practices and keep national parks, beaches, and forests clean.
It is safe to drink tap water in Costa Rica. So, carry your own bottle and refill it every time you need. You will save a lot of money and won't be promoting the plastic contamination.
Eat at small restaurants – sodas ­­-, you will find delicious food at very low prices, besides you will be supporting the local economy.
 While on the beach, be aware of rip currents and avoid swimming in dangerous places where you will be told not to do it.
Do not feed wild animals.
Take a lot of unforgettable photos!
Do you have any other tips? Share them with us!
What should I avoid in Costa Rica?
Once in Costa Rica, avoid leaving your personal items unattended. Besides, avoid exposure to dangers such as isolated places, walking out of the trails when in the rainforest and swimming in rip currents. Avoid feeding the wild animals and always follow the security rules in each one of the places you visit.
What do I need to know before traveling to Costa Rica?
At this moment you must know that security protocols are high in the country's tourist spots. Buying a travel insurance is a must. Check all the safety protocols before arriving.
Is it safe to travel to Costa Rica right now?
Yes, it is safe to travel to Costa Rica. Hygiene and safety protocols have been implemented and must be followed to maintain the health and safety of all. Hotels have high security and cleanliness measures, as well as private transports and activities. It is important to always be vigilant and comply with the necessary safety, hygiene and social distancing protocols.
Which part of Costa Rica is the best to stay?
If you are a nature and adventure enthusiast, we recommend you to visit places such as Arenal in La Fortuna, Rincon de la Vieja in Guanacaste, Tortuguero in the Caribbean side, Monteverde in the Pacific, Corcovado in the South Pacific. You can also be delighted with the prettiest beaches in the areas of Manuel Antonio in the Central Pacific and the amazing Guanacaste beaches.
Where is Costa Rica located?
If you are not sure of where is Costa Rica geographically located, probably you should read this carefully; we assure you that after reading this text, you will be willing to visit us. First of all, you need to know that this small and biodiverse portion of land is located in the American continent; specifically, in Central America sharing borders with Panama and Nicaragua.
Costa Rica covers 51,060 square land kilometers, as well as 40 square kilometers of water, for a total area of 51,100 Km2. Due to this, the country is the 131st largest nation in the world. Costa Rica's extension may represent only about 0.03% of the world's total land mass, but its biodiversity is what makes the country so special: here you will find the 5% of the world's whole biological variety of flora and fauna.
The country is located within the geographical coordinates 8 ° and 11 ° 15 'north latitude and 82 ° and 86 ° west longitude. This is one of the smallest republics of Central America along with El Salvador and Belize. Since its origins as isthmus territory, Costa Rica serves as a biological bridge which allows its natural and exuberant richness.
The Costa Rican territory is divided into seven provinces: San Jose, Heredia, Alajuela, Cartago, Guanacaste, Puntarenas, and Limon. San Jose is the capital province of the country.
The GAM, or Great Metropolitan Area, include the provinces of Heredia, Cartago, Alajuela and San Jose. This conglomerate concentrates more than 50% of the total population in just 4% of the national territory; further, it contains 70% of the country's vehicular fleet which means that you have to take into account the hours of more traffic (peak hours) to avoid large traffic jams. Peak traffic hours in this area occur between 6am and 9am and 4pm and 7pm.
But, you have to be prepared to experience some traffic if you are crossing the country from side to side by land, or travelling in the main cities. The traffic here can be dense and you must prepare your Costa Rica Vacation itinerary with anticipation of the possible delays.
Where exactly is Costa Rica located?
Costa Rica is located in Central America bordered by Nicaragua to the north, Panama to the south, the Caribbean Sea to the east and the Pacific Ocean to the western and southern coasts of the country.
What country does Costa Rica belong to?
Costa Rica is an independent republic of the American continent and does not belong to any other country.
Is Costa Rica a part of the United States of America?
No, Costa Rica isn't a part of the United States of America. It is an independent country of Central America.
How far is Costa Rica from United States?
The distance between Costa Rica and United States is approximately of 2878 miles (or 4631 km). There is an approximate road distance of 4053.5 miles or 6524 kilometers. It is possible to get to Costa Rica driving from the United States, but the ideal is to take a flight that will take between 4 and 6 hours, depending on the airport.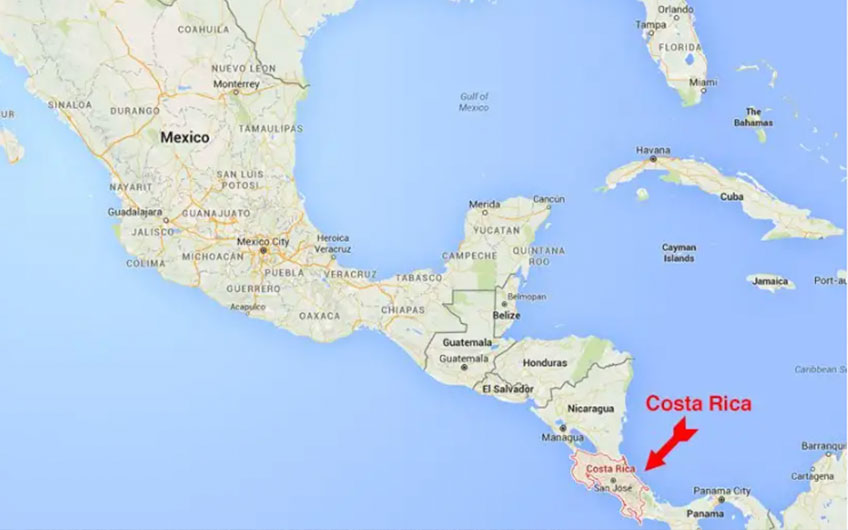 Where is Costa Rica on Map?
As mentioned before, Costa Rica shares its borderlines with Nicaragua at the north and Panama at the south. The Caribbean Sea is the limit at the East, and the Pacific Ocean at the West. Costa Rica is located in Central America, in the middle of the of the American continent.
It is precisely this privileged location the reason of why Costa Rica has a great biodiversity. If you look at a Costa Rica map, then you will realize that even when the country looks small it is a completely huge paradise plenty of different landscapes influenced by the position of the country.
You can experience different climates and landscapes all in the same day. The variety of flora and fauna in a small place is amazing and your surely will be surprised by how easy is to know many parts of the country without spending a lot of time travelling within regions.
Costa Rica location makes it a country with a variety of ways to be travelled with; for example, you can easily go from one place to another by land, air or by water.
The means of transportation are very varied too, from private or regular transfers, to public transportation such as buses, train (it is a whole new experience you should try once to feel like a real "tico", car rental, the use of taxis is wide extended, and also the Uber app is currently working well all over the territory and may be cheaper than taking a taxi.
If you are self-driving then you can take advantage of the GPS that almost all smartphones have nowadays and this way, you will have easy access to the Costa Rica map to avoid being confused in the roads. The maps are very precise and you won´t have any trouble getting where you want. Just take into consideration the driving laws of Costa Rica and the basic security rules and you will be fine.
Is Costa Rica in Mexico?
No, Costa Rica is not in Mexico as it is an independent and separated country of Central America. The country is even separated from Mexico, as the road distance between both countries is of approximately 1640 miles (2640 kilometers).
What are the neighboring countries of Costa Rica?
Nicaragua and Panama are Costa Rica's neighbouring countries. The first one to the north, and the second one to the South.
Is Costa Rica its own country?
Yes, Costa Rica is a fully independent country since its independence from Spain in 1821. The country has its own legislation and does not depend on any other.
Is Costa Rica safe to visit?
Costa Rica is a safe place to visit. However, it is important to take precautions when visiting the country, such as not carrying a lot of cash and taking care of your personal belongings at all times. As for natural events, the country is safe since there are no major events and earthquakes occasionally occur.
Is it safe to Travel to Costa Rica? 
One of the most common questions people have is about how safe is travel to Costa Rica? Well, you may want to know that this country has been named as one of the best destinations for solo travelers thanks to the general levels of safety that can be experienced here. Of all the Central American countries, Costa Rica is generally regarded as having the most stable and most democratic government.
People usually can walk around even at nights, the water is safe to drink in all areas of the country and Costa Ricans are always ready to help any visitor who need directions or any advice.
But of course, even when Costa Rica is a stable and welcoming country, you should be aware of some basic safety precautions while you are here, such as:
Carry a passport copy with you all the time. You can keep safe your original passport in the hotel's safety box. Almost all hotels have one in their guestrooms.
Do not bring large amounts of cash in the Costa Rica currency or in dollars if you are going out for a walk. It is better to carry your debit or credit cards, they are widely accepted alongside the country and in almost all the touristic spots; using the cards will represent a safer option when going out. Just a recommendation: if you are going to a very rural place and you are not sure if they accept credit cards as payment, then you can ask for help or recommendations in your hotel, or carry some cash for unexpected expenses or personal items that are not included in your tour packages in Costa Rica.
If you rent a car, do not leave valuables in it.
Be always aware of the people around you. Even when Costa Rica is a peaceful place you have to be aware of your surroundings to avoid an undesirable experience.
If you need to move around and you have to take a taxi, we recommend you to use one of the official and authorized cabs or an Uber as it is a safer. If you travel in a taxi, make sure that the meter is running according to your trip.
If you decide to use public transportation, be aware of your belongings when waiting to the bus and once there, be vigilant at every moment.
Avoid isolated areas, especially at night. Staying close where the crowds are, is one of the best ways to avoid being robbed. In the event of a situation, do not physically resist any attempted theft. It is best to preserve physical integrity and then resort to filing the complaint with the relevant authorities.
It is always a good idea to buy a travel insurance as it will protect you against some unexpected event such as cancellations, theft, physical damage or illness.
It is always a good idea to prepare a contingency plan for emergency situations when traveling.   
In case you have an emergency or an accident, you can always call 911; or if you think that is not necessary, you can ask for help to the people of your Costa Rica hotel, also your tour guide or your driver can help too, or if you prefer, you can call your travel agency.
Also, embassies are a good support in case you have special formalities or you need any legal advisement, for example. As it is a very touristic country, in Costa Rica there are located the embassies of many of the main countries of the world from which tourists are received. For example, here in the country you can find the embassies of the United States, United Kingdom, China, Germany, and France, among others.
Costa Rica Top Popular Destinations
Costa Rica is full of beautiful places to discover and explore. You can create your customized itinerary adding the ones you are more interested into. Here you have a glimpse of some of the best places to visit while vacationing here: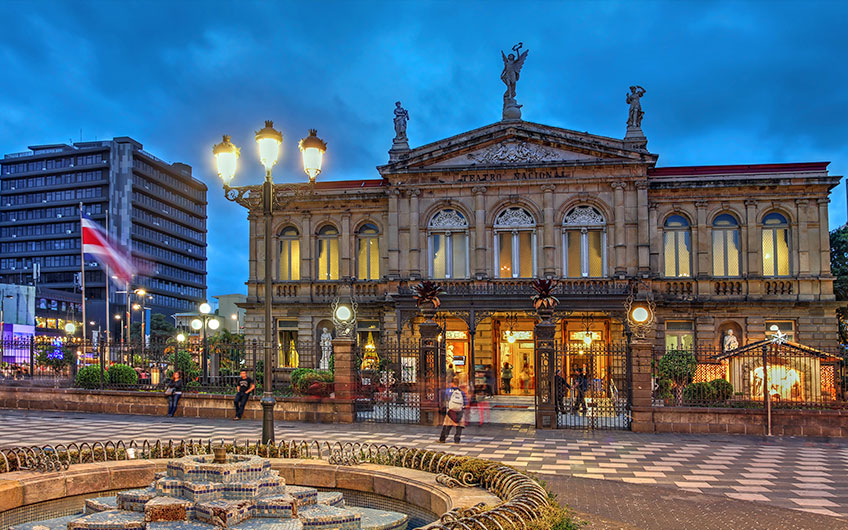 San Jose (Capital)
The capital city of Costa Rica has lots of interesting, entertaining and cultural places and activities to consider for your vacation package. Museums, restaurants, theaters, shopping centers, local markets and more!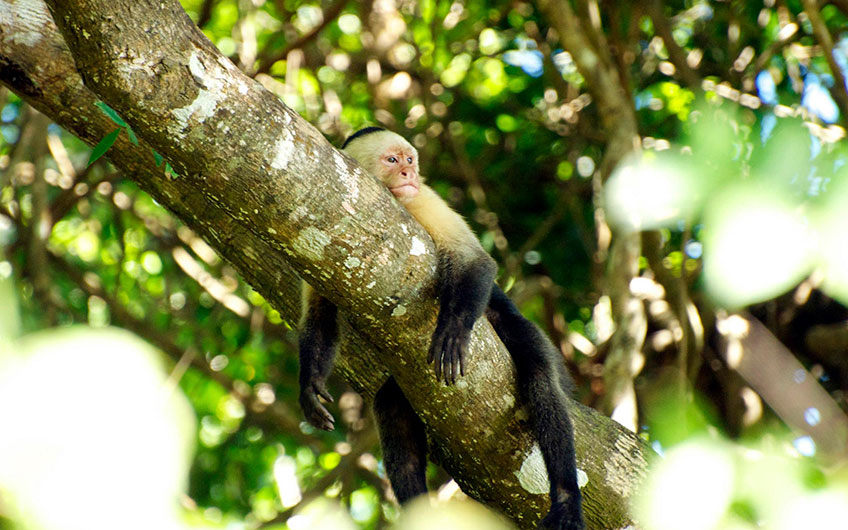 Manuel Antonio National Park
This famous national park will boost your experience with its pretty beaches and its surroundings full of wildlife. What you will love of being here is that you will experience beach and rainforest at the same time!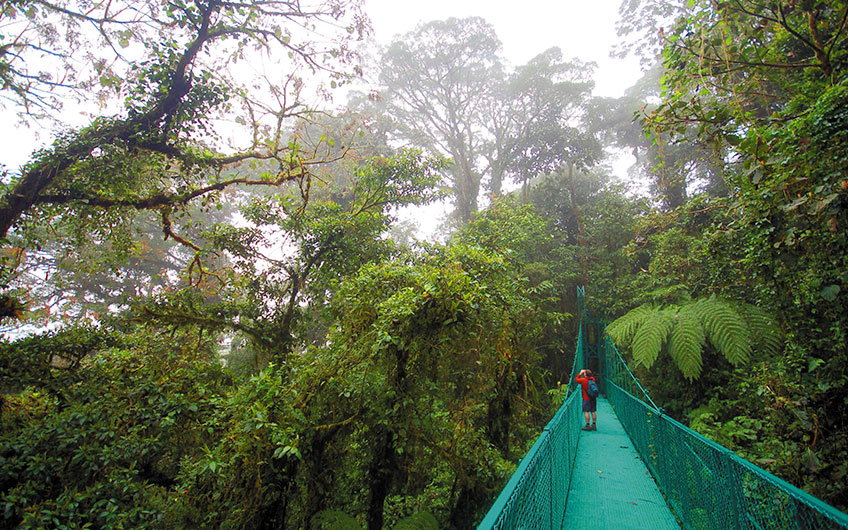 Monteverde
Your encounter with the deep magical forest will be here. The lush hiking trails of the Monteverde and the Santa Elena Cloud Forest Reserve are what every nature lover needs for vacation.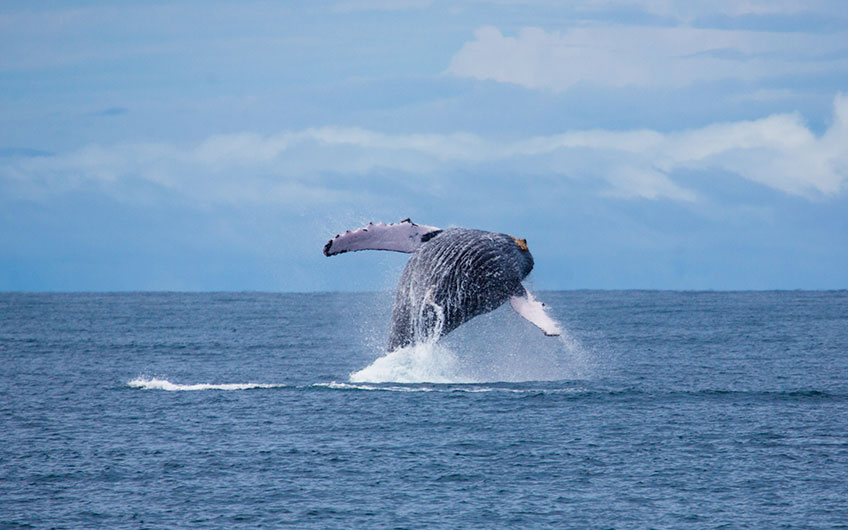 Corcovado National Park
One of the most biodiverse places on Earth is here, in Costa Rica! The biodiversity of the reserve in the Osa Peninsula will leave you with lots of memories and incredible wildlife photographs.
Tamarindo
If you love surfing, let us tell you that Tamarindo is the place will fulfill all your expectations. Here you will find great waves and excellent nightlife and dining! And at just few kilometers you will find Playa Grande where close to it lies the Marino Las Baulas National Park… an opportunity to be part of the natural spectacle of turtle nesting.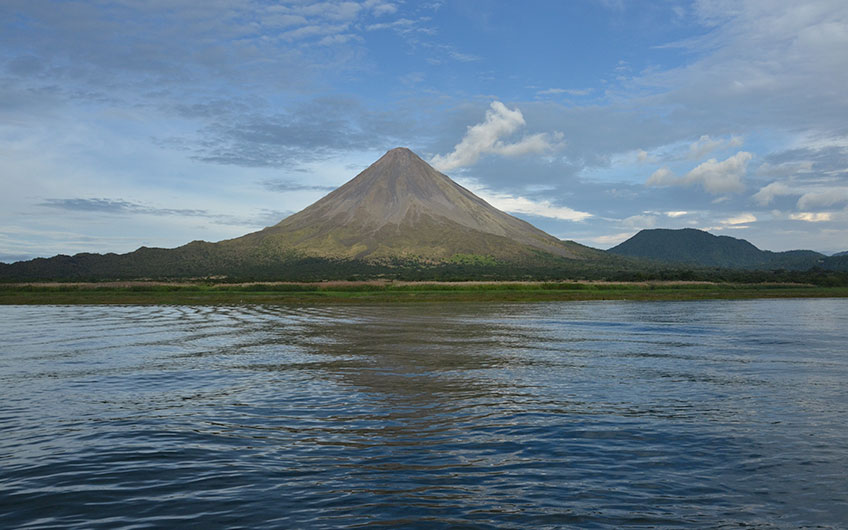 La Fortuna
This popular destination is where the conic Arenal Volcano is found. Surrounded by the impressive Lake Arenal, the hike to this volcano is an experience you shouldn't miss! And if you want to add more adventure to your vacations you can also hike to Cerro Chato and to La Fortuna waterfall.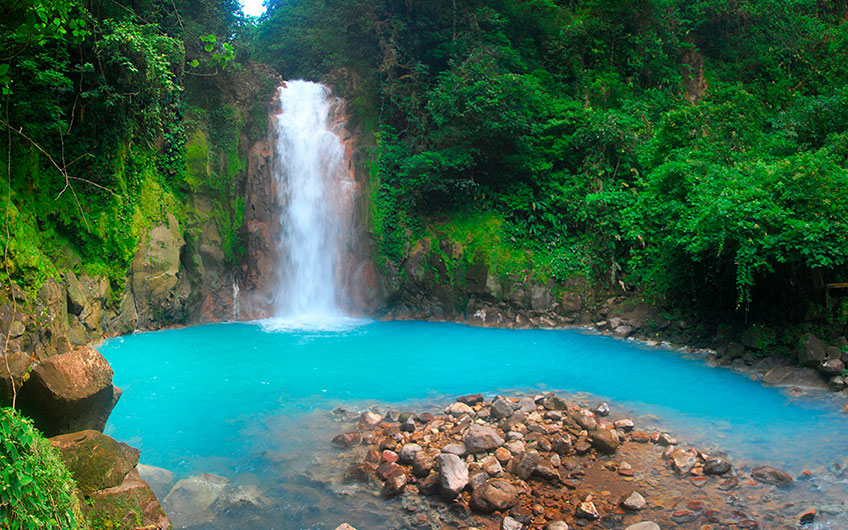 Guanacaste
Guanacaste is very popular among travelers due to its scenic beaches, but this is not all Guanacaste is about: Here you will find amazing national parks where hikes, wildlife and nature encounters will leave you speechless! We recommend you to include a visit to Rincon de la Vieja, Tenorio, and Palo Verde national parks are always a good idea!
Do you have any other favorite destinations?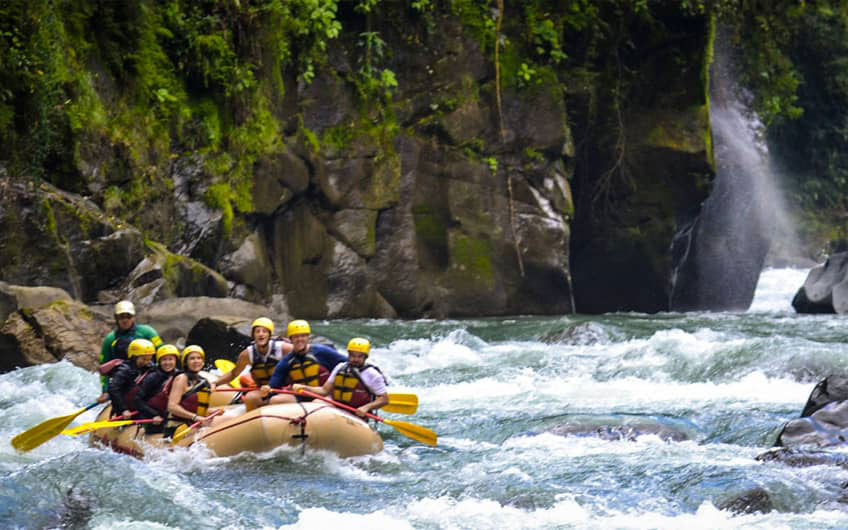 Costa Rica Travel Packages
If you are decided to visit the country, consider that by having an affordable Costa Rica family vacation package, holiday planning will be even easier for you. From all-inclusive vacation packages perfect for families to honeymoon vacation packages perfect for romantic escapes, everything can be arranged in order to plan your dreamed vacations in this small piece of earth called Costa Rica.
Travel Excellence has vast experience in arranging customized travel experiences, so if you want to add or change something in your itinerary, then one of our specialists can fit your ideas into a whole new experience specially designed to satisfy your needs.
One of the advantages of choosing an all-inclusive vacation is the fact that you don't have to worry excessively because you will have everything arranged once you land in Costa Rica: lodging, transfers, food, tours, …
Sounds good, right?
It is a good option if you think that it is a little bit stressful to arrange and plan what to do in the country. Or, if you have children, then it is a good option too. You just have to select the Costa Rica vacation package that fits more into what you are looking for.
We offer the option of taking all-inclusive vacation while travelling to Costa Rica, because it eases a lot the job of searching for places, tours, food options, transportation, and all concerning to the trip planning. But, if you want to create your own and unique experience here we are to assist you. Your memories will be insuperable!
What is the best time of year to go to Costa Rica?
The best time to visit the country is during the dry season, from December to April. The sunny season will be the ideal time to visit and explore the beaches, rainforests and national parks. But, you may know that this is the most popular season son you will find a higher cost and more crowded places. So, if you travel on a budget you must consider the low season, during the rainy months. We assure you that, even so, you will be able to enjoy the tourist attractions of the country.
How much does an average trip to Costa Rica cost?
A vacation package to Costa Rica for 7 days including: 3 star hotels (double room), transportation, and two one-day tours on average is around $500-$600 per person.
Is Costa Rica cheap to vacation?
Costa Rica may be more expensive than other Central American countries, but there are different budget options for travelers looking for low-cost accommodations and tour options. A good idea is to change dollars into the local currency to avoid overpaying for things or services in dollars, and making a vacation package previously will help you find better prizes and even discounts.    
Where should I stay when traveling to Costa Rica?
In Costa Rica there are a multitude of accommodations to enjoy during your vacation, according to your budget and personal interests. Boutique hotels, small properties, all-inclusive resorts, large chain hotels, are some of the options that you can consider during your visit to the country.
Also, there are many interesting places to visit. Some of them such as San Jose, Guanacaste, Monteverde, Tortuguero, Manuel Antonio or La Fortuna, and in each of them you will find different options that best fit your travel plans.
If you have questions regarding vacation packages please contact us and we will be more than happy to assist you.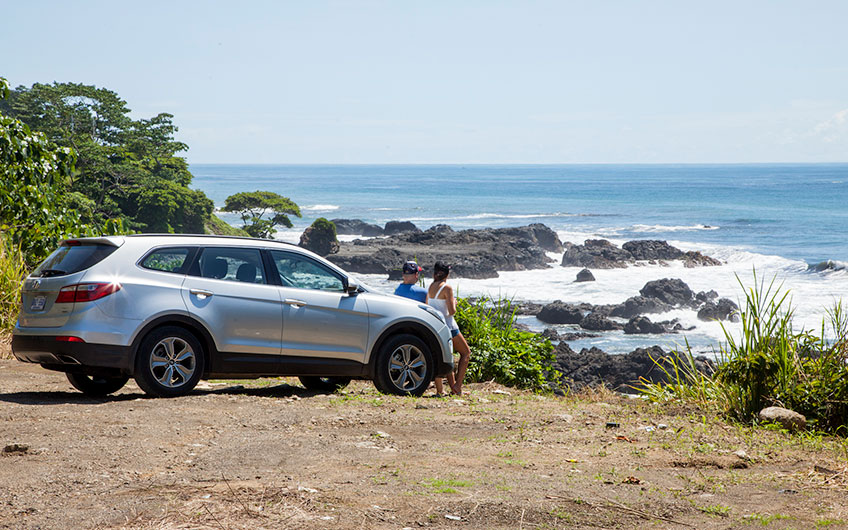 Getting Around
The Costa Rica transportation is very varied and you have the opportunity to choose how you want to travel around the country. During the last months, the traffic in Costa Rica has been changing a lot. Nowadays, there are more vehicles transiting and that represents a huge change compared to previous years.
If you are travelling short distances we highly recommend to use the road trips, but if you are crossing the country towards some idyllic beach or a distant destination, then it is better to use the air transport to help you save some time.
Pedestrians: It's very important to take into accounts that in Costa Rica, pedestrians not always have the "right of way". In high traffic hours and big highways, it's always better if you make sure that cars are stopping at pedestrian traffic lights before you cross the street.
Bus: Public transportation in Costa Rica is economical and convenient. Short trips (3 hours approximately) are about $3 USD, while longer trips are no more than $15 USD.
Taxi: Taxis must be painted red and have a yellow triangle printed on the doors; also, they have a meter to prove they meet legal operating requirements. If the taxi lacks either of these, do not risk a ride. In Costa Rica, there are also illegal taxis and these does not have any kind of meter or insurance, which can be a risk for you in case of accidents or at the moment of knowing the fair payment tariff.
Uber: The popular app has been working pretty well in Costa Rica since the last year, so if you have it in your smartphones you can use it here. It is safe and you can use it while staying here without problem if you need to move around the city. Even though, we strongly recommend you to use regular or private transfers because this way you make sure you will have a safer service in your own language and with the tranquility of moving around just in time and without worries. Download for Android | Download for iOS.
Driving: You can rent a car while in Costa Rica, just take into account that you will need to make a mandatory deposit by credit card of $1000 approximately. In addition, the minimum age is 21 years old and you need a current valid driver's license that will be valid for 90 days here. A GPS is always recommended in order to avoid getting lost in some routes, but also Waze Navigation App is very common in Costa Rica and will help you a lot avoiding traffic and saving travel time. Download for Android | Download for iOS
Flying (Internal Flights): Regular scheduled flights or private charters can be booked from and to the different airstrips located in the main touristic destinations of the country. For regular flights is very important to be aware of the maximum luggage allowances.
Train: Costa Rica doesn't have a subway or metro system, but it has a railroad system in the Central Valley that permits citizens to cross faster from one city to another. Even though, a great amount of people uses this means of transportation, so sometimes you have to wait in a row to get your place.
Boat: Boat transfers are used mainly in some remote places where the only access is by water. For example, to get to Tortuguero you will ride first in the road and then by the water. You can also cross from Arenal in La Fortuna to the mystic area of the Monteverde cloud forest by water; we assure you that you will enjoy a completely different and pleasant ride.
What is the best way to travel around Costa Rica?
This may vary according to your desires and what you truly like. If you love the sense of freedom, the best way to move around Costa Rica will be with a rented car, as driving by yourself will make your travel times more flexible, and you can also decide which places include in your daily itinerary.
If you don't want to drive by your own you can also use private transportation and you will have the plus of having a driver/tour guide to show you the best of the country. Domestic flights and boat rides are available too, to access remote destinations.
Is Costa Rica easy to travel around?
Yes, Costa Rica is relatively quick and easy to travel around, either by bus, car or plane. The driving distances between the main destinations are not really very long and, although there is usually a lot of traffic at certain times, the travel time is not long and the country can be easily travelled in a short time.
What is the most common transportation in Costa Rica?
Public transportation is the most common in Costa Rica, this includes bus services, taxis, Uber and train. However, we highly recommend you to use private transfers if you are moving from one destination to another, as you will travel more comfortably. Rented cars are also a great and extended option among tourists.  
What are other options for travel within Costa Rica?
Other options to move around Costa Rica are the authorized taxis and Uber, public and private busses, boats, ferry or catamaran, and domestic flights.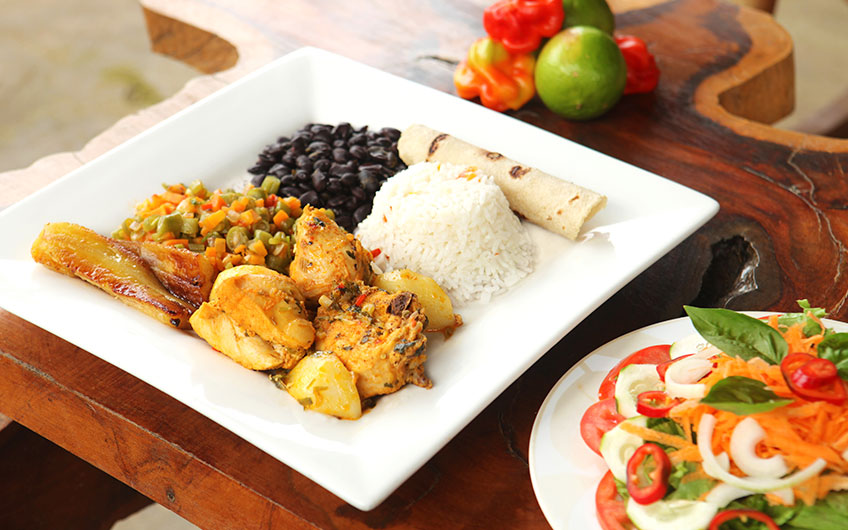 Typical Food and Restaurants
First thing you need to know is that in most of the country it is absolutely safe to drink water from the tap, this means that you don't have to spend a lot of money in bottled water.
You will also find water dispensers in most of the hotels and restaurants, so bring your own bottle from home and help in the conservation of the planet!
Regarding the Costa Rica food, the country has a very varied culinary offer since the vegetables and fruits are easy to find here so you can expect your meals to be very fresh and exquisite.
In Costa Rica there is a typical breakfast dish named "Gallo Pinto", composed of pre-cooked rice and beans, mixed together with spices such as cilantro, onion and peppers; and a typical lunch dish named "Casado", that usually include rice, beans, meat (beef, chicken or fish), vegetables and salad. Vegetables and fruits are very common in Costa Rica's cuisine and you will probably find them easily in almost all your meals
Vegetables and fruits are very common in Costa Rica's cuisine.
One of the best ways to experience the local cuisine is eating in the small roadside restaurants known as "sodas". These are usually very economic and serve very good quality food. Besides, there are also a lot of restaurants of international cuisine (Chinese, Italian, Mexican ...) and almost all fast-food chains such as McDonalds, Subway, Taco Bell, Pizza Hut, Friday's, Denny's, Quizno's, Smashburger, Chili's, Carl Jr.'s, Cosi, Starbucks, and many more.
Please, be aware that the most of these restaurants can be found in the Central Valley, but you can also find some of them in touristy places such as Jaco, Tamarindo and Liberia.
But there is a great variety of small local restaurants, seafood restaurants, smoothie bars, and more!
Internet & Prepaid Cell Phones
It is important for you to know that most of the hotels offer wireless internet connection without any cost (or for a very low service fee).
Also, some restaurants and minivans offer Wi-Fi signals, so you can have regular access to Internet. In some remote regions of Costa Rica such as Corcovado or Tortuguero, you must be aware that the lodges cannot offer this service during your Costa Rica vacations.
If it's necessary for you, pre-paid SIMs can be purchased at the international airports and about a million other locations country-wide. Pre-Paid SIMs can be recharged at the same million locations all over the country, so using a pre-paid SIM is a pretty simple deal.
Using a PrePaid SIM in Costa Rica means you must have a quad band unlocked cell phone.
The vast majority of US cell phones are NOT unlocked and some (maybe many) are not quad band. They are locked to the company providing the cell service and a pre-paid SIM here will not work.
Costa Rica Travel Tip: We recommend you acquire any Cell Phone or Prepaid Sim Card in one Kölbi Store (you can identify them for its frog sign and for being the official government institution for telecomunications), because this is the company supported by I.C.E government's institution.
But, there are also other telephonic companies such as Claro and Movistar where you can buy these services if you prefer that. Then you can be in touch with your beloved ones during your Costa Rica family adventure.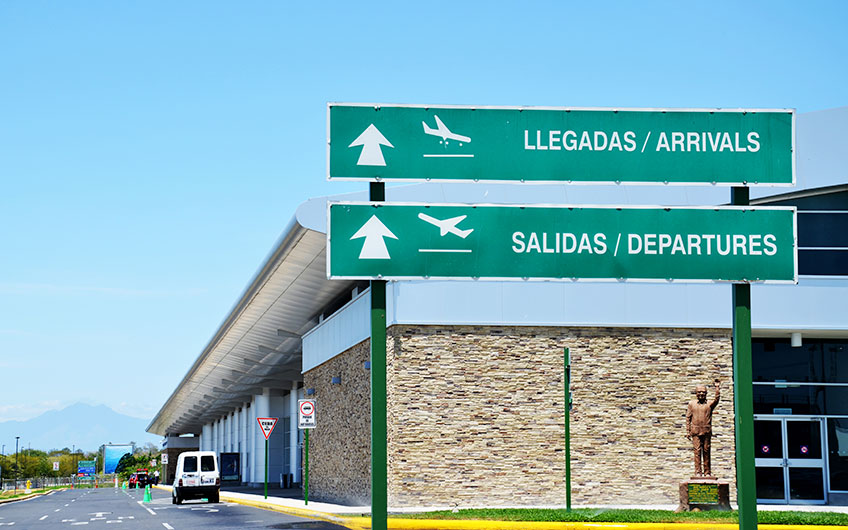 International & Domestic Airports
Costa Rica has two international airports: Its main one is the Juan Santamaria International Airport, located in the Central Valley; and the other one is the Daniel Oduber International Airport, located in Liberia, Guanacaste. Citizens of the United States, Canada and most western European and Latin America nations do not need a visa to enter to Costa Rica.
In fact, U.S. citizens planning to stay fewer than 90 days can enter the country with a valid ID, a copy of their birth certificate, and a tourist card that can be obtained from their airline when they depart from the United States.
Besides, the country has a variety of local airstrips where internal flights operate. Regular scheduled flights and private charters can be booked in order to save travel time in the roads.
You can fly to almost every main destination of the country, as you have daily Costa Rica domestic flights to Arenal in the Northern region of the country, to the world-known beach of Manuel Antonio, to the even more important area of Liberia Costa Rica, and some other flights can take you to the South Pacific region of Costa Rica, specifically to Puerto Jimenez or Golfito (ideal if you are visiting Corcovado), and also, you can take a direct flight to Tortuguero if you want to visit their canals.
Costa Rica Travel Tip: A departure tax of USD$29 per person must be paid by anyone leaving the country by air. Sometimes, this fee is included in the airline ticket; but it is not always that way so, if you bought your ticket and it is not included, you must pay this fee directly at the airport before leaving.
Also, if you are doing just a connection here and you don't pass the international arrival area you don't have to pay this fee. Please find out if you have to pay directly before you depart, in order to avoid complications.