Table of contents
The town of Monteverde, up in the mountains, overlooks the Gulf of Nicoya in the province of Puntarenas, Costa Rica.  Its lush green scenery, cool weather, history and biodiversity all make it a must-visit destination as part of your itinerary when vacationing in Costa Rica. 
The arrival of Quakers from the United States decades ago, the local farmers and its unique biodiversity have made it what it is today. The famous Monteverde cheese factory, and the arrival of immigrants from different countries have developed a varied range of restaurants, from pizzerias to Argentinean steakhouses and artisan chocolatiers.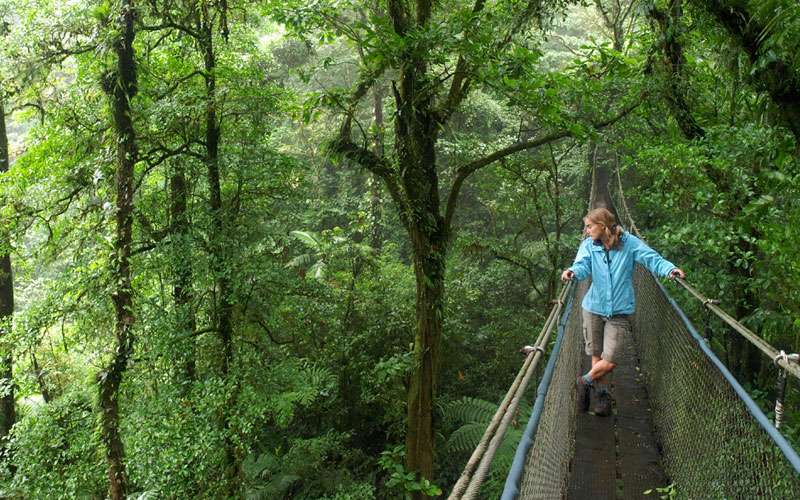 Biologists, birdwatchers and nature lovers wanting to learn about its biodiversity mingle with tourists looking for a break from the warm coasts and Costa Ricans admiring one of their most important protected areas.
Does a zip line through the air with a view of the lush forest below appeal to you, or sitting in a rocking chair enjoying a breathtaking sunset? Whether you are an adrenaline junkie seeking adventure or like to relax during your vacation in Costa Rica, or a little of both, Monteverde is the place for you.
Ideal for families, couples, nature lovers and individual travelers, ensure this destination is included in your Costa Rica vacation package. Maximize your visit to this verdant cloud forest, the emerald jewel in Costa Rica's crown.
Video of Monteverde Costa Rica
Location
Monteverde is located on the Tilarán mountain range of Costa Rica. Its location is equidistant from either of the international airports in Costa Rica: 78 miles (126 kilometers), so flights into either one will have you in Monteverde in no time.
Driving north-west of the airport in capital city of San Jose, the Juan Santamaria Airport (SJO), and from the international airport of Liberia Costa Rica (LIR) in the northern province of Guanacaste, the direction is south-east. As you read on, you will notice a distinction between Monteverde and Santa Elena.
The tourist area is known as Monteverde and comprises the towns of Monteverde, Santa Elena and Cerro Plano, and they are all next to each other within a very small area.
How to get to Monteverde
Monteverde is accessible using public transport or renting a 4×4 vehicle. The last 18 kilometers going up the mountain are unpaved, which is why an all-terrain vehicle is recommended. This has been a point of contention for the residents and business owners in the town.
Some have fought for years for the government to pave the road to improve accessibility, and this same reason is why many oppose it, to prevent destination from becoming massive and protect its natural resources and small-town vibe.
Transportation method you choose might be dictated by the time your flight comes in to the airport, whether you´re exploring different destinations on your visit, or if you´re traveling alone or as part of a group.
Bus Transportation
Costa Rica´s bus system can take you anywhere in the country. All you need is some patience and extra time in your itinerary and it is an affordable option. Buses run to Monteverde from the capital San Jose, from Puntarenas, from Tilarán and from La Fortuna.
Renting a Car
If you´re driving from San Jose Costa Rica, find your way to Route 27 and head towards Caldera, Puntarenas. Once you reach the coast, about an hour depending on traffic, look for the signs heading to Liberia. Turn off and get on the Pan-American highway (Highway 1) heading north.
You will be on this road for a bit over an hour. Be on the lookout for the town of Miramar, Puntarenas. When you see the Rancho Grande Gas Station turn right. You will start heading up the mountain towards Monteverde, passing through the town of Sardinal. Follow the signs. The last few miles are unpaved, and windy roads with beautiful scenery.
We recommend you make this drive during the daytime, and start out in the morning if possible. This will give you better chances of a rain free and safer drive. Have some change in colones, the Costa Rica currency, or small dollar bills handy to pay tolls along the way.
If you'd like a stop, the Palenque Garabito is a good restaurant to have a typical meal or a bathroom break. It's on the right-hand side of the road before reaching Miramar.
History of Monteverde
The town of Monteverde as we know it today came about after an interesting convergence of events. Pre-Columbian artifacts found in the area have been dated 3,000 years BC, and linked with the Clovis tribes. The population seems to have been reduced around the year 1300 AC, perhaps due to an active Arenal Volcano.

In modern times, the area was inhabited by Costa Rican farmers known as "campesinos" from the areas of Miramar, Esparza and San Ramon. In the 1940's, a group of pacifists and Quakers from Alabama in the US came to Costa Rica seeking refuge from persecution in their country due to their objection to the war.
The fact that the country had abolished the army sealed the deal and they looked for land to practice dairy farming and agriculture. The cool Costa Rica weather and fertile land in the mountains of Monteverde were chosen, and the land they bought as divided among the families, with more arriving in the early 1950's. The group named their new home "Monteverde", meaning green mountain, inspired by their evergreen surroundings.
They sectioned a part of the land as a reserve, for conservation, and protected an important water source. This was just the beginning of the community's conscience regarding natural resources. The Monteverde Cheese Factory was founded in 1953, and it was a motor for the town's economy, allowing the families to make a living as their production slowly increased.
In the 1970's, a biologist named George Powell, who lived in the area studying for his doctorate, promoted the idea of preserving the land to protect wildlife. Land was purchased for this purpose with the support of local and foreign donors and what is now known as the Monteverde Cloud Forest Reserve was born.
Why is it so well known?
In 2007, the country of Costa Rica voted Monteverde one of its natural wonders, its forest covering over 180 square miles. Cloud forests occur within tropical mountainous areas where there is consistent cover of clouds or fog. This constant live giving moisture produces tremendous biodiversity, or variety of life. The Monteverde and Santa Elena reserves boast 2.5% of the world's biodiversity.
This includes 100 mammal species ranging from marsupials to felines, 400 bird species including the endangered Quetzal and over 2,500 plant species, such as bromeliads, lichens and ferns.
The largest number of orchid species in the world live here, including miniature ones you need a magnifying glass to admire. Most orchids are epiphytes, they grow on other plants without harming them and take their nutrients from the air, rain and natural material around them.
Visitors to Monteverde not only want to bask in its intense natural beauty, admiring flora and fauna. There is also adventure and relaxation to be had. The forest can be explored by hiking its trails inside its National Parks. Your Costa Rica hotel may offer night walks as well, and their trained eyes will assist in seeing exciting nighttime critters and insects.
The forest can also be explored by flying overhead in zip lines, over hanging bridges or trams. This destination is quite different to the Costa Rica beaches, so it is a great idea to put them together in an itinerary: magical rainforest and amazing beaches!
Hotels & Resorts in Monteverde
Accommodation options in Monteverde and its neighbor Santa Elena range from expansive properties with their own zip line and private reserve to quaint European-Style lodges and cabins ideal for your vacations in Costa Rica. A list of varied lodging options follows: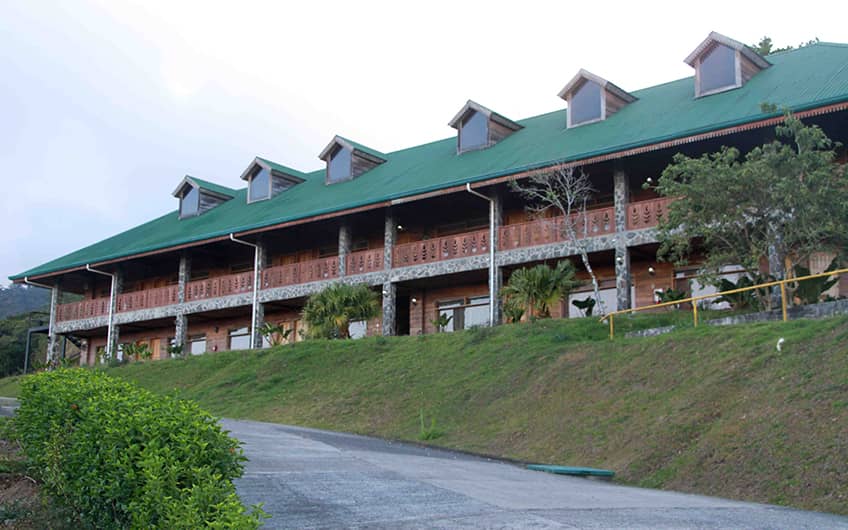 Heliconia Hotel
This hotel's wooden structure and finishes give it a European Chalet style. Guestrooms are ample and well-equipped, some offering Jacuzzis. A good option for families and groups needing large spaces and connecting rooms. They have a Mediterranean style restaurant, Spa and hot tub on site.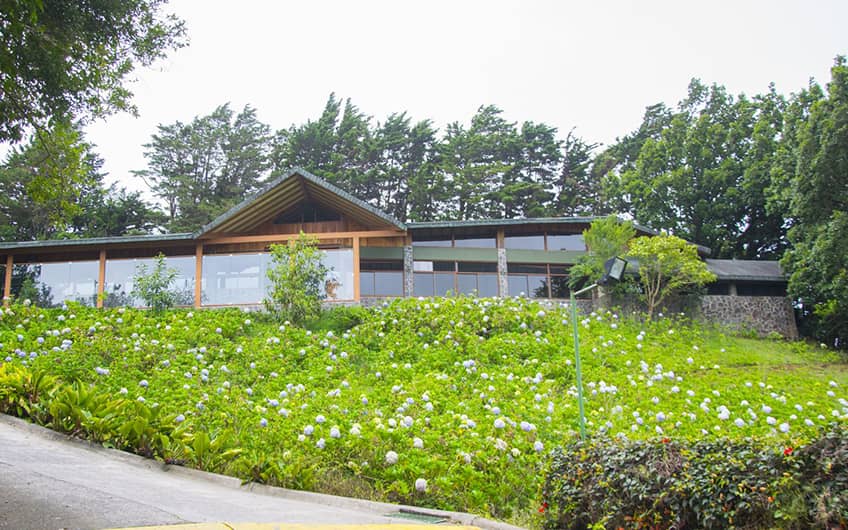 El Establo Mountain Hotel
El Establo is a property founded by a Quaker-Costa Rican family, and its grounds are so immense they have their own canopy tour inside, its main tower hovering at 150 feet, with a 360-degree view of forest, hillsides, and the Gulf of Nicoya dotted with islands below.
The rooms are as large as apartments; their honeymoon suites feature in-room Jacuzzis. Their amenities include: two heated pools, Spa, meeting rooms, tennis court, basketball court, mini soccer, souvenir shop, hiking trails, and much more. Laggus Restaurant offers fine dining while delighting in the beautiful views of the gardens and lake. Arrive early before your dinner to watch the sunset over cocktails.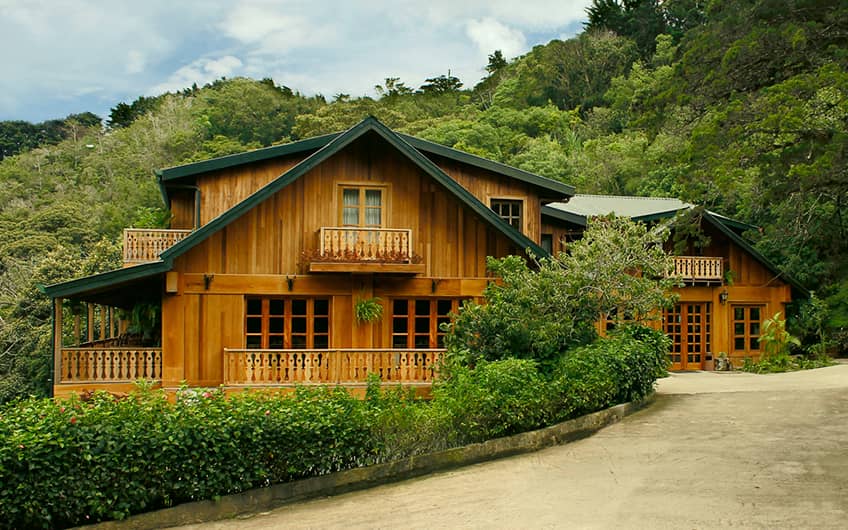 Hotel Belmar
This property's 22 rooms have recently been renovated, and are divided in different categories, the Chalet Deluxe offering a whirlpool Jacuzzi and other high-end amenities. Belmar is a sustainable property committed to the environment and has several awards and certifications. 
The Celajes Restaurant offers a farm to table menu with most of its ingredients coming from the family's farm which produces fruit and vegetables, coffee, eggs, and milk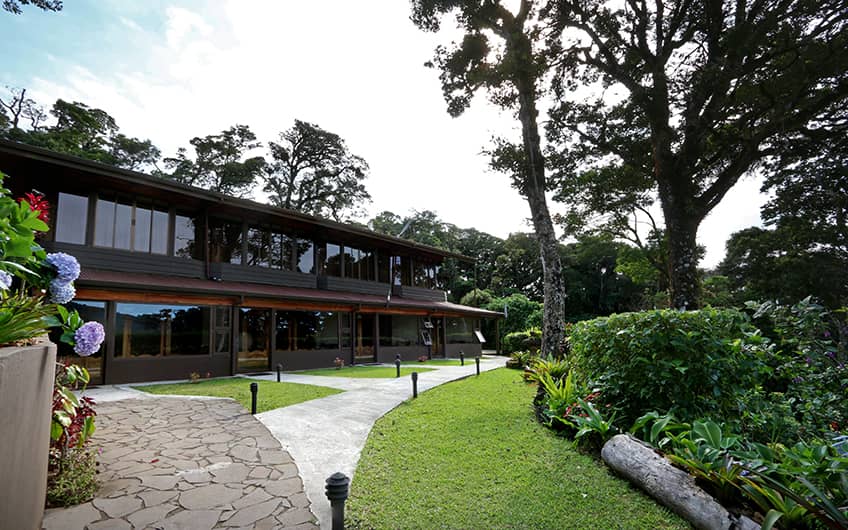 Trapp Family Hotel
Trapp Family Hotel is the closest to the Monteverde Reserve, only half a mile, and four miles from the town of Santa Elena. Their room rates include a local buffet breakfast at their restaurant which serves international cuisine for lunch and dinner. The Mountain Suites a have a lush view of the Reserve.
Trapp Family hotel boasts family style hospitality in a sustainable property close to the main attractions in the area. You won't regret spending part of your Costa Rica family vacations in here.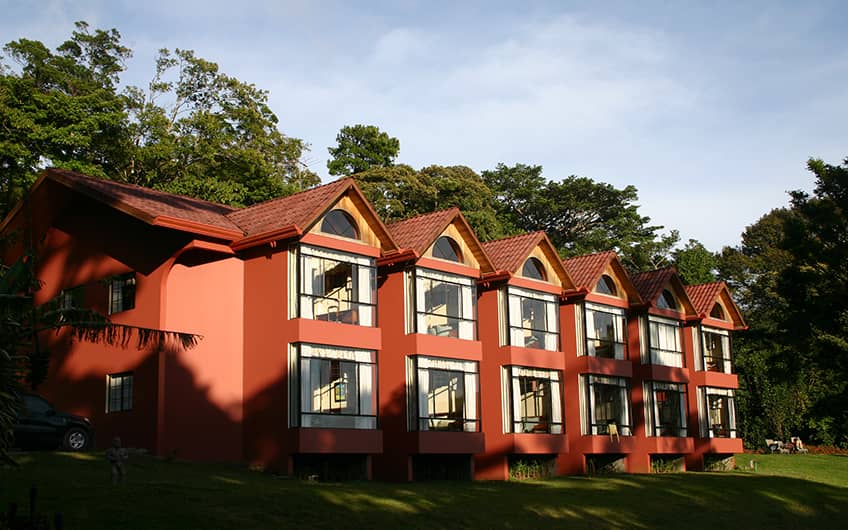 Hotel Fonda Vela
Fonda Vela Hotel is set in a 35-acre property, with its own trails that invite nature lovers and birdwatchers alike. It has two restaurants onsite, the elegant Galleria, and the cozier Fireside Restaurant, as well as the Canopy Bar
Art is an important aspect of the property for its owners, and their father's artwork is displayed in the guestrooms and common areas, and show the history of his life which began in Canada, then brought him to Monteverde in the 1970s. Its Standard rooms and the more spacious Junior Suites are luxuriously finished and offer full amenities for your delight.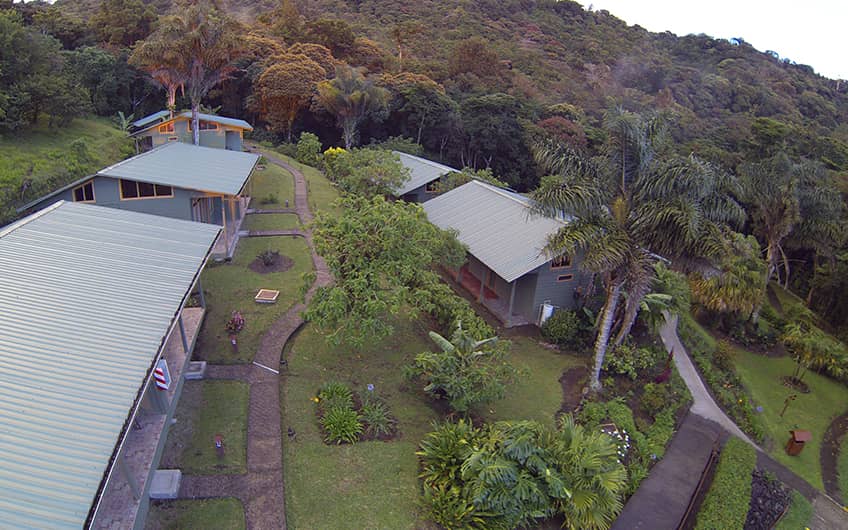 The Cloud Forest Lodge
This simple yet comfortable eco-lodge in Costa Rica is committed to the responsible and sustainable use of resources. Its cabin style wooden guestrooms have private bathrooms, amenities and hot water. Nestled in a 70-acre property, its lush gardens invite you to explore its trails, over two miles of them.
The Mot-Mot Restaurant offers a complimentary breakfast as well as Costa Rican and International dishes for lunch and dinner. Don't miss out on their homemade breads, granola and fruit jellies.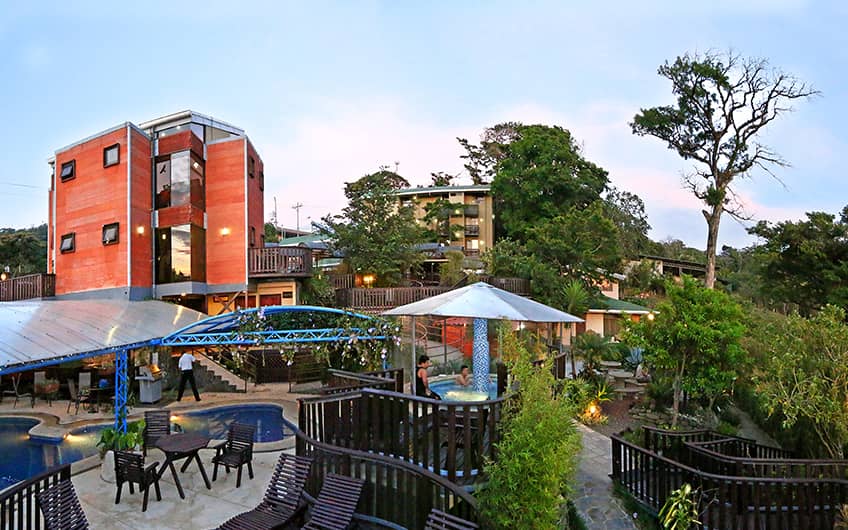 Poco a Poco Hotel
Poco a Poco means "little by little" in Spanish, and this is how this property has been built in the past dozen years in the town of Santa Elena. They now offer 30 guestrooms, from Single to Quadruple occupation. Their Ocotuma Bar and Restaurant offers fusion dishes in a casual yet chic atmosphere, and the Naroa Spa provides massages and other treatments.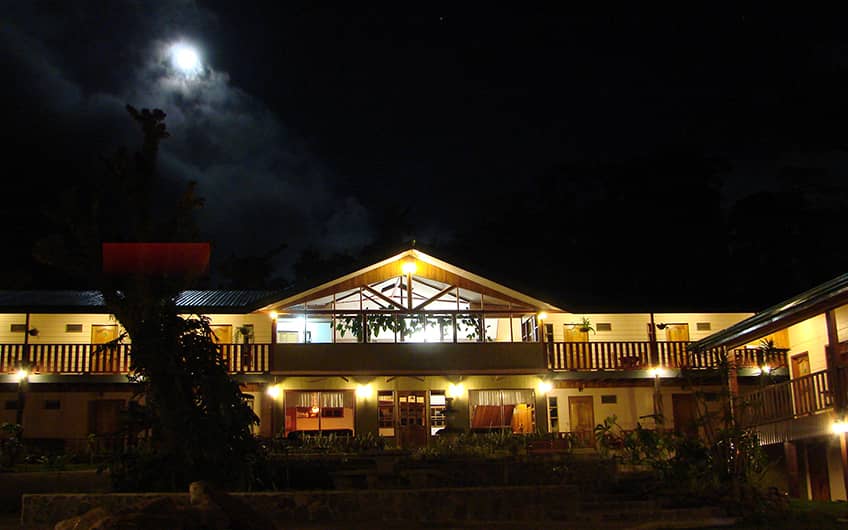 Monteverde Country Lodge
This rustic cozy lodge in Costa Rica offers affordable comfortable rooms with private bathrooms, Cable TV and phones. Its superior rooms add coffee makers, hairdryers and safety boxes to their amenities.
This is a sister property to nearby Poco a Poco Hotel, and its guests may use heated pool, gym and kids room, so consider this option if you are planning your vacations in Costa Rica with your family.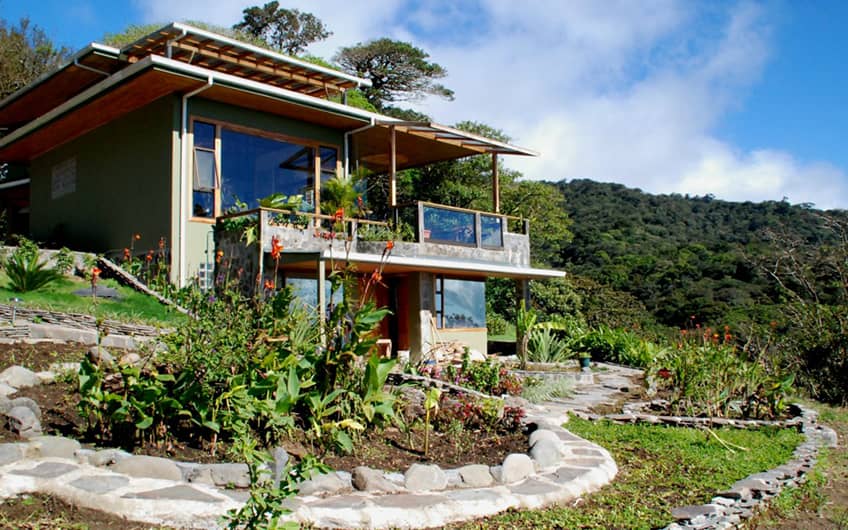 This unique hotel features treehouse chalets with luxurious details, offering a private setting perfect for couples on their honeymoon, or celebrating an anniversary or special event. Each treehouse is different, and feature hand carved furniture as well as wrap around balconies and windows to enjoy the view of the cloud forest all around.
A gourmet breakfast included in the room rate is served every morning, as well as tea or happy hour in the afternoons where you can meet fellow guests and enjoy the sunset.
Weather in Monteverde
What makes the weather in Monteverde unique is that its right on the Continental Divide, a geographic line that runs from North to South America, known as the backbone of the continent. Water will drain and empty into the Atlantic Ocean on one side and the Pacific on the other.
This means it is also affected by weather patterns and winds from both sides. Only 1 % of the world woodlands are considered cloud forests, and Monteverde is part of that number. This rare ecosystem occurs in an elevation even higher than the rainforest. The temperature oscillates from a maximum of 24°C (75°F). to a minimum of 18°C (65°F) during the day, and maximum of 15°C (60°F). to a minimum of 10°C (50°F) in the evening, and it is rainy and humid.
Things to do in Monteverde Costa Rica
The Monteverde – Santa Elena area boasts many different activities. Its most famous are the hikes inside their protected national park and reserve. There are also hummingbird and orchid gardens, zip lines, horseback riding, coffee tours, wildlife exhibits and more. Read on for details: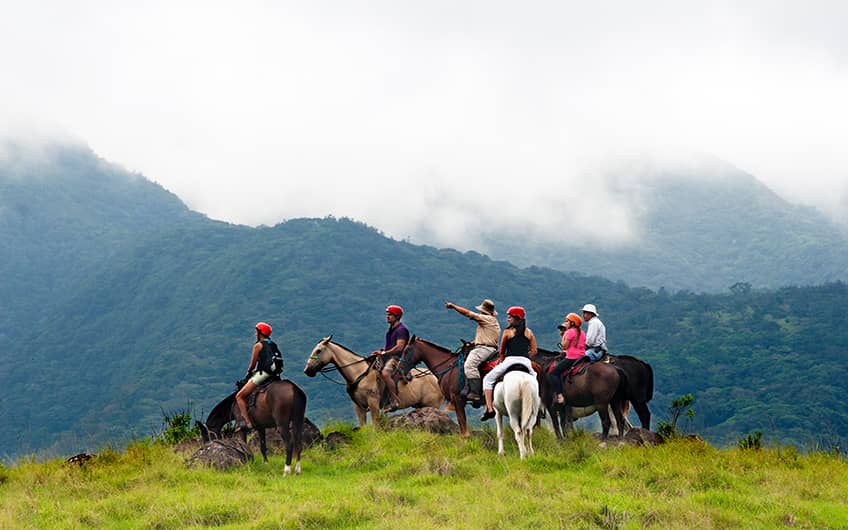 Horseback riding
The area of Monteverde offers half day or full day horseback riding tours for different expertise levels. Choose from a ride to the Eden Falls combined with a hike, riding through a farm at sunset, or up in the clouds along the Continental Divide.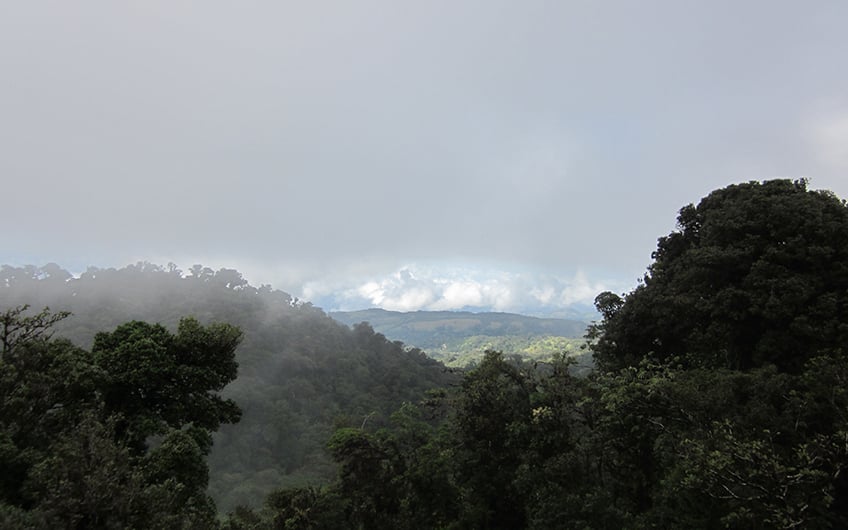 Monteverde Cloud Forest Reserve
The Monteverde Cloud Forest Reserve has expanded over the years to protect over 10,000 acres. Its area is traversed by 8 miles of trails for visitors to hike through and explore. There are over 100 types of mammals, 1,200 species of amphibians and reptiles and 400 species of birds that make the reserve their home. The guides' trained eyes will seek out flora and fauna and help you take the best photos.
Santa Elena Cloud Forest Reserve
The smaller and less frequented Santa Elena Cloud Forest Reserve is 765 acres and is managed by the local community. There is an observation deck from which you can see the Arenal Volcano in La Fortuna Costa Rica on a clear day, and chances of seeing and seeing howler monkeys are very good. Remember, don't feed the wildlife!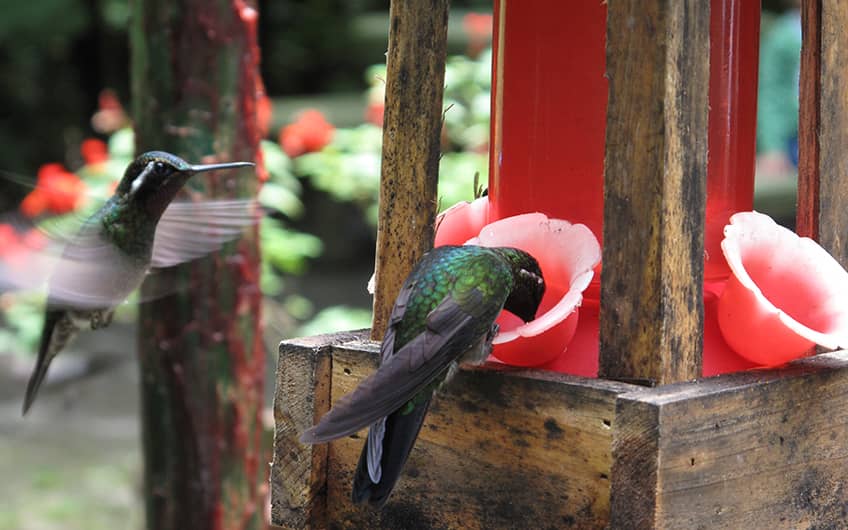 Hummingbird Garden
This is a free experience right at the entrance to the Monteverde Reserve, there is a Coffee shop where there are hanging feeders by their gift shop and you can delight with the scene of the beautiful hummingbirds feeding all around you. Try the pose of standing as still as you can with your arm outstretched and one might just perch on your hand!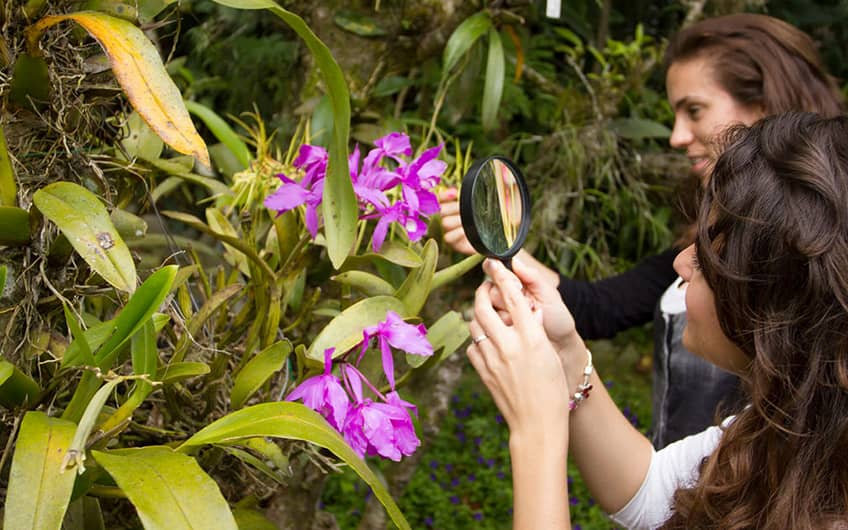 Monteverde Orchid Garden
We mentioned earlier that Monteverdehouses the largest number of orchid species in the world. You can see them in the reserves during your hikes, at the property you stay at, and if you can't get enough of these enthralling flowers then visit the Orchid Garden. They have over 400 species, approximately 120 of them in bloom every day. Their cemented trails are easily accessible for all traveler types, and a knowledgeable guide will navigate the beautiful colorful flowers, so be prepared and have your camera on hand.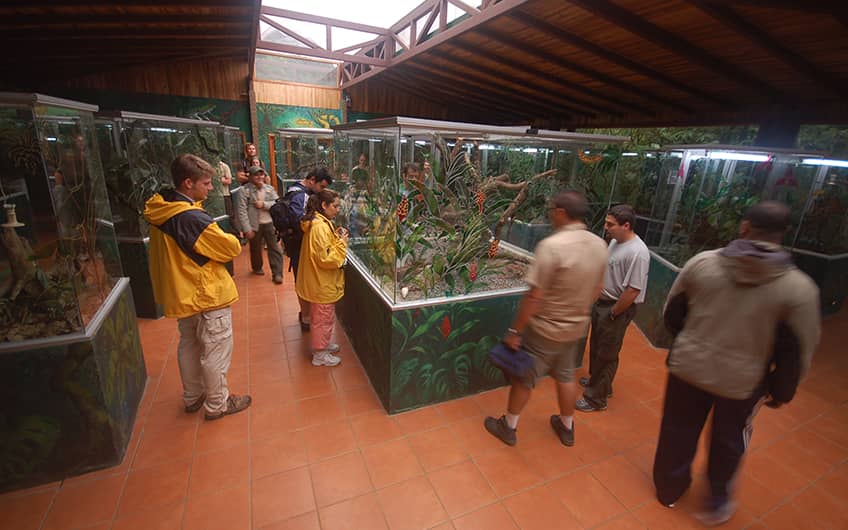 Herpetarium
This "Serpentario", its name in Spanish, is located in Santa Elena, and is a small amphibian and reptile zoo where you can see dozens of species of venomous and non-venomous snakes, as well as lizards, iguanas, frogs and turtles. Once you purchase ticket you can visit the display more than once, allowing a nighttime visit to see the nocturnal species come alive.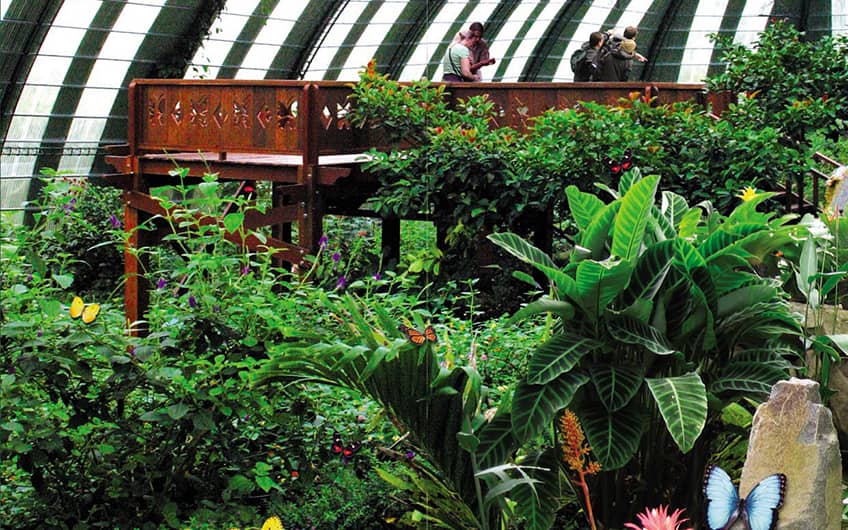 Monteverde Butterfly Garden
At another exhibit fun for your family vacations in Costa Rica, the Butterfly Garden allows you to see butterflies in all their life stages. If you're lucky you might be assist in releasing recently hatched ones into their new homes. Ants, beetles, scorpions and more, the knowledgeable guides will guide you through this natural experience.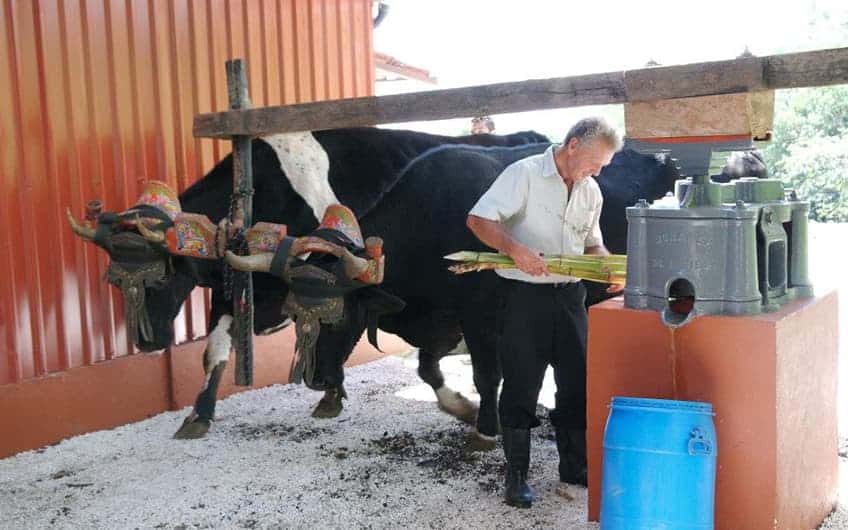 Sugar cane Mill "Trapiche" Tour
The "Trapiche" Tour takes you to a family owned sugar mill, where the process of obtaining sugar from the canes is explained and where you can participate in the process. The farm grows cacao and coffee as well as sugarcane, so you will be able to see the plantations for each crop, as well as the processing of each one. This farm has been in the same Costa Rican family for several generations, and it is an opportunity to spend time with locals and learn about their history, as well as to sample the delicious results of their efforts.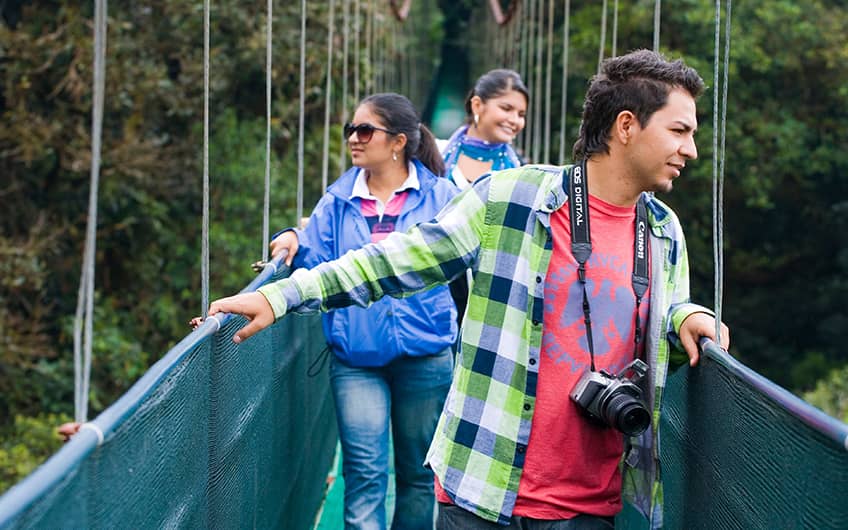 Sky Walk and Sky Trek Suspension Bridges
Trails and hanging bridges allow you to observe the beautiful layered vegetation and walk amongst the trees, as if hovering over them. This tour is a great option for all fitness levels and allows for beautiful photographs as well as an opportunity to identify local fauna. Walk amongst the misty cloud forest, 1.5 miles of total, and six bridges immersed in the lush cloud forest. A must when you travel to Costa Rica!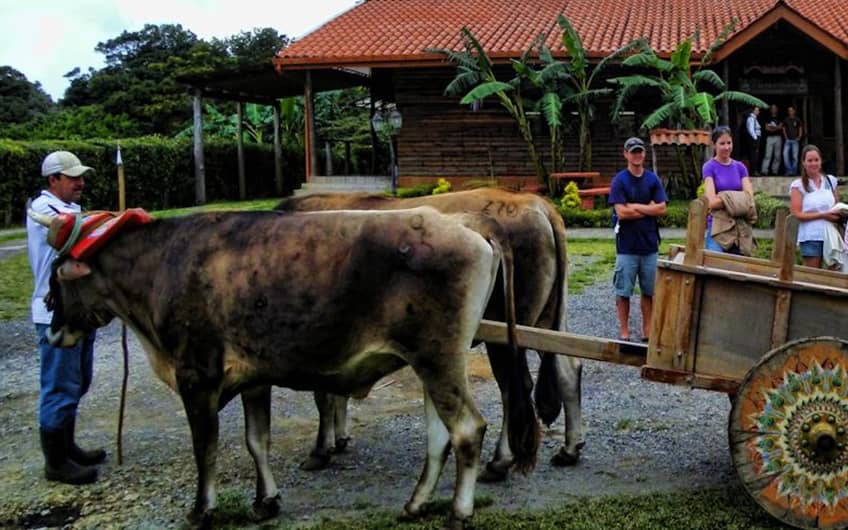 Don Juan Coffee Tour
The fertile volcanic lands grow the delicious coffee bean. During the tour, they will walk you through the steps of coffee picking, roasting and production. You can pick and taste the bright red berries from the trees as well as drink as much coffee as you like. This is a wonderful opportunity to spend time with locals and learn about a product you probably consume every day, as well as to purchase some to take home.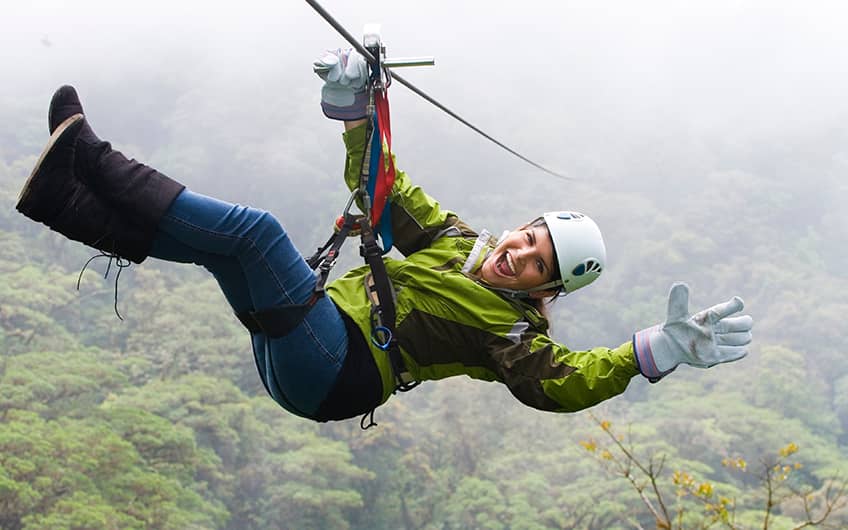 Selvatura Canopy Tour
This maze of 15 cables and 18 viewing platforms were designed to be able to immerse yourself in the cloud forest. The zip line allows you to fly over it while feeling the cool crisp air on your face. The longest cable is two miles long; you are fitted with a harness and helmet and the guides go over safety instructions and proper way to glide through each section. The guides are experienced as well as funny, and they ease any nerves you may have with their playfulness and sense of humor. The tour ends with an exciting "Tarzan Swing" free fall, for adrenaline junkies only!
Birdwatching
Whether you are an avid birder or just a beginner, Monteverde is a place where you can enjoy birdwatching in Costa Rica all year around. The Quetzal, of the Trogon species, makes its nest in the decomposing tree trunks, and is a favorite of visitors looking to catch a glimpse of its resplendent green and red feathers. Hummingbirds of many different sizes and colors are easy to see in the gardens.
Nightlife
The most popular nocturnal activity in Monteverde might be the night walks, where you can see kinkajous, sloths, spiders, birds, snakes, stick insects and more. If drinks and dancing are more your speed, try Los Amigos:
Bar and Restaurant Los Amigos in Santa Elena offers a party atmosphere with music provided by DJs or live bands.
Opening Hours: 11:45 a.m. – 2:00 a.m.
Restaurants
Monteverde is well known for its locally made cheese, its factory funded by the Quakers decades ago, which may be why pizzerias have flourished, taking advantage of the locally made main ingredient. Gastronomic options abound, and whether you are craving a steak, typical fare or vegetarian options, there are a surprising variety of restaurants to choose from.
Steakhouse
Toro Tinto in Santa Elena is an Argentinean style steakhouse, rib-eye, skirt steak and other cuts of meat, and classic accompaniments such as salads and thick potato wedges. They also offer a varied selection of wines, try the Argentinean Malbec with your steak.
Opening Hours: 12:00 p.m. – 10:00 p.m.
Italian
Tramonti Restaurant offers pizzas and pasta options as well as an extensive wine list. It is owned by an Italian-Costa Rican couple and the beautiful wooden décor and lights make for a lovely spot for a romantic dinner.
Opening Hours: 11:30 a.m. – 9:30 p.m.
Bistro Bon Appetit in Santa Elena makes pizzas in a wood fire oven with toppings such as gorgonzola and arugula, and they offer vegan menu options as well.
Seafood
Ristorante D'Tomas offers seafood and international dishes with Italian flare. Try the Spaghetti Frutti di Mare or seared tuna, and don't forget to order dessert.
Opening Hours: 11:00 a.m. – 10:30 p.m. except Sunday 5:00 p.m. – 10:00 p.m.
Typical Costa Rican Food
Soda La Salvadita in the town of Santa Elena offers affordable local cuisine such as "Gallo Pinto", a rice and beans breakfast, and "casados", consisting of meat, rice, beans, plantain and vegetables.
Opening Hours: 8:00 a.m. – 9:00 p.m. every day.
Soda La Amistad also in Santa Elena offers a quiet, friendly place for typical fare.
Opening Hours: 9:00 a.m. – 10:00 p.m. every day.
Cafés
Looking for a breakfast place or craving a pastry and a coffee? Check out these delicious options:
Stella's Bakery offers a variety of baked goods. Enjoy your treat in their outdoor seating area where you might be lucky enough to observe birds, raccoons and even monkeys.
Opening Hours: 6:30 a.m. – 6:00 p.m. every day.
The Café Colibrí is on the main entrance to the Monteverde Reserve. The flutter of hummingbird wings will accompany your coffee, sandwiches and cakes.
Opening Hours: 7:00 a.m. – 5:00 p.m. daily.
A little bit of everything
The Green Restaurant offers a salad bar and Mongolian style grill as well as fusion dishes. They offer vegetarian as well as gluten free meals prepared using local organic ingredients.
Opening Hours: 11:30 a.m. – 9:30 p.m. daily.
Café Cabure's, located in old Monteverde, offers an international menu of wraps, sandwiches and pizzas, of course. They have an additional fancier dinner menu with varied dishes from curry, filet mignon, chicken, lasagna and even eggplant parmesan. Best of all is they even have a chocolate shop on premises, and you can even schedule a tour to learn how to make their treats.
Opening Hours: 10:00 a.m. – 8:00 p.m. Closed on Sundays.
Safety
Always be mindful of your surroundings and belongings to avoid becoming a target of petty thieves. Don´t leave anything of value in your car, and bring only what is necessary for your day's outing.
Tips
To take advantage of your visit to the Monteverde area, pack comfortable walking shoes, ideally closed toe waterproof ones to tackle the muddy wet trails. A light raincoat and hat to be prepared for rain showers is also advisable.
When you head out to your hikes inside the reserves, bring a bottle of water and a light snack. It's worth being accompanied by a trained local guide. Stop, be quiet and breathe in the crisp air, and listen for the sounds of the forest, and the lush surroundings.
Travel to this destination on your vacation getaway in Costa Rica, get to know the area for yourself and create your own list of things to do in Costa Rica, in this mountain paradise known as Monteverde. Don't wait more to start planning your vacations! If you need some help you can >contact us< and we will be more than glad to ease you the whole process.
Have you ever been in Monteverde? Leave us a comment below, we will like to hear from you.