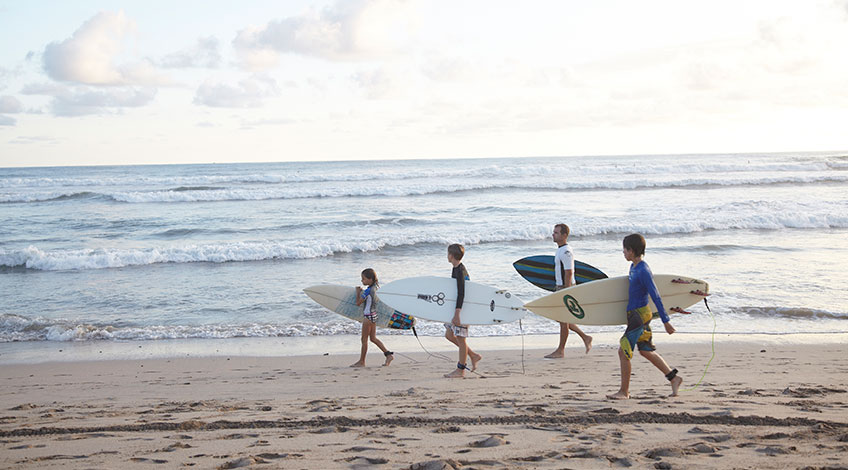 Located in the North Pacific side of you can find the Nosara town, specifically in the Guanacaste province, where some of the top beaches can be found. At 5 hours from Juan Santamaría International Airport in San José, or at 2.5 hours approximately from Liberia Airport this small but beautiful town is something that you should discover during your vacations.
There are several travel tours that take visitors to this beautiful place for a cheap cost. With two seasons throughout the year, the dry (December to May) and the rainy (June to November) surfing at Nosara becomes one of the most entertaining activities to enjoy during your family holiday. Guanacaste is the driest and hottest province of this Central American country.
Nosara is all about natural richness, secluded spots, amazing landscapes and not crowded areas like in Tamarindo. It is not the most developed place, that is why is not too touristy, but there you can do stand-up paddle, snorkeling, ATV, horseback riding, fishing, kayaking, canopy, walking, birdwatching for those who come looking specifically for birds, or the surf that is one of the most popular activities in the area, as you can see there are too much to do during your family trip.
There are small hotels, not chain or big resorts like in other regions of Guanacaste, but you will feel like you are visiting an authentic lodge and you will taste delicious local flavors. It does not matter if you are a solo traveler, if are travelling with family, friends or if you are on your honeymoon, Nosara certainly will adjust perfectly into your trip.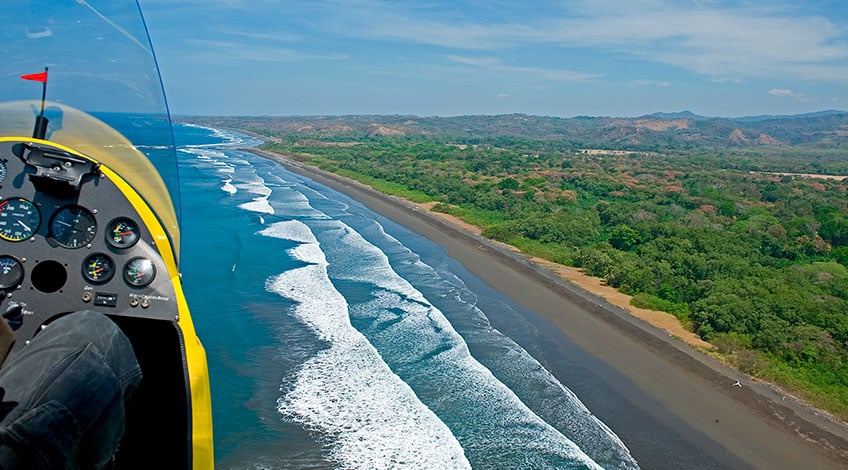 Why Nosara is among the 20`s surf towns?
In 2011, National Geographic official website made a list of the most impressive places in the world to have a surf trip, and the famous vacation packages to Nosara beach made the list.
"A great surf town is the nearly magical sum of consistent waves, inviting accommodations, friendly locals, fun nightlife, delicious food, and plenty of activities should the ocean go flat", described the Nat Geo article.
Additionally commented that "Nosara stands out as the surf town par excellence. Warm water, friendly locals, endless beaches, powerful river mouths, long point breaks, and virtually year-round high swells make it a veritable surfing Disneyland—without all the lines and overzealous parents".
"The waves at Playa Guiones break about a hundred yards offshore and 'roll' all the way to the sand's edge," Safari Surf School co-owner Tim Mars says. "This is ideal so novices can feel comfy knowing we can take them waist-deep and get them on oncoming whitewater waves that roll to the beach."
"Costa Rica is all about ecotourism, from river-rafting tours and bird-watching to rainforest treks and turtle-spotting. Experience Nosara is your one-stop outfitter for anything you might want to see or do", added the National Geographic World's 20 Best Surf Towns list.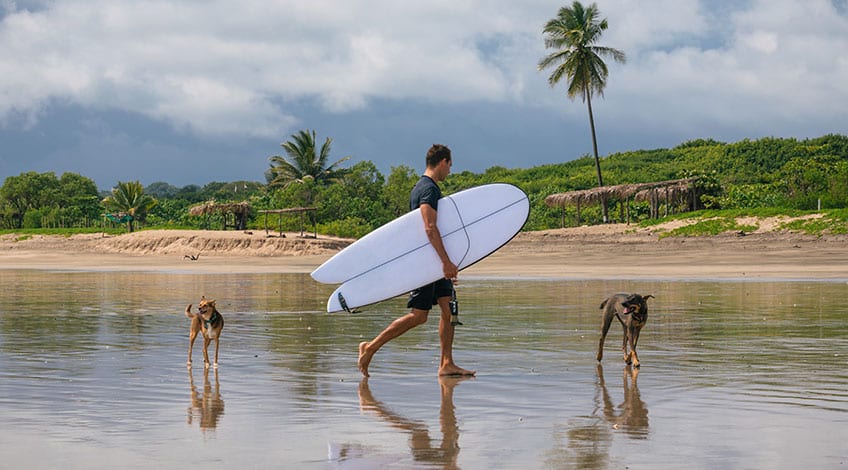 Surf
Costa Rica has been blessed withits location, because it is located between two big and important water masses: Pacific Ocean and the Caribbean Sea, this is one of the reasons why we have some of the best surfing beaches.
There is one of the best waves to practice it, located in Puerto Viejo, from the Caribbean side, it is called Salsa Brava and it is up only for experienced surfers.
There are other spots that can adjust to your family surf vacations, isolated beaches, white or dark sand, surrounded by nature and where is possible to just relax and take sun or practicing sports and do water tours too.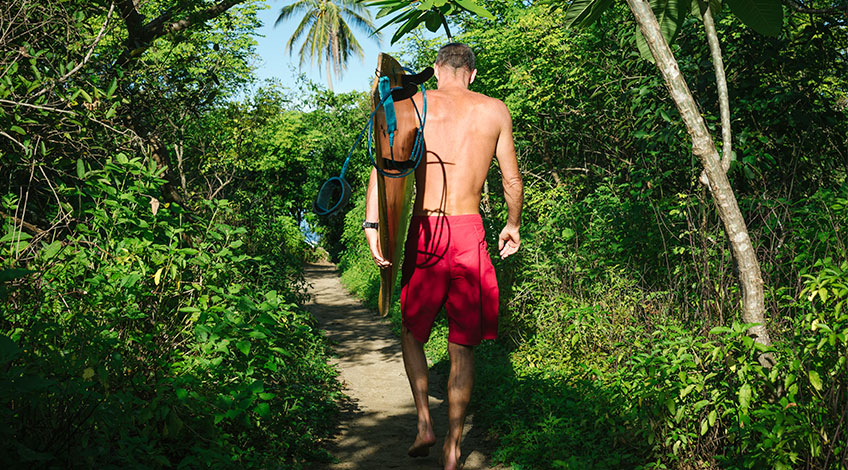 More surfing spots
Witch's Rock Beach is located in the North Pacific, province of Guanacaste, a secluded place and not touristy, it has a good combination of beautiful landscape and great waves for surfers, this is something you should visit while you are in Guanacaste province.
Tamarindo Beach is located in Guanacaste too, very close to Grande Beach which is another good surfing place. This is more touristy and crowded during the high season, it has dark sand and a big quantity of activities to do, and there are also some of the all-inclusive family resorts.
Dominical Beach in the South Pacific is a perfect area for nature lovers, and those who want to be off the beaten track, as it is a not too much developed spot. It is more humid than the North Pacific but beautiful and great for your family surf vacations.
Another place very secluded but highly recommendable for experienced surfers is Pavones Beach that is in the South Pacific, the issue there is the weather, very unpredictable and in the area can rain more than in Guanacaste, but this could be the best spot to practice surf.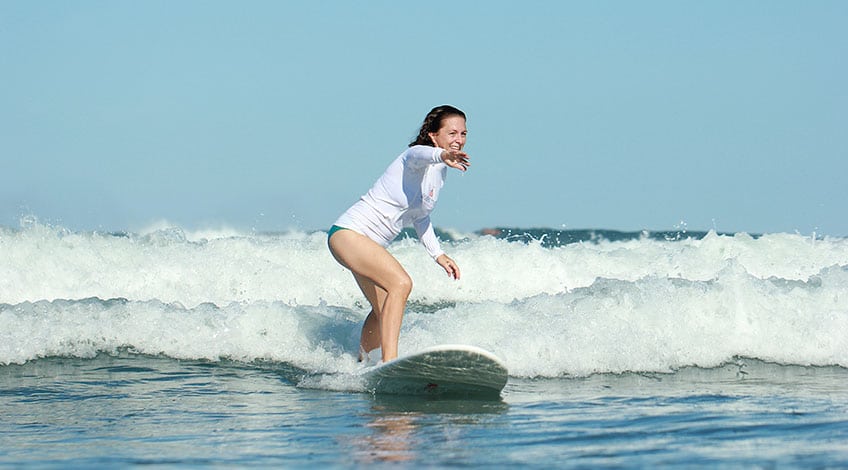 In the Central Pacific, we can offer you Jaco Beach, close to Manuel Antonio where you can stay and take some surf lessons during your family trip. Jaco is also close to Hermosa Beach which is well known for surf competitions.
Costa Rica is waiting for you! If you are planning your next vacation, this is your opportunity, you have a lot of things to do, this is a free country, small but with wildlife diversity, a place to discover, unique, different, and beautiful, with a lot of rivers, beaches, mountains and valleys.
During your vacations, you can come to explore Nosara and combine it with some of our highlights, this will be a trip to remember for a lifetime.
Please take a look to some of our vacation packages, so you can have a better idea of what we have to offer. Contact us for tailor made itineraries or to help you with questions and arrangements in !
Please also leave us a comment if you liked this article!