Arenal and La Fortuna are two famous locations in Costa Rica. Arenal Volcano can be found in this region and is one of the most well-known volcanoes in Costa Rica.
Just a few years ago Arenal Volcano was the most spectacularly active volcano in Costa Rica. Hotels in the area praised their views of the lava flows and red hot rocks thrown out from the volcano glowing in the night´s darkness.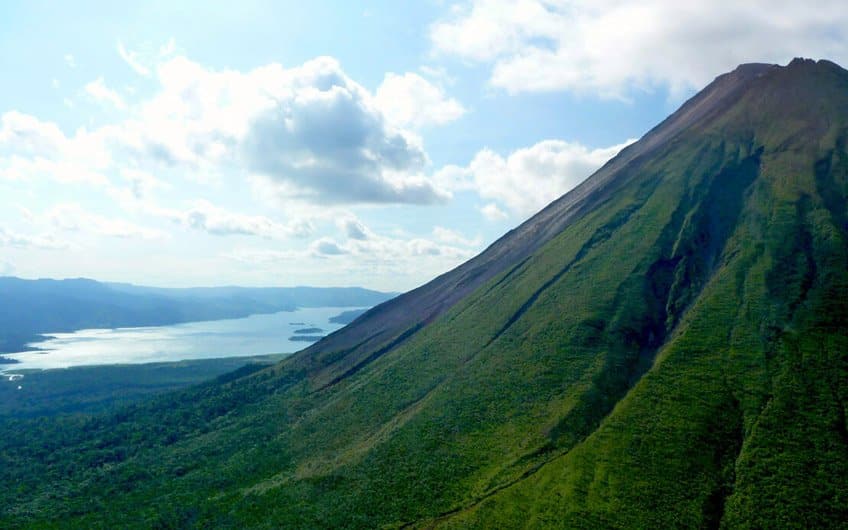 For going on almost seven years the red-hot lava has been biding its time and Arenal's activity has been limited to blows of smoke and a rarely heard deep sounds.
Not even the expert volcanologists can predict when this quiet period will end and the glowing red cone will once again lighten the dark sky, nevertheless even when it is not showing the stunning eruptions the peak is still imposing and beautiful to witness.
It is very likely that clouds will hidden the top of the volcano, but if you stay in the area for a couple of days exploring some other attractions you are surely able to get magnificent volcano views.
Arenal Volcano is a perfect cone volcano and it is visible from almost everywhere in the area, however if you want a good view, you must stay at any of the lodges overlooking the volcano and wake up with the sun as the clouds tend to move towards the volcano after sunrise.
Arenal Volcano National Park Location
Arenal Volcano is located in north-western Costa Rica, around 94 miles / 150 Km or 3.30 hrs. northwest of San José, the capital city of Costa Rica. In Alajuela province and the district of La Fortuna. Same distance and driving time from Juan Santamaria International Airport (SJO).
It is located 91 miles / 145 Km or 3 hrs. from Daniel Oduber International Airport (LIR) in Liberia, Guanacaste, which makes it the closest airport to Arenal and La Fortuna. To get there you must require 40 additional minutes from Papagayo Beaches or 1 additional hour from Flamingo, Conchal or Tamarindo Beaches.
The drive to Arenal Volcano from Guanacaste has one of the most beautiful scenery with some of the greenest landscapes.
The volcano has a height of 1,670 meters and it is placed within the Arenal Volcano National Park. The Volcano is located around 8 km from La Fortuna. Throughout those 8 kilometers you will find a great variety of hotels overlooking the volcano.
The Volcano has an area of 33 km2 and it is easy to be noticed from a considerable distance. It can be seen from different towns in the canton of San Carlos such as: La Fortuna, Aguas Zarcas, La Palmera, Pocosol, Cutris, Venado, Florencia, and even Ciudad Quesada, as well as from the cantons Guatuso and Los Chiles.
It belongs geologically to Sierra de Tilaran and the nearby mountain, Cerro Chato, is considered as a sibling.
Arenal History
Between years 1500 and 1900, the Arenal Volcano stayed silent and was considered by many people to be extinct. As a matter of fact, the local farmers and ranchers who worked the grounds near its base referred to it as the mountain: Cerro Arenal (Arenal Mountain).
Nevertheless, at 7:30 AM on Monday, July 29, 1968 the Arenal Volcano without major behavior changes, suddenly and violently showed an important eruption. The eruptions continued strong for several days, consigning to dust over 15 square kilometers with lava, rocks and ash.
When it finally stopped, the eruptions had killed 87 people and buried 3 small villages: Pueblo Nuevo, Tabacon and San Luis. This destructive eruption affected more than 232 square kilometers of land where crops were spoiled, properties were ruined, and livestock was killed. It was the most difficult time in history for the people of Arenal.
At the height of its unexpected activity the volcano kept throwing giant rocks, some of those weighing several tons and sent more than a kilometer away at a rate of 600 mts per second. Because of those explosions three new active craters were formed in the volcano.
Between 1968 and 2010, the Arenal Volcano was notably active. It blew out hot rocks, ash, smoke, and lava from its highest point almost every day and night. It was amazing to see that activity at night, you could've tell you were looking at magical fireworks! None of the explosions however, compared to the one in 1968.
Since then, the local people and hoteliers have been very careful not to build their settlements and farms too close to the volcano. Today towns, hotels and walking trails are set at a safe distance from the volcano.
Since 2010, the volcano's activity, lava flows and explosions have decreased significantly. Scientists assure the volcano is still alive; it is just sleeping. Today visitors are unable to see lava flowing down its sides or find quills of ash rising from its top. Still, there is much more visitors will undoubtedly enjoy to see and do in this location, including: Hanging Bridges, Zip Line Canopy Tours, Horseback Riding, Whitewater Rafting Tours, Biking Tours, among others.
Even though the volcano took many lives of men and women, it has given back to the inhabitants by becoming one of the most visited natural attractions in Costa Rica. While agriculture is still a major income in the region, tourism has exceeded this to become the main source of income for the people in the area.
Arenal Weather
Weather in Arenal Volcano Costa Rica is very changeable. Both the Atlantic and Pacific oceans influence the temperature (with oscillations between 21°C and 28°C) and annual rainfall (with averages between 3,500 mm to 5,000 mm). The yearly average temperature in La Fortuna is 75°F (22°C). The green season goes from May through January, while the dry season runs from February to April.
Close to 16 ft. (5,000 mm) of rain falls in different parts of Arenal yearly, thus expect rain at any time of the year. The wettest months are from June through October though, and the driest months are February through April, and sometimes November. As you climb the hills of the volcano the temperatures drop and the rain increases.
Due to being in the tropics, the weather of La Fortuna and Costa Rica in general does not vary considerable like those areas in the temperate zones where up to four seasons could be experienced through the year.
One can expect to have close to 12 hours of daylight at any time of the year in this location. The biggest changes in temperature are the result of the dry and the wet (green) seasons. During the dry season the region can have direct and intense sunlight and higher average temperature of above 25°C (77°F) because of that.
The wet or green season, however, likewise includes higher levels of humidity which may be perceived as very warm. The annual average temperature in La Fortuna is between 20°C and 26°C (68°F to 78°F).
At Travel Excellence, we can certainly plan your trip to Costa Rica at any time of the year. The temperatures are very similar all year-round and most of the time the rain can be seeing in the afternoons and evenings, thus it does not prevent us from scheduling hiking, visits to the volcano, the rainforest or taking some adventure tours in the mornings.
What makes Arenal & La Fortuna some of the most attractive places in Costa Rica to visit?
Arenal is the best-known volcano in Costa Rica and it shows an unavoidable presence in the northern lowlands. This is a stratovolcano, which means being a large and symmetrical volcano that is built upon layers of ash, lava and rocks. It stands high above of the rest countryside so it can be easily seen from the distance.
The Arenal Volcano is imposing and tall, and has a reputation that introduces itself. The volcano's perfect symmetrical shape makes it a sightseer's illusion, the best spot for photographers to enjoy the scenery views. Its plenty of outdoor activities in the surroundings make it an easy place to check things off in your list of "must-do in Costa Rica".
Visitors to Arenal certainly enjoy the abundant sights, sounds, colors and activities. There are beautiful mountains in the rainforest to be hiked, rivers to be floated, not to mention the Arenal Lake that is ideal for fishing and water sports such as kayak, windsurf and paddle board. This region without doubt is one of the country's most scenic and within an easy access; it is a destination you cannot miss to include on your tour through Costa Rica.
Where is located La Fortuna in Costa Rica?
This quiet town of La Fortuna can be found just 4 miles (6.4 Km) from the Arenal Volcano. It is located 16 miles / 26 km from Ciudad Quesada. The town itself is small, with shops, restaurants and where most locals live and work. La Fortuna provides visitors with easy access to the Arenal Volcano area and its facilities.
You can find hotels both within and outside of town, many of those settled in the countryside at the base of the volcano from where guests have unforgettable views of the volcano.
La Fortuna hosts good places to eat, buy groceries and has a great assortment of banks, pharmacies, souvenir shops and bars.
Best places to stay in Arenal and La Fortuna – Costa Rica
Arenal is a hot spot for visitors to Costa Rica and therefore has not only a great variety of tours but the best hotels in Arenal and La Fortuna. The Arenal Volcano, while no longer erupting as mentioned previously, looms over the area and creates an amazing backdrop for adventure, rest and even wellness and relaxation.
With so much excitement and diversity at one destination, there is no surprise that such a wide range of hotels are available in the area, which might make it easy to find one right for every visitor. Prices range from moderate to luxury and guests can choose from lodges or boutique hotels to large resorts, making the destination a great fit for almost everyone. Some of those hotels are:
Arenal Nayara Hotel and Gardens
This Top-Rated resort is a world of style and comfort surrounded by untouched natural gardens. Top-notch service is what guests receive at Arenal Nayara Hotel and Gardens, while appreciating some of the most fascinating landscape anywhere in the world, and of course the amazing views of the Arenal Volcano.
Nayara's Spa is brand new, now with outdoor spa bungalows guaranteeing guests feel right in the tropics while enjoying a massage or a scrub and wrap. Rooms have direct volcano views and their spacious balconies with private Jacuzzis are the ideal setting for relaxation.
This resort is looked for couples as their specialty is creating unique romantic moments to them, but also families are welcomed at this resort. Arenal Nayara Hotel has a sister hotel within the same property called Nayara Springs, which is exclusive for adults.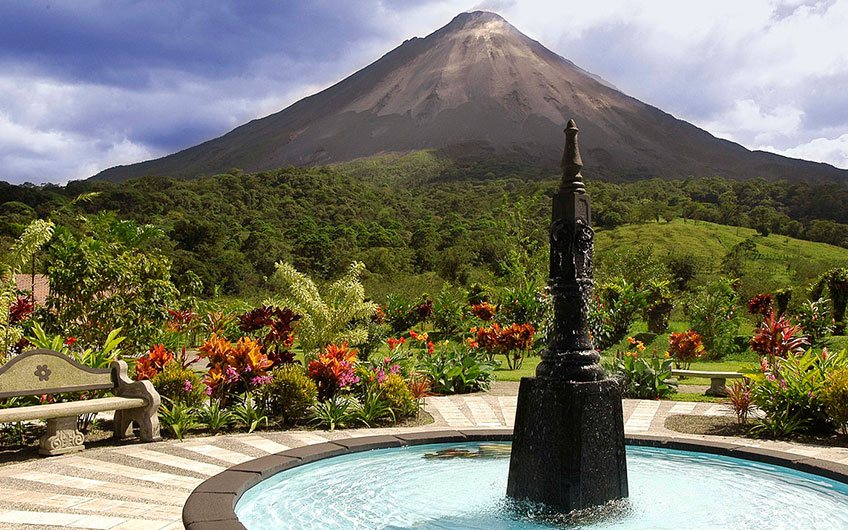 Arenal Kioro Hot Springs
Placed on over 65 acres of land overlooking the volcano with miles of trails for exploration and manicured gardens, Arenal Kioro boasts some of the best views in all Arenal.
This family friendly hotel has its own thermal springs exclusively for their guests. Each of Arenal Kioro's suites have amazing panoramic mountain and volcano views, hydro-massage hot tubs, television and air conditioning. Couples love the romantic set up at this hotel as well.
---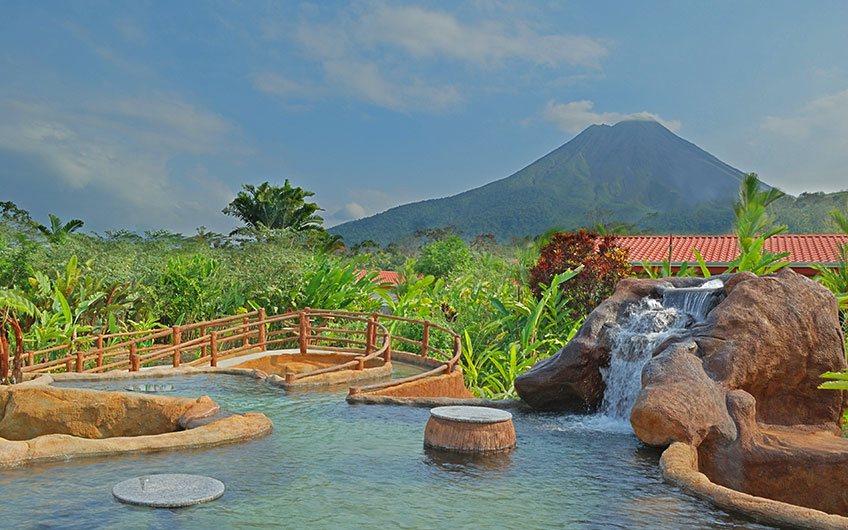 Volcano Lodge & Gardens
This family hotel offers 62 comfortable rooms overlooking the volcano, some have 2 full size beds or 1 king bed. Beautiful manicured extensive gardens, their own hot springs, swimming pools, playground for the little ones. Full service Spa completes the service Volcano Lodge & Gardens offers to its guests.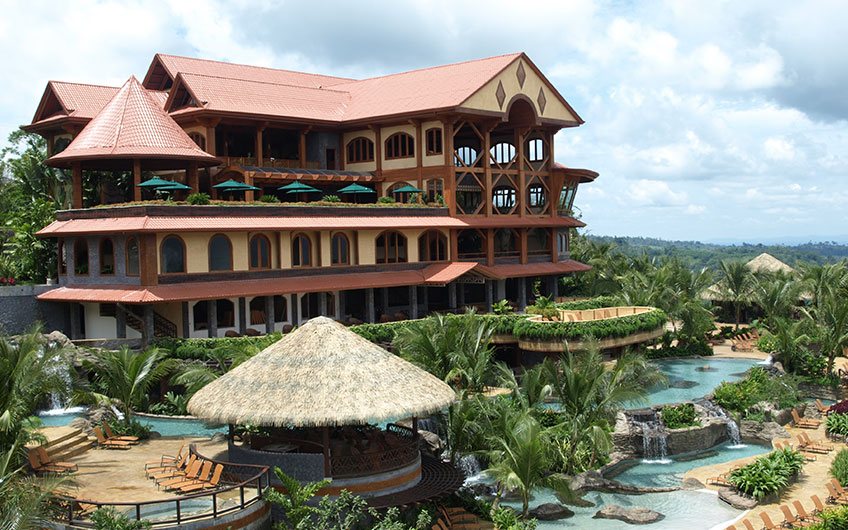 The Springs Resort and Spa
This resort is located at a higher elevation than the other hotels in the area and is surrounded by well-crafted tropical gardens and waterfalls. The Springs Resort and Spa holds the natural beauty of the tropics and offers the most luxurious of experiences in the area.
The hotel's design is possibly its most impressive feature, along with the lushly gardened main building with extensive open windows providing guests breathtaking views while at any of the building areas, including reception, any of the four restaurants, the full-service spa and fitness area.
Both families and couples are welcomed and specially treated at this amazing resort.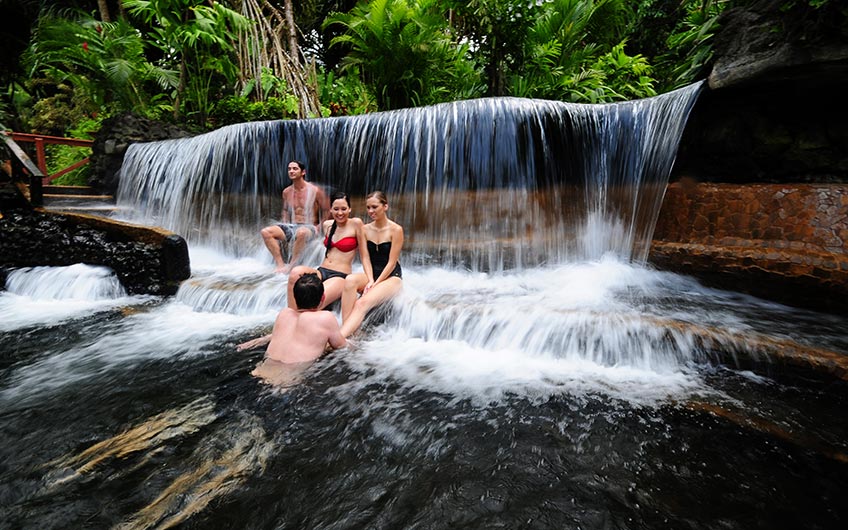 Tabacon Grand Thermal Resort & Spa
This is a well-known resort in the area for its on-site natural hot springs and pools that ranks as one of the most exotic gardens in the world. Tabacon Grand Spa has only grown more lush over time.
It is member of the Small Luxury Hotels, and features 103 guest rooms (beautifully decorated), two restaurants on site, four bars: Caña Brava Lobby Bar, Agua Ardiente Pool Bar, Shangri-La Bar and Bosque Bar (located in the Tucanes Restaurant), a world-class Spa located in the Hot Springs, a yoga studio, and two on-site shops.
Couples love this resort not only for its different romantic set ups and their Suites exclusive for adults, but also families with little kids find this hotel one of the best alternatives to stay due to its facilities and own Thermal Springs, where guests have unlimited access to.
Other great options of lodging in the area are Royal Corin, Arenal Springs Resort -featuring their own thermal waters-, Arenal Manoa, Arenal Paraíso Hotel, and San Bosco.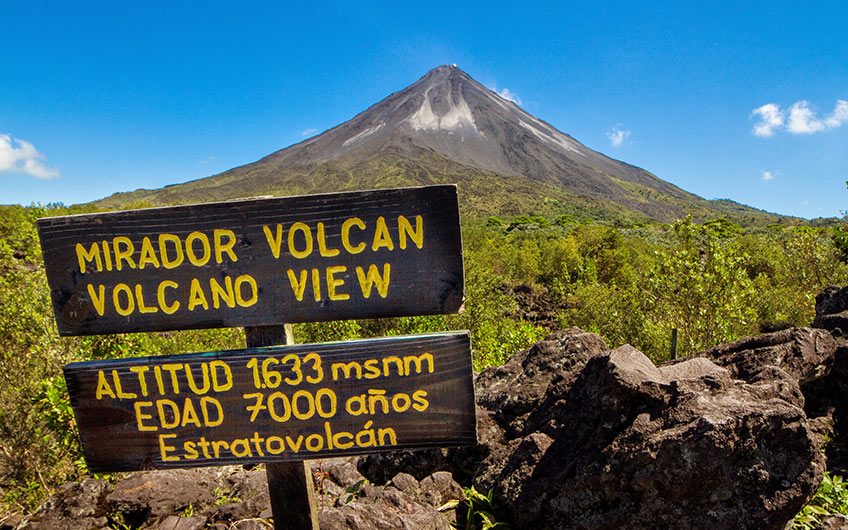 Arenal Volcano National Park – Costa Rica
The Arenal Volcano National Park is placed in 29,692 acres (12,016 ha) within a larger 504,094 acres (204,000 ha) in the Arenal Conservation Area, which protects around 16 reserves between Tilaran and Guanacaste mountain ranges. This area holds a great wealth of geologic and biological mix, as proved by the incredible Arenal Volcano.
Trails with a length of 3.4 Km and 2 Km pass through both secondary forest and old lava fields within the park. The park rangers always keep an eye close to the volcanic activity and they would not hesitate to close trails or portions of the park if necessary to secure safety for its daily visitors.
Arenal plays an important role in the power production in Costa Rica. Arenal Lake, which sits at the base of the Volcano, supplies 12% of the country's hydroelectric energy. On the other side of the lake, wind farms take strong windstorms that whip across the Tilaran mountain range.
Some of the most common animals so see while exploring the National Park are: tapir, deer, white-faced monkeys, howler monkeys, sloths, coati, and snakes; including the infamous parrot snake, fer-de-lance and the boa constrictor. Birds like orioles, parrots and brown magpies. Plants include different species of bromeliads and palms, guayabo de monte, ceiba, bait, cirri, higuerones, laurel, cirri, palms, orchids, fungi and ferns.
The Arenal Volcano National Park is compounded mostly of primary rainforest, enclose four different life zones and is a sanctuary for a tremendous amount of flora and fauna. As a matter of fact, almost 75% of the 850 birds-species that have been identified in our country can be seen here.
Chato Volcano or Cerro Chato as we call it in Spanish; is the Arenal Volcano's smaller but much older sibling and extinct volcano adjoining the Arenal volcano. This volcano is set at a height of 3,740 ft / 1,140 m and has been inactive for around 3,500 years, it´s crater is filled with aqua-blue water. Chato Volcano has an asymmetrical crater that springs a small lake which is surprisingly stimulating and refreshing after a hot hike up.
The Chato´s crater is inside the park however the two trails taking to it start from a private property where the owners obtain a fee per person to cross their land. One of the trails starts near the Arenal Observatory Lodge on the southwest of the volcano and the other from La Fortuna Waterfall on the northeast of the volcano.
The trail is very steep in some sections and if it had rained recently and maintenance does not help then may be quite rutted and muddy. Portions are almost vertical on the last section down from the edge to the lagoon and people get to use branches and the tree roots as a sort of crude stepladder.
This hike is one of the tours we offer to our guests, we highly suggest it to fit and confident people who can climb the mountain back up because there is no other way out and it might get cold, wet and strained at the bottom by the end of the day.
Back to the Arenal Volcano, about two decades ago there used to be hiking tours based out of La Fortuna which used to take visitors up the west ridge to the crater rim, however due to the number of people damaged by falling cinders, ash and toxic fumes, that walk is no longer permitted.
As the eruptions were in rest some pushy young guides decided to start taking people to the crater again. It's not safer at all now than what it was when the volcano was more active, as a matter of fact it may be more uncertain and dangerous due to the toxic gases that are still being released.
There are no obvious signs indicating when the volcano activity is high or low. Despite it is prohibited and extremely dangerous if you get around in La Fortuna asking for that trail, it won't take much time to find anyone who will show you the trail for a fee.
Interested in learning how the volcano works?
As mentioned previously, Arenal Volcano is what is known as a stratovolcano: a tall and symmetrical volcano that is built upon continuous layers of rock, ash and lava.
Due to the merging of continental and oceanic tectonic plates, magma (molten or somewhat molten rock that forms right below the earth's surface) rises into Arenal's volcanic compartment and can eventually erupt from its top.
The area bordering the volcano is home to several hot springs thanks to geothermal activity beneath Arenal Volcano. There are hot springs facilities for every style and budget, and many provide unobstructed views of the volcano.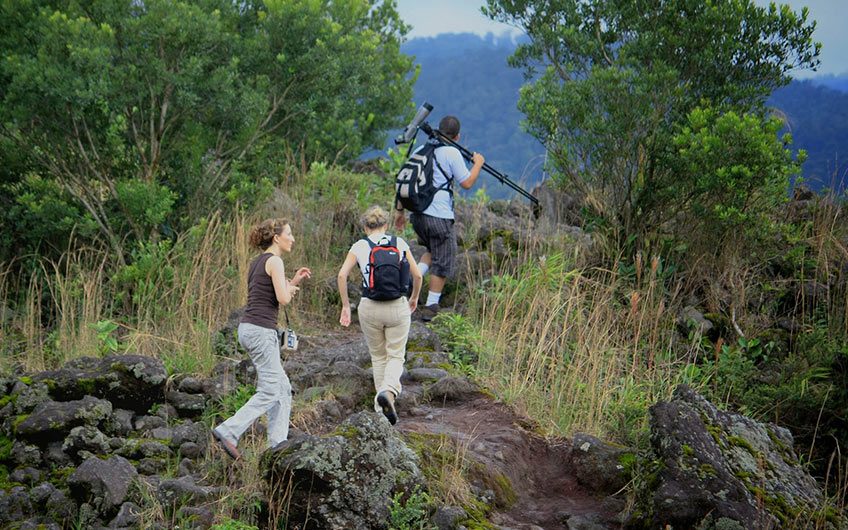 Things to do in Arenal and La Fortuna – Costa Rica
Arenal and La Fortuna activities are endless. There are countless activities that take place in the area surrounding the volcano with access to the waterfalls, volcano, rainforest, the largest lake in the area and the country (Arenal Lake), rivers, adventure options and so much more!
Back in 2010 when the volcano stopped erupting, local tour companies and hoteliers have lined up in strength to give visitors access to this tropical recreation and enjoyment park. Today the range of hotels near La Fortuna and Arenal, as well as the multiple activities available make of this destination a convenient vacation spot for everyone.
For people traveling for the first time to Costa Rica, we nearly always recommend a visit to this incredible region as it has a little of everything for everyone´s tastes. For those seeking for an adventure vacation in Costa Rica, Arenal Volcano destination is a must!
Arenal certainly is a place that entreats to be explored; not only for its rivers wind through lavish rainforests, but for the waterfalls crash among impressive canyons and hot springs gurgle up at the bottom of this inspiring volcano. Activities are varied and will help visitors to bond with Arenal in any way they wish. So, nature lovers can enjoy horseback rides and hikes, walks along underground cave excursions and hanging bridges.
Adventurous people can go for canopy tours or waterfall rappelling, one of most liked tours! Biking Tours or rafting trips. And we are certain to say that pretty much everybody will agree that a soak in any of the hot springs is a perfect ending to any day.
Some of the day tours combine multiple of those activities packed into one action that create a fun-filled day. Tours in La Fortuna Costa Rica can be taken by people of all abilities and ages, both as individual guests or groups, on a scheduled activity or a customized private tour.
Canyoning, rappelling, chocolate tour, floating and tubbing tours, stand up paddle in the Arenal Lake, one day visits to the Monteverde Cloud Forest Reserve, cooking classes and dance lessons; as well as one day visits to Rio Celeste: a hike in the Tenorio National Park (hikers won´t regret to be part of this one!), night tours, visits to the Chachagua Rainforest; are some of the other activities we would be pleased to include in your vacation package. Just by knowing your preferences and desires will be enough for us to suggest the best suitable tours for you and companions´ vacation.
Here you have a glance of the activities available that complete our visitors vacation in Arenal area:
Arenal Volcano National Park: Although you cannot hike up the volcano itself, we highly recommend hiking through Arenal Volcano National Park on our scheduled and safe tours in search of wildlife and old lava flows. Just little changes in altitude form ecosystems and unique micro-climates through this region, making it habitat to an extensive variety of exotic species.
Take the opportunity on this tour to have your own relaxation and rejuvenation time in the hot springs at the end of the tour, you will not regret!
Horseback Riding to La Fortuna Waterfall: La Fortuna Waterfall is a breathtaking cascade of 230 ft / 70 mt height, that drops into a misty pond. It is just 3 miles / 5 km south of La Fortuna town and is one of the most visited attractions as an easy day trip. A horseback ride leaves visitors close to the base of the pool where they can take photos, swim and enjoy the scenery.
Arenal Ecoglide Park Canopy Tour: This is the perfect combination of nature, adventure and adrenaline with the best possible view of the Arenal Volcano. Arenal Ecoglide Park is the perfect spot to enjoy the scenery view while you learn about plants and animals in the rain forest. If you are lucky you might see monkeys, frogs, sloths, snakes, raccoons and a great variety of birds.
Caño Negro Wild Life Refuge: One of the most difficult places to visit in Costa Rica as it is near the Nicaraguan border in a jungle and marshy area, getting there however is spectacular as through the canyons on the way to the Caño Negro Lake, guests will spot mammals, birds, amphibians and reptiles in the trees or waters.
It is very likely they see the 3 species of monkeys that can be seeing in Costa Rica, including the spider, howler and the white-faced monkeys. Turtles, lizards, 3-toed sloths, caimans, etc.
Cultour, a Rural Experience: Costa Rica in general has endless opportunities for visitors to learn about our culture. Arenal is not the exception to it! On the Cultour, give yourself the opportunity to see some of the local traditions and culture, interact with locals and learn how locals live!
Taste a typical meal on this unique activity.
Arenal Hot Springs: The geothermal activity of the volcano heats dozens of underground spring water flumes. Landowners taking advantage of this natural source have created beautiful hot springs. These springs are very relaxing and some have waterslides, wet bars and even cold pools.
This thermal waters offer visitors a perfect way to end a day in Arenal.
EcoTermales Hot Springs: EcoTermales is the smallest of the Arenal hot springs but one of the most visited springs in the area. Local owners don´t take more than 100 visitors in each schedule (they got morning, afternoon and evening).
They have four pools of different temperatures, the coldest is 91°F and the hottest is 105°F. Besides their thermal pools what makes them special is a tasty local traditional restaurant. Try the frozen mango smoothie at the bar, you won´t regret!
Baldi Hot Springs: Promoted as the larges thermal waters of the world, Baldi has 25 pools filled by crystalline waterfalls throughout a large property. The purity of the waters including minerals will provide a feeling of healing the higher the temperature, the better help to get rid of viruses and germs.
Blood circulation increases while eliminating toxins through oxygenation. The sound of falling waters and birds singing invite to relax and rejuvenate.
Some hotels in Arenal Volcano feature geothermal hot springs on-site. One of the biggest representations of the Arenal area is without a doubt, the natural hot springs creating a string of thermal pools, believed for a long time to have medicinal properties, the naturally heated water is a wonderful way to end a day of adventure activities.
And the best part of staying at a resort with its own hot springs is that guests have unlimited access to the springs during their stay.
Tabacon Resort: Famous for the innumerable thermal springs dispersed throughout the property, connected seamlessly by rambling walkways.
Lush tropical gardens create a heaven of relaxation, and the section for adult-only provides a top-notch volcanic spa experience and unparalleled seclusion.
Costa Rica is home of some of the most astounding hot springs in the world and Tabacon is a favorite spot for relaxation. The verdant gardens that surround the river pools make guests feel like they are relaxing in the middle of the jungle.
The Springs Resort: Another extraordinary resort with hot springs, that like Tabacon, the thermal pools surrounding the resort are different in temperature and size, giving guests a variety of options and experiences to choose from. The Springs Resort is an amazing option for families as the property has a variety of activities onsite.
Los Perdidos Hot Springs is located within The Springs Resort, it´s seven hot springs range in temperature from 76°F to 98°F and are surrounded by tropical plants, a wet bar and waterslide. Kids and grown up have a lot of fun here.
Besides those two resorts; Volcano Lodge and Arenal Kioro are two other options with their own thermal pools, smaller but still relaxing for guests.
Arenal Kioro: Arenal Kioro guests can enjoy free and daily access to the hotel's eight pools called Titoku Hot Springs, with varying temperatures and sizes. They are located 2.5 miles / 4 Km from the hotel and hotel provides free transportation for guests. It is also available for visitors coming just for just a few hours.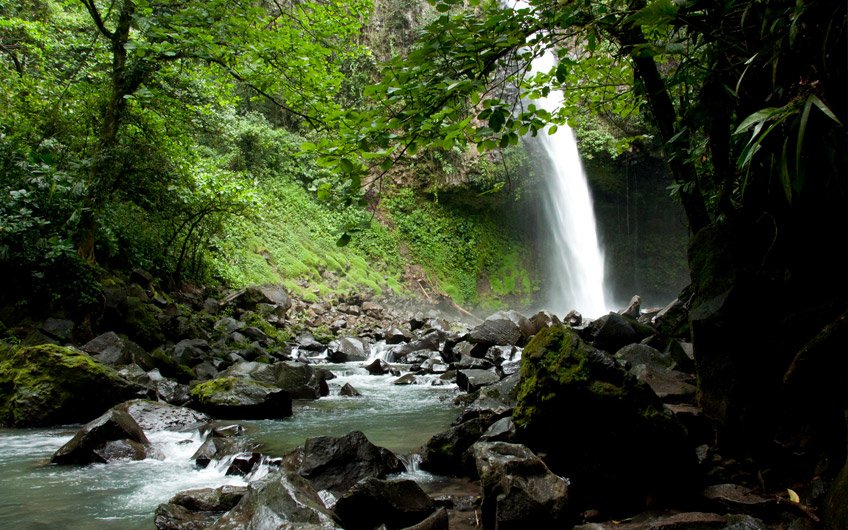 La Fortuna Waterfall Costa Rica
This lovely waterfall is set in the rainforest near the edge of Arenal Volcano National Park and it is managed by a non-profit local community group. All funds received are being reinvested into local conservation projects.
You can have access to La Fortuna Waterfall by walking for about one hour from La Fortuna downtown, that is around 3 miles / 5 Km. Driving the first 3 km and taking a horseback ride is another delightful experience and most liked by visitors. It takes around 15 minutes to hike down the stair settled to the waterfall and about one hour to get there by horse.
And to those that have brought their swimming suits along and have a jovial sense of adventure, can swim in the fresh water right below the fall. Others can certainly enjoy a picnic snack along the rocky shoreline or by the perfectly placed nature. Make sure you bring your camera with you as you won´t want to miss a memory to bring back home in a place as beautiful as this one.
The trail runs through meadow and rainforest patches, offering up visitors great opportunities to spot monkeys, toucans and other tropical little creatures.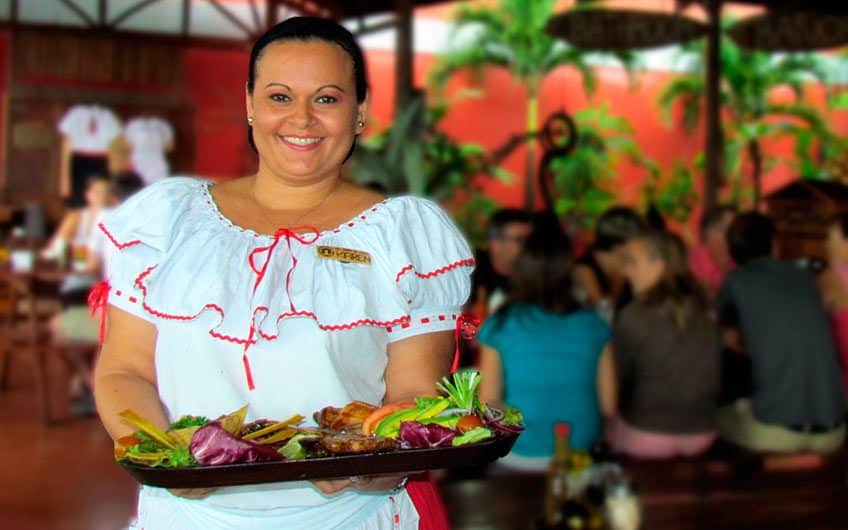 Best Restaurants in Arenal and La Fortuna – Costa Rica.
La Fortuna town is the region´s heart for restaurants, bars and night life. It has many different restaurants to choose from and most of them fall under one of the following cuisine categories: fusion, international and sodas.
Fusion restaurants are basically a collection of international dishes including steak, seafood, pasta without leaving behind the Costa Rican favorites like casado.
Some of the favorite restaurants among travelers include Don Rufino's, Lava Lounge and Punto Fusion, but most hotel restaurants in Arenal might probably fall under this category as well.
Those restaurants tend to have similar menus and are mainly differentiated by quality, price and ambiance (prices go between $10 and $30 per entrée).
The second category includes those that are not so easy to define; international restaurants with a specialty that can be found within La Fortuna's town limits. Inside that category people can find pizza places, two Japanese restaurants, the steakhouses and a Peruvian restaurant.
Sodas are the best finds and most common for travelers who would rather spend their vacation savings on adventure rather than fine dining.
These little drops of culture have very similar menus of Costa Rican typical food like casado (spiced meat, rice, beans and veggie sides. Some of them have fish or chicken and salad), chicken with rice (arroz con pollo) and homemade warm sandwiches with fresh cheese, meat and vegetables. Each restaurant has its own style, recipes and flavor. Prices go from $5 to $10 for a plate.
Regardless of La Fortuna being the tourist hub of Arenal, there is not much activity in town after 9 p.m. Visitors can find a few bars scattered around the central park. Some of the suggested restaurants in Arenal are:
Rancho Perla: This restaurant receives the name of Head Chef and Owner and it is known for its seafood. Perla tempts his guests with his creative flare shown off in dishes like the coconut stuffed snook filet and the honey ginger glazed tuna.
Guests can still find local traditional cuisine including butter sea bass, grilled garlic. Menu contrasts other local restaurants in his selection of fish including mahi-mahi, snook, trout, and salmon.Underneath the cabana (rancho), wooden comfortable tables set with white napkins give a tropical but fine dining vibe.
Opening Hours: 11:30 a.m. – 9:00 p.m.
Café Mediterraneo Restaurant: This is a familiar place, but also very romantic and cozy with the best view of our Arenal Volcano. At this restaurant, you can try a great and fresh cappuccino, an exquisite Italian pizza, salad pasta, accompanied with a sangria, mojito or the most preferred: a glass of wine! Mediterranean dishes are their specialty.
Opening Hours: 11:30 a.m. – 10:00 p.m.
Don Rufino: Named like that in honor to one of the city's founders, Don Rufino Restaurant is the classiest haute in La Fortuna town. The large menu intimidates until you learn about the Rufino grandmother's chicken immersed in a tangy barbeque sauce wrapped and roasted in banana leaves infused with tarragon, chocolate and coffee.
The restaurant style is old-school, floors and tables in line with a business casual setting, polished wood bar tops. Relaxed but still classy, it is a great spot for fine dining. Dinner only.
Opening Hours: 4:00 p.m. – 10:00 p.m.
Musashi's Sushi: This is the sushi bar in the middle of La Fortuna downtown on the second story of Hotel Jireh. It is Open-air casual dining overlooking the park and the church across from the most happening bar (Lava Lounge).
This places is replete with sushi-sheik, and guests will always find a sushi bar showing the day's selection of fresh fish. Great for people looking for fresh, fast service in a convenient location. They serve lunch and dinner.
Opening Hours: 11:00 a.m. – 11:00 p.m.
Rainforest Cafe: warm up or chill out with an extensive menu of coffee creations at the Rainforest Cafe. All the coffee is specifically picked for its flavor profile: lattes, cappuccinos and regular coffee use an Italian roast from the slopes of Poas Volcano, meanwhile the frozen drinks are made with espresso roast from San Ramon.
The most requested are: lattes, espressos mochas, and cappuccinos however they offer other types from around the world that include: Irish, Dominican, and European-style coffees. You can find a laid-back upscale cafe atmosphere on polished wood with the sound of cool jazz.
Opening Hours: 7:00 a.m. – 10:00 p.m.
Flights to Arenal Volcano / La Fortuna – Costa Rica
Juan Santamaria International Airport in San Jose (SJO – San Jose International airport code), is the main international airport in the Capital City of Costa Rica and the gate to your Costa Rica Vacation. This airport provides seamless travel to the main areas of the Central Valley, Arenal Volcano, La Fortuna, the Caribbean and the Central Pacific.
Driving time from the airport to La Fortuna is approximately 3.5 hours, thus if your arrival flights lands after 5 p.m., you might consider end up staying in San Jose your first night and head to Arenal the second day.
This is a very important airport for Costa Rica and it features a great variety of services, such as: migration office, an emergency medical technician's department, refueling service, a fire brigade department, bank services, telephones, internet, sanitary facilities, VIP Lounge, restaurant and cafeteria. In addition to that, only a few minutes from the airport you will find a great variety of hotels, from luxury resorts to boutique hotels or small lodges, banks, restaurants, domestic and local flights services.
San Jose´s International Airport, first airport in Costa Rica in terms of relevance, receives flights from several important U.S. cities such as New York, Newark, Miami, Dallas, Los Angeles, Ft. Lauderdale, Houston, and Atlanta. Other cities from where you can take flights to San Jose are: Madrid, Panama, Managua, Guatemala, Salvador, Mexico, Tegucigalpa, Bogota.
Local Flights to Arenal – La Fortuna
If being in a car for 3.5 hours does not sound like a good plan to you, but saving time in transportation is your choice, then small aircrafts are available through two major local airlines that provide scheduled local flights to several destinations within the country, including La Fortuna. The hubs of both Sansa and Sky Way are located at the Juan Santamaria International Airport.
Almost every domestic flight departs or arrives in San Jose so it can be a great alternative to start or end your vacation to Costa Rica if your international flights are at Juan Santamaria International Airport.
It is rare to see interconnecting flights between destinations; ie: La Fortuna – Manuel Antonio, Quepos, or La Fortuna – Tamarindo, Guanacaste. For you to take a flight from La Fortuna to Manuel Antonio, you would need take a 30-minute transfer from your hotel in Arenal to La Fortuna Airstrip, followed by a 30-minute flight from La Fortuna to San Jose.
You will need to connect with the next available flight from San Jose to Quepos, Manuel Antonio (layover may be from 1 to 3 hrs.). Take a 35-minute flight from San Jose to Quepos Airstrip and end with a 30-40-minute transfer to your hotel in Manuel Antonio area.
A direct flight would be around 45 minutes but unless you charter a whole small aircraft there are no direct flights. On the other hand, driving from Arenal to Manuel Antonio would be around 4 hours which at the end works out to be faster in most cases (with other destinations as well).
Travel Excellence will take care of the best possible logistic for your vacation and customize your trip based on your priorities to see and explore and your budget. There is an art to put together a Costa Rica travel itinerary, as there are no specific rules for deciding when to fly or where to fly. There are some times and places that make more sense than others from a time and cost perspective.
If you are willing to visit this lush region, then let us introduce the "already made" vacation packages you can book in order to spend some days in the magical northern lands of Costa Rica: