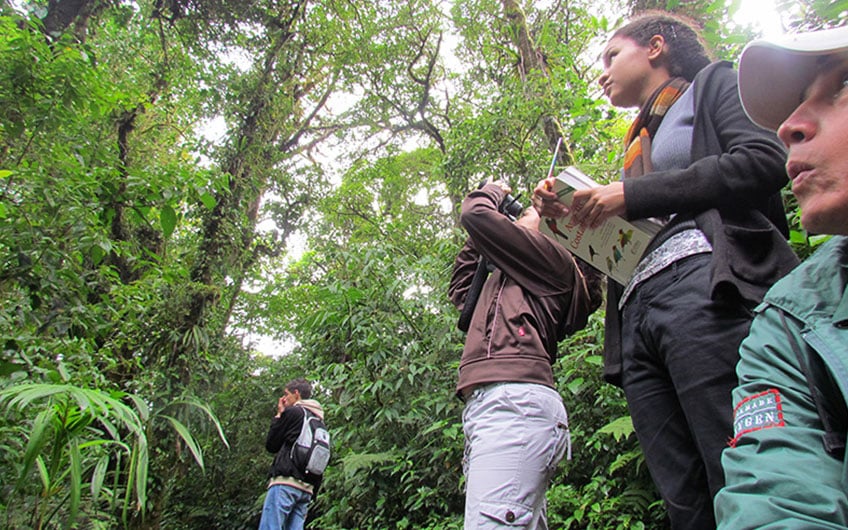 The "Bosque Nuboso de Monteverde", or Monteverde Cloud Forest Biological Reserve is a worldwide known place due to the varied and diverse wildlife that hosts in its cloudy nooks. One of those responsible for its fame is the resplendent toad, a species in danger of extinction. This wildlife area has been formed to protect the flora and fauna, as well as to carry out scientific studies and educational environmental programs in Costa Rica.
Located in the province of Puntarenas, the settlement of Monteverde, placed at the south end of the cloud forest, had its early development in 1950s with the force of a group of Quakers from the United States, a group that came to Costa Rica fascinated by its pacific inclinations and its disarmament, as well as for the great climate of the area.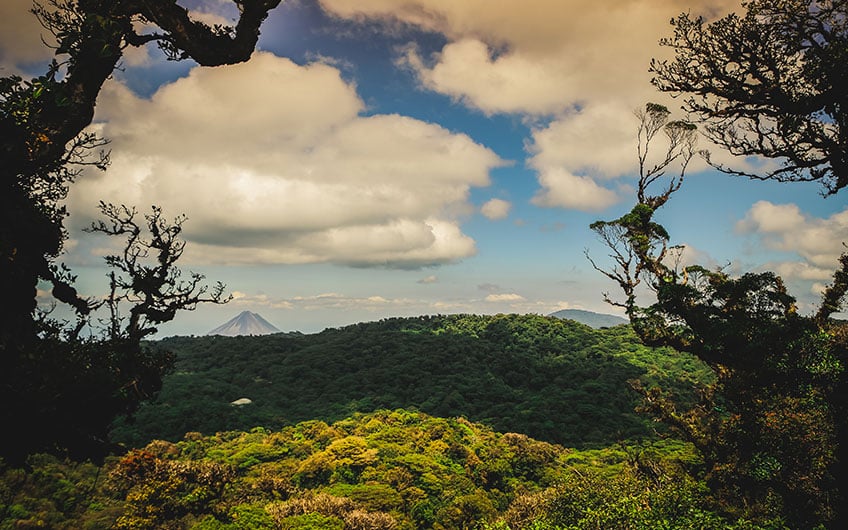 They established with their families in the region and devoted themselves to produce milk and quality cheeses, that conform an important part of the typical Costa Rican food tradition.
This beautiful and fresh city has much to offer to tourists who are spending their vacations in Costa Ricaand is undoubtedly one of the favorite destinations for those who love adventure and nature, as you can find both here. It is an ideal place for honeymoons and to have a good time with a group of friends or just to enjoy a great family vacation in Costa Rica.
Now, in the following lines, we are going to offer you a list of the four best things to do in Monteverde. We can assure you that with these suggestions you won't get bored when visiting this little – and mystic – paradise in the beautiful Costa Rica.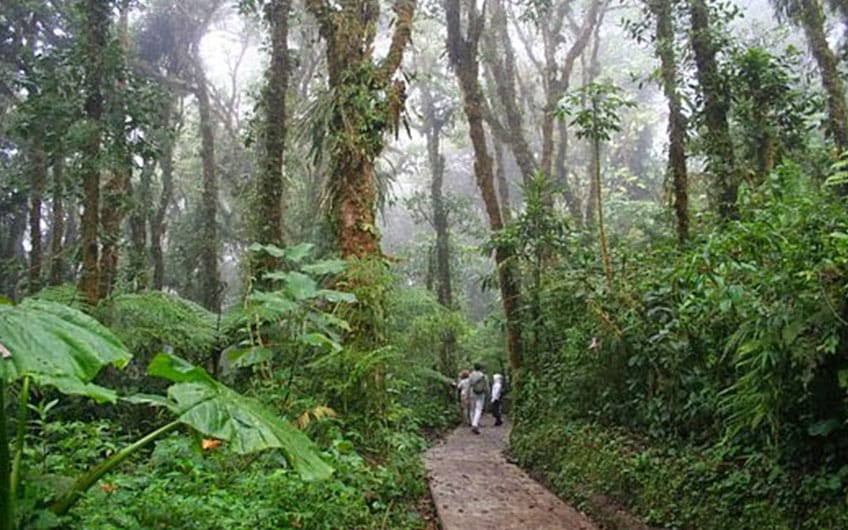 During this hike you will be amazed by the breathtaking views of the Arenal Volcano on clear days (yes you can be lucky enough to see the majestic volcano while visiting the area).
All the projects that are carried out here are focused on the educational development of the region as three hundred and ten hectares bordering the Monteverde Conservation have been permanently leased by the administration of the Santa Elena community High School.
Here you can have great chances of spotting a lot of birds and tiny animals so, if you love this activity, then birdwatching in Costa Rica, and specifically in Monteverde should be a must! You can also visit the Monteverde Cloud Forest Reserve if you want to get to know better the area.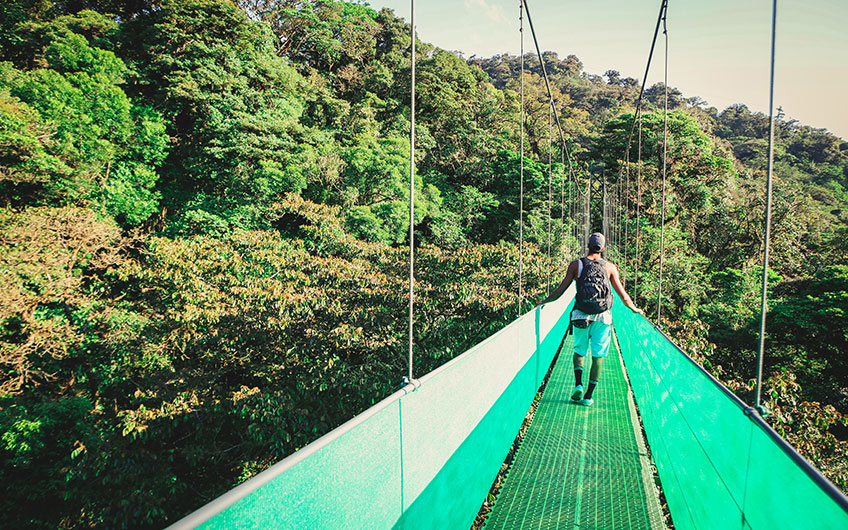 People of all ages and conditions will surely love this natural tour. The Sky Walk grants visitors to safely enjoy the rich diversity of the canopy flora and fauna, with a mix of 2.5 kilometers of trails and six suspension bridges.
The Sky Trek is a system of walking trails, zip lines and two observation towers, a delight for those visitors who really enjoy to see the things from a different perspective. Here, you can also find the Serpentarium, which is an amphibian and reptile exhibit that opens every day and offers guided tours every half an hour.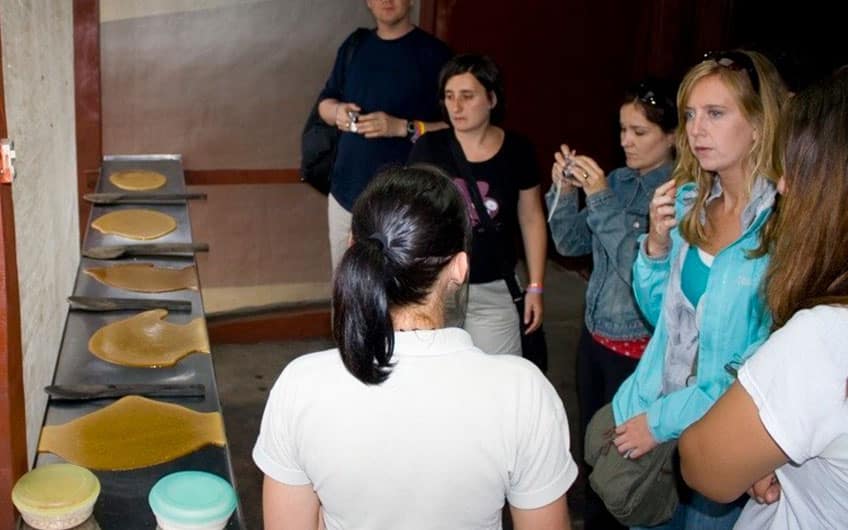 In this different and enriching two-hour guided tour you will know a little bit about the "trapiche", which is a sugar cane mill. The tour is owned and operated by a local Costa Rican family.
You will be able to observe how the sugar cane is processed, walk through the plantations and taste its varied products. An explanation about coffee, bananas and other crops are also offered during this excursion, as part of the best Costa Rica tours to enjoy in Monteverde.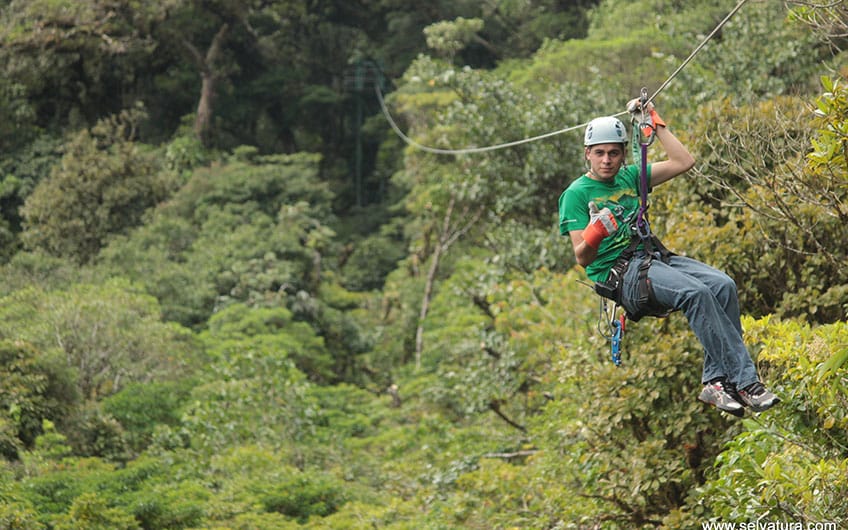 This is one of the best canopy tours in the country. Its cables and platforms are built into the cloud forest rather than above it, this allows visitors to feel truly immersed within the forested environment. In total, there are 15 cables and 18 viewing platforms that stretch over 2 miles – the longest cable length of any canopy tour in Costa Rica.
Furthermore, there is a called "Tarzan Swing" at the end of the tour, a large, swing-like contraption that allows participants to swing out above the forest and truly feel like the man for whom it is named.
And, as an extra tip, if you and your family are coffee lovers then you must visit this place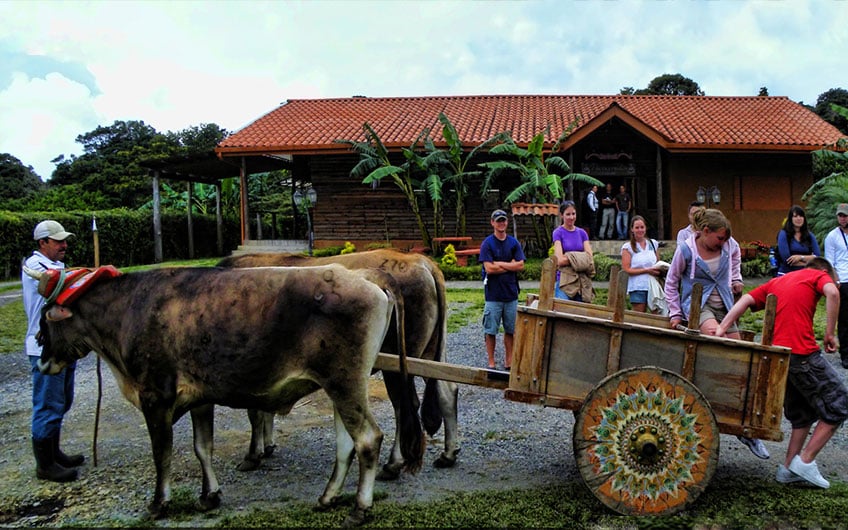 Monteverde is one of the best zones where you can learn about the authentically coffee plantations and process used by our grandparents. The tour takes place in an environment that highlights the best of our culture and tradition that has made this a country of progress and peace.
You will learn all the stages, starting with the plant, the harvest, drying, toasting and grinding of the bean, then, try a cup of the beverage we enjoy every morning. This visit lasts 2 hours and you will have the chance to taste a delicious cup of coffee. For an optional fee you can also enjoy here a Costa Rica typical lunch.
Now, your trip to Monteverde is almost complete. You just need to select one of the hotel accommodations we offer you and then pack your belongings and go to the airport. Once in the capital city of Costa Rica, San José, one of our representatives will be meeting you and will give you a warm welcome and some other important tips to take advantage of your Costa Rica trip with your family. Just enjoy!
If you found helpful this article, please leave a comment below!