Manuel Antonio is one of the best places to see in Costa Rica. It is the main and most visited destination in the Central Pacific Region of Costa Rica, offering a variety of small and intimate hotels carefully built into hillsides in the rainforest just between Quepos town and the popular Manuel Antonio National Park.
Manuel Antonio National Park is one of the most famous destinations in Costa Rica not only for its easy access, but also of its variety of services in the surrounding areas including meals, accommodations and extensive range of fauna and flora in such a small piece of land. This national park is among the most visited in Costa Rica.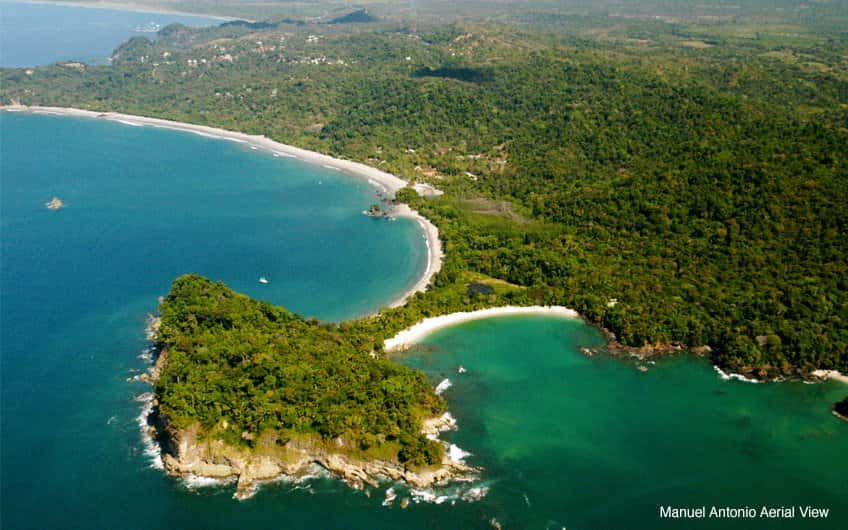 So, Manuel Antonio National Park is a must! On a short trail taking from the white-sand beaches into the hills, three-toed sloths are visible over cecropia trees, troops of squirrel monkeys feed busily on many of green and black grasshoppers. White-face monkeys can be found if you look carefully.
Some of the main attractions you can find are the beaches surrounded by dense rainforest, pristine beaches ideal for swimmers and surfers. Birders and eco tourists are enchanted by this rich and varied destination, one of the best tourist attractions in Costa Rica.
What makes Manuel Antonio one of best places in Costa Rica to visit?
Manuel Antonio is a small ocean view village with a great variety of hotels to stay, from luxury hotels overlooking the ocean to small cozy hotels hidden in the nature. This location is famous for its national park, sport fishing, rafting, mangroves, walking tours, zipline tours, kayak, horseback rides, surfing, just to mention a few of the most popular activities in Manuel Antonio, Quepos.
This region is a treasure for biodiversity bringing together eco-travelers, nature buffs and adventurers. Soaking up in the white sand and clear waters is one of the most relaxing and refreshing things you can do at any of its beaches.
There is no doubt that Manuel Antonio is located within one of the most celebrated spots in Costa Rica! Not only it offers the great variety of activities, but also has a wide range of dining options for its visitors.
Manuel Antonio National Park is a must visit spot, you simply cannot miss visiting it Tuesday thru Sunday. Be the witness of its abundant wildlife and network of hiking trails taking you to the isolated white-sand beaches within the park.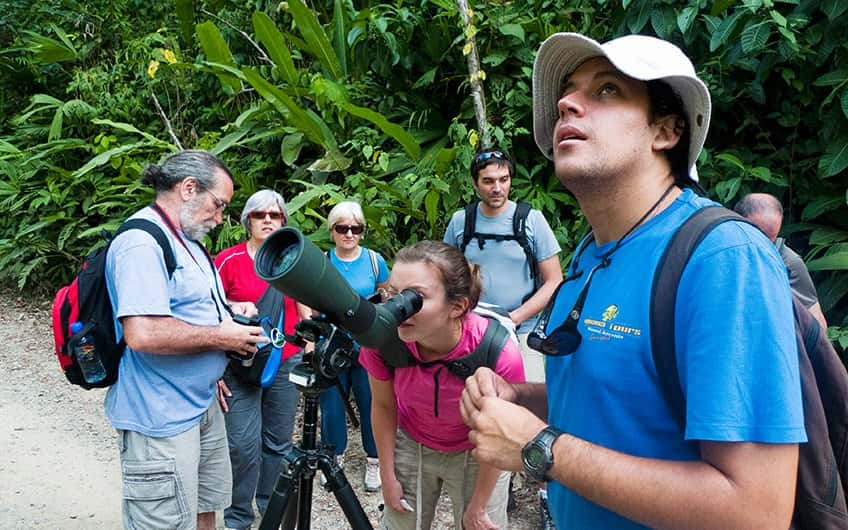 Best places to stay in Manuel Antonio
And if we want to talk about accommodation, there is no absence of top notch places to rest in this location. All hotels in Manuel Antonio are very close to each other, you will find them throughout the road and within minutes to the Manuel Antonio National Park. Most of them offer free shuttle service to the national park.
Within walking distance of the Manuel Antonio National Park we have the outstanding beachfront and family friendly hotel Arenas del Mar. Unique among the hotels in the area as the carbon neutral facilities offer sustainable and luxurious lodging. This is a Top-rated hotel we highly recommend.
Nested on 12 acres of tropical forest you will find the secluded luxury Parador Resort and Spa Hotel, adjacent to the shady and protected Biezanz Beach and just minutes from Manuel Antonio National Park. This family friendly resort offers two independent environments: one for families and another one for adults only. A building with an independent restaurant and pool for adults only is perched by the end of the property. Check-in and check-out are provided totally privately to their guests from families and other guests coming to the resort.
Standing on the topmost point in the area we can find the family oriented La Mariposa Hotel, featuring panoramic views overlooking the Ocean and Manuel Antonio National Park. La Mariposa Hotel was listed in the book "1000 Places to See before You Die", mainly for the manicured gardens and world-class views that can be enjoyed from any corner of the hotel.
As an adult and teens only luxury boutique hotel we have Gaia Hotel and Reserve, which was featured on CNN as a top worldwide destination for eco-tourism, as the luxury resort utilizes 100 percent solar heating of the water and 5-star amenities.
Enjoy the Mediterranean design, and the in-room Jacuzzi overlooking the ocean, the 24-carat gold faucets and the Jacques Cousteau Dinging room at La Mansion Inn, a small boutique hotel. Every room has sliding glass doors opening to incredible breath taking views of the Pacific and jungle surrounding the hotel.
There is one option for every taste, budget and interest! Take a look at our hotel selection and pick your best suited resort, we will make sure to include it in your vacation itinerary through Costa Rica.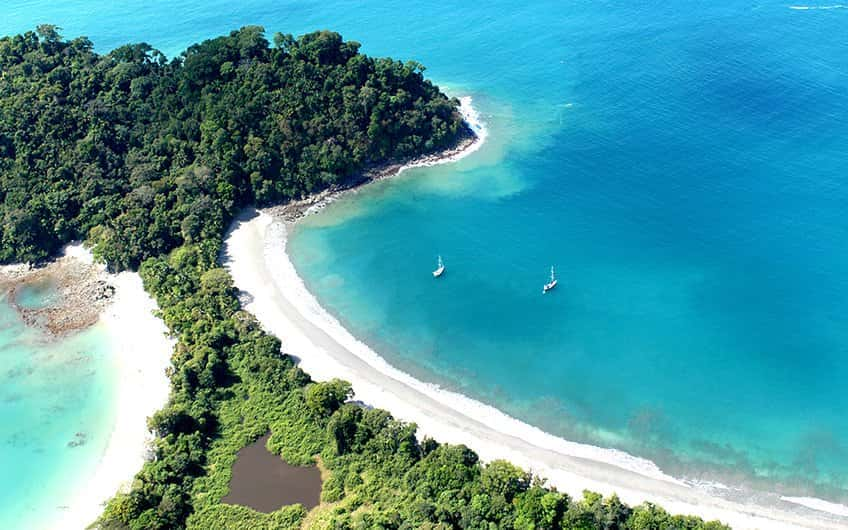 Manuel Antonio National Park – Costa Rica
Manuel Antonio National Park was created in 1972 to preserve the bounty of the forest and the unspoiled beaches, this national park is the home of many species at risk in Costa Rica. It might be tricky to think that the smallest national park in Costa Rica cannot be one of the richest in flora and fauna in our country, it embraces though almost 1,700 acres of land / 683 land hectares and 136,000 acres of Ocean / 55,000 marine hectares.
Manuel Antonio National Park is where the rain forest meets the ocean. The beaches are wide, extensive, and covered with beautiful, soft, white sand, where evergreen trees are the edge on one side, and the blue Pacific Ocean on the other side.
Manuel Antonio National Park is recognized for being one of the most biodiverse parks on earth! Yes! its verdant tropical forests, mangroves, lagoons and unspoiled white sand beaches create of the best and most diverse ecosystems you can imagine.
Amongst the 184 species of birds and 109 species of mammals, which some are seeing easily such as the white-faced and the howler monkeys, the 2-toed and 3-toed sloths, small and large iguanas, raccoons, squirrel monkeys, and colorful crabs such as the mouthless crab or the red land crab, both abundant in the area.
Within the park are primary forest, swamps and tropical woodlands, containing hundreds of species of plants.
For hikers, there are just plenty of self-guided trails well marked to explore the fauna and flora in the park. Park maps can be purchased at the park entrance for those coming on their own, however the guided tour to Manuel Antonio National Park is highly recommended so that you can take the most out of this unforgettable visit.
The National Park includes 12 small isles just off the coast, which are visited by a great number of dolphins and sometimes migrating whales that can get to be seeing!
Manuel Antonio is the most visited and popular National Park in Costa Rica among the locals. The unspoiled white sand beaches within easy walking distance of the park ranger station is one of the reasons. The hanging palms are an exhilarating break from the discos, bars, restaurants and hotels surrounding the park.
Agriculture and logging have left two meaningful areas of tropical rainforest (tropical lowland, wet forest) along the whole Pacific coast of Central America. Corcovado on the Osa Peninsula protects one, and Manuel Antonio preserves the other one.
Many Costa Rican children visit Manuel Antonio on school field trips. The park has a broad education program for schools, institutions, organizations and independent visitors.
Its 4 beaches are good for snorkeling, sun bathing and swimming. Espadilla Sur, Manuel Antonio, Escondido and Playita are those 4 beaches in the park and some of the best beaches in Costa Rica! The first two beaches offer very good snorkel when the water is clear, especially during dry season.
The Cathedral Point (236 feet / 72 m) lies between Playa Espadilla and Manuel Antonio, if you are up for a hike we are sure you will have a memorable view of the islands and ocean; which are situated off the rugged coastline.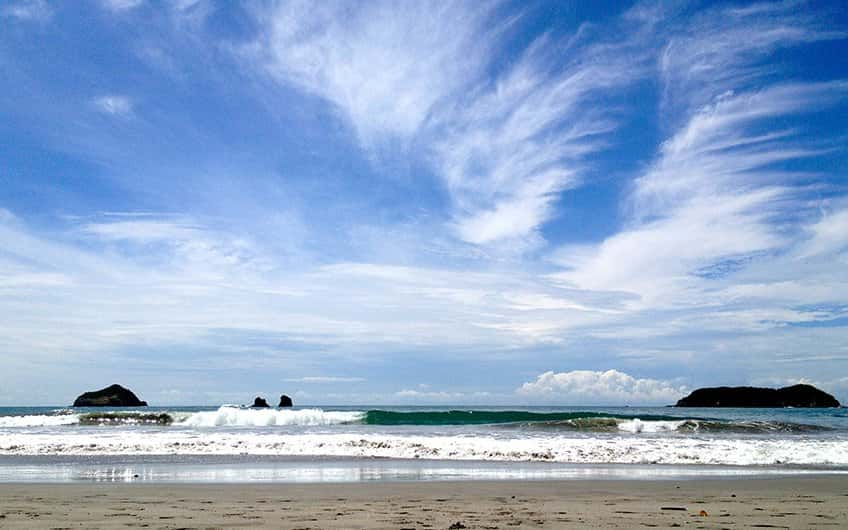 And what about those 4 beautiful beaches?
Playa Espadilla
Right on the northern side of the park the stunningly beautiful Playa Espadilla Norte can be found, a long and wide beach.
Though swimming here may be unsafe because of the changeable riptides. Playa Espadilla Norte is accessible to any visitor (public) and highly tends to receive more visitors than the other beaches inside the park and the reason for that is that many restaurants along the beach, street-vendors and shops are located along the way of Playa Espadilla, including a surf shop.
This extensive beach is a great spot for taking the sun, surfing when the tide comes in and swimming. No matter how crowded the beach might be, people can always find a space to lay in the sand and get some sun or in the shade of any palm and almond tree.
Playa Espadilla Sur and Manuel Antonio Beach
These two beaches can be found inside the park, and those are accessible through a stretch of sand that becomes immersed during high tide.
Playa Espadilla Sur is pretty much an extension of Playa Espadilla Norte as it goes all the way to Punta Catedral. Playa Espadilla Sur is divided from Playa Espadilla Norte by a bared rock and an estuary, which outlines the border of Manuel Antonio National Park.
The longest beach in the park is Playa Espadilla Sur and it is situated back-to-back with Manuel Antonio Beach. This beach is exceptional for swimming, and has a picturesque view of Playa Espadilla.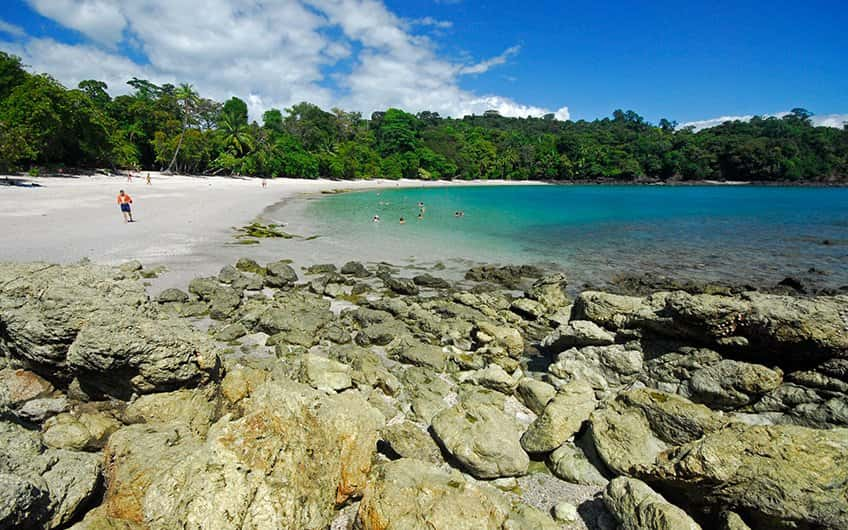 Playa Manuel Antonio
The whole south area of Quepos receives the that name thanks to that beach. Local story says that a couple who farmed south of town were on their way by boat to Quepos, where wife planned to give birth to her child, however rough seas moved them to a sheltered beach, where the child was born and received the name of "Manuel Antonio".
Manuel Antonio beach is one of the most wonderful beaches in Costa Rica and possibly in the world. This is a scenic ½ mile long, white sand moon-shaped with deep green jungle to one side and a secluded, private cove to the other side. It is a particularly welcome place for a refreshing dip in the sea after a great hike through the National Park trails.
Playa Manuel Antonio is great spot for swimming and snorkeling, however it lacks the heavy surf and rip tides of Playa Espadilla; which is what surfers look for!
And the Islas Gemelas or Twin Islands give name to the beach: Playa Gemelas. Both, the islands and the beach are part of the national park.
An easy walk on mainly level ground through one of the nature trails in the park will take you to Playa Gemelas. High tide totally covers this beach, so it is important to take that into consideration.
Playa Puerto Escondido / Hidden Harbor, is a horseshoe-shaped and wide beach that can be reached along the Puerto Escondido nature trail.
The beach is in a cove circled by steep cliffs. Playa Puerto Escondido is the most isolated of the beaches that can be reached by going through a trail inside the park. From above the beach and the cove can be seeing by following another trail to the clifftops.
On a clear day from up there you can get to see the coastline all the way to the South, to the Osa Peninsula. Playa Puerto Escondido is a good-sized beach. It is a great sandy spot for a rest before continuing your hike.
Important!Don't let high tide caught you here as the beach gets covered by water with surf impacting into the cliffs.
National Park Schedule
Manuel Antonio National Park is open Tuesday through Sunday, 7:30 a.m. 4:00 p.m.
Government put in place regulations to limit the number of visitors to 600 during the week and to 800 during the weekends and holidays (except for Mondays; the park is closed).
Some other beautiful beaches in Manuel Antonio, outside the park:
Doctor's Beach, Playa la Macha, is the most secluded beach in Manuel Antonio. It is accessible on foot or by small boats. Trail to the beach is steep and rough and the uphill return trip is suggested only for the fit.
When approaching to the beach, it's very likely you will find you have the beach to yourself. This beach is strewn with rocks of good size. A rock´s semi-circle is presumed to be a pre-Columbian sea-turtle trap. You must know this beach is totally under water at high tide, so make sure you time your visit appropriately.
Playa Biesanz, the family's last name who settled the adjoining property; is a small and secluded beach that can be reached by a trail off the road leading to Parador Hotel. Sea-kayaks and small boats can also be found in Playa Biesanz to entertain its visitors.
Playita is the Gay Beach and it is found by walking north to the end of Playa Espadilla. At the end of the beach some rocks must be crossed over on high tide or walk through the beach on low tide. Be sure to wear shoes or thick sandals to cross those volcanic rocks to avoid injuring your feet. Playita, a secluded little beach is the favorite spot for gay visitors and residents. Following a path of jungle behind the beach people will find a small waterfall to play in that beach.
Things to do in Manuel Antonio – Costa Rica
Quepos is well known as the fishing destination in the region! So, for those looking for sport fishing this is the right place to visit.
Sport Fishing: This is one of the main attractions in the Central Pacific, whether it is for fun or commercial. There are also tournaments where various world records have been broken for marlin, sailfish, tuna, dorado, roosterfish which are returned to the sea.
There also is a great variety of activities for those looking for nature, adventure, other sports, relaxation, culture and recreation. For all tours transportation from your hotel back and forth is included on a scheduled time that would be shared with you in advance. Any of the following can be included as part of your trip through Costa Rica.
Surfing Lessons:Surfing is one of the most enjoyable but physically demanding sports you can practice. It is fun, exciting, and even purifying at times. A quality surf lesson for beginners through intermediate, to expert surfers will help you perform better in the water, catch more waves and enjoy a fun surf session.
You just make sure you bring desire to have fun! Surfboards will be provided and qualified instructors will cater to all ages and levels of surfers.
Stand Up Paddle (SUP): Take advantage of a paddle board lesson and get to learn a new fun skill. Instructors will give you a personalized instruction, demonstration and safety talk. Get to learn about proper posture, paddling techniques, posture and SUP etiquette. Get into the water and put in practice all you learned. Instructors will be close to you to coach you in the water for around 2 or 2.5 hours of fun and fitness.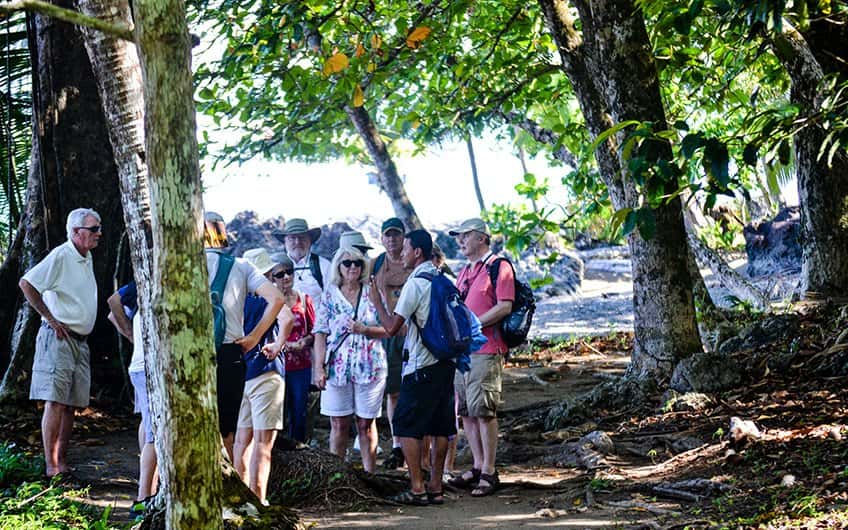 Visit to the Manuel Antonio National Park: This national park is one of the most famous in our country due to its wide variety of flora and fauna.
The park has 3 different trails that go from flat to very steep. On this tour a knowledgeable guide will walk you through the Manuel Antonio National Park, interpreting the natural history of the rainforest. The trail you will take is flat and picturesque and loops through the park making your course about 2 miles long. Along the way, you can take pictures or just admire the view.
One of the highlights of this tour is that Manuel Antonio hosts 3 of the 4 existing monkeys living in Costa Rica. Throughout the hike is common to see sloths, birds and reptiles as well as admire orchids, butterflies and tropical trees.
Your guide will let you observe wildlife and take pictures from a different perspective through the Pentax and Swarovski telescopes. Park is closed on Mondays.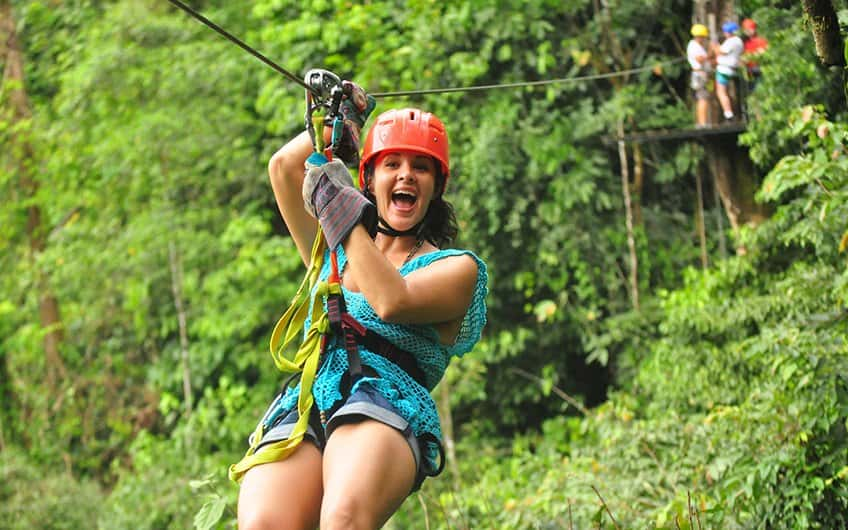 Canopy / Zip Line Tour: Your adrenaline might show up when taking this canopy tour. Traveling from the canopy of a tree to another hanging through one cable is adventurous. You can get to see monkeys and birds from the tree platforms or while you travel through the forest.
Your nature guide will gladly point out and describe the wildlife found in this area, mainly primary and secondary rainforest. you will be amazed by the new perspective of natures wonders that this canopy tour gives you.
Savegre River Whitewater Rafting: Transportation will take you for about one hour to the Savegre River for a whitewater rafting experience. Learn some history of Quepos in route to the river, witness some of the cultural and architectural legacy of the United Fruit Co. presence in the area.
A safety and technique briefing cannot be missed by each participant in the tour. Additionally, to your river guide, a safety kayaker will join you throughout the 2-hr tour.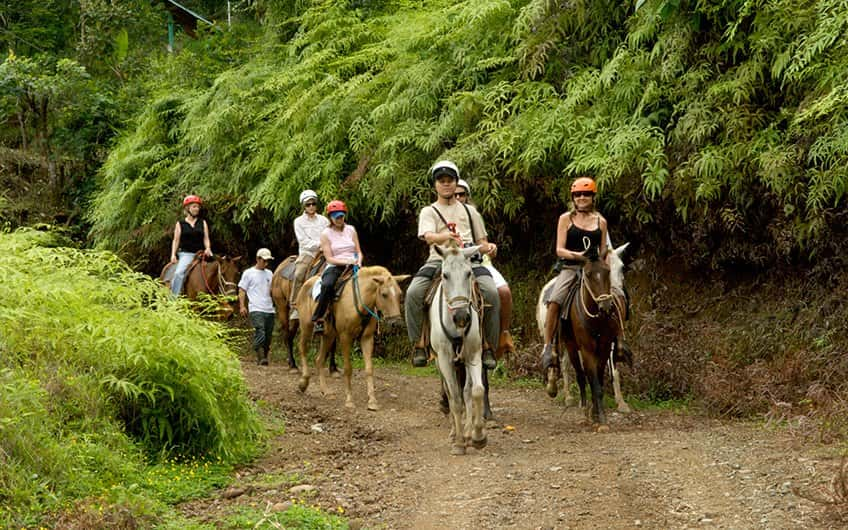 Horseback Riding: Tour starts from Londres, a town just 40 minutes away from Manuel Antonio. The tour begins in a picturesque property with restrooms, stables, a corral and an open air waiting area. As every tour, you will certainly receive a briefing on safety and riding techniques for those who have never ridden a horse before.
As you ride, discover the exotic secrets that lie within this secondary rainforest. Ride through the mountains for about 2 ½ hours and enjoy the amazing valley views, verdant vegetation and numerous wildlife species such as birds and reptiles.
A waterfall swim our rest is part of the break in the tour before enjoying a delicious lunch made with local ingredients.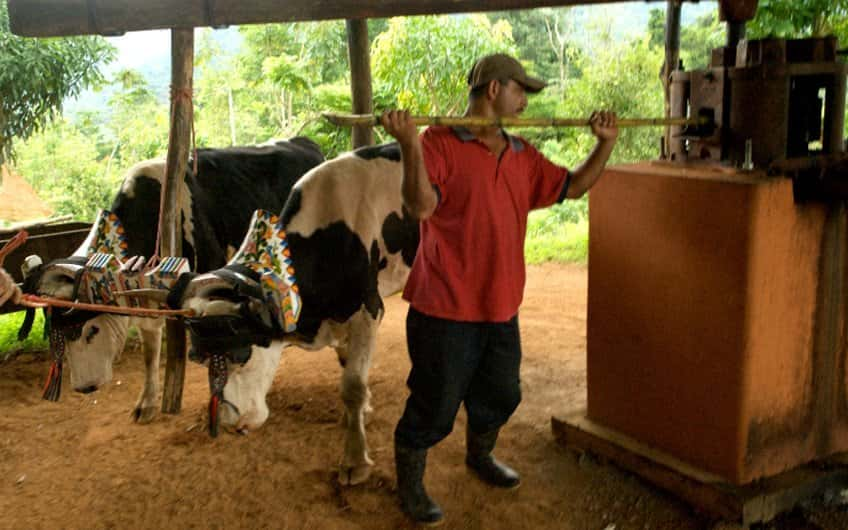 Santa Juana Rural Experience: Experience Costa Ricas rural heritage by joining the highly rated Santa Juana Mountain Adventure Tour in Manuel Antonio.
This guided nature trek takes you through jungle-shrouded slopes and tropical palm plantations, within the Talamanca Mountain Range and the tiny farm of Santa Juana overlooking the coastline of Manuel Antonio.
Enjoy exploring this pristine mountain sanctuary of flora and fauna where rivers are born.
Swim beneath pristine and mesmerizing waterfalls, choose to take a comfortable horseback ride, fish for organic Tilapia or just kick back and relax in a lush botanical oasis beside the River Rodeo.
Delight an authentic lunch in a typical farmhouse prepared by members of the community, and take home a "Tree Adoption Certificate" for participating in this unique concept in sustainable rural tourism.
Some other Activities you can explore while in Quepos or Manuel Antonio are: Snorkeling, Scuba diving, Kayaks, Catamaran (Ocean King Catamaran / Catamaran Adventure), whale watching, ATV Tour, bike tours, night tours, and the Damas Island Tour.
Best time to visit Manuel Antonio
The best time to visit this place will depend on your preferences. You must know that the high season goes from December through April, when the weather is predominantly dry.
While peak fishing season lasts from December to August, days in March and April can get pretty hot, and September brings a lot of rain.
During this time the town features some different activities for the entertainment of the locals and the visitors. Those city activities culminate with the Festival del Mar, a month-long party held each February.
The festival highlights are different parades, public concerts, sporting events and a street carnival that marches through the streets of the city. You must be prepared to enjoy a vivacious time if you decide to visit during this time!
Then, if you're looking for a more isolated vacation, the ideal months are May through November, due that it provides less crowded beaches while still bearing the natural beauty of the port.
Flights to Quepos / Manuel Antonio – Costa Rica
Juan Santamaria International Airport in San Jose (SJO – San Jose International airport code), is the main international airport in the Capital City of Costa Rica and the gate to your Costa Rica vacation. This airport provides seamless travel to the main areas of the Central Valley, Arenal Volcano, Fortuna, the Caribbean and the Central Pacific including Manuel Antonio.
Driving time from the airport to Manuel Antonio is approximately 4 hours, thus if your arrival flights lands after 4 p.m., you might consider end up staying in San Jose your first night and head to Manuel Antonio the second day.
This is a very important airport for Costa Rica and it features a great variety of services, such as: migration office, an emergency medical technician's department, refueling service, a fire brigade department, bank services, telephones, internet, sanitary facilities, VIP Lounge, restaurant and cafeteria.
In addition to that, only a few minutes from the airport you will find a great variety of hotels, from luxury resorts to boutique hotels or small lodges, banks, restaurants, domestic and local flights services.
San Jose´s international airport, Costa Rica's first airport in Costa Rica in terms of relevance, receives flights from several important U.S. cities such as New York, Newark, Miami, Dallas, Los Angeles, Ft. Lauderdale, Houston, and Atlanta.
Other cities from where you can take flights to San Jose are: Madrid, Paris, Panama, Managua, Guatemala, Salvador, Mexico, Tegucigalpa, Bogota.
Local Flights
If being in a car for 4 hours does not sound appealing to you, but saving time in transportation is your choice, then small aircrafts are available through two major local airlines that provide scheduled local flights to several destinations within the country, including Quepos, Manuel Antonio.
The hubs of both Sansa and Sky Way are located at the Juan Santamaria International Airport.
Almost every domestic flight departs or arrives in San Jose so it can be a great alternative to start or end your vacation to Costa Rica if your international flights are at Juan Santamaria International Airport.
Even, there are existing flights among destinations; the ideal way to save time while interconnecting different regions. This way, you should be able to organize, in a better way, your vacation.
The great thing about Travel Excellence is that we will take care of the best possible logistic for your vacation and customize your trip based on your priorities to see and explore and your budget.
There is an art to put together a Costa Rica travel itinerary, as there are no specific rules for deciding when to fly or where to fly. There are some times and places that make more sense than others from a time and cost perspective.
So, if you are in the country trying to get to a far place, or just to avoid the traffic and save time, then it is a good idea to consider taking a local flight.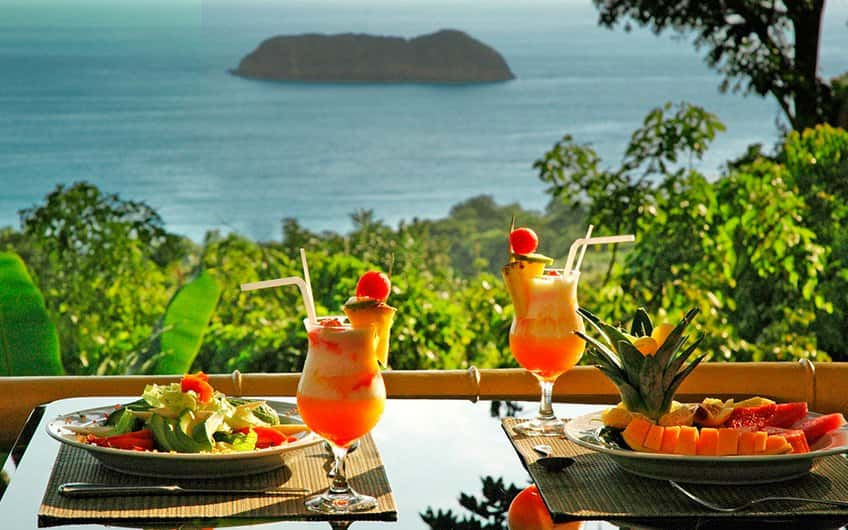 Best Restaurants in Quepos and Manuel Antonio
Here you have a small selection of the most recommended places to dine out while in the area. In Manuel Antonio you can find a lot of different options to eat, from local cuisine and traditional dishes to international cuisine. Take a look:
Kapi Kapi Restaurant: Fusion. Kapi Kapi is the traditional greeting of the indigenous Maleku. The menu at this restaurant spans the globe from Asia to America. Thus, clearly the Pan-Asian style seafood features at Kapi Kapi Restaurant.
Macadamia, nut, crusted, mahi mahi, lobster, ravioli, among others are all standouts. Diners are greeted with soft lights, earthy tones and soothing natural decor, which all frame the dense rainforest in the surroundings.
Opening Hours: 4-10:00 p.m.
El Patio del Café Milagro: Fusion. Fancy coffee drinks, decadent breakfasts including banana and strawberries pancakes with macadamia nuts, sandwiches, mango mahi mahi wraps and a great interpretation of Tico meals for dinner such as Creole pork tenderloin.
Tropical gardens create a lovely setting in El Patio. Ordering your favorite sandwich or wrap for picnic in the park is also a great option!
Opening Hours: 7:00 a.m. – 10:00 p.m.
Lush Tapas and Lounge: Fusion. On the Second floor of Plaza Vista all tables and chairs are facing the sunset at this tapas bar. A selected menu of tapas complements your drink. Mini-pork burgers and fish and mango ceviche stand out of that menu.
Opening Hours: 3-10:00 p.m.
Z Gastrobar: Fusion. Totally open to the breeze from all sides brings a fresh ambience to its guests. Colorful cushions decorate the comfy couches. This is a great spot to enjoy a coffee and dessert or if visiting for lunch then a dorado ceviche with coconut milk or a salad will delight you. Service is one of their highlights!
Opening Hours: 7:30 a.m. – 10:00 p.m.
Brooklyn Bakery: Bakeries and Patisseries. The real NY-style bagels and lox are found at this venue. Iced coffee and rye bread. Baking themselves the fresh wares every morning is what makes them different.
They serve light bites throughout the day and offer at lunchtime delicious specials, including Italian meatball sandwiches and ravioli.
Opening Hours: 7:30 a.m. – 6:00 p.m.
Claro Que Si: Seafood. This is a casual and family-friendly restaurant that keeps quality at highest level possible. Organic food items that are sourced locally are served throughout the different meals in restaurant, property of Si Como No Hotel. Guilt-free fish and meats are complemented with fresh salads and/or veggies. Kids menu is available.
Opening Hours: 11:00 a.m. – 8:00 p.m.
Agua Azul: International. Located in the second floor with full ocean views, Agua Azul is the best spot on that area. Perched on the 2nd floor with uninterrupted ocean views, Agua Azul is a killer lunch spot on this stretch of road – perfect for early morning park visitors who are heading back to their hotel.
The breezy, unpretentious open-air restaurant, renowned for its 'big-ass burger,' also serves up the likes of fajitas, panko-crusted tuna and smoked-trout salad.
Opening Hours: 11:00 a.m. – 10:00 p.m.
Barba Roja: Seafood. This is known as an institution in Manuel Antonio, very well known. It is a live bar and seafood and steak restaurant. Sushi is part of their menu as well. They got specials throughout the week, Friday is smoked-rib night!
The terrace provides fantastic ocean views, best enjoyed with any of the local beer or La Segua and Libertas craft brew.
Opening Hours: 10:00 a.m. – 10:00 p.m.
Soda Come Bien: Cafe. At this soda (local food restaurant) you can find a great variety of meals in additional to a daily rotation of delicious cafeteria options including fish in tomato sauce, beef soup with rice (olla de carne) or chicken soup.
Fresh meals are daily prepared and the ladies behind the table are friendly and the portions are just a dream come true for those hungry shoe stringers.
Opening Hours: 6:00 a.m. – 5:00 p.m.
Know you can have a better idea of what is spending some days at this paradisiac region of the country. If Costa Rica is your next holiday destination you definitely have to spend some days in the beaches of Manuel Antonio. You can check our online vacation packages, specially designed thinking in your needs. If you don't find what you are looking, we can customize your own itinerary! You won't regret it!
Check this packages to find your perfect vacation in Manuel Antonio and to get a better idea of the possible combinations you can make:
Costa Rica: A bit of Everything
Discover Costa Rica
Comfortable Costa Rica
Manuel Antonio Costa Rica map
Quepos also offers its visitors a wealth of other activities to explore. The new Marina with its many fine restaurants, art galleries and souvenir shops is just of those places many visitors go to at night for a meal or a drink.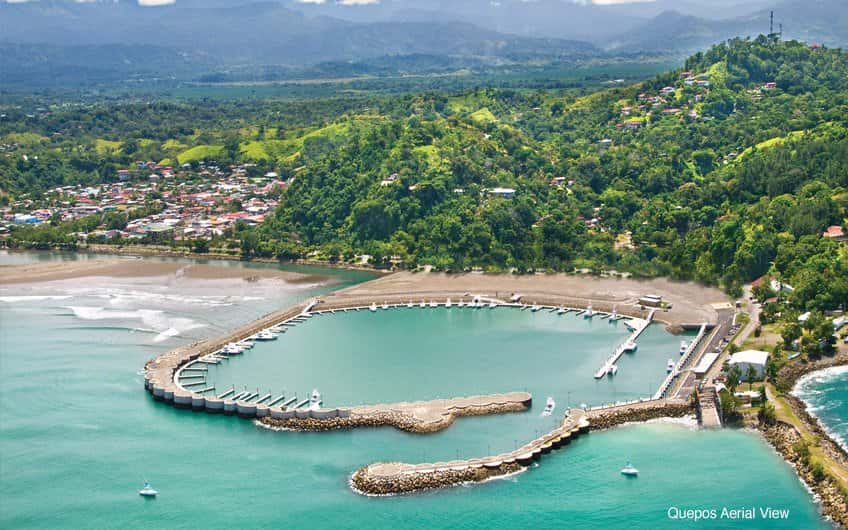 Location
Quepos is a small town in Puntarenas, in the Central Pacific Coast of Costa Rica. Manuel Antonio is the smallest national parks in Costa Rica but one of the most visited and worldwide known of its biodiversity and beauty.
It is located in the Central Pacific Conservation, just south of the city of Quepos and only 2 miles / 3 km or 8 minutes by car.
Distance from San Jose Costa Rica to Manuel Antonio is 112 miles / 180 Km or 3 hours from San Jose Capital City and Juan Santamaria International Airport (SJO).
Towards the North of Costa Rica, it is 164 miles / 263 Km or 4 hours from Daniel Oduber International Airport (LIR) in Liberia, Guanacaste. Thus, if visiting Manuel Antonio as the beach destination during your vacation to Costa Rica then arriving to San Jose is the best, while if you plan to combine both North Pacific and Central Pacific beaches in a vacation, then arriving to/departing from Liberia might be the best option while it takes one more hour in the car.
Quepos History
Quepos town is the gateway to the famous Manuel Antonio National Park and the great number of hotels within minutes to the national park.
Quepos is a town that has grown through the years and now offers a great variety of restaurants, bars and a vivacious nightlife in Manuel Antonio for its visitors, not to mention the different outdoor activities that take place very close by.
Quepos town received that name in honor to the native Quepo Indians who lived in the place back in the colonial era. There were no pure blooded Quepos local people left by the end of the nineteenth century as a result of diseases brought by Europeans, other Indian groups and slavery around that time.
Quepos became more and more important at exporting bananas, however due to diseases the African palm oil replaced the bananas as the major exporting product, it also took less space on ships!
In late of 1950 the communication with the rest of Costa Rica was not easy, roads were almost non-existent and the small railroad between Quepos and Parrita was limited. Small aircrafts landed in front of the beach, right in front of the main street which made it accessible by air, too.
Preserving the access to one of the most beautiful parts of Costa Rica as the unique desire of the local people, that gave place to creating Manuel Antonio National Park back in 1972 with a total land area extended to 1983 ha.
Back in 2011, this national park was listed by Forbes among the Top 12 most beautiful national parks in the world, as quoted: "Here is a stunning combination of beaches and coral reefs, perfect for snorkeling and exploring the famous mangroves".
"One of Costa Rica´s smallest national parks, Manuel Antonio is one of its most popular, with activities ranging from white-water rafting and sea kayaking to horseback riding on one of the park´s beaches".
Quepos is also very well-known thanks to the popular Manuel Antonio National Park and its beaches. Today 600 is the number of daily visitors allowed to that park, the park is closed on Mondays as part of the visit regulation.
Quepos downtown
Quepos and Manuel Antonio are two totally independent towns, both within 15-minute driving time one from another. Quepos could be described as the getaway to Manuel Antonio National Park.
Quepos is a good-sized town with around 7,000 residents. The streets of Quepos are easy and safe to walk by locals and visitors with a mix of stores, bars, restaurants, cafes, markets, banks, a large hospital and a bus station providing service to the capital city and surroundings.
It is just a 15-minute drive from Quepos to Manuel Antonio and a 25-minute drive from Quepos Domestic Airport to Manuel Antonio hotels.
On the other hand, Manuel Antonio to the south is a much smaller area and has mainly hotels and restaurants of many nationalities along both sides of the main road taking to the National Park. From Quepos to Manuel Antonio National Park is 4 ½ miles up to the hill and then down to the park.
Some people like to walk along the lush green and tree lined road all the way to the park. They may end up seeing the two-toed sloth, green parrots, large iguanas and some other species of birds on the way to the park.
Getting to the highest point of the hill as you go to the park might let you see the ocean. Those are some of the most stunning and picturesque views of Costa Rica with hotels from luxurious to basic accommodations.
Quepos Weather
In Quepos and Manuel Antonio on average the temperatures are always high. Dry months go from December through April, being March the warmest month of the dry season (average 89°F / 32°C). January is the driest month, though (average 89°F / 32°C).
You can find a lot of rain during the green season months: May through November (average 86°F/ 30°C). Being September and October the rainiest months (average 90% humidity), however the rainy season is not as dramatic and strong as it is further South the Pacific.