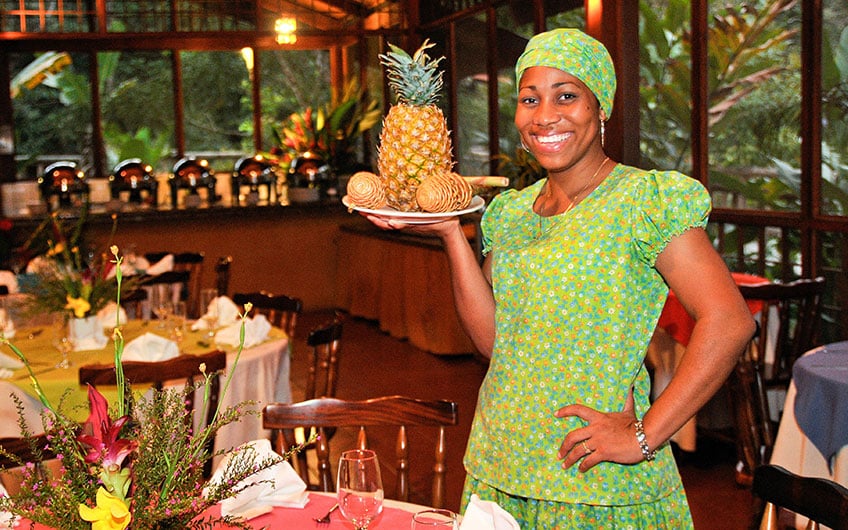 The South Caribbean region is a place that people must visit when coming to Costa Rica, this is the home of the Afro Caribbean culture, is a site where you can taste delicious, unique and different food, a small but enchanting spot.
Location
It is located in the province of Limon Costa Rica, at an approximate driving distance of 141 kilometers from our capital city, San José, roughly 3.5 to 4-hour drive. Limon is the main city where is located one of the biggest and most important ports of the country. The place has a privileged position because is close from the principal trade routes like the Panama canal, South and North America, as well as Europe.
In the north area of Limon, you will find Tortuguero which is one of the highlights of this natural paradise known as Costa Rica. In the Southern part we will find other pearls such as Cahuita, Puerto Viejo, and Gandoca – Manzanillo. Each one of them very close to the other one, those are special places for people who want to be in contact with locals and taste the Afro-Caribbean flavors.
How to get there
There are different ways to get there. If you prefer to be on your own schedule and maximize your time, you should rent a car and drive from San Jose Costa Rica, using route 32 through the Braulio Carrillo National Park; but be careful because this national park is part of the rainforest so it usually rains during the day and turns foggy.
Travel Excellence could offer you the transportation if you do not want to hire a car. It could be based on private so you will be more comfortable, or use the shuttle services, which is a good option thinking on lower prices if you do not mind in sharing with other people.
If you are an adventurous tourist, you could also take the public bus that daily departs from San Jose. This option will take longer but it is certainly the cheapest way to get there.
The last option of travelling to the Caribbean region is by plane. The area has an airstrip located in Limon downtown and there are different domestic airlines that offer private or regular flights.
Map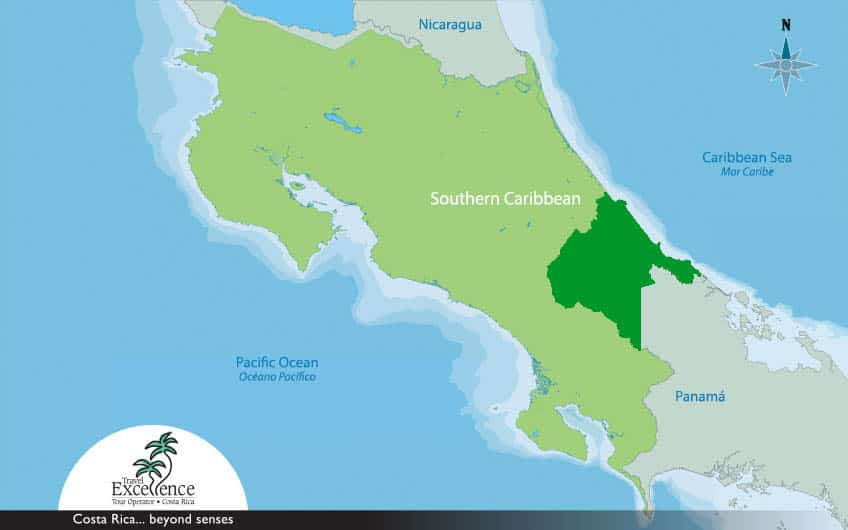 Caribbean Costa Rica weather
The best time to visit the Caribbean is during the months of February, March, September and October during the dry season. The rainy season will be prevalent from April to August and from November to January and the annual rainfall that we can expect is 2.000-4.500 mm / 79-177 inches.
It is characterized for being a humid spot. Eventhough you will find beaches, it is more humid than the Pacific side of Costa Rica.
Costa Rica climate is very unpredictable and changeable, but you have the chance to planning an exciting trip during all year.
Why is it well-known?
Why you should travel to Costa Rica and visit the Caribbean region?
This is a common question that people who want to visit this natural paradise usually think, but there are a lot of reasons to do so. This specific place is well-known due to the exuberant vegetation, and its important attractions such as the Cahuita National Park, the Gandoca – Manzanillo National Wildlife Refuge, and its commercial activity, but the most important is its culture, traditions and typical food. Also, there is no doubt that there you can find some of the best beaches in Costa Rica.
History and culture of the Caribbean region of Costa Rica
Historically, the Spanish conquerors arrived in Limon area around 1500-1502 A.D. Prior to this, the area was inhabited by the Bribri and Cabecar indigenous communities. The locals suffered due to the colonization process and slavery by Spanish and English conquerors, who also introduced African and Jamaican slaves.
During this time, in the area locals began to grow cacao as primary activity. Then, the railroad construction started allowing the banana production to strengthen the incipient economy. The port activity and the construction of Victorian style houses in the region finally established the city of Limon Costa Rica as it will be known later on.
The local infrastructure is characterized by picturesque houses, influenced by the British style. When you are there, you will see that color is important for them as it shows their exotic and unique spirit as well as their joy.
The food is a very important part of their culture. The base for cooking is the well-known Caribbean sauce, which has Coconut milk and spices. They usually eat fresh spices and seafood as they are living close to the coast. The culinary of the region is very particular and it is an important part of their legacy to the typical Costa Rican food.
Some of the typical dishes you can find here are the "patí", a patty with spicy touch, the "rice and beans" a mix of rice, beans, and Caribbean sauce served with seafood or chicken, it is very similar to the "gallo pinto" the famous typical Costa Rican food. Also, visitors can find the "rondón" a soup of seafood, coconut and green banana and, as great dessert you can find the "plantintá" which is a sweet pie stuffed with a mix of coconut and green banana in a very sweet and tasty sauce.
Costa Rica Caribbean Tourist attractions
A perfect Costa Rica trip should include the country's highlights and the South Caribbean definitely is a highly recommended spot for your vacation.
---
Video of Cahuita National Park Costa Rica
Cahuita
This beautiful beach is located about 20 minutes from the main town of Limon, there you will find the Cahuita National Park, a beautiful protected area of 1,102 marine hectares and 23,290 land hectares. This area is intended for protection of different species of birds, mammals, reptiles, amphibians, fish, lobster, corals and turtles. This is actually a good spot for snorkeling during dry season, also in the place it is very common to see monkeys and sloths very close.
Things to do in Cahuita Costa Rica
Visit to the Sloth Sanctuary:
Running since 1992, this is a 320-acre rescue center for sloths that were injured or abandoned you can add this tour to your Costa Rica vacation package and it will surely add a valuable learning experience to enjoy your Costa Rica family vacations.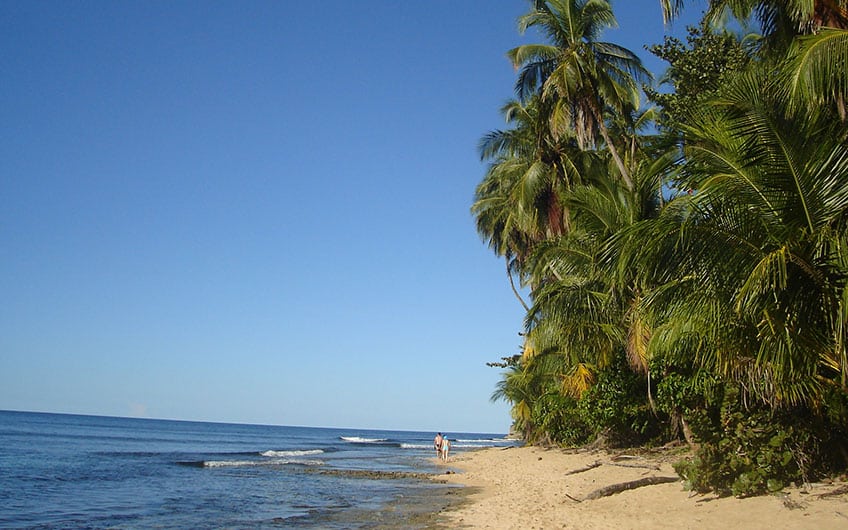 Visit to the Cahuita National Park:
This is a protected area, home of the largest coral reef in Costa Rica, that is the reason why it is considered a good spot for snorkeling. It is also a nice place to walk looking for flora and fauna and the beach is truly beautiful. This is a good option for families due to the variety of activities that can be done in the park.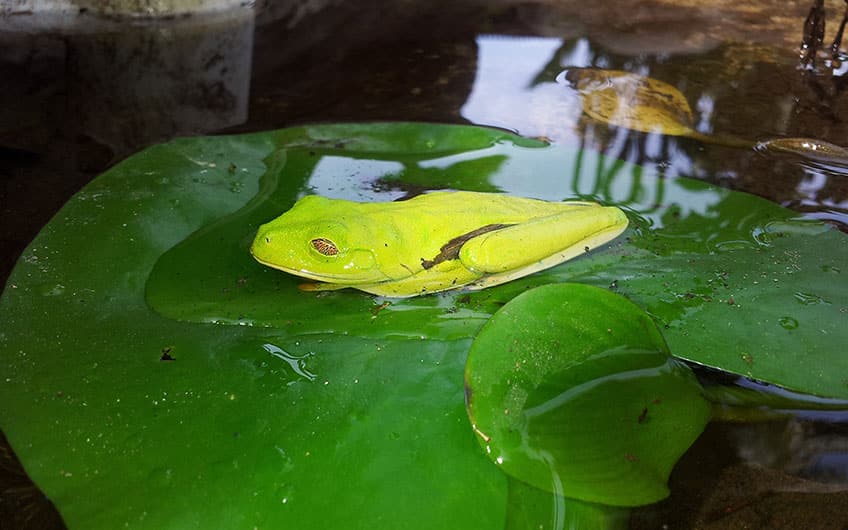 Visit to the Tree of Life Wildlife Center:
Another option for people looking for animals during their Costa Rica trip. This place is focused on wild animals' protection and also offers a botanical garden in which visitors can walk and enjoy the beautiful views.
---
Video of Puerto Viejo Beach Costa Rica
Puerto Viejo
Puerto Viejo is located about 40 minutes' drive from Cahuita. It is a small place where you will find most of the hotels of the South Caribbean side. Also, there are beautiful cristal clear water beaches, also known for surfing. You can walk in the main town and be in close contact with locals who are cheerful and kind, its relax atmosphere is the main characteristic of Puerto Viejo, the relaxed vibe you can experience here is the pure essence of the Caribbean feeling. You should not leave that place without taking a bike ride.
Things to do in Puerto Viejo Costa Rica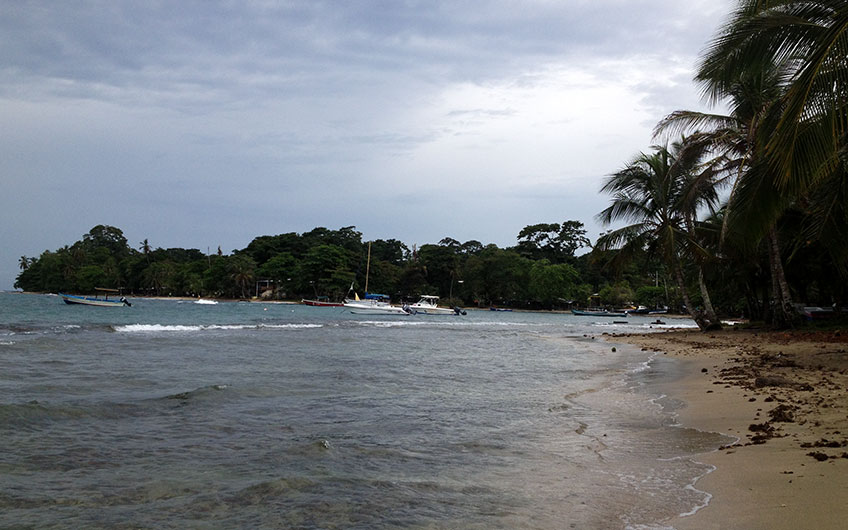 Visit the beaches:
There is no doubt that when you visit Puerto Viejo you have a list of nice beaches that you can visit. We recommend Punta Uva, one of the white sand beaches in Costa Rica. You should be prepared if thinking about visiting it because there are no close facilities, but it is a perfect spot to do a picnic. You can also go to Cocles, Puerto Viejo and Chiquita beaches. Despite they are located very close to each other, we recommend you to visit all of them (if you have enough time, of course) because each one of them has its own charm and magic and you will be amazed by the views and natural settings.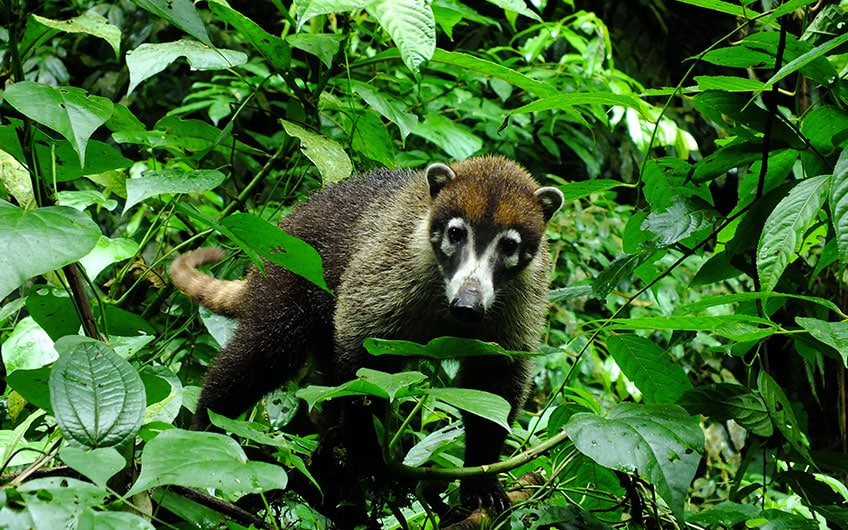 Visit to La Ceiba Private Reserve:
this is one of the best options to see nature, a virgin place located in the mountains of Puerto Viejo, dedicated to the animal conservation. There you could do a morning or night walk.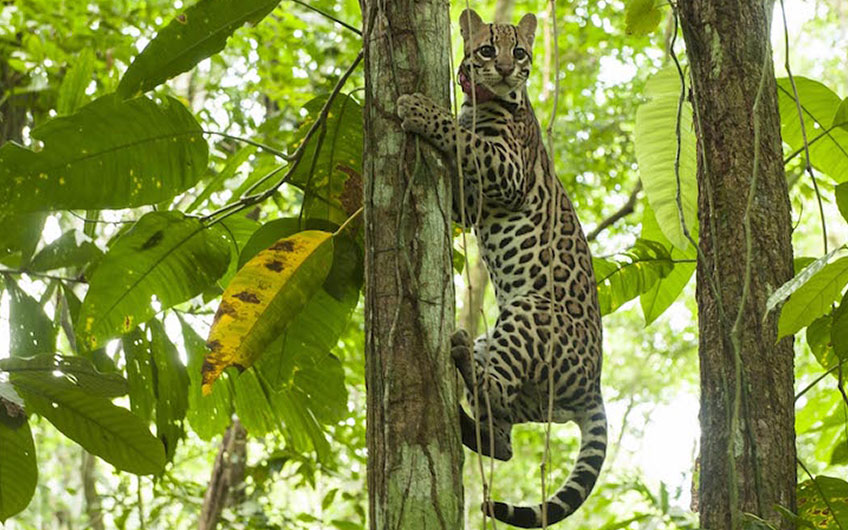 Visit to the Jaguar Rescue Center:
Here you will find another spot for animal preservation. They rescue different species since 2008, and it is also important to remark that they accept volunteers from all around the world. The center is located walking distance from Puerto Viejo.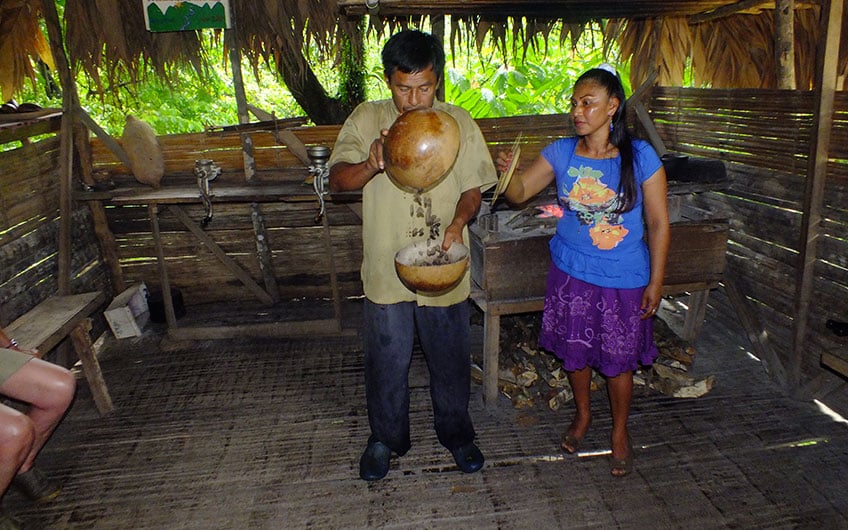 Visit to Kekoldi Indigenous Reserve:
This is an interesting way to know about the Bribrí community and how they live, learn about their philosophy and about why it is important to preserve their traditions and culture and how the community does their best to keep it alive.
There are different tour options in the area, it is possible to do horseback riding, bike rides, kayaking, and much more to have fun and enjoy your travel to Costa Rica.
Gandoca – Manzanillo
Located 15 minutes from Puerto Viejo, this secluded spot combines a beautiful beach and a protected ecosystem, being home to many different species of flora and fauna. This reserve is very important due to their efforts in the conservation of coral reefs and wetlands.
Things to do in Gandoca – Manzanillo
Visit the Ashe Center:
If you want to learn about medicinal plants and how the natives used them to treat and prevent the diseases, this is the right place to go and another way to become acquainted with the Costa Rican traditions and also it is a great opportunity to meet locals.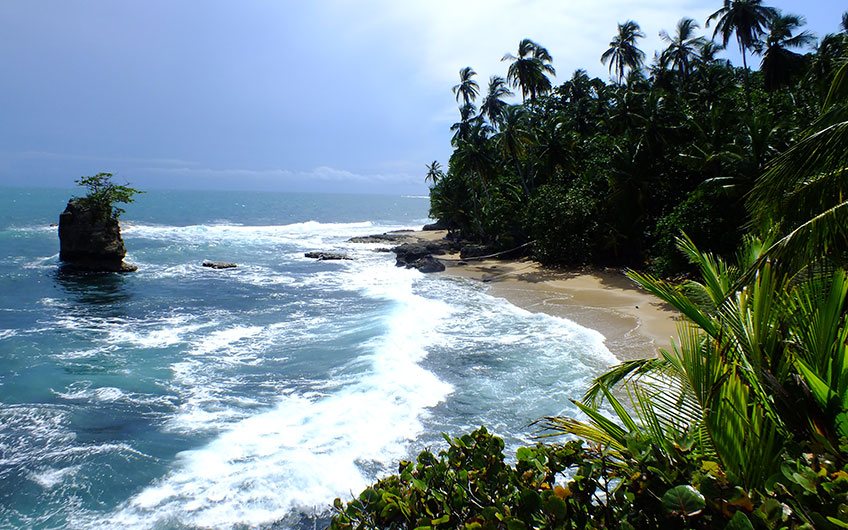 Visit the Gandoca – Manzanillo Wildlife Refuge:
This is a secluded protected area for people who want to be off the beaten path. Here you can find a small rainforest where the only virgin mangrove on the Caribbean side of Costa Rica is located.
Caribbean Costa Rica hotels
The amazing hotels of the South Caribbean are a little bit more basic than other Costa Rica resorts, but these small hotels have a unique, different and interesting essence. You can find very nice properties here, characterized by a lot of bright colors, charming and friendly people; without forgetting the delicious Caribbean meals, an important heritage of our Costa Rica typical food.
It is really important to consider that there are no all-inclusive hotels, however lodging there is really comfortable and the main goal to visit the area is to relax and taste the Caribbean flavors in its original way.
Here you can find some great options to stay during your vacations in Costa Rica in order to experience the real Caribbean life in Costa Rica: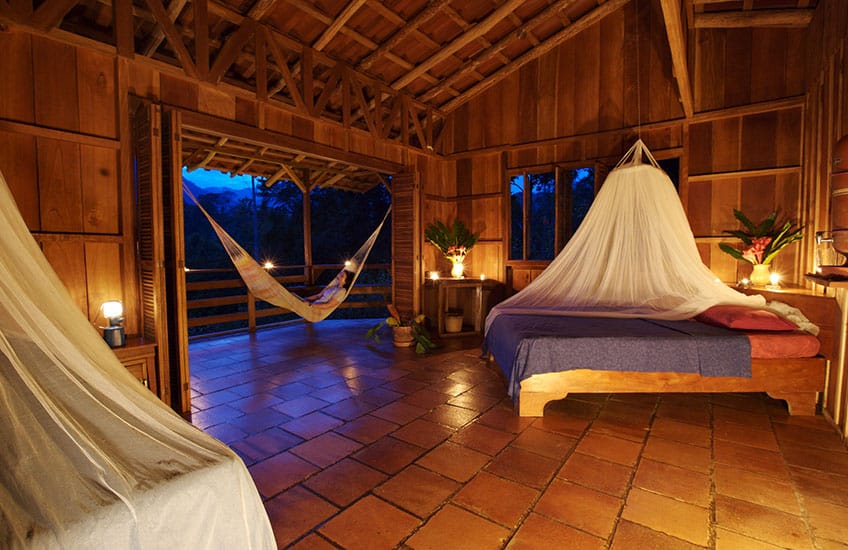 this is a very secluded property in the mountains of Cahuita, an ideal opportunity to experience the surrounding wildlife, it is not a beach property but a completely different experience as there is no electricity.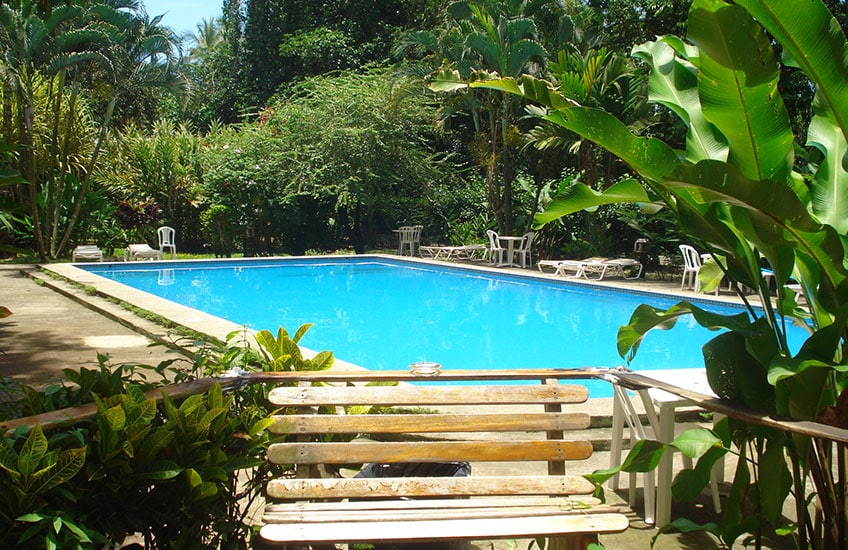 this small hotel is located very close to Playa Negra, if you want to go to the beach you must know that it is around 5 minutes walking distance. They offer a nice picnic area and has two restaurants, but the location allows you to walk and find other restaurants, bars or different facilities.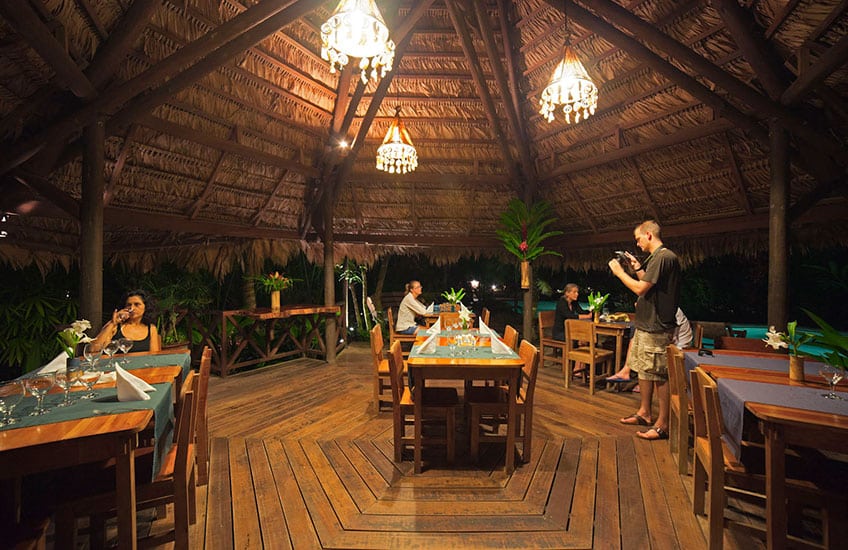 this is a special property for those families that want to be close to Puerto Viejo town. Once you cross the street, you will get directly to Playa Cocles. They offer bigger rooms that allow up to 5 people, and you can find a restaurant in the property.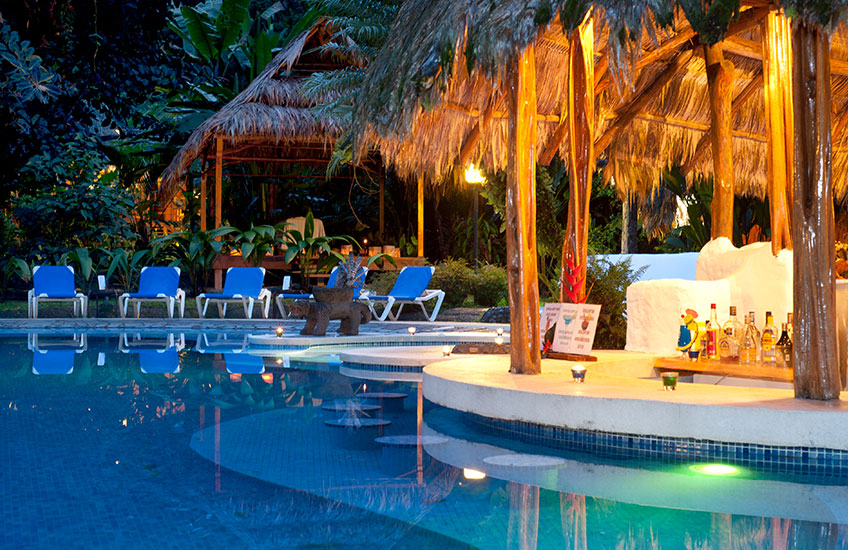 the hotel is the second place with a privileged location, walking distance from the main town of Puerto Viejo. It has different room categories, including one apartment for big families or double rooms for couples, also has two restaurants that offers variety of food and a wet bar too.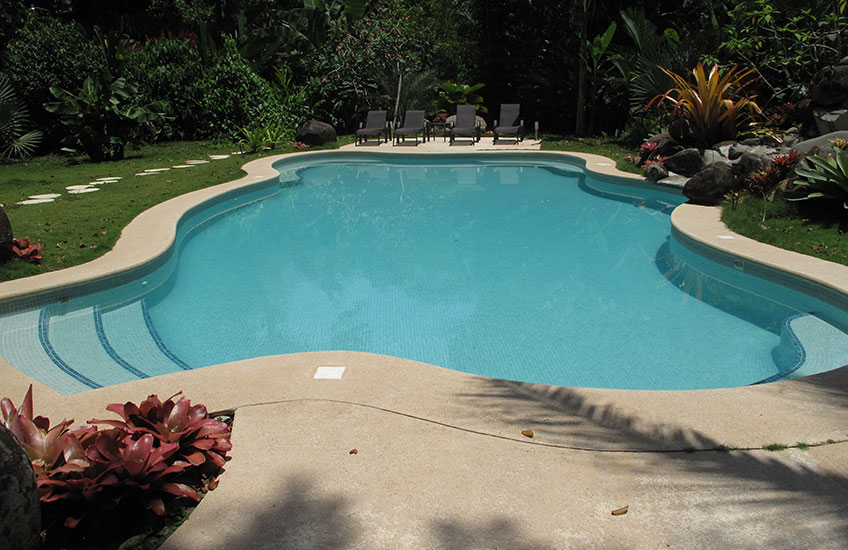 this small hotel offers bungalows immersed in the tropical gardens, separated from each other. It also has a restaurant in the property and the decoration is very different as they use ceramic and wood. It has an ideal location as it can be found in between of Puerto Viejo and Manzanillo.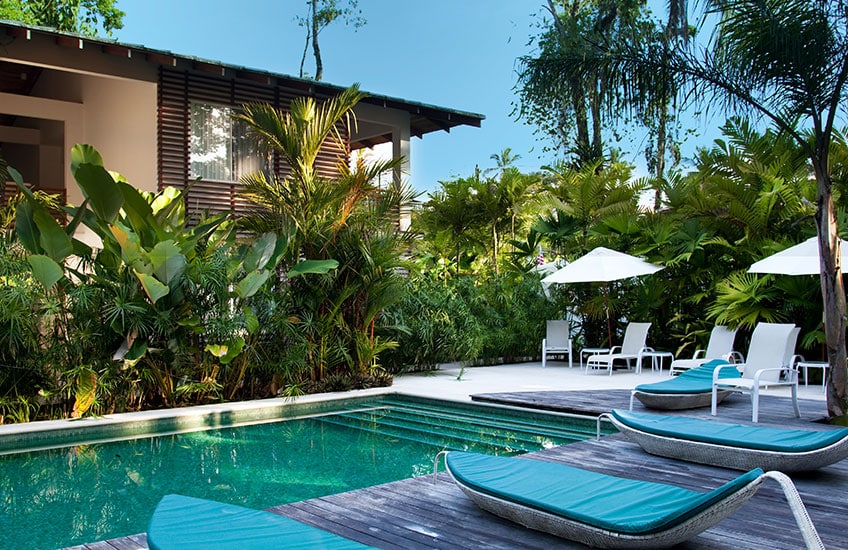 this is a small nice property, the most luxurious hotel that we can find there. It is located walking distance from the beach and has a nice restaurant and a beach club right on Playa Cocles. It is located between Puerto Viejo and Manzanillo too.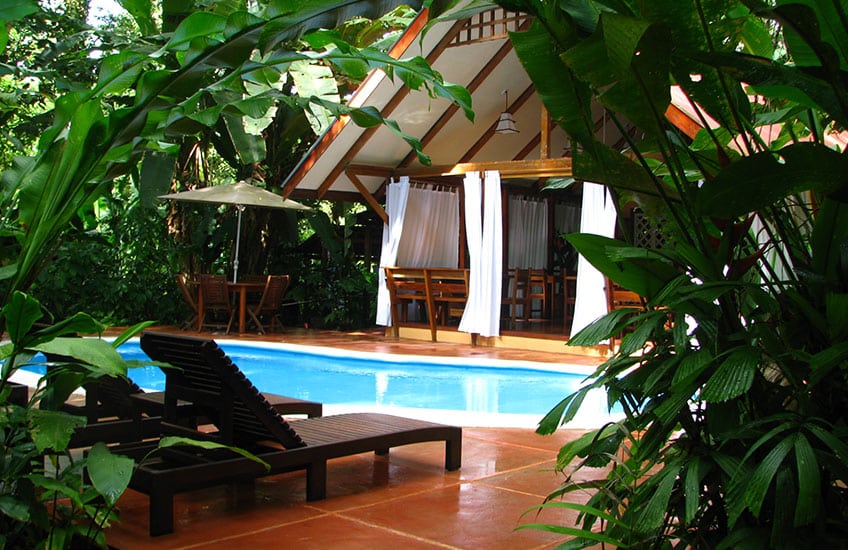 simple but cozy and featuring charming secluded rooms this hotel is located on the entrance of Gandoca – Manzanillo Wildlife Reserve. It has an open-air restaurant, Caribbean style rooms and a nice small pool.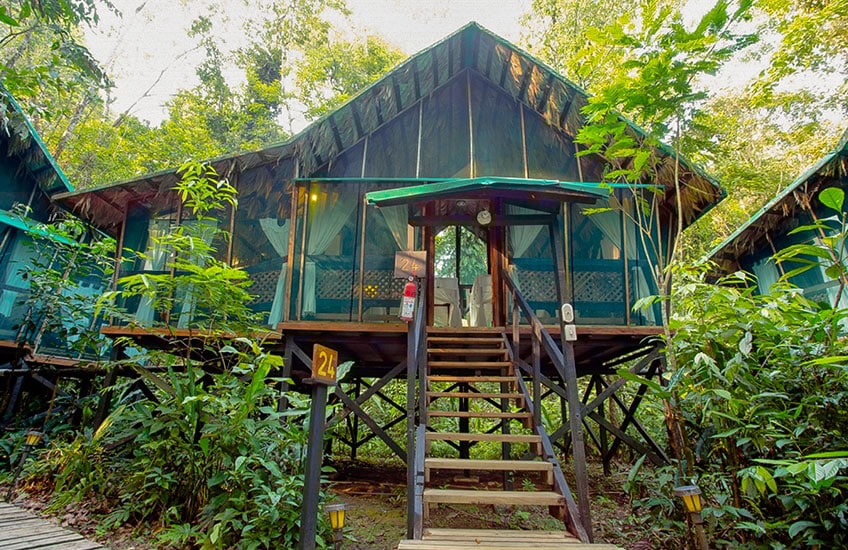 another secluded property, but characterized by the jungle style. There are separated rooms that are a kind of luxurious tents with wooden floor and palm roof, with private bathroom, and a private trail to the beach as well as a nice restaurant. Recommended for people that do not mind staying right on the jungle.
Caribbean Costa Rica food and restaurants
Sobre las olas:
It is a nice restaurant, located next to the Cahuita beach, their specialty is seafood and Caribbean dishes. Opens from 12:00 – 22:00.
Barakka Bistro:
Italian and French restaurant, located in Cahuita Costa Rica, which offers options for vegetarians too. It is open from 07:00 – 21:30.
Palenque Luisa:
Caribbean restaurant in Cahuita, they offer Latin culinary and seafood, it is very picturesque and is open from 12:00 – 22:00.
Tiare Cafeteria:
It offers fusion food, Italian dishes, options for vegans and vegetarians and healthy food in general, it is located in Puerto Viejo and opens from 07:00 – 14:00.
Café Viejo:
This place is located in Puerto Viejo, Limon. It is a kind of cafeteria that opens at 18:00 and closes at 00:00.
Pecora Nera:
It is an Italian open restaurant, located in Playa Cocles. The schedule goes from 12:30 to 15:30 & from 19:30 to 00:00
El Refugio Grill:
Argentinian restaurant where you can find a variety of meat, grill but it also offers gluten free options, open from 12:00 – 21:00. Located between Puerto Viejo and Manzanillo
Koki Beach Restaurant:
It is a relaxing place in Puerto Viejo that offers different options of Mediterranean, Central American, seafood, Costa Rican food and food for vegans and vegetarians. Opens from 17:00 – 23:00.
Cool & Calm Café
The restaurant offers central American and authentic Afro Caribbean food, it is located in Manzanillo and opens from 11:00 – 21:00.
Atardecer Dorado:
Located in Playa Manzanillo, this restaurant offers typical Costa Rican food and it is opened from 11:00 – 21:00.
Caribbean Costa Rica nightlife
On the Caribbean side you will find a lot of bars and restaurants that offer nightlife, these places are on walking distances from the main hotels, but also there are cabs available or some people use their bikes during day and night.
Most of the bars are open air, Caribbean style and it is very common to hear reggae or roots music due to the influence that they have from Jamaica. During the night you will find a lot of people walking on the main towns of these amazing spots. Nights are usually really fresh and that is the reason why people like to walk after a beautiful sunset.
We offer different packages for honeymooners, families, friends, leisure and much more. You could ask for a tailor-made package or take a look on our itineraries where you can visit the South Caribbean:
If you are interested in visiting this authentic place and learn about the Afro Caribbean culture, food and traditions, leave us a comment or contact us, we will be more than happy to assist you in planning your vacation packages to Costa Rica.