I spent my last two days in one of the 26 breathtaking places in Latin America you should visit before you die: Monteverde Cloud Forest. It was an unforgettable experience even though it wasn't a long time there. Why? I write this article to tell you.
Monteverde Cloud Forest it's one of the most popular Costa Rica attractions and I wanted to know why. Almost in all inclusive vacation packages you see it's included this green and rustic tourist destination and now I know there is a reason for that.
First thing I did when I decided to go to Monteverde was packing. And I want to include this part of my travel in this article because I love Costa Rica weather but I know is a little bit tricky and sometimes it's not easy to know what to wear in each region.
During the day, Monteverde can be hot and humid, so you may want to pack light clothes and even more if you are doing some adventure day tours like a canopy tour or a hike. But always of course, take a sweater and a poncho with you, in case it starts raining (this can happen any moment!).
Nights, on the other hand, are cold and windy. So you also have to take in you luggage a sweater and a scarf for your night tours or dinners out.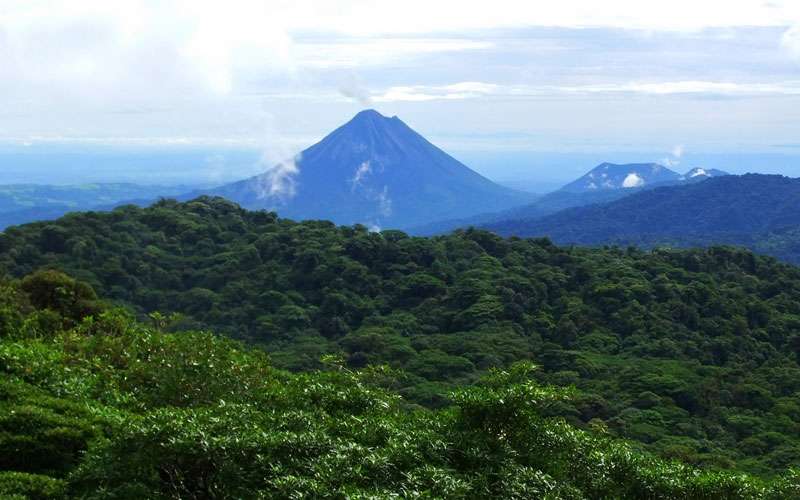 Once you have everything ready, it's time to start this journey of approximately 4 hours from Juan Santamaría International Airport or San José hotels. The road trip is part of the adventure as there are some incredible views of the Nicoya Gulf that will make you stop the car to take some photos. Everything is green no matter where you see!
And I cannot tell you once you get there. Amazing! Clouds, trees, bird songs… even from the window of your room I can assure you will have great views of the mountains and the blue sky.
After doing the check-in at my hotel, I went for lunch. During that, some kids from Monteverde's public school made some folkloric dances, all dress up with their typical costumes. It was great not hearing the news as every day at the office but some Costa Rican representative songs. I know you will enjoy that too! Later, I did a nice coffee tour that end up with a cup of one of the best coffees I have ever tried. My first day in Monteverde was going nicer than I thought.
Before sunset, I was back in town so I decided to walk around to see if I could shop something. Even when it was getting cold, I stop for a milkshake at one of the most popular shops and watch the sunset there. A lot of families were around. This is for sure, an excellent Costa Rica destination for family vacations..
The day was finishing so I had dinner and went to sleep. I was a very excited about next day and the hanging bridges tour I was going to do.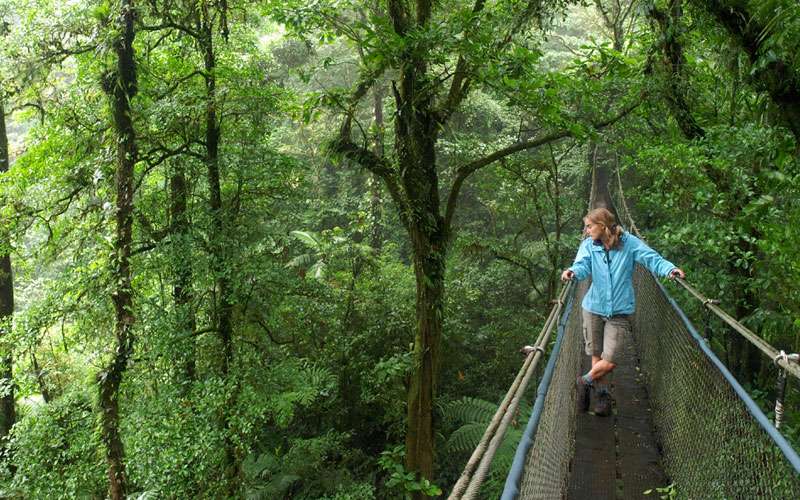 After breakfast I went to Selvatura Park. It was sunny when I left my charming boutique hotel but during the transfer it started to get cloudy and cold. Beautiful landscapes of mountains and fog adorned the journey until the park.
I started with the Herpetarium tour and even when I am not a fan of snakes and frogs I really enjoyed all the information given by Mauricio, my guide. He also took me to the Insect Museum and the Butterfly Garden.
I surely enjoyed all of this, but I just couldn't stop thinking about the hanging bridges walk. I have to confess, I was this excited because I was very scared. I am fear of heights.
When Mauricio told me it was time to start the walk I got really nervous, but I started walking. 8 bridges were waiting for me.
I couldn't have imagined the unforgettable experience this was. I saw four resplendent quetzals in a nest and took amazing photos of the breathtaking views. This is for sure a perfect place for bird watching.
How can seeing the forest from the top of the trees as if you were a bird can be scary? It is not at all. Now I can tell you, there is no reason to be nervous. You will enjoy every hanging bridge and the short walk between each one.
After that, I had lunch and started my trip back to San José; hopefully once you finish your Monteverde visit you will continue with your Costa Rica vacations.