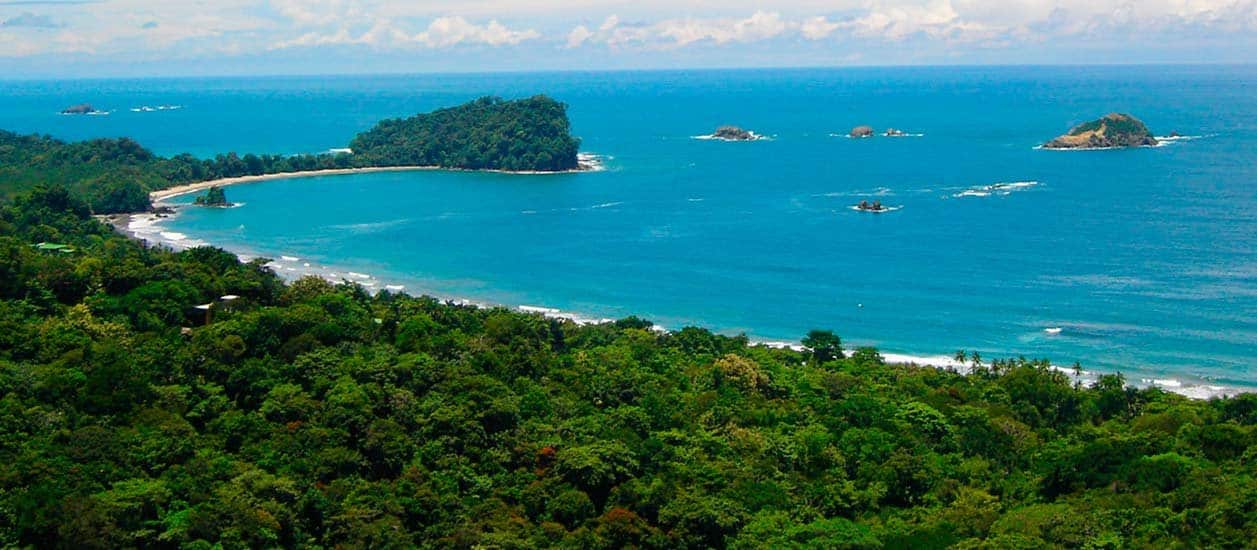 Costa Rica in the best beaches in the world 2019
The World's best beaches for 2019 were listed in the Central America and the Caribbean's Top 50 Beaches of FlightNetwork, and the list was released last week. To create this ranking, they collected insight from over 1200 people: bloggers, journalists, editors, and agencies who know all things related to travel and tourism.
All the commentaries and feedback provided with their opinion and experiences ensured this list which will lead the visitors to the shores of some of the best beaches in the world and you will be dreaming of visiting these places.
These fifty positions are occupied by different destinations in Central America and the Caribbean region, and in the case of Costa Rica, four of our best beach getaways were selected to be part of this prestigious ranking.
Manuel Antonio beach in Quepos, in the Central Pacific side of Costa Rica, occupied the eighth position of the 50 best beaches in the world. Characteristics such as the combination of the forest with the sea and sand, and the possibility of doing a lot of activities while vacationing there were the main reasons to select this spot as a perfect beach vacation destination.
Punta Uva beach, located in the Limon province, appears in the 35th position thanks to its scenic beauty and the calm vibe of the place. Conchal beach, in the famous region of Guanacaste, features the 37th position due to its characteristic sand, the wonderful landscapes and the high-quality services of the area. The last of the Costa Rican beaches in the rank is Sombrero beach, in Puntarenas, which has the position number 49.
This means a lot to the country as tourism is its largest source of income and with this publication, many potential visitors may be interested in knowing these famous places and plan their next vacation in Costa Rica.
Here you have the full list of the best beaches in the Caribbean 2018 (and Central America, of course):
Grace Bay – Turks & Caicos
Seven Mile Beach – Cayman Islands
Varadero Beach – Cuba
Pink Sands Beach – Harbor Island Bahamas
Bavaro Beach – Dominican Republic
Malmok Beach – Aruba
Half Moon Cay – Little San Salvador Island Bahamas
Manuel Antonio Beach – Costa Rica
Flamenco Beach – Puerto Rico
Grand Anse – Grenada
Bathsheba Beach – Barbados
Bahía de las Águilas – Dominican Republic
Baths of Virgin Gorda – British Virgin Islands
Shoal Bay Beach – Anguilla
Trunk Bay – St. John, U.S. Virgin Islands
Rincon Beach – Samana Dominican Republic
West End Beach – Roatan Honduras
Horseshoe Beach – Bermuda
Dickenson Bay – Antigua and Barbuda
Maracas Bay – Trinidad and Tobago
Maho Bay – St. John, US Virgin Islands
Boston Bay Beach – Jamaica
Hawksnest Beach – St. John, US Virgin Islands
Paraiso Beach – Cuba
Cockleshell Bay – St. Kitts
Dean's Blue Hole – Bahamas
Cane Bay – St. Croix, US Virgin Islands
Harrismith Beach – Barbados
James Bond Beach – Jamaica
Tobacco Caye – Belize
Jobson's Cove Beach – Bermuda
Petit Tabac – Saint Vincent and the Grenadines
Playa Maderas – Nicaragua
Batibou Beach – Dominica
Punta Uva Beach – Costa Rica
Winnifred Beach – Jamaica
Playa Conchal – Guanacaste Costa Rica
Starfish Beach – Panama
Playa Ancón – Trinidad, Cuba
Cayman Kai – Cayman Islands
Jalousie Bay – St. Lucia
Mopion Island – St. Vincent and the Grenadines
Playa El Tunco – El Salvador
Governors Beach – Grand Turk Island, Turks & Caicos
Tropic of Cancer Beach – Exuma Bahamas
Gold Rock Beach – Bahamas
Red Frog Beach – Basimentos Island Panama
Crane Beach – Barbados
Playa Sombrero – Costa Rica
Jacmel Beach – Haiti
We hope you can travel a lot this 2019, and visit some of these incredible beach destinations during your next trip. You definitely won't regret it!