---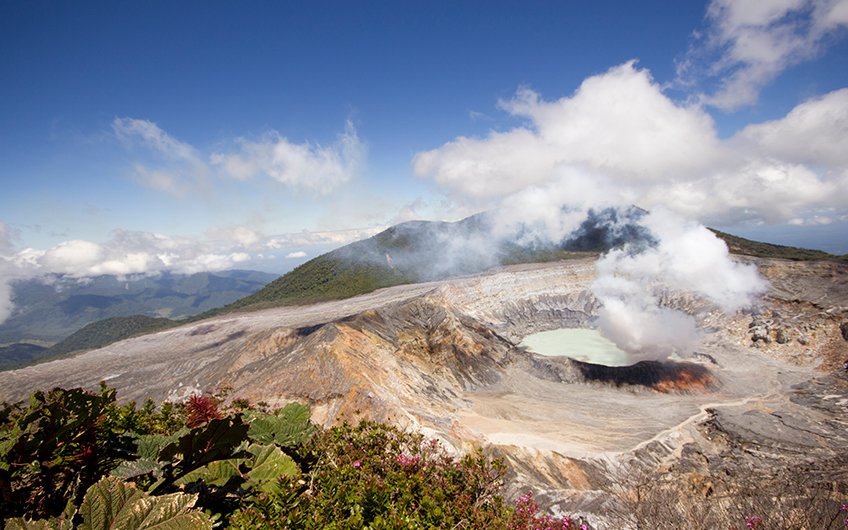 When you decide to travel it is important to considering different things like the driving distances between places, the different and varied lodging options, tourist attractions, history, meals, safety, transportation and more, but in Costa Rica you do not have to worry about it. It is a small and nice country that has a lot to offer, for all tastes and preferences, a perfect place for family vacation, adventure with friends or honeymooners, it is also the best option for lonely travelers as it is a very friendly country.
We can offer you wildlife, ecotourism, adventure, variety of lodging, activities for all ages, delicious meals and flavors, mountains to discover, pristine Costa Rica beaches, beautiful valleys, lakes, rivers, picturesque trails and safety during your vacation.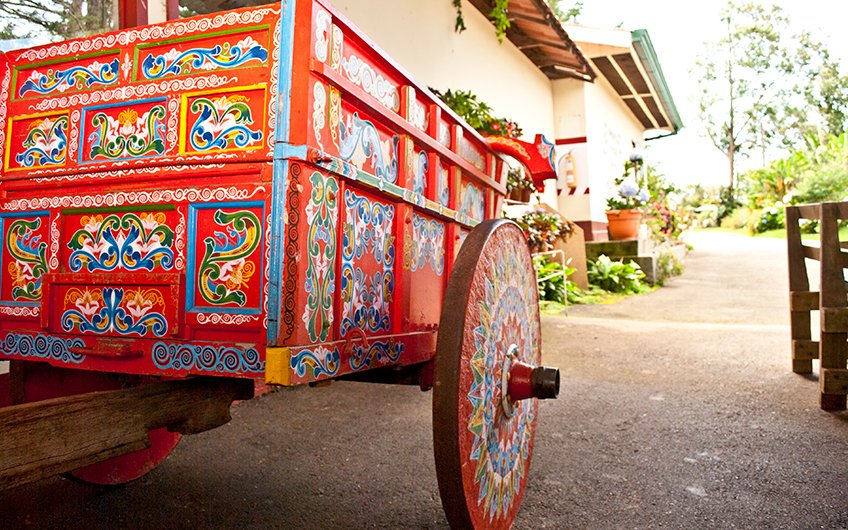 The culture that makes a difference on your vacation
Our idiosyncrasy is marked by our behavior, we are characterized as honest and friendly people; also, as hard workers and very happy ones. We have different traditions that involve food, songs, dances, sayings, and we show to the visitors that we are proud of our roots and our ancestors.
For us, it is important to wake up every morning, breath fresh air, listen to the birds singing and feel the quiet of knowing that we are on a free country; which means that here there is no army, wars, or persecutions due to the politics or each ones' religion.
Besides, one of our ex-presidents, was Nobel Peace Prize in 1987, as he participated on the peace processes of the armed conflicts of Central America during the eighties. We were blessed to were born in Costa Rica.
Our diet is based on fresh vegetables, cultivated in our country, grains, and fruits. We use to have three important meal times: breakfast from 07:30 to 08:30, lunch from 12:30 to 13:30 and dinner from 19:30 – 20:30, approximately.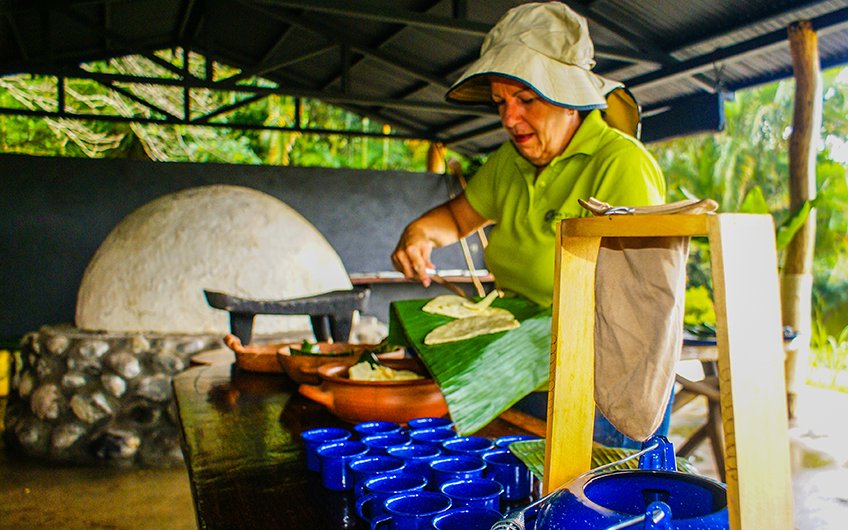 Traditionally, we also eat rice and beans for the three times. Eggs, fruits and bread for breakfast; potatoes, tomatoes, carrots, lettuce, avocado, plantains, and any kind of meat for lunch and dinner. As you can see, there is no like a clear food separation between meal times, we combine ingredients as per our tastes, and we cannot forget the coffee which is very important for the "ticos". We are proud to say that our coffee's high quality makes it ideal for exportation.
If you want to come to Costa Rica, you will hear the "Pura Vida" or "Tuanis". Then, you may know that these phrases have multiple meanings: to say hello or good bye, to ask how everything is going, to say that everything is ok, etcetera. We have a lot of sayings or common phases that you will hear once you are in contact with our friendly and nice people during your Costa Rica holidays.
For example, here you have some of our common sayings: to us "bretear" it means working, so "brete" is a job. We do not say boy or girl, we say "mae"; "suave un toque" it means "give me just a moment". As you will see, the ticos are simple and humble people but friendly at the same time.
In Costa Rica we try to make everything easy for travelers, a proof of this is that when you come, you do not have to worry about the Costa Rica currency exchange. We have ATM´s in almost all the areas but is very important to mention that we accept credit cards and US dollars in most of the shops too.
Our culture is marked by our ancestors; we are very proud of our indigenous communities and, if you want to know more about our roots, then this is a tour that we can offer you. In the beautiful Turrialba area there are different indigenous communities and we highly recommend you to take one of these experiences if you are just thinking about meeting the locals, walking into the secluded paths amidst the forest, and being surrounded by virgin and exuberant nature.
By taking one of these tours, you will be able to know their houses and see how they live, how do they traditionally eat and learn a little bit of their medicinal plants. This is certainly the best tour to experience the authentic Costa Rica.
Our museums and theaters are more options to know our culture and history. When staying in San Jose, you should go out, walk on the crowded streets to see different art manifestations, experience the real local's behavior, and find the different museums. The Gold and Jade museums as well as the National Theater are the most visited ones; the city tour usually visit those places to offer history and culture, in easy and funny ways to learn.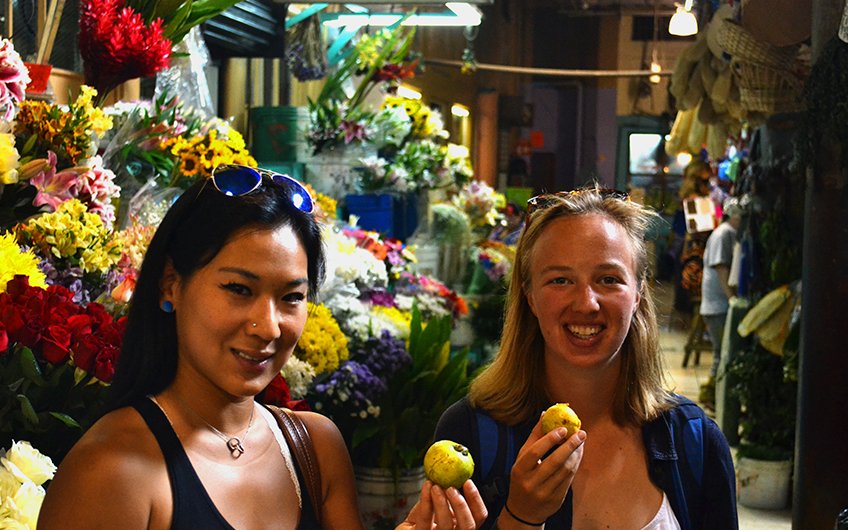 Would you like to visit our Central Market?
The Central Avenue is the place where every day people are walking very fast which makes it a very crowded place in the heart of the town. Some of them walking to their jobs, schools or colleges, maybe waiting for someone else, other people are buying different things depending on their needs. If you want to live as a local for one day, then you must visit this place.
This is a commercial street where no cars are permitted and there is our Central Market located. This is a place where you can have access to a huge quantity of different products at cheaper prices, and it is a picturesque and authentic place to include in your Costa Rica vacation packages.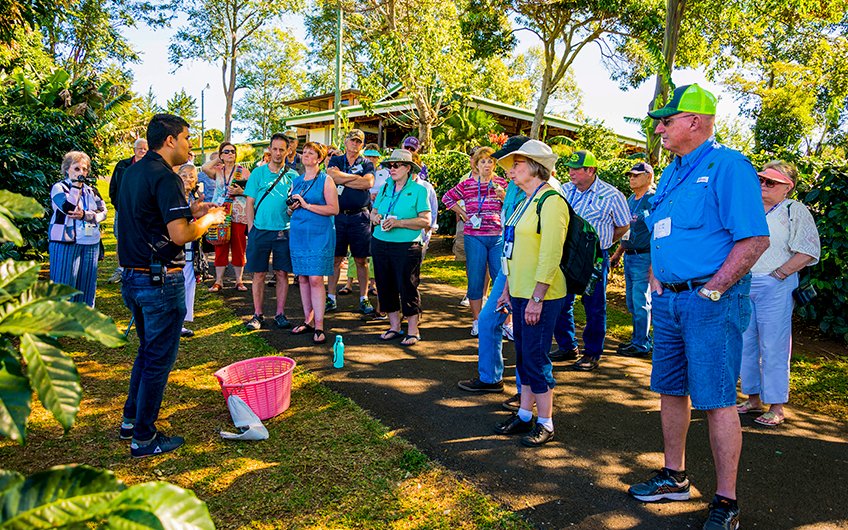 More culture in Costa Rica
If you have heard about the coffee production and if you enjoy drinking coffee, you should choose to include this experience in your itinerary. Coffee tours usually start with an explanation about the way this is planted, and continue learning about the process of pulping, selection, fermentation and toasting of the grain. The smell of coffee is delicious, you will have it during all the tour and at the end, you will taste a perfect cup of coffee produced in Costa Rica.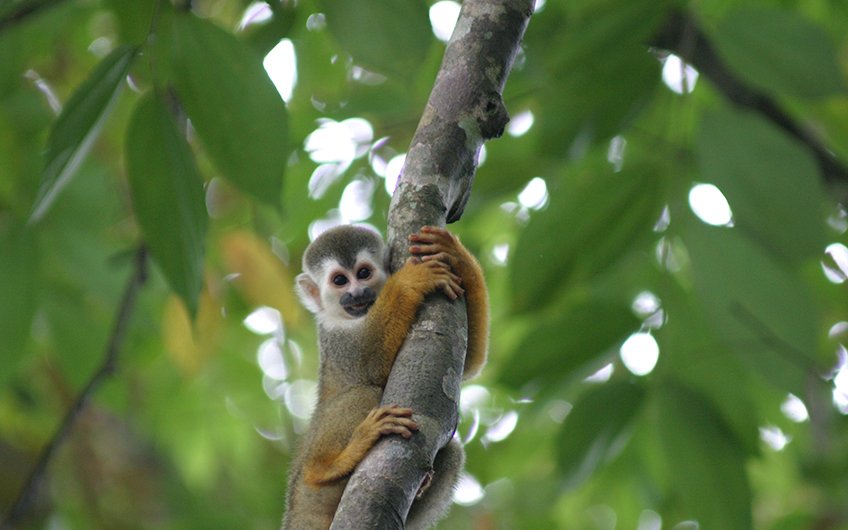 Biodiversity of Costa Rica
Our territory has an extension of 51.100 square kilometers and it represents the 4% of the world's biodiversity. Costa Rica is rich on different ecosystems because it is located between two big water masses, the Atlantic and Pacific coast, as you can see in the different Costa Rica maps available for you. It also has an important mountainous system that contribute to the diversity of flora and fauna.
Besides, the country has around 25% of the territory destined to protection and conservation of the natural resources, so the Government is in charge of preserve everything there, distributed in 11 conservation areas around the country. Our laws do not allow to disturb, built or convert these areas into massive tourism. If you have not visited a national park or national refuge, you must come and experience it.
Those places are a quiet and natural sanctuary where a lot of nature and wildlife is living in peace; a place to be disconnected from the world and be in contact with mother nature, hearing the wind moving the leaves, looking the ant colonies in the ground, smelling the flowers, trees or in some cases, hearing far from you, the water of a river running.
You should also visit the rivers, where you will see the power that the water has and, why not, experience a rush of adrenaline by taking a rafting tour in their waters. Also, consider a visit to the beautiful lakes where a lot of water birds are hunting and can be seen, the magical part of the protected areas is that you can easily see the animals on their ecosystem.
Additionally, some of the national parks besides offering the chance of walking inside the forest to explore or investigate, offer the opportunity of enjoy some overnights there in a real wild experience, as you will see and hear closer the animals, specially, the many animal species that are nocturnal.
In the South Pacific side of Costa Rica, we have Corcovado area which contains the 50% of the Costa Rican biodiversity. Internationally, Corcovado is well known as being one of the most biologically diverse areas in the world.
It is amazing to find rustic and cozy lodges in those secluded areas in the South Pacific. By taking a domestic flight, or enjoying a self-driving moment you can go to the South Pacific and to get to Corcovado you should first arrive into the Sierpe area, the last place where you will see paved roads.
Once you are in Sierpe, you will be transferred by boat through a beautiful mangrove where it is possible to see crocodiles, water birds, monkeys and for sure, you will hear the animals from your boat. You cannot imagine how relaxing is being there, then a little of adventure start when you exit from mangrove and entry to the sea, the waves will be moving the boat, sometimes you will feel like you are jumping over the water, while seeing the small villages which are located on the seashore.
How amazing could be experience it during your Costa Rica family vacation, doesn´t it? Once you arrive to your Costa Rica hotel, you will be received by the lodge staff who will offer a delicious tropical cocktail. One of our recommended hotels there, is Casa Corcovado Lodge, which is an oasis to rest, relax and connect to wildlife.
Costa Rica vacation packages should include Casa Corcovado Jungle Lodge, a place for families, couples in their romantic escapade or friends. They have different room sizes that allows families or just couples; their separated bungalows will offer you the privacy that you are expecting, as each room is immersed in the tropical forest. Here it is easy to find frogs, birds or why not an amazing tapir in the mangoes tree that is in the middle of the property.
When you are staying there, it is highly recommended to spend a minimum of 3 nights so you could take a snorkeling Costa Rica tour in Caño Island and walk into Corcovado National Park.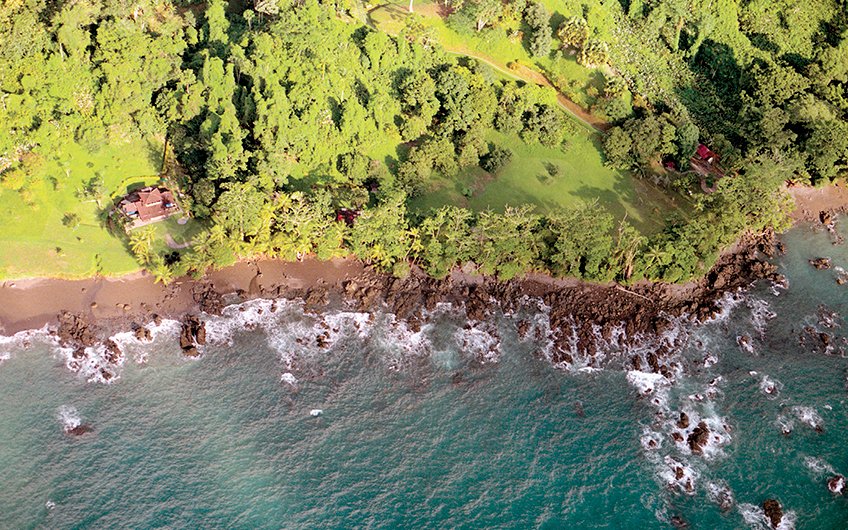 Costa Rica Tours in Corcovado
The hike in the National Park will show you how diverse Costa Rica is. You will begin to walk directly on the property, descend a steep path of rocks, watching the birds that sing and listening to the monkeys. You will usually walk to the San Pedrillo station, which is the ranger station closest to the lodge, but others prefer to visit the Sirena station, which is more isolated, but requires a reservation and has an additional cost.
Keep in mind that if you are going to walk, it is necessary to wear rubber boots since the terrain is slippery and muddy, and it is also highly recommended to wear long pants and dark colors.
The Caño Island is a beautiful place for diving and snorkeling, the best second place after Coco Island. To get to Caño Island you must take a boat for about 45 minutes, once you are there, you will see the great land mass that is in the middle of the ocean.
The diversity there is amazing and you can easily see a lot of fish of different colors, small and large turtles and if you're lucky, little sharks. When you dive there, you can appreciate all the different fish that we have as part of our marine resources. From everywhere you can get an incredible view of the marine life!
Other hotel recommendation in the South Pacific is Playa Cativo, the luxuriest boutique hotel located close to Puerto Jimenez or Golfito, in the Golfo Dulce area. This small, cozy lodge is like a house made of wood, with an open restaurant serving different and delicious Costa Rica food, next to the pool and surrounded by nature. It is also necessary to take a boat from Golfito or Puerto Jimenez, as there are no roads.
Playa Cativo is absolutely one of the best places for honeymoon in Costa Rica, even if this is a house style hotel, you will have privacy because it is small and exclusive. Piedras Blancas National Park is one of the best attractions in the area and the lodge offers the tour there, but you can take a kayak tour, enjoy snorkeling on the quiet waters of Golfo Dulce, maybe some stand up paddle or easily look for beautiful dolphins.
The lodge offers a tour on their farm, you can walk through the property and collect vegetables or spices to eat on your lunch, the best part of the activity is that you can explore, taste and verify that the delicious meals that they prepare include fresh ingredients.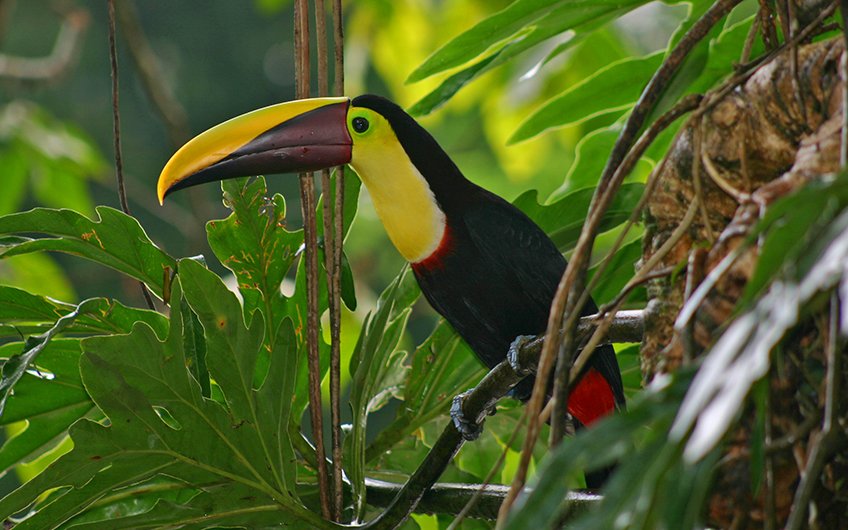 A paradise for birding
Bird watching is another possible activity to do when you are thinking to visit Costa Rica. This paradise, has 84 families of birds, more than 900 species distributed in all the country. Our ecosystems and different forest kinds made Costa Rica an ideal rich country for the activity.
Family trip to Costa Rica involves visiting different sites, and should include the enjoyment of different tastes, experiences and emotions and the feeling of looking for birds in the forest is incredible for this. You will not imagine all the different colors, sizes nor sounds that they emit, these small creatures are unbelievable.
If you do not want to miss this opportunity, then you must know that the perfect places to see birds are highlands but there are multiple spots to see them do some birdwatching in Costa Rica:
The North Pacific region of the country is a good spot for people that want to be close to the beach or close to Liberia Costa Rica, where there are a lot of lodging options, specially big chain resorts or all-inclusive family resorts, but there you can visit the Rincon de la Vieja area, the Palo Verde National Park and the Santa Rosa National Park.
On the Central Pacific, we have the Carara National Park and the Manuel Antonio National Park where you could see some birds, especially early in the morning when the park is not full of people. In the South Pacific we have Corcovado and Piedras Blancas National Park, in the area is very easy to see birds right on the hotel gardens too.
Highlands are a very good recommendation, in Costa Rica we have the mountains of Monteverde, Poas and Irazú Volcanoes in the Central Valley, as well as the Turrialba area. The lowlands of La Fortuna Costa Rica are a great place where you can enjoy magnificent views and close contact with nature and birding activities.
Tortuguero on the Caribbean side of the country is a great area for people looking to see water birds, there are more than 400 species of birds, including the beautiful Quetzal. Hotels there includes completed packages with lodging, meals, tours and transportation to and from San José.
Some of the most common species that we can find there are: Anhinga, Rufescent Tiger-Heron, Brown Pelican, Bare-throated Tiger-Heron, Roseate Spoonbill, Wood Stork, King Vulture, Common Black-Hawk, Great Curassow, Wilson's Plover, Great Green Macaw, Scarlet Macaw, Barn Owl, Rufous-tailed Jacamar and more.
San Gerardo de Dota is almost the best place to see the Quetzal, it is located on the Central Valley and there we can visit Los Quetzales National Park which is relatively new national park in Costa Rica.
The hotels there are small, cozy, nice and comfortable, The wood is a common material in the structure of the rooms there, as it is warmer because it is a cold area sometimes, and the Costa Rica weather may change suddenly. There, you can find different options for all the budgets.
Birding is the most common activity in the area, however there you can do horseback riding, fly over the trees with the canopy tour, discover the amazing Cerro de la Muerte, which is the highest point of the Interamerican highway or visit some beautiful waterfalls.
Some of the common species of birds in San Gerardo de Dota are Spotted Wood-Quail, Red-tailed Hawk, Magnificent Hummingbird, Purple-throated Mountain-gem, Collared Trogon, Resplendent Quetzal, Emerald Toucanet, Flame-throated Warbler, Common Chlorospingus, Large-footed Finch and more.
Your Costa Rica family holiday should include some of these experiences that are only few reasons of why you must visit this natural paradise.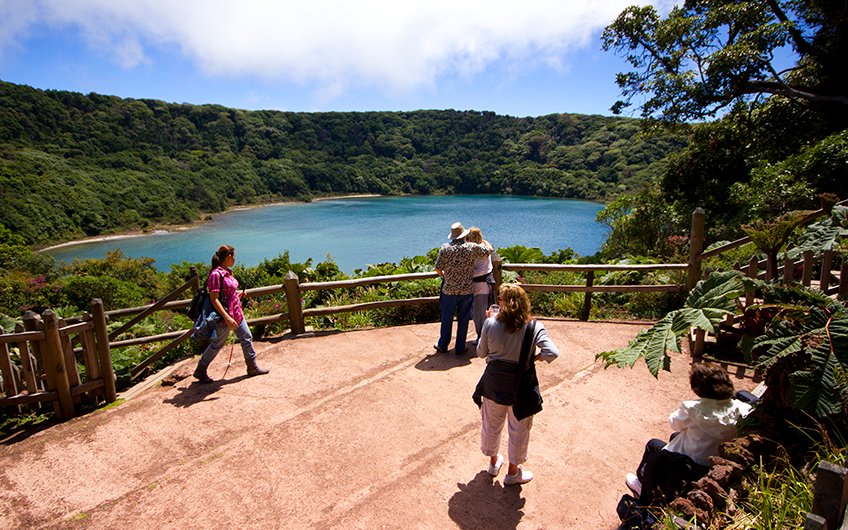 Amazing views on the highlands
Costa Rica is formed by a Central Mountain System which is divided into four different volcanic mountain ranges. So beautiful view can be seen from most of our territory.
Even though, our country is very small, we have a big quantity of volcanoes and mountains that are all over. Since you get into the Central Valley, you will see mountains and the views are just amazing, especially in the hotels that are outside from the city, you could stay and appreciate the landscape during minutes or hours if necessary, the lights shining over the mountains, see the different colors that produces are very relaxing, you will feel like you are in the top of the world.
In the Central Valley we have a lot to do, especially the visit of volcanoes like Turrialba and Irazú in Cartago, the Poas Volcano in Alajuela or Barva Volcano in Heredia province, these are highest points where the vegetation is unique and beautiful, the different colors in those landscapes are lovely.
We would like to recommend you to visit Xandari Resort while you stay in San Jose, it is one of the best Costa Rica family resorts. The property is located out from the city, at 30 minutes approximately from the Juan Santamaria International Costa Rica Airport, it is a small boutique hotel, located in a coffee valley.
Each villa stays apart from the others and it has exuberant vegetation in the property and offers big villas for families, up to 6 people. The property is very private and secluded and its most amazing part is the closeness to the city, so you will not spend long time, getting there.
It is also recognized by its different decoration which is very colorful and the meals here are delicious and they usually plant some of the ingredients that they need to cook. From Xandari Resort there are good activities to do, you could walk in the private reserve that they have, do bird watching tours or visit their farm.
Please do not forget a coffee tour here, a way to learn more about Costa Rican culture and taste the delicious grain. At Finca Rosa Blanca coffee plantation you will have easy access to this tour.
It is another small boutique hotel located in the Central Valley. The hotel is right inside to a coffee plantation and the decoration is authentic and nice. Gourmet meals can be tasted there, this is a perfect place for couples, friends or families, out of the crowded city.
At one hour from the International Airport is located Chayote Lodge, a boutique hotel that is characterized by its Costa Rican coffee decoration, and for being one of the newest properties in the Central Valley and is situated on a coffee farm too. The tours that can be done from there vary from walking in the forest, Costa Rica coffee tours or visits to the Naranjo downtown which is a very typical and popular tour.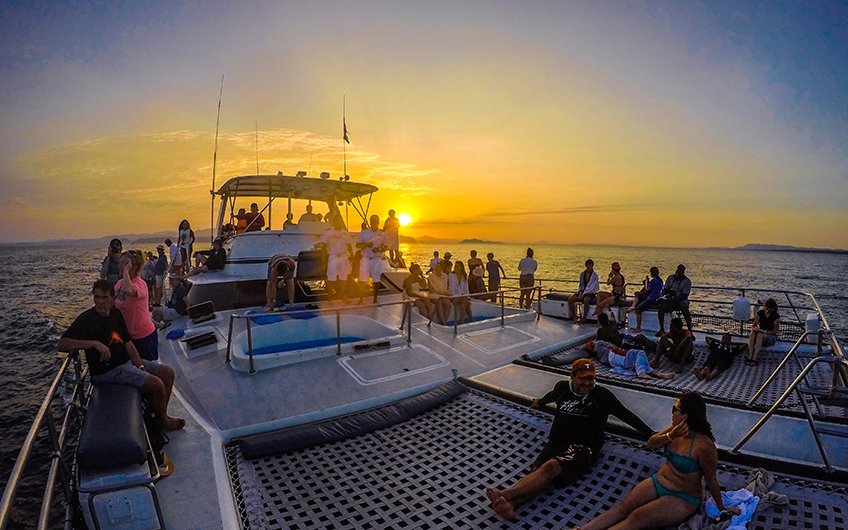 Extraordinary places to appreciate the sunrise and sunset
When you are in the highlands, you can take an unforgettable view of the sunrise or sunset. If you like adventure and if you enjoy the challenge walks, we will recommend you the Cerro Chirripo hiking, it is the highest point of Costa Rica but you must be in good shape to get there.
The best part of the tour is that the groups start walking around 4 or 5 in the morning, so they can breathe fresh air, avoid the strong sun and admire the sunrise. The colors of the Cerro Chirripo are a perfect picture that will remain in your mind, this is one of the experience of a lifetime.
There is no doubt that Costa Rica adventure vacation packages must include the visit to Cerro Chirripo.
Finally but no less important, we will recommend you to visit our beautiful and extensive coasts, those places where you can stay to forget the busy world, the problems or daily stress. No matter if it is on the beaches of the Northern Pacific coast or staying in the relaxed Southern Caribbean side of Costa Rica, there are hotels and different activities for all the needs and preferences.
A perfect Costa Rica honeymoon, should include the beach, we have a lot of romantic places to stay. Just imagine being in front of the sea, drinking something, feeling the warm sand in your body, the fresh air touching you and listening the water while you admire the sunset, or wake up early to walk at the seashore, maybe run if you like to do exercises, creating memories and making real your perfect trip.
If you need more information or if you liked this article, please leave us a comment or contact us, we will be waiting to hear from you in order to help with your perfect Costa Rica vacation.
Video of Best Places To Visit In Costa Rica During Vacations
Video: Essential Costa Rica My Choice Naturally
---
---
Leave a Comment