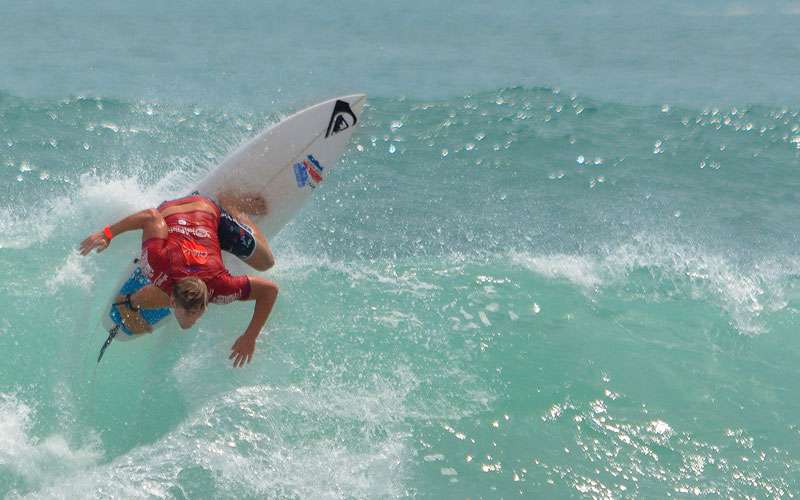 Surfing is one of the most amazing and extreme sports for me. You know, everybody loves the beach and everybody enjoys the sea; lying on the sand under the shining sun, with the waves touching your feet, gazing at the blue sky…that's not a hard job to do. But going into the sea and challenge the waves, trying to be more crafty than them; that's something!
Costa Rica is known for having some of the best waves to surf in the world. And also, for having some of the most beautiful beaches of the region. Besides, its amazing weather, makes possible to enjoy the crystal clear waters all year round. You may have heard that Costa Rica is a surfer's paradise, but you know why?
Here there are 5 reasons why Costa Rica is a surfer's paradise you should visit on your next vacations:
We have the current world champion surfer. Quite so! The winner of the last World Surfing Championship – Noe Mar McGonagle – was born and raised riding the waves of the Osa Peninsula of Costa Rica. That means that all his years of practice, which led him to be one of the best surfers in the world, were done on the beaches of this country. In fact, in the South Pacific of Costa Rica where his hometown is located, are some of the best surfing spots in Costa Rica. But that's not all, his little sister Leilani – with only 15 years old – won the silver medal and was crowned runner. That cannot be a coincidence. It must be something in the water.
We are home of one of the longest lefts in the world. The secluded beach of Pavones – which incidentally it is the hometown of Noe McGonagle – is home to one of the longest left hand points in the world. This isolated town is located more than 7 hours from Juan Santamaría International Airport, but if you are looking for the ultimate surf destination in Costa Rica, worth the trip. Here, you can find an epic left hand break that surfers can ride for almost 3 minutes!! In fact, some years ago, Robby Naish – the renowned windsurf athlete – along with his sponsor Red Bull, rode the wave at Pavones for more than 2 minutes. You don't believe it, right? Well, here is the video
You can surf in Costa Rica all year round. That's right! One of the things that surfers love the most about Costa Rica is the consistency. Due to its geographical position, Costa Rica is one of the most consistent surf spots in the world. It's right by the Equator and is vulnerably open to the Pacific Ocean, which means that receive swells from both the Northern Hemisphere (from November to March), and the Southern Hemisphere (pretty much year-round). Besides, thanks to that blessed position, the water temperature of the beaches in Costa Rica is unbeatable. All year round between 22C and 26C.
We have a surfing culture. Surfing is not a tour that foreign people come to do to Costa Rica; surfing is part of the life of many coastal towns. A lot of "Ticos" living in some beach towns such as Jacó, Puerto Viejo and Tamarindo, combine this sport with their day by day. When you visit these towns, you can see the young people go surfing after school, a lot of family businesses dedicated to surfing lessons, locals giving some tips to tourists…because the surfing culture of some parts of Costa Rica is real. In places like Tamarindo Beach, where everything is about surf, you will find surf shops, surf camps, surf lessons…everything you may need for your surfing vacations. Also, there are plenty of local restaurants where tourists go to eat something while they share their experiences with local friends…in fact, there are a lot of foreign people living in towns like Tamarindo, because they come to surf some days but they end up falling in love with the lifestyle of these little places. The same thing happens in Puerto Viejo, in the Caribbean Coast of Costa Rica.
Costa Rica is more than a surfer's paradise. One of the main reasons why people visit Costa Rica is its diversity. We have beautiful beaches to surf, that's right, but also we have amazing diving spots, active volcanoes, thrilling rivers for white water rafting, endless canopy tours, secluded spots for yoga retreats…no matter what you are looking for, Costa Rica has it! And that's really important, because if you want to come and spend all your days at the sea riding waves, you have plenty of surf spots to discover; but if you want to combine your surf time with other activities, or if you are coming with no-surfers friends or relatives, there are also plenty of options to enjoy too.
Remember that Costa Rica is a really small country, where you can dawn in the middle of a cloudy forest and go to sleep hearing the sound of the waves through the window.
So now you know, if you are planning your next surf vacations and you haven't decided yet which destination you want to visit, Check out this detailed surf guide and do not think twice!