Table of contents
The destination of Tortuguero, in the Northern Caribbean of Costa Rica, flourished because of the National Park of the same name, established in the early 1970's. The conservation efforts put the place on the Costa Rica map back in the 1950's, and it has flourished from then onwards.
It attracts locals and tourists from around the world to see its diverse flora and fauna, most famously the sea turtles. This is where its name comes from, "tortuga" is the word used for turtle in Spanish, and Tortuguero can be roughly translated to "Land of the Turtles."
Location
Tortuguero is located in the province of Limon, which covers all of the Caribbean Coast of Costa Rica. It is located 60 miles (95 kilometers north-east) of San Jose Capital.
How to get Tortuguero
The village of Tortuguero is surrounded by the waters of the Caribbean Ocean and canals and is only accessible by boat or airplane. The roads will take you as far as the towns of LaPavona, or Moin. Like anything worth doing, getting to Tortuguero requires a bit of effort. Here are your options:
By Air
This is the perfect option for travelers who are short on time, as the domestic flight takes only 25 minutes from the capital city of San Jose Costa Rica. There are one local carriers that make the journey, Sansa, and their prices will vary depending on seasonality, supply and demand and amount of baggage allowed.
When flying in these small low-flying aircraft you can enjoy the beautiful scenery below, its lush canals and Caribbean Ocean. This is the most time effective yet pricier option. Once you land at the airstrip in Tortuguero, you will travel by boat to your host property.
Renting a Car
If you have hired a car for your exploration of the country, you can only drive up to a certain point, and you will have to leave your car in a parking lot and travel the remainder of the way by boat. The best option is to contact your host property who will advise most efficient route to take depending on time of year, weather conditions and logistics.
If you are coming from San Jose, or the La Fortuna – Arenal area they will likely suggest La Pavona. This little town has a parking lot where your car can stay for the days you will lodge at Tortuguero, they have daily rates of approximately $10 per day. Drive heading east from San Jose, towards the province of Limon.
You will pass the cloud forest of the Braulio Carrillo National Park on the way, it's a beautiful drive, but try to make it early to avoid dangerous driving conditions on the windy road, like rain and fog due to the weather variations. You will go through the town of Guapiles, and look for the road to Cariari and ultimately La Pavona. GPS is highly recommended, and the last few kilometers are unpaved. The boat from Pavona to Tortuguerocan take 1-2 hours depending on the tides.
If you are going to Tortuguero from another area on the Caribbean, then you will head over to Moin port and take a boat from there. From the main town of Limon, Moin is only 15 minutes away and has parking facilities.
Once you get out of the industrialized port, the lush canals open up, and the boat ride takes a bit over 3 hours. This is a less popular tourist option, so make sure you have space booked on the boat, and arrive at least 30 minutes before departure. We highly recommend pre-booking this with your travel agency or property that will host you in Tortuguero.
Public bus
If traveling from San Jose, take a bus to the town of Cariari, which takes approximately two hours. From Cariari take another bus to La Pavona, for about 90 minutes. From La Pavona then take the boat to Tortuguero, which can take from 1-2 hour depending on tides and weather conditions.
You need to start your journey from San Jose Costa Rica early in the day to be able to make it the same day. This is the least recommended form of transportation to Tortuguero, mainly because of logistics, weather, tides and last-minute changes.
History
The Caribbean region is a melting pot of different cultures and is very different from the rest of the country. Tortuguero, in the northern Caribbean was only accessible by boat for many years, and its original inhabitants were fishermen. In the 1950's, an American herpetologist named, Dr. Archie Carr, tracked sea turtles to find out about their nesting sites, growth rates and reproductive behaviors.
This brought him to Costa Rica, where he began making efforts to protect the turtles' habitat. He was a conservationist before it became fashionable, and convinced the government of Costa Rica to establish Tortuguero National Park in 1975.

In the 1960's he directed the U.S. Navy's "Operation Green Turtle" to distribute green turtle eggs and hatchlings from Tortuguero around the Caribbean and Gulf of Mexico. This and other efforts produced a recovery of the green turtle population in the 1980's.
There have been over 35,000 female Green Sea Turtles tagged in Tortuguero. This effort through many years provided a wealth of information regarding their behavior, migration, diet, nesting habits and more. The information has aided in their conservation, and is now the number one reason tourists flock to Tortuguero, to see the wildlife.
The Sea Turtle Conservancy (STC) was founded by Mr. Joshua Powers, inspired by Dr. Archie Carr's book "The Windward Road", about his travels around the Caribbean studying the migration and behavior of sea turtles. Dr. Carr served as Scientific Director of the STC from 1959 until his death in 1987. The organization began in Costa Rica in the 1950's and has since expanded its presence and efforts throughout Central America and the Caribbean.
Why is it so well known?
Nicknamed the "Amazon of Costa Rica", Tortuguero's maze of canals, beaches, and verdant forest is one of the top destinations in the country. It is the third most visited National Park in Costa Rica, and was voted one of the country´s seven Natural Wonders in 2007. Researchers have concluded that Tortuguero is the most important nesting site for the green sea turtle in the Western Hemisphere.
Hotels and Resorts in Tortuguero
There are varied lodging options in Tortuguero, and there is one thing they have in common, they include all meals. The full board system is the way to go in this destination, due to its remote location. Caribbean cuisine is a delightful combination of vegetables, fruit, seafood, chicken and meat, all seasoned with healthy doses of coconut milk, ginger and spices. If this kind of menu is not to your liking, don't fret, hotels offer varied menus to accommodate to all tastes and appetites.
The Pachira Group has three different lodges in the Tortugueroarea. The first one, Pachira Lodge, opened with only 12 rooms over 20 years ago, and has grown to 88 rooms. Fifteen years ago, and due to increased demand in the area, the group's second property was born, Evergreen Lodge.
Aninga Lodge, the third hotel to be opened by the group, came about due to increased demand from the North American market. The three properties have shared access to a canopy tour and Spa. The canopy tour offers 11 platforms, 4 suspension bridges and 7 zip lines, as well as a "Tarzan Swing". Because of their commitment to sustainable practices, properties do not offer air-conditioning.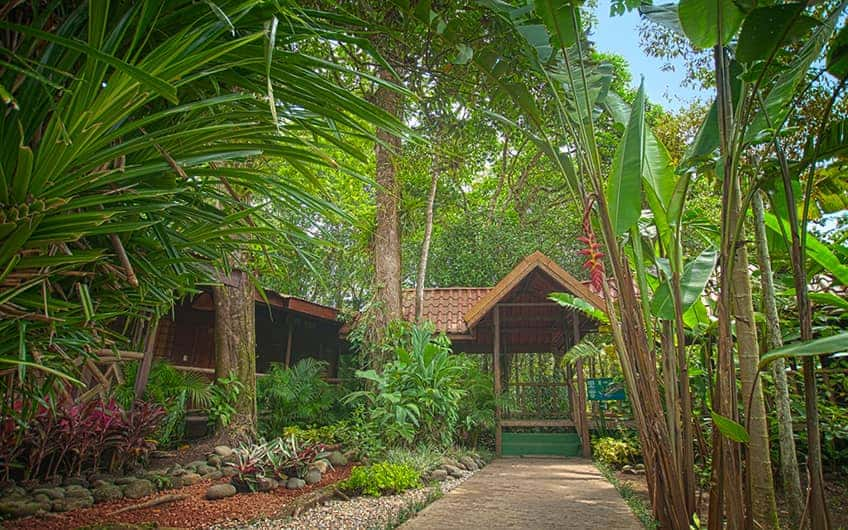 Pachira Lodge
Pachira Lodge is a sustainable property located in the Penitencia Channel, only 5 minutes by boat to the entrance of the Tortuguero National Park. Its comfortable rooms are decorated with bamboo furniture and feature hot water and ceiling fans. Enjoy their fun turtle-shaped pool during your Costa Rica vacations, and the hammocks where you can relax and enjoy the view of the gardens and canal.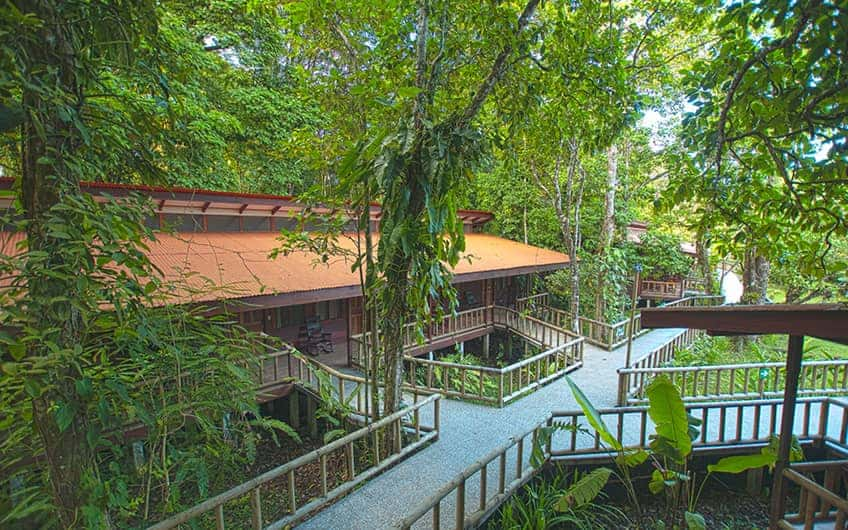 Evergreen Lodge
Evergreen Lodge offers independent bungalows as well as guestrooms, all surrounded by lush vegetation. It has a pool, a spa and its own canopy tour within the property. Its hearty buffet style meals are all included in the rate, and have an abundance of tropical fruit and vegetables from the area.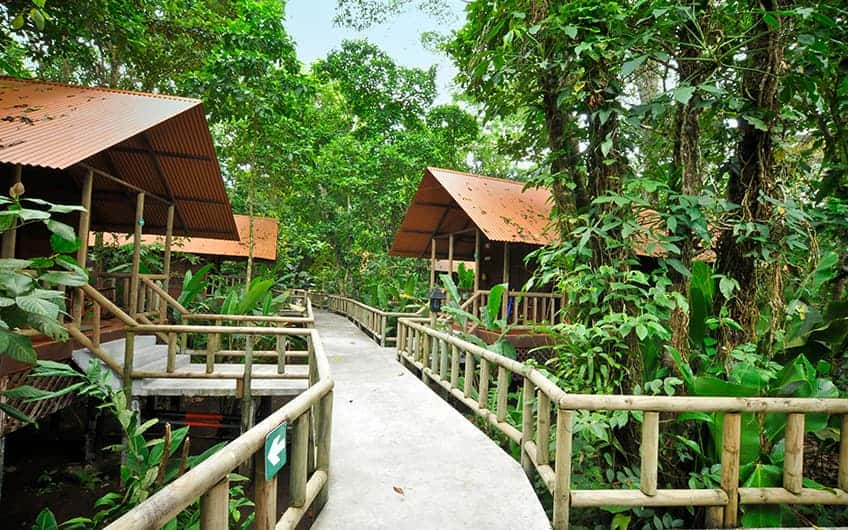 Aninga Lodge
Aninga Lodge's bungalows, restaurant and walking trails are all built on stilts, to protect the wildlife's environment and mobility. Their restaurant offers buffet style meals and you can take advantage of facilities such as pool, Spa and canopy tour that are part of the Pachira Group's complex.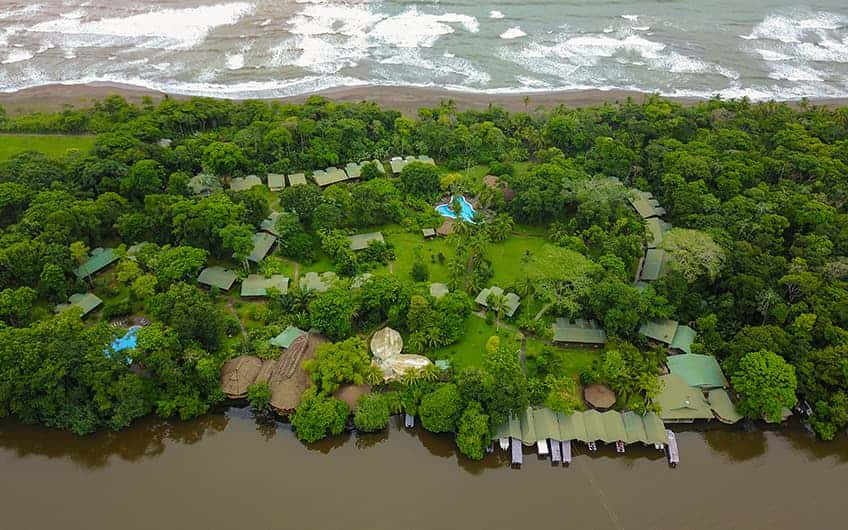 Laguna Lodge Tortuguero
Laguna Lodge Tortuguero is located on a narrow strip of land that separates Tortuguero's main lagoon from the Caribbean Sea. It has simple, wooden, comfortable rooms surrounded by 6 acres of gardens. They have a restaurant that overlooks the lagoon, and offers all its meals buffet-style. Grab a cocktail at any of their three bars and observe nature or lay out at one of their two swimming pools. Property also boasts direct access to the beautiful Costa Rica beach set in the Caribbean coast of the country.
Video of Laguna Lodge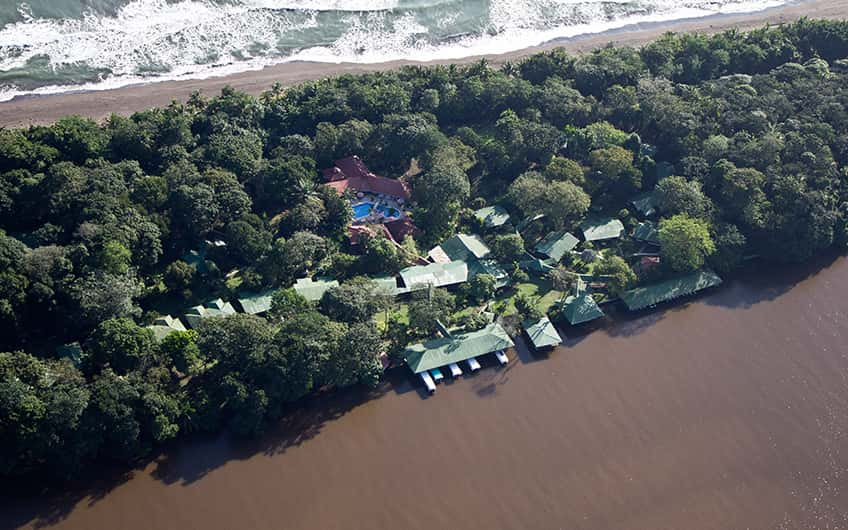 Mawamba Lodge
Mawamba Lodge's strategic location is the Caribbean Sea on one side, and the Tortuguero canals on the other, allowing for direct beachaccess. It offers 54 rooms with different configurations to accommodate single travelers, couples or families. Amenities include ceiling fans and safety boxes. The hotel is ideal for people looking for some relaxing time as well as for those looking for some great Costa Rica family vacations.
They also offer 4 Independent Superior Bungalows ideal for honeymooners, which are larger, more private, and feature King sized beds and larger bathrooms with tubs and showers.
Property has a restaurant offering buffet style meals included in the meal plan. They also feature a floating restaurant for lunches and dinners while cruising the canals at an additional cost (it has to be booked previously). Their features include swimming pool, coffee room, gift show and a bar and lounge.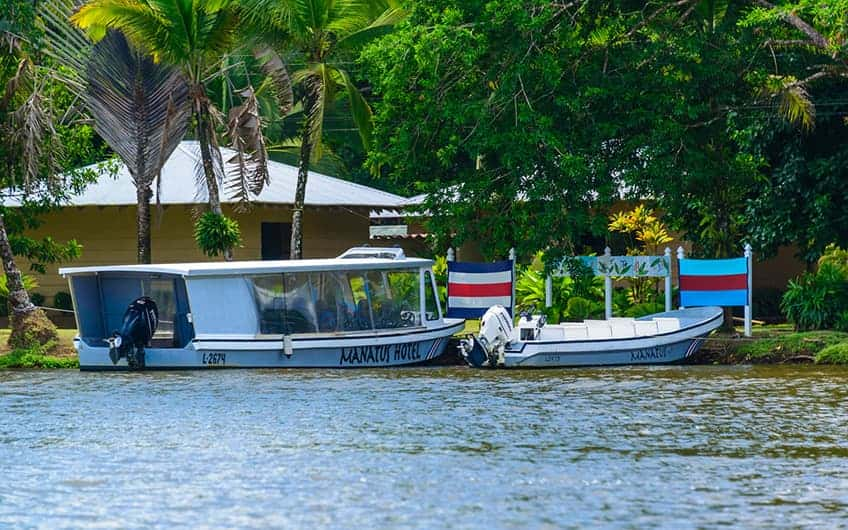 Manatus Hotel
Manatus Hotel is an exclusive property, the highest end one in the Tortuguero area, offering 12 bungalows with 2 Queen Beds each. They offer higher-end amenities for the area, such as air-conditioned guestrooms, mini bars, cable TV, WIFI access throughout the property, laundry service, and more.
As with other hotels in the area, their meals are included, and at Manatus they are à la Carte, with options ranging from gourmet Caribbean fare to more international dishes. The property features beautiful gardens from which to observe the local flora and fauna.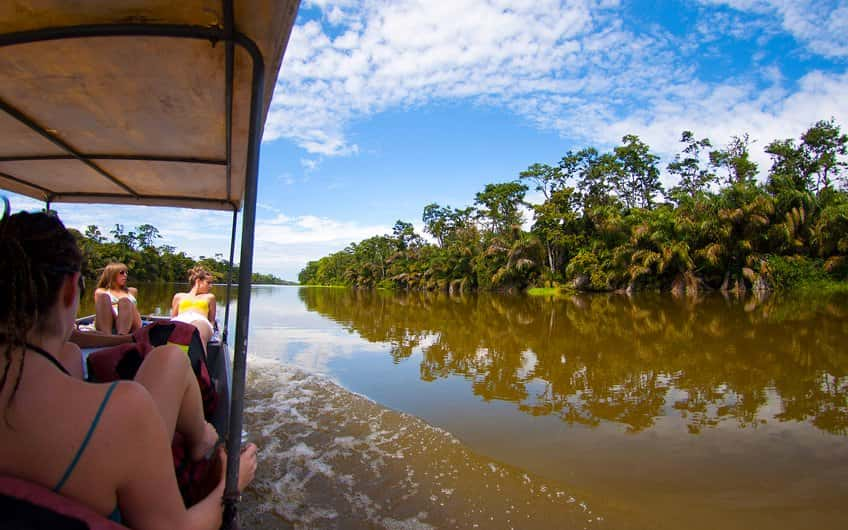 Weather in Tortuguero
The Caribbean coast differs from the rest of Costa Rica in terms of seasonality, and dry and rainy seasons. A couple of the rainiest months in the Central Valley and Pacific, are when the Caribbean experiences a mini summer (September-October). This is due to what is known as a rain shadow effect, where the moisture is blocked by the Tilaran Mountain Range, which is opposite to the wind.
February and March are also drier, and rainy season in the Caribbean goes from November to January as well as April through August. Expect rain showers in the afternoons even during the dry months, this is still the tropics, and the area gets an average of 6,400mm (250 inches) of rain a year. The temperature oscillates from a maximum of 28°C (82°F). to a minimum of 25°C (77°F), and it is hot and humid.
Things to do in Tortugero
Observing the flora and fauna, watching turtles lay their eggs or hatch, kayak through the canals, walks on the beach and more, this is the real Tortuguero experience.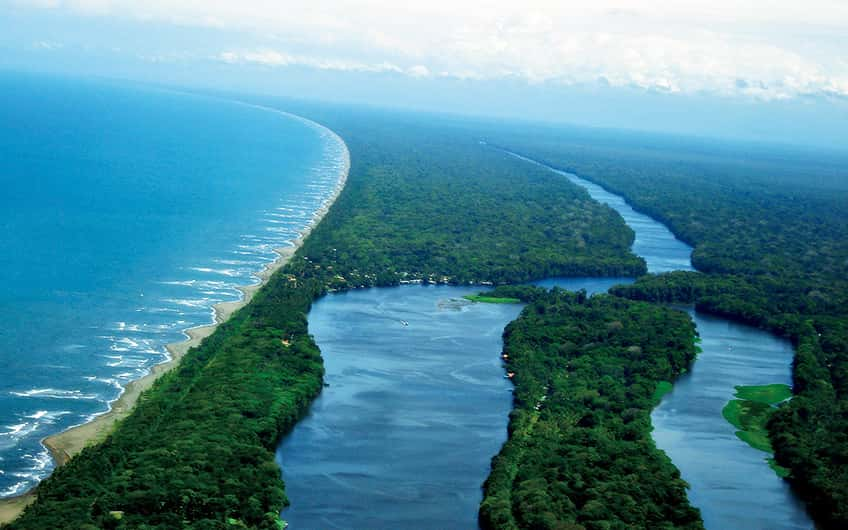 Tortuguero National Park
Tortuguero National Park protects both land and ocean, canals and inlets. It was originally created mainly to protect the nesting site of the Green Sea Turtle, and many other species have benefitted from this conservation area. It covers an area of 77,032 acres, and has over 20 miles of coastline.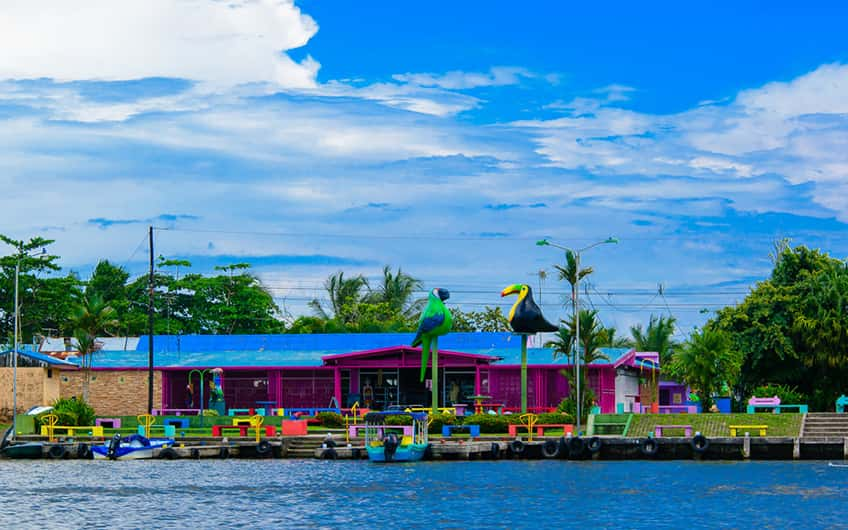 Visiting the town of Tortuguero
The small community of about 1,300 residents has no roads or cars and is only accessible by air or boat. The townspeople originally lived off fishing and hunting exclusively, and now their main source of income is tourism. There are quaint restaurants and shops to explore, however its main attraction is the Sea Turtle Conservancy (STC) Research center.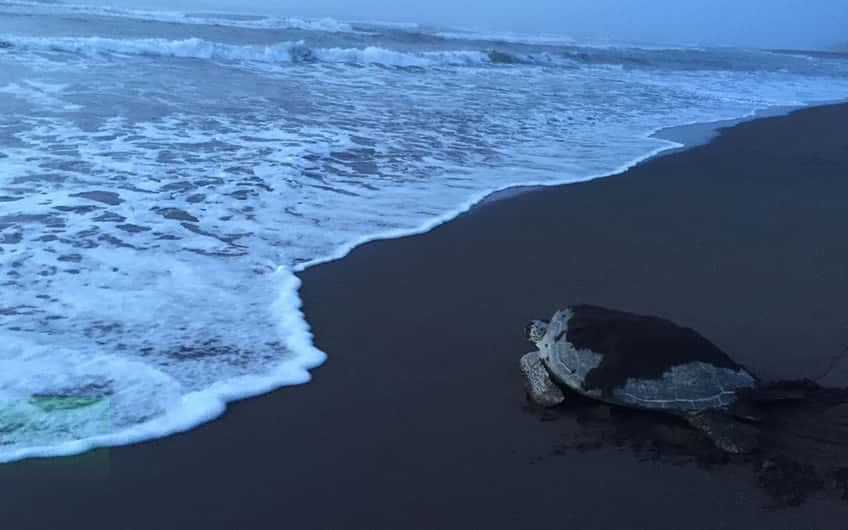 Turtle nesting tour
Depending on the time of year you visit Costa Rica to travel to Tortuguero, you'll be able to see the turtles laying their eggs. Leatherback nesting season is March through May, and Green Turtles go June through October. You may observe the laying of eggs, coverage of nest, and return to the sea.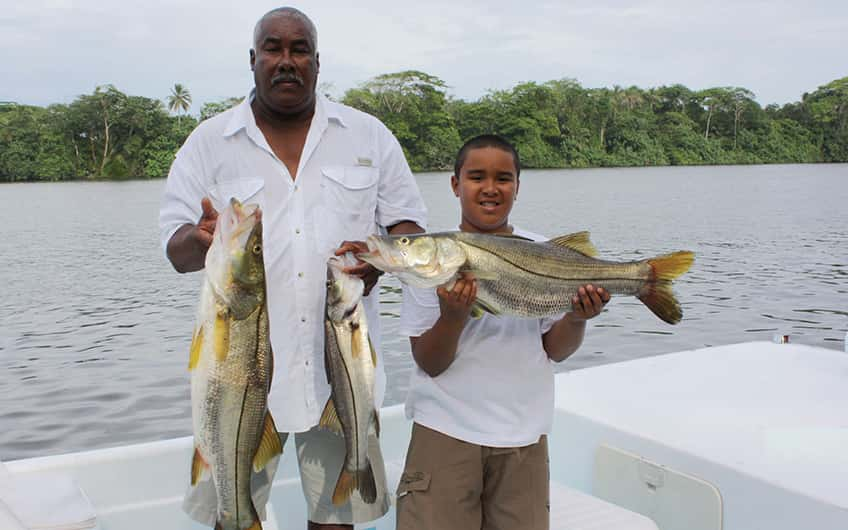 Fishing
Tortuguero's location offers the opportunity to engage in fishing in saltwater as well as in the canals, lakes and river mouths. Since the area is a protected area, your guides should use catch and release. Depending on the season, you can look for Tarpon, Bass and Barracuda. Off shore there are Marlin, Sailfish and Tuna.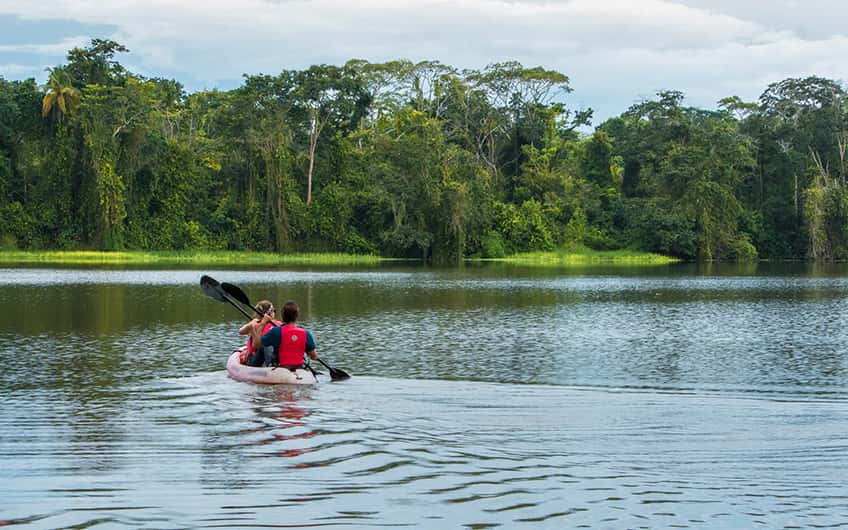 Kayaking
Kayaking through the maze of canals and rivers that make up Tortuguero is a perfect way to take in its diversity up close. Many properties offer kayaks for rent, and you can set up a guided tour as well. You will be able to explore the coves and waterways not accessible by boat, taking in the wildlife and jungle.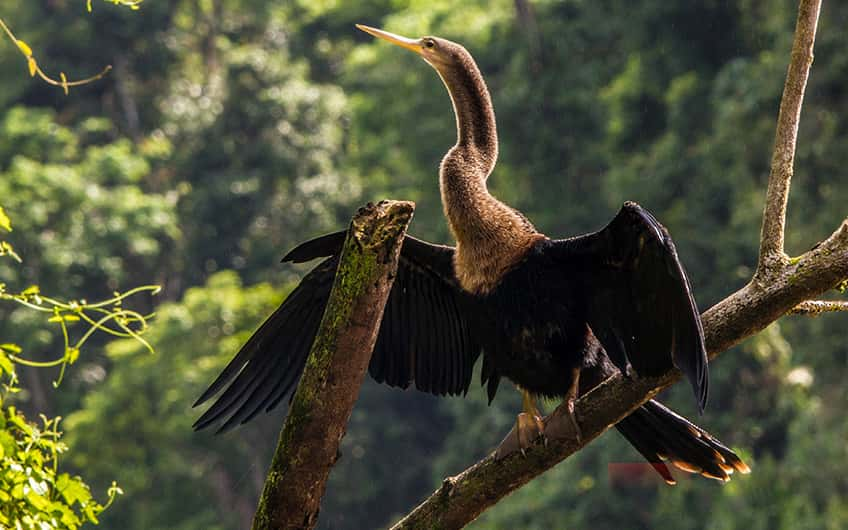 Birdwatching
There have been over 300 bird species identified in the Tortuguero area, many of them migratory. Birdwatchers can see different species of Hawks, Macaws, Hummingbirds, Kingfishers, Trogons, Herons, Toucans, Egrets,and more.
The tours offered by the lodges, hikes and boat tours, offer the possibility to enjoy the local nature while admiring it and taking incredible pictures. This is one of the coolest things to do in Costa Rica, and specifically in this area during your travel to Costa Rica.
Canopy
Experience a canopy tour over the Caribbean tropical forest. Its 11 platforms allow the observation of the lush vegetation below, and they feature 4 suspension bridges and 7 cables. They also feature a scaling wall and a "Tarzan Swing" for the most adventurous in the group. Inside the Pachira Group's grounds, but open to guests from all properties.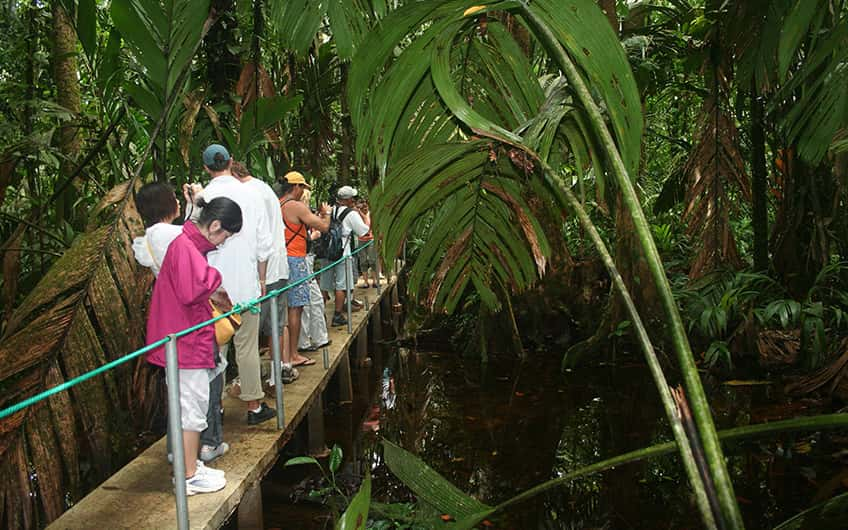 Day or Night Walks
Walks through the forestcan provide completely different experiences depending on time of day. You can hike inside the National Park, and guides trained eyes will assist in identifying vegetation as well as locating mammals, reptiles and insects along the way. At night, the nocturnal species come out and play, such as frogs, snakes and small mammals and are usually done either inside your property's grounds or at private reserves nearby.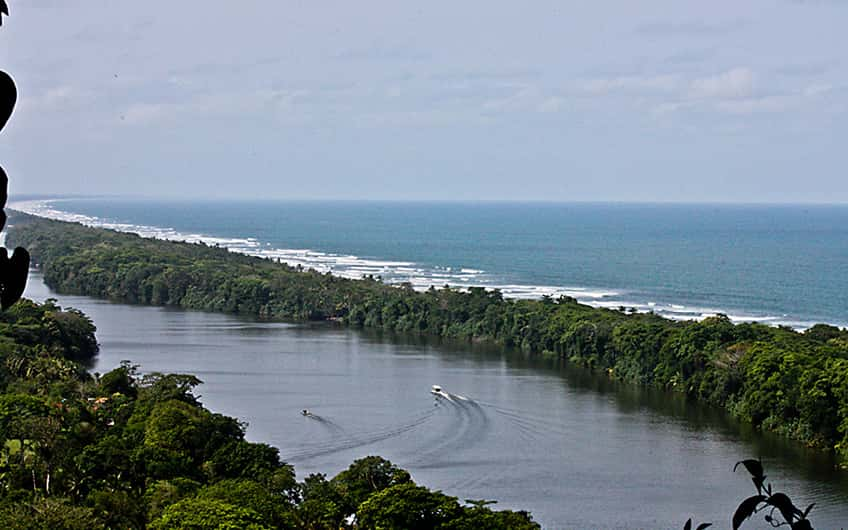 Cerro Tortuguero
If you are up to a bit more strenuous of a hike, visit this extinct volcano in the Wildlife Refuge of Barra del Colorado. Red volcanic stones along the way make you imagine the time an active volcano loomed over the area.
Get ready for a steep ascent, which rewards you with a beautiful view the thin strip of land that isTortuguero, with the Caribbean Sea on one side, and the canals on the other. Hike up early morning and the misty scenery will be even more compelling.
Wildlife
Certainly, the main reason tourists visit the area of Tortuguero is to experience its unique flora and fauna. The biodiversity in the area boasts 60 mammal species, over 100 reptile species, 57 amphibian species and 300 bird species. The wildlife makes its home surrounded by over 400 different species of trees, and 2,000 plant species.
Its most famous visitors are the turtles that come to lay their eggs in their beaches, but there are many others to observe and enjoy during your stay in this unique tropical destination, caught between land and sea.
At your host property, just by walking through its gardens or just hanging out and the pool or restaurant, you'll likely see macaws, porcupines, toucans, frogs, sloths, monkeys and more.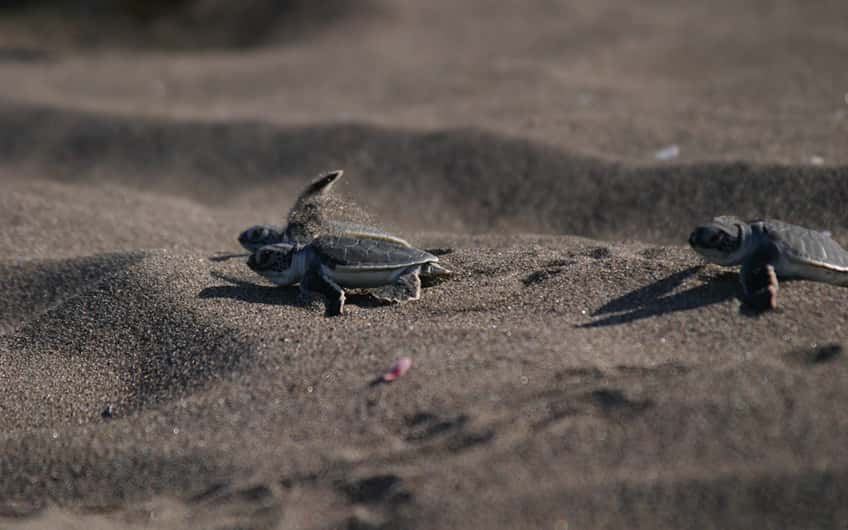 Sea Turtles
One of the most exciting things to do is to watch the Sea Turtles lay their eggs, and to watch the hatchlings climb out of the sand, breaking free of their egg, and rushing towards the sea. Nesting season for Green Sea Turtles goes from June through October, guides will take you out under the cover of darkness to witness this beautiful event, careful not to disturb the females.
The turtles will begin hatching in November and go through January. If you take a walk late in the evening or early morning you will likely see them making their way to the ocean, avoiding predators on the way. March through July is the Giant Leatherback Turtles' turn, and the Hawksbill Turtles lay their eggs from May through November. Female turtles always come back to the beach where they hatched to lay their own eggs, it is one of Nature's beautiful mysteries.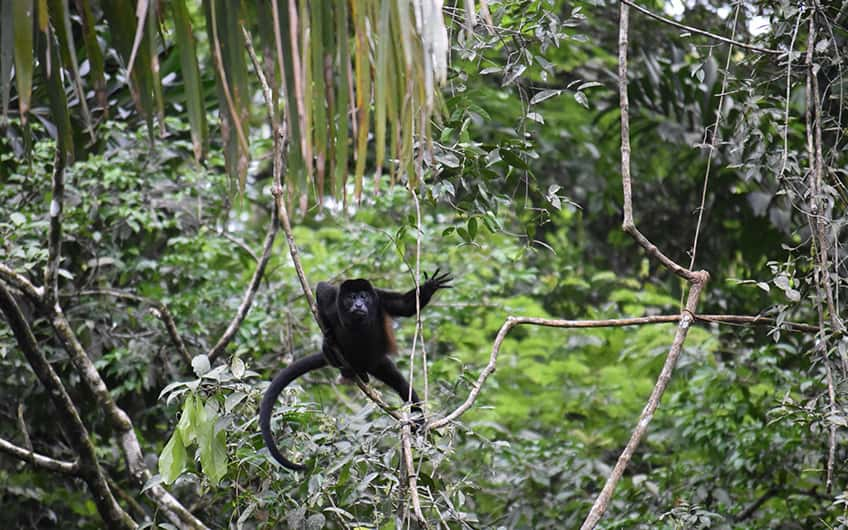 Monkeys
Whether laying back at the pool at your hotel or gliding through one of the canals on a boat or kayak, you will see many different types of monkeys during your trip to Tortuguero. Capuchin monkeys, Howler Monkeys and Spider Monkeysall live in the area.
The noisy Howlers might wake you up early morning, their deep calls can be heard a couple of miles away and the way they communicate with their group. A special treat is to see a female monkey carrying her baby with her, sometimes on her back or hanging off her belly.
Manatees
Wet-Indian Manatees were thought to be extinct for many years, but there is still a population of them living in the canals of Tortuguero. These gentle giants can measure 12 feet in length and weigh up to 2,000 pounds. They hide from motorized boats, so you have a better chance to see them during a kayaking tour, seeking out more isolated canals and lagoons.
Tips and recommendations during your visit
As with other tropical destinations, comfortable wet-friendly shoes are a must. Light clothes that dry easily, the ones that cover you from the sun but are breathable, are recommended. Hats, swimsuits, sunscreen and insect repellent are a must for this humid weather.
The small town does not have a bank or an ATM, so bring some cash with you. Dollars are widely accepted, but you can also carry come colones, the Costa Rica currency, especially if you go to the town and want to buy some personal stuff.
Get to know Tortuguero during your vacation getaway in Costa Rica, and learn why this natural wonder is more than the land of turtles!
We invite you to contact us if you want more information or if you need us to prepare your itinerary for your Costa Rica vacations. We will be more than glad to assist you!