Table of contents
Liberia – Guanacaste
Liberia is set within the northwest reaches of Costa Rica, in Guanacaste province where visitors have smooth access to some of the Costa Rica's most attractive white-sand beaches, and impressive volcano-studded rainforests.
Liberia is Guanacaste´s capital city and as such acts as a gateway for the entire province. The Daniel Oduber Quiros International Airport (LIR) allows for easy travel to and from the area.
Whether you're coming from another part of Costa Rica or an entirely different country, you won't have any trouble getting to Liberia and on to the places that you're interested to visit.
From Liberia you can enjoy the best Guanacaste volcano tours in the protected areas: Santa Rosa National Park, Rincon de la Vieja Volcano National Park, Tenorio and Miravalles Volcanoes, to name a few. While you within 30 min.-1.30 hrs. you can visit the pristine shoreline through the Northern Coast.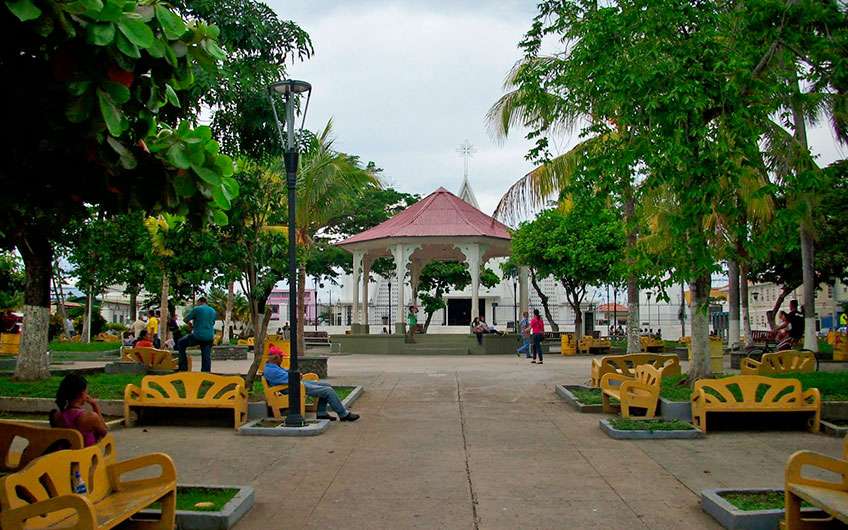 Liberia… the gate to Costa Rica!
A great urban development has been seen in the last few years in Liberia, concerning the flights to Guanacaste Costa Rica, which include the Daniel Oduber International Airport (LIR), receiving nowadays scheduled flights from major airlines coming from USA, Europe and charter flights from Canada.
Its location, only a few miles from the closest beaches, makes it an ideal gateway to some of the most spectacular and exclusive destinations in Costa Rica. That's why each year thousands of visitors from all over the world choose the Liberia Costa Rica Airport as their entry point to the country.
Where is located the Guanacaste Costa Rica airport?
The Daniel Oduber Quiros International Airport is located 12 Km West of the city of Liberia, Guanacaste and about 40 Km East from the Papagayo Peninsula and 79 Km Northeast from Tamarindo, Playa Conchal and Flamingo areas.
The border with Nicaragua is about 95 Km northeast. The distance between the Liberia the Juan Santamaria International Airport in San Jose is approximately of 220 Km or about 137 miles (about 4 hours driving time).
Liberia: the town, the style and what makes it unique!
"White City" is how Liberia is locally known not only for the wide streets, but also for the old buildings and bahareque homes.
In Liberia you can find a combination of old buildings, customs and traditions. Modern facilities including shopping centers and other businesses are also found in this location.
It is one of Costa Rica's oldest towns, a fact that is clearly visible in the colonial appearance of many buildings. The main street in Liberia, extending various blocks from north to south, is lined with ancestral homes and is part of the historic district.
The historical constructions have been restored and give Liberia its identity. Locals use adobe and bahareque materials as well as lime, which give houses their white color and gives Liberia the "White City" name.

Many ranches surround the Liberia area, and the town plays a vital role in Costa Rica's cattle industry. It provides a market for farmer's goods, both locally and through international export. Rodeos are a timeless tradition in Guanacaste, and they are the most popular of sporting events.
From all over the region, rodeos draw many locals who are intrigued by the chance to see brave cowboys hurled by infuriated bucking bulls.
July 25th, 1812 is a historic and emblematic date as Guanacaste became independent from neighboring Nicaragua. Every year on that day great celebrations take place in the province. They include an annual horse parade, bullfight, and rural fair- all making for a lively cowboy fiesta. Besides, Liberia offers entertainment, bars, great food and hotels.
Liberia offers entertainment, bars, great food and accommodations. Hilton Garden Inn Liberia Airport is one of the hotels in Liberia Costa Rica we can make arrangements for you.
Due to the short distance to the coast line main beaches: Papagayo / Hermosa (40-minute driving time) or Tamarindo Guanacaste / Conchal / Flamingo (1 hour driving time) most of visitors opt for going straight to the beach upon arrival. Dry season is one of the busiest times to travel, thus visitors are suggested to make their arrangements weeks in advance.
Driving from San Jose to Liberia usually takes around 4.5-hours along the Inter-American Highway, a length of 145 miles (234 km).
Things to do in Liberia, Guanacaste – Costa Rica
Liberia town itself is steeped in history and for a great time it traded hands between Nicaragua and Costa Rica. It has all of the amenities that generally accompany a larger city. However, most visitors don't spend much time in the city bur rather to move on to the Pacific coast beaches or inland rainforests that are set nearby.
Needless to mention that if you end up spending the night in Liberia, you'll get a glimpse of an authentic Costa Rican town. Cruise the city's central park and sip on Jugo de Caña (sugar cane juice) or slurp down some Copos (snow cones) from local vendors in the park or any town street, they are great!
Liberia's location provides travelers with easy access to beaches, rivers, mountains, rainforests, ranches, and even an entirely different country. What you end up doing totally depends on your interests and the amount of free time you have to explore the surroundings.
You can get as daring and adventurous as you want, or else take things down a notch and engage in some real-time relaxation, which is very valid in a vacation! The choice is totally yours!
So if you're into getting wet and see some nature, try out one of the river rafting tours down the Colorado or in the Corobicí rivers. If some exploration in the last remaining protected tropical dry forest in the world, then a visit to Santa Rosa National Park may be a great alternative for you.
More traditional ways to have fun and still learn and explore include Guanacaste horseback riding tours across the beach or mountains, canopy tours through the rainforest, and hikes within one of the many volcanic national parks (Rincon de la Vieja, Arenal, and Miravalles).
In one tour you can even test your skill as a cattle hand and spend the day learning how to ride horses and lasso, rope and tie calves if you feel into that.
There are certainly other activities that are slower-paced and often quite relaxing. You can spend the day enjoying a massage at one of the area's spas or simply lay down on the beach and relax while reading your favorite book.
Cultural activities include a visit to Liberia town and also a one-day outing to the historical Nicaragua Cultural Tour. During these, you'll be led down century-old streets and visit important cultural attractions including plazas, churches and restaurants.
Needless to say, there is something for everyone in this land. If you're running low on time, however, and are looking for a way to explore several of the mentioned activities more quickly, a combo tour could be perfect.
These Costa Rica tours combine several exciting activities – such as canopy tours, hanging bridge walks, and spa visits, such as the Buena Vista Combo Adventure – all into just one day.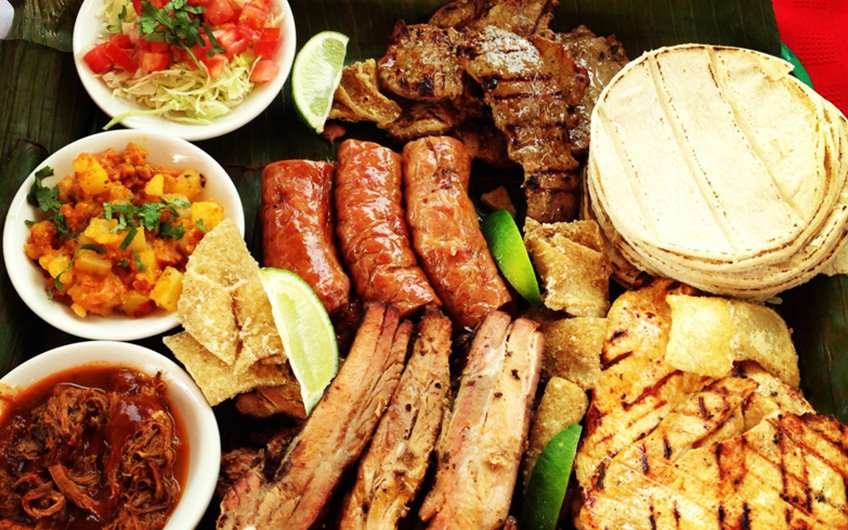 Liberia Local Restaurants
Where to eat in Guanacaste Costa Rica?
There are endless places to have a great dining experience in Guanacaste, as you can see with the many places to visit the area has. As we are focusing now on Liberia, then here you have a little selection of local restaurants and "sodas" (small traditional restaurants) to consider if you want a different food trial.
There is a great variety of culinary options for you to enjoy the flavors of Guanacaste local Costa Rica food and drinks. So, not only there are alternatives for those looking for typical dishes but also for those seeking to try the best of Guanacaste´s gourmet / fusion cuisine!
Pizza Pronto: An old-world pizzeria is what you find at this venue, where the wood is stored right next to the smoking courtyard oven. You can have a romantic time while enjoying a simple pizza, pasta or a salad.
Café Liberia: a beautiful restored colonial building has wooden furniture and frescoed ceilings, that together create a romantic ambience for a gourmet coffee. This venue offers live music and some occasional performances.
Copa de Oro: Family restaurant offering local cuisine to locals and tourists. Try the rice and seafood house specialty: Arroz copa de oro.
Toro Negro Steakhouse: located in a beautiful colonial building, this family-friendly restaurant offers its clients an international menu specialized in meat, including New York strip, filet mignon and burgers. A rustic interior and an outdoor balcony are two great settings to enjoy the chosen dish.
Los Comales: This is a local spot run by a group of women where you can come for a traditional Guanacaste fare. Locals frequently visit this restaurant so it tends to be crowded.
El Meson Liberiano: This Liberia house is now one of the nicest restaurants in town, offering modern presentations of pretty traditional food. Service is good, but what makes this restaurant special is the delightful back patio as the wooden tables are shaded by a big mango tree.
Liberia Costa Rica Map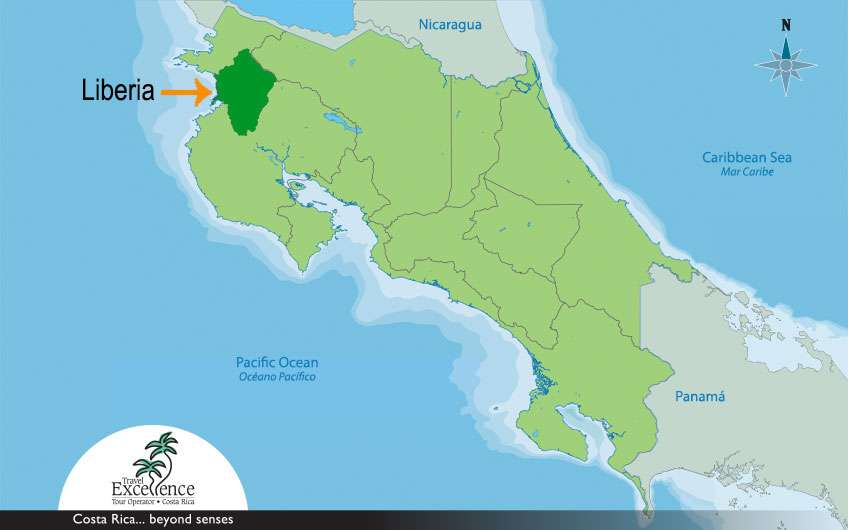 Guanacaste – Costa Rica
Guanacaste became part of Costa Rica in 1824; until then, it still remains as an independent province. This territory certainly has a very important natural and cultural richness for Costa Rica's economy.
As one of the most beautiful places in the country, Guanacaste has become a popular destination in Costa Rica for its tropical paradise with a pristine shoreline, beautiful mountain ranges and a number of volcanoes. It is home to some of the best all inclusive resorts in Costa Rica and involves some of the most best places to visit in the country.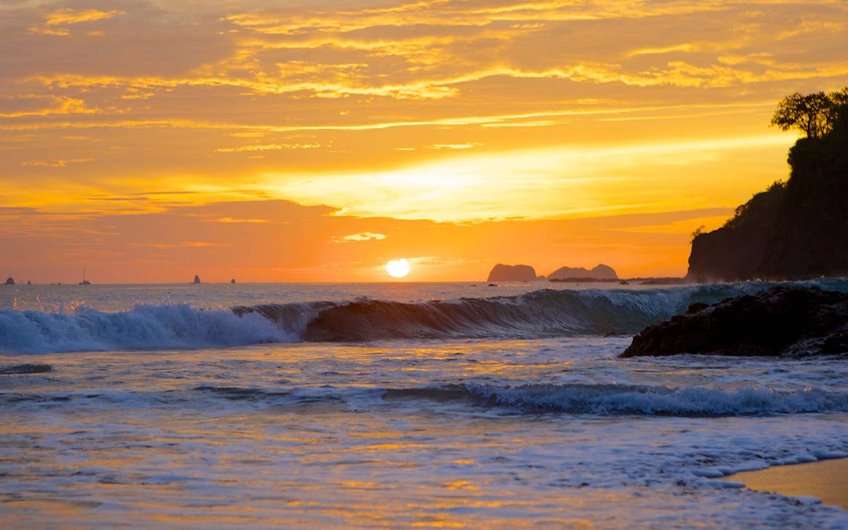 Visitors are drawn to the long summer days, active culture and unparalleled wildlife. Guanacaste Costa Rica vacations is definitely one of the strongest reasons why people visit Costa Rica.
The Guanacaste province is famous for its spectacular beaches in the Pacific coast with more than 125 miles of extension and also for its high quality cattle ranching production.
There is a great number of activities that can be part of your Guanacaste Costa Rica vacation package. Here, visitors have a lot of things to do just like: fishing, swimming, diving, kayaking, surfing, stand up paddle board, hiking in any of the national parks and mountains, horseback riding, visit the hot springs, rappelling, canyoning, white water rafting, zip lining canopy tour or simply relax and take the sun at any of the beaches of this beautiful destination.
Guanacaste Location
Where is Guanacaste Costa Rica located?
Guanacaste is located in the far northwest corner of Costa Rica providing diverse and exotic geographical features. Its main town is Liberia where major facilities for locals and visitors can be found such as hospitals, banks, supermarkets, City Hall, Catholic churches, shopping centers, movie theaters, among others.
If you are looking to an airport near Guanacaste Costa Rica then you must know that this province is home to the Daniel Oduber International Airport in Liberia (LIR), which is one of the two country's international airports, so getting to this province is a breeze.
And this is one of the main reasons why traveling to Guanacaste has boomed in the recent years, this airport is very convenient and receives both chartered and scheduled flights from across the world, including the United States, Canada and Europe.
Guanacaste is also situated along the Pan-American Highway, or Highway 1, which makes it easy to reach for travelers with a rental car or those taking advantage of public transportation in Costa Rica.
Getting to Guanacaste from San Jose Costa Rica can take anywhere from 4 to 6 hours depending on your final destination within this place, our travel guides will be more than glad to wait for you at the airport and also take you to your hotel, so you won't need to be driving your own rented car and then you can dedicate some time to rest before arriving to your destination.
History of Guanacaste
The name Guanacaste comes from the indigenous 'quahnacaztlan', a native word for the Guanacaste Tree, native from this region and also the national tree of Costa Rica.
The history of this province comes before the arrival of the Spaniards when the area was inhabited by Indians known as Chorotegas, culture from Mesoamerica.
During the colonial ages, Guanacaste was not a part of Costa Rica. The inhabitants of Nicoya, Santa Cruz and Cañas decided that they did not want to belong to Nicaragua but to Costa Rica instead, so they announced their Annexation on July the 25th in 1824 to the country.
Until today, this date is considered as its Independence Day, which was accepted from both countries in 1821.
Although Costa Rica managed to get the province back from Nicaragua, the region still boasts a slightly different personality than the rest of the country, making it a great place to visit for new and seasoned Costa Rica travelers alike.
Guanacaste Geography
Most of Guanacaste's terrain is flat, with higher areas such as the Nicoya Peninsula, however the province is bounded on the east by a group of green-swathed volcanoes forming the Guanacaste Mountain range; which features Orosi, Rincón de la Vieja, Miravalles and Tenorio volcanoes, and additional to that it can also be found the Tilarán Mountain Range, which is located in the Abangares district of Guanacaste.
The edge of the range is the Monteverde Cloud Forest, a major ecotourism destination and the east of the Arenal Volcano and Lake.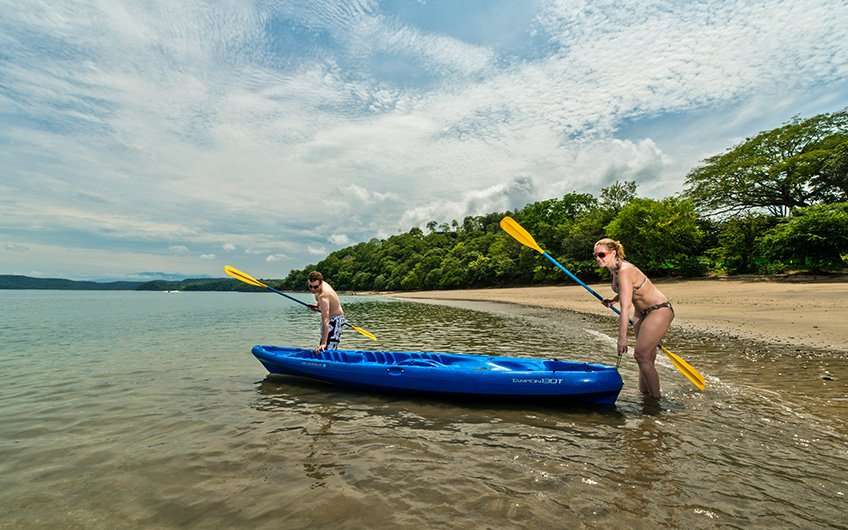 Guanacaste Costa Rica Weather
Guanacaste is the driest region of Costa Rica, especially the coastal areas. Its climate is highly seasonal.
The province experiences little rain and consistent heat from November to April (with temperatures going up to 95 F. max. average – 73 F min. average), and a green season from late May to November (with temperatures going up to 87 F. max. average – 70 F min. average).
Its hot and dry climate makes tropical dry forests, the province's natural vegetation type. The one exception is the highland portion of the province which consists of the upper Pacific slopes in the Guanacaste Mountain Range and the northern half of the Tilarán Mountain Range. The cool, moist conditions along these ridges support luxuriant cloud forests.
The main reason for the diversity in Costa Rica's weather is the various elevations at which different parts of the country are located. For example, Guanacaste has a dry arid climate as it sits on the lowlands.
The perfect time to plan your Guanacaste vacation packages is year around. No matter if you visit during the dry season or during the green season, both provide spectacular advantages. The dry season provides plenty of sunshine, while the green season brings the trees into bloom with explosions of colors and fragrances. The hills become carpeted in brilliant green.
In general terms, the best time to visit Guanacaste is from December through April, as it is Costa Rica's dry season. Visitation in the region is heavier this time of the year, as well as during Easter week, meaning it's highly suggested to make your Costa Rica tour package arrangements in advance to secure your rooms and services.
Guanacaste is known for having sunny and warm days year-round, with occasional rains in the late afternoons during the green season. The dry season is rather intense in the province, with no rainfall for several months.
If you want to avoid the tourist fuss and get more affordable rates for lodging for your Guanacaste travel, the early months of the green season (May-June) are a great time to vacationing in Costa Rica.
Visitation during this time of year can still provide for a great experience, especially the more eco-tourist attractions. Rivers run higher and even the dry-forests of Guanacaste turn green and lush. However, during the green season roads get muddy and rivers start to swell, making travel throughout the country a more challenging experience.
The time in Guanacaste Costa Rica is the same time in all the country – as the country is small and has no time variations among the places – which is UTC/GTM -6 hours, in the Central Standard Time of the time zone.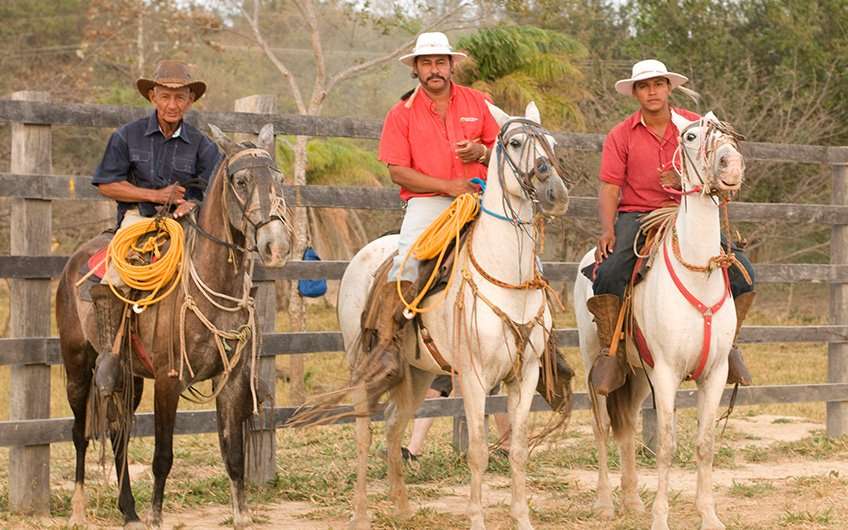 Why is Guanacaste one of the best places in Costa Rica?
Guanacaste is famous for its pristine beaches, cultural events, tourist attractions and activities for all kinds of tastes, its local people, and its local cuisine!
Guanacaste is known for its traditional music, which is the most important part of the artistic expression in the province. Music is a relevant element to be admired and respected by local and visitors. Typical music is considered a natural gift in those from the region.
Along with muse, typical dances with beautifully handmade decorated outfits have been preserved over time through the years. Some of the traditional dances are:
El Punto Guanacasteco.
Los Amores de Laco.
La Cajeta, la Flor de Caña.
El Torito.
El Zapateado.
El Pavo and La Botijuela, among other songs.
As far as local cuisine… corn is an important crop in Guanacaste. There are many typical dishes and beverages derived from this product: handmade tortillas, tanelas, tayuyas, tamales (Costa Rican style), pisque, sweet tamal, corn rice, rosquillas, bizcochos, pozol, pinol, chicha, among others.
In many homes there is a mud oven, where all types of breads are prepared and meals are heated. You can take some tours in Guanacaste Costa Rica that show how local people's life is, and some of the traditions they preserve from its ancestors.
You can try typical beverages like the pinolillo, which is made from finely ground white corn and toasted on a local ceramic plate. You can find these popular dishes and beverages in busy areas like markets in Liberia, Nicoya and the famous Women´s Cooperative in Santa Cruz Guanacaste.
Guanacaste Costa Rica Airport
Daniel Oduber Quirós International Airport in Liberia (LIR – Liberia international airport code) is one of the major airports in Costa Rica and provides seamless travel to the Guanacaste region, while paved roads facilitate the rest of the journey to the Pacific coast and the Gulf of Papagayo. The region's best Costa Rica all-inclusive resorts and beaches are just an hour away by car.
This is a very important airport and it features a great variety of services, such as: migration office, an emergency medical technician's department, refueling service, a fire brigade department, bank services, telephones, internet, sanitary facilities, restaurant and cafeteria.
In addition to that, only a few minutes from the airport you will find a great variety of hotels, from luxury resorts to boutique hotels or small lodges, car rental services, taxis, banks, restaurants, international and domestic flights services.
Liberia's international airport, Costa Rica's second airport in terms of relevance, receives flights from a number of important U.S. cities such as New York, Miami, Dallas, Los Angeles, Houston, and Atlanta. Other cities from where you can take flights to Liberia Costa Rica are: Toronto, Panama, Salvador, United Kingdom, Paris (as of Nov. 2016).
Arriving to the Liberia Guanacaste Costa Rica is an excellent option if you wish to visit places like:
Golfo de Papagayo.
Playa Potrero.
Playas del Coco.
Ocotal.
Punta Islita.
Santa Rosa National Park.
La Cruz.
Palo Verde National Park.
Rincón de la Vieja National Park.
Ostional Reserve.
Nicaragua (Country).
And many other places of interest that are either in Guanacaste Province or in the neighboring regions.
Daniel Oduber International Airport, better known as Liberia Airport, was inaugurated in 1995 and it is located approximately 8 kilometers from the city of Liberia (10 minutes driving distance) and is 220 Km (136 miles) northwest of the capital city of San Jose.
If you are planning on driving from San Jose to the Liberia airport it may take almost four hours to get from one airport to the other, it will depend on weather and traffic conditions.
The airport of Liberia in Guanacaste is a very good option if you are planning a trip to Nicaragua, since it is located only 1.30 hrs. away from the border with this neighboring country. The area of the border is called Peñas Blancas and a short trip of a couple of nights to the beautiful Colonial city of Granada is suggested.
The total expenses of crossing this border are around US$ 10 per person and very few countries require a visa to entry Nicaragua.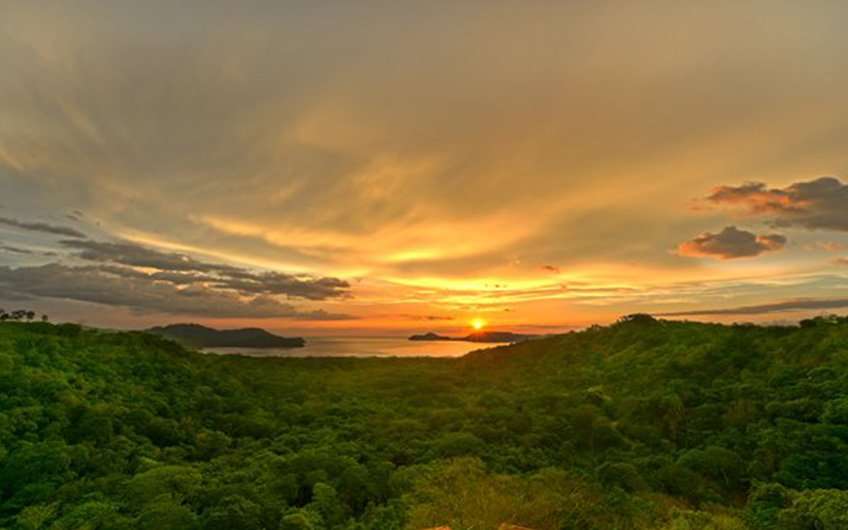 Papagayo Gulf Guanacaste
Papagayo Gulf is home to many of the all-inclusive Guanacaste resorts Costa Rica, from large and well-known chain hotels and smaller hotels too.
Smaller family owned all-inclusive hotels such as Casa Conde Beachfront and Villas Sol Playa Hermosa are also available in Papagayo Gulf. Small intimate hotels in close proximity to lots of national parks such as Santa Rosa and Rincon de la Vieja are also available.
The Papagayo Gulf is untamed and very beautiful. If you want to get away from people and experience the nature of Costa Rica at its fullest, this is a great area to explore on your own, with your couple, family or with a group of friends.
Papagayo is located 45 minutes from Daniel Oduber International Airport, the closest airport to Guanacaste Costa Rica. Rest and relaxation always go hand in hand in the Gulf of Papagayo, with mesmerizing ocean views and intimate settings and activities, as well as lush tropical greenery at every turn. If you enjoy sunny days, this is your ideal spot for vacations.
Traditionally known as a paradise for bird watchers and nature lovers, Papagayo is also a charming experience for those interested in relaxation and fun. Papagayo's beaches offer their visitors requirements that commonly good beaches are usually judged for, such as calm waters, scenery views, texture and color of the sand. Mosquitoes are rarely seen or felt, which makes beach enjoyment a pleasant one, especially at sunset.
Palm trees rise up from the beaches giving shade to those taking advantage of the ocean. Spectacular sunsets are a regular component in the scenery along the Pacific coastline of the Gulf of Papagayo.
From calm waters with great swimming, to the finest sand beaches with magnificent panoramas, Papagayo is a perfect destination to enjoy nature and relax.
Guanacaste Beaches
As Costa Rica Guanacaste spans the northwestern corner of Costa Rica, it should not surprise anyone that this province is home to some of the most beautiful beaches in here.
There are some mighty fine places to both the east and west of Liberia. Head west and you will hit the Pacific Ocean and a smattering of chilled-out beaches, you can take a look in our Costa Rica map to have a better idea of where you are going. Sitting between two mountains, Hermosa Beach is a great location for travelers who wish to have a laid-back experience away from crowds.
You´ll find a quiet community that borders a calm section of ocean that's great for swimming, or Ocotal Beach, which is known for its outstanding sport fishing charters in Guanacaste and superb scuba diving.
Any of those beaches are near Rincon de la Vieja National Park; which is about 2 hours driving from Liberia town. Visitors to the park can ride horses, take mud baths, or swim beneath waterfalls, while they enjoy the abundant forests and hiking trails. Rincon de la Vieja National Park is a great alternative to spend time along the sunny Guanacaste beaches.
Palo Verde National Park and Santa Rosa National Park are located near as part of Guanacaste's well known attractions, so there are a bunch of opportunities to experience wildlife in this area.
Tamarindo Beach is held in high esteem by many and for good reason: it has solid surfing, nice international restaurants, and a fun nightlife. Tamarindo is sunny throughout nearly the entire year, and the weather remains pleasant without much humidity.
To the east of Liberia, you can find rainforests and mountains too, including the Rincón de la Vieja National Park.
Visitors can do everything from any of those beach locations including surfing, ATV Tours, snorkeling, zip line, horseback riding, hiking and more. Other pristine shorelines in this region include Playa Panama, Playa Grande, Pan de Azúcar, Playa Ocotal, Playa Flamingo and Playas del Coco.
Things to do in Guanacaste Costa Rica
There are many different kinds of Guanacaste tours and attractions being developed related to relaxation, health, adventure, culture, sports, nature and recreation. Any of the following can be included as part of your vacation in Costa Rica: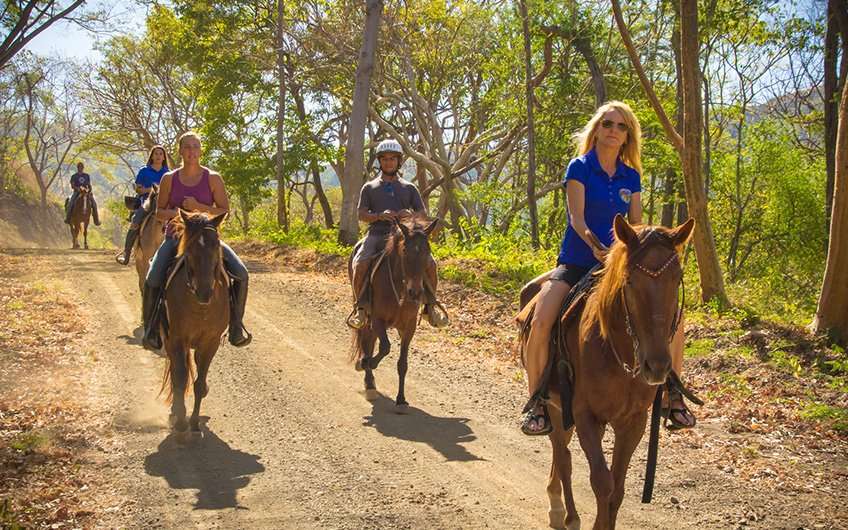 Horseback riding: Guanacaste is mainly a rural region, so this activity can be taken all over in the coastal communities or mountain areas. Horseback riding tours are available from most hotels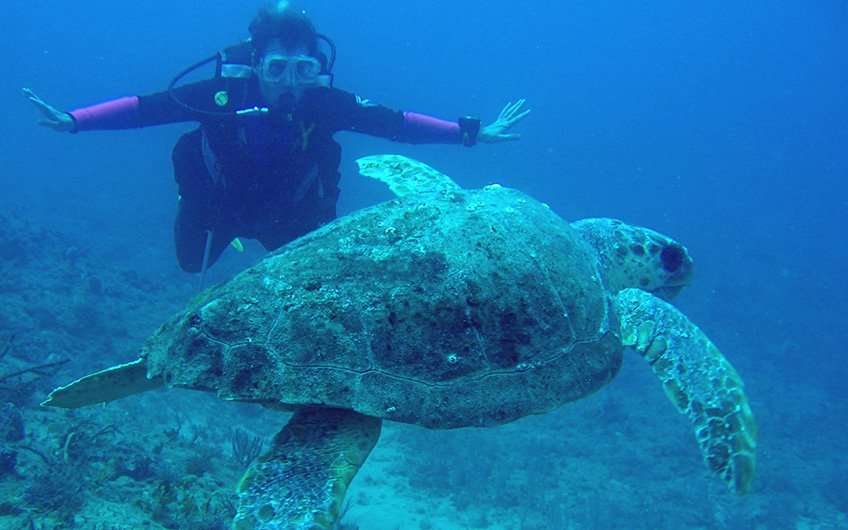 Scuba Diving Guanacaste Costa Rica: This activity can be done for recreation or adventure and is growing in the province due to the excellent sites with great diving conditions. Some of the more noteworthy areas are the Papagayo Gulf and Santa Catalina Islands.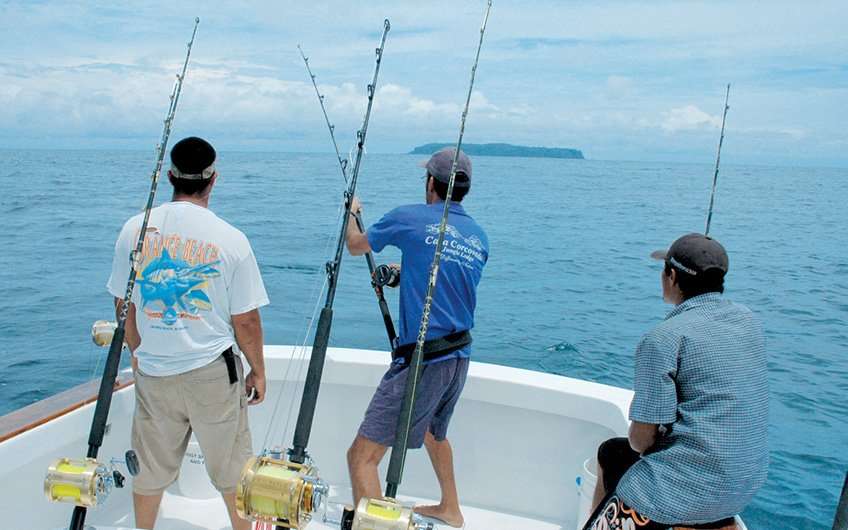 Guanacaste Costa Rica Fishing: This is one of the main attractions in the North Pacific, whether it is for fun or commercial purposes. There are also tournaments where various world records have been broken for long-nose fish which are returned to the sea.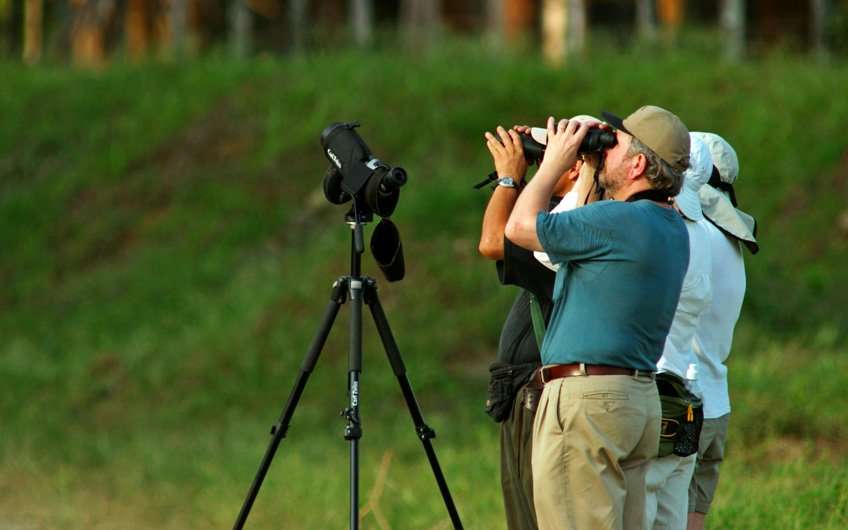 Bird Watching: This activity takes places mainly in the protected areas like Curu, Bolaños Island, Palo Verde and Tenorio Volcano National Park, to mention the most important sites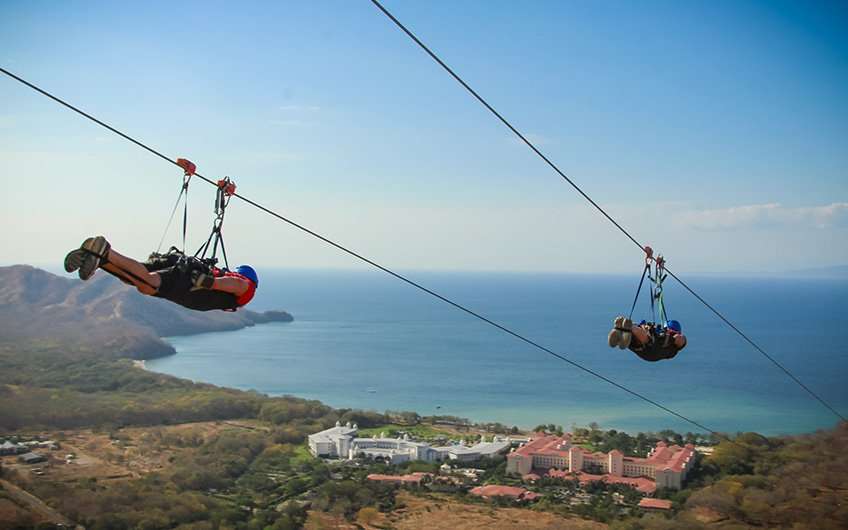 Canopy / Zip Lining Tours: Your adrenaline might show up when taking this tour. Traveling from the canopy of a tree to another hanging through one cable is adventurous. You can get to see monkeys and birds from the tree platforms or while you travel through the forest.
Local Arts and Crafts: These handmade articles can be found in Guaitil, Santa Cruz and San Vicente, Nicoya and they are made from pure clay, following traditional techniques thought by the Chorotega indigenous people. You can find ornaments, jars, flower pots, vases, plates, ocarinas (musical instrument) and other pieces.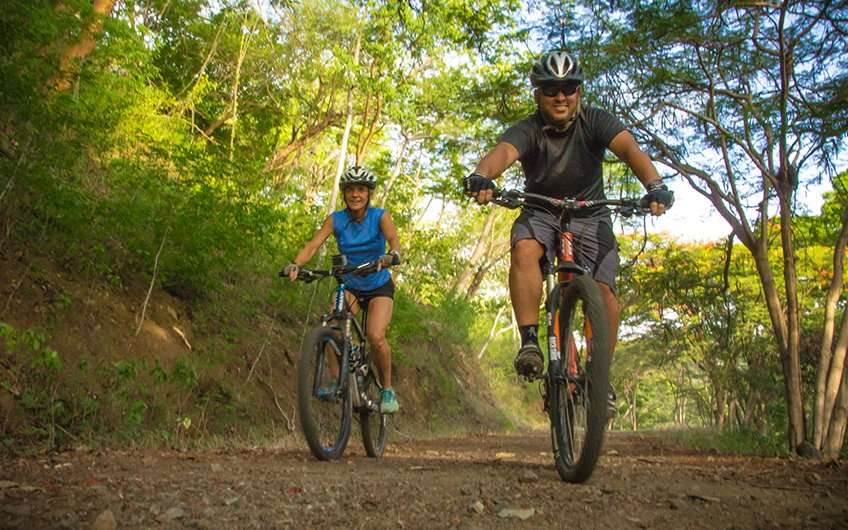 Sport Cycling: Picturesque trails are available for those bikers interested in exploring unique sites, landscapes that may help you catch your breath while looking at the beach for mountains!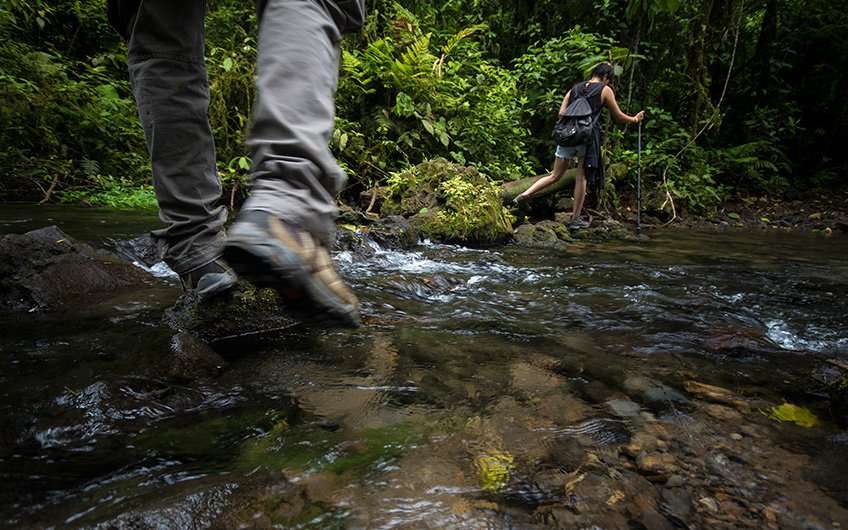 Hiking: There is no limit to the number of hiking trails in the area where you can take in many different natural, architectural, cultural, religious and commercial attractions.
Photography: Due to the climate conditions of Guanacaste, the rich flora and fauna, as well as many natural, cultural and architectural landscapes, this activity is becoming more popular among visitors.
Historical and Architectural Sites: in Guanacaste we got important architectural and historical buildings with significance as well as national monuments that are "must see" in Abangares, Bagaces, Cañas, Liberia and Santa Cruz.
Food Tasting: Typical towns always have small diners, cafeterias or restaurants, where you can enjoy Guanacaste cuisine. Cañas, Tilarán, Liberia and Santa Cruz are also known for their traditional dishes and beverages.
Rural Visits and Local Activities: As far as rural tourism, here are some activities offered by locals in Guanacaste:
Other Guanacaste excursions: Boat tours along the Tempisque River and through Palo Verde National Park where crocodiles can be seeing, as well as birds, monkeys and other species are part of the tours from Guanacaste that can be enjoyed.
Besides, located in Santa Barbara de Santa Cruz is Casa del Sol, which is a project the relies solely on solar panels. Here you can try food prepared only with solar energy.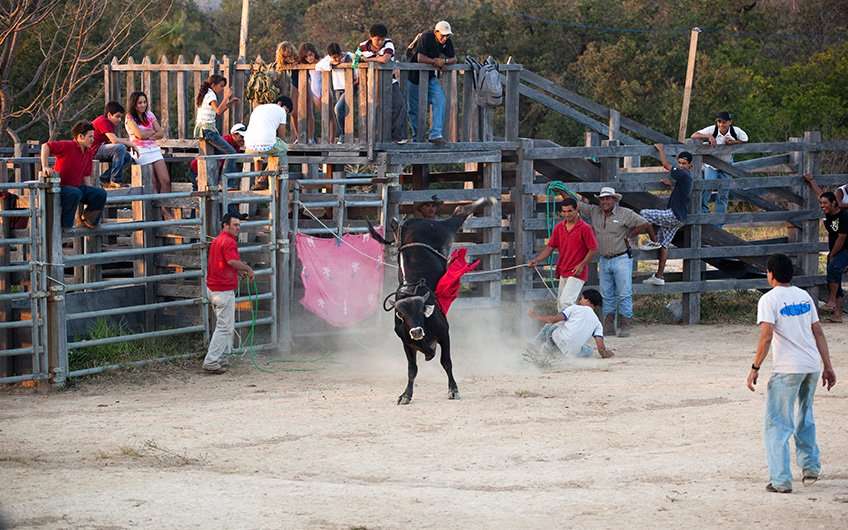 Guanacaste and its culture
Looking for what to do in Guanacaste Costa Rica? If you are still wondering what else you can enjoy when staying in any of the Guanacaste hotels, or simply if you are trying to find anything different to experience, then here you have some of the most popular traditions among the local people. This will give you another perspective of your holidays in this region, while enriching your cultural experience.
The traditions we suggest you to experience if culture and local interactions are what you want are these ones:
The popular Bull Ring: In almost every town in Guanacaste, there are bull rings, where a popular activity is held, whereby riders try to stay on the bull as long as possible. Riders include men, young people and sometimes even children! And right now, this activity is so popular that here is a riding championship where riders for all over the country come to participate. In Costa Rica, Guanacaste bulls are well known and famous!
"La Lagarteada" (the Crocodile hunt Hunt in English) in Santa Cruz Guanacaste Costa Rica: For many years and based on the local interest in a crocodile fat that according to local traditions, has many curative qualities.
It always takes place on every Holy Friday where groups of make look for the largest crocodile possible along the Tempisque River and try to capture it with a net (without killing it).
Then they have in in a basing designed for this purpose in the Ortegan downtown for all neighbors to see it. The following Monday, after Resurrection day, they return it to its habitat. Food and local drinks cannot be missed those days!
Cultural Week in Liberia, known as the "White City": During the first week of September two things are celebrated:
Guanacaste was founded in Set. 4, 1769 and
Liberia Costa Rica was established in Set. 3, 1836, thus for the last 17 years the Cultural Association has celebrated every year with a different theme such as education, culture or architecture. Music, dancing performances, local art, typical food and drinks cannot be missed during that week.
Traditional passing of the Niño Dios (Child Jesus) in Liberia: For a long time, Liberia locals have venerated the Niño Dios (Child Jesus) statue belonging to the family Valdelomar Baltodano.
Locals start by drinking some chicha (fermented corn) and pinolillo (cornmeal with cacao base drink) before the statue is carried to Nuestro Señor de la Agonia chapel, where a little portal has been made to hold the figure to be admired by followers.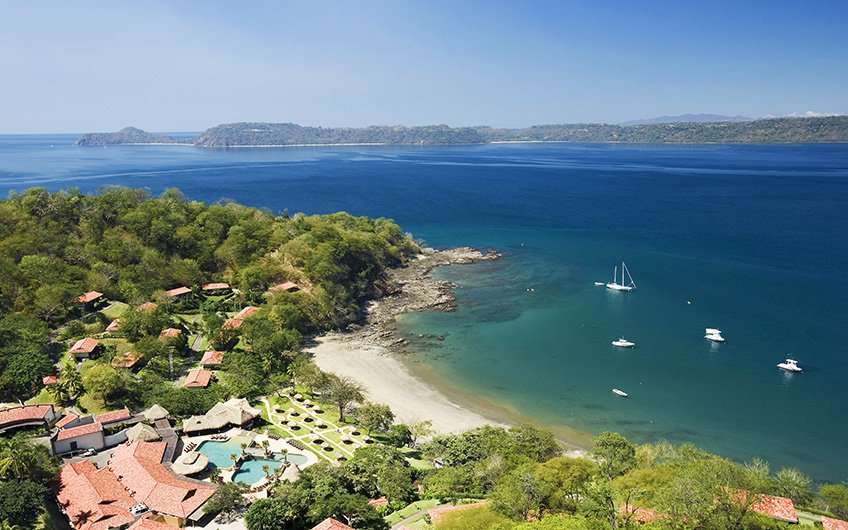 Where are the best hotels in Guanacaste Costa Rica?
The area is well known for its beaches and tropical temperature throughout the year, which is exactly what visitors find along its coastline, with a great variety of resorts, boutique hotels, lodges and the best Guanacaste Costa Rica restaurants. Some are luxury ones, while others are little bit more modest, but they all guarantee that guests have the perfect option for each budget.
This region has a wide selection of the best beach resorts you can find in the country. In fact, the destination is considered a preferred one among travelers thanks to its luxurious and comfortable accommodations, the amenities featured in those properties, its scenic beauty, and also for having the world-known golf courses in Guanacaste Costa Rica.
Many people type "TripAdvisor Guanacaste" in their web searchers without imaging the multiple options that will be shown to them. This area is truly unparalleled, and that's why visitors love it so much. Here, travelers can find from high-quality Guanacaste Costa Rica villas, accessible for families or large groups of friends, to luxurious resorts and hotels that will satisfy their needs and wonders.
At Travel Excellence we have carefully selected the best Guanacaste hotel deals for you to choose from. You will find a selection of all-inclusive resorts and hotels in the main areas of the Northern Pacific. Starting with Liberia, you will find the convenient airport hotel, just 5 minutes away from Daniel Oduber International Airport (LIR).
Within 30-45 minutes from the airport you will find the Papagayo Gulf surrounded by unspoiled dry tropical forest. It provides the ideal setting for nature lovers and beachgoers, even for those interested in visiting the national parks of Guanacaste, or simply for those who want to relax along the beach. Some of the top rated beachfront resorts in Costa Rica are located in Playa Hermosa, Playa Panama, and the Papagayo Peninsula.
If you are more into surfing, shopping, and having access to a great variety of restaurants and some Guanacaste Costa Rica nightlife, then Tamarindo may be the destination for you. Just one hour away from the Liberia Airport, Tamarindo has become a developed area with great opportunities and facilities for its visitors.
This popular region offers a blend of white-sand beaches and mangroves, iguanas and sea birds, making it the perfect place for those wishing to live in harmony with nature. While this place shows an ongoing development, the area still provides a laidback vibe.
Many other secluded Costa Rica beaches but still unique for rest and relaxation are Nosara, Samara and Islita, which along the coast of Guanacaste will complete a matchless natural offer. Those destinations are giving the province its reputation.
Sport fishing, snorkeling, scuba diving around corals and birdwatching are just some of the activities that can be explored from any of the hand-picked hotels in this region.
Also, this location is a perfect place for families looking for a secluded and exclusive vacation place or for newly married couples during their honeymoon.
Embedded in the Guanacaste Mountain Range are the Tenorio and Miravalles, and Rincon de la Vieja volcanoes, the latter surrounded by the national park of the same name. Rincón de La Vieja is a great place for your Guanacaste vacations if you are looking for adventure, culture, and relaxation at the same location.
Guanacaste is clearly a privileged land in Costa Rica. The mixture dry and rainy forests, extensive low lands, warm beaches, and an imposing volcanic range provides its visitors a natural world expecting to be explored.
Here, we leave a little selection of our recommended Guanacaste hotels by region and by its "stars' classification" according to the TripAdvisor ranking:
Papagayo Peninsula:
Tamarindo:
Tenorio, Miravalles and Rincon de La Vieja:
Borinquen Mountain Resort and Spa –
Nosara, Samara and Islita:
After saying all this, we have to highlight the JW Marriott Guanacaste Resort & Spa Costa Rica, as it is a real Costa Rican hacienda-style hotel, with luxurious amenities and facilities for its guests. This property is located in Playa Avellanas, within the world-class renowned Hacienda Pinilla. The resort is a must among those travelers that are looking for privacy and luxury during their vacations.
This Marriott Guanacaste property is one of the four hotels the brand has in the country. This one, specially, is preferred among guests thanks to its closeness to the best beaches of the region and its Guanacaste excursions, its golf course, the exquisite specialty restaurants, its fully equipped and well-appointed guestrooms, a complete Spa, and the largest outdoor infinity pool in Central America, among other great facilities.
Most of the all-inclusive resorts in Guanacaste region of Costa Rica are located very close, so this hotel is our special recommendation, as this is one of the most luxurious and comfortable properties visitors can find for their vacations, or even business events, congresses and more.
Guanacaste Costa Rica Map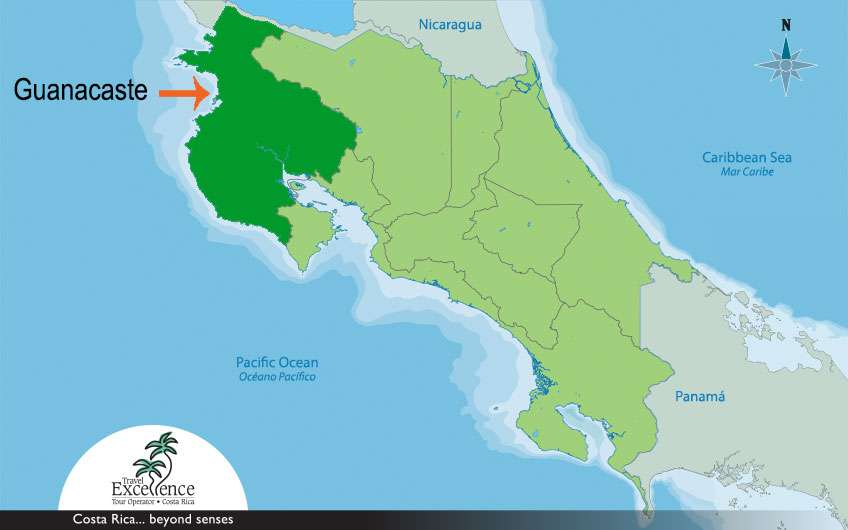 [Map showing the exact location of Guanacaste in a Costa Rica map]
With all of these being clear, then you can start with the travel plans and arrangements for your next Guanacaste vacations in Costa Rica. If you still needing more information about this region you can contact us by sending us an email and we will help you with all the information you need.
Here you have a selection of the most frequent questions, so you can know a little more about this place:
Which airport for Guanacaste Costa Rica?
When thinking in visit the region of Guanacaste the airport you need to choose is the Daniel Oduber International Airport in Liberia as it is the nearest to all the area's attractions in the province.
Guanacaste what to do?
The options for what to do in Guanacaste Costa Rica are wide and varied, as there are plenty of activities to enjoy. A lot of aquatic sports, adventure tours, wildlife encounters, and the best beach hotels for relax and enjoy with your family or friends.
Top activities to do in Guanacaste:
Canopy Zip Lining
White Water Rafting
Snorkeling
Diving
Horseback Riding
Surfing
Turtle Nesting Watching
Sailing
ATV
Mud Baths and Hot Springs
Guanacaste what to see?
There are a lot of things to see in Guanacaste. You can be delighted with impressive landscapes, amazing views of the sea from the beachfront resorts, local culture of the Sabaneros (cattlemen), traditional foods to taste in the local markets, colorful animal species, and a vibrant Guanacaste Costa Rica wildlife.
Guanacaste what does it mean?
Guanacaste is a word of Nahuatl origin that means "tree with ears" (quauh: tree, nacaztli: ear). The province has this name due to the common tropical American tree Enterolobium cyclocarpum, which is very abundant in the area and its fruits have the appearance of an ear. This is the national tree of Costa Rica.
What is Guanacaste day?
The Guanacaste Day is a holiday from Costa Rica which celebrates the Costa Rica's annexation of the Guanacaste province in the year of 1824. This day is celebrated on every July 25th.
What is Guanacaste wood?
This wood is the one that is obtained from the Guanacaste tree that grows in the province with the same name. The species of the tree is the Enterolobium cyclocarpum.
What is Guanacaste Costa Rica?
Guanacaste is one of the seven provinces of Costa Rica. It is located in the Northern Pacific side of the country and it is one of the most preferred places to visit among travelers from all around the World.
What is Guanacaste known for?
The Guanacaste tours and attractions are what make this place a very well-known one. Its beautiful beaches, the luxury and all-inclusive resorts set in the area, its lush biodiversity, the adventure options for tours, exquisite nightlife and shopping centers, real estate properties, and for being one of the celebrities most preferred places to travel during their vacations.
What is Guanacaste Costa Rica like?
Guanacaste Costa Rica is like a big city where you can find the best shopping stores, delicious restaurants and vibrant nightlife, but very close to some of the most amazing beaches of the country. It is one of the preferred places for retirement, as the quality of its resorts, condos and rentals is unparalleled.
What is Guanacaste in Spanish?
In Spanish, the word "guanacaste" means "árbol con orejas" or "tree with ears".
What does Guanacaste mean in Spanish?
The Spanish meaning of the word "guanacaste" is "árbol con orejas" or "tree with ears".
What ocean is Guanacaste Costa Rica?
Guanacaste's coasts are bathed by the Pacific Ocean.
What is near Guanacaste Costa Rica?
Other attractions that can be found near Guanacaste Costa Rica are the Papagayo Peninsula, Tamarindo beach, and some of the best beaches in the country, the Monteverde Cloud Forest Reserve, the Arenal Volcano National Park, the Rincon de la Vieja National Park, Rio Celeste in the Tenorio Volcano National Park and, driving a little more, the popular beaches of Jaco, Dominical and Manuel Antonio.
Guanacaste where to stay?
There is a great offer of Guanacaste Costa Rica all-inclusive resorts for solo, couples, friends and family travelers to stay. There are other smaller and cozy properties to consider when vacationing, if big chain resorts is not what you are looking for.
A great amount of the best hotels in the country are located here, and you can find everything from 2 to 4 star hotels, and even 5 star resorts. The region is home to amazing properties, as for example, the JW Marriott Guanacaste Costa Rica.
Guanacaste where to go?
Once in Guanacaste it is possible to visit many interesting places. For example, if you are a beach lover, you have plenty of different beaches to enjoy. Famous beaches as Tamarindo, Conchal, Grande, Ostional, Coco, Montezuma, Santa Teresa, and many more can be found here.
A visit to these beaches will assure you lots of great sunbathing, incredible views of the ocean, and the possibility to enjoy different tours in Guanacaste Costa Rica.
You can also go to Liberia, the capital city in the area, to enjoy more local attractions and share with local people, enjoy the shopping centers, restaurants, nightlife, and more. The Miravalles and Rincon de La Vieja volcanoes are located in Guanacaste too.
Where is Guanacaste Costa Rica?
Guanacaste Costa Rica is located in the Northern Pacific side of the country, specifically in the northwestern area. It is bordered by the Nicoya Peninsula to the south, by Nicaragua to the north, by the Alajuela Province to the east, and by the Puntarenas Province to the southeast.
Where is Guanacaste located in Costa Rica?
Guanacaste is located in the northwestern region of the country, along the coast of the Pacific Ocean.
Where is Guanacaste province?
The Guanacaste province of Costa Rica can be found along the Pacific Ocean's coast, in the northwestern region of the country.
How far is Guanacaste from San Jose?
There is a distance of 133 miles (or 214 kilometers) between Guanacaste and San Jose. This means approximately 4 hours driving, according to the traffic conditions.
How far is Guanacaste from Liberia airport?
There is a distance of 7.7 miles (or 12.5 kilometers) between Guanacaste (the city center) and the Daniel Oduber International Airport in Liberia. This means approximately 20 minutes driving.
How far is Guanacaste from San Jose airport?
There is a distance of 122.4 miles (or 197 kilometers) between Guanacaste and San Jose. This means approximately 3h30 hours driving. (Depending on the traffic conditions, of course).
How safe is Guanacaste Costa Rica?
In general terms, Guanacaste Costa Rica is a safe place to stay when vacationing, but it is always important to keep in mind some recommendations to avoid an unpleasant stay in the region and the country as well.
Always be aware of your luggage and your belongings, keep your passport and your cash safe in the hotel's safety boxes, don't walk alone late at night or in remote places. If driving a rented car, try to park the car in a safe place and try that the belongings are not visibly exposed. Following these suggestions, you will have a safe and pleasant stay in Guanacaste.
How far is Guanacaste from Arenal volcano?
There are two different routes to get there. The first one has a distance of 80.15 miles (or 129 kilometers) between Guanacaste and Arenal. This means approximately 2h30 driving. The second route, driving near the Tenorio Volcano National Park, represents a distance of 98.8 miles (or 159 kilometers) and it takes approximately 3 hours driving.
How far is Guanacaste from Tamarindo?
There is a distance of 49.2 miles (or 79.2 kilometers) between Guanacaste (the city center) and the popular Tamarindo beach. This means approximately 1 hour and 30 minutes driving, according to the traffic conditions.
How far is Guanacaste from Manuel Antonio?
The distance between Guanacaste and the Manuel Antonio National Park is of 161 miles (or 259 kilometers). This means approximately 4 hours driving, according to the traffic conditions.
How far is Guanacaste from Papagayo?
The distance between Guanacaste (the city center) and the Papagayo Peninsula is of 28.6 miles (or 46 kilometers). This means approximately 1-hour driving, according to the traffic conditions.
How far is Guanacaste from La Fortuna?
There are two different routes to get there. The first one has a distance of 83.8 miles (or 135 kilometers) between Guanacaste and La Fortuna. This means approximately 2 hours 35 minutes driving. The second route, driving near the Tenorio Volcano National Park, represents a distance of 97.5 miles (or 157 kilometers) and it takes approximately 2 hours and 40 minutes driving.
How far is Guanacaste from Monteverde?
The distance between Guanacaste (the city center) and Monteverde Cloud Forest Reserve is of 72 miles (or 116 kilometers). This means approximately 2 hours and 20 minutes driving, according to the traffic conditions.
How far is Guanacaste from Jaco?
The distance between Guanacaste (the city center) and Jaco Beach is of 116.2 miles (or 187 kilometers). This means approximately 3 hours driving, according to the traffic conditions.
Video of Guanacaste and Liberia Costa Rica Travel Guide