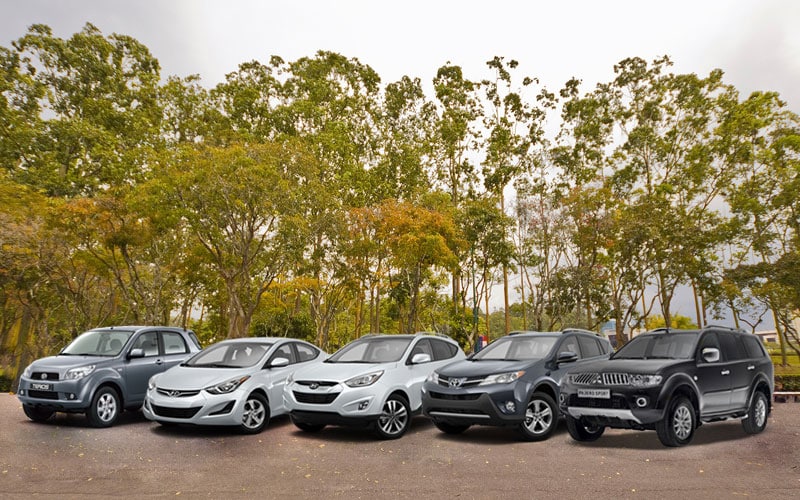 There are multiple benefits in renting a car during your Costa Rica family vacations, surfing trip, honeymoon, solo travel etc. If you don't want to be tied to schedules but have the control of your itinerary, having a car will allow you to explore the country in your own way.
But you have to be sure about this decision, because driving in Costa Rica can be a little bit tricky. Especially because is very easy to get lost (if you don't have a GPS) and very difficult to understand directions from locals. Besides, roads can be curvy and the fog and rain will be always present in some routes. Also you can read this helpful travel guide about everything you need to know when traveling to Costa Rica.
If you are ready to start a new adventure, here you will find some important information about policies and precautions you need to have when driving a car in Costa Rica.Costa Rica Car Rental & Driving Guide
What to rent?
First thing you need to know before renting a car in Costa Rica is your itinerary. Depending on this, you can choose the best car to drive in the mountains, the coastal areas, or a four-wheel drive if needed. Here you can find a vacations guide with TravelExcellence.com recommendation about the best places to visit in Costa Rica.
Also, it's very important to take into account the number of passengers and the amount of luggage before renting a car. Safety and comfort are the most important things.
Once you have these details, it's time to choose the best car option for you. There are Compact Cars, Compact SUVs, Full Size SUVs and Minivans available. In the following chart you will find the most popular and recommended car types for driving in Costa Rica:
| Category | Car Type | Recommended for |
| --- | --- | --- |
| Compact | Hyundai Accent or similar | 4 passengers – 2 bags |
| Compact SUV | Daihatsu Bego or similar | 4 passengers – 3 bags |
| Full Size SUV | Hyundai Tucson, Toyota Rav4 or similar | 4 passengers – 3 bags |
| Full Size SUV | Mitsubishi Montero or similar | 5 passengers – 4 bags |
| Minivan | Hyundai H1 or similar | 9 passengers – 6 bags |
**SUV: Sport Utility Vehicle
All rented cars come with some basic features such as air conditioning, airbags, CD player/radio; and manual and automatic options are available in every category.
Additionally, there are some useful features that can be rented for an extra cost such as a GPS device. It highly recommended including a GPS device and, if you know in advance the places you will be visiting, you can ask the rental company to save the locations into the device. This will avoid some headache.
Besides, coolers and surfboard racks are also available and can be requested without any additional charge if needed.
Rent a Car Policies
It's very important to be aware of the rental policies and requirements that car rental companies have in order to avoid misunderstandings.
You need a valid driver's license from your home country. This license will allow you to drive in Costa Rica for 90 days maximum. After that, you will need a Costa Rican driver's license.
You have to be at least 21 years old (this will depend on the car rental company, some require you be over 23 years old).
A guarantee deposit that runs from $750 to $1500 USD will be required. The amount will depend on the rental company, the car category and the insurance that the customers choose.
Costa Rican law requires the basic insurance. Additional coverage insurance options can be purchased.
Costa Rican law also requires the use of safety belts for all passengers. In case of children, child seats are required for children under 12 years old or smaller than 1,45 meters (4' 9"). If you are traveling with children, it's very important to ask for child seats when you make the car rental reservation. An additional charge will apply.
Suggestions and precautions
Be aware that in Costa Rica, it's not allowed driving under the influence of alcohol and drugs. It's taken very seriously, and depending on the blood alcohol concentration, it can result in prison.
Also, talking or texting on your cell phone while driving and driving on the beach is not allowed either.
For safety reasons, it's not recommended to travel with the luggage in the overhead bins. Also, never leave anything valuable in the car if you have to leave it in parking lots or in a street.
Gas stations can be found in every town, but be sure to check the gasoline level every morning to avoid any inconvenience in route. Besides, there are some regions where the gas stations are sparser.
Finally, it is important to take into account travel times and distances between the destinations on your itinerary to avoid driving late at night or driving in a rush.
For example, from San José City or Juan Santamaría International Airport , these are the driving times:
| Location | Destination | Driving Time |
| --- | --- | --- |
| SJO | Tamarindo | 5 hours |
| SJO | Arenal | 3:30 hours |
| SJO | Manuel Antonio | 3 hours |
| SJO | Liberia | 4 hours |
And between popular destinations:
| Location | Destination | Driving Time |
| --- | --- | --- |
| Arenal | Monteverde | 4:30 hours |
| Arenal | Manuel Antonio | 5:30 hours |
| Arenal | Tamarindo | 5 hours |
| Monteverde | Manuel Antonio | 4 hours |
We highly recommend our vacation package Costa Rica 4×4 Adventure Ride to consider renting a car during the whole itinerary.