---
Carbon Neutrality Management System INTE 12-01-06 Standard
Travel Excellence certified its Carbon Neutrality Management System
Since its foundation in 1996, our company has always devoted its efforts to engage customer satisfaction to environmental commitment and sustainable development.
Based on this management policy scope, we decided to become the first receptive tour operator to have a certified C-Neutrality Management System. Thus, last June, the Costa Rican government recognized Travel Excellence as one of the eight leading companies to have a greenhouse gases (GHG) inventory verified. Go to news.
We are proud to announce that last November, Travel Excellence became the first organization to be registered by the Ministry of Environment & Energy on the National Carbon Neutral Program and the first Tourism Company certified with the INTE 12-01-06 Standard (national standard on C-Neutrality management systems, and first national standard worldwide).
This certification is another hallmark for our company, highly committed to promote environmental consciousness and actively working to curb climate change. Obtaining this certification is a rewarding way to end our work on 2012 in terms of Sustainability.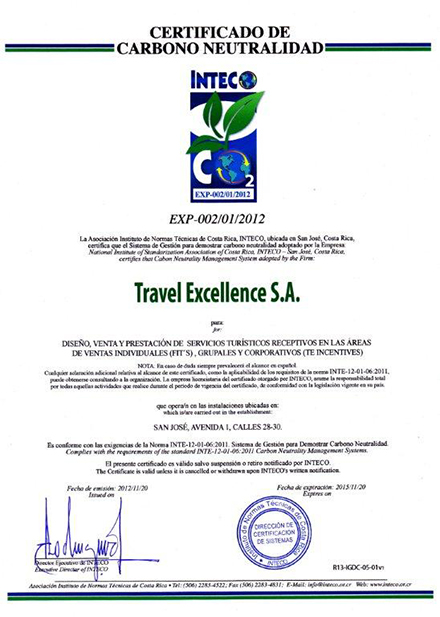 ---
ISO Certification Announcement ISO 9001:2008
Travel Excellence Achieves Global ISO 9001:2008 Certification
Being a leader company in providing tourist incoming services in Costa Rica, Travel Excellence S.A. has undertaken to incorporate internationally recognized ISO 9001:2008 quality management standards into our work processes. We have been working to successfully complete the stages of implementation, analysis and evaluation. Today, we are proud to announce that all our efforts have been compensated with the achievement of ISO certification "Design, sale and operation of incoming tourist services for FIT, Groups, Corporate & Incentive Travel (TE Incentives)", granted by INTECO --- Costa Rica Institute of Technical Standards, the official certification body, accredited by ENAC.
With this prestigious certification, our clients can be assured and confident to work with a company providing quality in services that have been internationally recognized. Each of our guests in Costa Rica now receives certified services, characteristic a selected group of top-level companies.
This certification represents our commitment to set up strategic alliances with clients and suppliers, always seeking win-win relationships to benefit your clients. It also reinforces our continual improvement process through feedback from our daily operations.
Travel Excellence S.A. becomes the first and only incoming ground operator in Costa Rica and in the region to have a certified Quality Management System. We invite you to review the certificate attached.
We are very pleased to share this great news with you, our clients and friends.
Vanessa, Natalia, Modesto, Carlos and our Team.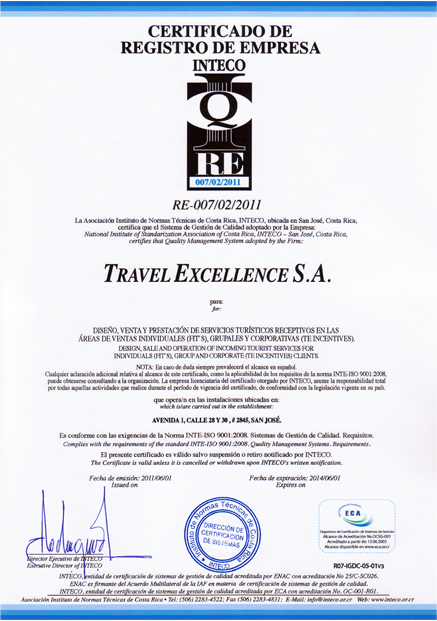 ---
ISO Certified ISO 9001:2008
The ISO 9000 is a family of standards, voluntarily used, designed by the International Organization for Standardization. These regulations are oriented to define a set of requirements of a quality management system for products or services a company offers.
ISO 9001:2008 Certification seeks to ensure that certified companies meet the requirements of an organization based in quality management principles such as customer focus, a mutually beneficial supplier relationship and a continual improvement process. In June 2011, INTECO ---Costa Rica Institute of Technical Standards-- certified Travel Excellence as a company that has completely fulfilled ISO standards (register number RE-007/02/2011).
Travel Excellence Quality Management System is the combination of internal processes required to change our clients' needs into all-round incoming tourist solutions. The scope of this System and also that of the Certification is the "Design, sale and planning of incoming tourist services in the areas of FIT, Groups and Corporate & Incentive Travel (TE Incentives)".
The Management Policy is included in our company's philosophy: our Staff commitment with quality service in accordance with Travel Excellence's Values. This is achieved by means of our sustainable practices, compliance with the applicable laws and measurable working goals. In addition, we have the strength of the Quality Management System as a continual improvement tool.
With this certification, our clients can be assured and confident to work with a company providing quality in services that have been internationally recognized. Each of our guests in Costa Rica receives high quality services, characteristic of top-level companies. Our Quality Management System is another raison why Travel Excellence goes beyond senses.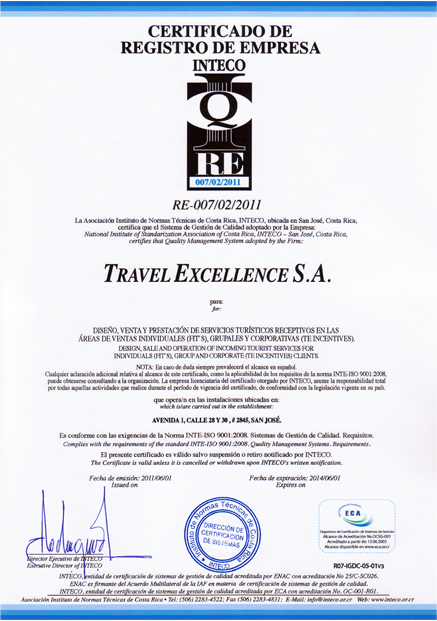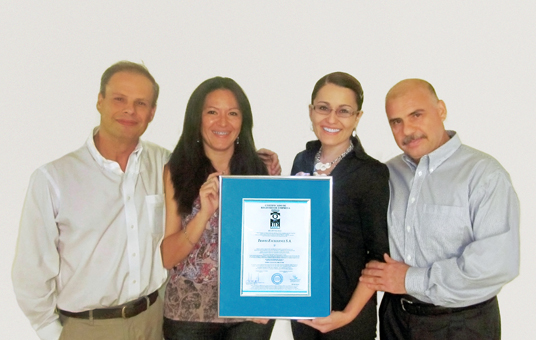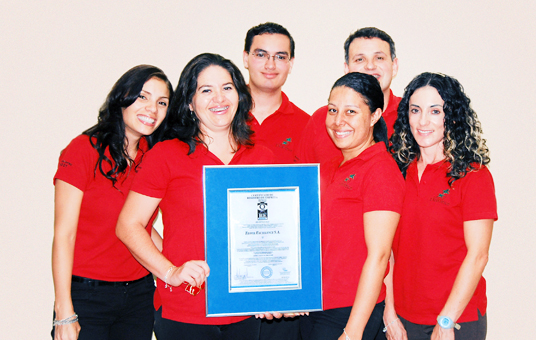 ---
New Recognition: "Route to Excellence Award"
In 2012 we joined the "Program of Excellence" from the Costa Rica Chamber of Industries, which involved an evaluation in seven categories: Leadership & Strategic Planning, Customer Approach & Marketing, Talent Management, Processes, Innovation & Technology, Environment, and Social Responsibility.
Travel Excellence received the Route to Excellence Award, on 15th November during the recognition ceremony. We are the first and only receptive agency to obtain a distinction from the Excellence Program.
Our main goal is to be the best partners in Costa Rica for our clients from the leisure and the MICE markets, with the support of a diligent and responsible team, capable to satisfy and exceed all their expectations.
---
Rainforest Alliance Verified
Rainforest Alliance is a non-profit international organization, working in over 70 countries worldwide to conserve biodiversity and ensure sustainable livelihoods.
Rainforest Alliance Verified™ mark is a tool offering businesses concrete recommendations designed to improve their sustainability performance. Verification is an important step towards certification because a verified business must apply to an active certification program operating in its country and credited by Global Sustainable Tourism Council (GSTC). In the case of Travel Excellence, we have already obtained the Certification for Sustainable Tourism (CST) awarded by Costa Rica Tourism Board (ICT). We have been qualified as a model business complying with more than 95% of the sustainability criteria standard and have obtained the maximum score (5 Hojas).
Since June 2011, Travel Excellence is Rainforest Alliance Verified TM as a company engaged with sustainable practices in different domains such as management, design and planning of vacation packages, service quality and marketing. In addition, we have qualified within the best range of requirement fulfillment, achieving a score above 80% on the verification performance evaluation.
For Travel Excellence, to be Rainforest Alliance Verified TM means to have another opportunity to continue promoting a responsible use of natural resources, not only in Costa Rica but also outside our country. This will encourage a healthy market system that values sustainable production, natural resources and consumer awareness, that stimulates equitable trade and local communities integral development.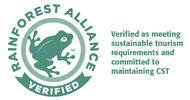 ---
Certification for Sustainable Tourism
The Certification for Sustainable Tourism - CST - is a certification program designed by the Costa Rica Tourist Board (ICT). It is intended to categorize and differentiate companies within the tourism industry according to their engagement towards a sustainable management model guaranteeing the conservation of a natural environment, a healthy society and the cultural heritage of the country.
The CST standard evaluates companies based on a rating system using a scale of 0 to 5 levels of sustainability. In 2007, Travel Excellence became one of the first tour operators in Costa Rica to obtain this Certification, with a 4 level score. Three years later, after thoroughly reviewing and improving our procedure and programs, we received the highest score of FIVE leaves (level 5) for 2010-2012.
Our company's philosophy clearly states our engagement towards the conservation and protection of our resources with the firm conviction of properly transmitting this message to our visitors and travel agents from all around the world. We offer itineraries primarily focused on promoting Responsible Tourism, selecting at first hotels and attractions which have obtained the Certification for Sustainable Tourism (CST) and/or the Rainforest Alliance Verification. We are truly convinced that a balance between the appropriate use of our natural resources, the preservation of our cultural heritage and the improvement of life quality in local communities can be achieved.
Travel Excellence is considered a model sustainable company thanks to its constant efforts to compensate and reduce carbon emissions, an appropriate handling of waste, a successful recycling program and continuous staff training on environmental matters and responsible tourism. Furthermore, we regularly carry out projects of social welfare through donations to adult care centers and underprivileged schools.
The Certification for Sustainable Tourism ensure our passengers to be traveling with a tour operator locally recognized for its commitment and actions towards the conservation and protection of our natural resources, wildlife and of local communities' well-being.
Gender Equality Certification and Government Mark
Travel Excellence is the first Costa Rican (and tourism) company to be granted with the Gender Equality Mark by Women's National Institute. This mark is meant to recognise public and private organisations that have identified, managed and obtained positive results in the goal of minimizing its gender gaps, conforming to INTE G38 national standard.
Costa Rica and Travel Excellence have been pioneers to implement a gender equality management system standard. According to the specifications, Travel Excellence continually reviews with a gender scope its internal and operational practices – such as position profiles, recruitment and training manuals, conflict settlement procedures, field protocols or even health & safety activities. It also implies the whole staff to be sensitized with practices to be discouraged: gender based discrimination, violence against women, sexual harassment and homophobia, among others.
Travel Excellence is a company that outstands for its commitment with an integral social responsibility and that encourages a work environment for professional growth and an outstanding talent management.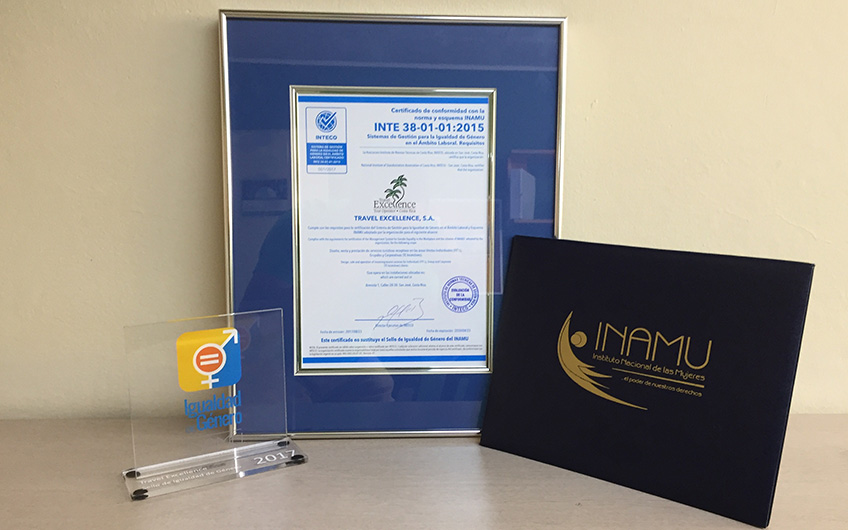 ---