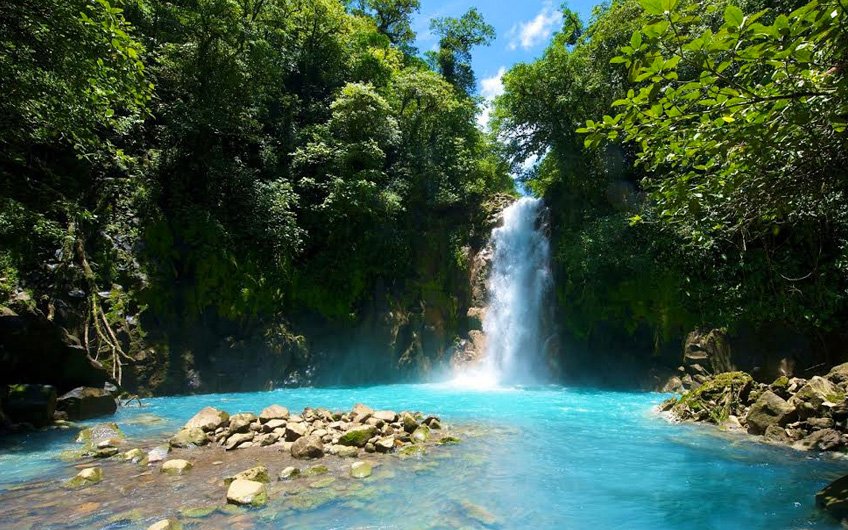 strengths of Costa Rica and that becomes the introduction letter of the destination in this market, is the reinforcement in the attraction of airlines. The country increases the offer of flights to Juan Santamaría International Airport: Iberia, Air France, British Airways, Condor (Munich and Frankfurt), Edelweiss, and KLM.
Other important strength of the country is the innovation in the strategy of negotiation, with an important turn that was carried out with the agreement signed with Iberia during this recent visit. The strategic actions made for the first time, allows Costa Rica to approach a destiny of great potential like Italy and opens the panorama to future negotiations with the airlines.
Likewise, he indicated that the good panorama of the tourist industry promotes a positive image of Costa Rica worldwide. The previous year, more than 2.9 million international arrivals were registered by all ports, for a growth of almost 14% compared to 2015. Similarly, tourism constitutes almost the 50% of the exports from the account services of the country, and generated almost US $ 4 billion in foreign exchange and provided employment to almost 600,000 people directly and indirectly. That is, tourism alone represents a 27%, approximately, of the Costa Rican labor force.
The meeting was coordinated by the ICT and was attended by the Minister of Foreign Trade, Alexander Mora, the Foreign Minister Manuel González, Geannina Dinarte, Minister of Economy, and Pedro Beirute, General Manager of Procomer.
And, as mentioned above, the new direct flights between Costa Rica and some European countries has reinforced a lot the position the country has in these markets. During the last months, the frequency of the current flights as well as the introduction of some other routes to Costa Rica has increased, showing that the country's positioning is real and that the efforts made in order to improve the tourism industry are working right.
Here, in the lines below, you will find a summary of the new flights happening this year.
Edelweiss Air, Zurich-based Switzerland airline, which operates flights to many European cities, North America, Asia, North Africa and the Caribbean.
The aeronautical authorities of Costa Rica and Switzerland, during a meeting in Bern Switzerland, discussed, reviewed and approved the Air Services Agreement between both countries and signed an Air Services Memorandum; officially announcing what was announced last year by the President of the Republic, Luis Guillermo Solís, and the Minister of Tourism, Mauricio Ventura: the direct flight between these countries of the airline Edelweiss Air. This flight was aired on last May 9th.
With this meeting, we step forward in strengthening aeronautical relations between States, establishing the conditions under which the future operations of the Swiss and Costa Rican airlines will be carried out.
Enio Cubillo, General Director of Civil Aviation (GDCA) indicated that, "the arrival of Edelweiss opens the door for other airlines to be interested in flights to Costa Rica, since it is an attractive market for the Swiss, particularly at the time of winter in their region."
In the Air Services agreement, various technical, legal and administrative aspects are agreed upon which will be initialed by both Chancelleries and endorsed by the Legislative Assembly.
On the other hand, in the Memorandum of Understanding, which constitutes an administrative contract supplementary to the Air Services Agreement, it is established the number of airlines that can operate between both countries, under what conditions, the frequency of flights, cooperation agreements between airlines, and the conditions for the operation of unregulated flights, among others.
This is a further step of the Civil Aviation Technical Council and the Civil Aviation Directorate, to promote the aeronautical relations between the two countries, in a spirit of cooperation and mutual benefit.
In this way, Switzerland joins the list of six European countries with which has direct connections for Costa Rica Vacations.
KLM to begin direct flights to Costa Rica
KLM Royal Dutch Airline Company has announced the start of the operation of the direct flight to San José, which will begin on October 31, 2017 and which will be available during the European winter season (from November to March).
The decision of KLM to fly to Costa Rica strengthens the image and the positioning of the country in the European market as a suitable destination for the investment, reason why this flight not only facilitates the visitation to our country, but also provides connectivity to shorten the distances with Holland and some other countries like Norway, Sweden, Finland, and Denmark, among others. This will certainly boost the Costa Rican tourist activity even more.
The direct flight will be offered twice a week (Tuesday and Friday), departing from Amsterdam – Schiphol at 15:25 hrs and arriving in San José at 20:05 hrs of Costa Rica. On the other hand, the return flight will leave San Jose at 22:05 hrs and arrive in Amsterdam – Schiphol at 15:10 the following day.
In addition, thanks to rates combinability, customers can prepare their trips by combining flights from both airlines, benefiting from a better offer in terms of connections and frequencies, as well as more attractive rates.
We hope that this new route will increase the interest of travelers to discover the beauties of our country and we at Travel Excellence will be more than pleased to be your companions to provide unforgettable trips and the greatest vacations in Costa Rica for our clients.
Air France to increase its flights to Costa Rica
From October 21, 2017, Air France will operate an additional flight to San José Costa Rica, to offer 3 weekly flights instead of 2 flights from Paris-Charles de Gaulle to San José this winter. The company increases its seat offer by 50% on this route, inaugurated on November 2nd, 2016.
The flights will be made in a Boeing 777-300 equipped with 468 seats: 14 in Business class, 32 in Premium Economy and 422 in Economy. With this, the airline will increase a 50% in the seating offer. With this, it is expected to have more people coming to spend their family vacations in Costa Rica, their honeymoons or holidays in the country.
"This growth in supply allows us to respond in the best way to the demand of our customers and demonstrates our desire to continue developing in Costa Rica and Central America," said Henri Hourcade, SVP AIR FRANCE KLM for the Caribbean, Indian Ocean and Latin America.
During the 2016-2017 season, Air France carried a total of 30,700 passengers on the Paris – San José – Paris route with an average flight occupancy of 83%.
Here you have the flight schedules (local time) as of October 21st, 2017:
AF430: Departure from Paris-Charles de Gaulle at 13.25 h, arrival at the international airport Juan Santamaria in San Jose at 17.55 h the same day.
AF431: Departure from Juan Santamaria International Airport in San Jose at 20:15 h, arriving in Paris-Charles de Gaulle at 13:30 h on the following day.
Discover San José, the capital of a land of opulence with Travel by Air France
Air France offers to all curious travelers, demanding and passionate, the Travel by Air France, a guide designed as a digital and original travel card: travelby.airfrance.com. San Jose is among the href="https://www.travelexcellence.com/costa-rica-travel-blog/top-5-reasons-why-you-should-visit-costa-rica">110 destinations proposed in their guide, which is enriched each month with two new cities.
In it, guests will find a wide selection of unusual restaurants, charming hotels and picturesque places, made by true lovers of the city (network of bloggers, influencers in social media, journalists, etc.). Air France has designed this guide not only as a source of inspiration for choosing the destination of the trip, but also as a true accompanying tool during your stay.
Air France in Costa Rica
In addition to this new offer proposed by Air France, customers of the company can travel to San Jose thanks to 2 daily flights operated by Copa Airlines, following the flight between Paris-Charles de Gaulle and Panama City operated by Air France.
In this way, passengers have a single ticket for the entire trip, more flights to Costa Rica, and luggage transportation to the final destination. Members of Flying Blue, the frequent flyer program of AIR FRANCE and KLM can accumulate and redeem Miles on all their Copa flights.
Air France-KLM, European leader in Central America, South America and the Caribbean
Leading in Central America, South America and the Caribbean for the number of seats offered, Air France-KLM flies to 25 destinations in this region, and proposes up to 260 weekly flights from Paris-Charles de Gaulle and Amsterdam-Schiphol.
Southwest opens new route from Florida to Costa Rica
Leaving apart the European market, let us tell you that the US airline Southwest decided to expand its operations to Costa Rica, this time with the opening of a new flight that will connect to the Fort Lauderdale-Hollywood International Airport and the Juan Santamaria International Airport in San Jose, Costa Rica.
The flight will be operated on a Boeing 737-700 aircraft, with capacity for 143 passengers and will begin its operations on November 5th of this year.
According to Mauricio Ventura, Minister of Tourism, this important news is part of the Strategy for Attracting Airlines that has developed the ICT, which has made it possible to position Costa Rica as an ideal destination for the start of operations, development of routes, the sustainability of them, and the increase of their connections.
"Negotiations with the airline were successfully concluded on April 26th, by achieving this important flight, since in addition to linking Costa Rica with Florida, the third state that brings the largest number of best prospects, this flight will boost growth opportunities In the United States, because it will connect with destinations such as Atlanta, Baltimore, Chicago Midway, Indianapolis, Orlando, Raleigh-Durham, so the flight will be another opportunity for tourists from these regions to fly to our country," said Ventura.
In 2015, the airline selected Costa Rica as the first destination in Central America in which it entered, providing services to the two international airports.
According to Hermes Navarro, ICT Airlines Chief of Attraction, Southwest currently operates from Baltimore and Houston, so this new flight strengthens air connections with major markets for Costa Rica, located in the United States, our main generator of tourists.
"The new connection between South Florida and Costa Rica offers our customers in both regions an option to travel nonstop on their United States favorite airline, where the luggage has no additional cost, and there are no change fees, and our satellite WIFI lets you watch live television on all your devices, "said Bill Tierney, General Director of Marketing for Southwest.
"For the ticos (Costa Ricans), we know that a quick and inexpensive trip to the Miami area is an instant success and our new international facility at Fort Lauderdale Airport offers an easy immigration experience near shopping and the beach with fast connections to many other cities in the Southwest network. "
To celebrate this new route the airline offers a one-way promotional fee of $ 89 to Fort Lauderdale (plus exit taxes), to travel between November 7, 2017 and January 7, 2018. (Look for more information at southwest.com).
About the airline: Dallas-based Southwest Airlines (NYSE: LUV) has nearly 46,000 employees and transports more than 100 million customers annually. Southwest and subsidiary AirTran Airways operate more than 3,400 flights a day, serving 93 destinations in the United States and five other countries. Travel to Costa Rica and experience the benefits of flying with Southwest!
ICT enters a new market and achieves direct flight to South America
Continuing with America, we inform you that the airline LATAM will fly for the first time to Costa Rica. They will offer three weekly frequencies on the Lima-San José route, for which they will use an A320 aircraft with capacity for 220 passengers.
Costa Rica's President of the Republic, Luis Guillermo Solís Rivera, said that during this administration a professional and meticulous work has been done to achieve such an important rebound in airline matters, which is strengthened by the decision of LATAM to fly for the first time to our country and to choose us as the only flight destination in Central America.
For his part, Mauricio Ventura, Minister of Tourism, said that thanks to the strategy for attracting airlines that has been implemented, Costa Rica continues to increase its flights offer, strengthening the operations of current airlines and increasing the number of seats Available and thus the number of visitors to the country.
"With the decision of LATAM to fly directly and for the first time to the country we opened our horizon and we managed to venture into South America, a market of great potential for Costa Rica, for which we have implemented articulated actions. For the first time, we carried out studies of better prospects in five Latin American markets (four of them in South America: Argentina, Brazil, Colombia and Peru) and today we materialize the efforts with the arrival of this important airline, one of the strongest in the hemisphere, both in tourism and in cargo, "Ventura explained.
For its part, Hermes Navarro, Chief of Airlines Attraction of the ICT, indicated that the negotiations this airline began on March 29, 2016 in Santiago, Chile, where the operation from Lima to San José took place, which has A natural connection with the destinations of Santiago de Chile (SCL), Buenos Aires, Argentina (BUE) and Sao Paulo, Brazil (SAO). Also, and depending on certain operational restrictions, it could efficiently connect with Montevideo, Uruguay (MVD), Asunción, Paraguay (ASU), Córdoba (COR), Rosario (ROS) and Mendoza (MDZ) in Argentina.
Flights detail:
LA2502 / 12:50 Lima – San Jose 15:55 / Tue-Fri-Sun / Airbus A320 200
LA2503 / 16:45 San Jose – Lima 21:25 / Tue-Fri-Sun / Airbus A320 200
The previous year there were 145 498 international arrivals by air, for an increase of 12.1%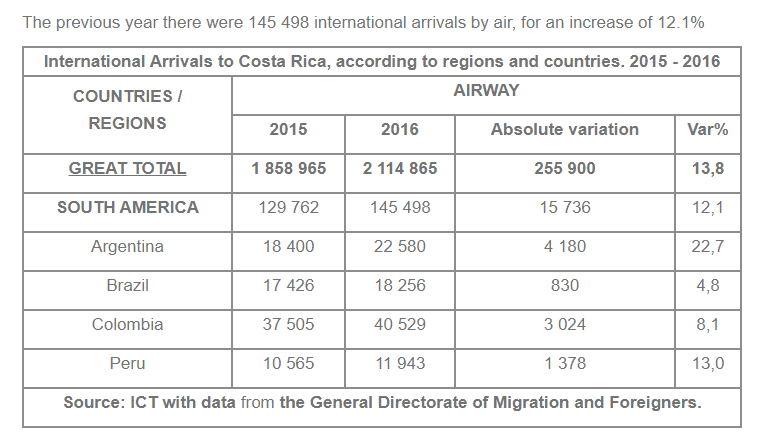 LATAM Airlines Group is the leading group of Latin American airlines with one of the largest networks routes in the world, offering air services to around 140 destinations in 25 countries, in addition to offering domestic flights in Latin America: Argentina, Brazil, Chile, Colombia, Ecuador and Peru; besides its international operations in Europe, the United States, the Caribbean, and Oceania.
The group employs more than 44,000 people worldwide, operates more than 1,300 flights a day and transports 67 million passengers a year. LATAM Airlines Group has one of the most modern fleets in the world, with about 303 aircrafts and counts 1300 flights daily.
In 2016, the airline was recognized for the third consecutive year in the Dow Jones Sustainability "World" Index, based on economic, social and environmental criteria.
Knowing this, then you have no excuse to visit Costa Rica and let yourself, and your beloved ones, enjoy a totally different experience; surrounded by amazing beaches, lush rainforest, and the warmth of our people! If you are planning your Costa Rica vacations and think you need some help, contact us and feel free to let us arrange your unforgettable experience!