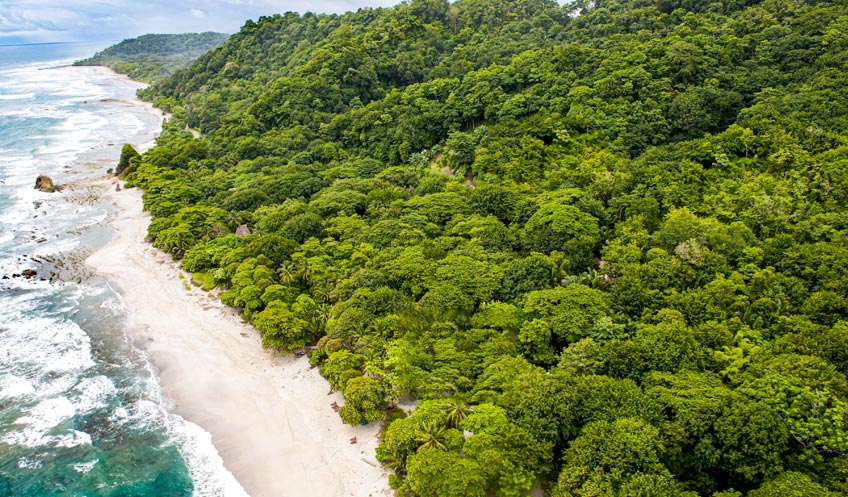 Aerial and land borders
Costa Rica's aerial borders are open to all countries.
You can verify if you require a visa to enter Costa Rica at the following link https://migracion.go.cr/Paginas/Visas.aspx, where the Migration and Immigration guidelines can be found.
All tourists entering the country are recommended to acquire an insurance policy with sufficient coverage to include medical expenses and extended stays due to quarantine due to a possible Covid-19 infection.
Although the use of a mask is not mandatory, Costa Rica maintains the protocol for washing hands and taking temperatures, as well as compliance with health protocols for each tourist activity.
PCR and antigen tests for departures
Travelers who require COVID-19 diagnostic tests to travel back home will be able to access the RT-PCR test and the antigen test – depending on the country to which they are traveling requires.
These tests may be carried out inside and outside the GAM and their results will be delivered in a maximum of 48 hours.
Airlines operation summary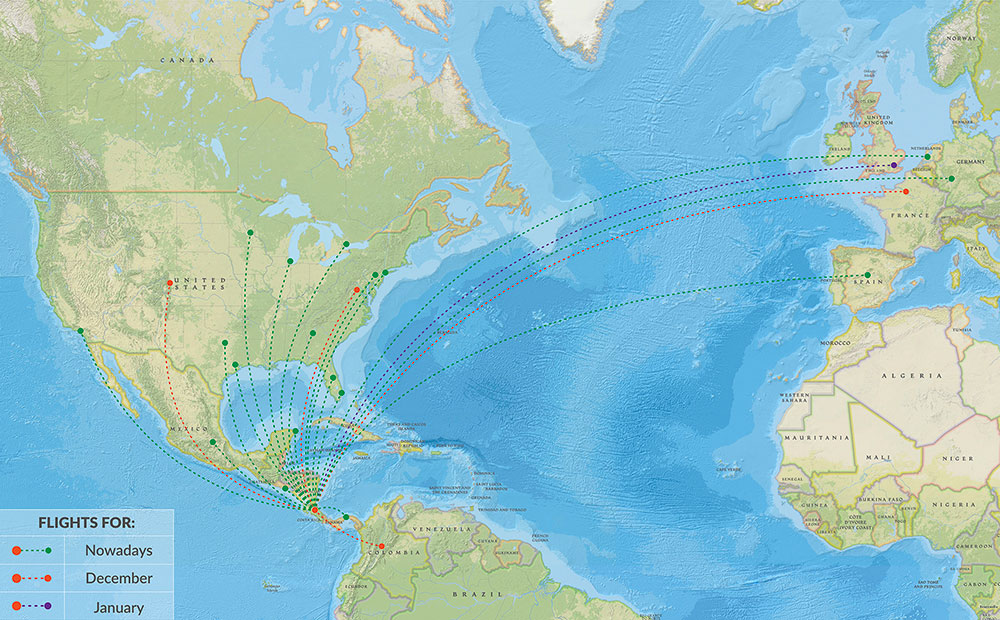 Juan Santamaria International Airport (SJO)
Aeromexico: to/from Mexico City.
Air France: to/from Paris.
Air Canada: to/from Montreal and Toronto.
Air Transat: to/from Montreal and Toronto.
Alaska Airlines: to/from Los Angeles.
American Airlines: to/from Dallas, Charlotte, Miami, and New York.
Avianca: to/from Bogota, Cartagena, Medellin, Quito, Lima, El Salvador, Los Angeles, Miami, New York, Guatemala City, Mexico City and Cancun.
British Airways: to/from London.
Copa Airlines: to/from Panama City and Guatemala City.
Delta: to/from Atlanta and Los Angeles.
Lufthansa: to/from Frankfurt.
Edelweiss: to/from Zurich.
Iberojet: to/from Madrid.
Iberia: to/from Madrid.
Frontier: to/from Miami and Orlando.
Jet Blue: to/from Fort Lauderdale, New York, and Orlando.
KLM: to/from Amsterdam.
Southwest: to/from Baltimore and Houston.
Spirit: to/from Fort Lauderdale, Miami, and Orlando.
United Airlines: to/from Houston, Chicago, Denver, Los Angeles, Newark, and Washington.
Volaris: to/from Cancun, Guatemala City, El Salvador, and Mexico City.
Wingo: to/from Bogota and Panama City.
Guanacaste Airport (LIR)
Air Canada: to/from Montreal and Toronto.
Air Transat: to/from Montreal and Toronto.
Alaska Airlines: to/from Los Angeles.
American Airlines: to/from Austin, Chicago, Dallas, Charlotte, Miami, and New York.
Delta: to/from Atlanta and Minneapolis.
Edelweiss: to/from Zurich.
Frontier: to/from Orlando.
Jet Blue: to/from Boston, Los Angeles, and New York.
KLM: to/from Amsterdam.
MN Airlines: to/from Minneapolis.
Southwest: to/from Baltimore, Denver, and Houston.
Sunwing: to/from Toronto.
TUI Airways: to/from London.
United Airlines: to/from Houston, Chicago, Denver, Los Angeles, Newark, and San Francisco.
Westjet: to/from Toronto and Calgary.
Frequent Q&A
WHERE IS COSTA RICA LOCATED?
If you are not sure of where is Costa Rica geographically located, probably you should read this carefully; we assure you that after reading this text, you will be willing to visit us. First of all, you need to know that this small and biodiverse portion of land is located in the American continent; specifically, in Central America sharing borders with Panama and Nicaragua.
Costa Rica covers 51,060 square land kilometers, as well as 40 square kilometers of water, for a total area of 51,100 Km2. Due to this, the country is the 131st largest nation in the world. Costa Rica's extension may represent only about 0.03% of the world's total landmass, but its biodiversity is what makes the country so special: here you will find 5% of the world's whole biological variety of flora and fauna.
The country is located within the geographical coordinates 8 ° and 11 ° 15 'north latitude and 82 ° and 86 ° west longitude. This is one of the smallest republics of Central America along with El Salvador and Belize. Since its origins as isthmus territory, Costa Rica serves as a biological bridge that allows its natural and exuberant richness.
IS COSTA RICA A PART OF THE UNITED STATES OF AMERICA?
No, Costa Rica isn't a part of the United States of America. It is an independent country of Central America.
HOW FAR IS COSTA RICA FROM UNITED STATES?
The distance between Costa Rica and the United States is approximate 2878 miles (or 4631 km). There is an approximate road distance of 4053.5 miles or 6524 kilometers. It is possible to get to Costa Rica driving from the United States, but the ideal is to take a flight that will take between 4 and 6 hours, depending on the airport.
WHAT IS THE BEST TIME TO TRAVEL TO COSTA RICA?
Are you wondering when is the best time to go to Costa Rica? If so, you may know that the country has two separated seasons according to its predominant weather conditions: the dry season and the rainy one.
Between the months of December and April, the dry season arrives and it is one of the best moments to visit the country as the weather conditions are ideal to visit the beaches and to explore the rainforests, take tours such as rafting or sea sports.
Consequently, this is the season with the most tourist visits -which generates that the best places to visit may be more crowded- and it is also possible that as it is the high season, higher prices are found for accommodation and excursions.
On the other hand, if you do not mind traveling in the rainy season and prefer to vacation in a less crowded time and with better prices, the green season occurs in the months that go from May to November.
The rainiest months usually are September and October but, as this is a tropical country, you must be prepared to experience rain at any time of the year… So, just grab your raincoat and umbrella and continue enjoying your vacations in Costa Rica!
Thus, everything will depend on your expectations, your budget for the trip, and the activities or places you want to visit. But, if there is one thing we can assure you, it is that you will fully enjoy all the beauties that Costa Rica has, regardless of the season in which you travel.
WHAT IS THE CHEAPEST TIME TO GO TO COSTA RICA?
The cheapest prices for vacationing in Costa Rica can be found from May to November, during the green season.
WHAT IS THE RAINY SEASON IN COSTA RICA?
The rainy season goes through May to November, being the rainiest months September and October.
IS IT A GOOD TIME TO GO TO COSTA RICA IN JULY?
July isn't a bad month to travel, there are fewer visitors in the tourist attractions and prices are lower than the ones during the dry season, during peak or high season.
You should know that during this month vacations are generally given in schools and high schools in the country, so during the first two weeks of the month, there is usually an increase in local visitors vacationing as well.
IS THERE A HURRICANE SEASON IN COSTA RICA?
Fortunately, you won't need to worry about hurricanes during your visit to Costa Rica as the country is found below the hurricane belt. But you can expect heavy rains during the green season, according to which part of the country you are in. Remember Costa Rica and Puerto Rico are two different countries, it is important to know this since a lot of people tend to get confused with the two countries.
IS IT SAFE TO TRAVEL TO COSTA RICA RIGHT NOW?
Yes, it is safe to travel to Costa Rica. Hygiene and safety protocols have been implemented and must be followed to maintain the health and safety of all. Hotels have high security and cleanliness measures, as well as private transports and activities. It is important to always be vigilant and comply with the necessary safety, hygiene, and social distancing protocols.
15+ TRAVEL TIPS FOR YOUR FIRST TRIP TO COSTA RICA
We know that advice before traveling to a new destination is always welcome. For this reason, we leave you here a list of tips to make your vacations in Costa Rica unforgettable and your planning process easier.
Here you have our best tips:
Check local weather and forecasts before arriving to the country, and even before each one of your tours.
Departure tax may be included in most of the airline tickets, if don't, you must pay $29 dollars.
Exchange money to the local currency only in banks or the authorized offices.
US dollars and credit cards are widely accepted, but we recommend you to carry a small amount of colones too, the local currency of Costa Rica.
You can find ATMs throughout the country functioning from 5:00 a.m. to 10:00 p.m.
There is a 13% sales tax on all purchases in Costa Rica, including souvenirs and hotels; and a 10% gratitude fee in restaurants is appropriate but most of the times it will be added to your bill.
If you want to tip your waiter directly, leave more money on the table or give it to him or her when you are done with your meal.
Tips for these services usually range from US$1 to US$10 a day.
Taxi drivers do not expect a tip so it is not necessary to bring them
Follow all the safety and hygiene protocols.
Buy a travel insurance.
Buy a SIM prepaid card to have access to Internet and in case you need to contact your travel agency or for emergencies.
In case of emergency, dial 911 or contact the local police.
Bring a copy of your passport during the tours and leave the original in your room's safety box.
Outlets in Costa Rica are 110v with standard US two prong plugs.
If you rent a car, we suggest you to book a 4×4 vehicle and to use GPS or any navigation app.
Use official transportation if traveling by yourself and be aware at every time.
Avoid visiting isolated places, especially at night.
Do not leave your personal belongings unattended.
Pack light clothes, but carry also a raincoat even if you travel on dry season. You must be prepared to experience unexpected rains.
Carry good walking shoes, light clothes, bath suits, and wear sunscreen even when the day is cloudy.
Hiring a guide for your tours will enhance your experience. Consider that when booking your adventure activities.
You will find locals with good English, but try to learn some basic Spanish expressions. It may be useful!
Support sustainable practices and keep national parks, beaches, and forests clean.
It is safe to drink tap water in Costa Rica. So, carry your own bottle and refill it every time you need. You will save a lot of money and won't be promoting the plastic contamination.
Eat at small restaurants – sodas ­­-, you will find delicious food at very low prices, besides you will be supporting the local economy.
While on the beach, be aware of rip currents and avoid swimming in dangerous places where you will be told not to do it.
Do not feed wild animals.
Take a lot of unforgettable photos!
Please contact us at [email protected] for more information.
Sincerely,
The Travel Excellence Team