Table of contents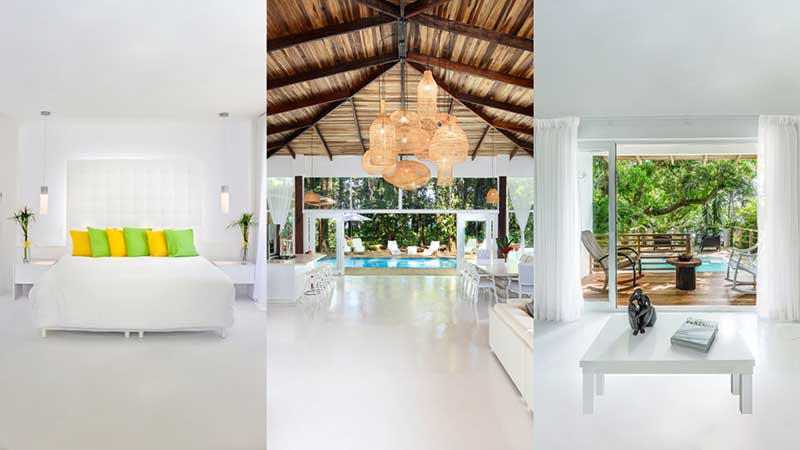 Le Cameleon & Gigi Brown
Each Gigi Brown property is inspired and informed by the landscape and culture it resides within:
Le Cameleon boutique hotel
Located in the beautiful and laid-back Playa Cocles just minutes away from the town of Puerto Viejo de Talamanca in Limón. It offers a total of 51 rooms, along with a swimming pool, and delightful views of the lush forest that surrounds the property. Across the street, there is the Beach Lounge, and the Beach Mojito Bar, and for the enjoyment of the whole family, there is a Kinder Playground, sun chairs, and umbrellas, to fully savor all that Playa Cocles has to offer.
Gigi Brown Suites Puerto Viejo
Find your home in paradise at Gigi Brown Suites located in Playa Chiquita. Within minutes of the boutique Le Cameleon Hotel, you will find everything your heart desires: world-class surfing, kayaking, snorkeling, and hiking. And with the property's location, you'll wake up to the sound of crashing waves every morning. Gigi Brown Villa Frida and Gigi Brown Villa Paparazzi will make you feel like you've stepped back and invited you to be a part of the jungle and its wildlife. On 2.5 hectares of land, with five rooms, a living room, a private beach, and an infinity pool, they offer a serene, intimate stay for couples, friends, or groups who want to reconnect with nature and explore the Afrocostarican and indigenous cultures.
Gigi Brown Suites Santa Teresa
A slice of paradise, this is a sophisticated and intimate retreat with only four rooms. Located on the beachfront in Playa Carmen, Mal País, each room has a private pool. They are surrounded by lush, natural beauty while just minutes from the town's lively downtown area. Imagine waking up to the soothing sound of waves crashing against the shimmering shoreline, lush tropical forests surrounding you, and warm, golden sands beckoning you to step out and bask in the sun. Take a dip in the sparkling infinity pool, indulge in delicacies prepared by the chefs, and unwind with rejuvenating spa treatments. You can quench your thirst for adventure by surfing, hiking, or even exploring the nearby wildlife reserves. And as the sun sets, lounge by the beachside, sipping on exotic cocktails, while the sky paints a breathtaking canvas of colors.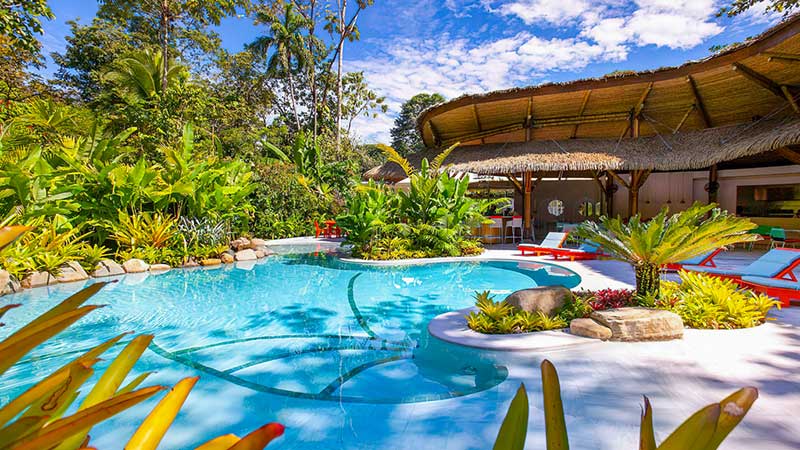 Aguas Claras
This is a special oasis, a boutique, luxury hotel located on the Caribbean coast of Costa Rica. Puerto Viejo feels like a country in itself, rich with Afro-Caribbean influence, local and international visitors alike go there for the food, music, and free-spirited energy.
Aguas Claras Hotel is filled with art, soul, and a true sense of place. It has a privileged, "ocean-side" beach access to Playa Chiquita, and it is a dream jungle, a line of poetry, and an inspiring hideaway that will enliven you refresh you, and send you back home anew. With the intention of continue growing, improving their services, and creating extraordinary experiences for their guests, they will be adding 2 new bungalows.
The Two Bedroom Bungalow Deluxe is a spacious two-bedroom luxury bungalow with an open-air living, dining area, and a private plunge pool that accommodates up to 4 adults, or 2 adults + 2 older children, ideal for couples traveling together, or a Family. First bedroom with a King-sized bed and the second bedroom with two single beds that can turn into a King-sized bed (each bedroom is equipped with a full bathroom). They are currently under construction and will be available from August 13th this year.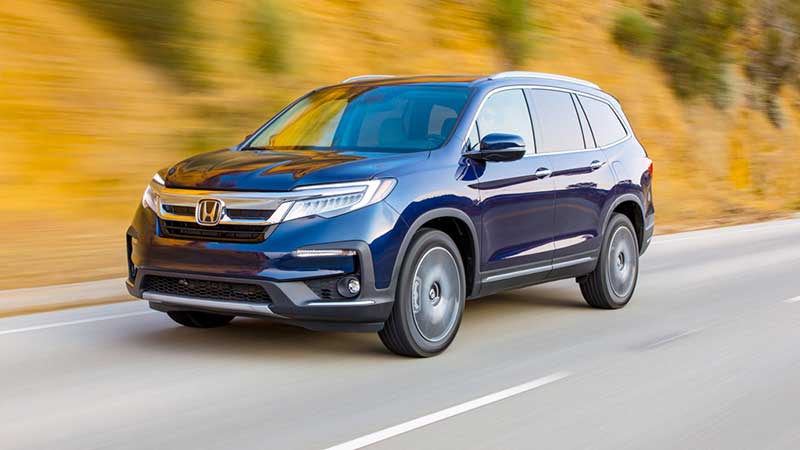 Travel Excellence's luxury SUV transportation service
Since 1996, Travel Excellence has been a leading DMC in Costa Rica's tourism industry, offering all the specialized services needed to run a world-class operation. Whether it's full relaxation or high adventure that you seek for your vacation, this small but beautiful country provides boundless excitement and ultimate pleasure for an unforgettable Costa Rica vacation.
Our company is committed to promoting Costa Rica as a tourist destination, offering comprehensive and innovative solutions to satisfy our client's needs, and seeking to exceed their expectations, within the framework of quality, responsibility, equity, and sustainable development.
One of the keystones of the company is the continuous improvement of our service, and we are proud to introduce our two Honda Pilot that stands out from the crowd with a redefined and improved comfort level: leather-trimmed seats, tri-zone automatic climate control, Bluetooth® streaming audio, USB ports, Apple Car Play® and Android Auto™ integration, beverage holders, moon roof, stronger body design for passengers´ higher protection and trunk capacity for luggage. Our professional driver guides will be in charge of offering not only a transfer from place to place but an experience on the road full of information about Costa Rica, with great opportunities to see wildlife on the way and always experiencing that friendly and unique service that characterizes our staff.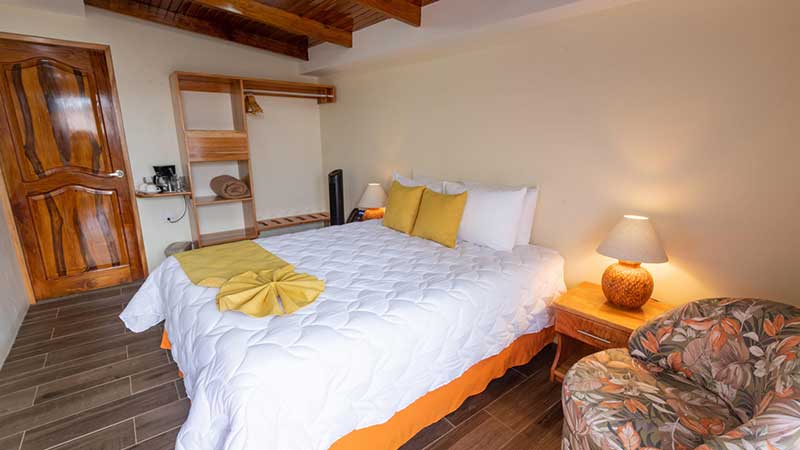 Sibū Lodge
Rustic Lodge renovated 100% of their infrastructure and services to provide you with a better experience, and now they are Sibū Lodge. This is a cozy mountain lodge situated at the center of Santa Elena, and many other popular attractions. The lodge is surrounded by scenic mountain terrain and is close to the famous canopy, as well as the biodiverse Monteverde Cloud Forest Reserve.
It has a restaurant called Bitzū, which is a comfortable space for having breakfast, lunch, dinner, coffee, or a beverage at the bar. There are two room categories: Lantana and Guaria.
Lantana rooms are surrounded by gardens in a calm, comfortable, and natural environment with a design focused on nature lovers, who want a cozy space to rest. There are a total of 12 rooms located on the first floor (maximum capacity of 4 people: 1 Bed Queen / 1 Queen Bed + 1 single bed / 1 Queen Bed + 2 single beds. Guaria: There are a total of 2 rooms designed for maximum comfort and convenience, ideal for families. They are more spacious, have a balcony, and are located on the second floor (maximum capacity: 5 people, 2 Queen beds or 2 Queen beds & 1 single bed).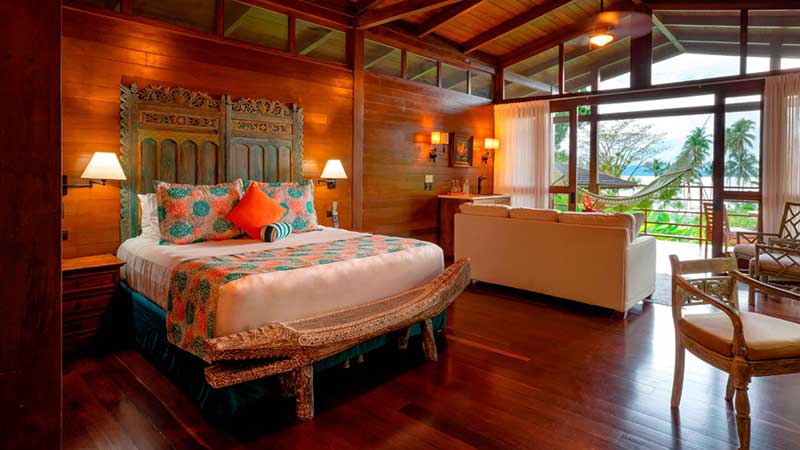 Playa Cativo Lodge
Playa Cativo is an Eco Lodge located on the calm waters of the Golfo Dulce (the only tropical fjord in the Americas), the inner side of the Osa Peninsula in southern Costa Rica, next to Piedras Blancas National Park.
The lodge, which intertwines natural beauty with an elegant experience providing the opportunity to discover deeper physical and spiritual wellness, is in the process of restructuring its offer in conjunction with an important renovation, among which is the re-categorization of the rooms and two new room categories, for the next high season: Ocean Front Casita and Two Bedroom Ocean View Villa. Ocean Front Casita does not have a private pool but its located in front of the beach, and the Two Bedroom Ocean View Villa consists of the former premium and luxury rooms that will be sold as a unit. More information soon for the 2024 season.