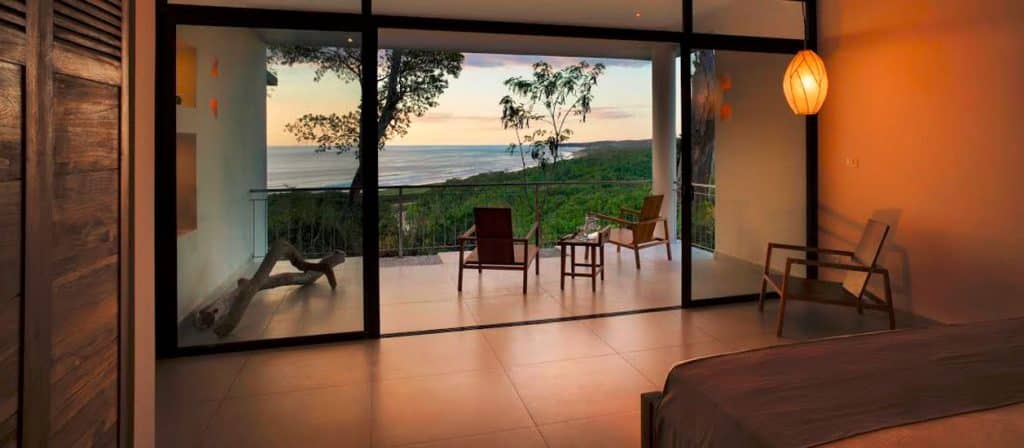 We share with you the feedback received from our Commercial Director, Mr. Carlos Blanco, after his visit to Lagarta Lodge and this is what he told us:
 
The customer service at Lagarta Lodge is first class, the reception team does an outstanding job, which is more a concierge style service, where they care about every detail, very personalized for each guest.
 
The rooms are spacious and immaculate, but the first thing that this hotel offers is its privileged views that can be enjoyed from its terraces and balconies. In the Jungle rooms you have beautiful views of the forest and partial view of the beach and/or Boca de Nosara. They are not ultra-luxurious rooms, but with fine finishes, furniture and beds made locally. The mattresses and linens and bathrooms are of unsurpassed quality, here you can really sleep and rest. They do not have TV but you do not need it; each guest (1 per room) will have a tablet with the hotel information such as services, activities, access to worldwide newspapers, movies and a digital evaluation survey.
 
It has 2 swimming pools, one medium and one small, as well as a jacuzzi within its beautiful gardens. It is a hotel where families and couples can share the facilities and the views with tranquility.
 
They have a Maleku art gallery as the owners Mr. Steffen and Mrs. Nicole support people from Costa Rica through their foundations, and Mrs. Nicole is a recognized artist in Switzerland. In the tower above reception and the gallery have a special area for small events, yoga or meditation, also next door and next to the gardens there is a cozy area for reading.
 
The food is delicious, impeccable presentation made with fresh ingredients; gourmet food with affordable prices, the restaurant is full everyday with locals and foreigners, they have to reject reservations for the restaurant because they give full priority to guests. Their wine and spirits menu is excellent!
The restaurant has a bar / lounge which is for guests only and underneath the restaurant there is a small "glass room" (high security glass walls) with the same views, perfect for small groups, private activities for incentives, private dinners. On the side they have the cava; that can offered as an area for private dinners for couples and families.
 
The gardens of the hotel are spectacular, and their 36-hectare private reserve next to the Reserva Nosara has a large number of birds and mammals that approach the hotel. The hotel has a university graduated biologist as a tour guide. Next door is the kayak tour or stand-up paddle along the Nosara River, very quiet for all ages.
 
Nosara is still a fishing village with nice people despite the amount of foreigners living in this area. Very nice, quiet and safe, with excellent restaurants and activities. The beaches in the area are some of the best in Costa Rica such as Pelada and Guiones which are located just next to Nosara. Just after Playa Nosara is Ostional where there is turtle nesting almost all year round and the hotel works very well with the community association and with the association of guides. The hotel offers a free shuttle service to the near beaches and Nosara airstrip.
 
If visiting this area, you cannot miss a visit to the isolated San Juanillo beach, just few steps away from Ostional and if you have time travel south to Samara, Carrillo, Barrigona and Isla Rosada beaches.  I recommend a minimum of 4 nights at Lagarta Lodge.
 
This is now one of the best hotels in the country. Excellent for couples, families and small groups.