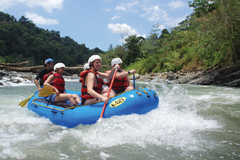 Churning along the white water while taking in breathtaking scenery is a popular tourist activity in Costa Rica. Whether you want to brave class V rapids or paddle with the family along smoothly flowing waters, the variety of options are staggering.
Virtually every destination in Costa Rica offers rafting expeditions on a number of rivers. Take advantage of the "wet" season and schedule your trip during the months of May through October when the rains bring the levels of the rivers up to adventure levels.
Nothing compares with braving the world-class rapids while traveling through some of the most beautiful forests in the world.