About the hotel
Tabacon is a beautiful resort nestled in the Arenal Volcano slopes, which is one of the most popular attractions in the country, since it is the only conical shaped volcano in Costa Rica. The Northern Region is recognized for its stunning settings, the rainforest, natural attractions, varied lodging options, adventure activities, ecotourism, natural hot springs and the opportunities to spot wildlife.
Moreover, it is a nice place where to know more about the country life and rural communities, exploring La Fortuna downtown and its neighbouring towns.
This property is immersed in more than 900 land hectares of tropical nature. Its relaxing atmosphere, flowing hot springs waters, vegetation and the volcano view makes it a good option for guests looking a retreat for their vacation package.
Tabacon Thermal Resort & Spa offers several dining options
Tucanes Restaurant, an open-air fine dining restaurant featuring a blend of typical food in Costa Rica and international cuisine.
Ave Restaurant – the casual dining restaurant serving a la carte lunch and buffet dinner.
There are four bars:

Caña Brava Lobby Bar
Agua Ardiente Pool Bar
Shangri-La Gardens and
Bosque Bar
Additionally, there is a gastronomic experience that was designed for honeymoon packages, it is "mesa efimera" – a six plates menu, prepared by a chef on a private bungalow surrounded by the tropical forest.
There are five mineral springs that you can enjoy while on your family trip; if you are staying at Tabacon Resort, you will have unlimited access to the hot springs but there is a possibility of a one-day pass if you are not going to stay there. Water is heated by the magma of the Arenal volcano, then it emanates and the thermal water is constantly flowing in the resort. These are private pools, surrounded by tropical gardens and have different temperatures (range from 25 to 38 degrees Celsius – 77 to 102 F). Additionally, there are cascades and cold pools if you want to cool off.
Shangri-La Gardens is an exclusive adult
Only area offering six natural, thermal and mineral spring water pools; this could be perfect for your vacation package because you can rest and relax at a secluded and private place inside the resort, a peaceful oasis where to be out of the bustle.
The World
Class spa offers local ingredients such as volcanic mud, coffee or coconut for massages, exfoliations and wraps. It features open air bungalows surrounded by forest and gardens where individual and couple treatments are offered. A Tabacon signature ritual promoting a state of complete relaxation precedes every spa treatment, which is amazing for your honeymoon.
Resort Rooms
Tabacon Thermal Resort & Spa has 103 charming and contemporary rooms and suites which are smoking free. These are decorated with furnishings made by Costa Rican artisans and feature flat screen cable television, a personal safe, mini bar and coffee maker. Guest bathrooms include luxurious bathrobes, deluxe bath toiletries & hair dryer. Wi-Fi internet access is available throughout the property; you will also have access to a souvenir store.
The property also offers meeting and event venues that are available for you during your vacation package, it can be an amazing wedding in Costa Rica, corporate meeting, parties with your family and friends, among others. There are plenty room categories for you to choose, different options according to your needs, desires or tastes; it does not matter if you are a solo traveller, if you are with family, friends or on a honeymoon package.
Orchid Room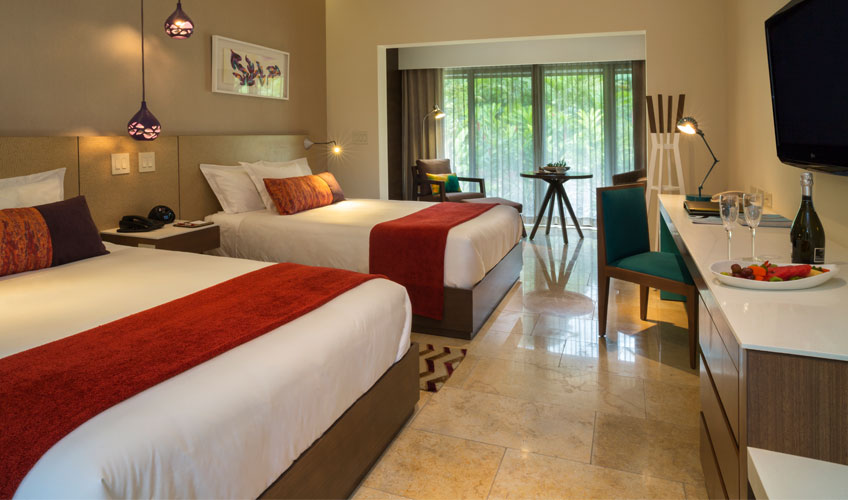 Is the entry room category at Tabacon: it is an open space with unobstructed views of the exterior tropical setting, complemented by a modern interior and colourful design. The bathroom features a rainforest shower surrounded by natural light. A cozy living area invites relaxation while on your Costa Rica vacation and travel package.
Rainforest Room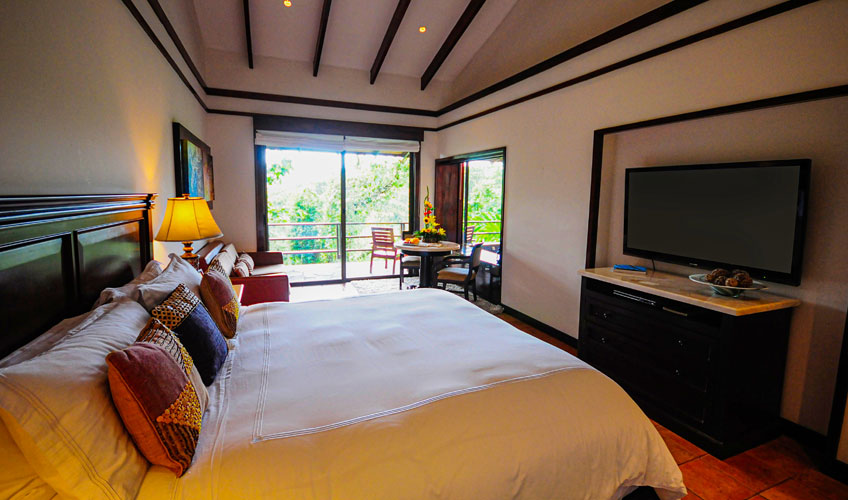 Is great for those who want a close nature contact during the adventure vacation: this is an elegant and distinctive room offering indoor luxury with an outdoor terrace or balcony overlooking the tropical scenery; these rooms have king size bed and a pull-out sofa bed. Bathrooms include a hot tub and a separate glass-enclosed shower.
Honeymoon Suite
It is one of the best room categories since it offers an unparalleled volcano view. Moreover, it was designed for those celebrating a honeymoon, an anniversary, or a special occasion. The natural beauty of the exotic rainforest and Arenal Volcano become the backdrop for a stay full of magic and passion. These are spacious and charming suites featuring a king size canopy bed and an in-room tub.
Tabacon Suite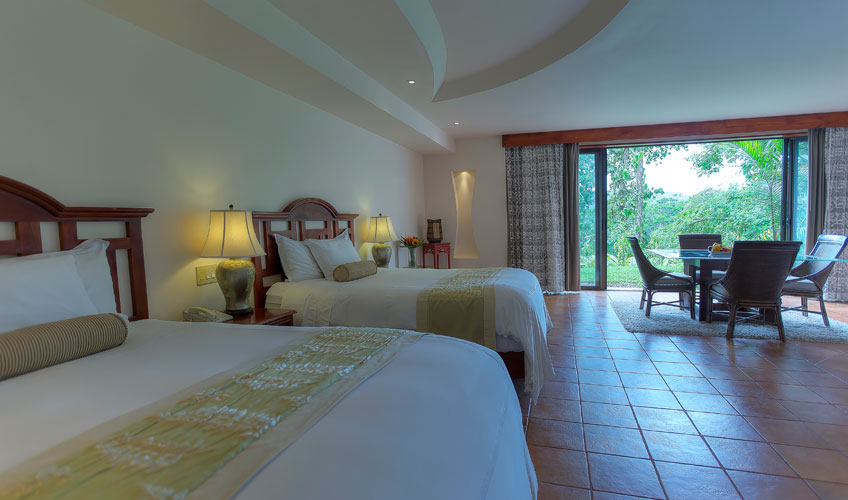 Is the amplest individual unit, a nice option for a family trip: It has imposing views of the rainforest. The elegant suites include one king bed or two full beds, plus a pull-out sofa bed. There is also a spacious seating and dining area, luxurious bath products, double hot tub or a separate glass-enclosed hot spring shower.
Tabacon Two – Bedroom Suite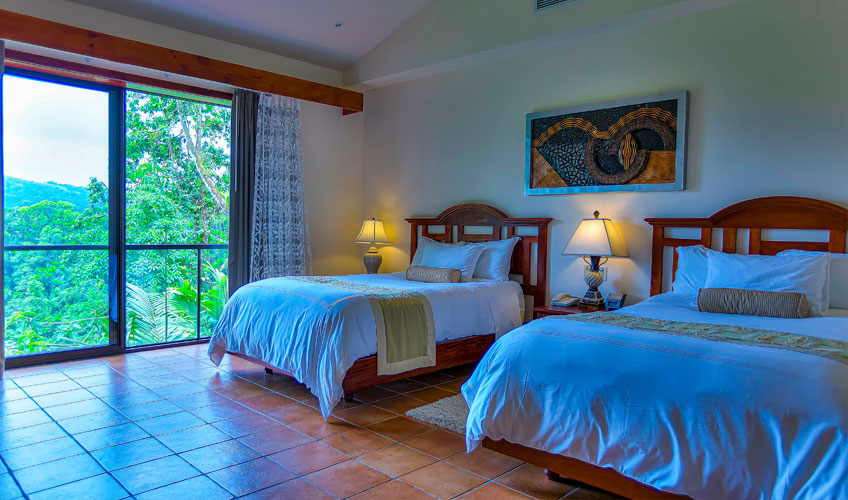 Is a comfortable option for a family holiday: these suites include a master bedroom with dining and resting area, a comfortable king size bed, and a second bedroom with two full beds. It offers luxurious bath products, an elegant bathroom with granite counters, an in-room double hot tub and separate glass-enclosed shower.
Senator Suite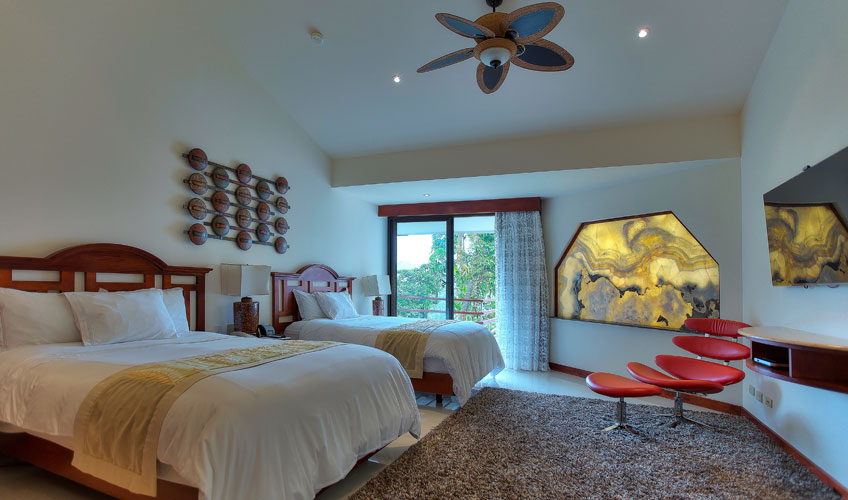 Is the best room category at Tabacon Resort: It combines extensive space, extraordinary comfort and exquisite design. These suites are ideal for family packages, those seeking more spacious rooms. It includes a dining and living room conceptualized so as to provide the ideal space for a truly memorable experience. Sleeping areas include a master bedroom with a king size bed and terrace overlooking the impressive rainforest, and a second bedroom with two full beds.
A beautifully appointed master bathroom features an in-room Jacuzzi and separate glass-enclosed shower. A second bathroom plus a spacious walk-in closet add to the suites privacy and style.
From Tabacon Thermal Resort & Spa you can take different activities such as horseback riding, canopy tour, hanging bridges, birdwatching; the visit to Arenal Volcano National Park which offers different trails and has a lot of history as well as incredible views. If you are seeking for active tours, or water activities during your adventure vacation, we highly recommend you the white-water rafting, kayaking, stand up paddle, canyoning and pedal board.
The sloth tour and night walking are two good options for a family holiday with children, these are very educative and interesting for all family members. There are more experiences to know about culture such as Spanish lessons, cooking classes, visit to schools, volunteer programs and much more.
On the Map