---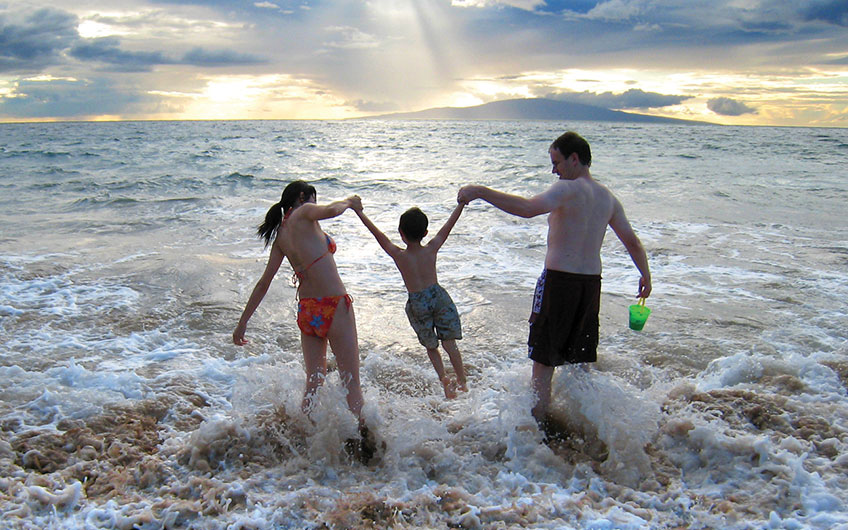 Costa Rica vacation packages are even better when you make a trip with the ones you love. Family trips can be a little tricky if you don't consider the right places, and especially the best hotels and resorts. Costa Rica is a family friendly country in which you can find a lot of diverse options for creating the best memories for you and your family. We have a lot of different and cozy accommodations, just to fit and please each one of your desires and needs.
Here you can find our suggestion of a few family friendly places to consider when visiting the country for your vacations: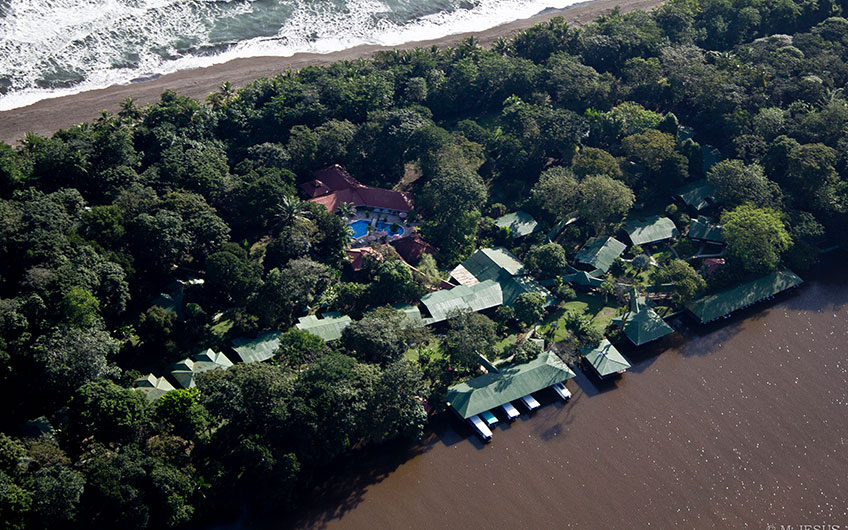 Mawamba Lodge – Located: Tortuguero National Park, Limón
Located in Tortuguero Mawamba Lodge, this cozy lodge offers full board accommodations and great tour options amidst nature with a lot of refreshing and relaxing evergreen landscapes while the Tortuguero canals are right there for you. Mawamba Lodge is an exotic spot, with the Tortuguero river in one side and the Caribbean Ocean on the other. It combines a surrounding natural wealth that becomes a sanctuary for the visitors. The hotel features a familiar swimming pool, restaurant, and comfy rooms that your kids and you will surely love.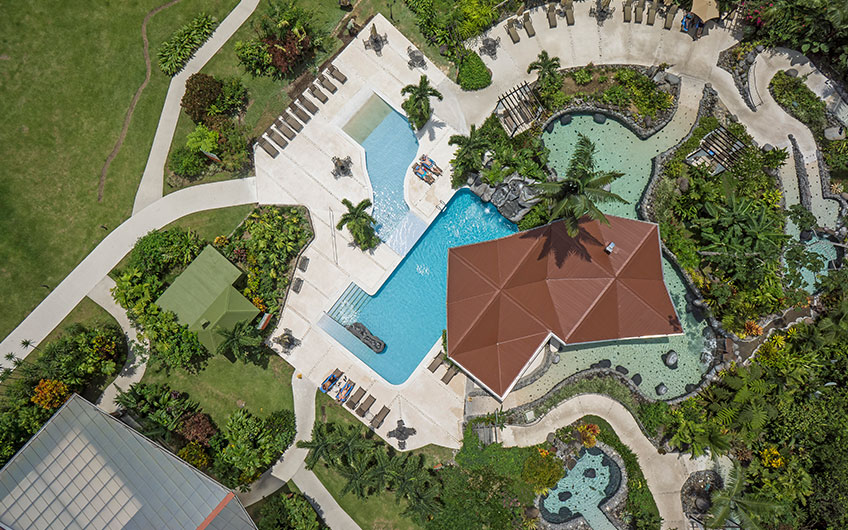 Arenal Springs Hotel- Located: Arenal Volcano National Park, Alajuela
This beautiful hotel is located in La Fortuna Costa Rica in the beautiful town of San Carlos, part of the Northern Region of the country. Arenal Springs Hotel features their Junior Suites rooms with direct view to the Arenal Volcano, the most well-known majestic and impressive Costa Rica volcano. Every room has exotic gardens, beautiful flowers, and you can choose rooms with either a king size bed or two double beds. The hotel has two swimming pools and a Thermal river so the family can enjoy at the fullest.
Family vacations in Costa Rica cannot be completed without a visit to the volcano, this is a very quiet and relaxing activity that you can enjoy for sure, with the opportunity of spotting some wildlife and, why not, enjoying some birdwatching in Costa Rica too.
But, if you and your family are more adventurous, then let us tell you that Arenal has a lot of varied tours where you can experience for sure the true adventure in Costa Rica with a rush of adrenaline and a lot of energy and fun. We can arrange your vacation package to Costa Rica in order to include some of these incredible activities for you.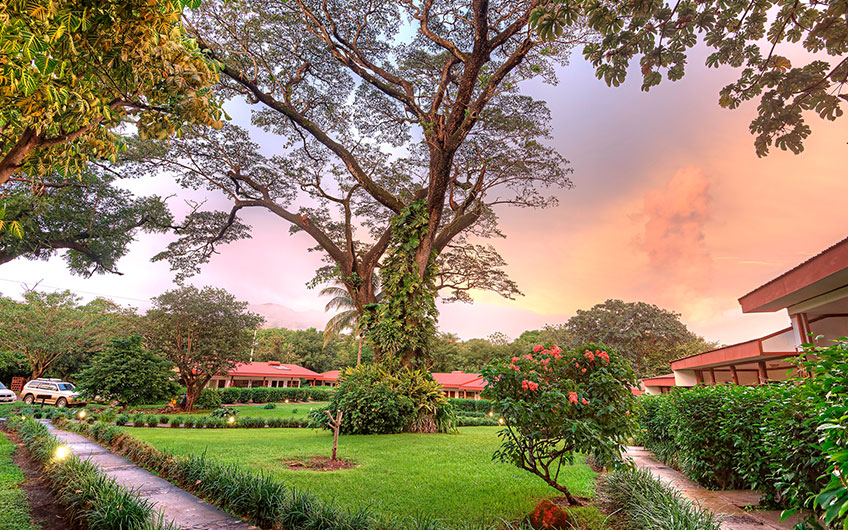 Hacienda Guachipelin Hotel - Located: Rincon de la Vieja, Guanacaste
The Hacienda Guachipelin Hotel is a property dedicated to promote the ecotourism as it is located on the slopes of the Rincon de la Vieja Volcano, in the beautiful and diverse region of Guanacaste. While staying here, visitors will enjoy and discover the essence of the Guanacastecan spirit, as well as the Costa Rican spirit, thanks to the approaching to the local traditions and the Costa Rica typical food.
We recommend this property as it is perfect for families due to the variety of activities that can be done there. The place is surrounded by lush gardens with native trees and flowers, astonishing views to the Rincon de la Vieja volcano and facilities to enjoy with the family.
This hotel does not have a beach close, but Guanacaste is diverse so, if your kids and you are looking for some beach vacations in Costa Rica, then you will surely find some interesting places with white sand beaches and incredible landscapes here in this province. Also, some those Guanacastecan beaches have interesting options of all-inclusive resorts in Costa Rica that will ease your stay in paradise.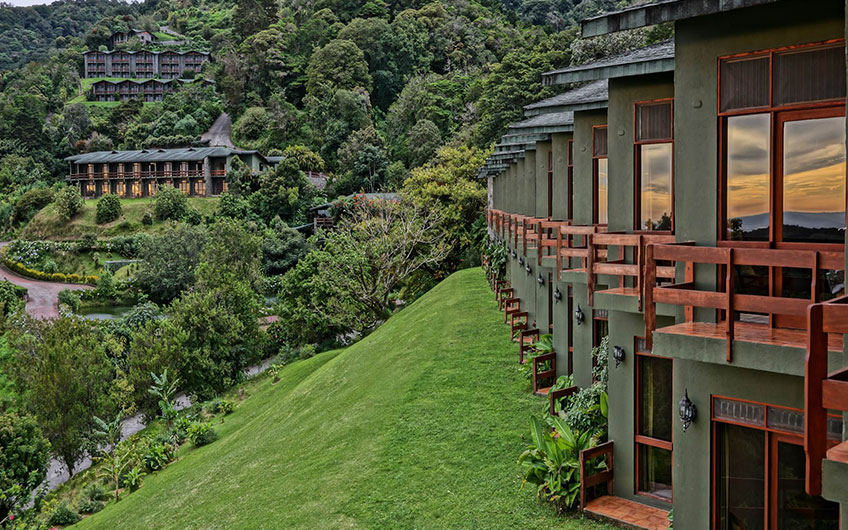 El Establo Mountain Hotel & Lodge - Located: Monteverde, Puntarenas
Inside the misty cloud forest of Monteverde, El Establo Mountain Hotel & Lodge offers all the facilities you need to enjoy a comfortable stay during your family vacations. Here, in this Costa Rican region you can feel the fresh air of the cloud forest and discover the natural beauties of this area.
The hotel features incredible views to the mountain -according to the selected rooms-, and has the vibrant energy of a familiar lodge located right on the mountain. The restaurant has great options for your family and you can also take some tours that will give you amazing natural experiences that you and your beloved ones will remember for a lifetime.
You can try the zip-lining through the canopy forest or enjoying a great walk in the middle of the Monteverde Cloud Forest Reserve, the Santa Elena Reserve or, if you prefer, the Children's Eternal Rainforest.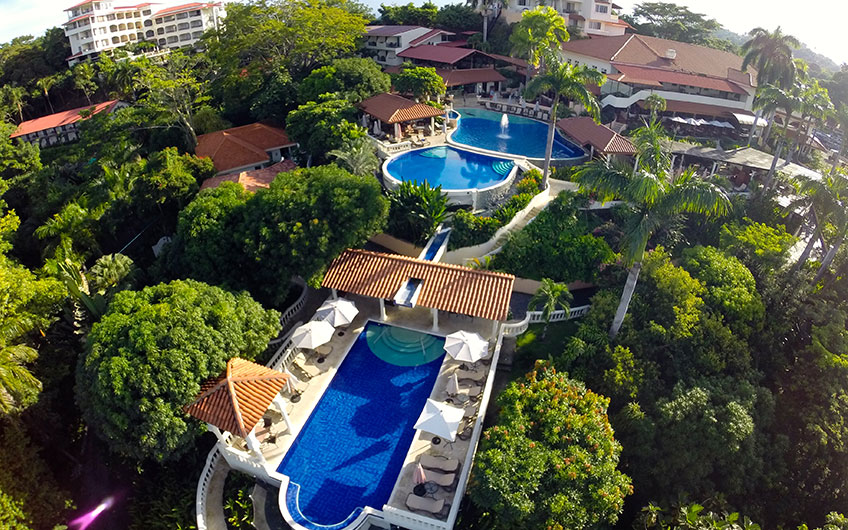 Parador Resort and Spa - Located: Manuel Antonio Quepos, Puntarenas
This charming hotel is located in Punta Quepos in the Central Pacific side of the country. Parador Resort & Spa welcomes every visitor that looks for a Costa Rica's premier eco-luxury resort without spending a lot of time driving from the main cities. For example, Manuel Antonio is located at approximately 3 hours from San José. But if you want to travel faster then, you can also take a domestic flight that will take no more than 35 minutes. The main local airlines have departures from Costa Rica's main airport: the Juan Santamaria in Alajuela.
Parador Resort is an award-winning hotel built on 12 acres of rainforest in beautiful Manuel Antonio, just minutes away from Costa Rica's best beaches. The hotel offers options for both, couples and families, a great restaurant and very nice pools for the delight of the whole family. Here, you can enjoy some of the best experiences Costa Rica has to offer to its visitants.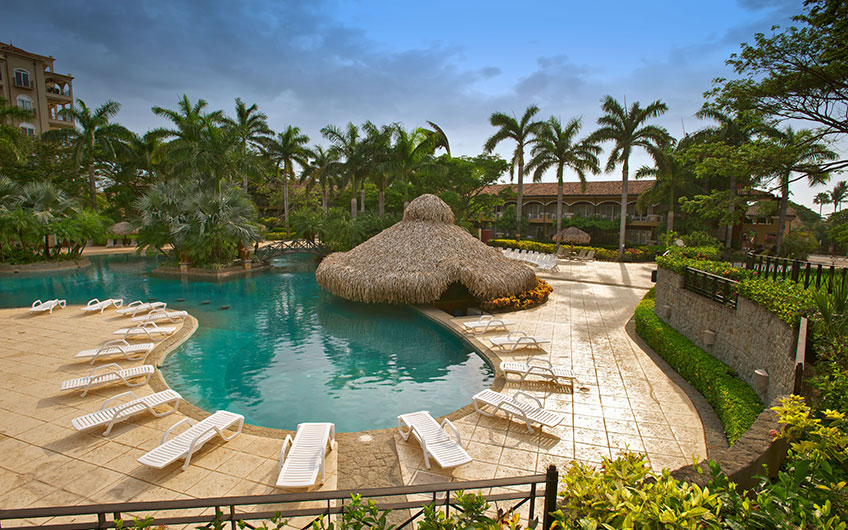 Tamarindo Diria Beach & Golf Resort – Located: Tamarindo Beach, Guanacaste
Tamarindo Beach is another great option if your kids or you are looking for some surfing vacations in Costa Rica, this is a mecca of the nightlife in the country, so you will have great entertainment options during your visit here.
This Tamarindo Diria Beach & Golf Resort is located in Tamarindo beach. As mentioned before, the area is a lively beach town that combines shopping, dining and active nightlife. Surrounded by exotic tropical gardens, the property offers everything you need to enjoy a family beach vacation in Costa Rica full of relaxing moments, right in front of the beach.
We hope this article can be useful to you! Please, leave a comment if you liked it!
---
---
Leave a Comment