---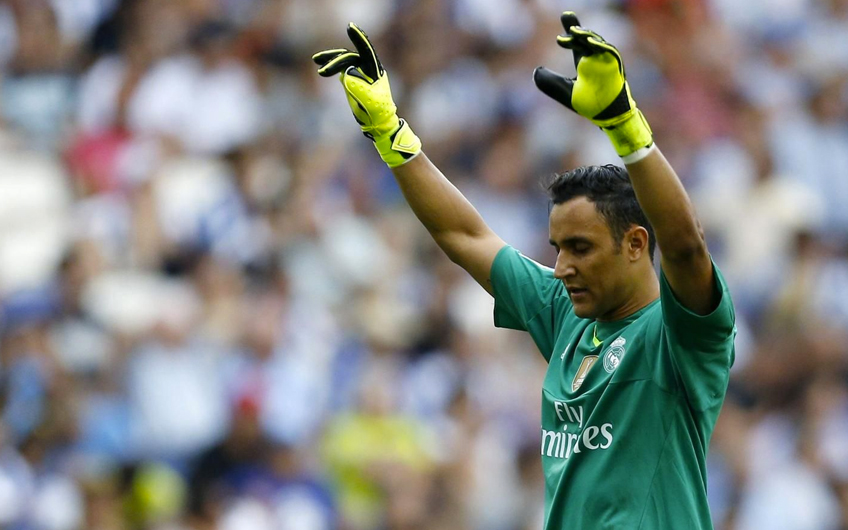 The world famous goalkeeper from Real Madrid C.F. Keylor Navas is now the protagonist of a new advertising campaign of the Costa Rican Tourism Board (ICT) which pretends to attract European tourists. By the moment, this is the first stage of implementation, seeking to generate expectation among the foreign tourists, especially the ones coming from Europe.
Navas, who plays for the Real Madrid C.F. and "La Sele" (the Costa Rican national football team) posted a message on his Twitter account  with a link to the official website for the campaign: "The World's Happiest Goalie" (or " El portero más feliz del mundo" the Spanish name of the site). In the link, the followers can spot a message over a picture of himself which reads: "Keylor Navas is one of the best goalkeepers in the world. But, did you know that he is also the world's happiest goalie? Find out why on May 24 and win a lifetime experience."
Additionally, a short video shows some of his Real Madrid C.F. teammates wearing goalie gear while the narrator explains how hard it is to be a goalkeeper, but specifies that is "not for everyone" when showing a smiling picture of Keylor. The video was released in Spanish as the promotional strategy is mainly focused on attracting visitors coming from Spain. But, in general terms, it is expected the campaign will draw more European people here.
As said by Mauricio Ventura, Tourism Minister, during an interview with La Nación "the spot is the first stage of a new tourism promotional strategy focused on attracting more European tourists".
Also, the tourism hierarch told the daily that "Navas is the main star of the upcoming campaign that we hope will allow us to further reach a market that is very important for Costa Rica's tourism sector." Ventura gave no further information, but assured that all the details of this commercial strategy will be revealed next May 24th.
According to the Minister, the main goal is to profit the image of Keylor Navas as the Real Madrid C.F. goalkeeper and as a Costa Rican to invite the world to know everything that the country offers. "The World's Happiest Goalie" is part of the promotion of the country brand Essential Costa Rica in Europe and the rest of the world.
But, who is Keylor Navas?
Keylor was born in San Isidro de Perez Zeledon, a humble and pretty town located in the South region of Costa Rica. He was raised by her mother and his grandfather, the one who firstly believed in him and supported his passion for the football. Since he was a child he started showing a great aptitude for the sport and he began playing with his friends in his hometown.
He suffered in his early years the rejection of the Perez Zeledon soccer team, due to its youth. But that didn't stop him: having all the support of his family he moved to San Jose Downtown, the capital city of Costa Rica where he was admitted in the Saprissa Football Team. This, one of the most important soocer teams of the country, was his first opportunity to really show of what he was made of!
He got his big break when he left Saprissa to join Albacete, a club playing their trade in the Spanish Segunda, in 2010. It didn't go quite as planned, with Albacete suffering relegation in his first season at the club. But that didn't stop him again. Then, he started playing for the Levante.
The goalkeeper has played over 60 times for Costa Rica National Team since making his debut in 2008. Keylor has represented the country at two CONCACAF Gold Cups and the Brazil World Cup in 2014.  His amazing performances helped the Costa Rican team reach the quarter-finals of the latter tournament.
His inner strength, his dedication, and his profound humility let him achieve more and more recognition; so, that he is nowadays the main Real Madrid C.F. goalkeeper. Nobody would deny that he deserves it. He is about to play 2016 UEFA Champions League Final next May 28th in San Siro - Milan (Stadio Giuseppe Meazza).
There is no sense of arrogance in him, on the contrary, he is a very religious and humble man with a clear belief in his ability and in the idea that he is destined for success and great achievements. A truly example of perseverance and inspiration for all those wondering to make their dreams come true.
Europe: an important tourist market
The Old Continent is the third main market of the country in terms of incoming tourists, according to information given by the ICT.
Last year, there were registered 1.337.755 visits of North American tourists, followed by Central America with 711.704 visitors travelling to Costa Rica, and in third place, Europe accounted 393.115 visitors. The latter tourists stay the longest here, with an average visit of 17 nights. Europeans are also the ones who spend the most, an average of $1,660 during their stay.
Minister Ventura said that ICT expects a sharp increase in European tourists visiting Costa Rica this year, especially attracted by the new airline routes opening recently in the country.
In the past two years, airlines like Iberia and Condor launched new routes to both Juan Santamaría and Daniel Oduber International Airports. Iberia is flying directly from Spain to Costa Rica and vice versa, and Condor is operating direct services between the country and Frankfurt -from this November the airline will start flying to and from Munich too-.
Nowadays, British Airways and Air France are contributing to expand the supply of international flights to Costa Rica with comfortable rates and an advantageous schedule. A great opportunity that ICT seeks to exploit with this campaign.
If you want to know more about the new openings, please read our blog: Airports
Costa Rica: A paradise that deserves to be known
Keylor Navas' country is a truly paradise that has a lot to offer to its visitors. The warmth of its people, the natural beauties, and the delicious food are only few reasons of why you should visit this little piece of heaven in earth.
It doesn't matter if you are looking for relaxation with your beloved one or your whole family, or if you are wondering to spend your vacations in Costa Rica having fun and being adventurous through the forests and beaches, here we have all that you need for a lifetime memories.
This small but biologically diverse country is filled with all kinds of attractions just to make you feel like you are daydreaming. A lot of culture, lush vegetation, incredible landscapes, and wildlife are awaiting for you here, in this beautiful country of Central America. We suggest you to follow closely this new campaign and be aware of the possible surprises that you can be part of!
---
---
Leave a Comment